The RTX 30 series is the rave these days with enhanced ray tracing and Nvidia DLSS support in tow. Everything's rainbow and sunshine for the upper midrange bracket but for the lower-end, you're still stuck with the last generation models.

Now what we have here is the GALAX GTX 1650 EX. A card with 4GB 128-bit GDDR5 of memory and with a maximum factory overclock of about 1695MHz on the core clock.
This is not the highest end GTX 1650 that GALAX could offer but it is definitely one of the well priced SKUs at 7,599 Pesos.
Technical Specifications
GPU
Model
NVIDIA GeForce GTX 1650
Cores
896 (Cuda), 0 (RT)
Core Clock
1680MHz
Boost Clock
1695MHz (OC)
Architecture
Turing
Manufacturing Process
12nm (FinFET)
TDP
75W
Memory
Memory Speed
8Gbps
Memory Bus Width
128-bit
Memory Capacity
4GB
Memory Type
GDDR5
Connectivity
Display
1x DisplayPort 1.4, 1x HDMI 2.0b, 1x DVI-D
Power
PCIe
Dimensions
Length
196mm
Width
126mm
Height
39mm
Weight
—
Packaging and Accessories
GALAX went classic with the GTX 1650 EX's packaging as a budget card should.
GALAX GTX 1650 EX 4GB (1-Click OC)
1x Setup guide
What you'd get is a setup guide and the card itself. Nothing really fancy to see here.
Design, Layout and Build Quality
The GTX 1650 EX shares an identical design with the rest of GALAX's 1650 models – with a few notable exceptions like the SFF capable Prodigy and Low Profile variants. That said, this one comes with dual 90mm fans blowing air directly to the single slab of machined aluminum heatsink. Pretty standard for a GTX 1650.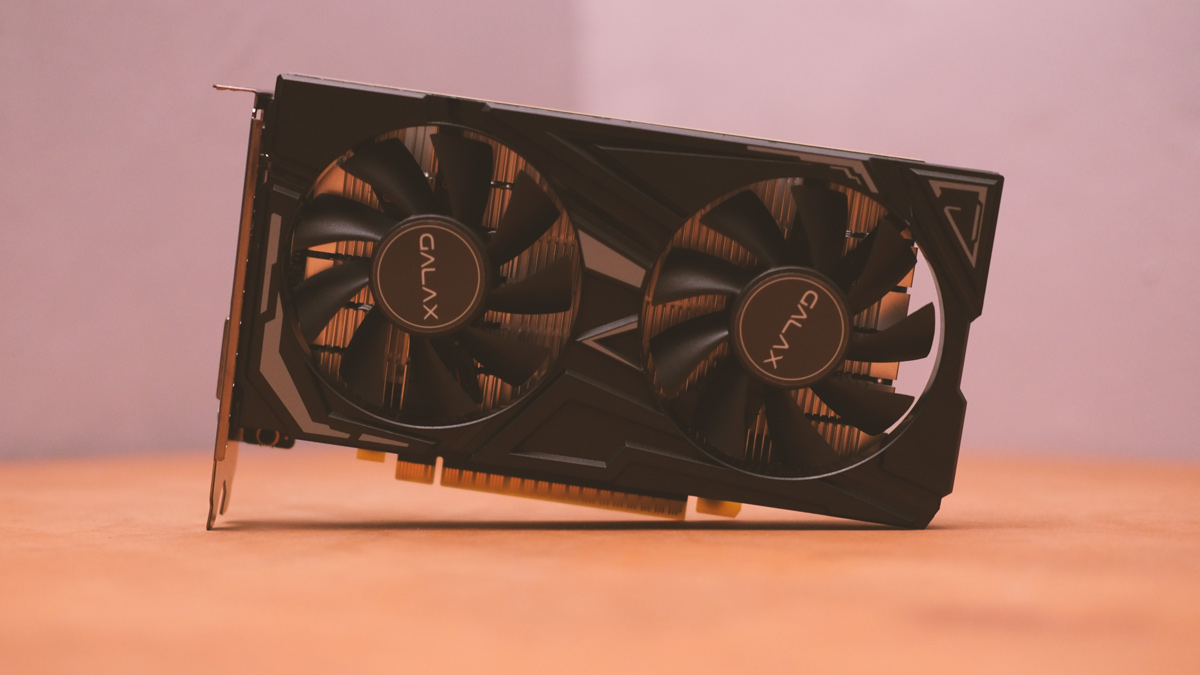 Nothing's fancy at the back but we have voltage readout points here together with a six point mounting for the heatsink. Four is usually enough for light weight GPU models but this one comes with another two around the VRM area for better cooling and reinforcement.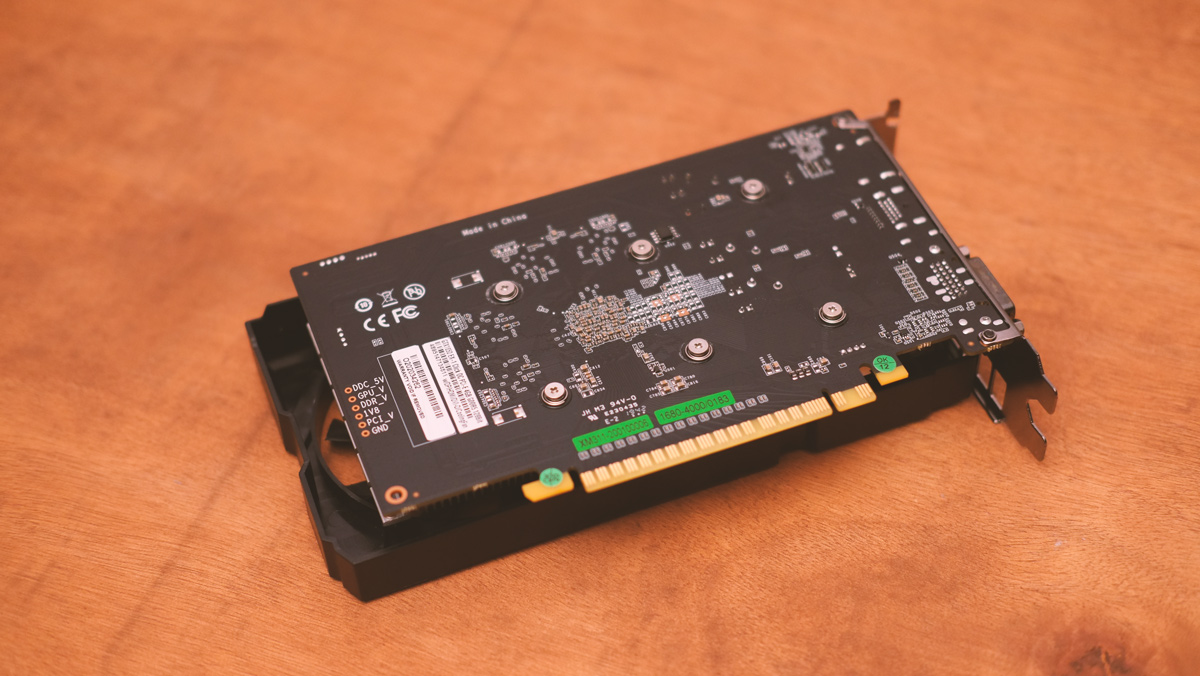 TDP is about 75W so there's no need for an extra power source. The shroud is also longer than the PCB, giving the card about 196mm of total length.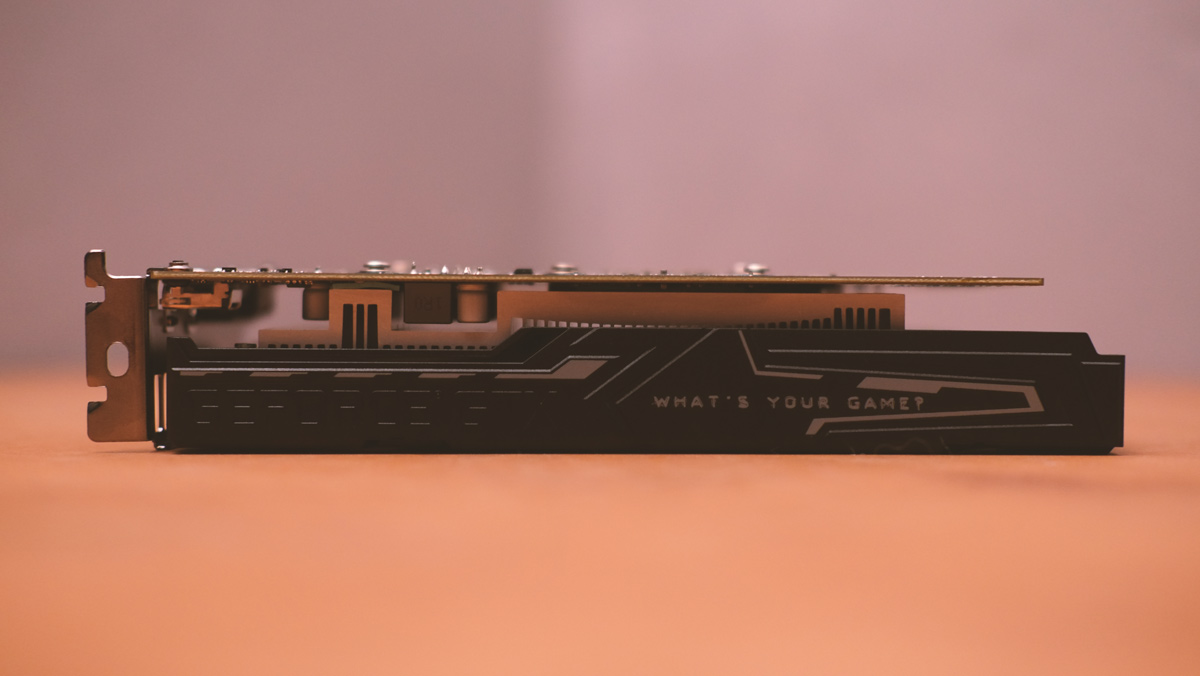 Connectivity wise, the GALAX GTX 1650 EX comes with a single DisplayPort, a single HDMI port and a DVI-D port. There's enough space for cooling with those three ports alone so GALAX never wasted that opportunity to add a huge venting area.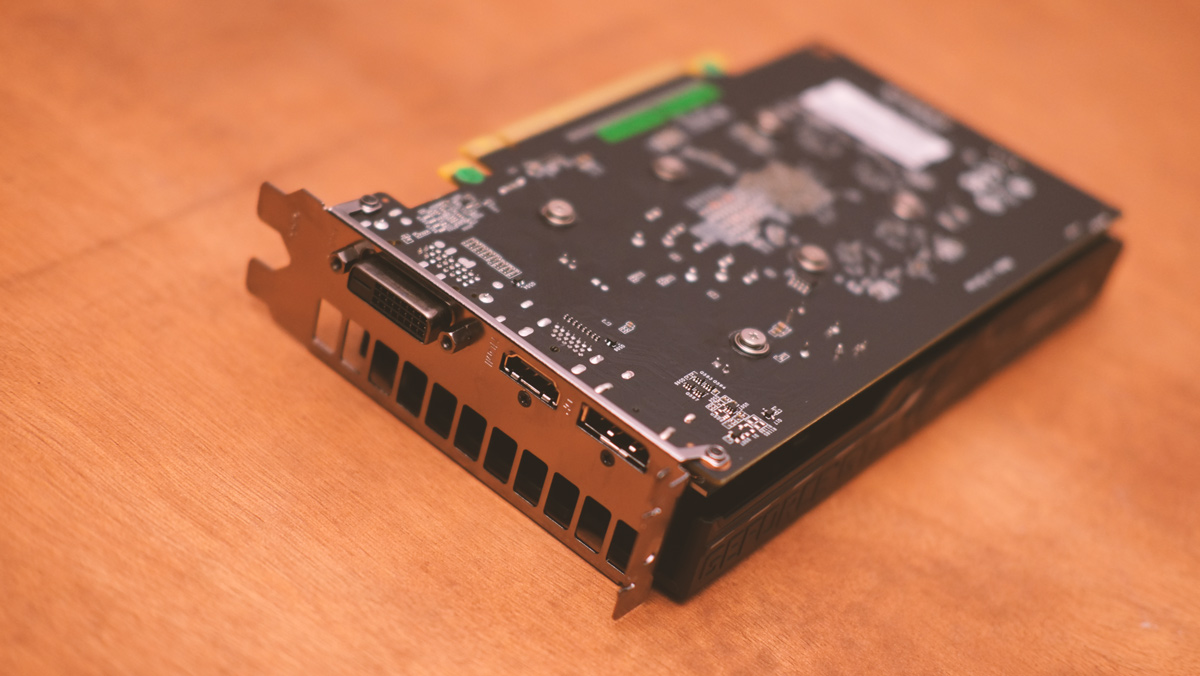 Test Setup and Methodology
System performance is evaluated by industry standard benchmark tools and applications. The system is tested with the following software configurations:
UEFI configuration – Default
Windows Power Plan – Balanced
Windows Game Mode – Disabled
Windows Game Bar – Disabled
Windows Security – Disabled
Outlined below is the default test system specifications as well as the software and applications used for the review:
Default Test System Specifications
CPU
AMD Ryzen 5 3600
Motherboard
ASUS ROG Strix B550-I Gaming
Cooler
AMD Wraith Stealth V2
Memory
ADATA Premier 2666MHz 16GB
GPU
ASUS ROG Strix RX 570 4GB
Storage
Crucial BX200 480GB
Case
Mechanical Library JXK-K3
PSU
Thermaltake Toughpower GF1 650W
Display
LG UF680T
OS
Microsoft Windows 10 Pro 64-bit
Compute Performance:
AIDA64 Extreme Edition: GPGPU Benchmark, Single-Precision
LuxMark v3.1: LuxBall HDR, OpenCL
Gaming Performance:
CS:GO: DirectX 9, Maximum Settings, 8x MSAA
Tom Clancy's Rainbow Six Siege: Vulkan, Ultra Preset, TXAA, 16x AF
League of Legends: DirectX 9, Very High Preset
DOTA 2: DirectX 11, Best Looking Preset, AA
Assetto Corsa: DirectX 11, Maximum Settings, 4x AA, FXAA, 16x AF
F1 2020: DirectX 12, Ultra High Preset, TAA, 16x AF
Final Fantasy XIV: Shadowbringers: DirectX 11, Maximum Preset, FXAA, x16 AF
Shadow of the Tomb Raider: DX12, Highest Preset, TAA, 8x AF
Total War: Warhammer II: DX11, Ultra Preset, FXAA
Civilization VI: DX12, Ultra Preset, 8x MSAA
Temperature, Power and Noise:
OCCT v5.0: 3D and VRAM Test
Benchmark results for the review are recorded in full screen mode via CapFrameX. V-SYNC is explicitly turned off along with DLSS and Ray Tracing if supported.
Temperature, Power and Noise
Graphics card thermal figures are taken during a 15 minute idle and a 15 minute load via OCCT's 3D stress test. The ambient temperature is checked at 27 °C (±1 °C).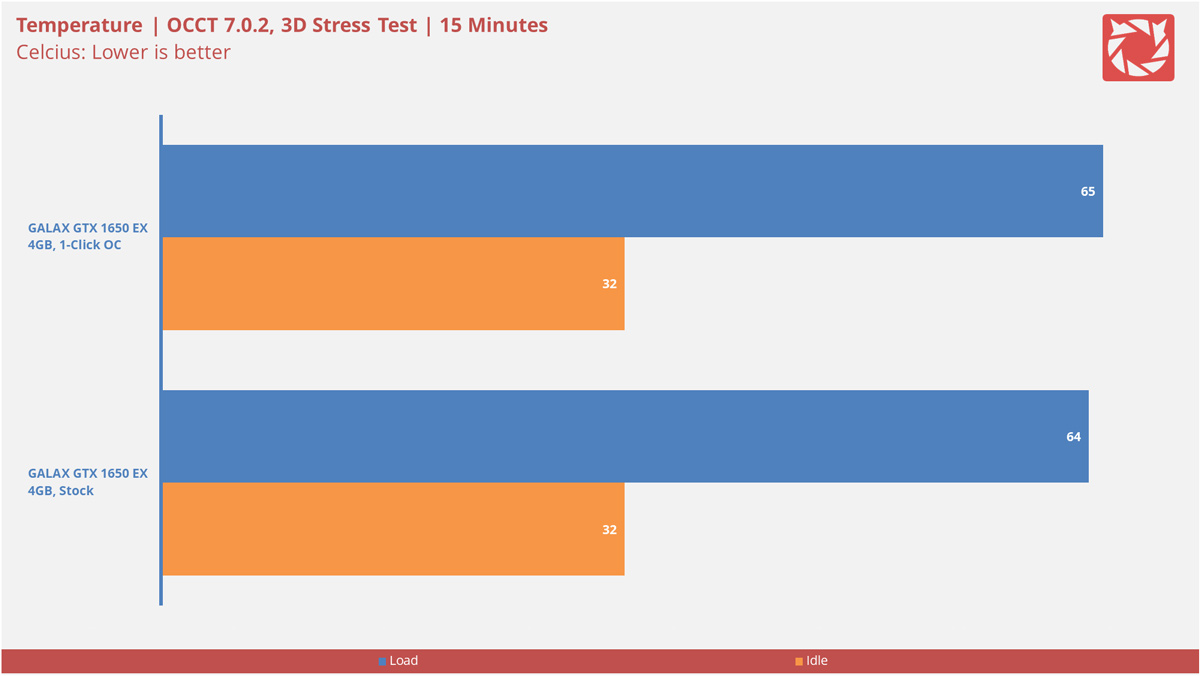 Now total system power consumption are also noted during the stress test. The measurements are then taken by a watt-meter.
Graphics card noise levels are also measured via the OCCT 3D stress test. The ambient sound level or noise floor is about 34 dBA (±1 dBA). Measurements are then taken via a sound level meter situated exactly 12 inches away from the card.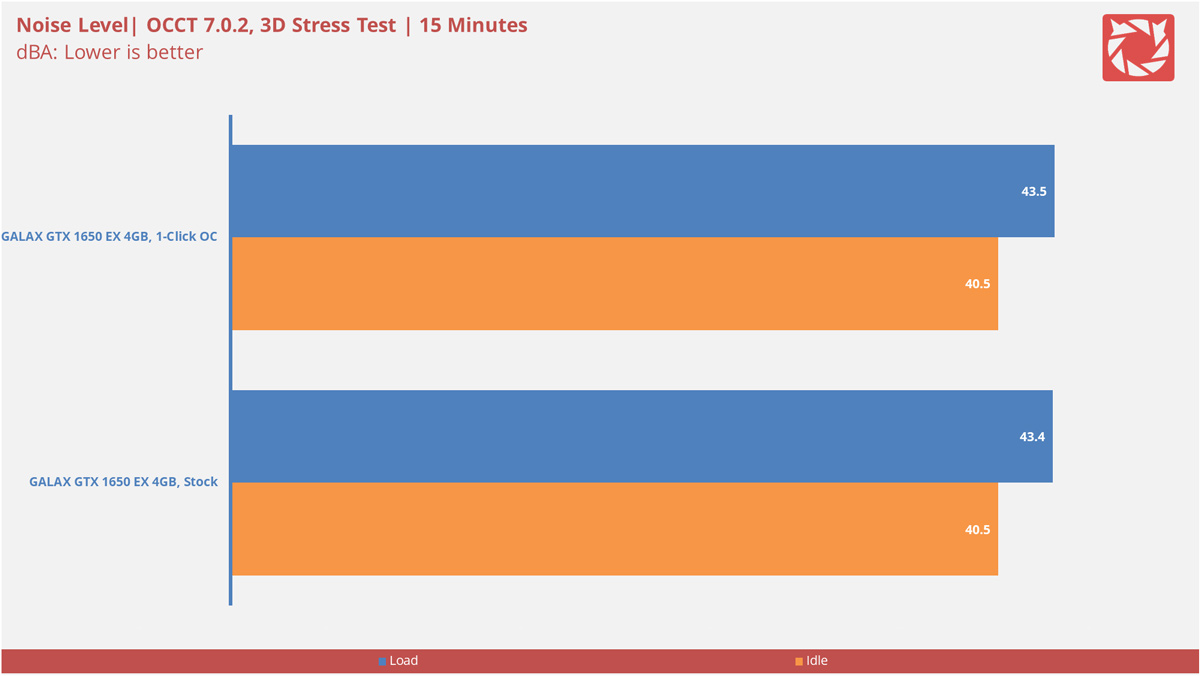 The GALAX GTX 1650 EX is of to a good start. Noise level is bearable at load with both standard and 1-click OC options, combined with a heat generation that wouldn't melt your case. Power is a bit on the higher end of the scale with factory overclocking enabled but it is still within reason. I say run this with the 1-click OC turned on and never look back.
Synthetic Performance
The Aida64 Extreme Edition GPGPU Benchmark is designed to measure GPGPU computing performance via different workloads. Our choice here is the Single-Precision benchmark to check out the floating-point performance of the card.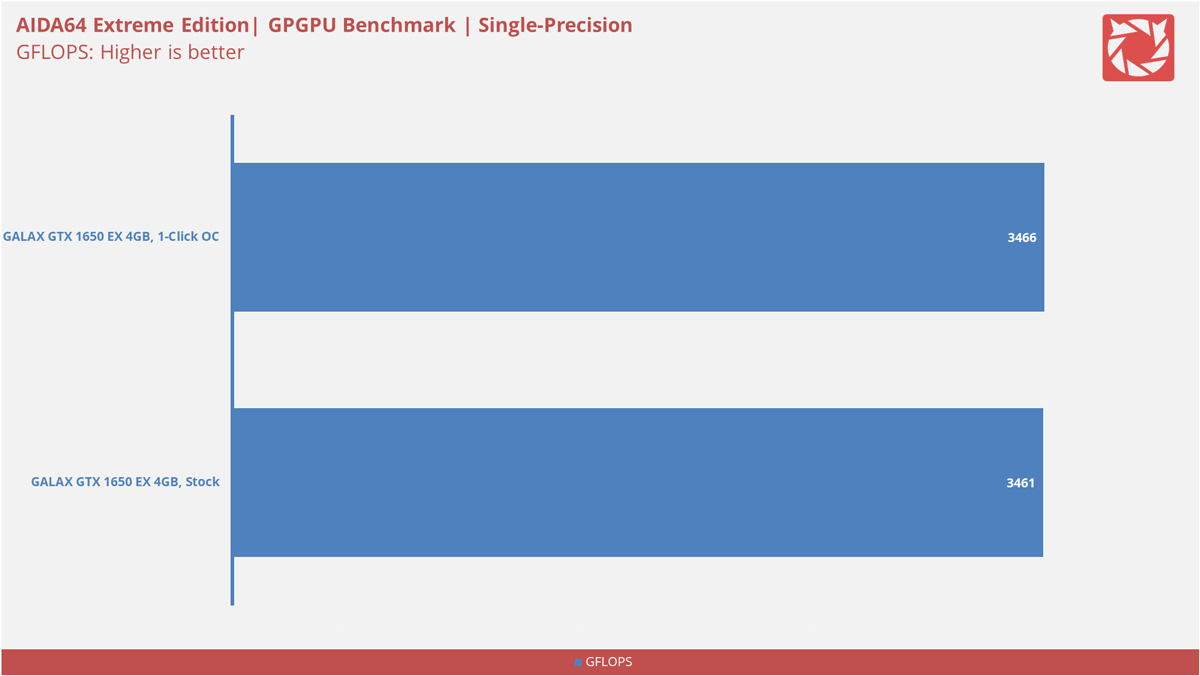 LuxMark is an OpenCL cross-platform benchmark tool. Scene of choice is the LuxBall HDR. It is a benchmark with a total of 217K triangles required to render.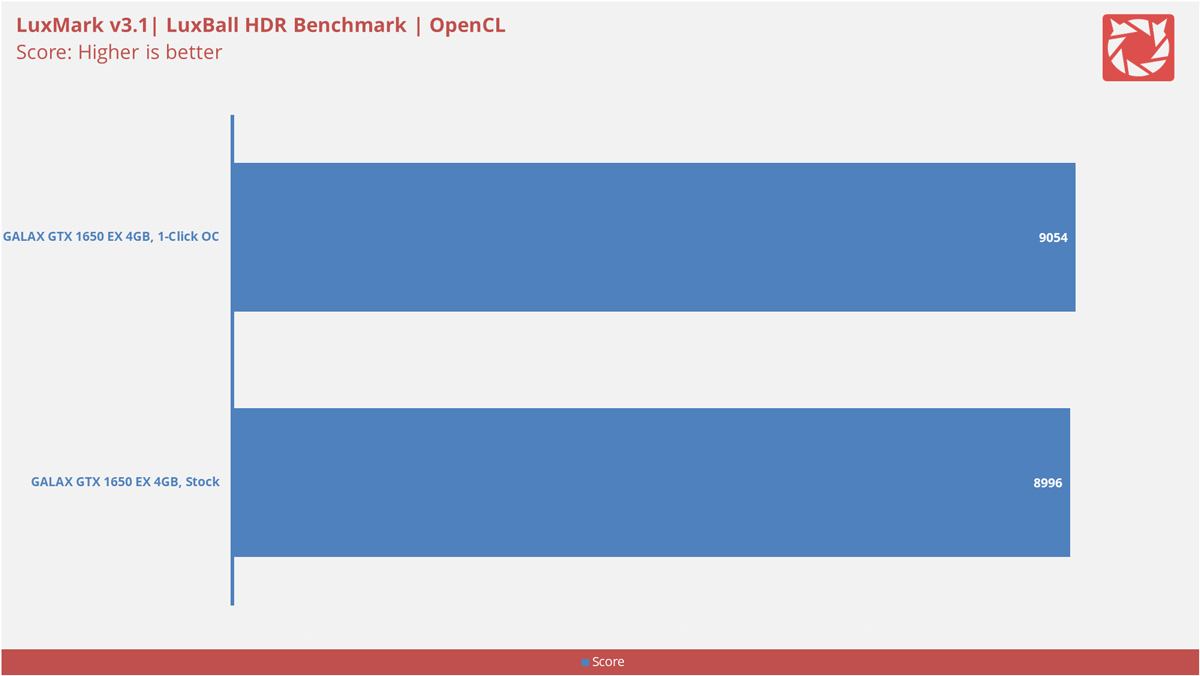 Synthetic benchmark performance are just decent for the card's caliber. Theoretically, the standard GTX 1650 comes with 2984 GLFOPS of FP32 performance so keep that in mind. OpenCL performance is nothing to flaunt – though Nvidia gets better and better here every passing generation.
Gaming Performance
CS:GO is Valve's critically acclaimed FPS game, running on the Source engine utilizing the DirectX 9 API. Demo used is the grand finals match between Astralis and ENCE at IEM Katowice 2019.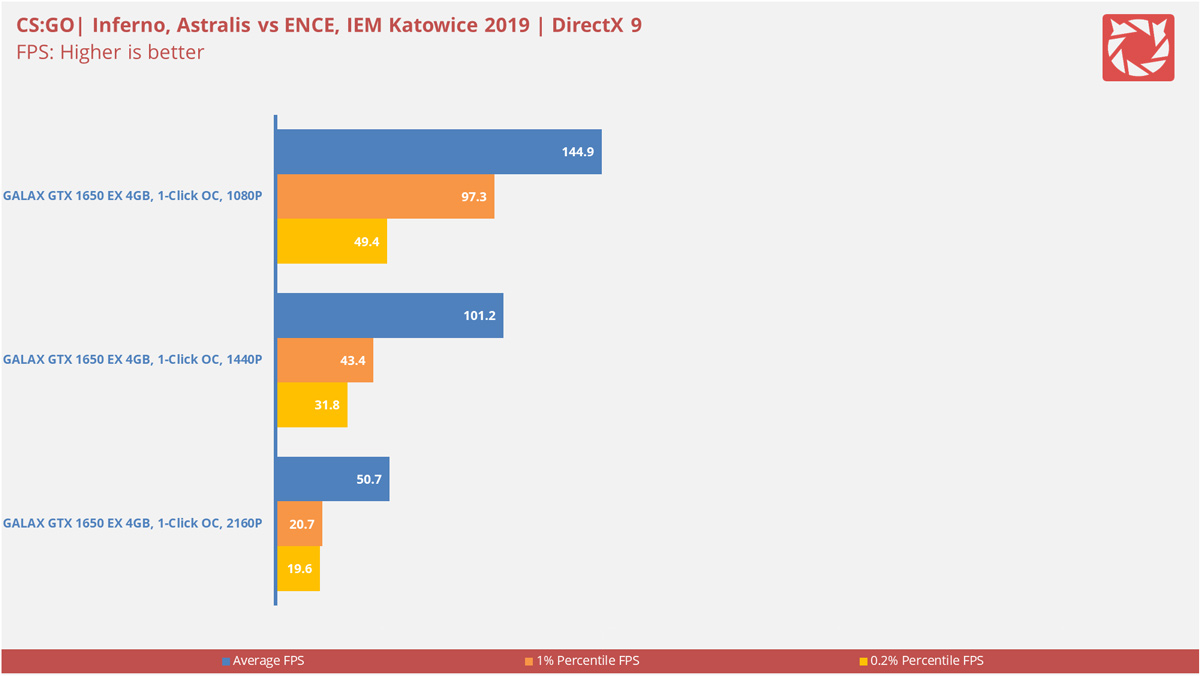 Tom Clancy's Rainbow Six Siege is a popular FPS title developed by Ubisoft utilizing the AnvilNext 2.0 engine with DirectX 11 and Vulkan API support. The benchmark tool within the game is used for this run.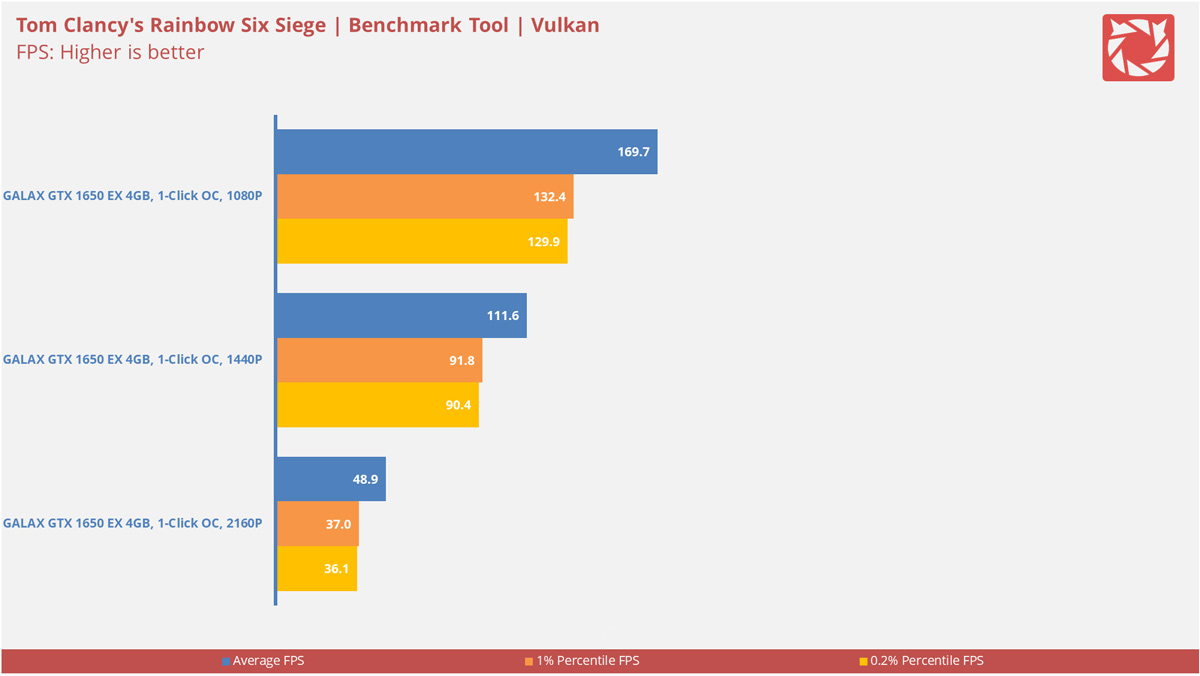 League of Legends is one of the genre defining MOBA games in the industry. It utilizes RIOT Game's in-house engine written in C++ with support for the DirectX 9 API. Demo of choice is a Summoner's Rift replay via the ROFL-Player.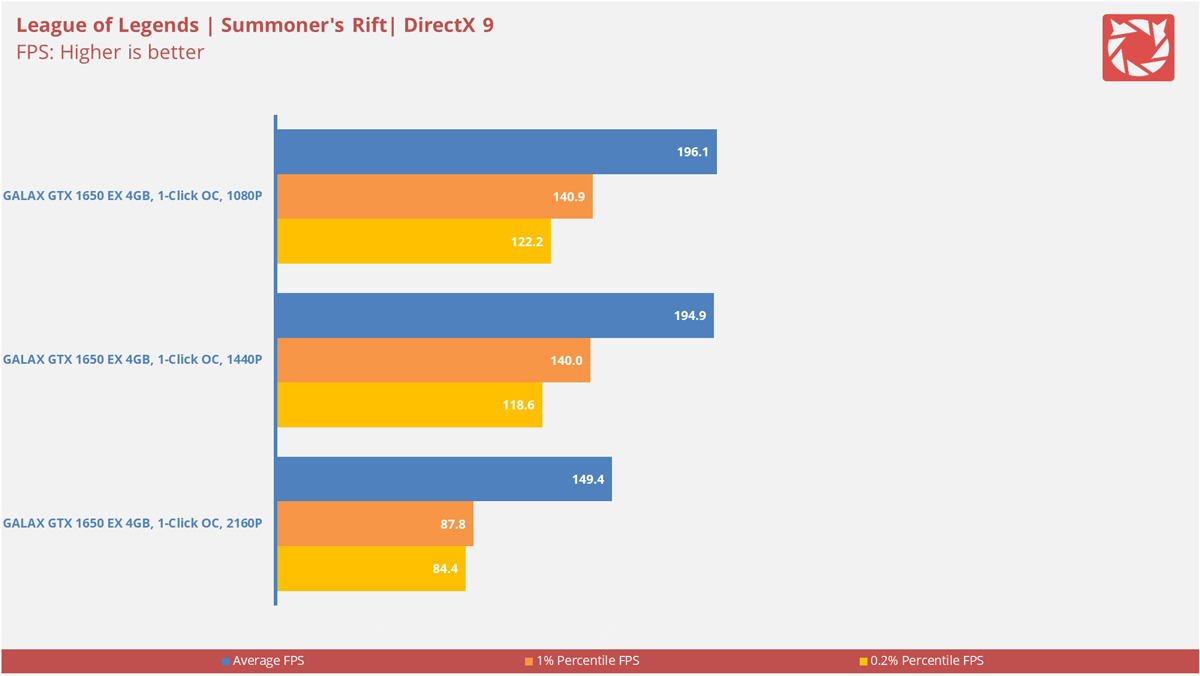 DOTA 2 is yet another popular MOBA game featuring Valve's Source 2 engine with support for a number of APIs. Benchmark of choice here is a demo from OG and Liquid's grand finals match at The International 2019.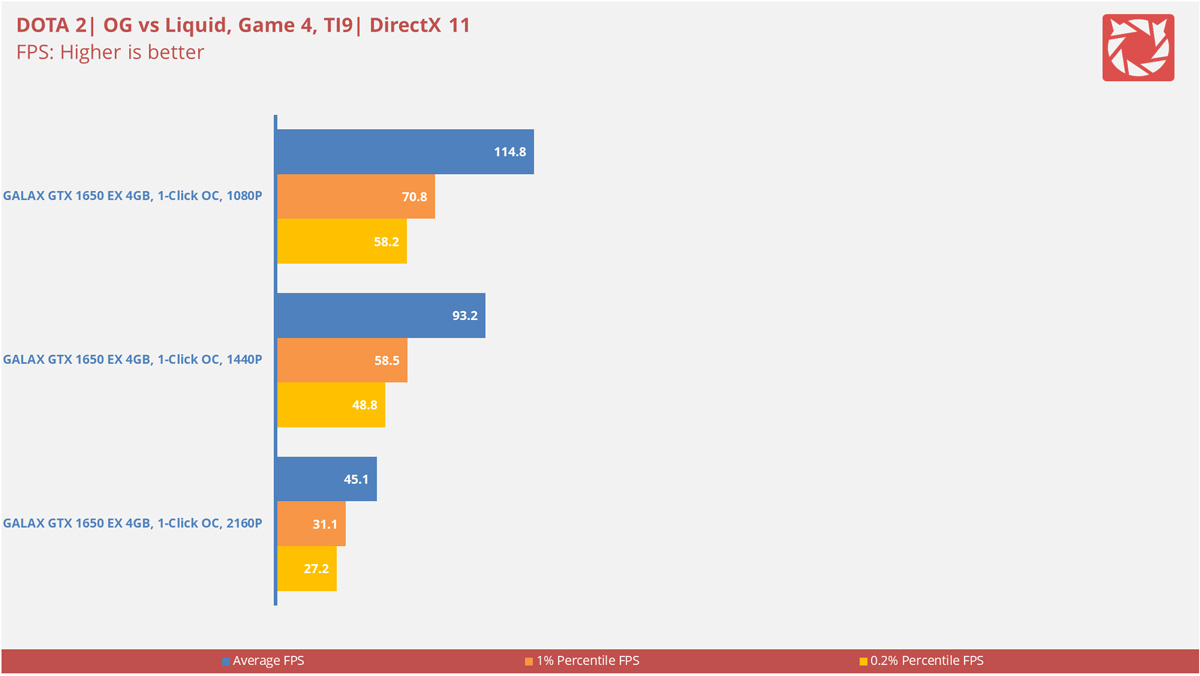 Assetto Corsa is a sim-racing game developed by Kunos Simulazioni with extensive support for customization. The game runs on a in-house engine with support for DirectX 11. The built-in benchmarking tool is used for the run.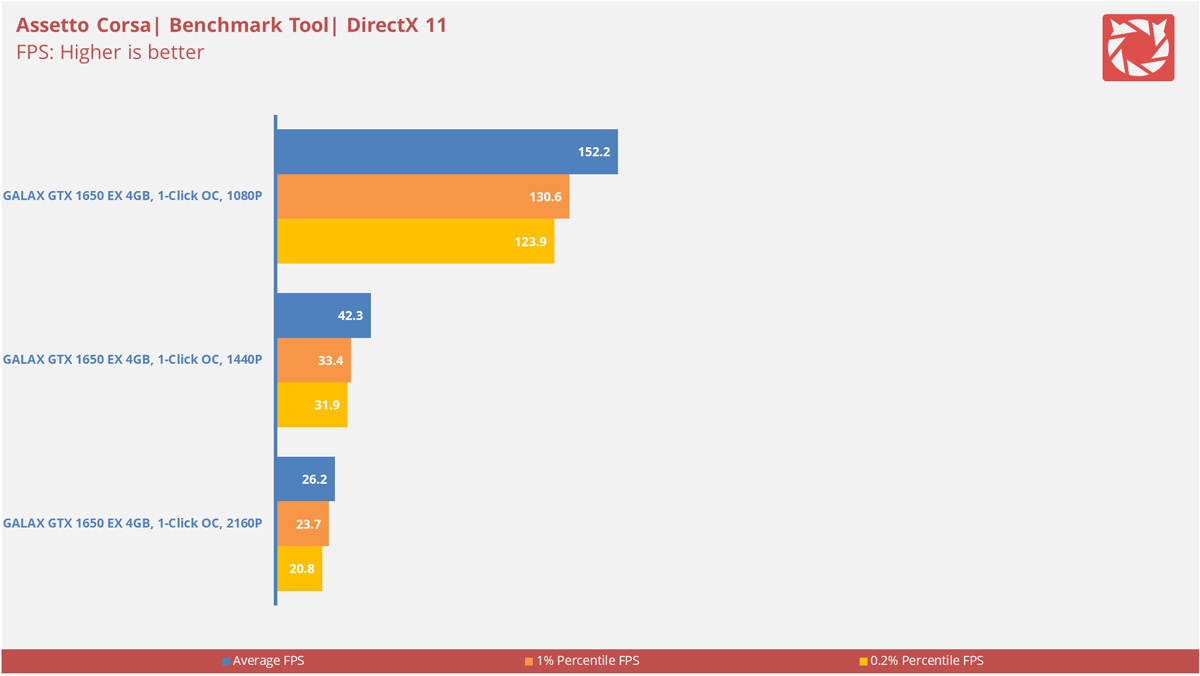 F1 2020 is the official F1 racing game developed by Codemasters utilizing the Ego Engine 3.0 with support for DirectX 11 and DirectX 12. API of choice is DirectX 12 with the built-in benchmarking tool utilized for the review.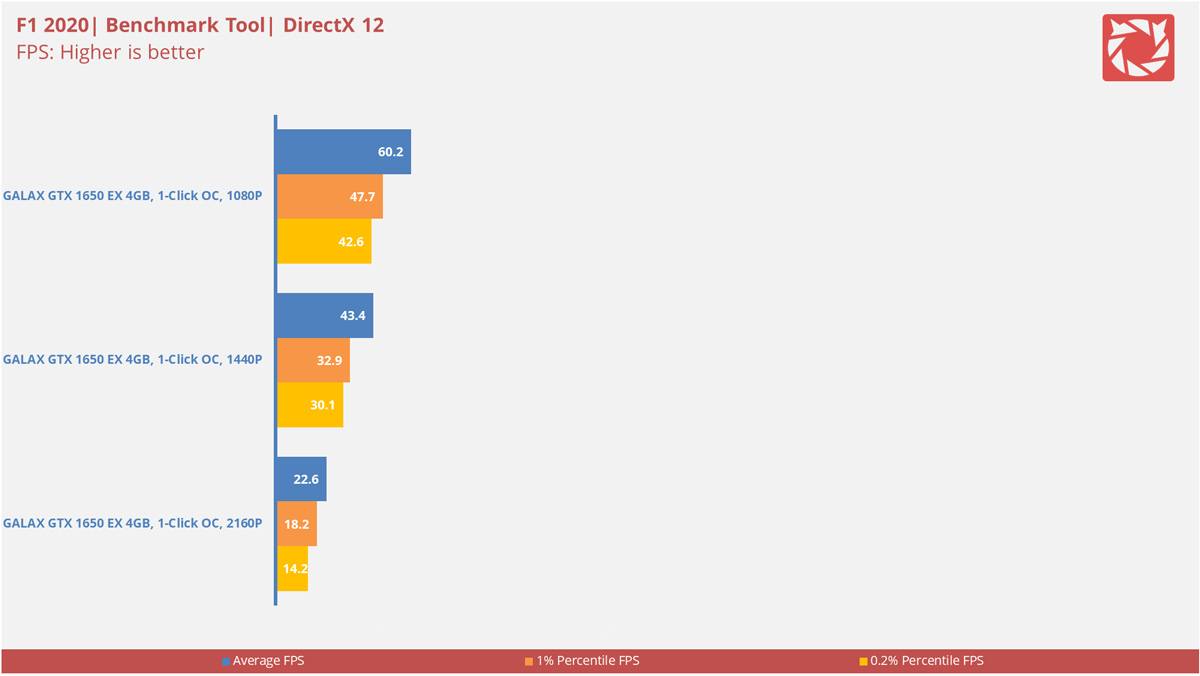 Final Fantasy XIV: Shadowbringers is an MMORPG created by Square Enix. It uses the tried and tested Crystal Tools game engine with support for DirectX 11. The built-in benchmark tool is used for this run.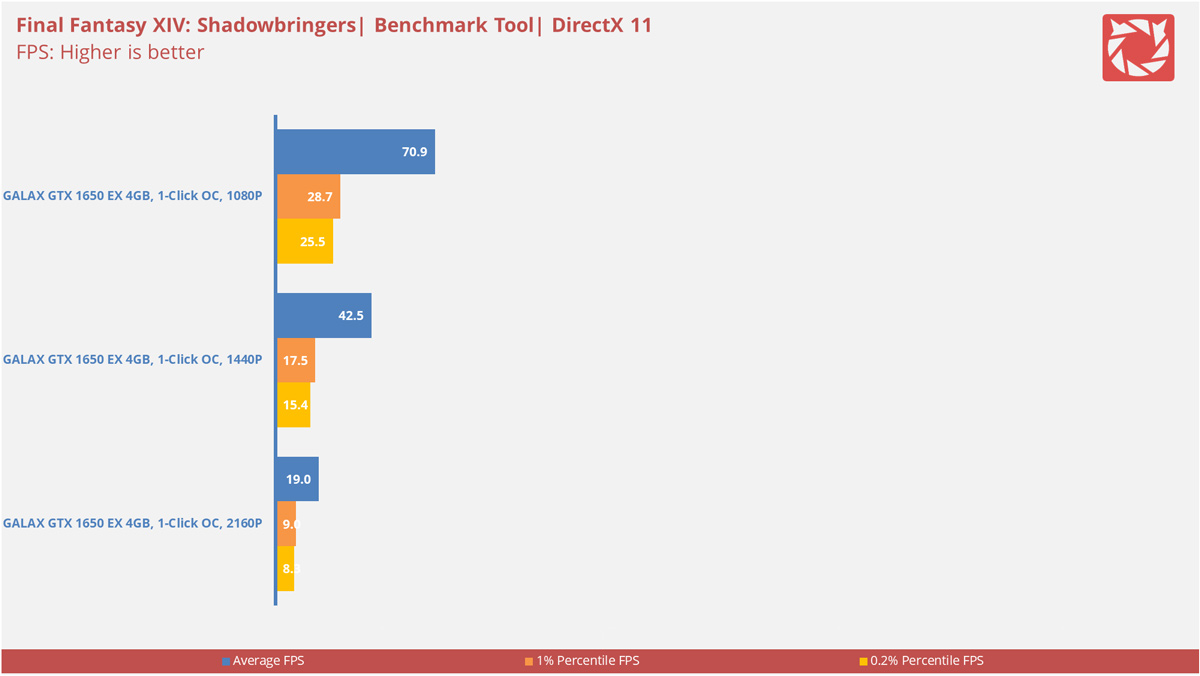 Shadow of the Tomb Raider is the third installment for Eidos-Montréal's reboot of the original series. The updated Foundation game engine is featured in this game with support for DirectX 11 and DirectX 12. The first few scenes from the built-in benchmark tool is used for this review.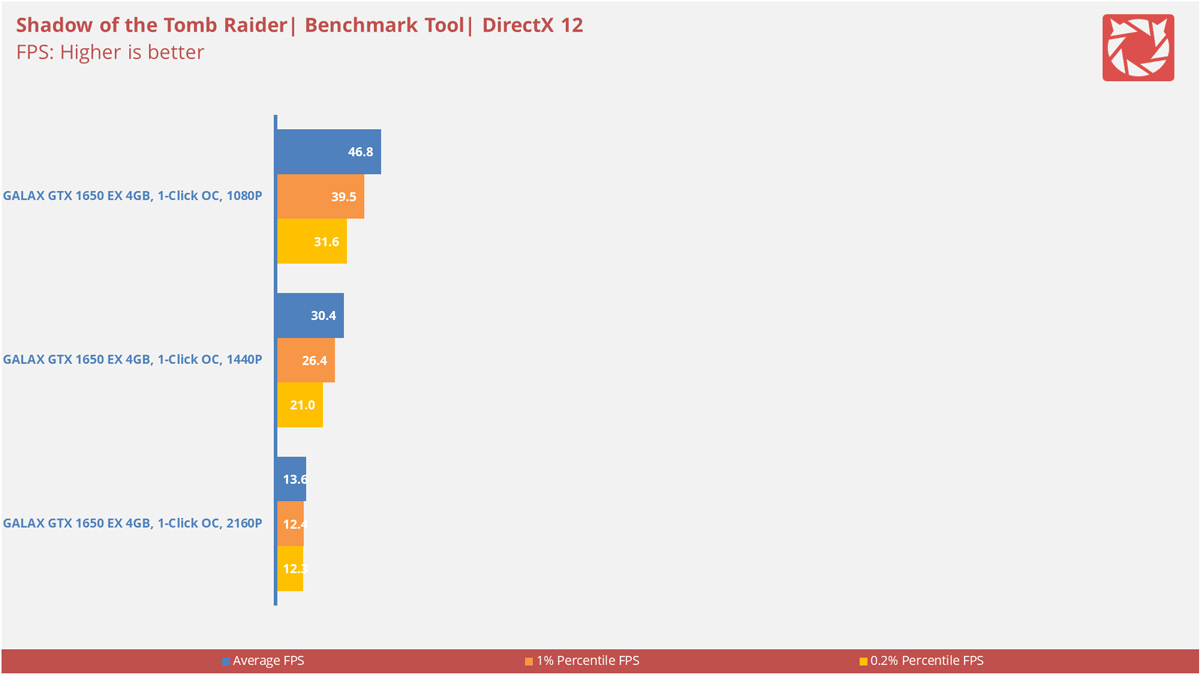 Total War: Warhammer II is the latest installment of the Warhammer series. It is a turn-based strategy and real-time tactics game developed by Creative Assembly utilizing the WarScape game engine supporting both DX11 and DX12. The Skaven preset from the built-in benchmark tool is used.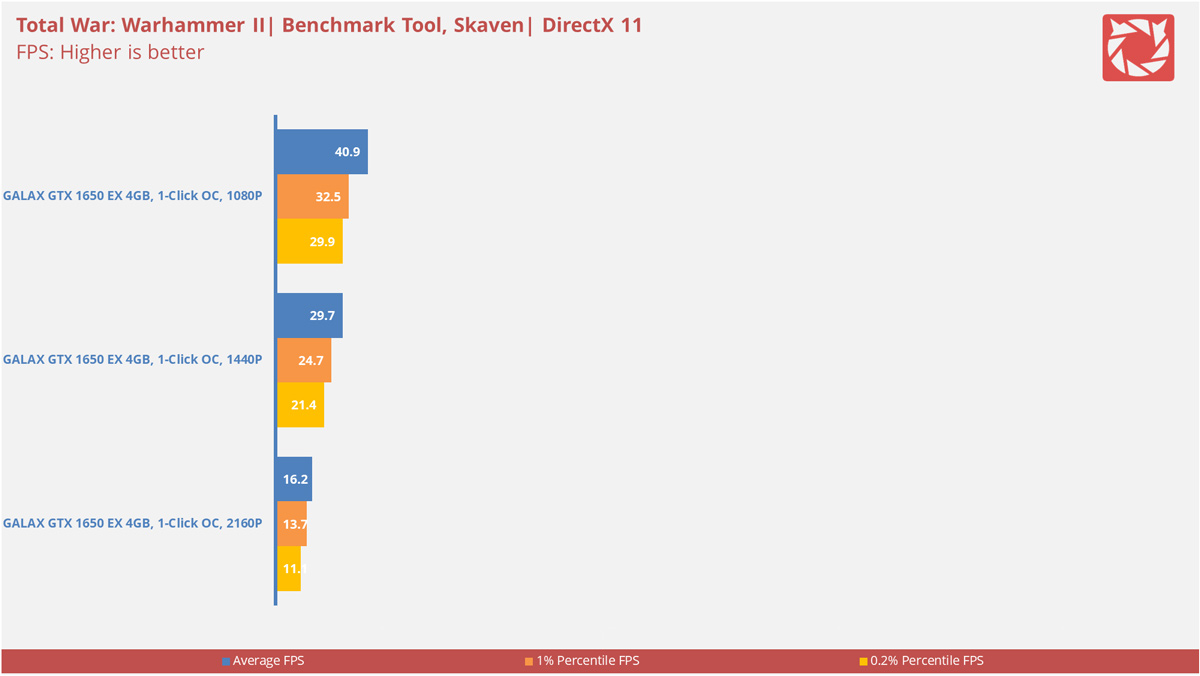 Sid Meier's Civilization VI is a turn-based strategy game developed by Firaxis Games using a custom game engine built from the ground up that supports DX11 and DX12. This game also comes with two benchmark presets aptly named as Graphics and AI.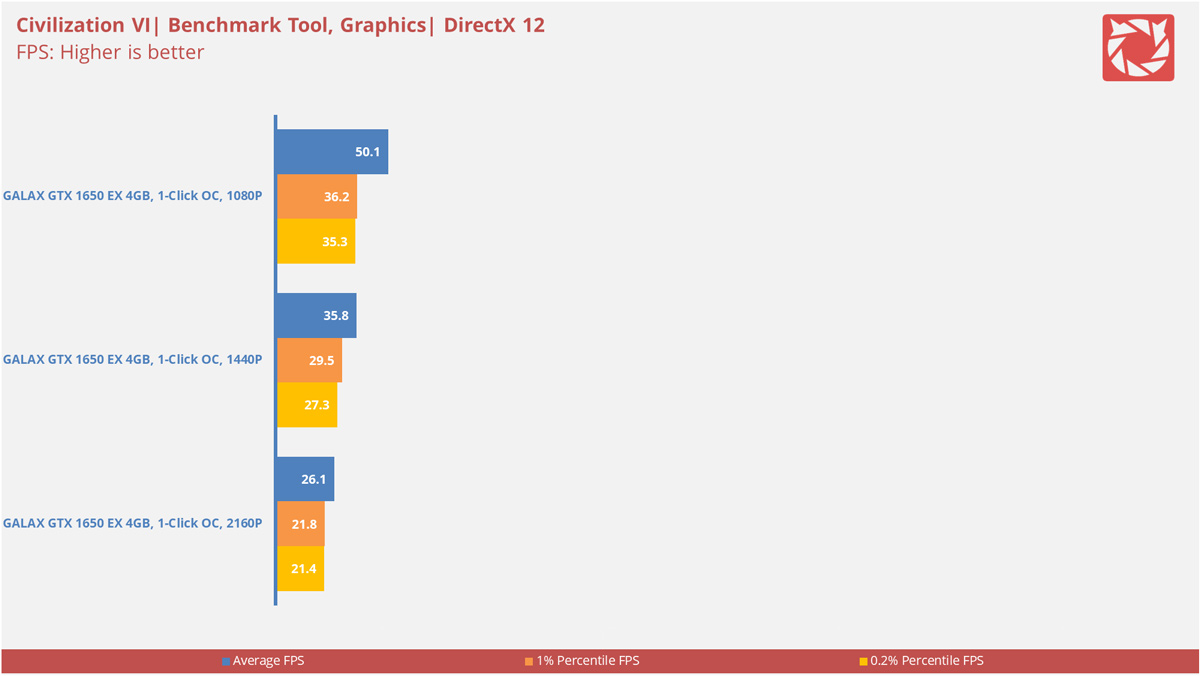 Gaming performance at 1080P on older titles are excellent and with great performance output for recently released games as well – even at 1440P.
Few exceptions here are the results from Shadow of the Tomb Raider, Civilization VI and Warhammer II where the card struggles to get past 60 FPS. For those titles, you really have to turn down the settings. Same thing could be said for the other titles that the card could handle if you wish to run them at higher resolutions.
I am most certainly pleased with this outcome since I expected the GTX 1650 to crawl its way through most of our tests. Glad I was wrong.
Software, Lighting and Special Features
Apart from the obvious support for GeForce Experience, the GTX 1650 EX from GALAX supports the company's own XTREME TUNER software. It is literally a dashboard looking tuning utility which is something that might irk some. Trust me you need this to run the card at its potential.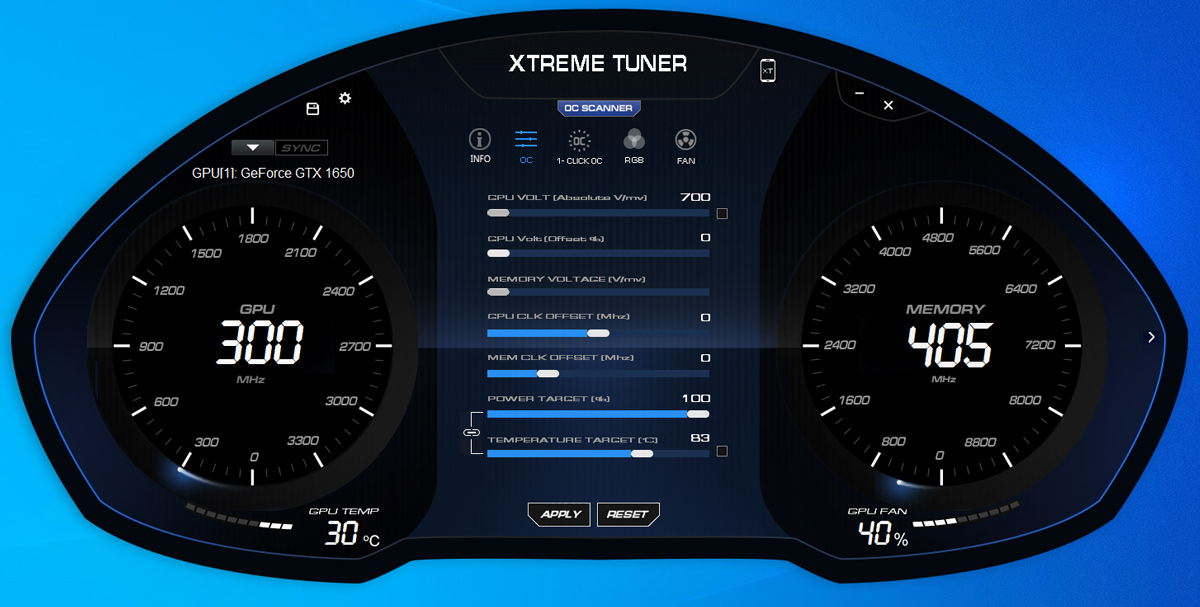 Manually overclocking the card is fine via the software but the 1-click OC feature is just hard to pass especially if you're a beginner and do not want to mess anything up. There's also an option to have the app start-up and apply these settings upon booting so there's that for peace of mind.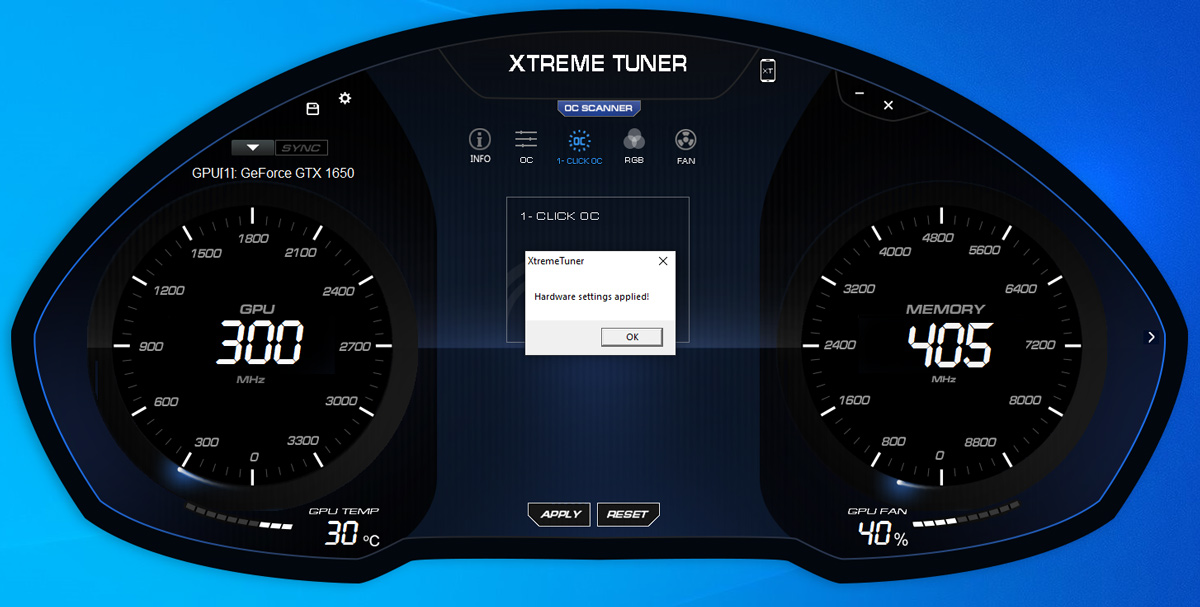 GALAX also added a simple fan speed adjustment should you want to manually adjust it according to temperature. Trust me you'd want to do this if you plan to manually overclock the card. With a noise level that is decent enough not to induce hearing loss, setting this high up the scale is not an issue.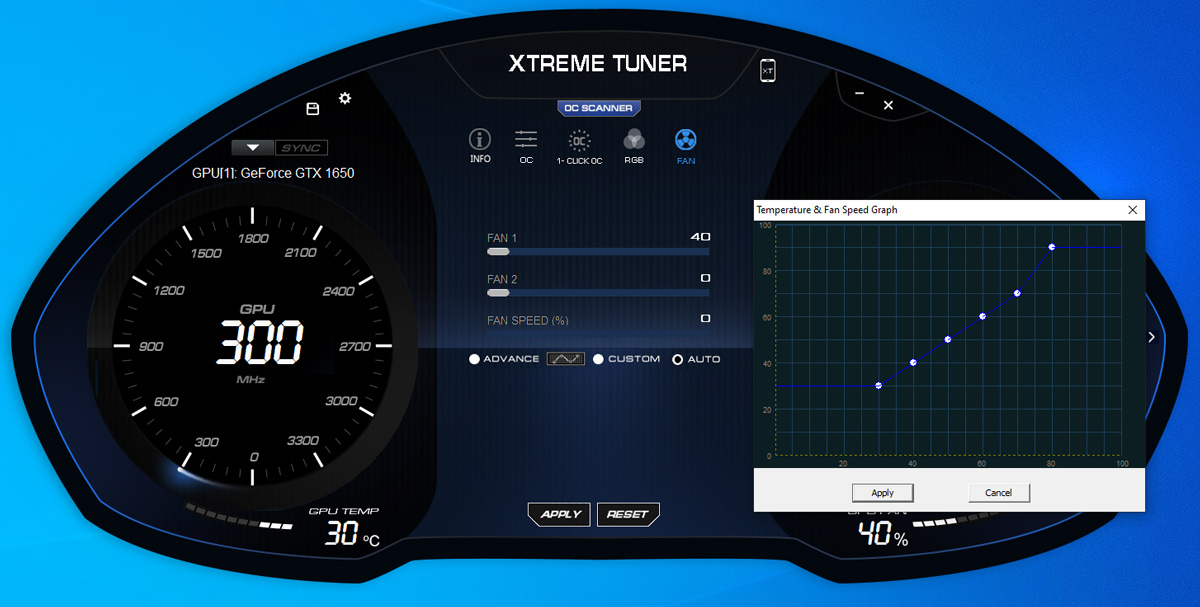 Final Thoughts

The GTX 1650 EX 1-Click OC from GALAX is a surprising budget contender. It shines particularly at eSports titles and managed to do so on recent AAA titles as well – permitted it is 1080P or if on a higher resolution, allow the game to tone its settings down to breach the 60FPS mark. Years of driver updates and or optimizations made the TU117 silicon still relevant to this date. The 4GB GDDR5 VRAM is just the only thing holding this one back at certain titles. Nvidia released the GTX 1650 Super for that exact reason.
Build quality and design wise, GALAX did the card justice by providing a good amount of ventilation and a machined heatsink with direct contact to the VRM – in a reinforced manner. This is important to keep the card stable at its intended 1-click overclock feature. Size is standard too so it will fit on most builds without any issue. We hoped it features 0dB fans though.
Priced at just 7,599 Pesos, the GALAX GTX 1650 EX is hard to fault. That's especially true if we're considering the scarcity and the current price of GPUs.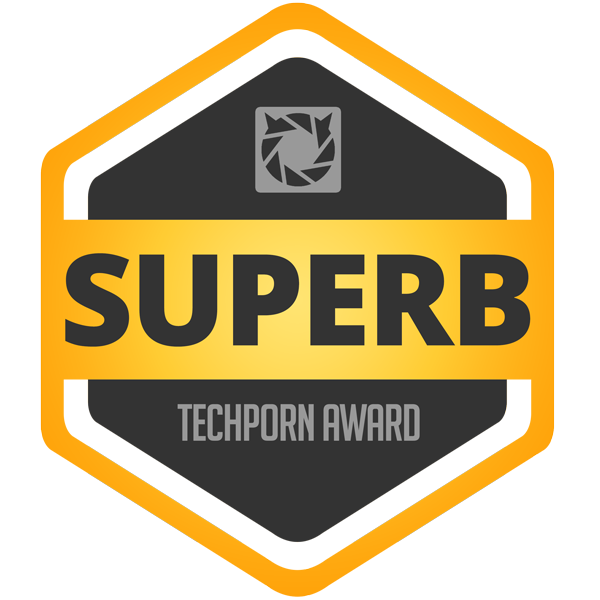 GALAX GTX 1650 EX 4GB (1-Click OC)
Performance -

8/10

Build Quality -

9/10

Features -

8/10

Design -

9/10

Value -

8/10
Summary
The GALAX GTX 1650 EX 4GB (1-Click OC) is a good starting point for budget oriented gamers looking to play the latest games at modest settings without breaking the bank. Priced at 7,599 Pesos, it is really hard to fault.