Next up on our Lightspeed adventure is the Logitech G603 Wireless Gaming Mouse. I bought this sucker bundled with the G613 wireless gaming keyboard and it's high time to make an impression of its capabilities as a wireless gaming mouse.

As for the specifics, the Logitech G603 packs in their in-house HERO sensor. A sensor according to Logitech, rated to feature a performance identical to that of Pixart's PMW-3366. While it is said to be on par with the legendary sensor, efficiency is improved by ten-fold in comparison. This allowed Logitech to claim that the G603 could last up to 500 Hours which is way ahead of their competitors.
The G603 also features Lightspeed and Bluetooth connectivity together with support for single or dual AA battery configurations. Learn more from the official product page and get it at Amazon.
TECHNICAL SPECIFICATIONS:
Logitech G603 Wireless Gaming Mouse
Size
Medium
Shape
Right-handed
Sensor
Logitech HERO
Buttons
6
Scroll
Non-tilt
Processor
32-bit ARM
Profile
Yes
Cable length
N/A
Switches
Omron
Weight
90g, Mouse only
Software
Yes
Interface
Lightspeed, Bluetooth
Lighting
N/A
Feet
Teflon
The Logitech G603 again, features the HERO sensor. It has a DPI range of 200 to 12000 with a maximum speed of 400 IPS. As for reporting, the Logitech Lightspeed is able to go as high as 1ms, while Bluetooth will only go as high as 7.5ms.
Logitech HERO
Sensor Type
Optical
Resolution
200 – 12000 DPI
Speed
400 IPS
Acceleration
40G
Polling Rate
Hi (1000Hz), Lo (125Hz), Bluetooth (88-133Hz)
PACKAGING AND ACCESSORIES:
Just like any other Logitech G series released in the recent years, the G603 features the same distinct yet simple packaging. This doesn't make the G603's colorbox shabby though as relevant information are still present at the back.
The mouse comes with a quick start guide, the Lightspeed + Bluetooth dongle, a set of AA batteries and a extension cable. Glad they added Two AA batteries in there, as well as an extension to avoid any connectivity issues.
DESIGN, LAYOUT AND BUILD QUALITY:
The Logitech G603 is a medium sized gaming mouse featuring a right-handed design. Quality is excellent – and when I mean excellent, nothing but the G logo is painted. Everything else got their colors naturally from the materials. Speaking, most of the materials used are matte finished and should blend perfectly well with the Logitech G613 wireless gaming keyboard.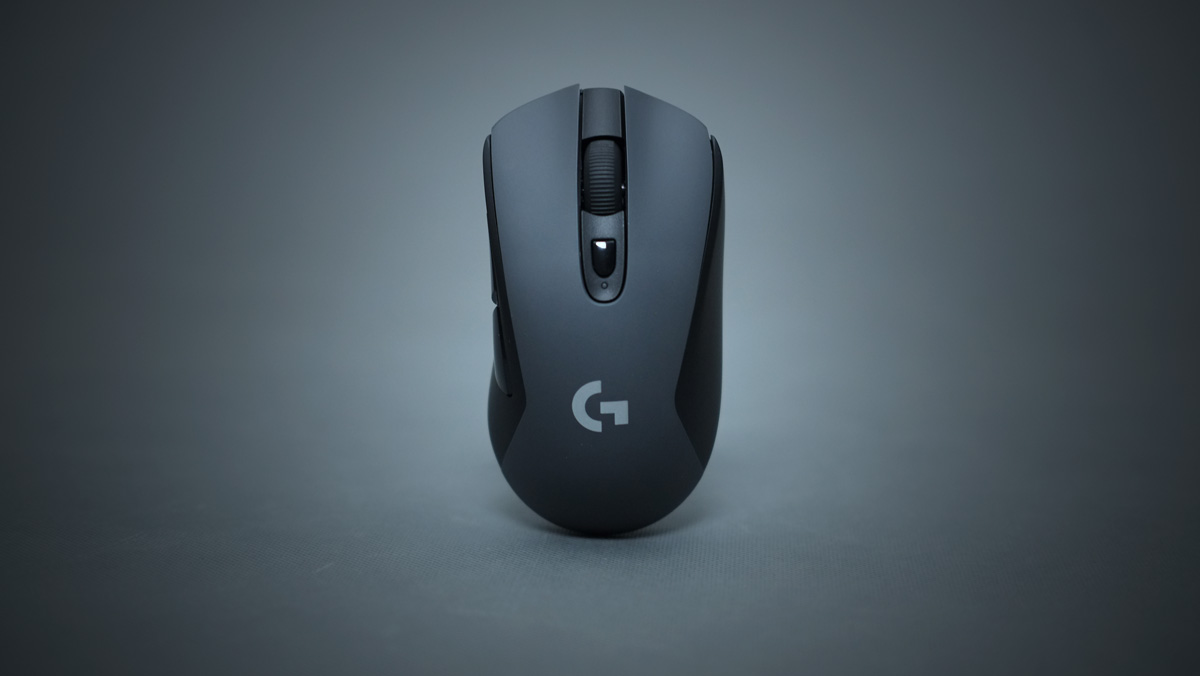 The mouse features a total of 6 buttons and has a dry weight of 90 grams. Since Alkaline, Lithium and Ni-MH cells varies when it comes to weight, we are looking at an additional 15 – 30 grams of mass with a single AA inside and 30- 60 grams for two respectively.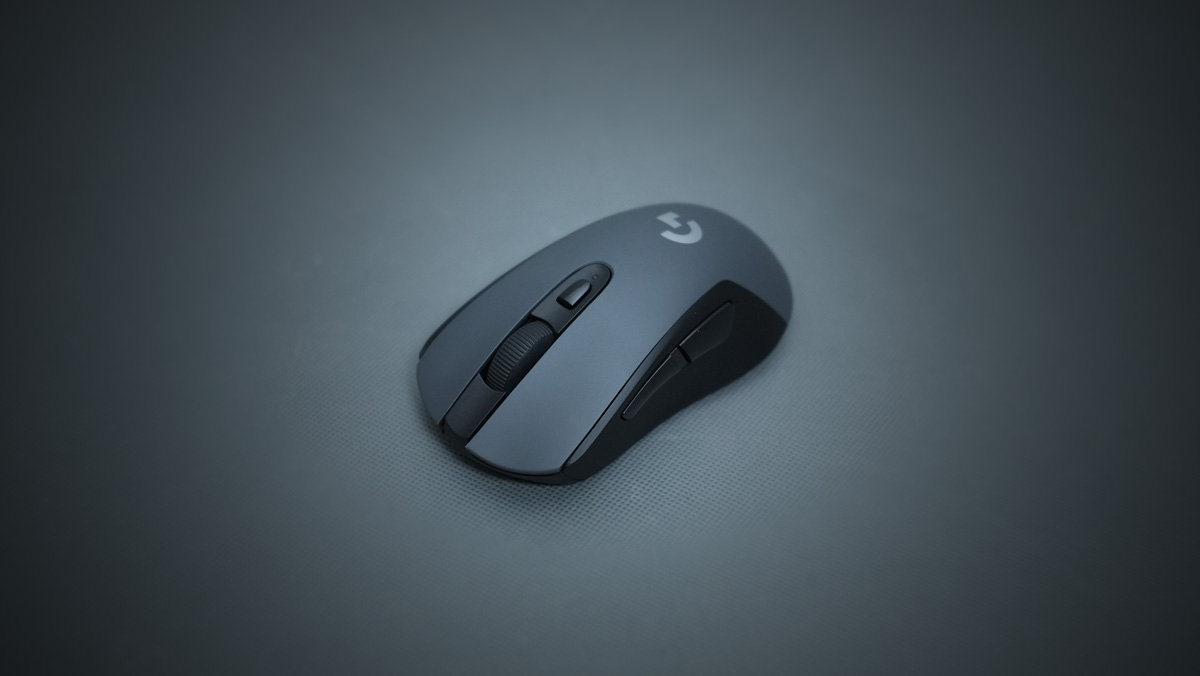 As for the profile, Logitech went with a tried and tested approach – and with large side buttons to boot. If you're familiar with the Logitech G403 and you love its medium size and profile, then this one should suit you.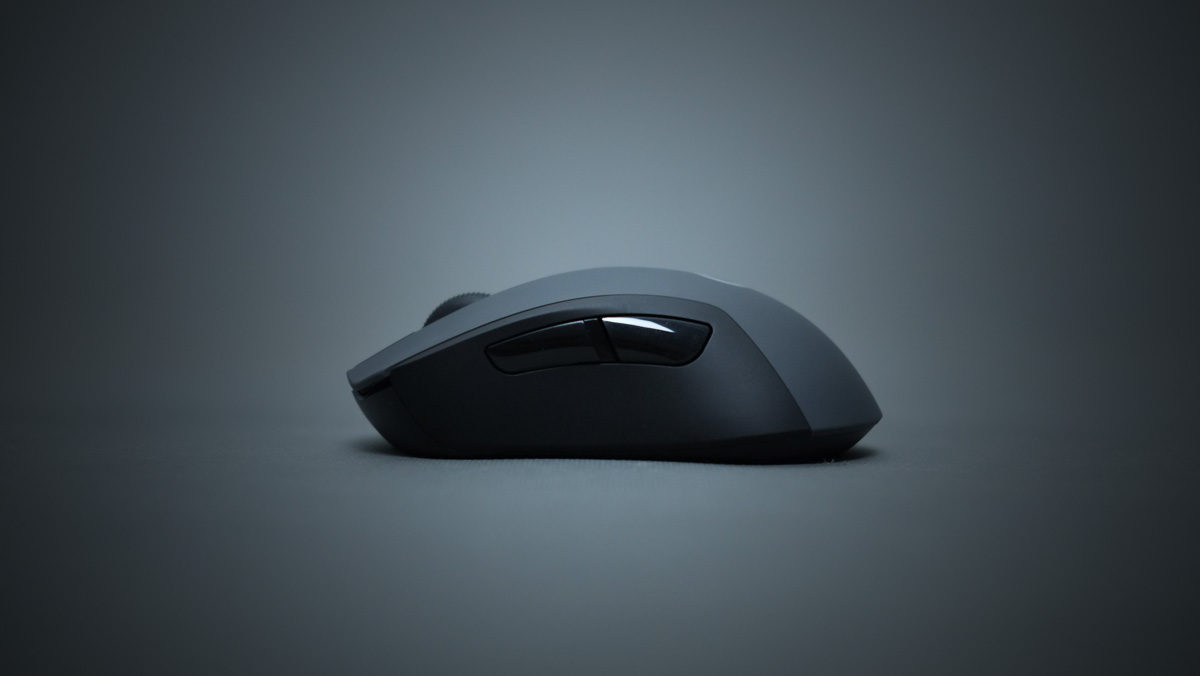 Left side profile features a smooth curve for your pinky and ring finger to latch onto softly.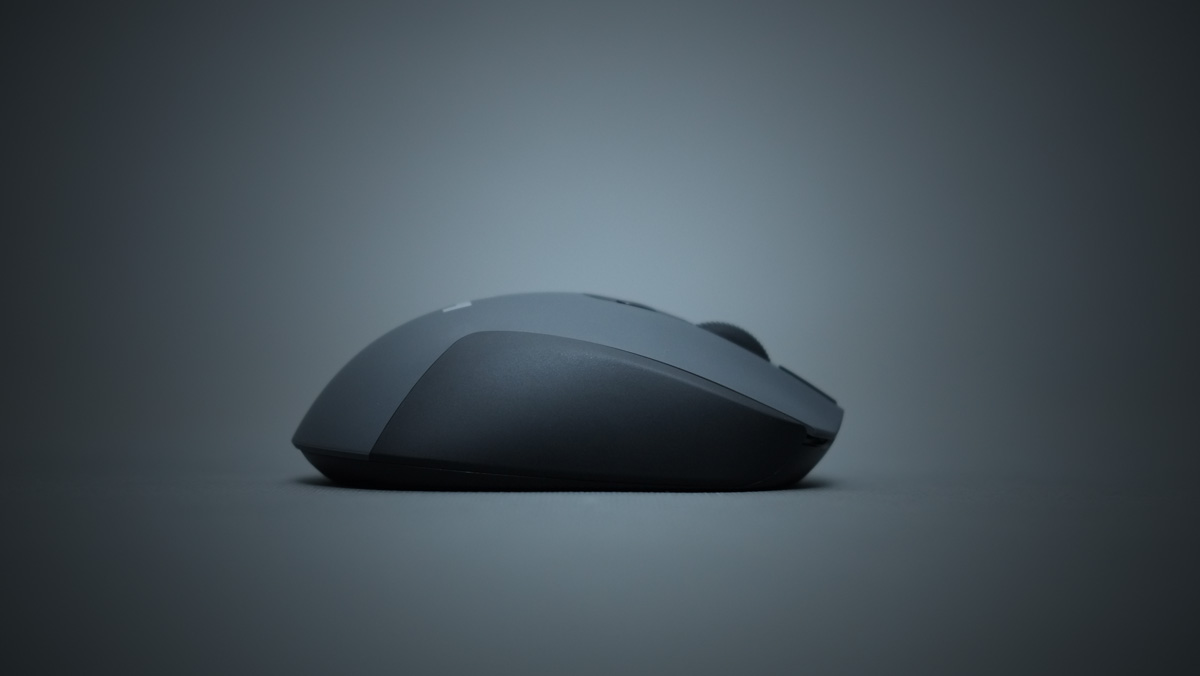 The top shell construct is removable and is shaped optimally for right handed gamers. DPI button is recessed which is nice, but I felt that the scroll-wheel could be a little lower. I'm just picky I guess, considering that I use the middle mouse button extensively on my games.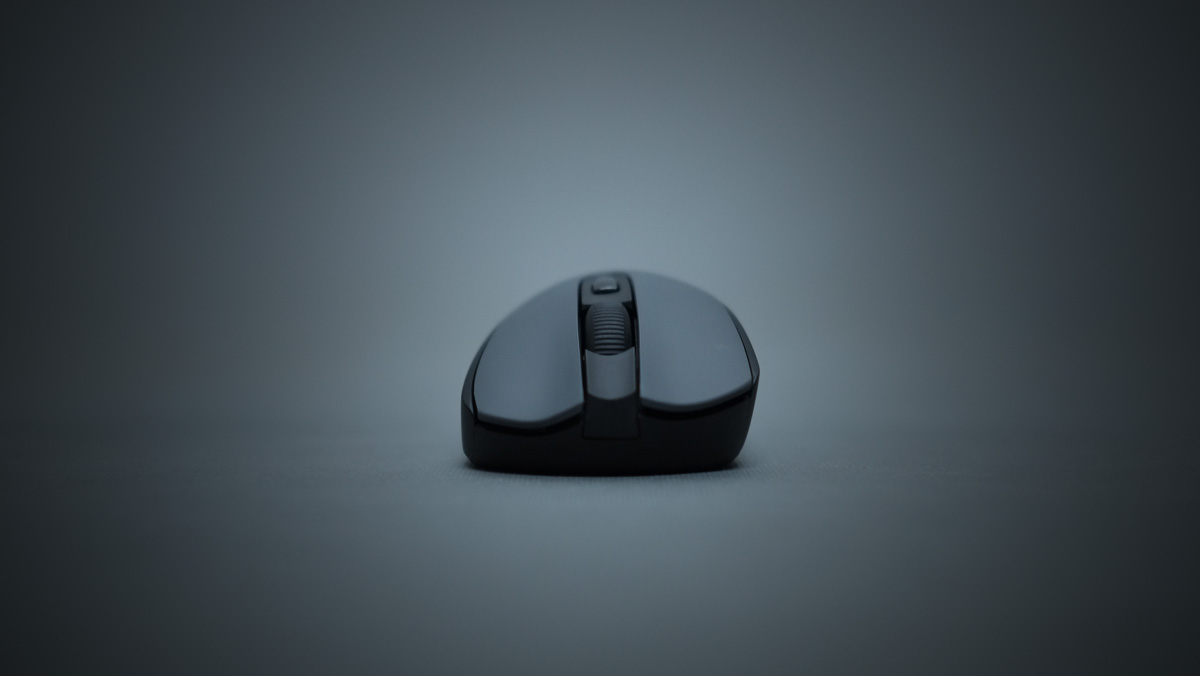 The underside reveals the HERO sensor and the switch that toggles the device's operating frequency. There is also a button that toggles Lightspeed or Bluetooth complete with a status LED. The skates are 3 piece proprietary ones. Three, since you've got one too for the sensor – acting like a dust repellent.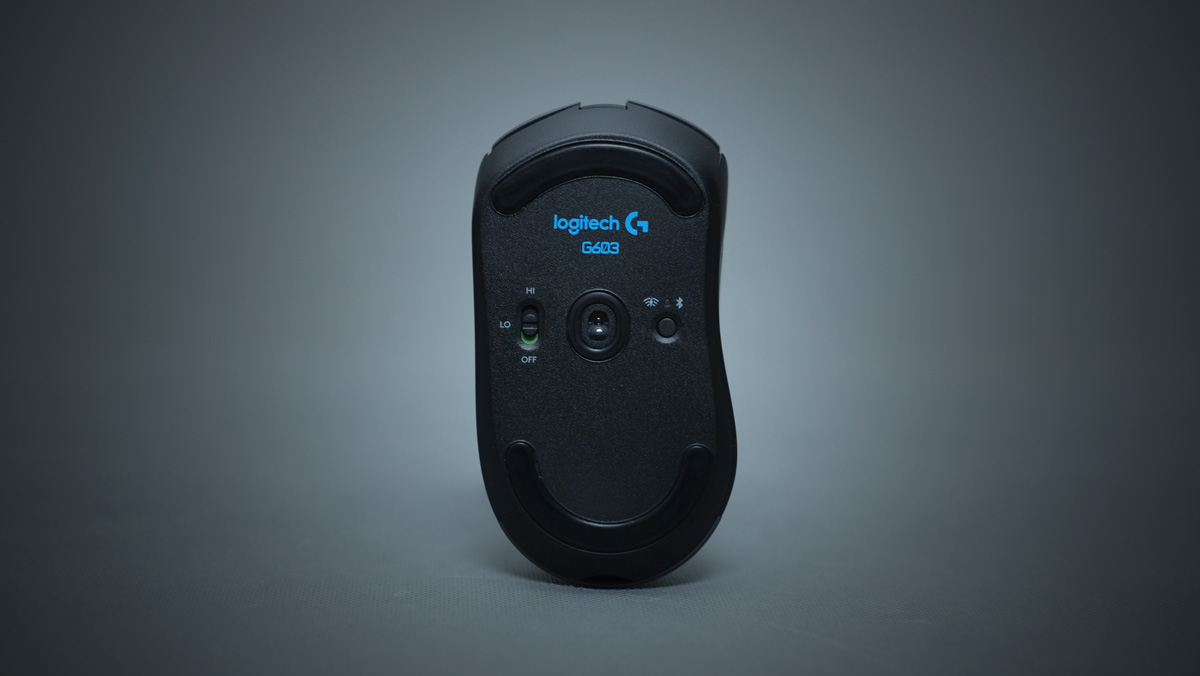 Removing the shell (magnetized) exposes the AA battery slots and the Omron switches. There's also a slot for the dongle as well. The shell also had a spring mechanism to aid tension. Pretty cool stuff.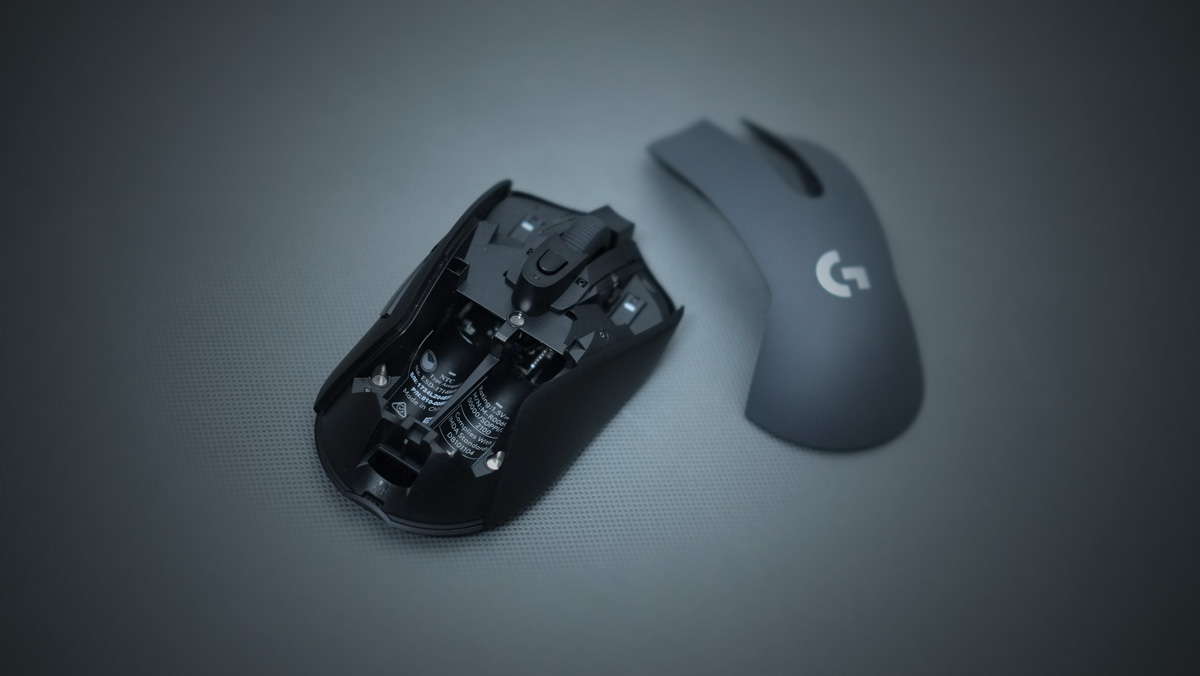 TEST SETUP AND METHODOLOGY:
Testing a gaming mouse is not that difficult, but it is mostly subjective; similar to testing head gears in a sense. That said, no mouse is perfect and the verdict usually depends on personal preferences. With that in mind, we are overhauling our testing methodology by following key pointers that should matter the most; that includes the sensor performance, the size, grip and comfort. To keep our test methodology simple and free of extra variables, please note the following softwares and configurations used below.
| | |
| --- | --- |
| GAMES | Overwatch, Battlefield 4, DOTA 2 |
| MOUSE POINTER SPEED | 6/11 (EPP turned off) |
| REGISTRY HOTFIX | MarkC Windows Mouse Acceleration Fix (If required) |
| DPI/CPI LEVELS | 800/1600/3200  (If possible) |
| POLLING RATE | 1000 Hz (If possible) |
| SURFACE | SteelSeries QcK Mini |
| SOFTWARES | MouseTester V1.5 (dobragab) + Key Response Time |
DPI ACCURACY:
The accuracy of DPI levels are tested with the CPI measurement tool built within the MouseTester V1.5. We rigged the mouse on a camera slider to check the sensor's accuracy at 800, 1600 and 3200 DPI.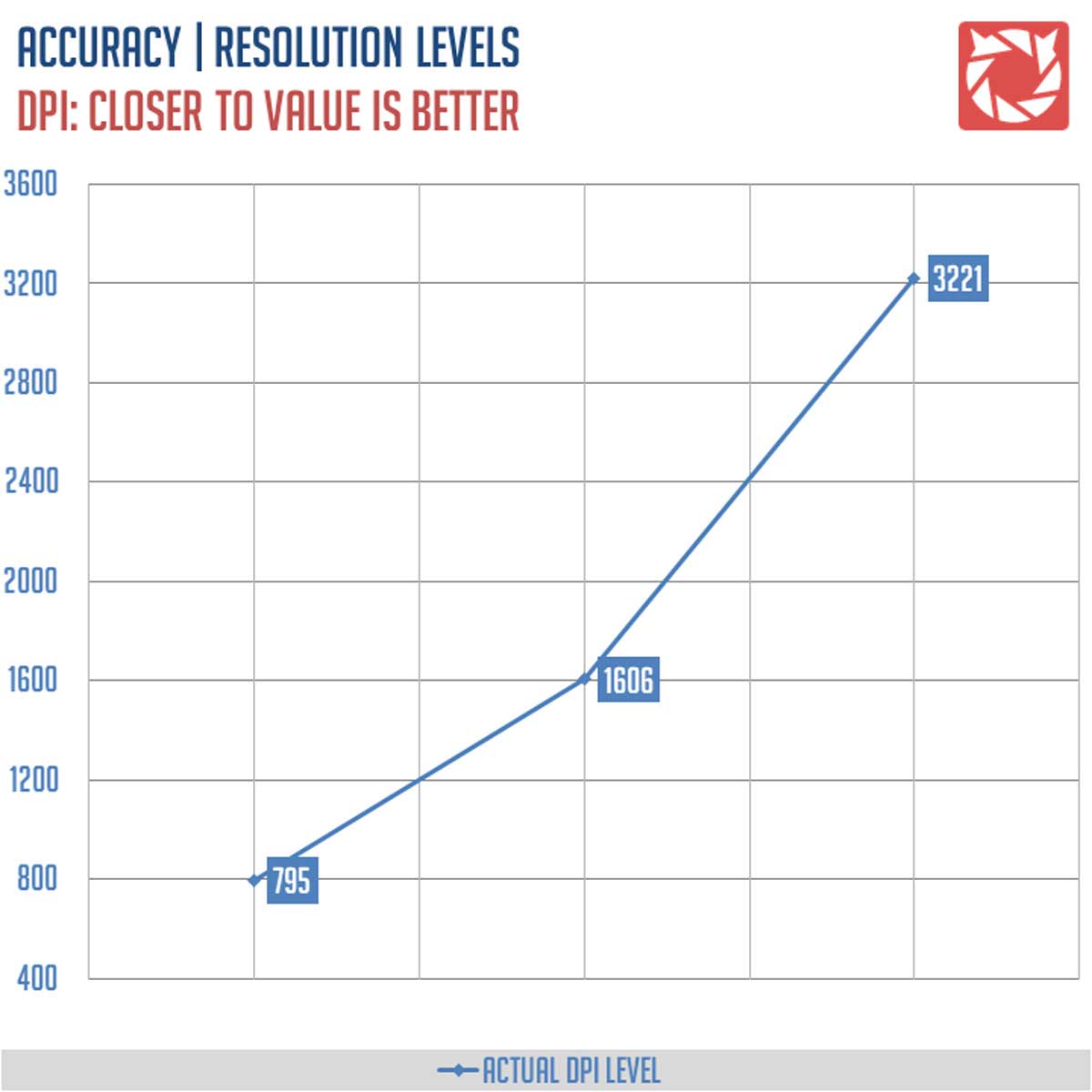 Excellent DPI accuracy reports we got here from the Logitech G603 at all DPI levels tested.
TRACKING PERFORMANCE:
Mouse tracking performance is evaluated with the MouseTester V1.5 with a DPI level of 800 DPI. Our aim is to check out the sensor's performance; and to look for reporting inconsistencies. That includes inconsistencies from sensor ripple or jitter.
Tracking performance is generally good at the tested Lightspeed configuration and DPI of 800. I've seen better report counts that's true, but this is still pretty good especially for a wireless mouse. Do note that these results are based on testing the mouse on a usual desktop environment. Yah know, putting the receiver at the back of a case 3 feet away from the mouse.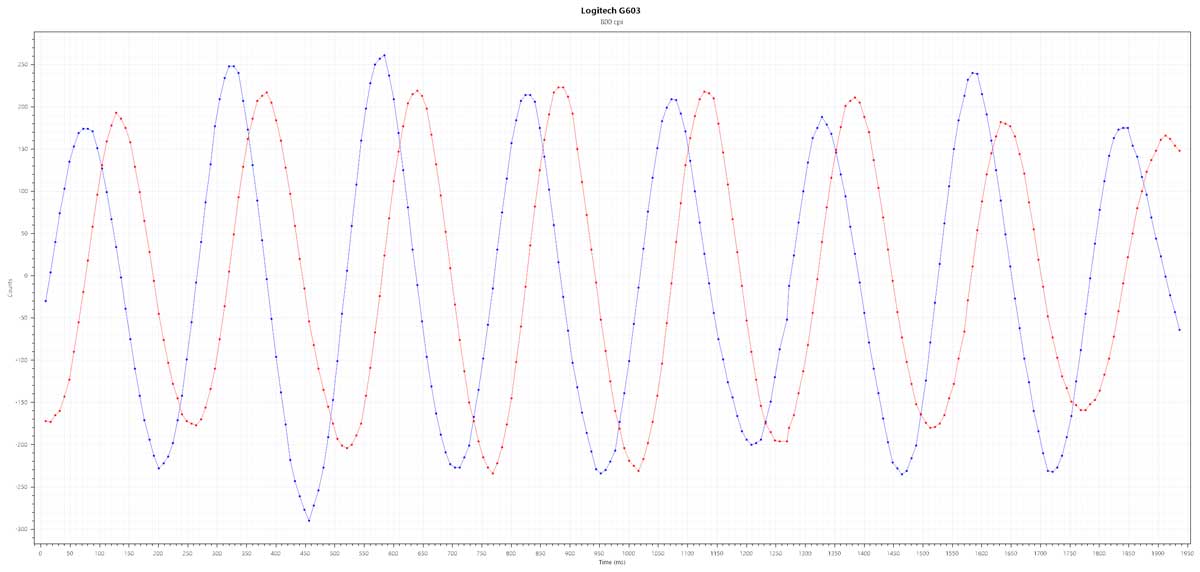 The HERO sensor at 125Hz is pretty much like any other wired mouse at 125Hz. Nothing breathtaking here, just proper low polling rate performance.
POLLING RATE CONSISTENCY:
The Polling Rate of the device is evaluated with the MouseTester V1.5 at the 800 DPI level. This is to check the consistency of the device's update rate at 1000Hz.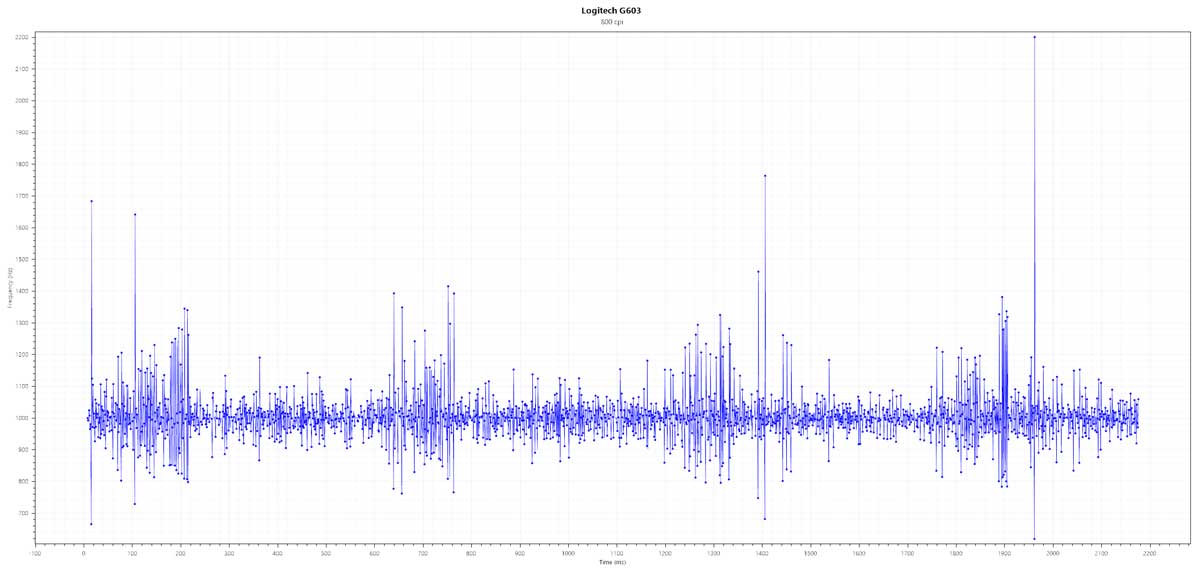 Not so consistent results we got here but a decent result nonetheless. Lowest recorded is just around 620Hz, while the highest spike we got is at 2200Hz based on our software.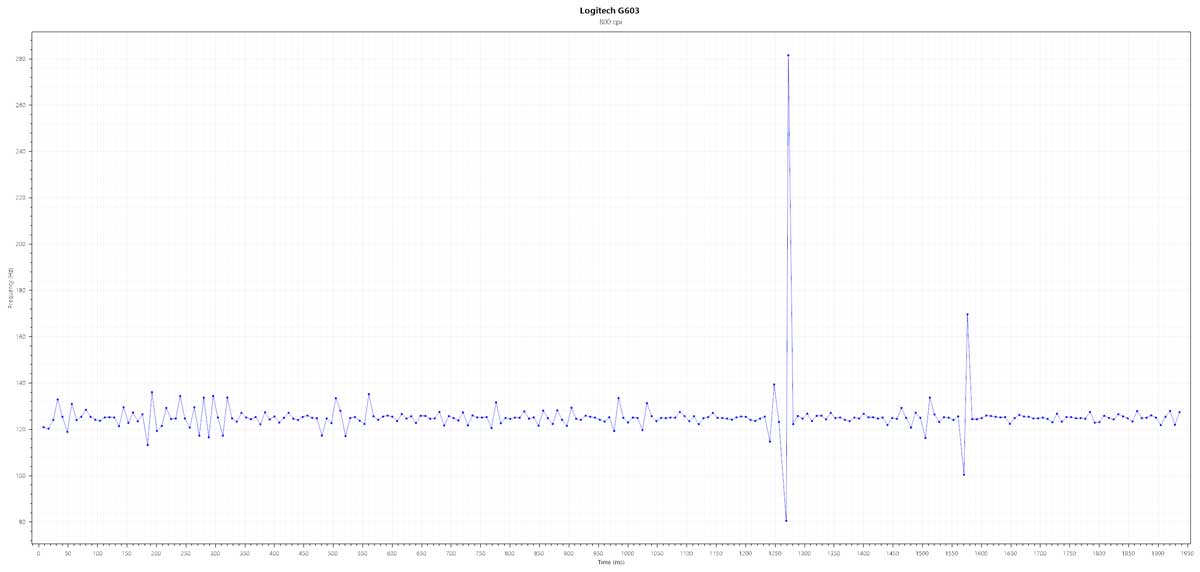 Finally, we get to see how it perform at 125Hz. Just here for reference, nothing to gnaw at.
PREDICTION, LOD, RATTLE AND ACCELERATION:
Angle snapping, lift off distance, sensor rattle and acceleration are also evaluated. The angle snapping is checked with MS Paint, while lift off distance levels are checked with ~1.2mm optical discs. Acceleration on the other hand is tested with Overwatch at 800 DPI. Sensor rattle is then checked with an electrical tape.
| | |
| --- | --- |
| ANGLE SNAPPING | Zero angle snapping |
| LIFT OFF DISTANCE | Around ~1mm |
| SENSOR RATTLE | None |
| ACCELERATION | None |
Lift off distance is locked at around ~1mm, which is good enough for my requirements. There are no angle snapping, sensor rattle and acceleration.
SOUND PROFILE:
No two or three mice sounds the same, even if they feature the same switches. This is due to factors including the switch itself, the housing and the overall construct of the mouse. Listen to the profile below to get an idea of the mouse's sound signature.
SIZE, GRIP AND COMFORT:
Your grip style and hand size will heavily influence what mouse you should buy. So it's better to know both first hand. For an instance, my hands measures at 7 inches x 3.5 inches (length x width). This puts my hands on the small to medium size category. My style is finger-tip grip, so I would generally look for a mouse with a small to medium foot print.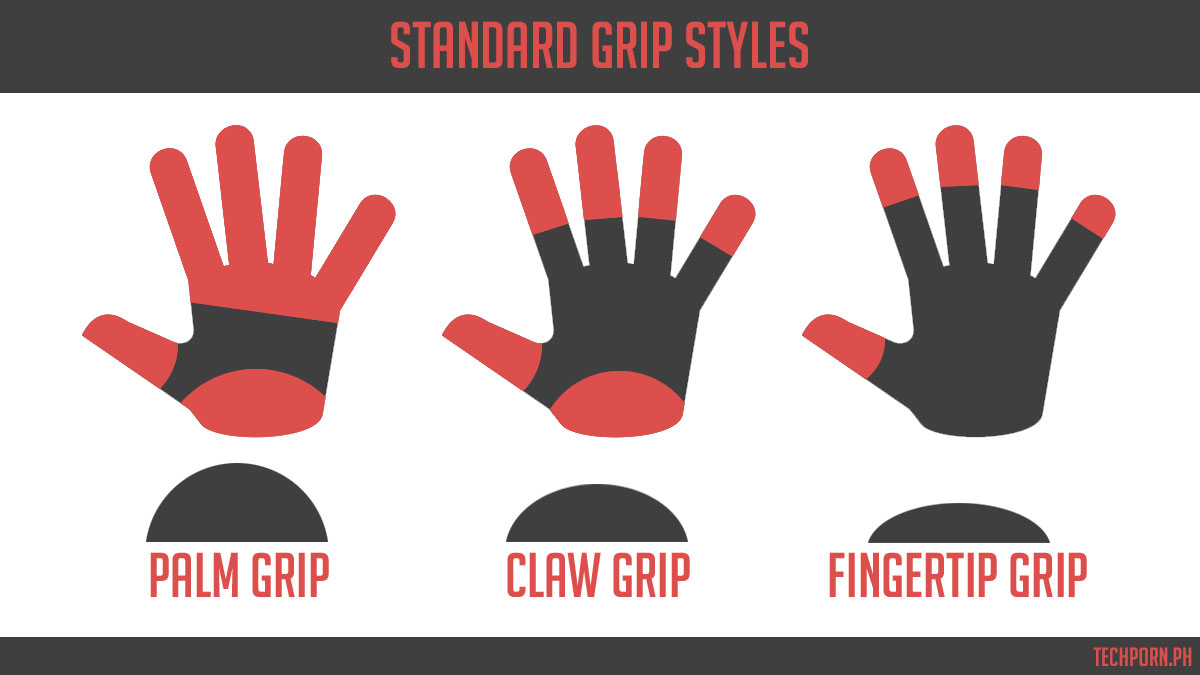 2:1 is considered the best length and width ratio you need to look out for when buying a mouse. That's without accounting for the ledges and the top shell construct. Basically, if you want a generally comfortable mouse with a good grip, you'd want something near those measurements.
The Logitech G603 Wireless Gaming Mouse features a 2:1 ratio, with a length at roughly 4.8 inches and a grip area at around 2.4 inches base-to-base. The highest point of the shell is at 1.7 inches with a not so steep curvature. With those things said, the mouse is ideal for claw and palm grip gamers with a medium hand size.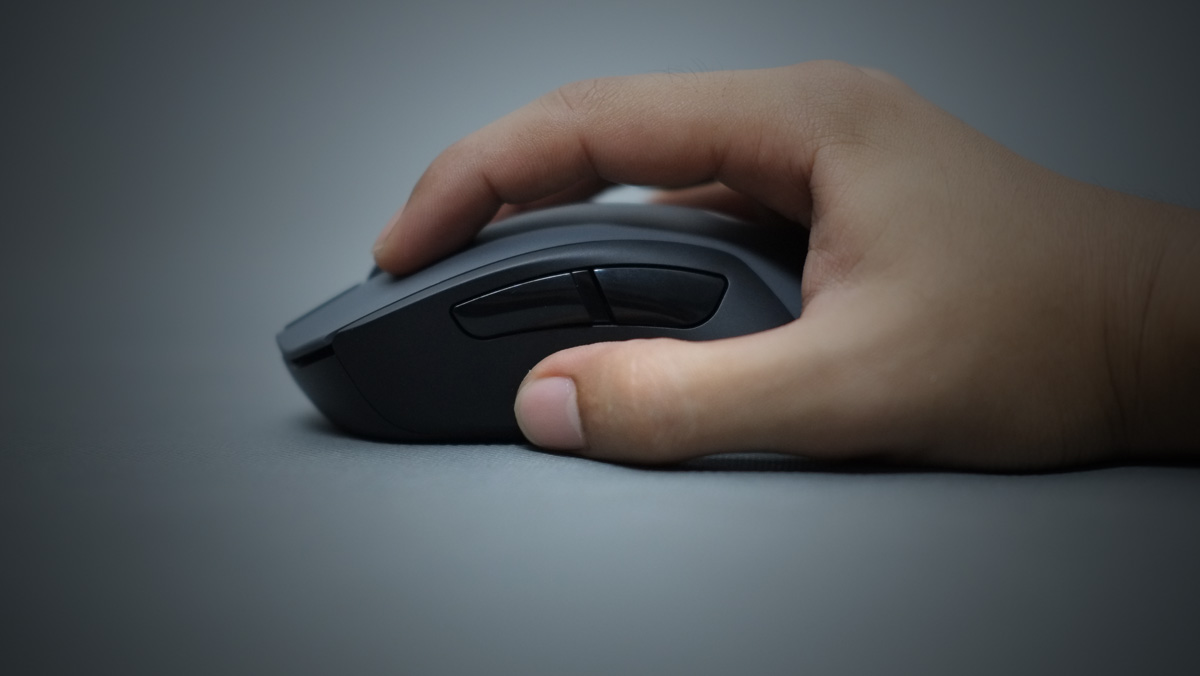 The G603 is versatile enough for medium sized hand gamers, while it is more so for larger hands – allowing even finger tipping with ease. As for comfort, I've got nothing bad to say against this mouse. It is just excellent especially for my play style. I do however, prefer stiffer side buttons.
MISCELLANEOUS:
The G603 is fully compatible with the Logitech Gaming Software. It allows for seamless integration with Logitech's latest gaming devices. Here, you could set the mouse to automatically set a profile based on detected software and set commands for the 6 buttons. Said commands are key bindings, macros and pre-configured options.

Sensor specifics could be adjusted at the software as well. That includes DPI sensitivity levels to choose from, as well as one more for the quick DPI shift command. Polling could be adjusted too to suite your taste. It also helps to extend the battery life.
Finally, we have the heat map for those who like to see what button we abuse the most.
WRAPPING IT UP + BATTERY LIFE:
Back in the glory days of the Battlefield series, I used to adore the Logitech G602. It just allowed me to believe there's a future for wireless gaming and at a competitive level. Fast forward today with the G603 in hand, the future had just come true. Not just in terms of tracking performance but on the topic of battery life as well.
Right on the topic, my personal configuration of the G603 features a single AA battery. That puts it in at 105 grams which is my limit for competitive use. With a single battery inside, it lasted about 2 months with Lightspeed at 1000Hz. That's well around Logitech's 500 Hours claim with dual AA batteries inside. Had this been a little lighter, or also supports AAA out of the box then it could be damn perfect.
Comfort is also excellent with the G603. That's something I'd take all day over a mouse with excellent sensor but with a shabby ergonomics. The HERO sensor proved to be great and I can only say as much about it when it comes to wireless performance alone.
Overall, we are looking at one of the best wireless gaming mouse to date with no BS features at a price of 59 USD. That's about 3000 Pesos of sheer quality, value, comfort and performance.
GREAT TRACKING PERFORMANCE
EXCELLENT BUILD QUALITY
MONSTROUS BATTERY LIFE
TOP NOTCH ERGONOMICS
INNOVATIVE BT + LIGHTSPEED CONNECTIVITY

DRY WEIGHT COULD BE BETTER 
Logitech G603 Wireless Gaming Mouse
PERFORMANCE -

9/10

BUILD QUALITY -

9/10

FEATURES -

8/10

AESTHETICS -

9/10

VALUE -

8/10
Summary
The Logitech G603 wireless gaming mouse is a top-notch wireless gaming mouse at $60. A testament of Logitech's wireless superiority with a price to match.