The MSI MEG X570 ACE is one of the many motherboards we've seen at MSI's booth during Computex 2019. This one is among the high-end MSI X570 boards, featuring a golden luxurious scheme with exclusive Mystic Light Infinity for the mirror reflection effects.

Glamour aside, the MEG X570 ACE also features a 2.5Gbps LAN on top of another 1Gbps solution and a Wi-Fi 6 module. There's also support for the first, second and current Ryzen models. That includes models with an on-board Radeon or Vega graphics plus with display support via USB Type-C if that is your thing. Finally, the board supports triple M.2 setup all capable of PCIe 4.0 support.
Technical Specifications
Processor
CPU
AMD Ryzen 2nd Gen, Ryzen 3rd Gen
Chipset
AMD X570 Chipset
Memory
SDRAM
DDR4
Slot
4x DIMM
Channel
Dual Channel
Frequency
4600MHz
Capacity
128GB
Graphics
GPU
AMD Ryzen 2nd Gen, Ryzen 3rd Gen
Display Output
USB Type-C
Multi-GPU
2-Way Nvidia SLI, 3-Way AMD CrossFire
Expansion
PCI Express
2x PCIe 4.0/ 3.0 x16, 1x PCIe 4.0/ 3.0 x16,  2x PCIe 4.0/ 3.0 x1
Storage
SATA
4x SATA
M.2
3x M.2, PCIe 4.0 x4, PCIe 3.0 x4, SATA
RAID
RAID 0, RAID 1, RAID 10
Network
Wired
1x Intel WGI211AT, 1x Realtek RTL8125 2.5Gbps
Wireless
Intel Wi-Fi 6 AX200, Bluetooth 5.0
Audio
Codec
Realtek ALC1220 Codec
Channel
7.1-Channel
USB
USB 2.0
6x USB 2.0
USB 3.0
4x USB 3.0
USB 3.1
3x USB 3.1
Dimensions
Length
305mm
Width
254mm
Height
NA
Weight
NA
Packaging and Accessories
The MSI MEG X570 ACE comes packed inside your dual compartment motherboard packaging. It comes with the following accessories and documentations inside:
User Manual
Shoot-Out DM (Review, Reward, Win promotional)
Wi-Fi Antenna
1-to-2 RGB LED Y-splitter Cable
Driver DVD
SATA Cable Label Stickers
Product Registration Card
MSI Product Catalog
MSI Draw Pocket (Pouch)
MSI Case Badge
RGB LED Cable
CORSAIR RGB LED Cable
4x SATA Cables
Quick Installation Guide
Design, Layout and Build Quality
The MSI MEG X570 ACE is a full size ATX motherboard jam packed with features. Styling is rather aggressive which is the mantra of MSI products since the Gaming Series' inception.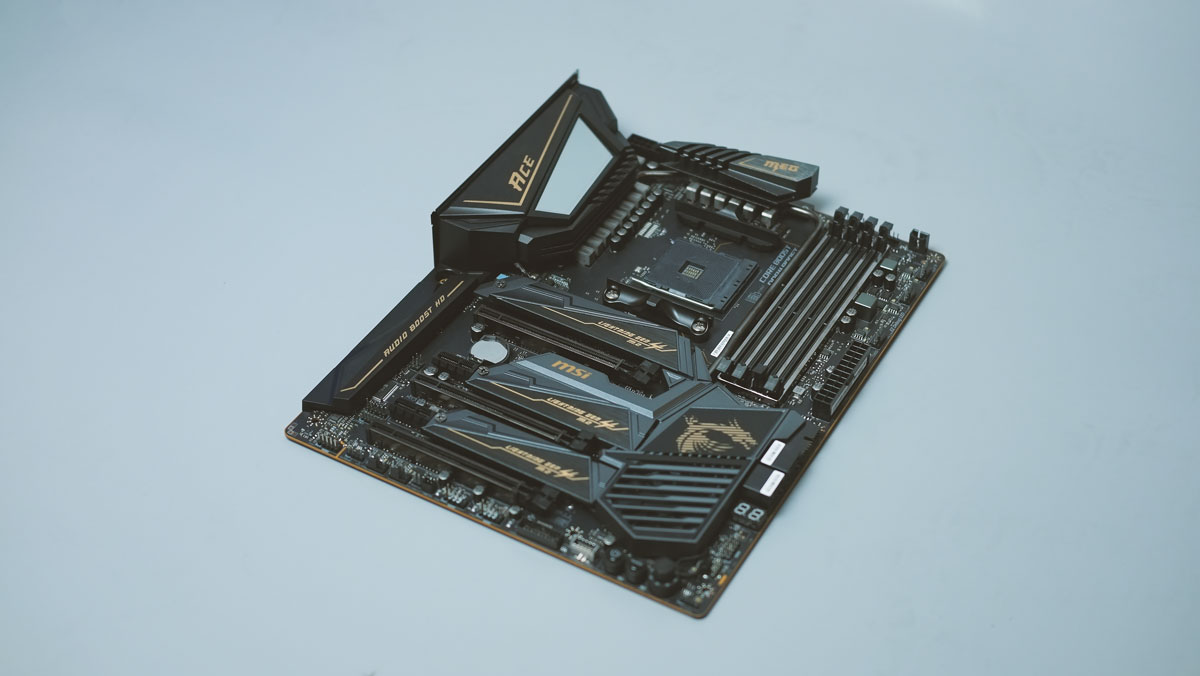 Layout is of course modern, organized and well thought of – with the exception of the CMOS battery placement. The VRM heatsinks and the IO shroud on the other hand, while huge, are not detrimental to most cooling solutions. Highlights of the board on this area are the triple m.2 slots and the heat-pipe enhanced cooling solution that goes all the way to the actively cooled PCH.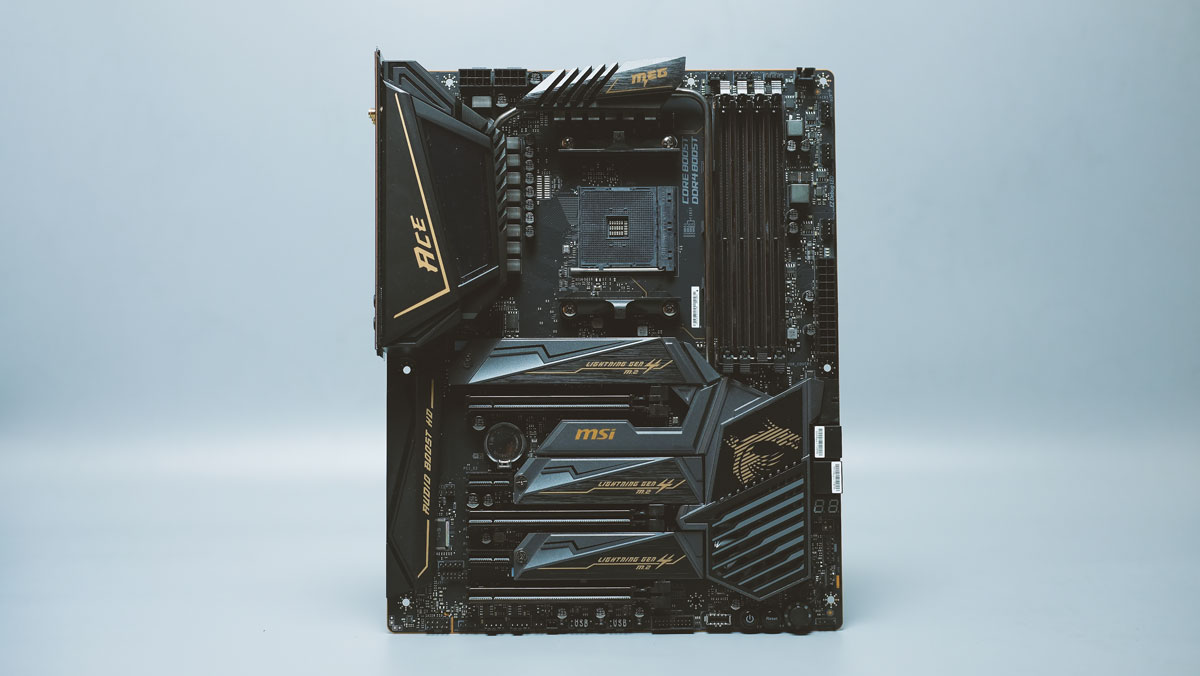 Behind the board lies the excellent solder job. From this position, we could see how the board stacks its PCIe 4.0 slots. From top to bottom, we have the x16, x1, x8, x1 and the x8 slot.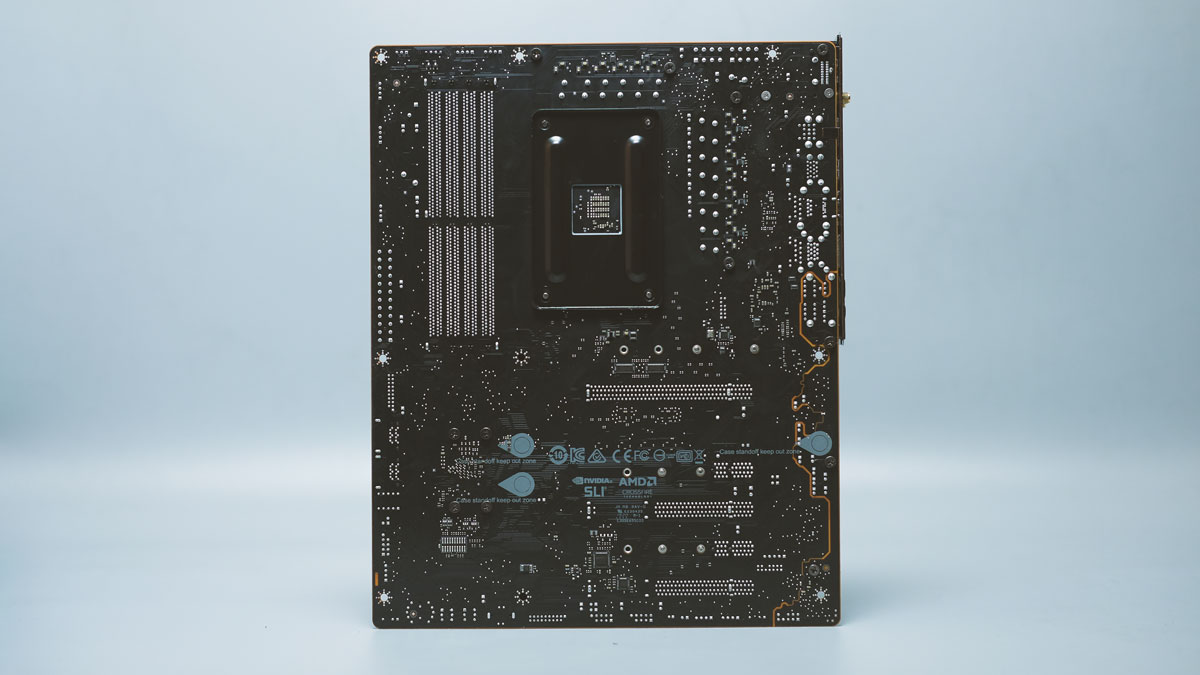 Since the MEG X570 ACE is a motherboard built for gamers and overclockers, MSI took power into an even greater consideration. We have two 8-pin EPS connectors here supplying power to the board's 12+2+1 phase VRM design. Two of the seven fan headers are located on this area as well.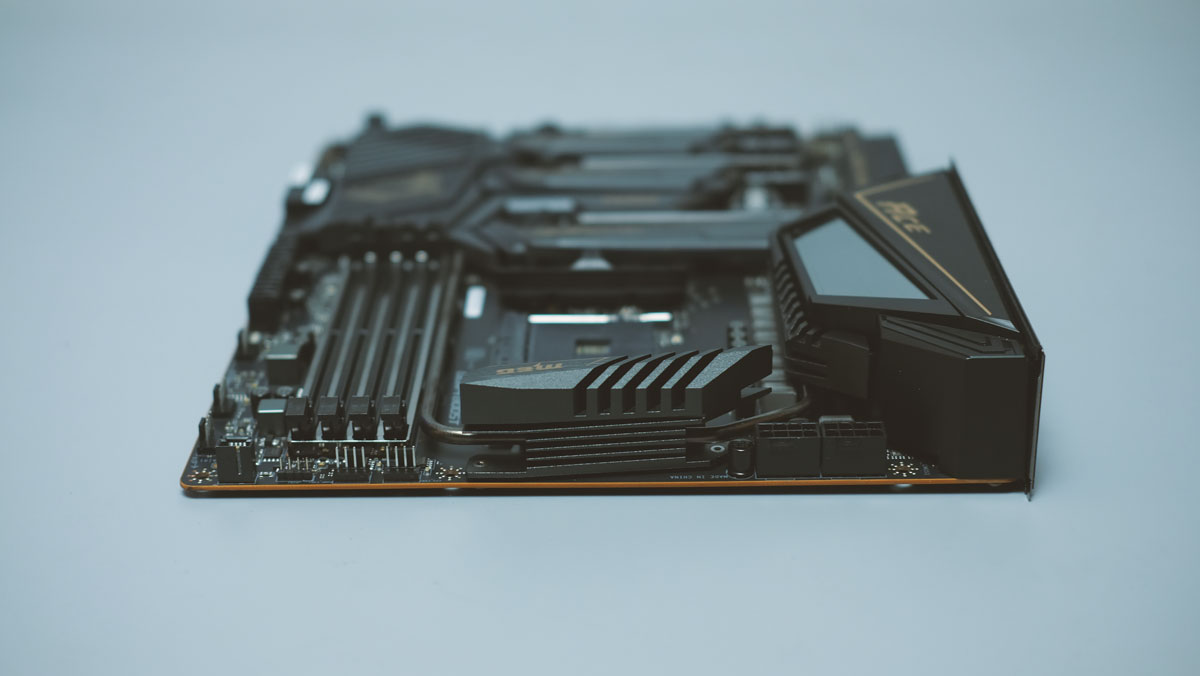 The right side of the board houses the usual stuff with a few alterations such as a debug LED next to the SATA ports. Three of the seven fan headers are also located on this area.
The bottom part of the board is jam packed with the usual assortment of headers plus with a few niceties. That includes an internal USB 3.1 port, power and reset buttons plus a dial for your UEFI profiles. PCB seems to be thicker too, even at just 5 layers.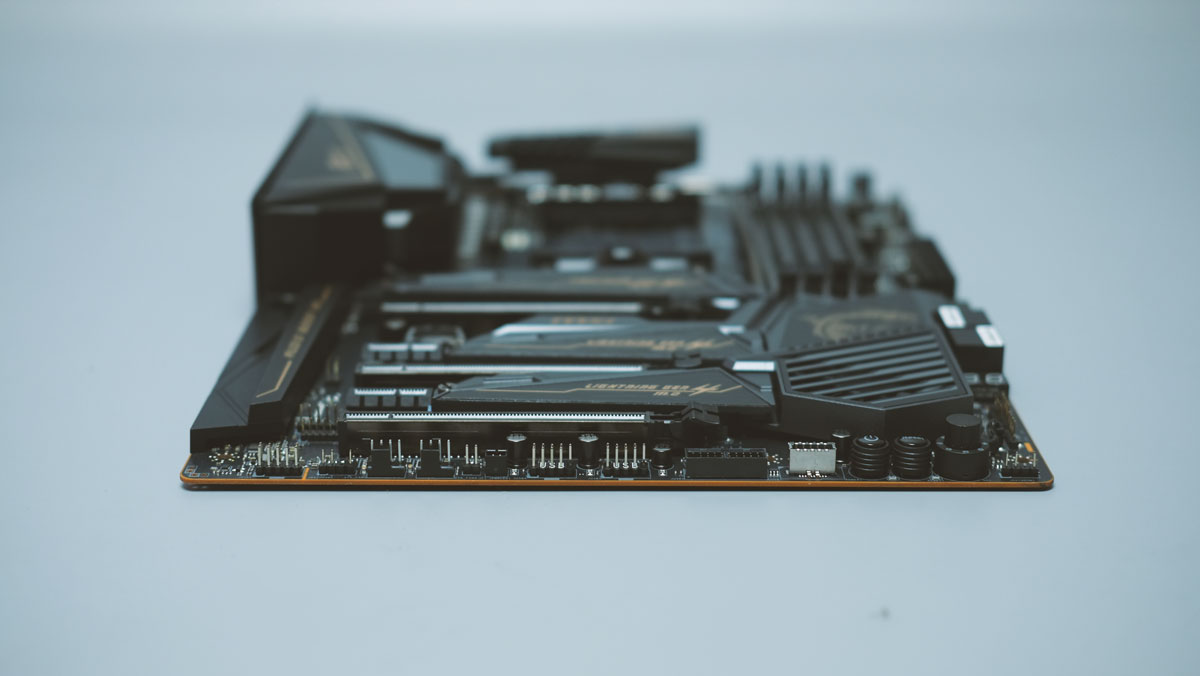 Back panel options are excellent which is something you would expect for such a higher-end motherboard. From the left, we have boot to BIOS and Clear CMOS buttons, a legacy PS/2 port, boatload of USB ports,  the dual LAN with 2.5Gbps capability and the 7.1 audio with a TOSLINK port.
Firmware Interface
The MSI MEG X570 ACE motherboard shares the same UEFI layout with the rest of their line-up. This is good if you are used to MSI's offerings but honestly, this UI design is already aging – except for the EZ Mode of course.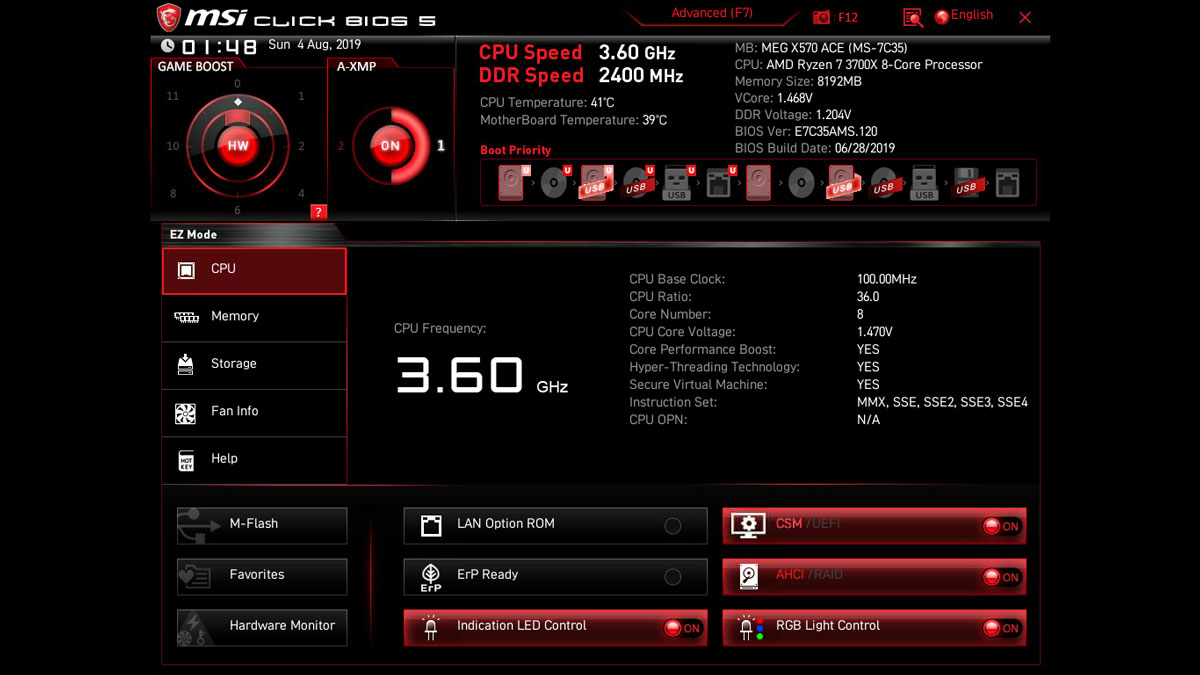 There are still 6 main menus to choose from within the Advanced mode. Settings is where the general hardware options are located.
The OC menu is of course where you could overclock your CPU and SDRAM. There are tons of options located here with even FCLK and UCLK for a more fine-tuned DRAM.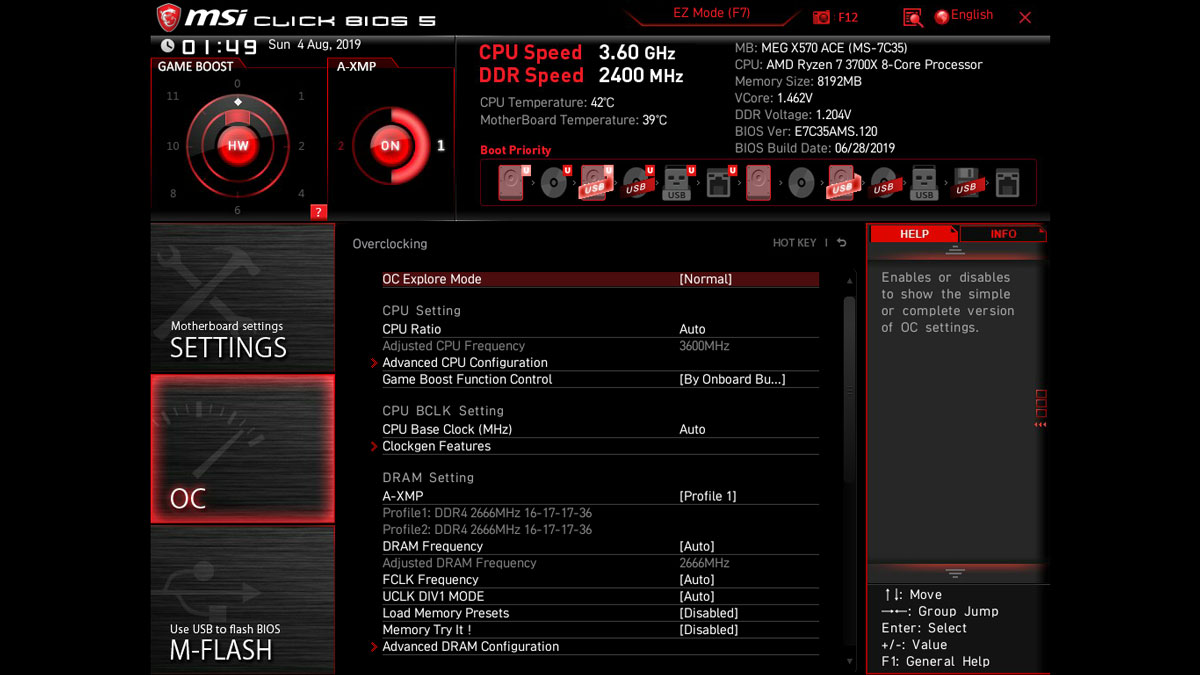 Voltage settings are ample too which is something you should expect from such a motherboard.
Test Setup and Methodology
The system performance shall be evaluated by various benchmarking tools and applications. We are testing this system with the high-performance settings enabled at the OS, with the default UEFI configuration. Background processes such as anti-viruses and third-party applications are disabled as well. Outlined below are the applications and benchmark tools for reference:
TEST SYSTEM SPECIFICATIONS
PROCESSOR
AMD Ryzen 3700X
MOTHERBOARD
MSI MEG X570 ACE
COOLER
AMD Wraith Prism
MEMORY
Crucial Ballistix Tactical DDR4 @ 2666MHz 2x4GB
GRAPHICS
ASUS GTX 1060 STRIX OC 6GB
STORAGE 
Crucial BX200 480GB
POWER
Thermaltake GX1 600W
DISPLAY
ASUS MG278Q
OS
Microsoft Windows 10 Pro
POWER CONSUMPTION:
AIDA64 Extreme Edition – Stability Test
SYNTHETIC PERFORMANCE
Super PI – 32M Calculation
wPrime – 1024M Calculation
AIDA64 Extreme Edition – Memory Benchmark
PRODUCTIVITY PERFORMANCE:
GIMP – 7 MB worth of image processing
HandBrake – 150 MB MP4 to H.264 video encoding
WinRAR – Compression speed
MISCELLANEOUS:
AS SSD – Storage performance
RightMark Audio Analyzer – Audio performance
NetIO-GUI – Network Performance
Power Consumption
The AIDA64 System Stability Test uses a 64-bit multi-threaded stress testing module to drive the system to its limits. Power readings are recorded with a watt-meter.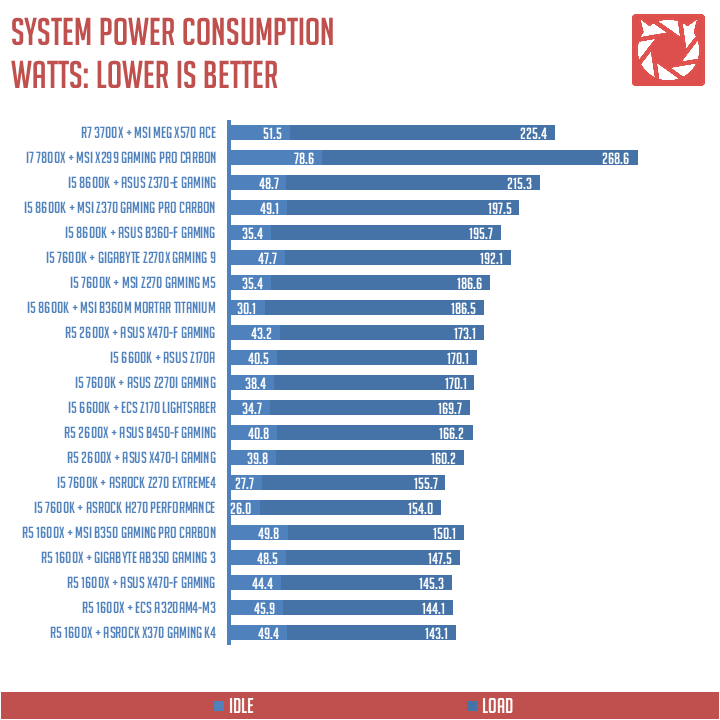 The MSI MEG X570 ACE features a 51.5W idle and 225.4W load power consumption. I expected a bit more but it turns out the Ryzen 7 3700X coupled with the MSI board turned out as a decent combo.
Synthetic Performance
Super PI is a single-threaded program that calculates pi to a specified number of digits after the decimal point. It is a widely used benchmark within the industry.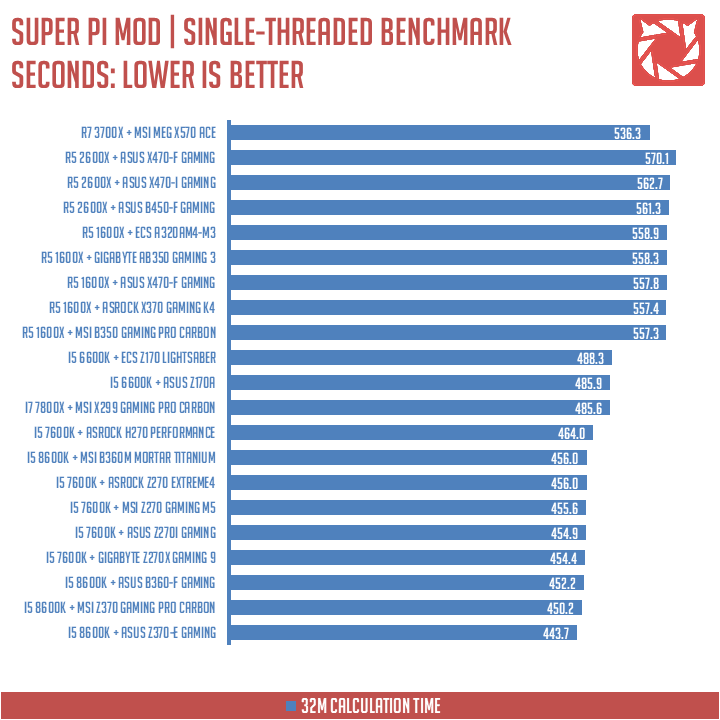 WPrime is a multi-threaded program that calculates a set number of square roots. It verifies the results by squaring them, then compares it with the original numbers.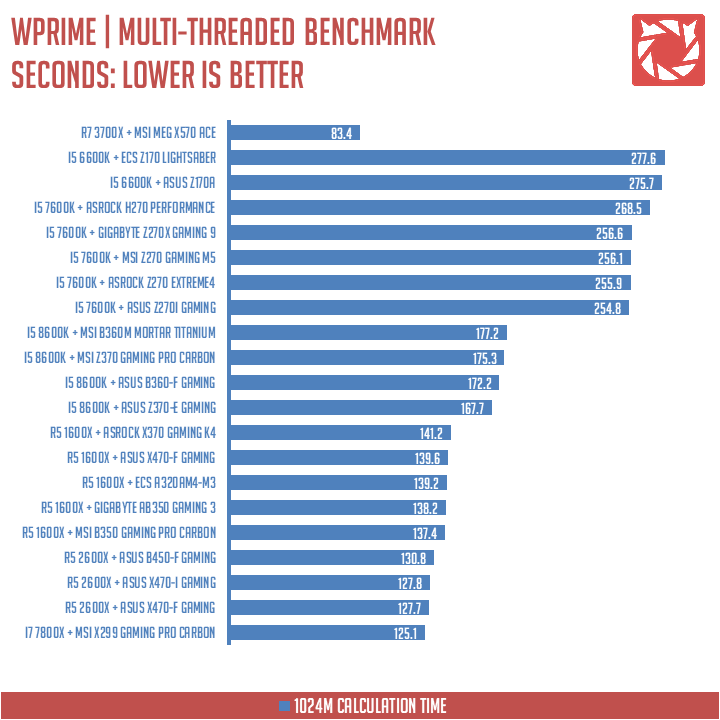 The AIDA64 Memory Benchmark measure the data transfer bandwidth and latency of the system memory. We are measuring the latency on this benchmark.
The MSI MEG X570 ACE scored pretty good at the CPU benchmarks. Like really, really good due to the Ryzen 7 3700X. That chip is just a monster compared to the out-going models.
Productivity Performance
GIMP or GNU Image Manipulation Program, is a free and open-source image editing tool. A 7 MB worth of images is be processed and converted to gauge the system performance.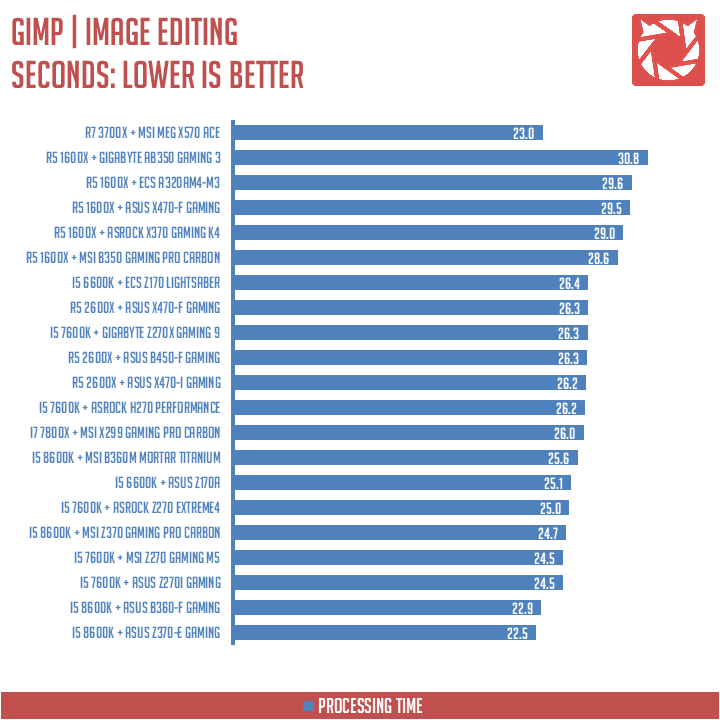 HandBrake is a free video encoding tool that supports a wide variety of media codecs. A 150MB worth MP4 video is converted using the H.264 codec to gauge the system performance.
WinRAR is a file archive utility that can create, view and unpack numerous archive file formats. The software's built in benchmark tool is utilized to gauge the system performance.
Real world performance are just superb as indicated by the previous CPU and memory benchmarks.
Storage Performance
AS SSD is a storage benchmarking software widely used throughout the industry. On this test, we are using its scoring system to evaluate our Crucial BX200 SSD's performance using the system's native SATA controller.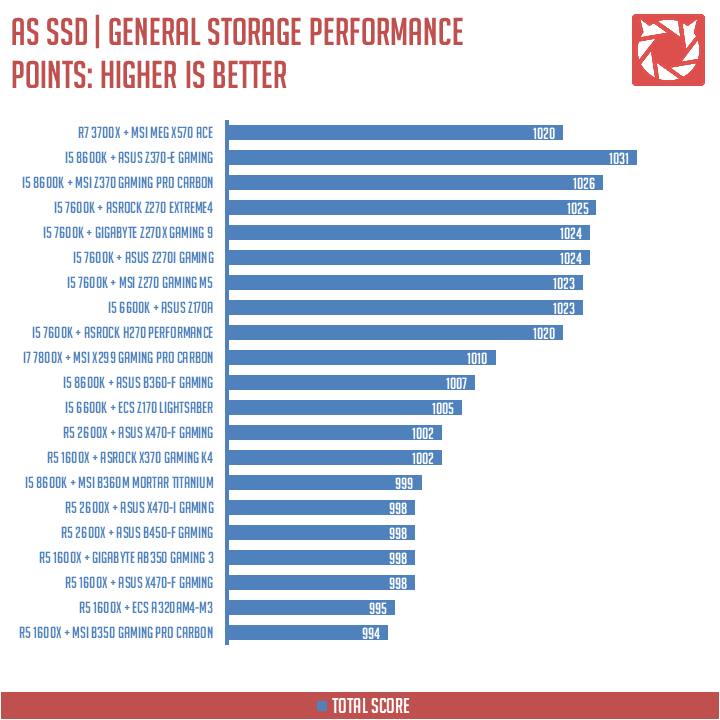 The result for the SATA performance is just as expected. Nothing concerning nor extravagant to see here.
Audio Performance
The RightMark Audio Analyzer (RMAA) is a tool designed to test the quality of audio devices. We used a sampling rate of 24-bit at 48000Hz for the loopback test. We are essentially testing the quality of the line-in and line-out of the audio solution.
The MSI MEG X570 ACE scored -98.5 dBA of noise level at RMAA. The best result we got for an MSI board to date.
Network Performance
The NetIO-GUI is a good application to test any network's performance. The LAN round trip time is our concern here, checking out latency anomalies if there are any. The client and server are connected on the network via Cat5 cables using a 100Mbps router.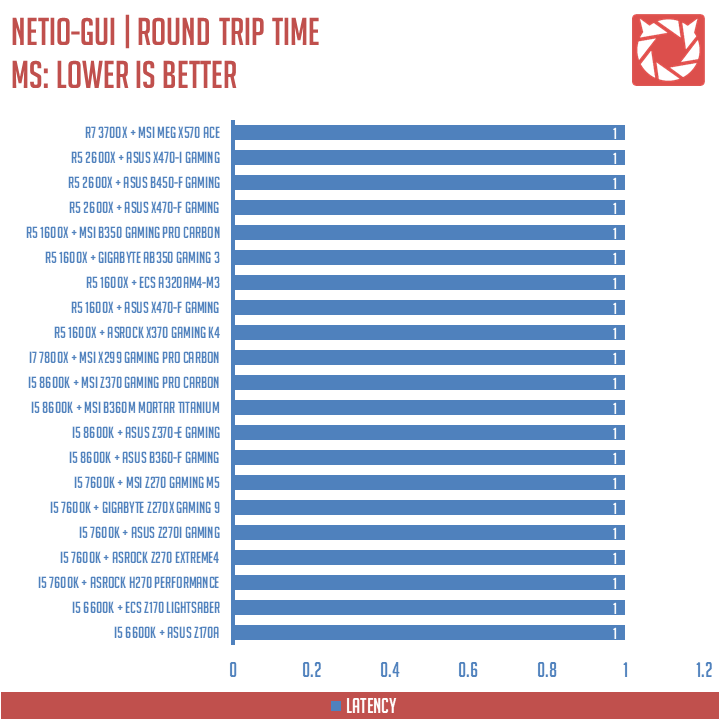 The MSI MEG X570 ACE featured a wired network performance at 1ms of latency on any packet sizes tested.
Software, Lighting and Special Features
MSI had the MSI MEG X570 ACE bundled with a number of applications that should help you optimize your system's performance. That should include the following software and or tools:
MSI Gaming CPU-Z
MSI Dragon Center
Nahimic 3 (Microsoft Store)
Realtek Audio Control (Microsoft Store)
As for lighting, it is appealing enough. Add a couple more RGB strips and you are good to go to showcase your 3rd gen Ryzen based gaming system.
Back to the UEFI, MSI got the Board Explorer. It is a simple yet intuitive display of what's functioning or not on your system.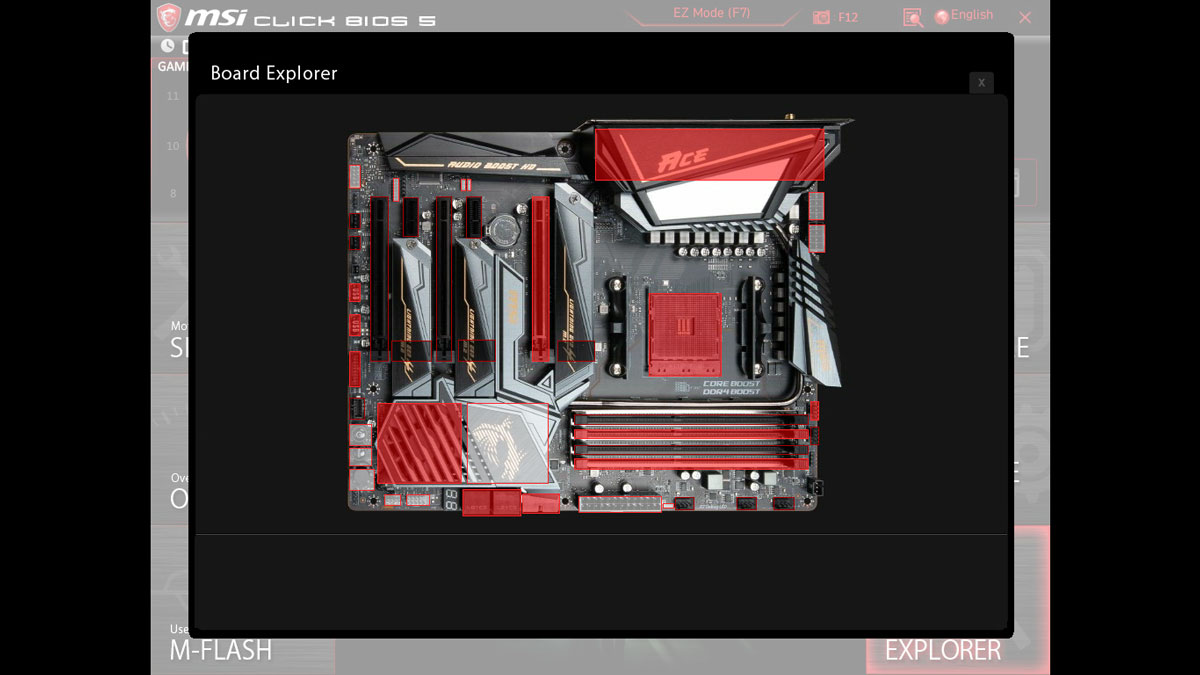 Hardware monitor is another favorite with a functioning fan control as well.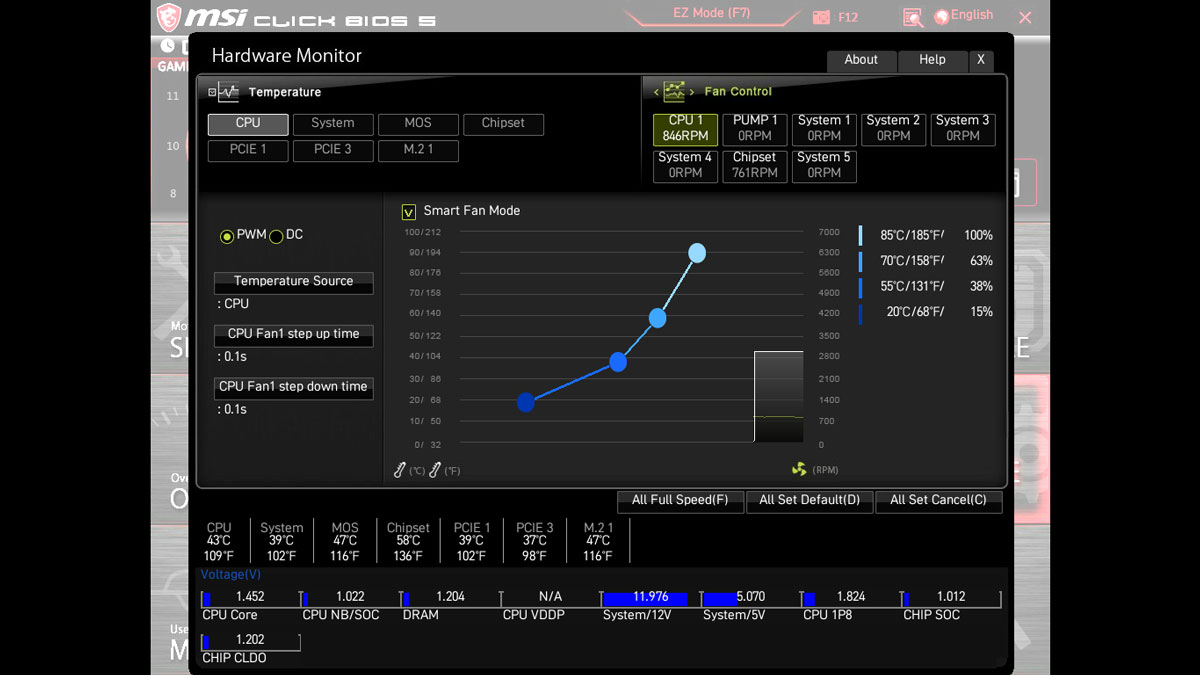 Finally, we get to see the MSI Dragon Center. It is a Windows based application that optimizes your system based on the mode you selected. The MSI Mystic Light and other MSI exclusive features could also be explored here.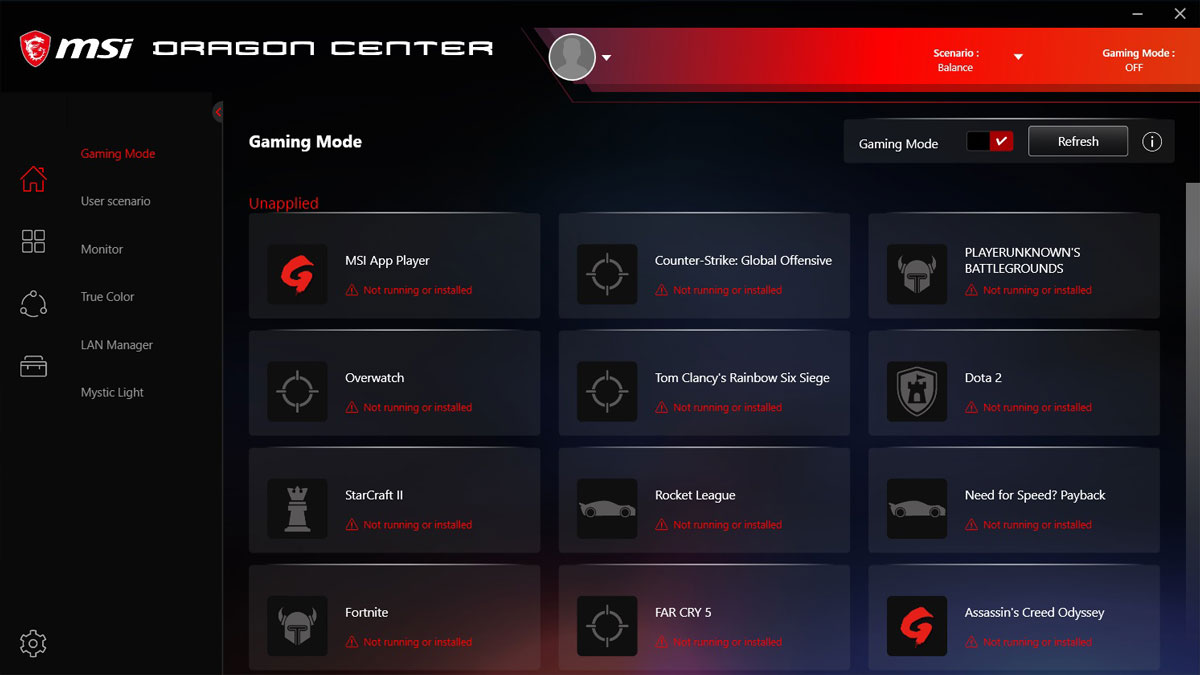 Final Thoughts
The MEG X570 ACE is MSI's sub $400 USD into the AM4 motherboard segment and it did not disappoint. We are looking at a competent motherboard with tons of features, killer looks and performance to back it up.
Build quality and layout wise, the MSI MEG X570 ACE is just as insane as the X570 Godlike. We have a beefy VRM and PCH cooler connected by a heat-pipe, plus the 12+12+1 phase is nothing to scoff at. The triple M.2 slots are properly cooled too in spite of the tacky looking cover.
The MSI MEG X570 ACE is an excellent X570 motherboard. A little pricey, but you will definitely get what you pay for.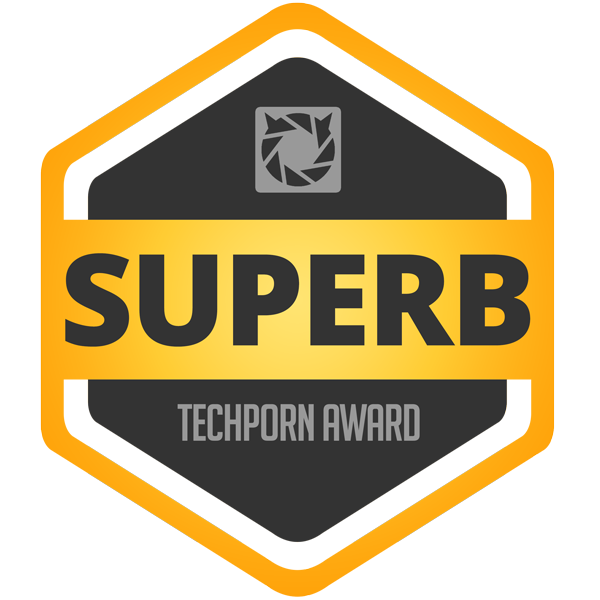 MSI MEG X570 Ace AM4 Motherboard
PERFORMANCE -

9/10

BUILD QUALITY -

9/10

FEATURES -

9/10

AESTHETICS -

8/10

VALUE -

7/10
Summary
The MSI MEG X570 ACE is an excellent X570 motherboard. A little pricey, but you will definitely get what you pay for.
Pros
Appealing design
Good layout
Wi-Fi 6 ready
Dual LAN
Triple M.2 with PCIe 4.0 support
Excellent build quality
Audio solution
Cons
UEFI design
Limited SATA ports
Price point