MSI at Computex 2019 is proud to announce its brand new AMD AM4 motherboard line-up featuring the brand-new AMD X570 chipset. Not only tailored for the enthusiast gamers, MSI also offer more possibilities for content creation and office use, dedicated to all types of PC users to satisfy their needs with the Creation series.
"AMD is continuously working closely with MSI to create exceptional hardware designs that deliver incredible performance for users. AMD X570 chipsets support upcoming 3rd Generation AMD Ryzen Processors and PCIe 4.0 technology, a revolutionary enhancement in transfer speed for both PCIe devices and M.2 storage" said Chris Kilburn, corporate vice president and general manager, Client Channel, AMD. "We are excited about what AMD and MSI deliver for our customers with MSI X570 motherboards and MSI Lightning Gen 4 solutions."
This time, MSI carefully prepared a great variety of advanced technology and features to help their customers create the most immersive experiences and maximize performances.
MSI MEG X570 GODLIKE
The MEG X570 GODLIKE features Dynamic Dashboard with OLED display for various hardware conditions, Killer network solutions including Killer xTend and the latest Killer WiFi 6 provide better and more stable network connectivity. Xtreme Audio DAC also brings a selection of premium audio hardware for the most immersive audio experiences.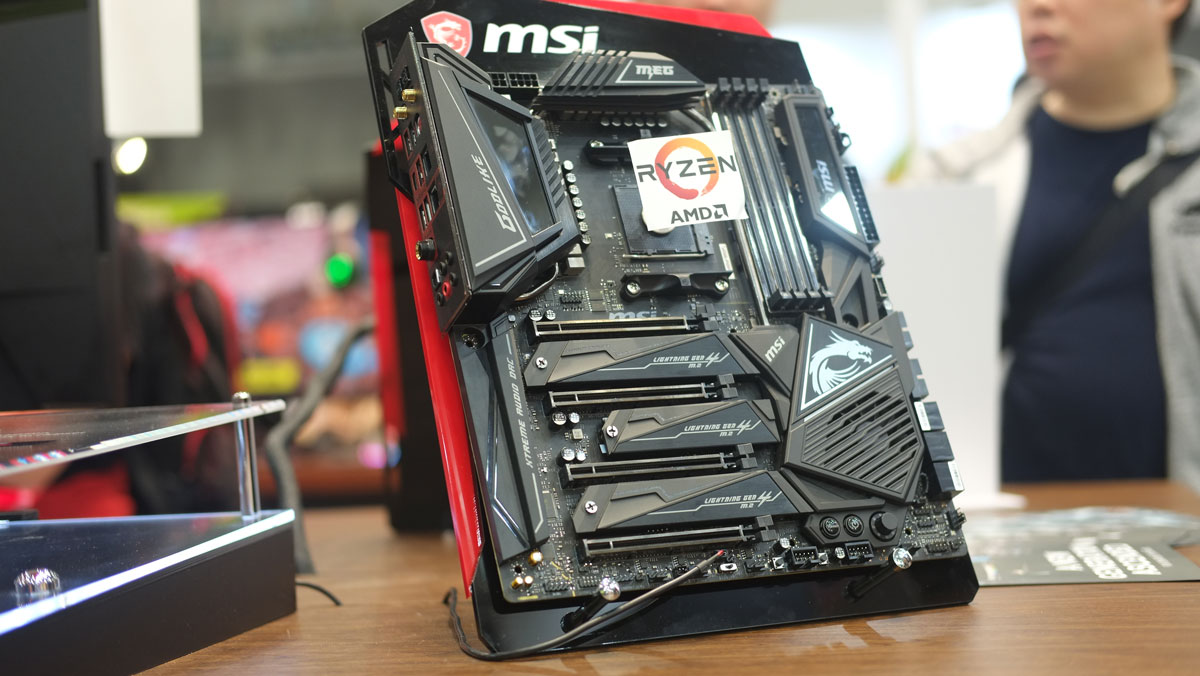 Moreover, the MEG X570 GODLIKE features the brand-new Frozr Heatsink Design, Extended Heat-pipe and Double side M.2 Shield Frozr for the best thermal solution. Mystic Light Infinity II introduces new RGB lighting effects with infinity mirror reflection effects. Bundled with MEG X570 GODLIKE, the M.2 XPANDER-Z Gen4 card expands M.2 Gen4 SSDs and 10G Super LAN Card provides extreme transfer speeds whether downloading huge files, playing an intensive online game, or even streaming a 4K video on the internet.
MSI MEG X570 ACE
The MEG X570 ACE follows a golden luxurious scheme with exclusive Mystic Light Infinity for the mirror reflection effects with millions of colors. It also features Dual LAN including 2.5G gaming LAN and WiFi 6, the latest technology to make sure of top-class networking quality.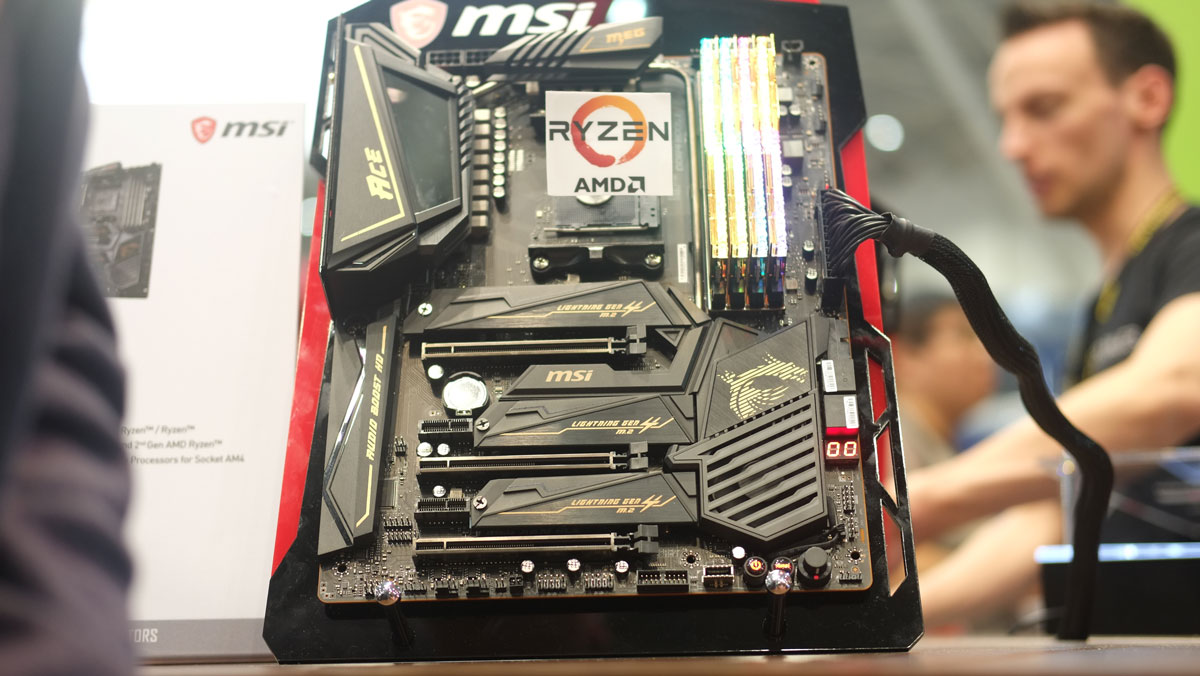 MEG series motherboards all include Extended Heat-Pipe Design, connecting between heatsinks, aiming at enlarging the surface for better heat dissipation. Audio Boost HD is an immersive audio technology including high definition audio processors and ESS audio DAC. The MEG X570 ACE provides enthusiasts and gamers everything to win every game.
MSI PRESTIGE X570 CREATION
The PRESTIGE X570 CREATION motherboard is best for content creation while doing heavy multitasking. Featuring dual LAN with 10G Super LAN, this makes sure that all network connections are faster than ever before. WiFi 6 is the next generation networking solution that offers 3x bandwidth and lower latency. Furthermore, the PRESTIGE X570 CREATION owns a total thermal solution including Frozr Heatsink, Extended Heatpipe, and M.2 Shield Frozr.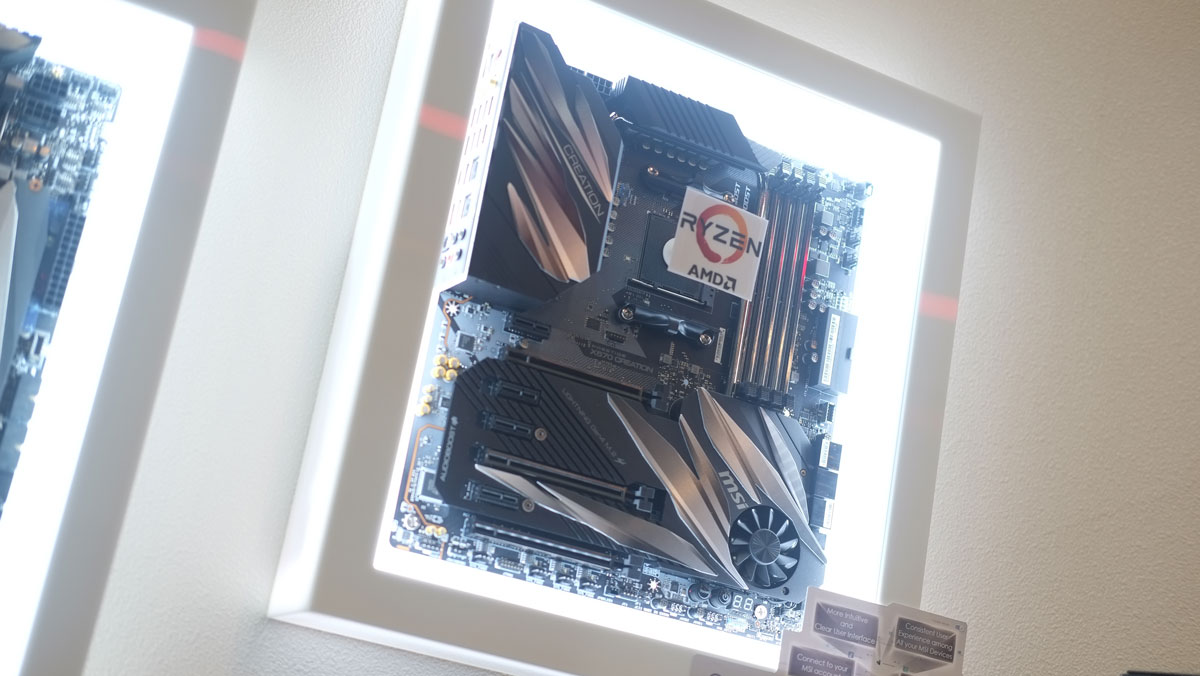 The Frozr Heatsink Design is equipped with a patented double ball bearing fan with MSI-exclusive Propeller Blade Technology, Zero Frozr, and AI Tuning Technology to maintain the best performance, plus Extended Heatpipe Design to enlarge the surface of heat dissipation. M.2 Shield Frozr can cool down M.2 devices and prevent throttling under load. The brand-new Creator Center is MSI-exclusive software for designers and content creators with optimized system modes and resources for a wide range of scenarios and needs.
MSI MPG X570 GAMING PRO CARBON WIFI
Inspired by supercars and concept cars, the MPG X570 GAMING PRO CARBON WIFI is a high-performance motherboard with an intense high-speed look combined with MSI Mystic Light for colorful customization with millions of colors and 29 LED effects. The latest Lightning Gen4, Frozr Heatsink Design, and M.2 Shield Frozr ensure high-speed performance and better thermal solutions compared to previous generation.
Tune advanced gaming system configurations such as WIFI 6 AX with up to 3x bandwidth, delivering speeds up to 2400Mbps, and Pre-installed I/O Shielding for more convenient installation.
MSI MPG X570 GAMING EDGE WIFI
Play dangerously with the MPG X570 GAMING EDGE WIFI and strike fear into the hearts of every foe. The upgraded larger Extended Heatsink Design integrates with Pre-installed I/O Shielding not only improves cooling for high-end CPU but also provides easy installation. Onboard Intel wireless-AC makes download speeds up to 1.73 Gbps to enjoy high-speed networking connection.
MSI MPG X570 GAMING PLUS
For gamers who just want to focus on playing for enjoyment or for competition, the MPG X570 GAMING PLUS provides an simple and essential platform for stable and speedy gaming with AMD Ryzen Processors. To support more processor cores, exclusive Frozr Heatsink, Extended Heatsink, and M.2 Shield Frozr are also included to make sure any thermal issues won't occur.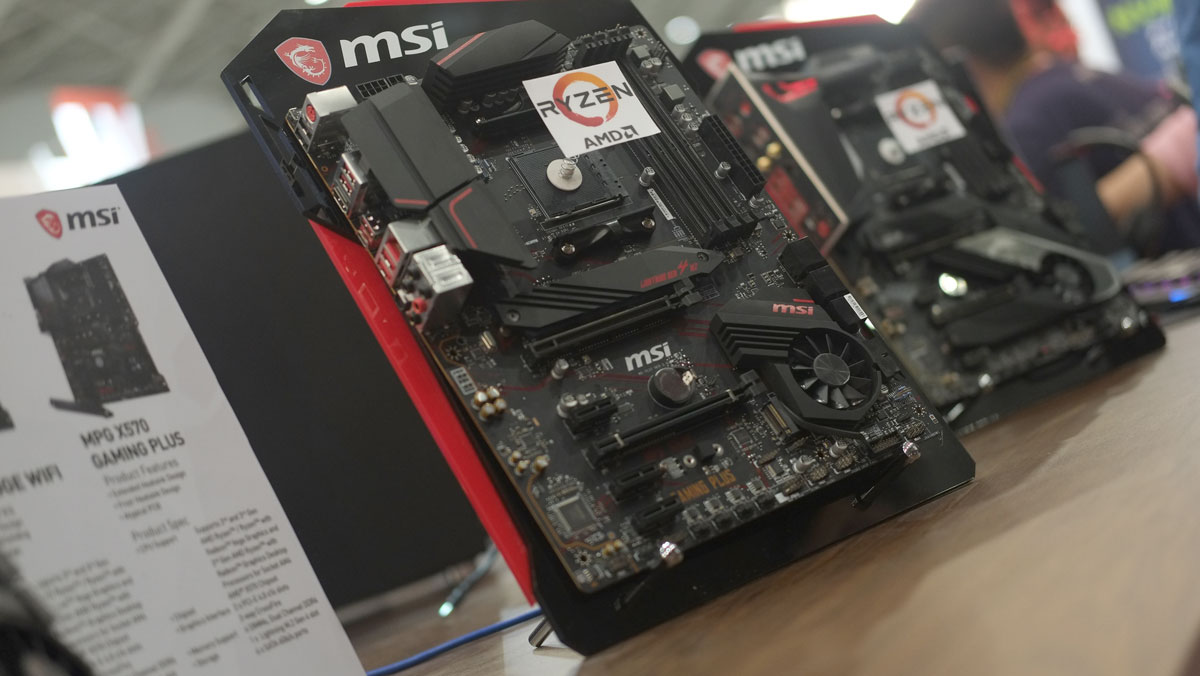 Furthermore, atypical PCB design also makes cable management with SATA and USB ports easier than before. Enjoy your game reliably with the MPG X570 GAMING PLUS for sustained system performance.