On this review, we are checking out the RAKK Kimat XT.2 RGB Mechanical Gaming Keyboard. It is an interesting mech from RAKK, featuring a frameless design and side printed keycaps for 2695 Pesos. That's about $50, my western friends.

The RAKK Kimat XT.2 RGB Mechanical Gaming Keyboard comes with Gateron switches inside. Ours had the Gateron Blue switches, which is the Cherry MX Blue equivalent from the company. The keyboard also features a number of lighting modes accented by the side panel lighting effect. Learn more from the official product page.
TECHNICAL SPECIFICATIONS:
The RAKK Kimat XT.2 RGB is a full sized keyboard with a 104-key layout. Design is frameless, with a weight of around 900 grams which is kinda light.
| | |
| --- | --- |
| Size | Full size |
| Layout | 104-ANSI |
| Design | Frameless |
| Macro | Yes |
| Profile | Yes |
| Software | Yes |
| Weight | 900 grams |
| Interface | USB 2.0 |
| Memory | Yes |
| Polling Rate | 1000Hz |
| Lighting | RGB LED |
| Wrist Rest | N/A |
| Passthrough | N/A |
| Cable Management | Yes |
| Multimedia Keys | 10 |
| Cable Length | 1.8m |
Switches are again, Gateron Blues. Ours had the clear housing design which is suitable for the RGB LED effects.
| | |
| --- | --- |
| Switch | Gateron Blue |
| Actuation Point | 2.0mm |
| Travel Distance | 4mm |
| Actuation Force | 55g |
| Lifespan | 50 Million Clicks |
PACKAGING AND ACCESSORIES:
The RAKK Kamit XT.2 RGB comes in RAKK's latest packaging. It evokes elegance and authority which is incomparable to their older packaging.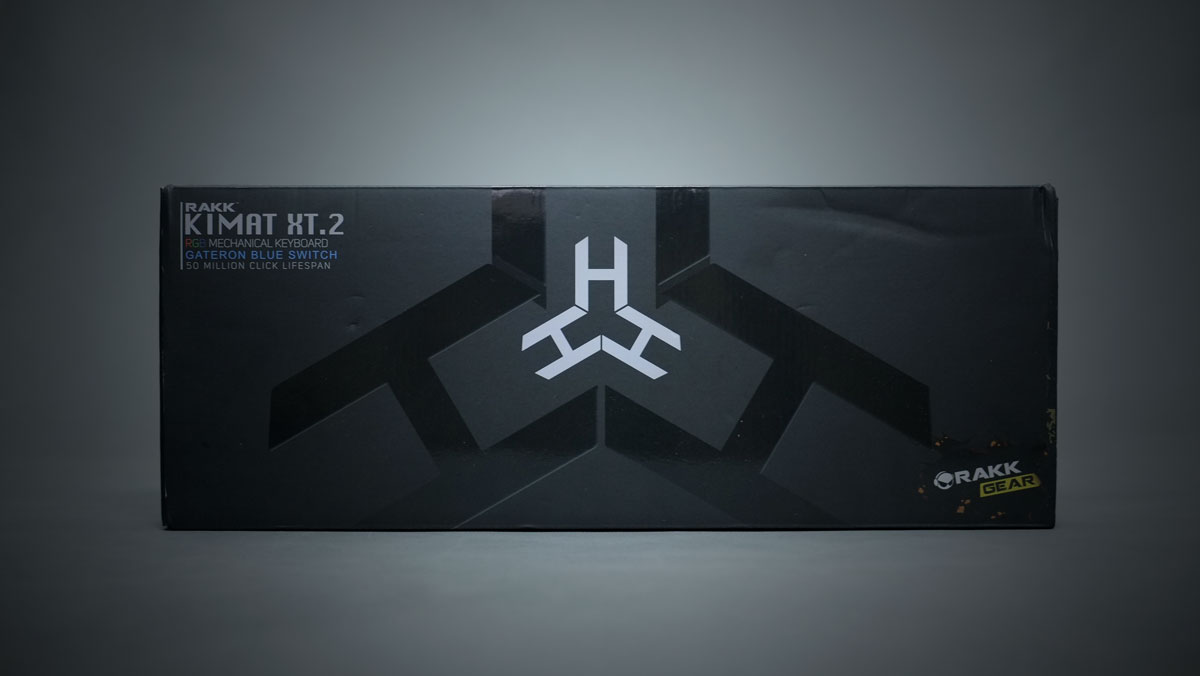 If you're looking for accessories, you'll only get a few. Like velcro and USB hub cap few. No paper works, no keycap puller, nothing else.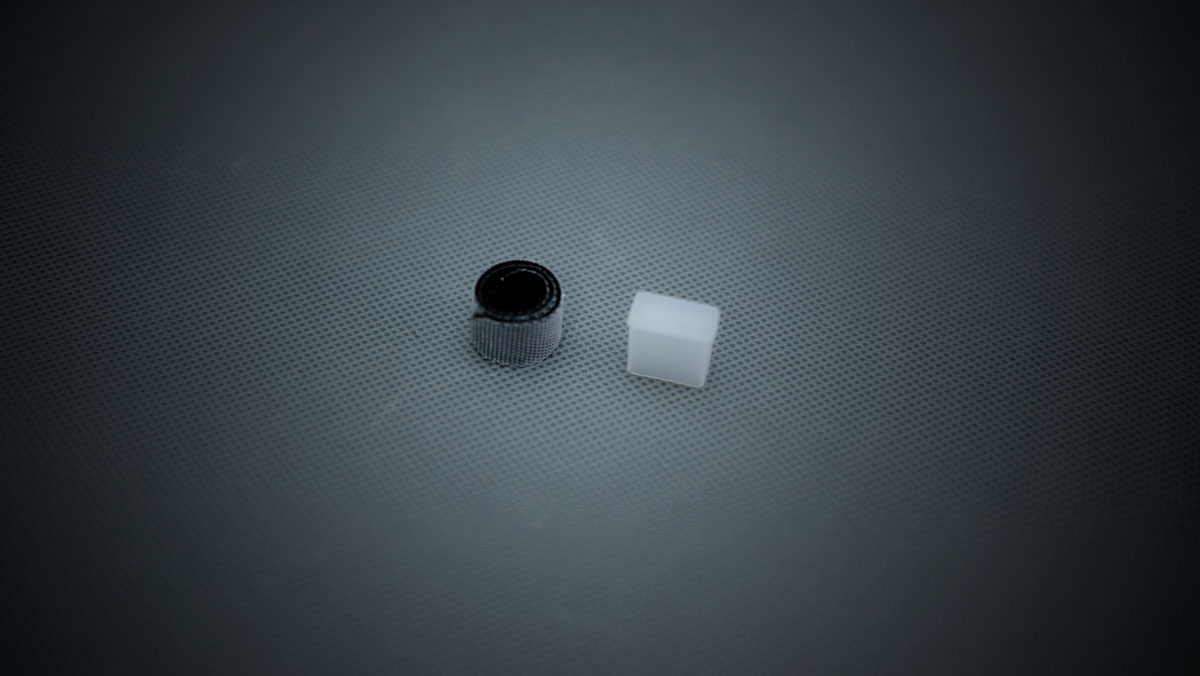 DESIGN, LAYOUT AND BUILD QUALITY:
The Kimat XT.2 RGB sports an elegant chassis by design, minus the brackets at the sides – personally speaking. You could remove it if you do not fancy such design. Still, this is an exceptionally good looking keyboard by default. That's with a weight to match at 900 grams.
The back of the keyboard is made out of plastic and has cable grooves for better management. It also features an extender which is a much appreciated feature for better ergonomics.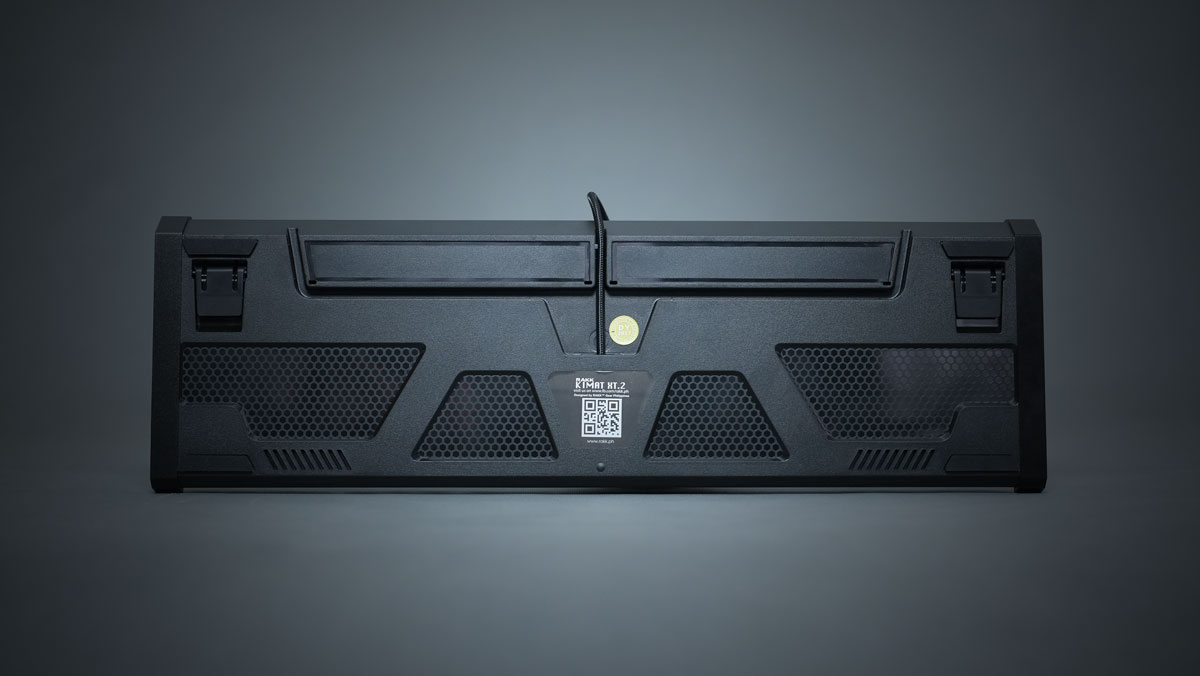 The key profile is contoured from top to bottom, with emphasis for comfort with smooth-edged bottom row keys. At its lowest, the keyboard features a height of around ~3.5cm. The maximum height at the far end on the other hand is at around ~4.0cm. That's ~0.5cm higher than the norm.
Connectivity is provided by a 6 foot long braided cable terminating at a USB 2.0 connector. The cable has its own Ferrite bead to minimize interference.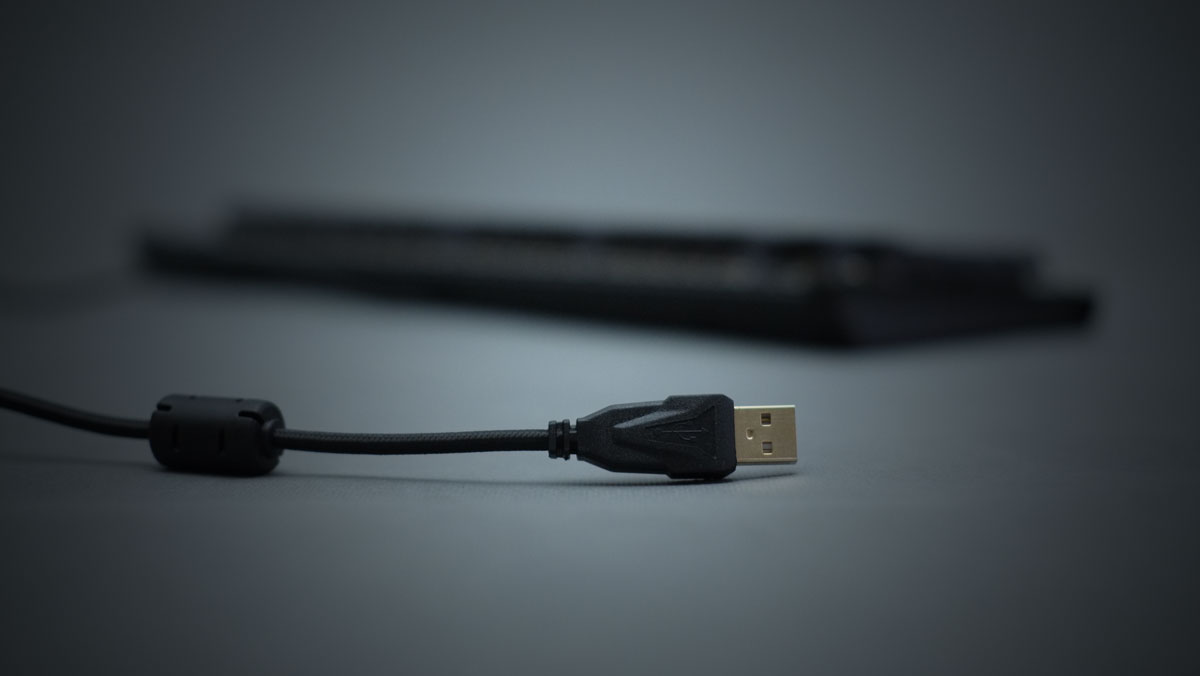 TEST SETUP AND METHODOLOGY:
Testing a keyboard is not that difficult, but it is mostly subjective; similar to testing head gears in a sense. That said, no keyboard is perfect and the verdict usually depends on personal preferences. With that in mind we are overhauling our testing methodology by following key pointers that should matter the most; that includes the switch performance, the keycap materials and comfort. To keep our test methodology simple and free of extra variables, please note the following softwares and configurations used below.
| | |
| --- | --- |
| GAMES | Overwatch, Battlefield 4, DOTA 2 |
| POLLING RATE | 1000 Hz (If possible) |
| SOFTWARES | EK Switch Hitter |
MECHANICAL SWITCHES:
The mechanical switches makes up the reason why mechanical keyboards are called "mechanical keyboards" in the first place. There are tons of switches out there but Cherry MX switches are the most popular of them all; setting a standard for the rest. They have clicky, linear and bumpy switches; all with their own mixture of actuation forces and actuation points.
The Kimat XT.2 RGB features the Gateron Blue switches. It has an actuation force of around 55cN, with a tactile feel and a minimum travel distance to actuation of 2.0 mm according to the specifications. This particular rendition features an RGB LED diode and a clear housing. This is a clicky switch and is as loud as the Cherry MX Blues.
Key stabilizers for the larger keys are proper Cherry MX style stabilizers. This is my preferred choice for a more consistent feedback from top to bottom. Excellent design choice here by RAKK Gears.
KEYCAP PRINTING AND MATERIAL:
Keycap materials are important too in selecting a mechanical keyboard. The most common ones are ABS and PVC, since they are cheaper and are compatible with most printing methods. They do however shine faster than others and quality is generally not the best. PBT doesn't shine as fast compared to these keycaps and are highly regarded for their quality and sand-like texture. POM on the other hand is also a good replacement over ABS but they are rarely found on most keyboards.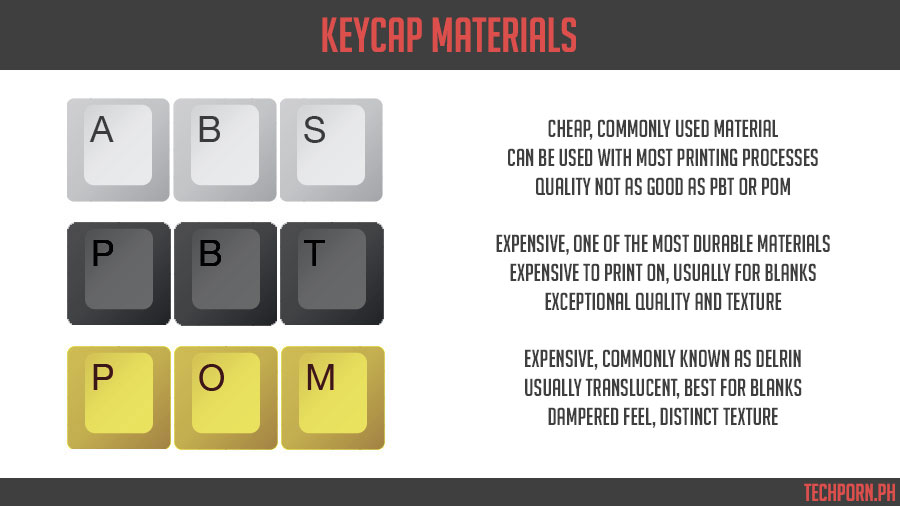 The RAKK Kimat XT.2 features UV coated keycaps. Font style is Serif, paired with a center-top alignment. The keycap shape is cylindrical and printing method used is laser etched. Reliable printing method and materials we got here nonetheless – especially for a side printed keycap.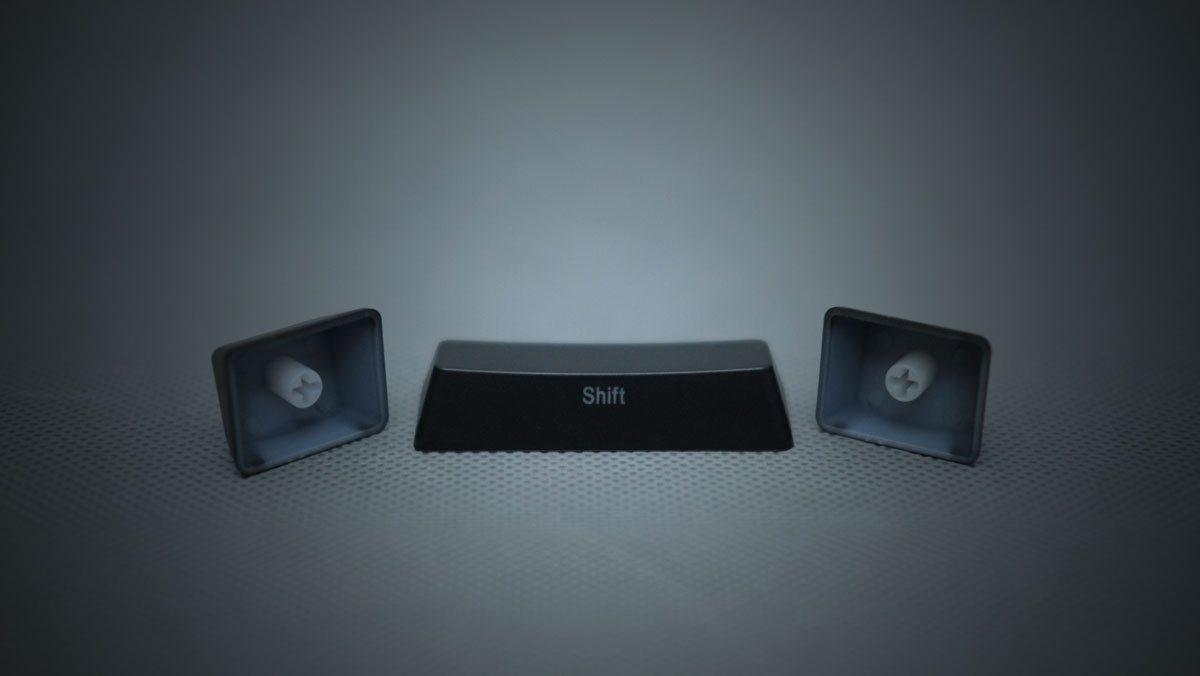 SOUND PROFILE:
No two or three keyboard sounds the same, even if they feature the same keys. This is due to factors including the switch housing itself, the key-cap materials, and the overall construct of the keyboard. Listen to the profile below to get an idea of the keyboard's sound signature.
NKRO AND GHOSTING:
EliteKeyboard's Switch Hitter is an excellent freeware that anyone could utilize to test any keyboard's key registration, key rollover and ghosting. It supports a wide variety of layouts, and could log your usage for extra statistics; such as the actuation time it took for your keys to register and depress.  You can download the Switch Hitter here to check it out yourself.
No worries here ladies and gents. The RAKK Kimat XT.2 RGB is a functioning mechanical keyboard with anti-ghosting feature and a full N-key rollover.
SIZE AND COMFORT:
Keyboards are generally categorized in 3 standard sizes and or layouts: Full size, TenKeyLess and Compact.  They are also called the 100%, 80% and 60% layouts respectively. These standard layouts have drastic effect on the ergonomics of the keyboard especially while gaming. Generally, the 60% layout allows for better stress free arm movements; while full layouts requires you to spread your arms wider.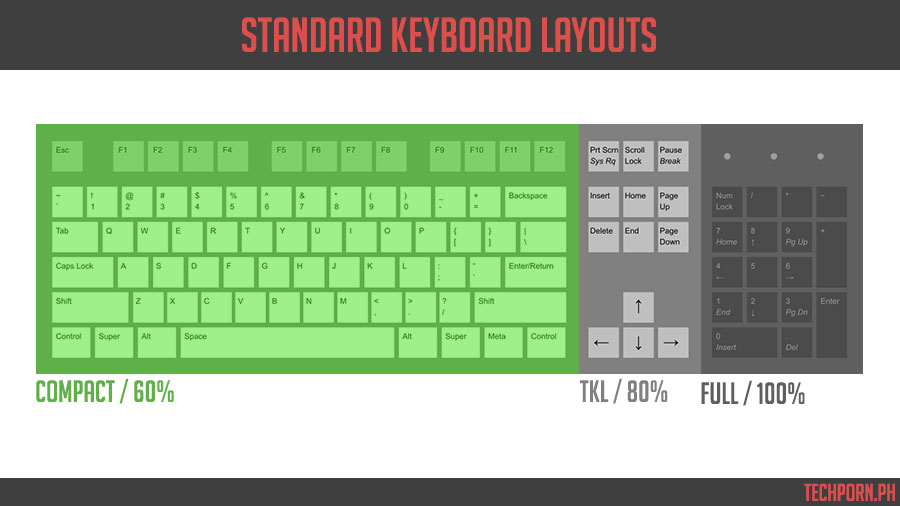 Being a full sized keyboard with a higher profile, the Kimat XT.2 shouldn't be that comfy but it is. That's due to the smoother bottom key design and the frameless design itself.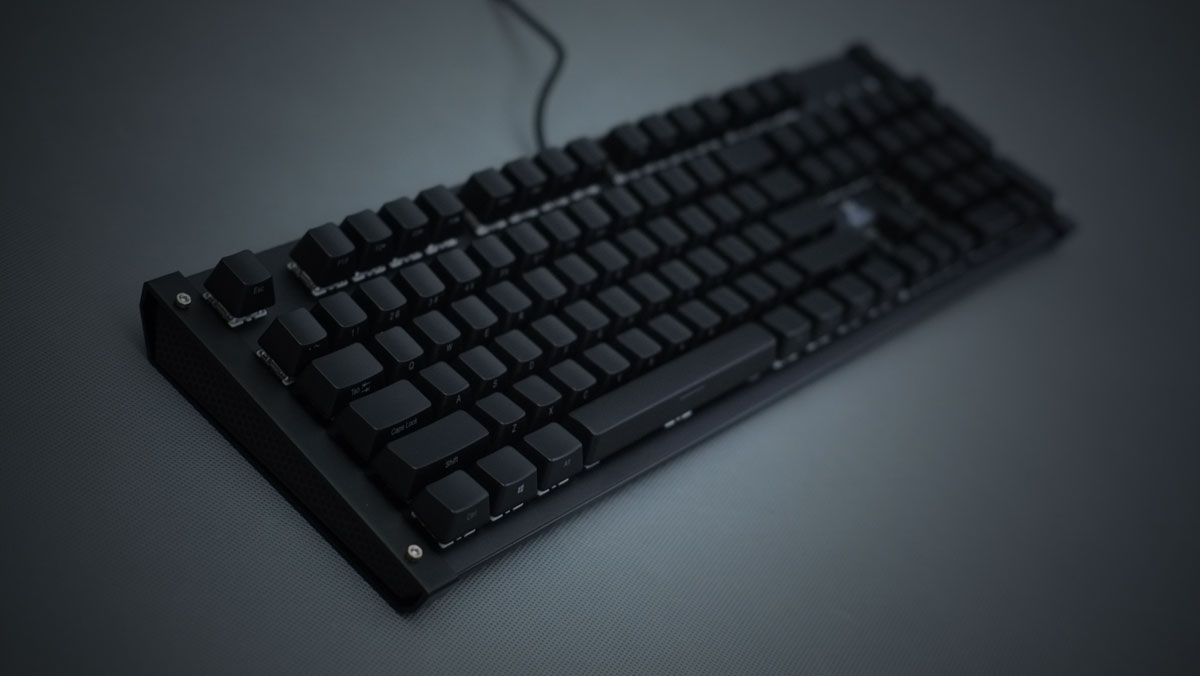 MISCELLANEOUS:
If you're looking for a software to customize the Kimat XT.2 RGB's functionalities, then you'd be thankful that RAKK had one. It wont win any UI awards but it is a functional one nonetheless. Here, you could create your own macro bindings and adjust the lighting options without breaking a sweat. Simple stuff really, with an over the top UI design.
Now lighting is where this keyboard shines the most and boy it delivers. That's due to the side printed keycaps, frame illumination and the number of effects available through the software.
WRAPPING IT UP:
Back in August, we tested the RAKK Yano RGB gaming mouse. We praised for its out of proportion specifications and perhaps we're looking at the same story here with the Kimat XT.2 RGB.
Value wise, this is a $50 mechanical keyboard that houses side printed keycaps, an aluminum frame and RGB lighting effects. For the price, the Gateron Blue is a welcome addition – perhaps a perfect choice for a budget oriented mech. I actually expected it to be a louder equivalent to Cherry MX Blues. Turns out that's not the case since it feature an almost identical sound profile. Around my alley I must say when it comes to acoustics and feel.
If you are looking for other switch options, RAKK is about to release a Gateron Brown model of the Kimat XT.2. A much appreciated gesture for those looking for a more silent keyboard.
The RAKK Kimat XT.2 RGB is an excellent mechanical keyboard for gamers on a budget. Literally a rough diamond with a surface that requires further polishing. A gem is still a gem though no matter how rough it is.
GOOD BUILD QUALITY
EXCELLENT ERGONOMICS
CABLE MANAGEMENT
CUSTOMIZATION OPTIONS
SIDE PRINTED KEYCAPS
EXCELLENT LIGHTING OPTIONS

SOFTWARE UI DESIGN
BUNDLE COULD BE BETTER
RAKK Kimat XT.2 RGB Mechanical Gaming Keyboard
PERFORMANCE -

8/10

BUILD QUALITY -

8/10

FEATURES -

8/10

AESTHETICS -

8/10

VALUE -

9/10
Summary
The RAKK Kimat XT.2 RGB is an excellent mechanical keyboard for gamers on a budget. Literally a rough diamond with a surface that requires further polishing. A gem is still a gem though no matter how rough it is.