The Pulse G100 is the latest gaming headset from TteSport to grace the ever so popular RGB lighting feature. This particular model though sports dual 53mm drivers with 60Ω of impedance. That means it is powerful yet it also requires a good audio solution to drive it up.

TteSports dubbed this headset as a sleek, lightweight and minimalistic that features superior sound quality and ergonomic comfort for long gaming sessions. Those claims are something we'd like to find out on this review especially for the price of under $40 USD.
Technical Specifications
Headphone
Driver
Dynamic, 53mm
Type
Closed-back, Over-ear
Frequency Response
20Hz-20KHz
Impedance
60Ω
Sensitivity
103dB
Connectivity
Wired, 3.5mm
Weight
315 grams
Microphone
Type
Dynamic
Polar Pattern
Omni-directional
Frequency Response
30Hz-16KHz
Sensitivity
-45dB
Dimensions
Length
NA
Width
NA
Height
NA
Weight
315g
Packaging and Accessories
TteSports had the Pulse G100 comes bundled inside the company's usual headset packaging. The product comes with the following items inside:
Warranty Policy
Quick Installation Guide
3.5mm Audio Splitter
Design, Layout and Build Quality
The TteSports Pulse G100 is a medium sized gaming headset featuring a meshed cup design. The headset weighs in at 315 grams which is alright by today's standards. This is a closed-back gaming headset in spite of the meshed design.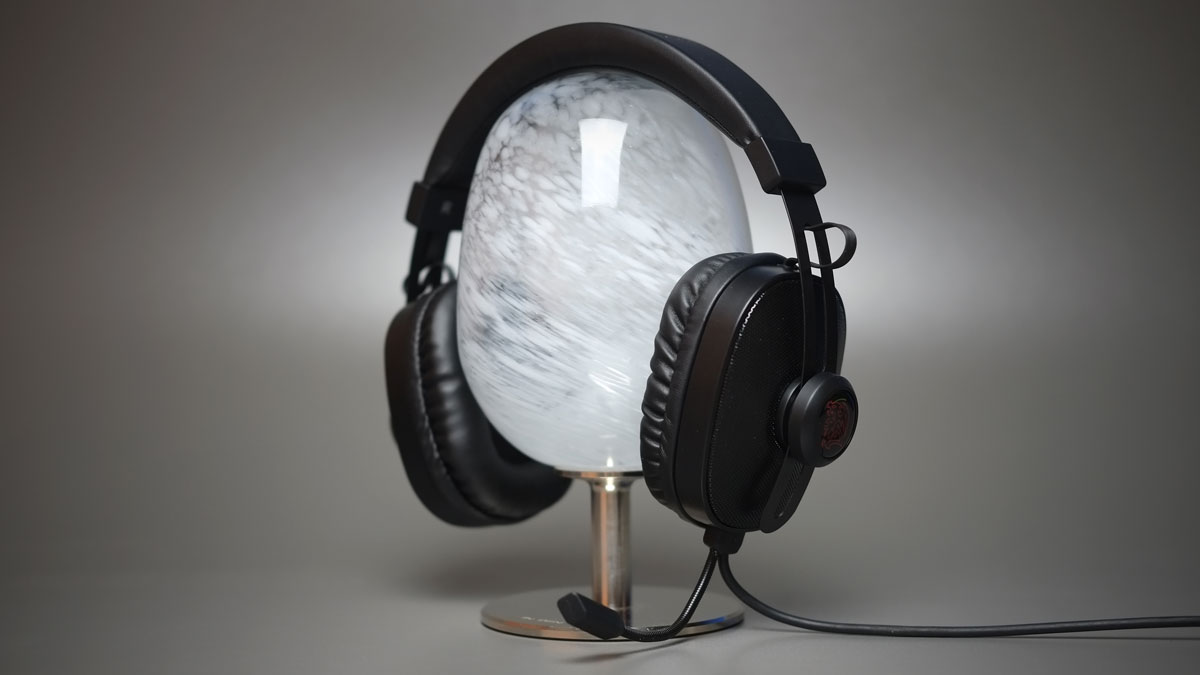 The ear-pads are made out of decent quality foam pads. Thickness could be better though at half an inch. They are luckily removable so you've got an option to replace them.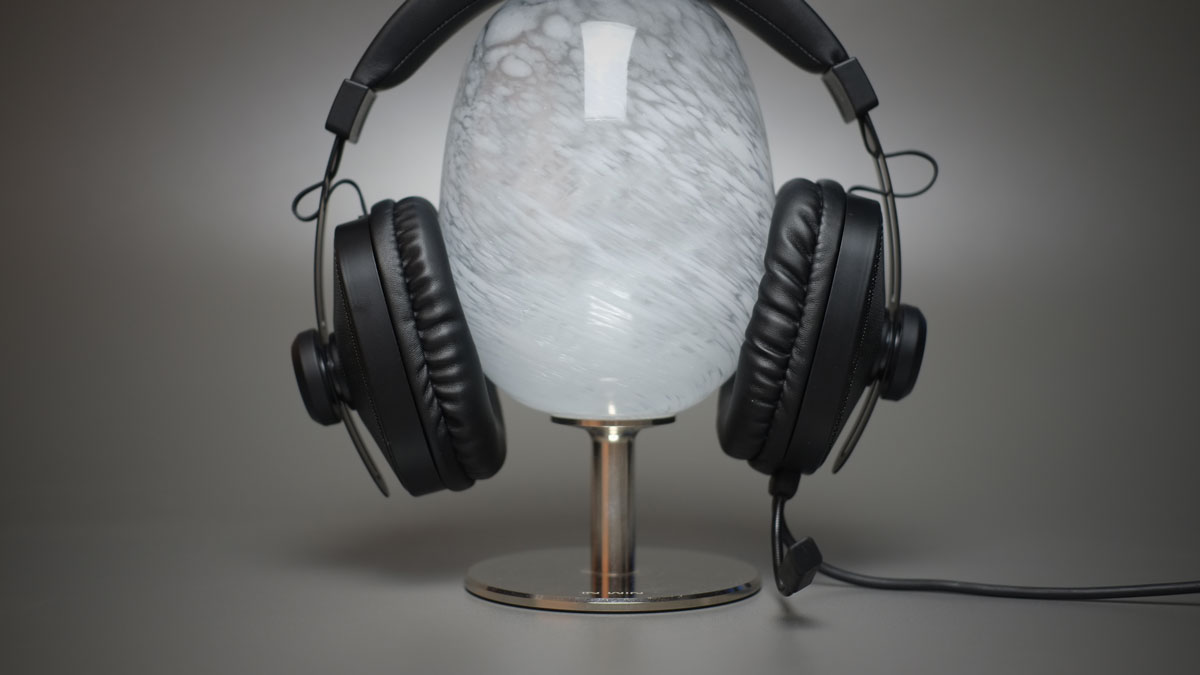 The headband is padded enough to brace the top part of the cranium. It is light too, so the weight distribution is good. Nothing to complain here really.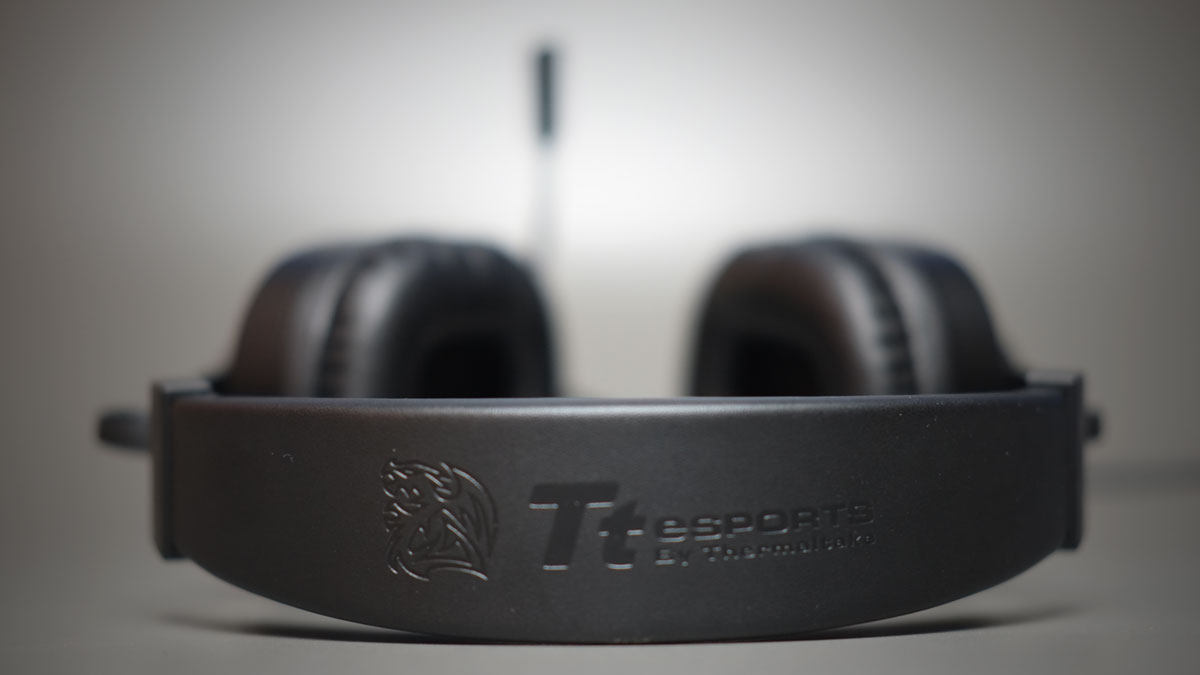 The microphone is a non-detachable dynamic driver based omni-directional piece with better specifications compared to the last TteSport headset I've reviewed here. It is supposed to be adjustable, but the flexible cable is too flexible to take any form. Glad it is short though – something that I do find as a pro in this case.
TteSports listened to our plight to ditch the braided cable route for a more flexible and kink-free solution. We have a number of connectivity ports here though. This configuration is really peculiar especially with the splitter cable added into the mix. At 60Ω, there's hardly any reason to use the device on your regular smart phone or on a console controller. The USB plug is also just there to power up the lighting.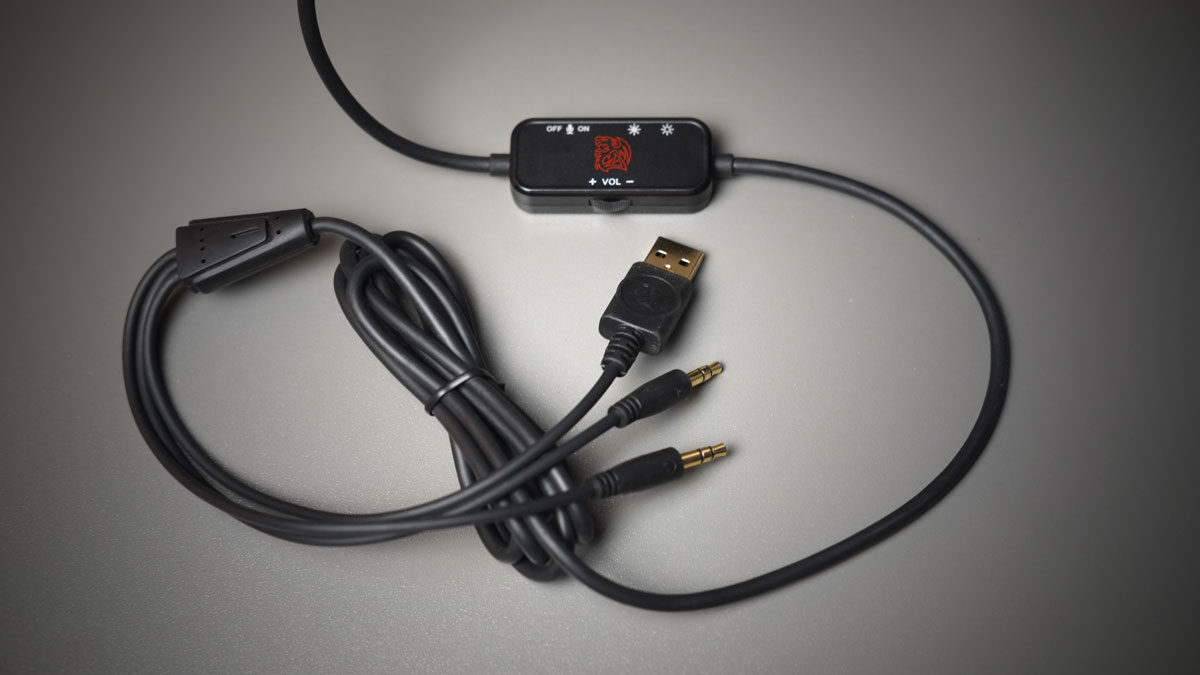 Comfort is generally good with decent flex due to the aluminum band design. Pads could be sweaty though even with a rather light clamping force. This might be due to the hot summer weather or the materials used. I am not totally sure but at least you could swap the pair with a breathable option.
Test Setup and Methodology
Our test setup relies on a system with a Realtek ALC892 Codec, tuned to output a flat sound signature. Microphone performance on the other hand is also evaluated by the same audio solution sampled on a 34dB environment. The audio solution used to take cross reference sampling is a SONY MDR-7506 studio headphone – an ideal studio monitor for A/B testing. Note that we maintain the Sound Pressure Level at around 85dBA for the duration of the tests. Our main objectives are to put into detail the gaming and general performance of the audio solution. The tracks, movies and games used for the subjective tests are outlined below:
Tracks:
Caribbean Blue – Enya
Hey Nineteen – Steely Dan
Unfinished Sympathy – D2
Axel F – Harold Faltermeyer
Hotel California – Eagles
Games:
Overwatch
Battlefield 4
The Witcher 3
Movies:
Pacific Rim
Mad Max: Fury Road
The vast world of audio solutions are subjective and is usually a heated debacle among avid listeners. Some may favor heavy bass emphasis while others may prefer less bass and a richer mid-range or higher frequency ranges. In short, an audio solution might sound great from someone else's perception while at the same time, it may sound awful to other listeners.
Driver Quality and Isolation
Audio solutions although mostly tested subjectively, could still be tested for basic objective measurements. Helping us to do just that is AudioCheck.net's Headphones and Earphones Benchmarking Test Files.
Test Results
Frequency Response, Minimum
20Hz
Frequency Response, Maximum
19KHz
Spectral Flatness
Passed
Dynamic Range
-54dB
Driver Quality
Passed
Driver Matching
Passed
Wiring Quality
Passed
Binaural Test
Passed
The TteSports Pulse G100 passed with flying colors on our tests. Isolation for instance is rated at -54dB which is the average for most gaming headsets we've tested.
Sound Signature
Without any software tuning, the TteSports Pulse G100 appears to be a treble boosted headset out of the box due to its sibilant nature, while the punchy bass might give you a hint that it is v-shaped by nature. Having tested it a ton and with a self recorded frequency response graph to back me up, I've concluded that it is actually relatively flat comapred to my other devices -but with a few quirks. Apologies my Facebook friends. I was wrong all along.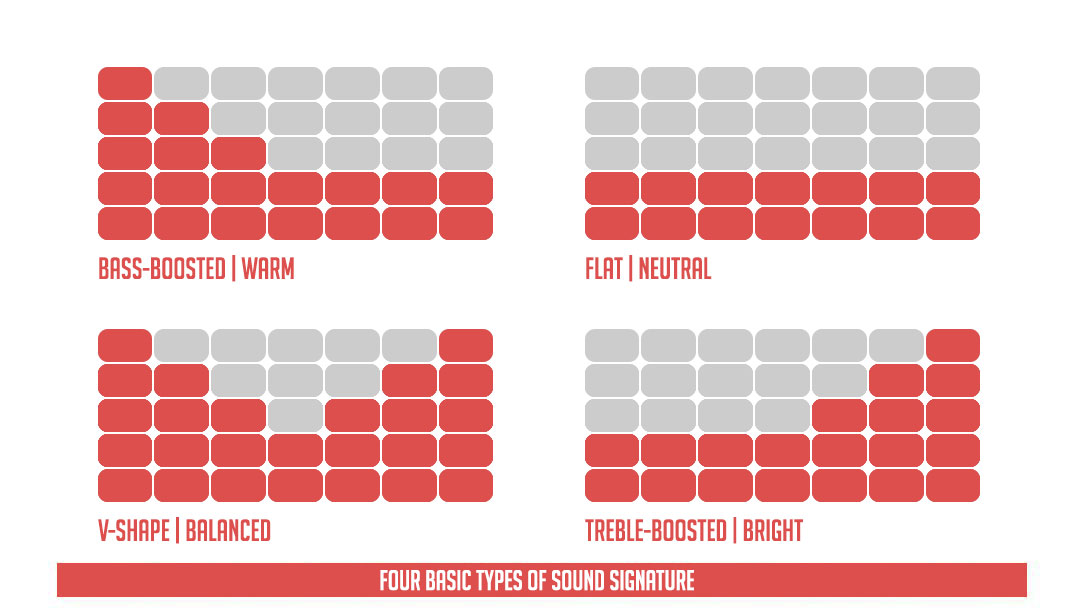 The lower frequency ranges of the TteSports Pulse G100 is what I could say punchy; with quick bass decay apt for just about anything. It extends a bit into the lower mid ranges though so expect a bit of nasal action.
The middle ranges had a bit of nasal quality to them due to the bleed. It also had this boxy feel to it due to its closed-back nature. This is apparent with a few vocal heavy tracks I listen with. I suggest rolling off the upper bass range by about -3dB to get a better picture of what you're listening.
The upper bands on the other hand is sibilant but it lacks the details I'm looking for. Perhaps it lacks the sizzle and and spark I'm used to hear with higher end headphones.
Imaging and Soundstage
Imaging is where we examine the spatial location of the audio sources, while soundstage is more about the depth and or range the audio solution could provide. Both are important to generally just about anything and are equally important on games too, where positional audio is king.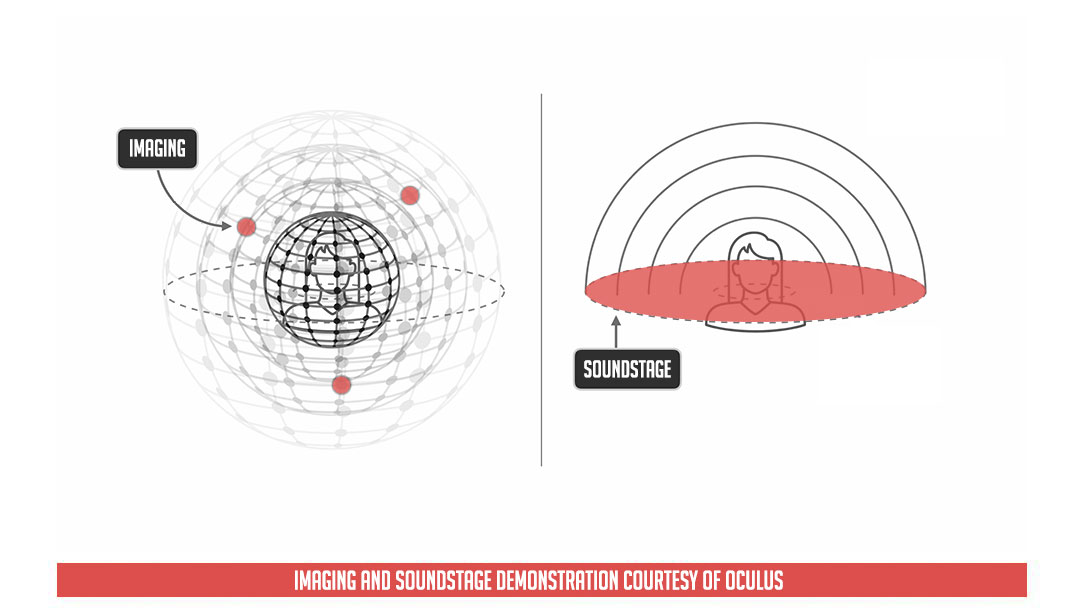 Imaging is decent with the Pulse G100 RGB considering its closed-back design. Sound stage is not wide enough though for my liking. Not really the best when it comes to pin-pointing the distance between you and the source but the decent imaging will do for gaming.
Microphone Performance
The microphone quality of the audio solution is also tested. Helping us with this test is the Windows 10 Voice Recorder, with a microphone level at 100%.
The microphone of the TteSports Pulse G100 is perhaps one of the best features of the said headset. It might be a bit boomy at times but man, this is a nice upgrade compared to their older sets.
Software, Lighting and Special Features
The TteSports Pulse G100 RGB doesn't come with any downloadable software which means you are on your own to set this thing up. RGB lighting is not addressable too since there's only a switch to turn the effect on and off.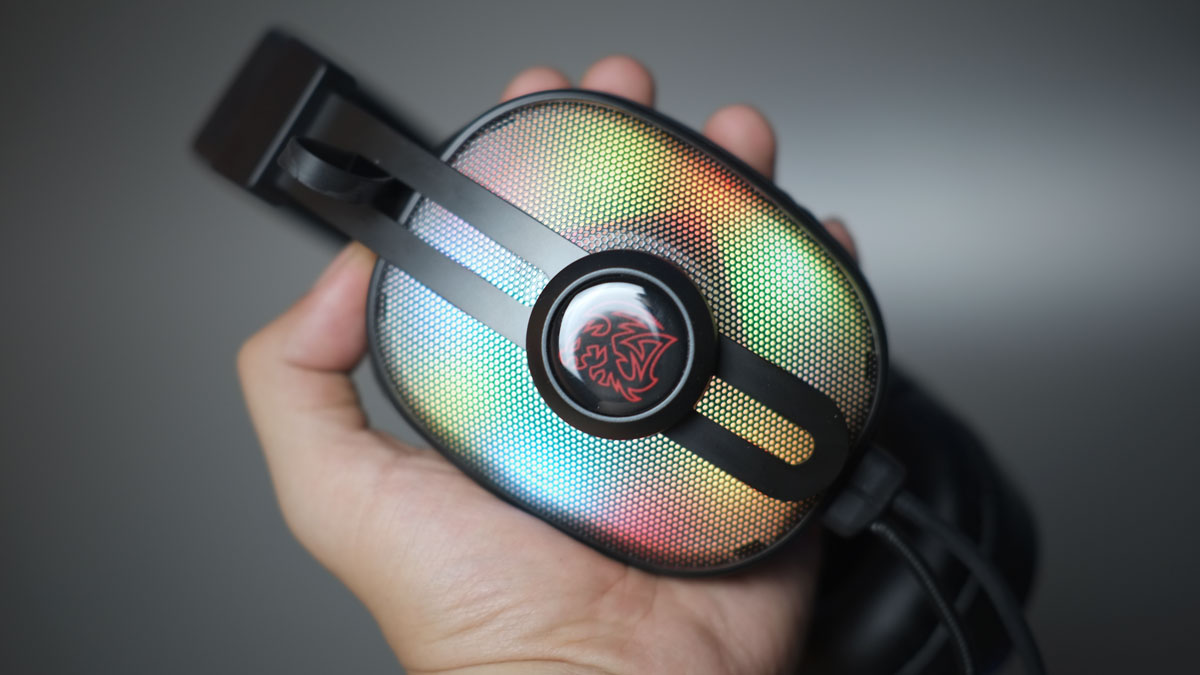 As for the RGB lighting, again, it is not addressable. A flick of the switch will either turn it on or off and that's just about it. A shame really, since the automated effects are so good. A reactive lighting will at the very least, do justice.
Final Thoughts
The TteSports Pulse G100 RGB Gaming Headset is a decent gaming headset. No doubt about that. It features a punchy bass, generally good ergonomics, a lighting effect that just works and a microphone that is just superb for its price point.
The headset could use some improvements though. First off, the impedance is too high to warrant the use of separate ports and or plugs to utilize everything it has to offer. A single USB port and a sound processor with on-board amplifier will do everything just fine. A USB only approach will also add some form of software support had TteSports decided to do just that. Imagine the possibilities.
Priced at a little under $40 USD, the Pulse G100 is a decent option if you are looking for a budget banger with a nice but non-addressable RGB effects in tow. It aint perfect but it has its strong points that you should consider.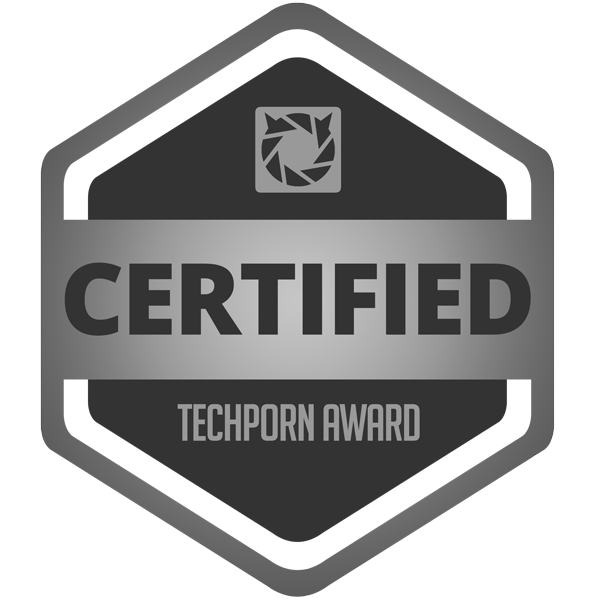 TteSports Pulse G100 RGB
Performance -

7/10

Build Quality -

7/10

Features -

8/10

Design -

8/10

Value -

7/10
Summary
Priced at a little under $40 USD, the Pulse G100 is a decent option if you are looking for a budget banger with a nice but non-addressable RGB effects in tow. It aint perfect but it has its strong points that you should consider.