Transferring files between devices can take much time and energy, but Samsung Electronics has simplified the file sharing process. For Galaxy users looking to share photos, videos and various files with other Galaxy devices, smartphones or PCs, the Quick Share feature, introduced in 2020, is streamlining file transferring functionality.
Offering enhanced usability and simplicity, Samsung's flagship file sharing feature enables the quick sharing of all file types, from simple photos and memos to large videos and business documents requiring increased security.
File Corruption is a Thing of the Past with Quick Share
When meeting friends after not seeing them for a long time, capturing memories of your time spent together is essential. However, if the Gallery app on your smartphone fills up with photos while spending quality time with friends, there is no need to worry. To avoid the hassle of uploading all the photos to a messaging app or email and downloading them again, Quick Share provides simple file transfer in a matter of seconds.
The biggest advantage of Quick Share is that users can quickly share photos with nearby Galaxy devices in just a few taps regardless of the number and size of the files. With a Wi-Fi or Bluetooth connection, users can send files to up to eight people at a time.
Receiving files through Quick Share is simple, from set up to sending and reception. In order to use Quick Share, swipe down from the top of the screen of your Galaxy device and tap on the Quick Share icon from Quick Settings.
Galaxy devices that can accept files are listed according to sharing preferences that the user has set in advance. When the other Galaxy device accepts the file transfer, the file is sent immediately. These shared files can be immediately found in the Quick Share folder created in the Gallery app without a separate download process.
Share Quickly and Seamlessly with Non-Galaxy Devices
What's more, Quick Share makes file sharing easy not only between Galaxy devices but also with other smartphones.
When using Quick Share with non-Galaxy users, a Galaxy user can select the file they want to share via Quick Share and choose from the following options: Copy link, Share in an app and Share using QR code. If the user chooses to share the file using a QR code, the recipient can simply copy or scan the code and receive the file instantly on their smartphone or device. Additionally, files uploaded to the Samsung Cloud can be shared with others as well.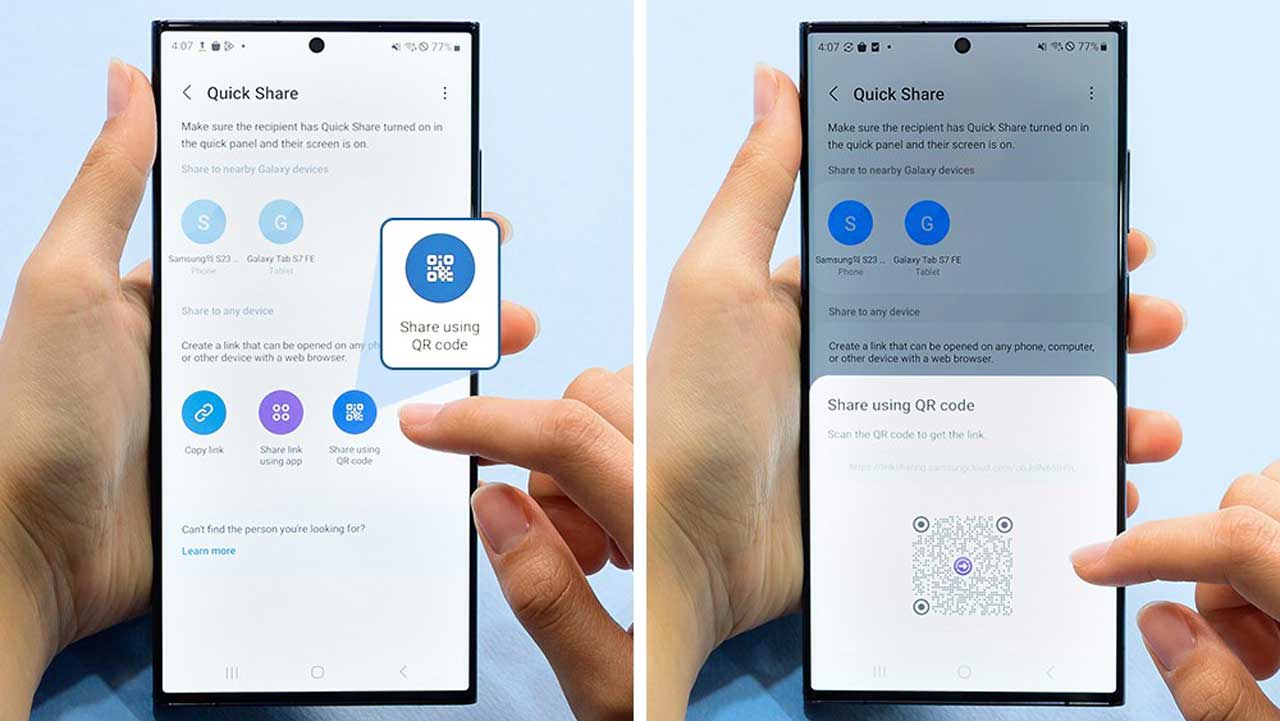 If Share in an app is selected, the link can be sent via a messenger right away, making it an effective way to share files to multiple people at once in a group chat room. Additionally, users can send original photos and videos in high quality without worrying about deteriorated image quality due to file compression.
It is also worth noting that files uploaded to Samsung Cloud are automatically deleted after a certain period, improving security and user convenience.
Share Quickly With A Range of Devices Such as Tablets and Laptops
Quick Share can be used on any Galaxy device that comes with the feature. The instant file sharing feature allows files to move freely across smartphones, Galaxy tablets and Galaxy Books.
Sharing files between different types of Galaxy devices is also easy and frictionless. To send a file from your Galaxy smartphone to your Galaxy Book, all you need to do is activate the Quick Share feature on both devices before selecting the files and recipient using Quick Share.
Share Safely by Doubling Security With Private Share
When sharing files containing important personal or financial information, Samsung's Private Share is there to help you share files securely.
Unlike Quick Share, which uses Wi-Fi and Bluetooth connections, Private Share supports file encryption by utilizing blockchain. Users can send a variety of files through Private Share, including images, video, audio and documents. 20 files of up to 200MB in total can be sent at once to a designated recipient using a phone number and identification number.
The most notable feature of Private Share is that users can control the recipient's access permission and the file's expiration date. Prior to sharing, users can set the amount of time a file can be viewed as well as how the recipient can use the files. Users can also adjust the settings and revoke sharing permissions even after the files have been sent.
Additionally, the sender can check whether the recipient has received the files as well as if and when they opened them. To ensure confidentiality, secure files cannot be downloaded, and screenshots cannot be taken, preventing files from being shared to parties that have not received access.
In addition to Quick Share and Private Share, Galaxy users can also use other file sharing methods, such as Dropship as well as Nearby Share, allowing users to send content how and when they want.
From sharing important files in business environments to sharing photos and videos with loved ones, Samsung Galaxy's Quick Share and Private Share features are enabling increasingly smooth communication in the digital era with their convenience, safety and wide usability.
It's time to #ShareTheEpic
With Quick Share, it's remarkably easy to share epic moments with your loved ones captured with the Galaxy S23 Ultra. Available in three storage options, the Galaxy S23 Ultra is priced at PHP 81,990 (256GB), PHP 89,990 (512GB), and PHP 95,990 (1TB). It comes in four unique colors – Green, Phantom Black, Lavender, and Cream.
For more information, visit www.samsung.com/ph/smartphones/galaxy-s23-ultra/.