TCL, a consumer electronics company, proudly presents its latest innovation, the UV Connect+ Air Conditioner, ushering in a breath of fresh, health-conscious living.
The TCL UV Connect+ Air Conditioner redefines the standard for cooling technology. It's all about elevating comfort and convenience for all users, offering a substantial upgrade over standard air conditioning units with its top-tier cooling and cleaning capabilities, including the Gentle Breeze, CleanXpress, and Extreme Cooling features.
Revolutionizing Coolness
The Gentle Breeze feature provides a refreshing cooling experience with a soft laminar airflow. Comprising 18 S-shaped blades with 1422 micro-holes, it evenly disperses the air, creating a comfortable indoor environment and avoiding the discomfort of direct airflow.
CleanXpress, on the other hand, introduces a systematic cleaning solution that ranges from reminders to automatic cleaning processes. The 3-step Auto Clean function handles frosting, defrosting, and drying, and its deep clean feature utilizes water molecules in the air to eliminate dust, dirt, and impurities. Additionally, the Filter cleaning reminder is accessible through the TCL home app and front panel.
The Extreme Cooling feature ensures effective cooling in various temperature conditions. Whether it's a scorching day or a cooler environment, the air-cooled E-box guarantees consistent cooling, even at an ambient temperature of 60°C, with 100% cooling capacity output at 50°C ambient.
A Unique Air Conditioning Experience
The TCL UV Connect+ Air Conditioner boasts additional features tailored to your busy lifestyle. Its 6-in-1 filter system, including a silver ion filter, active carbon filter, catechin filter, photocatalyst filter, anti-dust filter, and vitamin C filter, effectively keeps harmful bacteria at bay. The UVC Sterilization Pro feature emits ultraviolet light to eliminate toxins, offering a certified purification process that destroys the DNA/RNA of viruses and bacteria, delivering sterilized air with no adverse effects.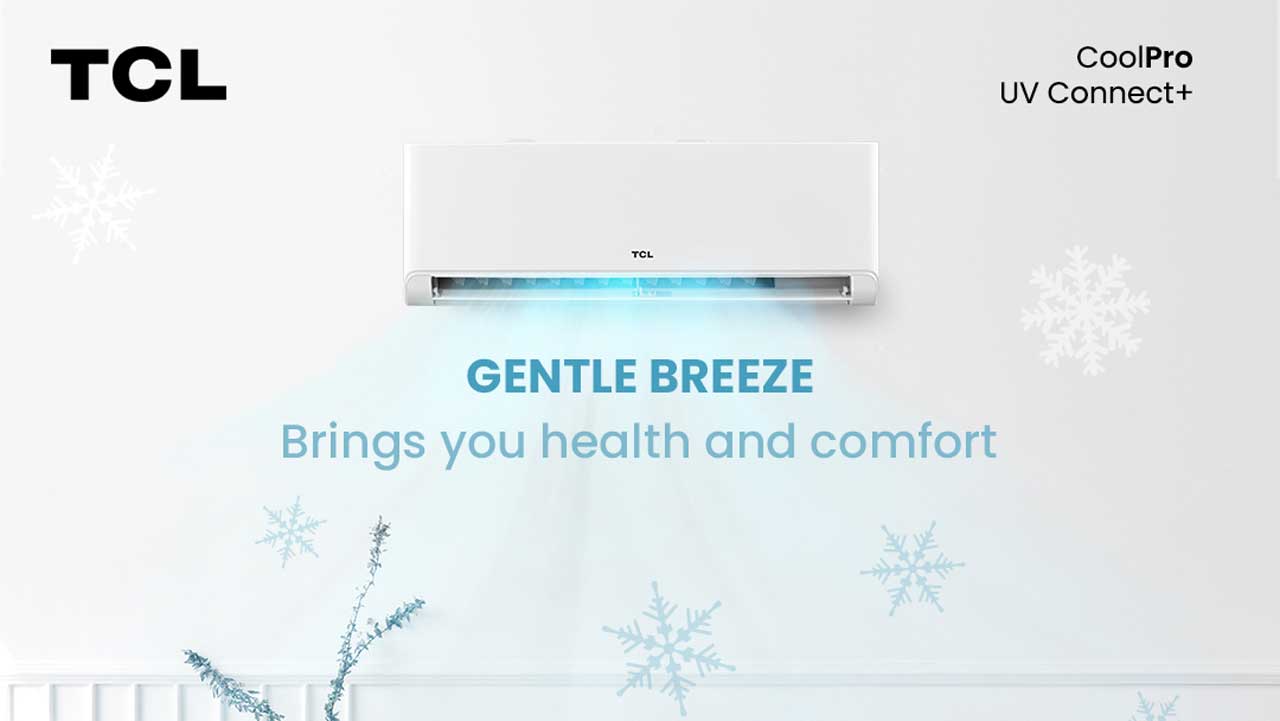 The standout feature of the TCL UV Connect+ Air Conditioner is its IoT Connection, enabling seamless connectivity through the TCL Home App on your mobile device. You can easily control room temperature, adjust the air conditioner's flow angles, monitor self-diagnosis, and manage energy consumption.
The TCL UV Connect+ Air Conditioner is available at dealer stores with a price range of Php 20,000 to Php 30,000 and offers various capacities, including 1.0HP and 1.5HP. For more information, please visit https://www.tcl.com/ph/en.