Plantronics isn't exactly a new brand in the audio space, and if you're working on a voice account, chances are you've already used one. Now what we have here is the latest in Plantronic's gaming arsenal, featuring a modular design that is to be honest, the reason why it caught my attention first hand. We are talking of course about the Plantronics RIG 500 Modular Gaming Headset.
The Plantronics RIG 500 Modular Gaming Headset is a sub 60 USD offering, with a rated local price point of 2, 690 PHP. This is, by its name – a modular gaming headset. You'd get it disassembled for starters, and you can practically swap anything that comes with it. That includes the head frame, the ear cups, and the self adjusting head band padding.
FEATURES & SPECIFICATIONS:
The Plantronics RIG 500 features 40 mm pair of drivers with 32 Ohms of impedance. It is a closed back, over the ear design with a frequency response rated at 20 Hz to 20 KHz. It weighs in at 200 grams with a 3.5 mm combo jack termination. Learn more from the product page.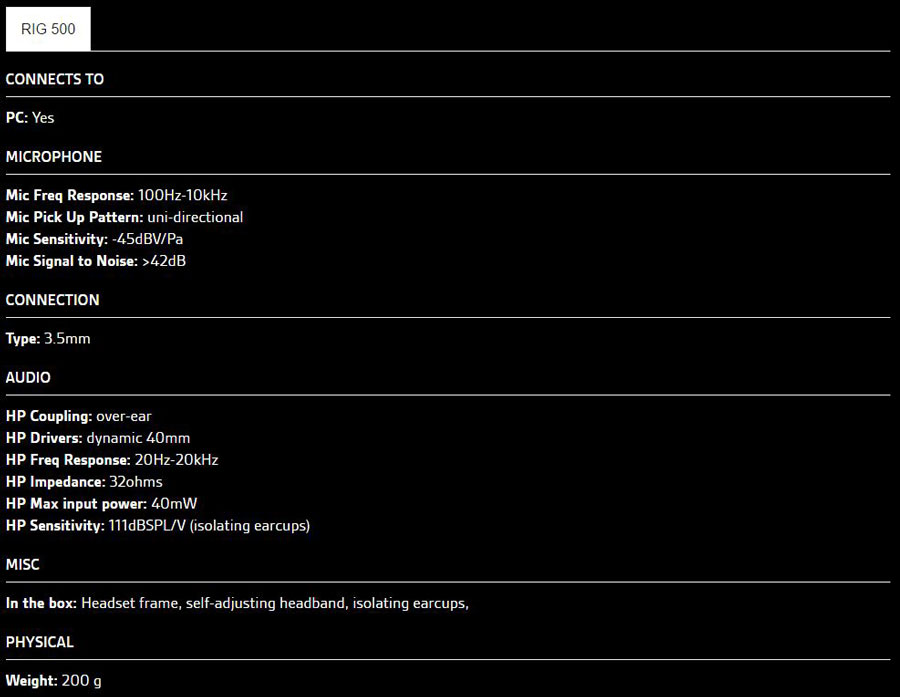 PACKAGING & BUNDLED ACCESSORIES:
The Plantronics RIG 500 comes in a slim 2 part packaging, consisting of a color box, and an internal molded plastic shell. The box art makes sure that you'll see the RIG 500 in all of its glory, together with its main features.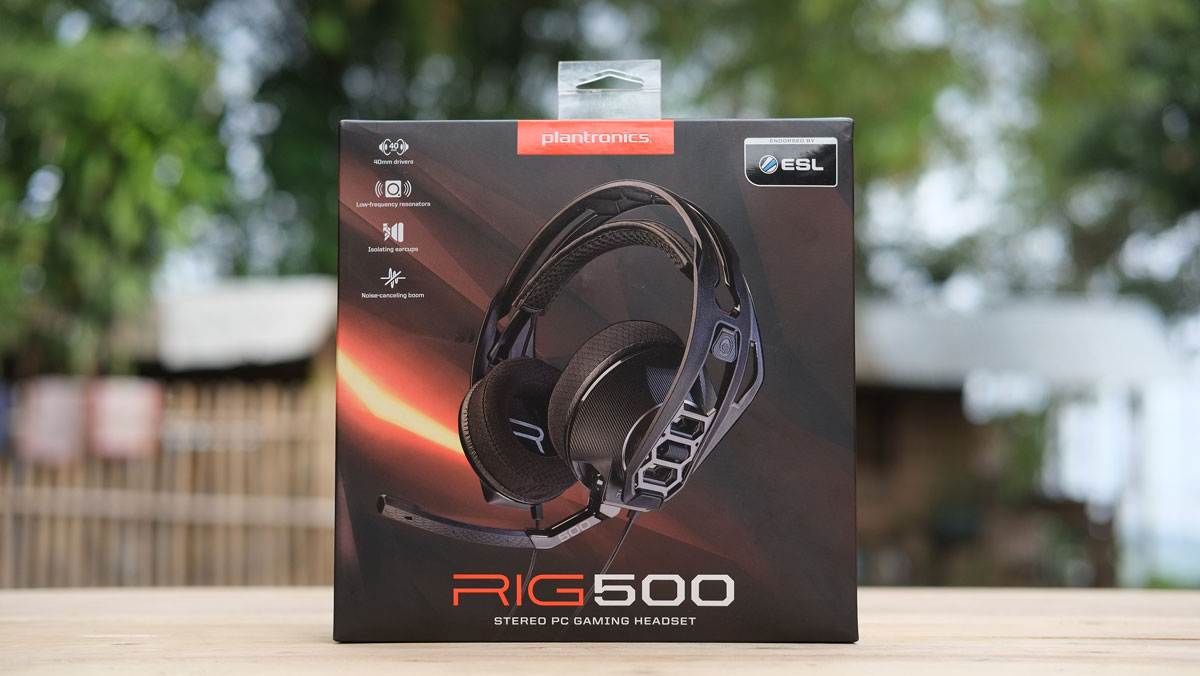 Opening the inner box reveals the abominable appearance of the yet to be assembled Plantronics RIG 500. I mean, this is just it for presentation. The whole thing is tricky to put back into the box too.
Accessories are basic. You'll get paper works, a short extension cable that terminates in dual 3.5mm audio jacks, and an ESL One sticker set. The RIG 500 comes with a combo jack installed on the main cable so you really need this one for desktop use.
PLANTRONICS RIG 500 ASSEMBLY:
The RIG 500 comes disassembled in 3 main parts. You'd get the pair of ear cups, the self adjusting head band, and the head frame that keeps them all together.
The head band has Two mounting options for each sides. We selected the top one which is in my opinion, the best for comfort.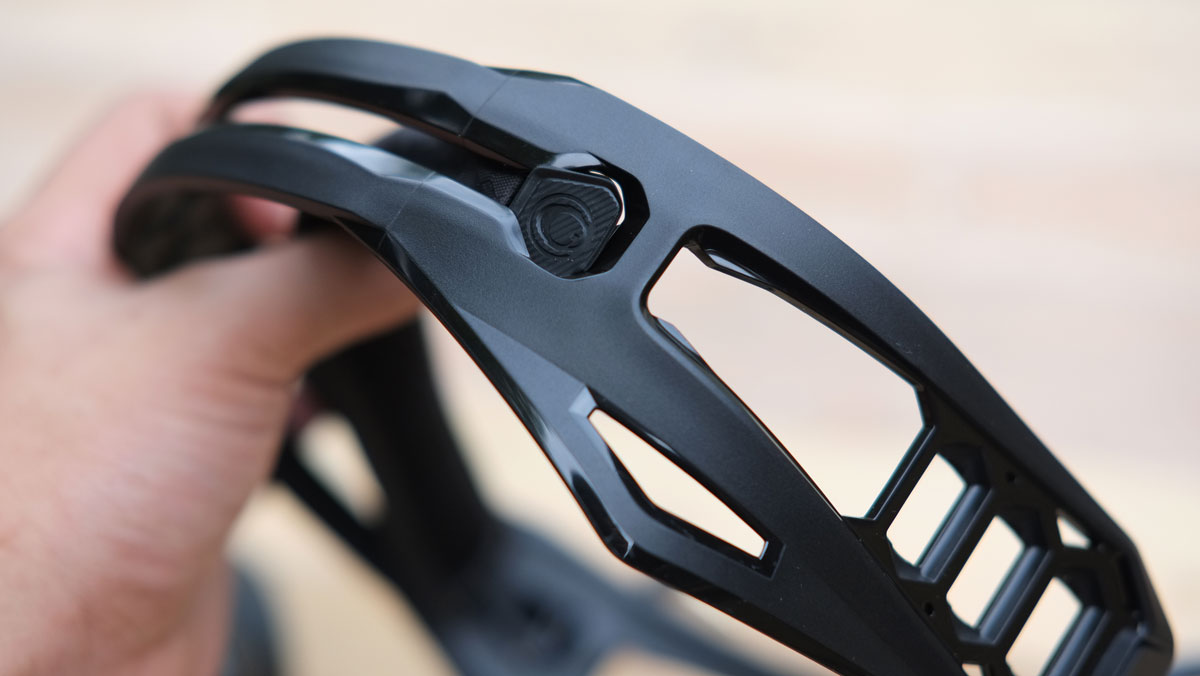 You can slap in the ear cups at any of the 3 main slots found at each of the frame's lower end. They are easy enough to attach, and requires you to press both the locking pins to release. That's it I guess?
DESIGN BUILD AND COMFORT:
The Plantronics RIG 500 is a proper looking gaming headset once you got it assembled. It is all plastic, and weighs in at 195 grams without the cable so it is damn light for a gaming headset. This is even lighter than the HyperX Stinger so that is a huge plus right off the bat.
The head band is barely noticeable, with ample enough padding to support the cranium.
The ear cups features a removable padding. The pads themselves has a depth of 2.5 cm, and features a soft breathable cushion. Initial clamping force is a little tight for my liking, but you can stretch the band for a better, and more natural feel. There is little play to the cups themselves, so you have to rely on the cushion pads to take shape for maximum comfort. Now the 40 mm drivers are rated to feature 32 Ohms of impedance. That means you could easily drive this even with a a mobile phone.
The RIG 500 features a non-removable swivel to mute uni-directional microphone. The stem is rubberized so you can make small adjustments to suit your needs.
The mobile, and console friendly 3.5mm combo jack is connected to a ~5 foot long cable. It is easy to route but it is longer than I expected. Cable microphonics are non-existent.
TESTING THE HEAD GEAR:
The vast world of head gears are subjective, and is usually a heated debacle among avid listeners. For an instance, some may favor heavy bass emphasis while others may favor less bass and prefer a richer mid-range or higher frequency range details. In short, a head gear might sound great from someone's perception, while at the same time, it may sound awful to other listeners. There are also other things to look out for such as the sound stage, the general sound signature of the head gear, and several others used throughout the audiophile community.
Head gears although mostly subjective, can still be tested for basic objective measurements with the help of AudioCheck.net's Headphones and Earphones Benchmarking Test Files. Gears used to take cross reference sampling is my SONY MDR-7506, and the on-board ALC892 audio solution of my ASUS Z170-A motherboard tweaked for flat frequency response via RMAA. As for wireless devices, a mobile phone with Bluetooth 4.0 support is used.
HEAD GEAR TEST RESULTS
FREQUENCY RESPONSE: BASS 10 Hz – 200 Hz
Passed with 20 Hz minimum frequency range
FREQUENCY RESPONSE: TREBLE 8 kHz – 20 kHz
Passed with 19 KHz maximum frequency range
SPECTRAL FLATNESS
Passed
DYNAMIC RANGE
54 dB BFS
DRIVER QUALITY
Passed with minimal rattling at the left driver
DRIVER MATCHING
Passed
WIRING
Passed
BINAURAL TEST
Passed
Based on the test files from AudioCheck.net, the Plantronics RIG 500 delivered a good performance across all available test suites. Frequency response from Bass to Treble aren't that bad, able to go as low as 10 Hz, and up high at 19 Khz. Dynamic range on the hand could be better, with only a 54 dB below full scale rating so isolation isn't as good as what you would expect. The left driver also rattles around the 20 Hz mark but it minimal.
Not all head gears features a flat sound signature, and not all ears are created equal so keep that in mind. If you want to learn more about these tests, head over to AudioCheck.net. I suggest you do your own tests with your current gear.
GENERAL AUDIO PERFORMANCE:
We tested the Plantronics RIG 500 with a variety of tracks, games and movies to gauge its general audio performance under a variety of consumer usage. I haven't been playing much these days to be honest so I have tested fewer games with this one.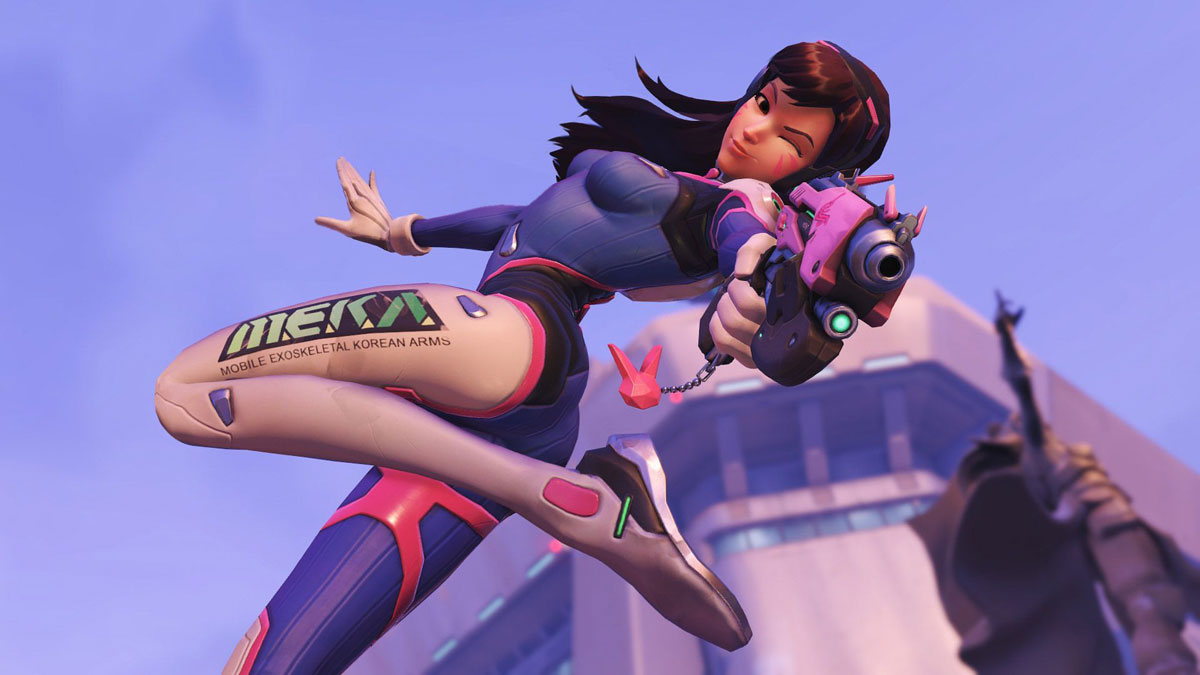 The Plantronics RIG 500 features a balanced sound signature, which is bass and treble emphasized. You'd feel the bass creeping along a little bit at the lower mid ranges, but with a decent impact. The mid range is definitely recessed but presents aggressiveness around the upper mid ranges up to the treble – sibilant at times. That being said, sound stage is a little tight for my liking and imaging is rather affected. Still good for the price tho.
I shouldn't sound really picky since this is not a high end device to start with. Gaming is where this thing shines at and it provides an immersive experience within the titles I tested. The in-game sound stage still felt a little tight but the imaging isn't much affected if compared to the tracks I used. You'd still get a proper positional audio experience with this pair in-game I must say.
Plantronics is an expert at communications so the microphone performance of the RIG 500 should be stellar – but it is not. At least not as good as I expected. Although I could hear myself just fine, noise is definitely present. The mic has a high sensitivity so you have to tone down the level a notch lower to keep noise in check.
THE VERDICT:
Modular and functionality is at the Plantronics RIG 500's core. It's an easy and fun to build gaming headset, that definitely functions as one. Being a budget sub 60 USD gaming headset it doesn't sound bad either – offering immersive gaming performance without breaking the bank. Comfort is generally good too which is a product of its 200 gram structure paired with a non obtrusive clamping force. A feature that is paramount for round the clock gamers.
The Plantronics RIG 500 retails at around 60 USD price point. It is not a bad price to start with so props to Plantronics by introducing a fun to build modular gaming headset. This brought Plantronics to the lower end of the spectrum – reintroducing themselves to a wider audience.
In closing, the Plantronics RIG 500 is one comfortable, and solid modular gaming headset. It carries a few imperfections, but it is good enough to sate my main requirements. That includes a well rounded audio performance at a starting point.
GOOD WELL ROUNDED AUDIO PERFORMANCE
GREAT COMFORT – REALLY LIGHT AT 200 GRAMS
DIY MODULAR DESIGN IS A PLUS
SWIVEL TO MUTE MICROPHONE  
WORKS WITH PC MOBILE & MAJOR CONSOLES
GOOD VALUE FOR MONEY

MICROPHONE NOISE – TOO SENSITIVE
NON-REMOVABLE MICROPHONE
ISOLATION COULD BE BETTER
Plantronics RIG 500
PERFORMANCE -

7/10

BUILD QUALITY -

7/10

AESTHETICS -

8/10

VALUE -

8/10
Summary
The Plantronics RIG 500 is a fun to build modular gaming headset. This brought Plantronics to the lower end of the spectrum – reintroducing themselves to a wider audience.