We've seen enough action from Nvidia's GeForce GTX 950 – A budget gaming graphics contender in the 1080P gaming scene, but that doesn't mean we are stopping especially when we just had one of ZOTAC's finest at 8, 600 Pesos. The card we got is no other than the ZOTAC GTX 950 AMP! Edition with 2GB of frame buffer and a refreshing aesthetic appeal.
The ZOTAC GTX 950 AMP! is the fastest GTX 950 based graphics from the company so far. Thus, featuring a 1203 MHz Core Clock Speed that boost up to 1405 MHz whenever possible. Memory Clock has seen a 51 MHz advantage over the norm, while the VRAM capacity remains untouched at 2 GB. Being an AMP! Edition, it is the fastest out of ZOTAC's SKUs.
Cooling performance should go along with a bump in specifications, so ZOTAC employed their ICESTORM cooling system, together with their FREEZE (0DB compliant) Dual 90mm fans. This card also comes equipped with a back-plate dubbed as the CARBON EXOARMOR. Will these improvements seal the deal? Learn more to find out the answer on our review.
FEATURES & SPECIFICATIONS: CLICK HERE
The GeForce GTX 950 from Nvidia boasts their Maxwell Architecture which basically features better thermals, power efficiency, and memory management over its predecessors. Along with it comes the DirectX 12 support, Dynamic Super Resolution (4K on 1080P), VXGI (Lighting), and MFAA (Anti-Aliasing) to name a few. This card is a direct replacement for the GTX 750 Series and is aimed at gamers who plays MOBA games and want to play the latest games at 1080P without breaking the bank. The card also supports Nvidia's ShadowPlay and G-SYNC.
SPECIFICATIONS

MAKE
NVIDIA
ZOTAC
GPU
NVIDIA GTX 950
NVIDIA GTX 950
CORES
768 (CUDA)
768 (CUDA)
CORE CLOCK
 1024 MHZ -> 1188 MHZ
1203 MHZ -> 1405 MHZ
VRAM
 2 GB GDDR5
 2 GB GDDR5
MEMORY BUS
 128-BIT
 128-BIT
MEMORY CLOCK
 1650 MHZ
 1701 MHZ
PCI-E STANDARD
 PCI-E 3.0
 PCI-E 3.0
DISPLAY SUPPORT
4X DISPLAYS
4X DISPLAYS
DISPLAY OUTPUTS
 DL-DVI, HDMI 2.0, 3X DP 1.2
 2X DL DVI, HDMI 2.0, DP 2.0
POWER OUTPUT
 90W
 90W
POWER INPUT
 6-PIN
6-PIN
DIMENSIONS
 8 X 4.4 INCHES
 8.2 X 4.4 INCHES
SLOT TYPE
 DUAL
DUAL
COOLER TYPE
 SINGLE FAN + OEM DESIGN
 DUAL FANS + CUSTOM DESIGN
There are more features to be discussed, but if you want to learn more, check out the GeForce GTX 950 Overview from Nvidia.
UNBOXING & BUNDLED ACCESSORIES:
The card features ZOTAC's proprietary Black & Yellow color box which is kinda cool with its new design and compliments ZOTAC's new website. Features and basic specifications are already laid out at the front although you have to look at the back for an in-depth specs and to understand what the card is all about.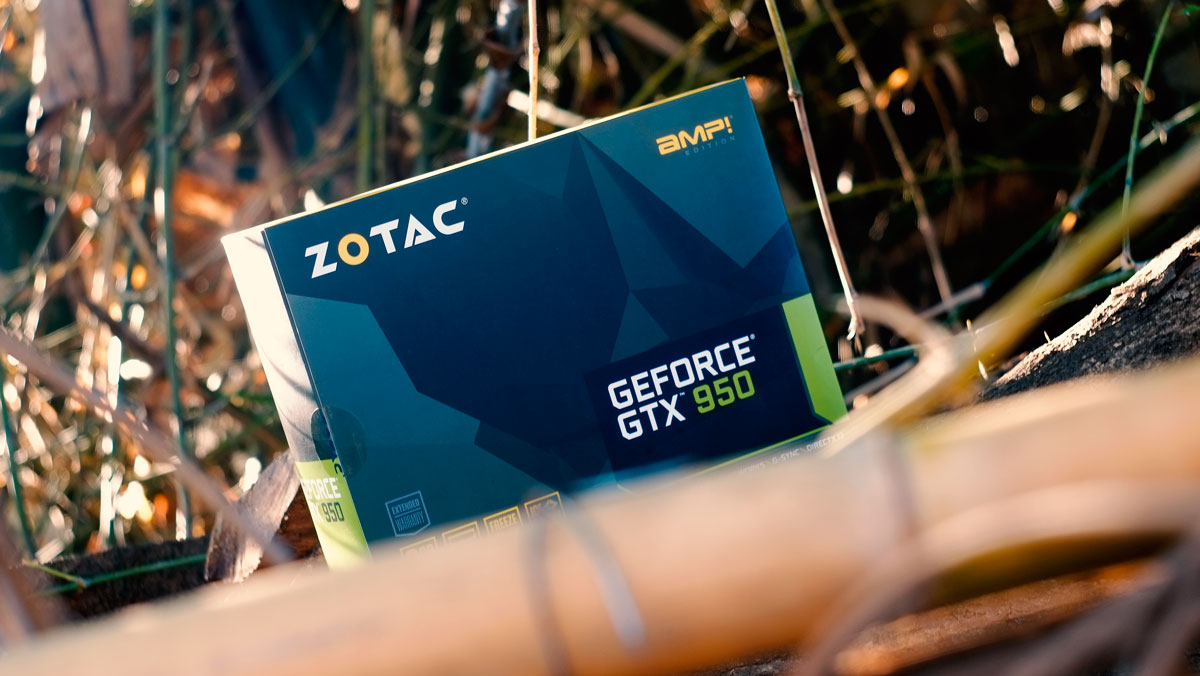 The back is well designed with graphically laid out features and a minimalist specifications sheet. There isn't much to discuss here but I should tell you that ZOTAC is not skimping out on the design and functionality of the packaging – since it protects the card very well with Molded Pulp Packaging, and another corrugated cardboard box inside.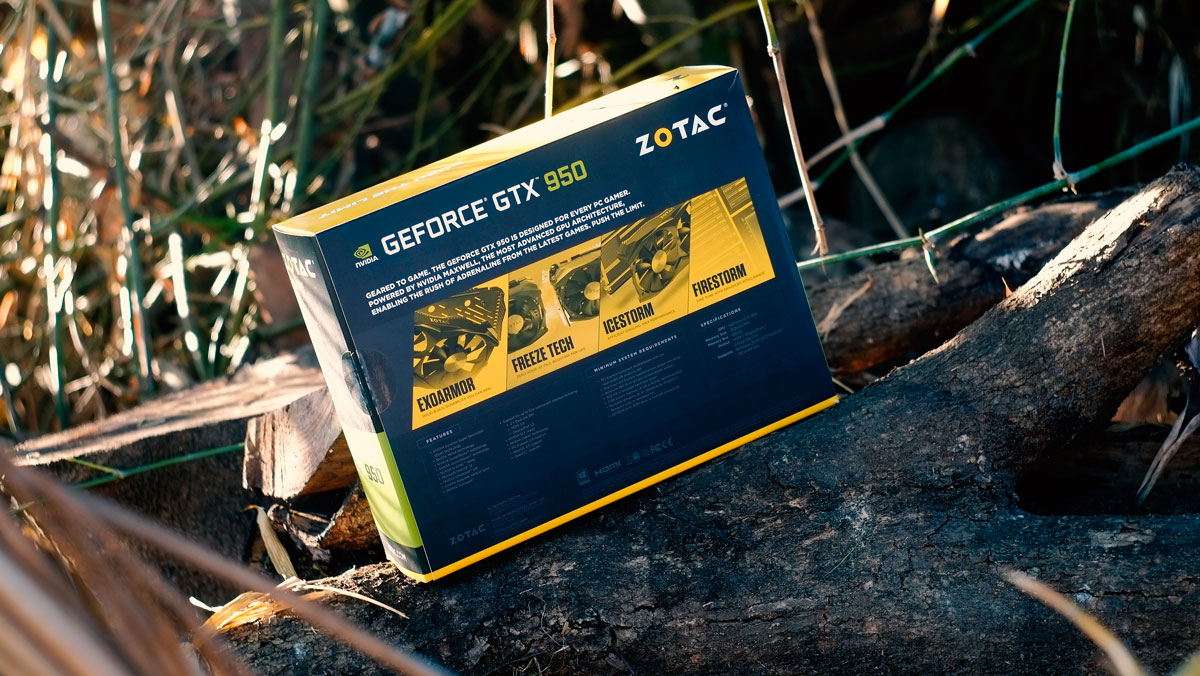 Accessories are the following: 4-Pin MOLEX to 6-Pin PEG cable, a DVI to VGA adapter, a User's Manual, Software DVD, and a ZOTAC case badge as well to flaunt that you're using a ZOTAC graphics card. Nothing exceptional, yet nothing important is missing or overdone.
THE ZOTAC GTX 950 AMP! EDITION:
The ZOTAC GTX 950 AMP! Edition is nowhere near any GTX 950s out there when it comes to looks, as it could be easily mistaken for a higher-end card. If there's something I like about the card the first time I saw it – It must be the looks.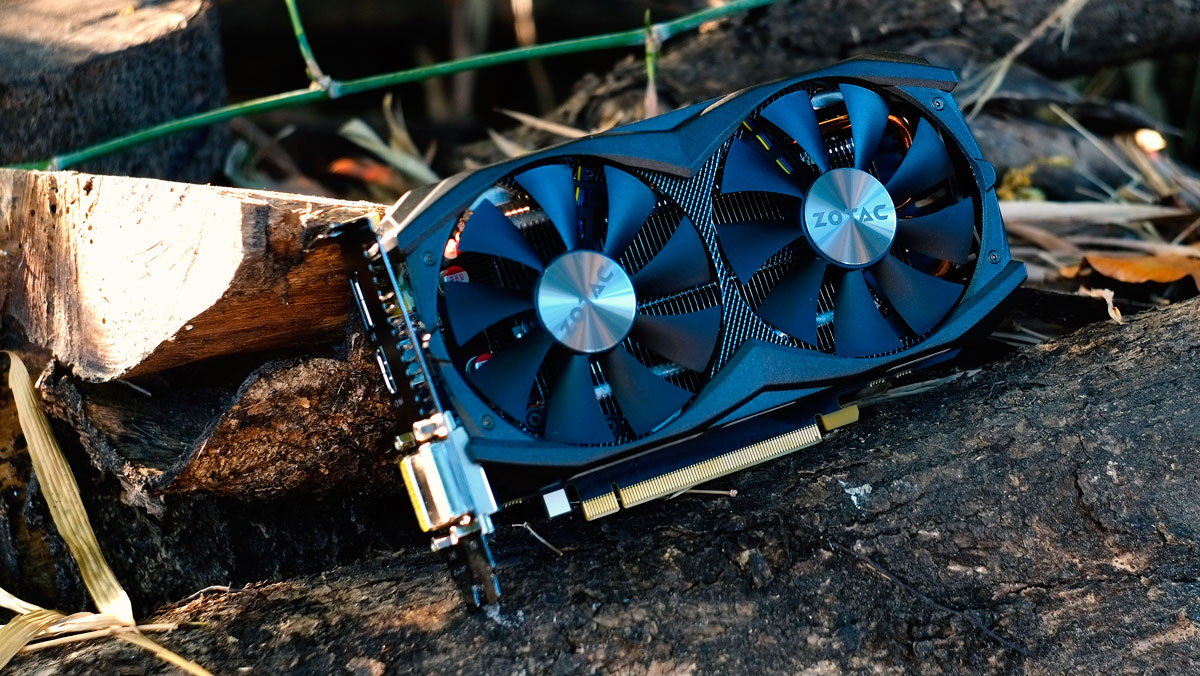 Gun Metal Grey and Carbon Fiber are the name of the game for this card's design, covering up mostly the 8.2 Inch foot print. The front shroud looks mighty in its metal construction, and blends well with the custom back plate which is made out of metal as well. The card really speaks of high quality build and we really like what ZOTAC did here.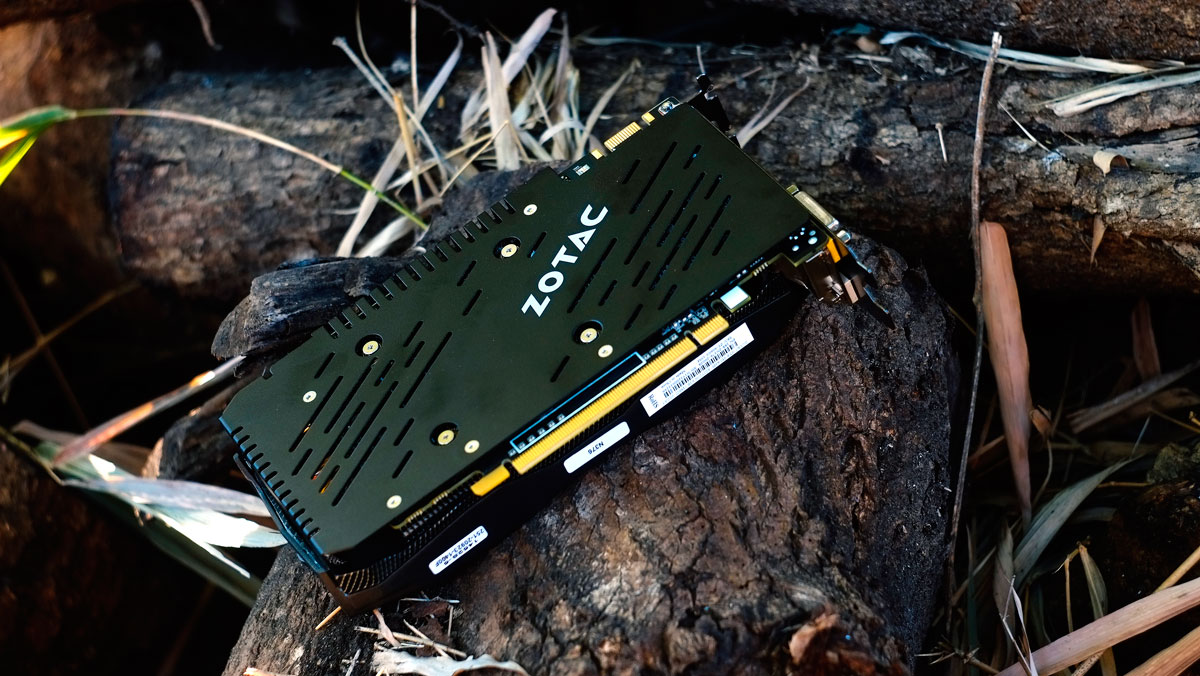 The ZOTAC GTX 950 AMP! comes with dual 90mm axial fans – capable of turning themselves off when the temperature permits it or if the system is basically in desktop or idle mode. The fans have a metallic centerpiece which provides good accent or contrast to the card. Beneath them are the dual copper heat-pipes that runs along the length of the heat-sink array. The dual fan configuration spins up as high as 2700 RPM or at its 78% as a factory set maximum fan speed.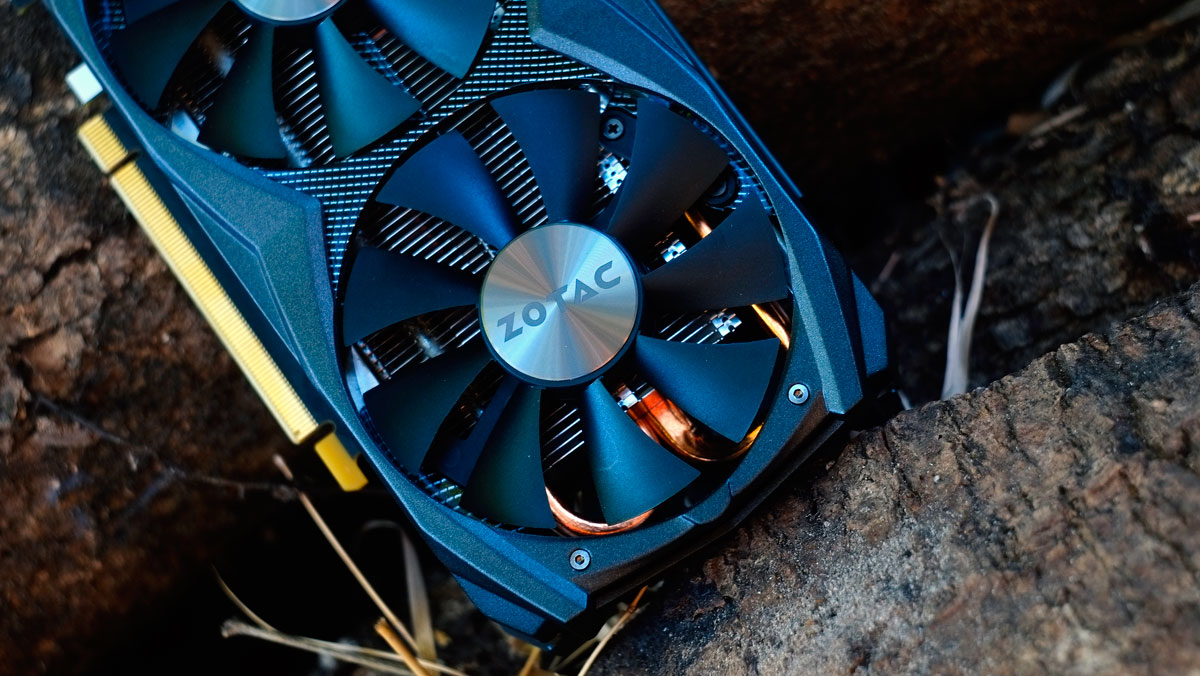 The angle below shows you a great example at how well designed the card is. The back plate for an instance, envelopes the visible sides of the card – keeping that sleek look while at the same time protecting the card's PCB and the extension of the cooler. The 6-Pin PEG connector is situated at the visible extreme side of the card, with the SLI finger accompanying it at the other end.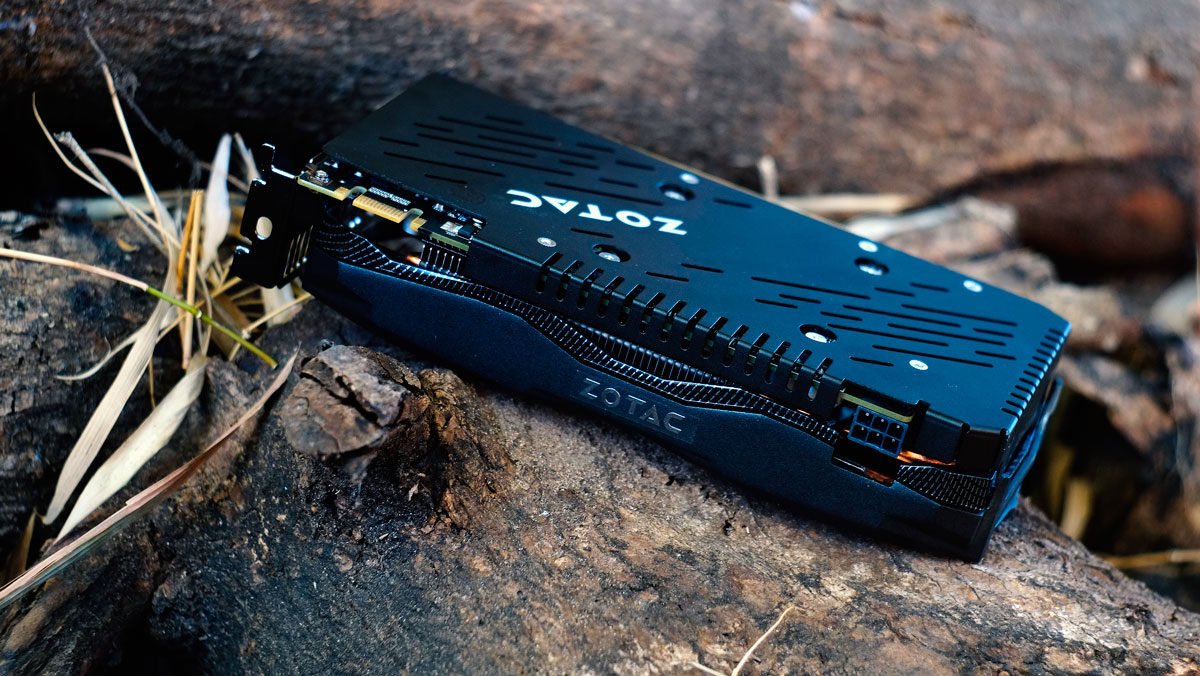 The card features plenty of display port options to choose from depending on your needs. We've got Dual DVI (I+D), an HDMI 2.0 Port, and a full size Display Port that conforms to the Display Port 2.0 standard. An array of ventilation holes is visible here as well.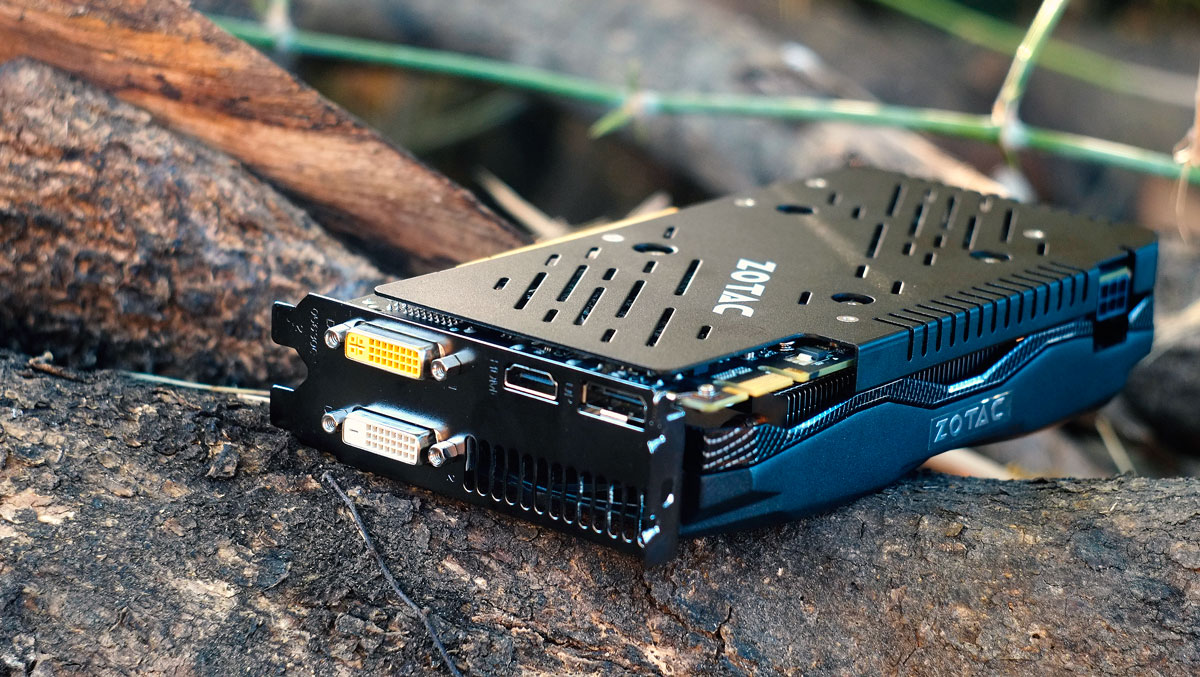 TEST SYSTEM & SPECIFICATIONS:
Graphics cards are no strangers in our labs, but providing a precise result usually needs a lot of time and effort on our end. Helping us to do those things are hardware and software based measurement tools, an updated copy of Windows 7 Ultimate x64 SP1 for the OS, and wide selection of the popular games that most probably, will sate your appetite. The BIOS/UEFI, Chipset, and Video Card drivers of the test system will be updated too, as much as possible every review. Power Options is set to balanced.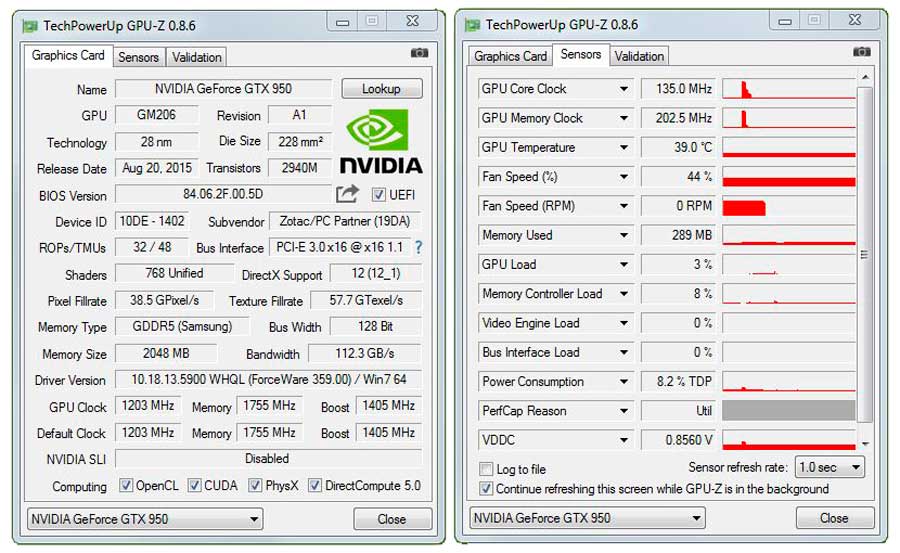 No third party background softwares should be executed while the benchmarks are on going unless it is needed, or stated. As for the gaming benchmarks alone, tests should include 720P (1280 x 720), 1080p (1920 x 1080), 1440p (2560 × 1440), and 4K QHD resolution results if permitted by the games, and benchmarking tools, or if necessary to the hardware being tested. Below are the test system's specifications:
| | |
| --- | --- |
| CPU | Intel Core i5 4670K |
| MOTHERBOARD | ASUS Z97-PRO WiFi AC |
| CPU COOLER | Cooler Master Seidon 120XL |
| MEMORY | CORSAIR Vengeance PRO @2133 MHz 16GB |
| GRAPHICS CARD | ZOTAC GTX 950 AMP! Edition 2GB |
| INT. STORAGE | Kingston HyperX Fury SSD 240GB |
| PSU | BitFenix Fury 650G 650W |
| DISPLAY | 27″ DELL U2715H WQHD IPS Panel |
| OS | Microsoft Windows 7 Ultimate x64 SP1 (Updated) |
| SOUND CARD | Realtek ALC1150 |
| EXT. STORAGE | 2TB Western Digital My Passport |
HOW WE TEST: AVERAGE FRAMES PER SECOND & 1% MINIMUM
For refreshment purposes, let us talk for a moment about FPS or Frames Per Second. Also known as Frame Rate, FPS is the general unit of which we measure a graphics card's performance. Generally, the higher value, the smoother the gameplay should be, since higher FPS means higher frames are rendered each second, except when latency between frames are present (more info below). Higher FPS doesn't just improve your gaming experience, as it also helps you to react faster especially in First Person Shooter & Racing Games as you could see more scene rendered per second. Please do note that Resolution and in-game settings has a huge effect in any system's frame rate. Better yet, check out the difference of 30 and 60 FPS here: LINK.
Frames Per Second will be recorded by FRAPS in game using a linear gameplay method at each titles for consistency. Results will include the Average FPS and 1% Minimum FPS – The most important things to check  out in any FPS related results. The 1% Minimum FPS is important because it represents the negative spikes in FPS in-game which is sufficient enough for you to notice.
HOW WE TEST: FRAME TIME VARIANCE & 99TH PERCENTILE
Frame Time Analysis is another thing worth diving into when it comes to testing games with GPUs, as FPS alone wont directly measure the smoothness of a game. Basically, what we are looking for here are the variances (in ms) between frames rendered inside a second and consistency between them is the key to a smooth gameplay experience. What we want to see are nice graphs of the Frame Times from start to finish, with little variances (less spikes) between each. Spikes from the graphs represents that it took more than enough time for a frame to render, and this is not bad if it's not happening every now and then. Here's a sample below using our Nvidia GeForce GTX 780 Ti:
Another thing worth noting is the 99th Percentile Frame Time Variance which is basically the lowest Frame Time you should expect 99% of the time. Here's an example below from the same results we gathered above:
Based on the results above, you should expect the Nvidia GeForce GTX 780 Ti to render frames faster  than 21 ms 99% of the time at the Dragon Age: Inquisition. On our 1440P test above, that is already a good result.
SYNTHETIC/GPU COMPUTE PERFORMANCE:
3DMARK (2013) is a multi-platform benchmarking tool from FUTUREMARK, consisting of comprehensive tests that aims to gauge your gaming hardware. Fire Strike is our selected benchmark preset.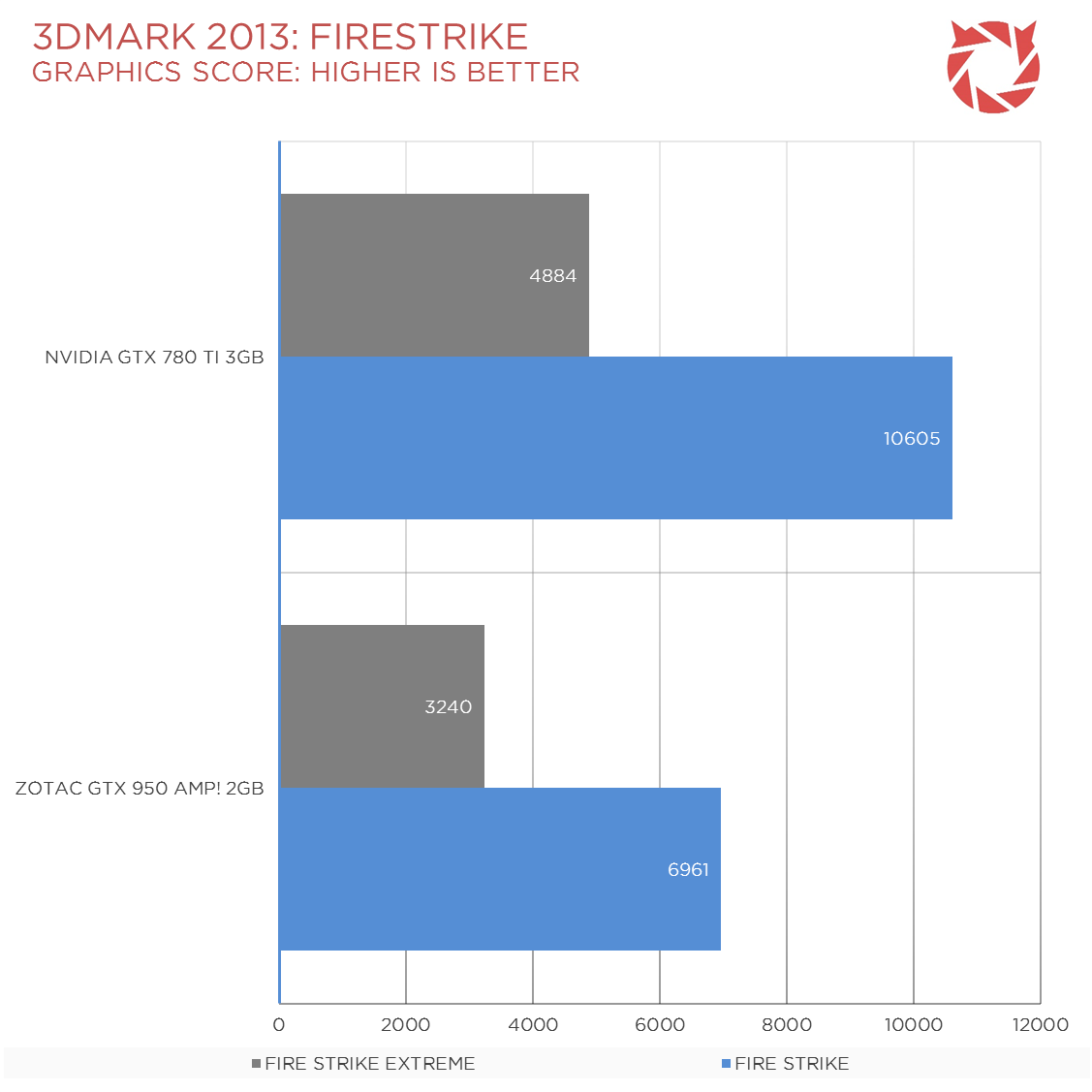 CINEBENCH R15 is a real-world cross-platform test suite that evaluates the computer's performance capabilities. The OpenGL benchmark is selected for this test.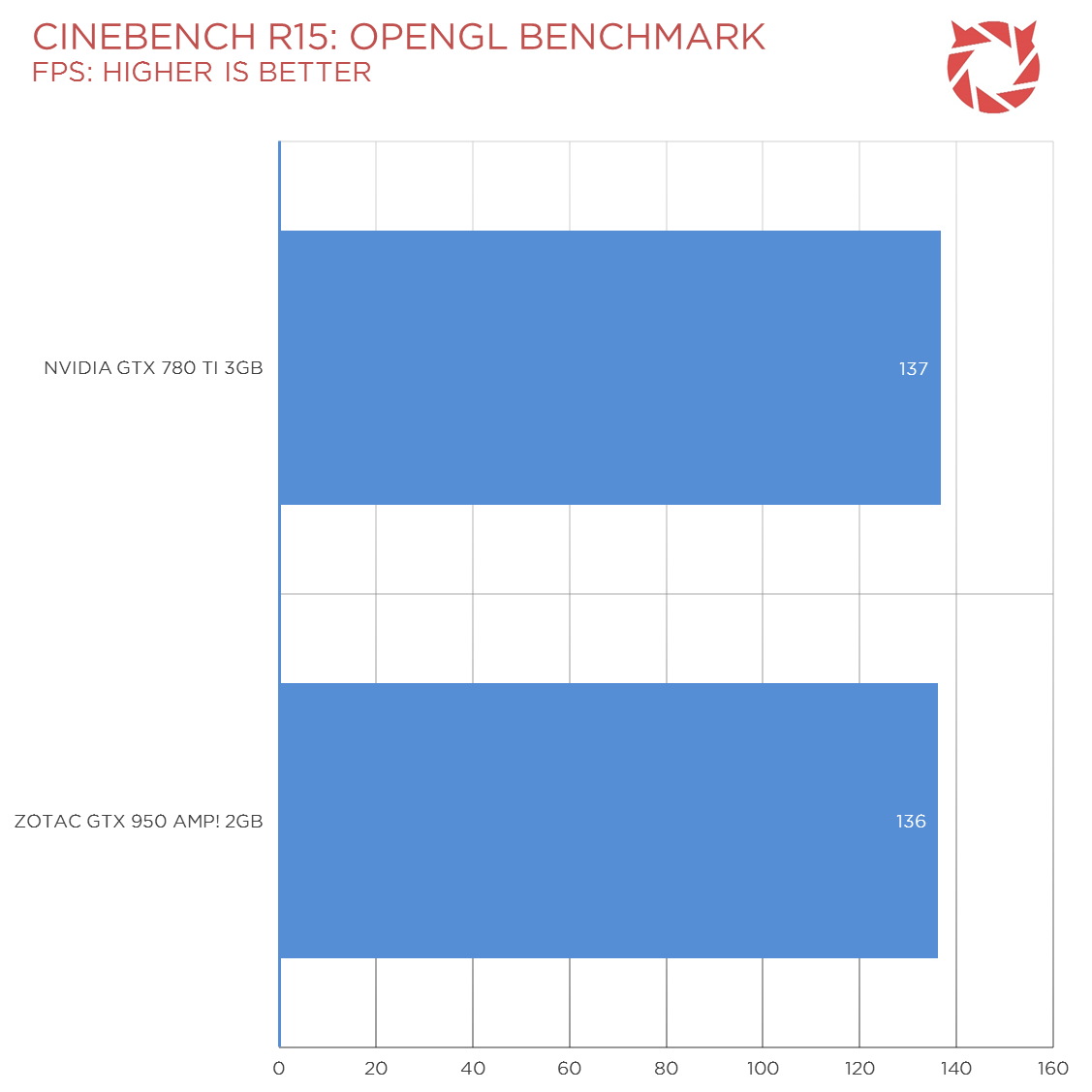 Kishonti's CompuBench is an easy to use, no frills high performance suite of benchmarks. We selected the Face Detection & Vector Calculation tests as our benchmarks.
Synthetic graphics performance shows that the card catches up to the GTX 780 Ti's performance when it comes to our selected OpenGL based benchmarks – which is not surprising for a Maxwell card. The GTX 780 Ti still bested the card but for a fraction of the price, it's an overall good result from the ZOTAC GTX 950.
GAMING PERFORMANCE:
Dragon Age: Inquisition an action role-playing video game developed by BioWare and published by Electronic Arts. It utilizes the Frosbite 3 Engine with the SpeedTree technology. VSync is off.
The Witcher 3: Wild Hunt is an action role-playing video game set in an open world environment, developed by Polish video game developer CD Projekt RED. Nvidia HairWorks is disabled, and VSync is off.
Battlefield 4 is one of EA & DICE's first person shooters utilizing the Frostbite 3 game engine. It features greater tessellation effects and destruction compared to its predecessor. VSync is turned off.
DOTA 2 is a Multiplayer Online Battle Arena (MOBA) video game developed by Valve and is the stand-alone sequel to the Warcraft III based Defense of the Ancients (DotA) mod. VSync is off, and we are using DOTA 2's OpenGL Engine for the benchmark.
Counter-Strike: Global Offensive is a popular online tactical first-person shooter developed by Hidden Path Entertainment and Valve Corporation, utilizing the Source Engine. Vsync is off as well as FXAA.
The GTX 950 AMP! from ZOTAC is no where near a GTX 780 Ti's performance level on most games except for the CS: GO, but it does maintain a solid 60+ FPS on Dragon Age: Inquisition, DOTA 2, and CS: GO. All games tested are playable and does well beyond 30 FPS at 1440P, with the exclusion of The Witcher 3 where it can't go beyond 30 FPS. Nice performance nonetheless from a budget card.
FRAME TIME ANALYSIS & 99TH PERCENTILE:
Our game of choice when it comes to Frame Time Analysis is Dragon Age: Inquisition. It's basically a finished game and works quite nice with AMD & Nvidia cards despite the branding with AMD's Mantle.
The Frame Time Variance between each frames rendered are very smooth with the GTX 950 AMP! Edition, and there hasn't been any anomalies between frames or skipping based on our analysis with below 30ms of latency. As for the 99th Percentile, the card is expected to render frames below 19.1ms most of the time – which is more than enough to provide a smooth gaming experience.
OVERCLOCKING PERFORMANCE:
The ZOTAC GTX 950 AMP! comes with the FireStorm overclocking utility which enables the users to fine tune their graphics for better gaming, or thermal performance. That said, the utility offers so much for the card to unleash its full performance. However, we decided to go with the MSI Afterburner overclocking utility for comparison, and consistency purposes.
The ZOTAC GTX 950 AMP! Edition easily clocks its core at 1304 MHz (+101 MHz), with a 2036 MHz memory clock (+281 MHz) increase too, without adjusting anything except for the said clock settings and Power Limit. Boost clock is reported at 1506 MHz but it's actually at 1543 MHz as reported by the MSI Afterburner.
A 10% increase in performance can be seen with our Witcher 3 benchmark, which is okay considering that our test is based on the game running at 1440P.
THEORETICAL & IN-GAME TEMPERATURE:
FurMark is a very intensive OpenGL benchmark that uses fur rendering algorithms to measure the performance of the graphics card. It's not the best tool to measure a graphics card's horse power, but it excels at displaying the theoretical heat output of the card using its stress test feature. To record the GPU's maximum temperatures, I will run Furmark's Fur Rendering Burn-in Test, and let it run for 30 Minutes. The Witcher 3: Wild Hunt is our chosen game for this task, and we will gather our temperature results roaming Velen's (No Man's Land) outskirts. 15 minutes of hacking and slashing should be enough for our Witcher senses. As always, we keep the results consistent by keeping the ambient temperature checked at 27ºC.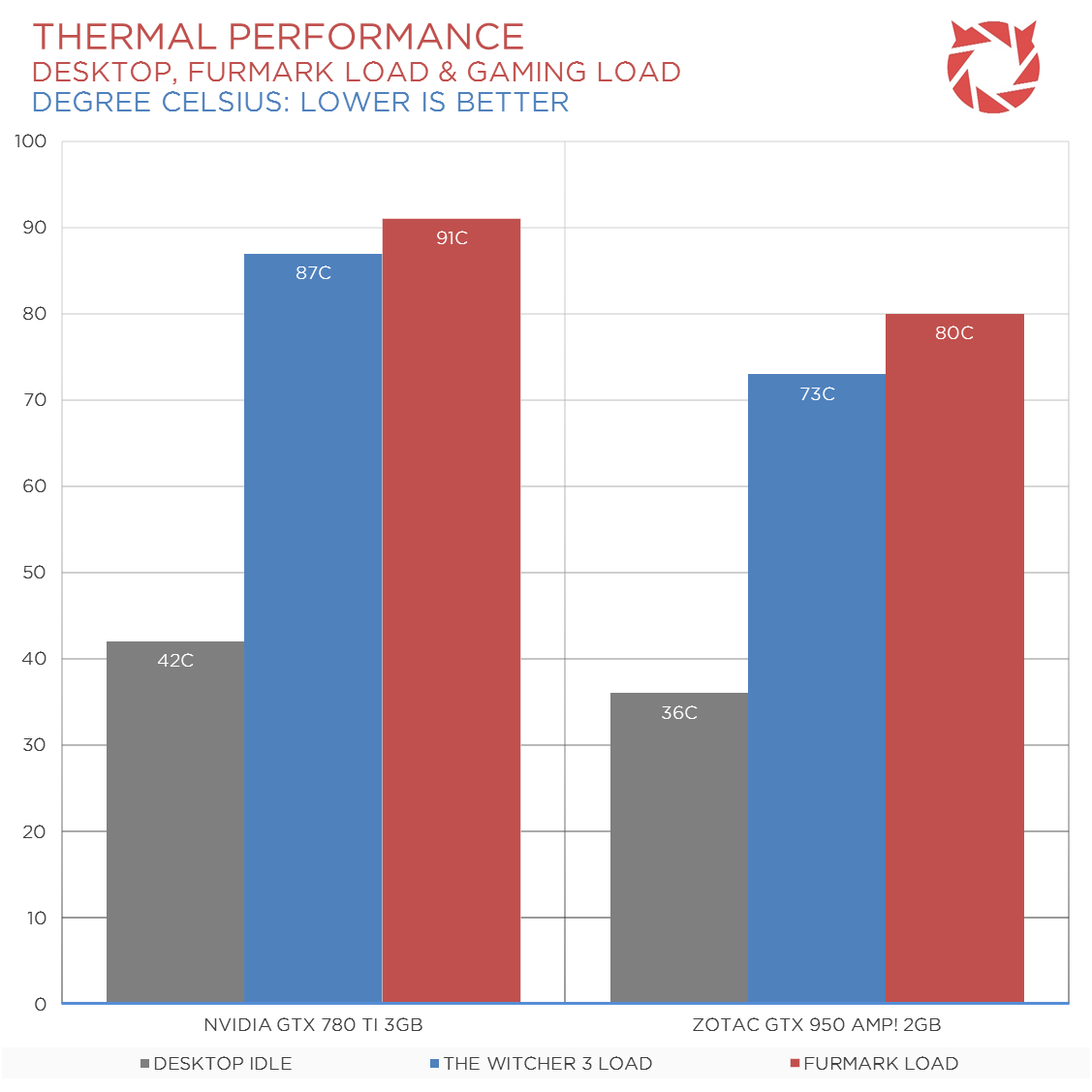 The ZOTAC GTX 950 AMP! Edition is a cool card both at the aesthetics and thermal department. Furmark reported the card to attain 80 Degree Celsius, but on a normal gaming load the card will only run as high as 73 Degree Celsius. The gaming load is courtesy of The Witcher 3 running at 1440P.  By the way, the maximum factory speeds of the dual 90mm fans is around 2, 700 RPM or 78% of the fan's capability.
THEORETICAL & IN-GAME POWER CONSUMPTION:
We also check to see how the GPU impacts power consumption using FurMark. The system is left to idle for 30 minutes before readings are taken, and load data is taken 30 minutes while FurMark is running. The Witcher 3: Wild Hunt is our chosen game for this task, and we will gather our power consumption results roaming Velen's (No Man's Land) outskirts. 15 minutes of hacking and slashing should be enough for our Witcher senses. Power readings are taken for the entire system from the socket.
As expected, the GTX 950 is a power friendly card – with a gaming load measured at 176W. That's the total system load when gaming, and with a theoretical 211W maximum system load via Furmark, the card is still within a power efficient margin.
THEORETICAL & IN-GAME ACOUSTICS/NOISE:
Using FurMark, The Witcher 3: Wild Hunt, and our handy Sound Level Meter, we will take sound level measurements while the system is idling and at load. Our rooms ambient noise levels are around 37 dBA (-1/+1) which is somewhat between a quiet library and a public library. Refer to the chart below for comparison.
The cooling solution dictates a card's cooling & noise levels,  and sometimes it breaks a consumer's purchase if the card is proven to be noisy. The GTX 950 AMP! Edition isn't that obtrusively noisy at all – with a maximum recorded noise level at 41 dBA which is around the same levels of a public library. Tolerable.
VALUE & CONCLUSION:
The ZOTAC GTX 950 AMP! Edition is certainly not your average budget oriented gaming card. At a glance, you might mistake it for a 200+ USD graphics card due to its sheer build quality that cannot be bested at its price point by its competitors. Not to mention it looks quite appealing without going overboard. I think it just looks perfect.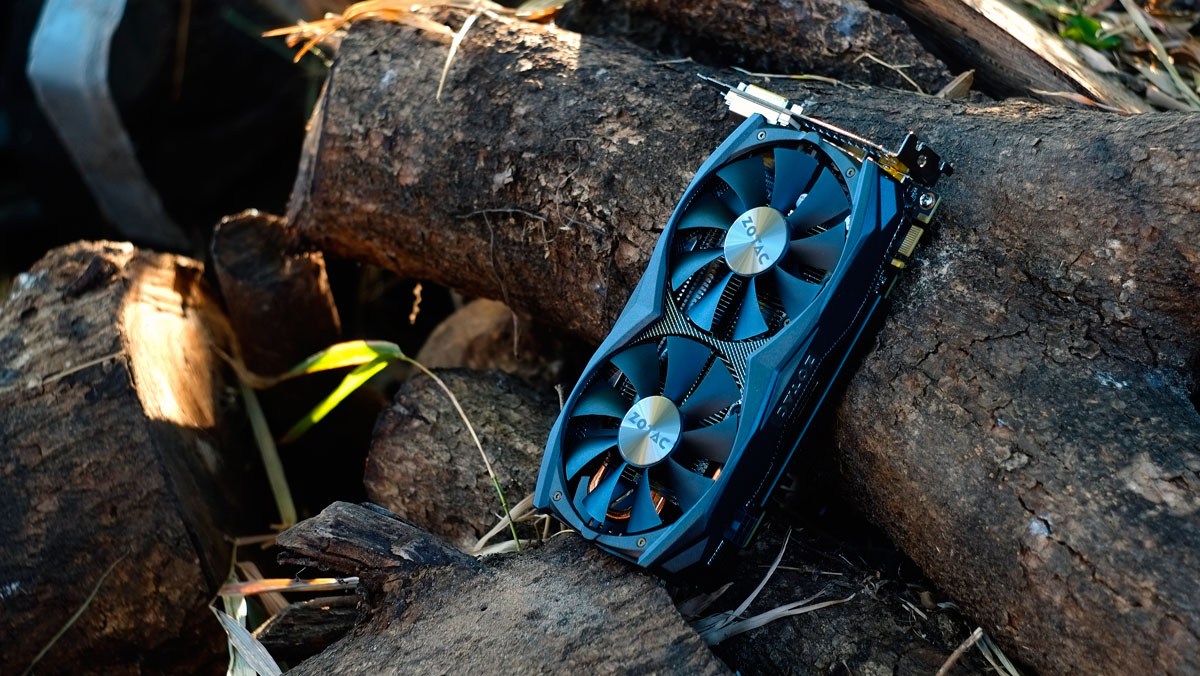 Moving on to the thermals, noise, and power, the GTX 950 AMP! Edition showed that it can handle the heat output of its Maxwell GPU just fine without sacrificing additional power draw and excessive noise. Noise has been a drawback of earlier GTX 900 models made by ZOTAC and it seems that they have fixed the problem with the AMP! Edition. Although me being nit-picky, I still want the card to feature less or equal to our ambient 37dBA room noise levels. You could however, manually set the fans to spin at a desired RPM at the expense of a slightly higher temperature.
Performance is proper for a GTX 950, and there's nothing bad to say about it. Overclocking performance is somewhat okay, but given that we've compared OC results on a 1440P game it has to be expected. That brings us back to 1080P gaming performance – where this card shines the most. It showed 60+ FPS on most titles, and it never dipped below 30+ FPS on the demanding games that we've tested.
The ZOTAC GTX 950 AMP! Edition is a budget GTX 950 aimed for smooth 1080P gaming at 8, 595 Pesos. Internationally, you could get this card at around 154.99 USD, which is really niceif you are living abroad. With a performance to back-up its awesome looks, and a price to match it's hard to neglect this card's appeal.
THE VERDICT
PROS:
IMPRESSIVE BUILD QUALITY
FACTORY OVERCLOCKED
AESTHETIC APPEAL
VALUE FOR MONEY
5 YEAR WARRANTY
CONS:
ZOTAC GTX 950 AMP! Edition
PERFORMANCE -

9/10

BUILD QUALITY -

9/10

FEATURES -

8/10

AESTHETICS -

9/10

VALUE -

9/10