From liquid cooled, to passively cooled storage, ADATA got us covered
ADATA at COMPUTEX 2018 is huge with quite a number of surprises in store for their visitors. We've seen liquid cooled memory kits, actively cooled M.2 SSDs and many more during our stay at their booth.
ADATA HG830 External HDD
First up on our list is the ADATA HG830 External HDD. It is a huge external drive featuring a passive cooling solution built on its shell. Capacity ranges from 2TB, 4TB and up to 5TB for the top end model. The HG830 also comes IP6X and IPX8 certified, meaning the drive is waterproof and dust proof.
Shock resistance is a feature too, while pressure resistance and even 256-bit AES encryption has been also taken into consideration. This is one beefy drive, both technically and physically.
Liquid cooled and Air Cooled RGB DDR4 Memory Kits
The XPG Spectrix D80 is one of ADATA's top end DDR4 memory kit. It is also the world's first RGB DDR4 memory with a hybrid liquid-air cooling system. Basically, each stick is cooled by a 3M made liquid, aided by the passively cooled heat spreader in the process.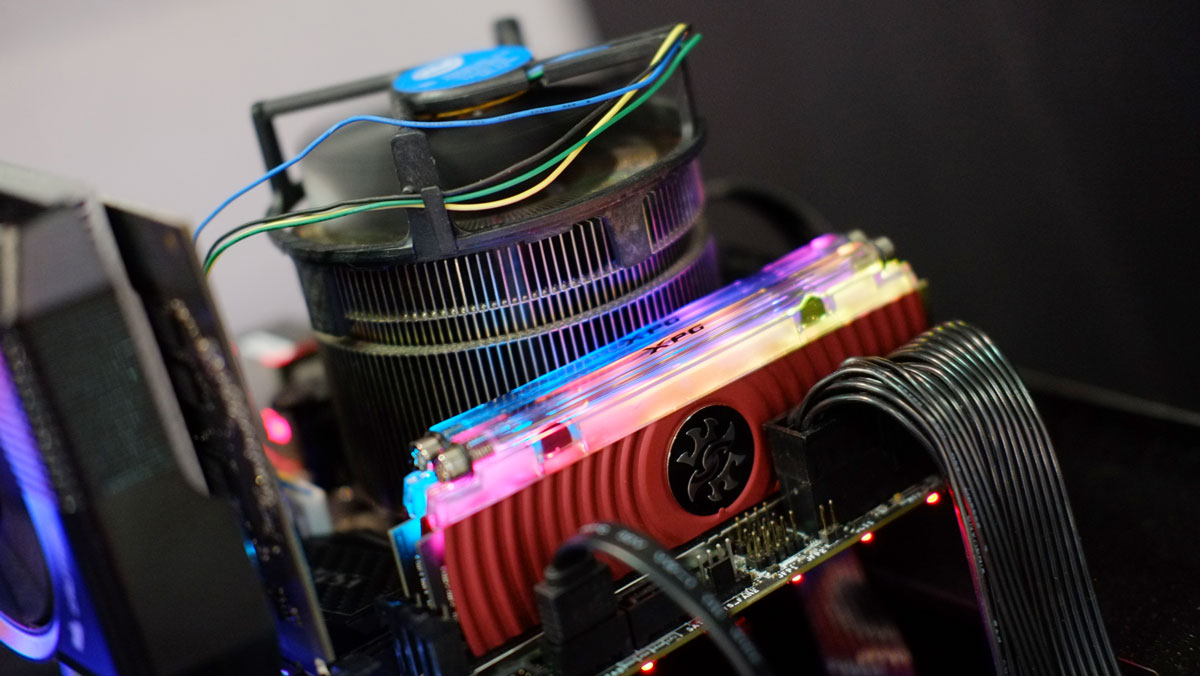 What we've seen at COMPUTEX is rather nice to the eyes and we're actually impressed on how four of these sticks fits nicely on your standard four DIMM slot motherboard. ADATA also told us that they've managed to snag a world record with the said kit. Also for the record, the Spectrix D80 is also compatible with most RGB lighting technology found on motherboard vendors.
Next up is the ADATA XPG Spectrix D41 RGB. It's a DDR4 RGB kit with a diffused glow. A softer and easier memory kit to look at – like a tasty candy. The Spectrix D41 specification wise has a wide operating frequency range from 2666MHz to 5000MHz. It also supports Intel X299 and AMD AM4 platforms.
Air cooling solution for M.2 SSDs
Perhaps one accessory that we really like is the ADATA XPG Storm M.2 SSD cooler. Technically, the XPG Storm is the first RGB M.2 2280 SSD add-on heat-sink on the market. The product simply works by slapping an aluminum cooler onto an M.2 SSD, plug in the power for the impeller fan and off yah go. ADATA claims a maximum of 25% temperature improvement with the cooling solution – enough to keep throttling M.2 NVME SSDs at bay.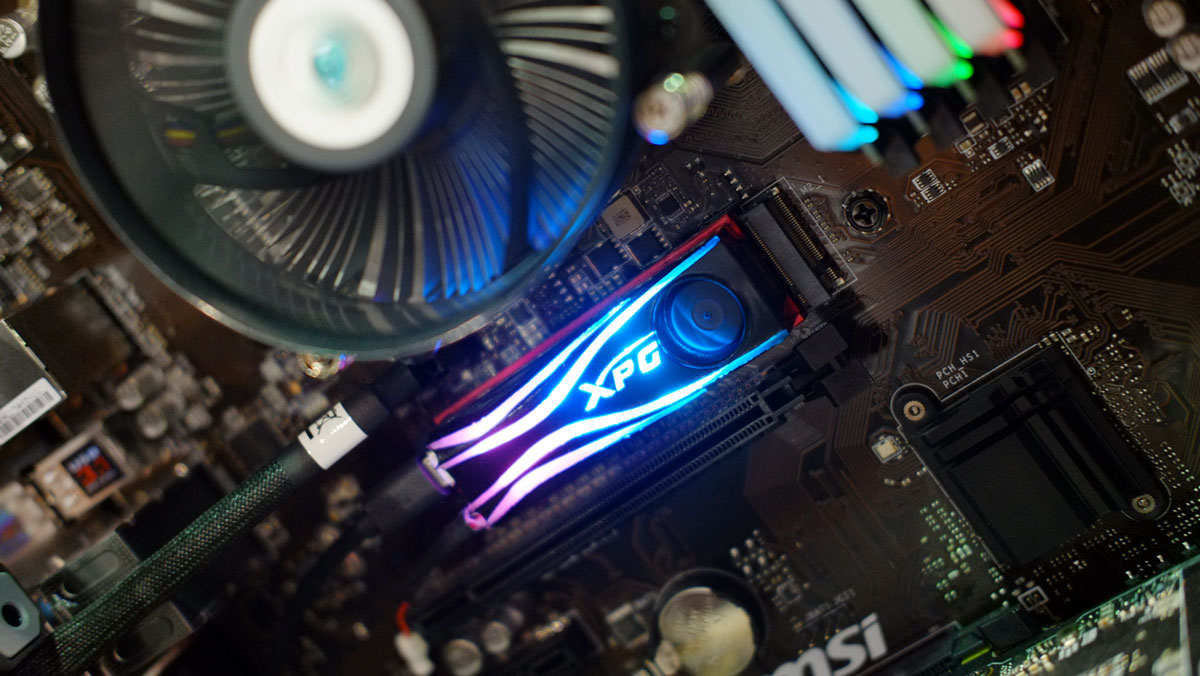 RGB is something we wish the ADATA XPG Storm could improve upon, since thin lines doesn't give merit to the already small unit. Maybe make the whole shell glow instead? A candy like diffused shell will do just like the Spectrix D41.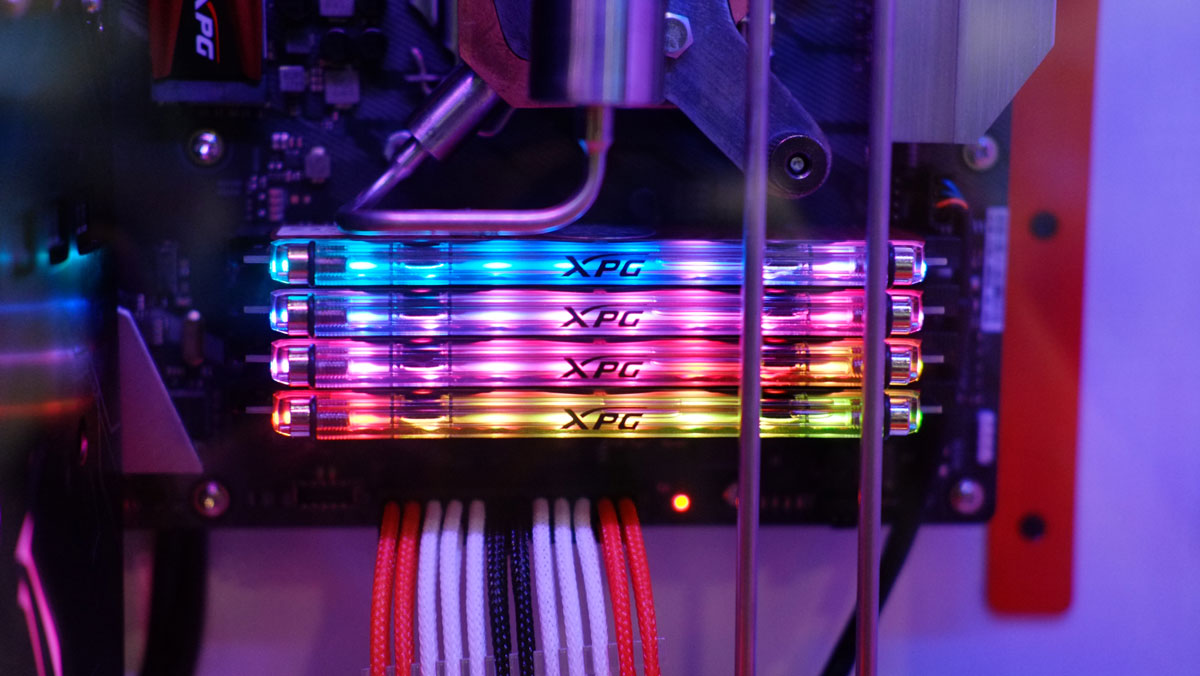 Though quick, our stay at the ADATA booth allowed us to take a good peak at their future products and or line-up this year. Get connected to ADATA via their facebook page.