ADATA seems to be one of the few companies that could manage to threw in a slew of products every year; Be it a memory module, a thumb drive, or a massive external storage device. We've got the later, in the form of the DashDrive Durable HD650; A 500GB USB 3.0 complaint external storage device with a few perks on its own.
The HD650, not to be mistaken from an audiophile grade headphone, is a rugged USB 3.0 external storage device available in 500GB, 1TB, and 2TB capacities. Ours is the 500GB variant, hidden under a sports-car Red shock proof shroud. The drive  itself is said to be 70% faster than conventional USB 2.0 based drives with no company benchmarks to back their claim up so we are going to test it if it is indeed a faster drive!
FEATURES & SPECIFICATIONS: CLICK HERE
| | |
| --- | --- |
| Capacity |  500GB / 1TB / 2TB |
| Color |  Black / Red |
| Dimensions (L x W x H) |  121 x 81 21mm (4.8 x 3.2 x 0.8 in) |
| Weight |  201g (7.1 oz) |
| Interface | USB 3.0 (backward compatible with USB 2.0) |
| Warranty | 3 years |
UNBOXING & BUNDLED ACCESSORIES:
The ADATA DashDrive HD650 came in a creamy white packaging that shows off the HD650 itself via a molded plastic cover. The 500GB capacity is clearly inscribed here along with the infamous ADATA logo.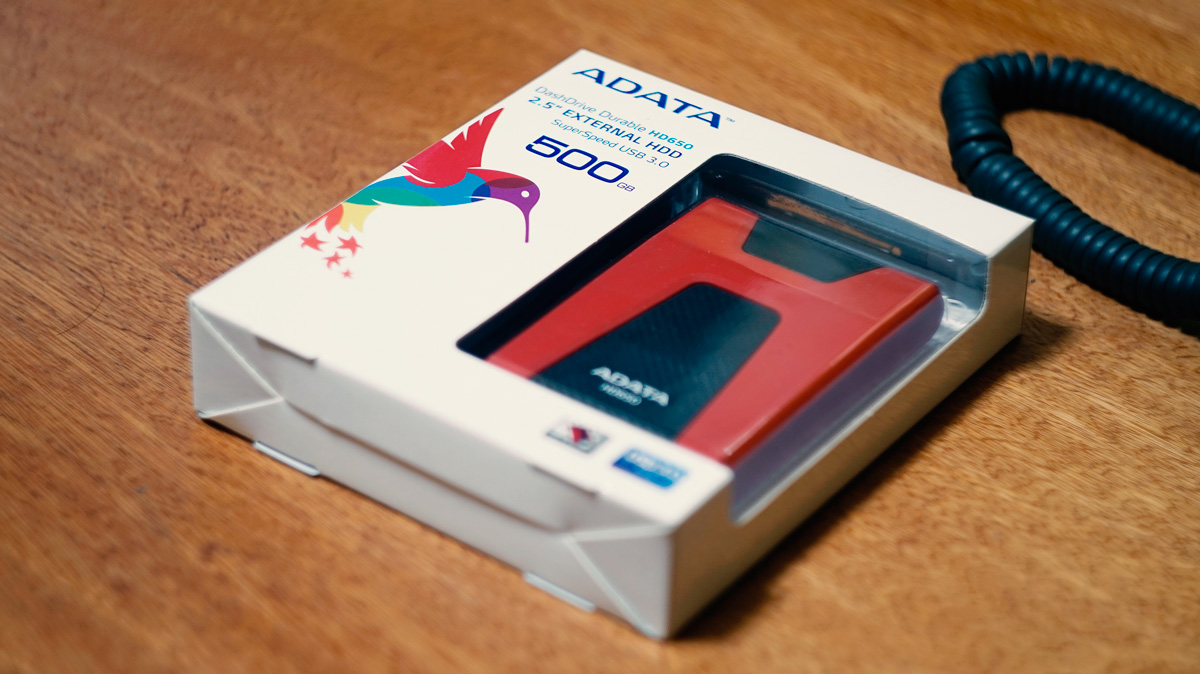 The back of the packaging is full of multi-lingual specifications, along with a QR code for your free ADATA software. Those softwares are the HDDtoGo, and the OStoGo. I don't use the HDDtoGo but the OStoGo is a heaven sent software since it features a free tool that enables you to transfer/copy your Setup DVD's contents to the external HDD; Making it a bootable setup drive.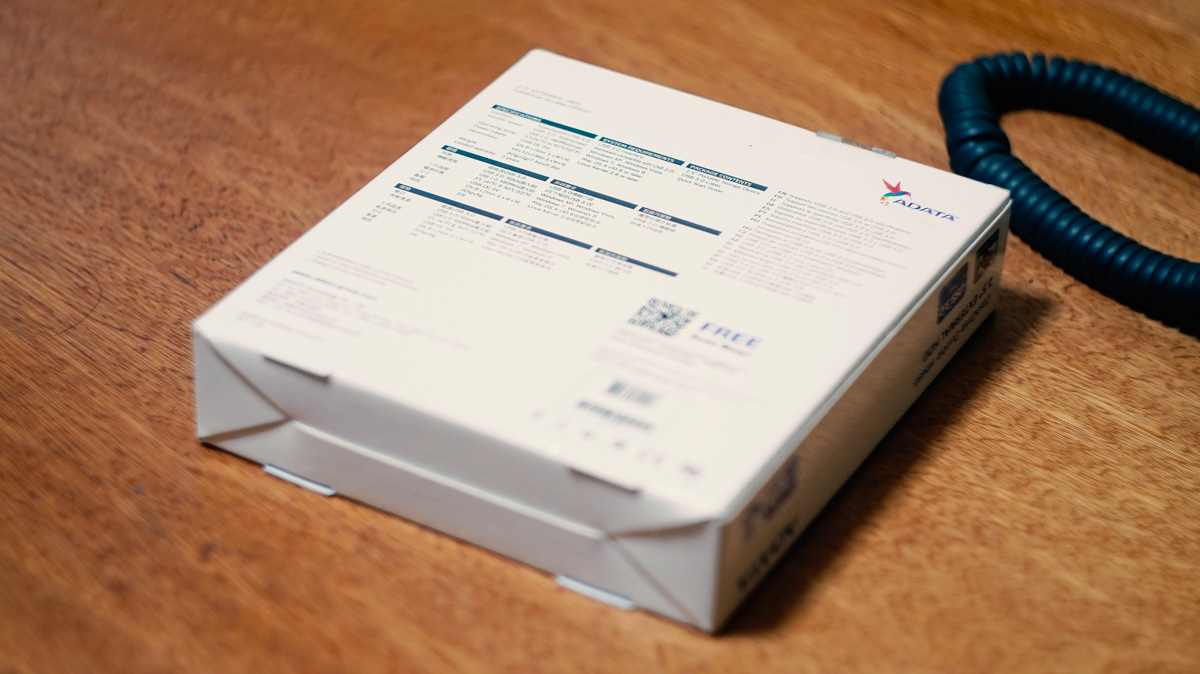 If you're looking for extra bundles, you're out of luck as the ADATA DashDrive HD650 only came with a quick start guide and the mandatory USB 3.0 cable that measures at around 12.5 Inches long.
THE ADATA HD650:
Out of the box, I can't help but to notice how light the DashDrive HD650 is ~ So light at 200 Grams most. Meaning, if we applied my homie Newton's law of universal gravitation, the drive should withstand fall better than that of other storage devices, in addition to its shock proof design. There I spared you some calculation moments.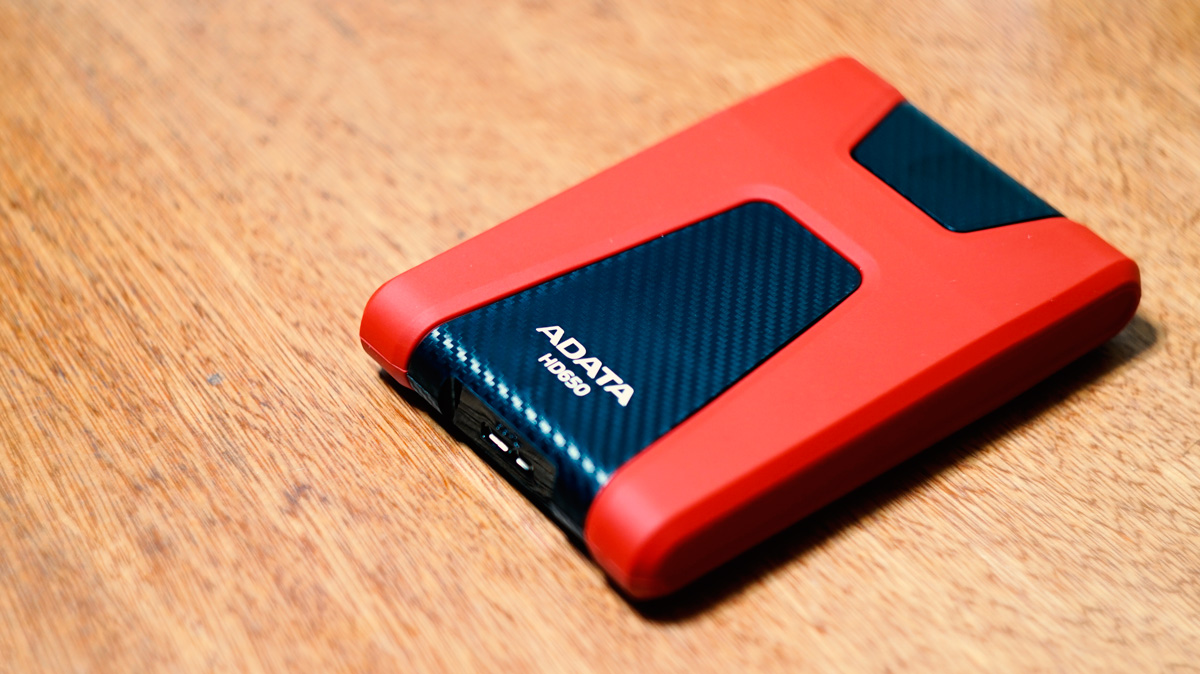 The ADATA DashDrive HD650 we got here sports a matte Red rubberized coating on its exterior shock proof housing, with hood like design incorporating a carbon fiber design. Its goes from the front to the back, so whatever position you put the drive, you'll be sure that it will look good if that's your kind of thing.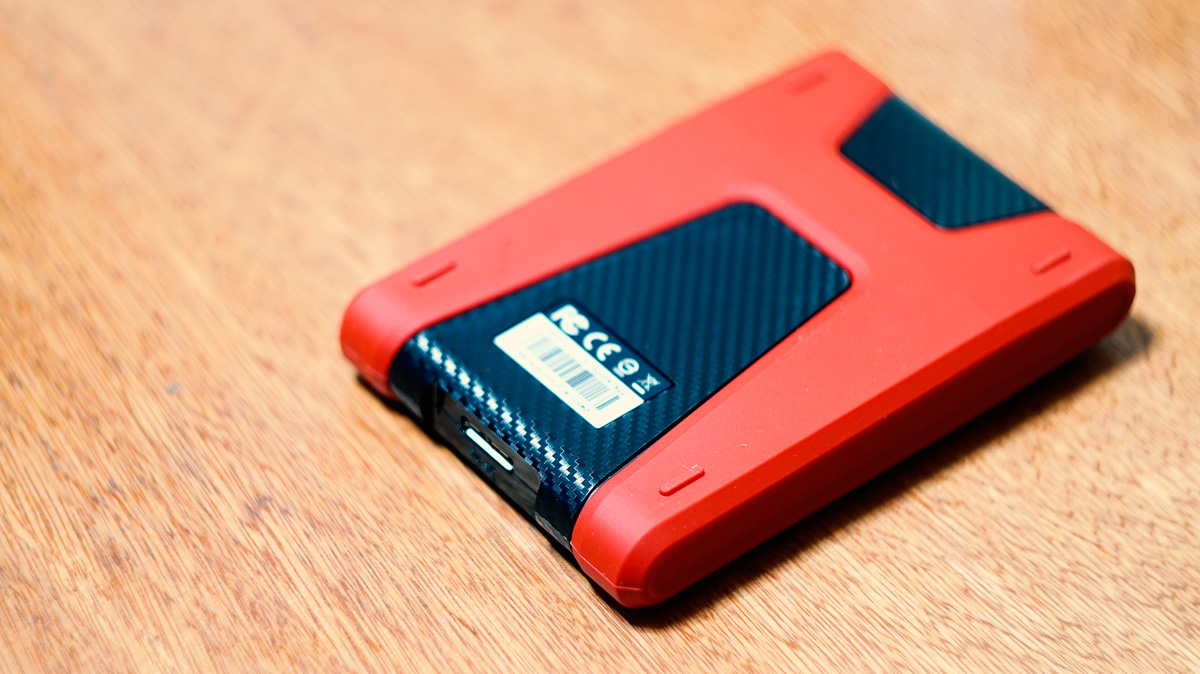 Compared to our old and trusty WD My Passport Studio, the HD650 is thinner, lighter, and looks like it'll survive a fall better than the latter. Also, it features a single USB 3.0 port compared to the abundant USB and FireWire ports found on the said drive.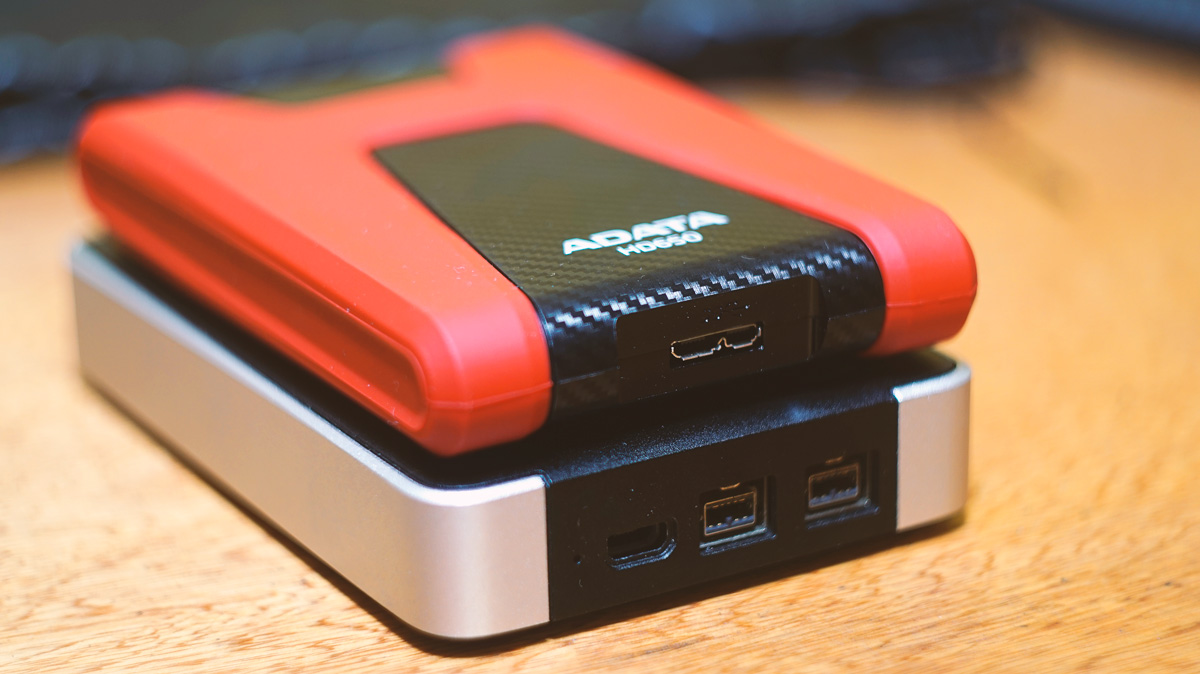 If you want to take a peak at the HD650's core, you have to remove Two things. First up, and the easiest part to remove is the Red rubberized coating. It's not actually a coating, as it is indeed a silicon based material that envelops the whole drive externally. Once you removed it, you'll be greeted by a Black plastic internal case (the one with carbon fiber thingy) and that's where the hard part starts: You actually have to split it open to see the drive.
Do note though, that if you're willing to take a peak at what's inside, you're basically breaking the seal of the hard case. Meaning that it's not going to protect the drive from liquids compared to a properly sealed one.
TEST SYSTEM & INSTALLATION:
Storage devices, unlike motherboards, revolves around the use of various storage benchmarking tools to test their performance. We've got loads of them in the past, but we toned down the benchmarking tools to ATTO, and Crystal Disk Mark. AS SSD should make a comeback, but they're for SSDs alone due to the strain that it could put to mechanical drives.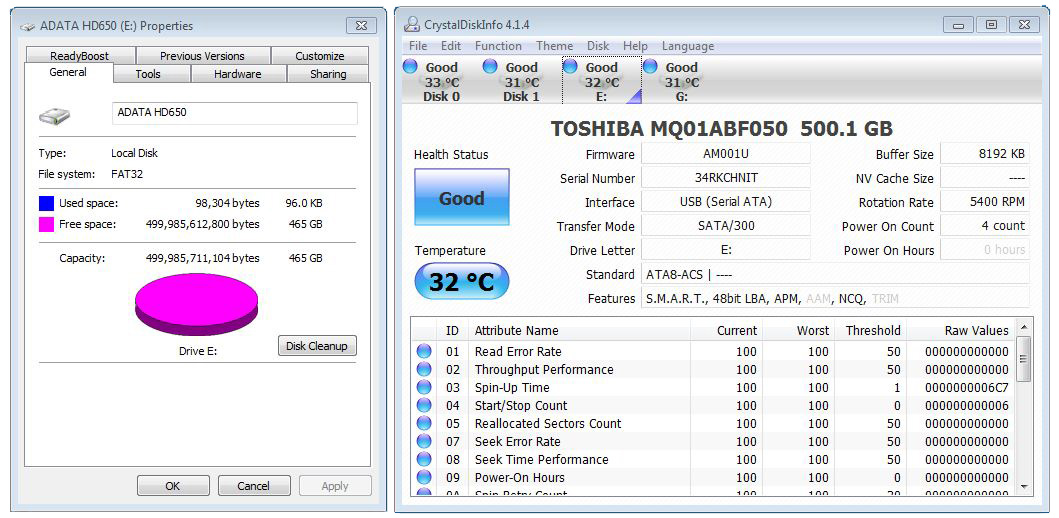 The DashDrive HD650's core is a Toshiba HDD with a 5400RPM spinner and a 8MB Cache. It has 465GB of available space to play with.
SYNTHETIC PERFORMANCE:
First up in the benchies is ATTO Tech's Disk Benchmark. It basically measures the system's storage performance with various transfer sizes and test lengths for reads and writes. An industry standard.
---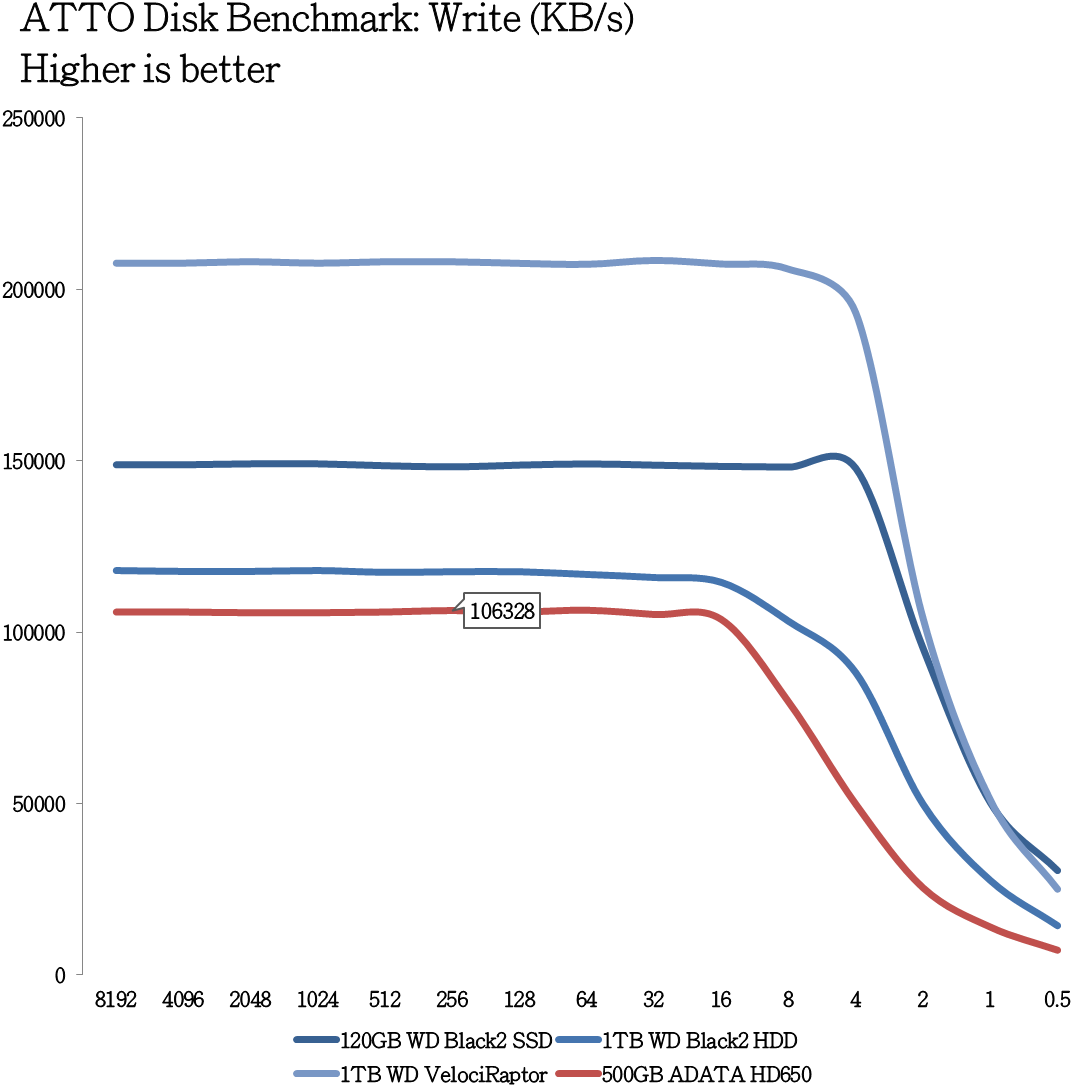 Next up is the venerable Crystal Disk Mark. This storage benchmarking software  aims to measure sequential, and random read/write speeds of storage devices. Check out the author's page HERE.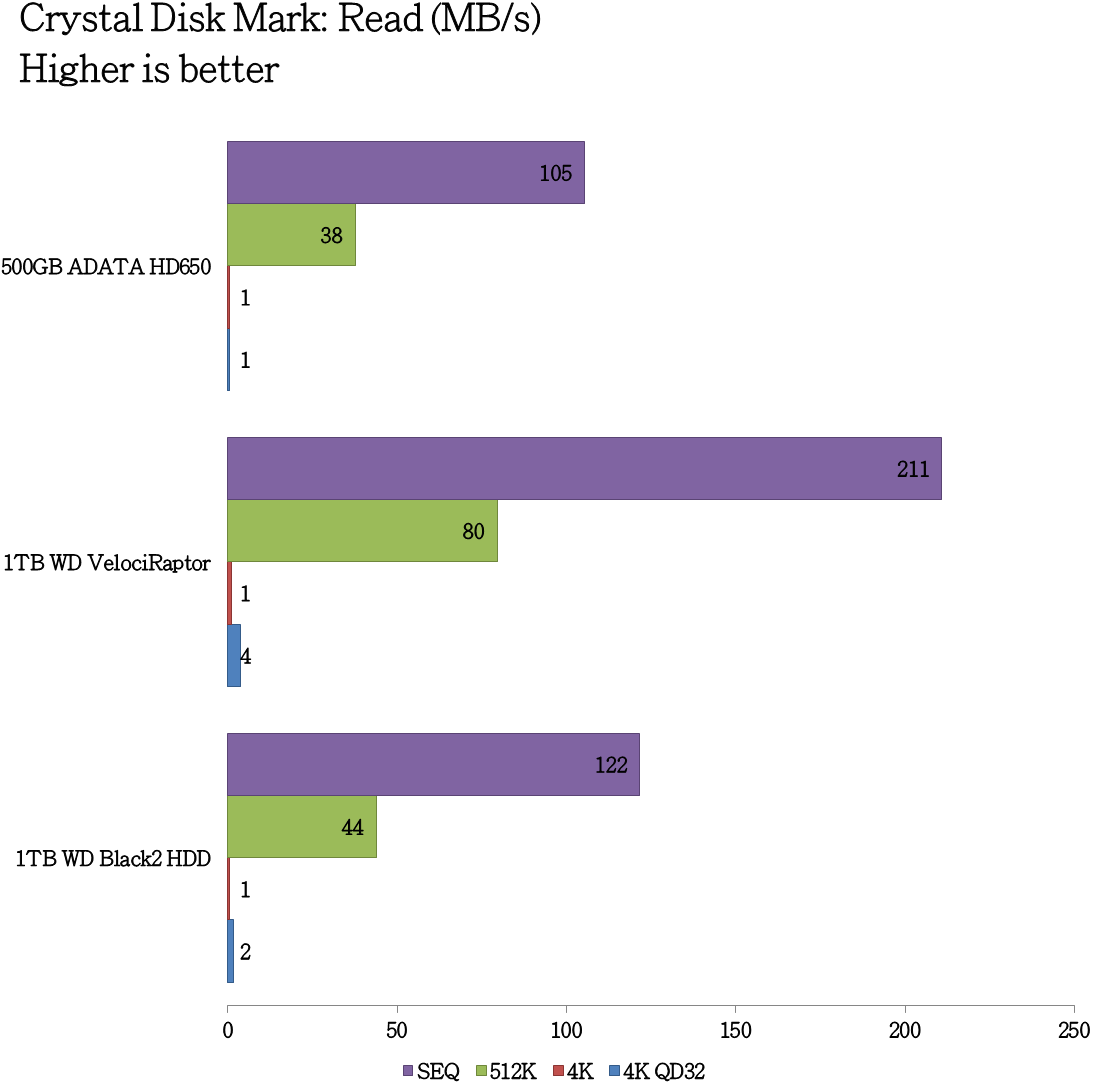 ---
REAL WORLD PERFORMANCE:
Last but not the least, we've got a real world test, to well… check the real world performance of the drive(s). First up in the test is the file copy test which involves copying of Images, Videos, PSD files, DOC, XML, PDFs, etc. you name it, to simulate a real world file copy scenario. Do note that the files are inside a folder, and they're randomly placed.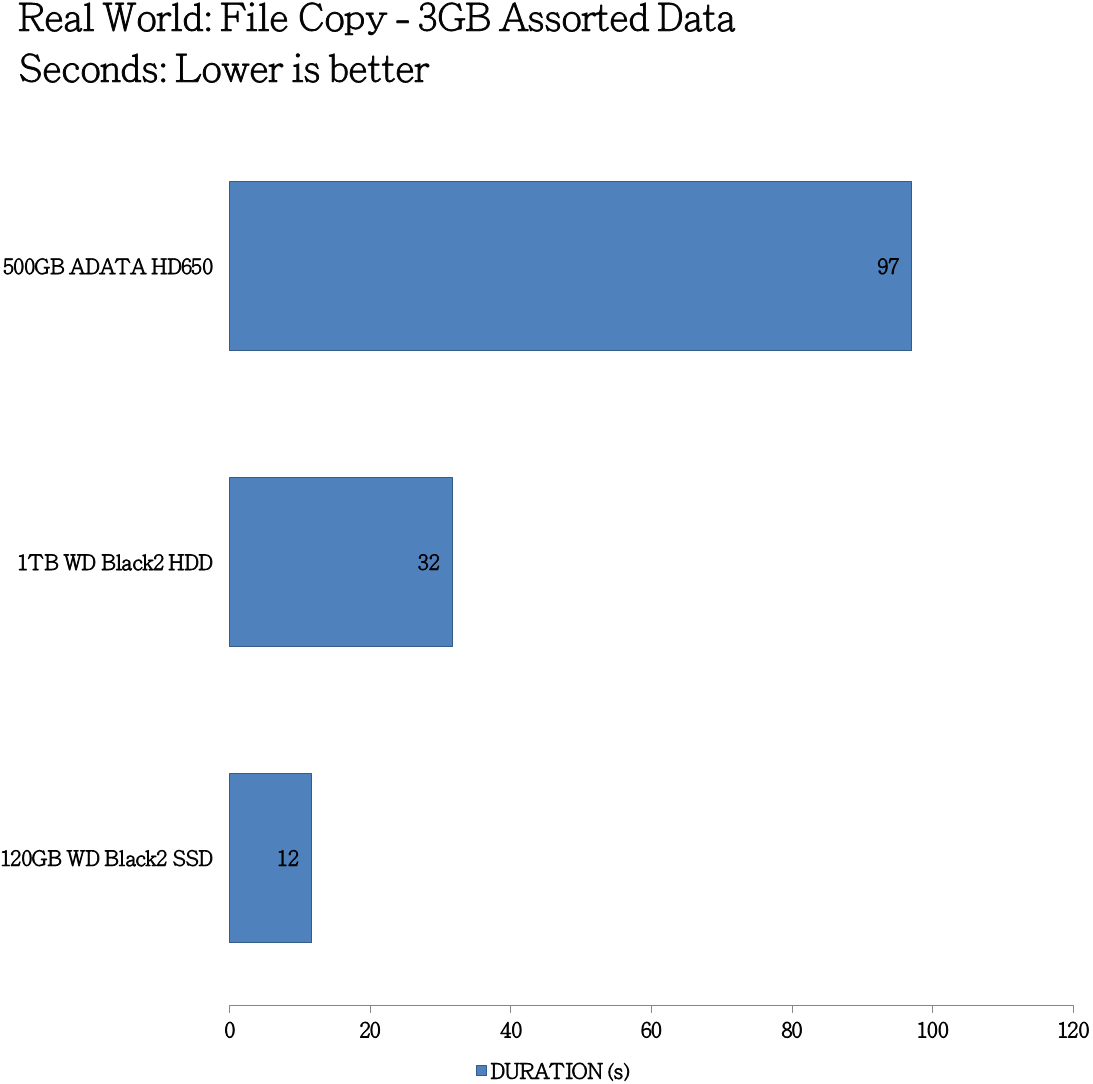 PERFORMANCE ANALYSIS & CONCLUSION:
Starting off with the performance, we can see that the HD650 blew past 100 MB/s read and write mark when it comes to our synthetic benchmarks. On ATTO for example, it reached its read performance peak at the 64 transfer size and at 256 transfer size when it comes to the write performance. Those were good enough values for an external HDD.
Now going to the real world performance, our 3GB assorted files transfer isn't really the most forgiving sample to external mechanical drives. Thus, the DashDrive HD650 finished last on our test with an average speed of 45 MB/s transfer speeds. For small and assorted files, this has to be expected, but copy a large file maybe a movie or Two, then you wont have to worry about anything.
Build quality wise, this thing is built like a tank. Like what it should be in the first place. There are things that you need to consider though, like the sealing of the hard case when it is opened.
Perhaps what I like the most about the DashDrive HD650 is its price to performance ratio. For under 60 Bucks, you'll get a 500GB capacity external HDD with USB 3.0 connectivity, and a speed that could match up some older internal drives with 7200RPM spinners. Note: We based our P2P ratio on the current SRP of the drives, their price per GB, capacity, and the average performance from both the sequential read & write tests. Baseline score is a courtesy of the 1TB WD VelociRaptor.
The ADATA DashDrive HD650 is a light and well constructed external storage device that will satisfy your needs for a rugged and portable file dumping solution. It is built like a tank, and has a price and performance ratio that other drives couldn't match up.
THE VERDICT
PROS:
OUTSTANDING BUILD QUALITY

CONSISTENT PERFORMANCE

GREAT VALUE FOR MONEY

3 YEAR WARRANTY
CONS:
ADATA DashDrive HD650
PERFORMANCE -

7/10

BUILD QUALITY -

8/10

FEATURES -

7/10

AESTHETICS -

7/10

VALUE -

8/10
Summary
The ADATA DashDrive HD650 is a light and well constructed external storage device that will satisfy your needs for a rugged and portable file dumping solution. It is built like a tank, and has a price and performance ratio that other drives couldn't match up.