ADATA Technology is a manufacturer of storage products ranging from memory modules, USB flash drives, external storage devices, memory cards, SSDs, and other mobile accessories that happens to incorporate storage as their main feature. The company has been manufacturing all these sorts of products for quite a while now, and with that said, you might have owned one or two of their products unconsciously at home and at work.
Now what we have here is another ADATA product coming in at the form of a DDR3 module, the ADATA XPG V2 2400MHz. This particular kit is one of ADATA's top of the line memory modules for the DDR3 platform boasting a 2400MHz memory frequency and a not so tight timing at CL11-13-13-35. This set of DIMMs bears the eXtreme Performance Gear title so we're really anticipating that both sticks will perform great on most situations where a high frequency kit is a must. Check out the full review if it really is worthy of its name.
FEATURES & SPECIFICATIONS:
PACKAGING & BUNDLED ACCESSORIES:
The ADATA XPG V2 came in a standard issue blister pack where you can see both sticks on its full glory. Kinda helps everyone to imagine what would the XPG V2 will look like inside their systems.
The back features the DIMM's features and specifications, as well as a QR code for the free Norton Internet Security software. There is also an easy to open tab on this side of the packaging so you could remove the sticks without too much effort.
Inside, you'll find the user's manual, and the DIMMs of course. Now let us check the ADATA XPG V2.
THE MEMORY KIT:
Out of the box, the ADATA XPG V2 2400 Memory Kit speaks of fanciness everywhere we look at it. Edgy and striking are the words best suited to describe these fab DIMMs. These DIMMs are available in Gold, and Grey, just so you know.
With a height at around 1.7 Inches, these DIMMs wont post much of a problem with an aftermarket heatsink. It stays put between a standard and a high profile DIMM exactly.
While it's good for the style, the extra chunk of metal is not just there for the looks alone. It also helps to dissipate heat for the overclocked DIMMs.
I immediately thought that the ADATA XPG V2 will look out of place inside my system but boy, I was wrong. The Gold finish might be off by a bit, but the edginess of the heat-sinks co-exists with the rest of my hardware setup. Okay, just the motherboard but hey, it looks good!
TEST SYSTEM:
To provide precise test results, the test systems will run on an updated copy of Windows 7 Ultimate x64 SP1. The BIOS/UEFI, Chipset, and Video Card drivers of the test system will be updated too, as much as possible. No other silly forms of softwares should be running while the benchmarks are on going, unless it is stated. Below are the test system's specifications:
PERFORMANCE (SYSTEM/SYNTHETIC):
AIDA64 is a streamlined Windows diagnostic and benchmarking software for home users. We'll use the built-in memory benchmark tools of the AIDA64 to determine the memory's performance.
MaxxMEM2 is a lightweight tool that allows us to estimate the performance of the computer's memory with minimum effort. We can use it to compare the performance of multiple computers or to test different configurations on our machine.
wPrime is a multi-threaded benchmarking application designed to measure the raw computational power of a CPU. It can be configured to run on a custom number of threads to accommodate multi-core CPUs.
CINEBENCH R11.5 is a real-world cross-platform test suite that evaluates the computer's performance capabilities. CINEBENCH is based on MAXON's award-winning animation software CINEMA 4D, which is used extensively by studios and production houses worldwide for 3D content creation.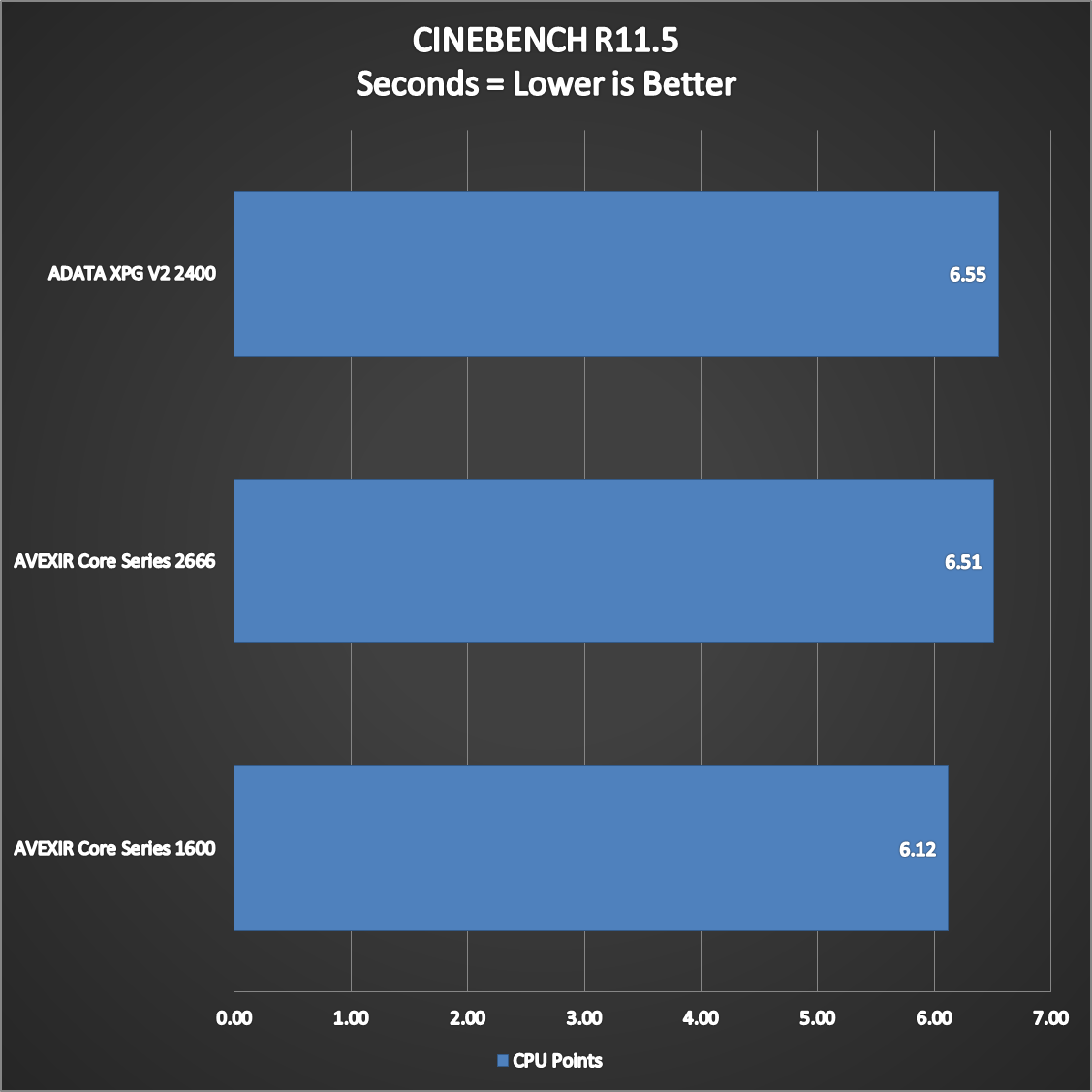 RESULTS: Right off the bat, the ADATA XPG V2 2400MHz DIMMs shows that it could keep the pressure to the higher end module we got. In AIDA64's Memory Benchmark, the 2400MHz kit from ADATA managed to beat the Two other kits, only losing in the latency department. MaxxMEM2 also shows better scores compared to the Two, albeit loosing again in the latency performance.
wPrime is a CPU and memory intensive benchmark, where the DIMM's timings matters the most, and speed comes next close. At the 1024M calculations, we could see that the ADATA managed to trail behind the AVEXIR kit by seconds, but is virtually identical in performance when it comes to 32M calculations.
PERFORMANCE (GAMING/3D):
Resident Evil 6, is a survival horror video game developed and published by CAPCOM. It's one of my favorite PC games, mainly because I'm a fan of the series. It also has a built-in benchmarking tool to measure your PC's performance.
Tomb Raider (2013) is the fifth game, and the reboot of the Tomb Raider series. It is developed by Crystal Dynamics, and published by Square-Enix. We disabled Tress FX for this benchmark.
RESULTS: Gaming wise, the ADATA XPG V2 2400MHz, along with our GTX 750 Ti, looks like a great combination. At Tomb Raider 2013 for example, our frame rate never dropped below 30 FPS, while on Resident Evil 6, the scores are well within the range of a fluid, and perfect game play experience.
PERFORMANCE (REALWORLD):
HandBrake is a a free, open-source, and multi platform tool for converting video from nearly any format to a selection of modern, widely supported codecs. We used a Full HD, 1080P MKV movie, and encoded it into a 1080P MP4 video.
x264 HD Benchmark is a tool that measures a PC's encoding performance using a 1080P video clip then converts it to an x264 video format. It is memory and CPU intensive so it's a great way to measure a PC's performance.
RESULTS: Since we have yet to compare the ADATA XPG V2's encoding performance, we'll let you guys be the judge this time, but we'll update these results once we got a hold of our test system's DIMMs.
PERFORMANCE (OVERCLOCKING):
eXtreme Performance Gear sounds like something made for overclocking, so we tried to overclock the ADATA XPG V2 2400MHz to see if we could push it further. We ended up with a maximum of 2600MHz frequency (1300MHz effective), with timings 11-14-14-36 set on our Z87X-OC provided by GIGABYTE.  Overall, it is not bad. We never needed to adjust the voltages to achieve that feat, and it's very stable.


RESULTS: Even with loose timings, the overclocked ADATA XPG V2 2400MHz @ 2600MHz showed that it still is a capable kit. We saw an increase in copy, write, and latency performance interchangeably throughout the benchmarks, but the read performance on the other-hand, proved to be erratic.
VALUE & CONCLUSION:
The ADATA XPG V2 DDR3 2400MHz 2x4GB Kit is a sharp looking, and a good performing kit that  could play catch up with other higher frequency and capacity kits found in the market, and it did not stop right there, as it features great read, write, and copy performance across the board. Latency is lagging behind by a bit though, but since the speed compensated for the latency, it still is good. With a 2400MHz frequency, AMD APU owners might be delighted with its performance as well.
Build quality wise, the ADATA XPG V2 is a solid piece of PCB sandwiched between two slabs of metal. It looks indestructible, and should withstand a fall or two, though we do not advice anyone here to drop their precious memory kits anytime soon just for the sake of it. Available in Two colors, system builders wont find it hard to match the said kit to their custom built PCs; Be it for their clients, or for their own. We just hope that ADATA will add more color options in the near future.
With the changing landscape of the memory module arena, it is hard to sell tailored DIMM kits right now. Price is erratic as usual, and most users will probably buy what is cheapest. Now with that said, don't get the ADATA XPG V2 DDR3 2400MHz 2x4GB kit wrong. It currently sells for around $95, or roughly 4, 200 Pesos which is already pretty good for its performance. With 2 colors available, pleasing aesthetics,  good XMP performance, this is a memory kit that you should write on your checklist.
ADATA XPG V2 DDR3 2400MHz
PERFORMANCE -

8/10

BUILD QUALITY -

8/10

FEATURES -

7/10

AESTHETICS -

7/10

VALUE -

8/10
Summary
The ADATA XPG V2 DDR3 2400MHz  2x4GB Memory Kit now available at Newegg.com with a retail price at around $95. It is backed with ADATA's Lifetime Warranty.