AMD (NASDAQ: AMD) today announced the new AMD Instinct MI200 series accelerators, the first exascale-class GPU accelerators. AMD Instinct MI200 series accelerators includes the world's fastest high performance computing (HPC) and artificial intelligence (AI) accelerator, the AMD Instinct MI250X.
Built on AMD CDNA 2 architecture, AMD Instinct MI200 series accelerators deliver leading application performance for a broad set of HPC workloads. The AMD Instinct MI250X accelerator provides up to 4.9X better performance than competitive accelerators for double precision (FP64) HPC applications and surpasses 380 teraflops of peak theoretical half-precision (FP16) for AI workloads to enable disruptive approaches in further accelerating data-driven research.
Exascale With AMD
AMD, in collaboration with the U.S. Department of Energy, Oak Ridge National Laboratory, and HPE, designed the Frontier supercomputer expected to deliver more than 1.5 exaflops of peak computing power. Powered by optimized 3rd Gen AMD EPYC CPUs and AMD Instinct MI250X accelerators, Frontier will push the boundaries of scientific discovery by dramatically enhancing performance of AI, analytics, and simulation at scale, helping scientists to pack in more calculations, identify new patterns in data, and develop innovative data analysis methods to accelerate the pace of scientific discovery.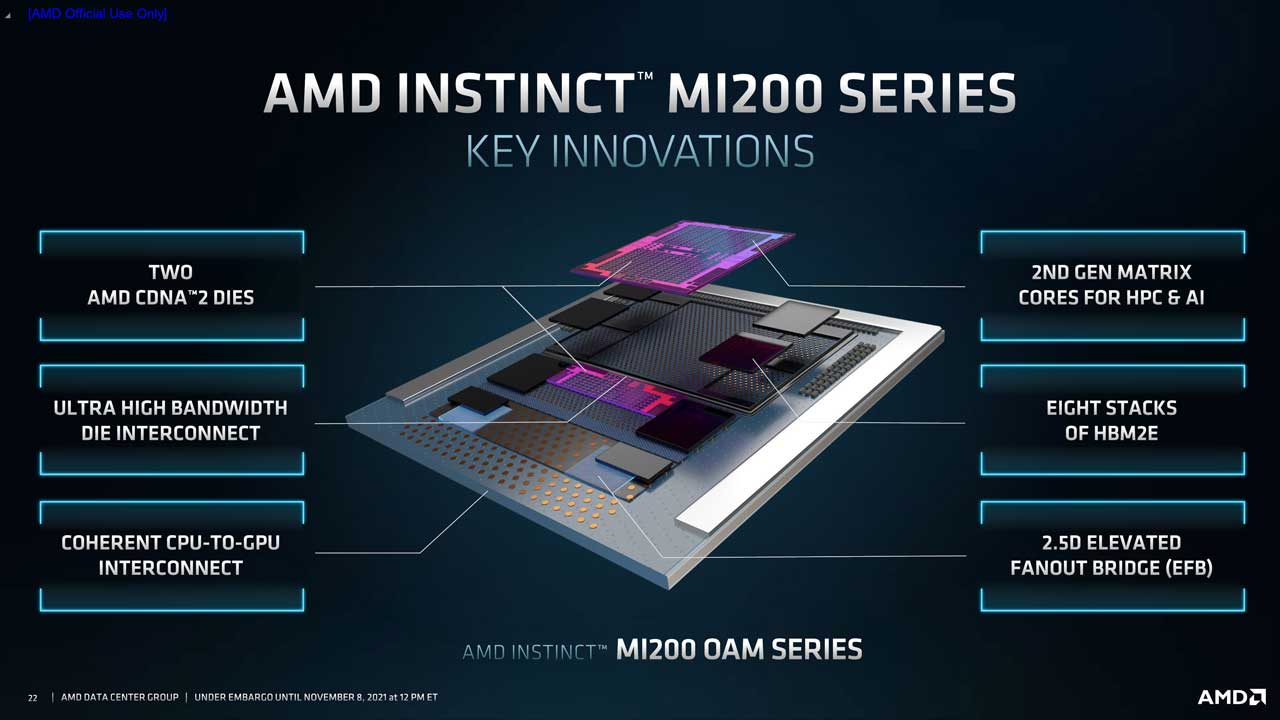 Powering The Future of HPC
The AMD Instinct MI200 series accelerators, combined with 3rd Gen AMD EPYC CPUs and the ROCm 5.0 open software platform, are designed to propel new discoveries for the exascale era and tackle our most pressing challenges from climate change to vaccine research.
Key capabilities and features of the AMD Instinct MI200 series accelerators include:
AMD CDNA 2 architecture – 2nd Gen Matrix Cores accelerating FP64 and FP32 matrix operations, delivering up to 4X the peak theoretical FP64 performance vs. AMD previous gen GPUs.  ,3,4
Leadership Packaging Technology – Industry-first multi-die GPU design with 2.5D Elevated Fanout Bridge (EFB) technology delivers 1.8X more cores and 2.7X higher memory bandwidth vs. AMD previous gen GPUs, offering the industry's best aggregate peak theoretical memory bandwidth at 3.2 terabytes per second. 4,5,
3rd Gen AMD Infinity Fabric technology – Up to 8 Infinity Fabric links connect the AMD Instinct MI200 with 3rd Gen EPYC CPUs and other GPUs in the node to enable unified CPU/GPU memory coherency and maximize system throughput, allowing for an easier on-ramp for CPU codes to tap the power of accelerators.
Software for Enabling Exascale Science
AMD ROCm is an open software platform allowing researchers to tap the power of AMD Instinct accelerators to drive scientific discoveries. The ROCm platform is built on the foundation of open portability, supporting environments across multiple accelerator vendors and architectures. With ROCm 5.0, AMD extends its open platform powering top HPC and AI applications with AMD Instinct MI200 series accelerators, increasing accessibility of ROCm for developers and delivering leadership performance across key workloads.
Through the AMD Infinity Hub, researchers, data scientists and end-users can easily find, download and install containerized HPC apps and ML frameworks that are optimized and supported on AMD Instinct accelerators and ROCm. The hub currently offers a range of containers supporting either Radeon Instinct MI50, AMD Instinct MI100 or AMD Instinct MI200 accelerators including several applications like Chroma, CP2k, LAMMPS, NAMD, OpenMM and more, along with popular ML frameworks TensorFlow and PyTorch. New containers are continually being added to the hub.
Available Server Solutions
The AMD Instinct MI250X and AMD Instinct MI250 are available in the open-hardware compute accelerator module or OCP Accelerator Module (OAM) form factor. The AMD Instinct MI210 will be available in a PCIe® card form factor in OEM servers.
The AMD MI250X accelerator is currently available from HPE in the HPE Cray EX Supercomputer, and additional AMD Instinct MI200 series accelerators are expected in systems from major OEM and ODM partners in enterprise markets in Q1 2022, including ASUS, ATOS, Dell Technologies, Gigabyte, Hewlett Packard Enterprise (HPE), Lenovo, Penguin Computing and Supermicro.
Press Release