ASRock X470 Taichi Ultimate Motherboard
ASRock is pleased to announce the launch of the its new AMD X470 motherboard series with ASRock's new high end product line, the Taichi Ultimate. These motherboards, the latest in the company's growing series of products for AMD processors, feature the powerful X470 chipset.
The ASRock X470 Taichi Ultimate motherboard keep pace with AMD's newest next generation Ryzen CPUs, with a special focus on giving users the best possible performance from the latest Pinnacle Ridge CPUs.
Blazing Fast 10 Gigabit LAN
These and other high-end ASRock boards now bring users astounding networking speed that accelerates gaming, file transfer, SOHO performance, and other office usage, by providing AQUANTIA AQtion 10Gb/s super-fast Ethernet on board.
Dazzling LED Fireworks
Adding to their appeal, these boards feature ASRock's addressable onboard LED header technology which gives users the ability to easily create their very own unique, personal lighting effects.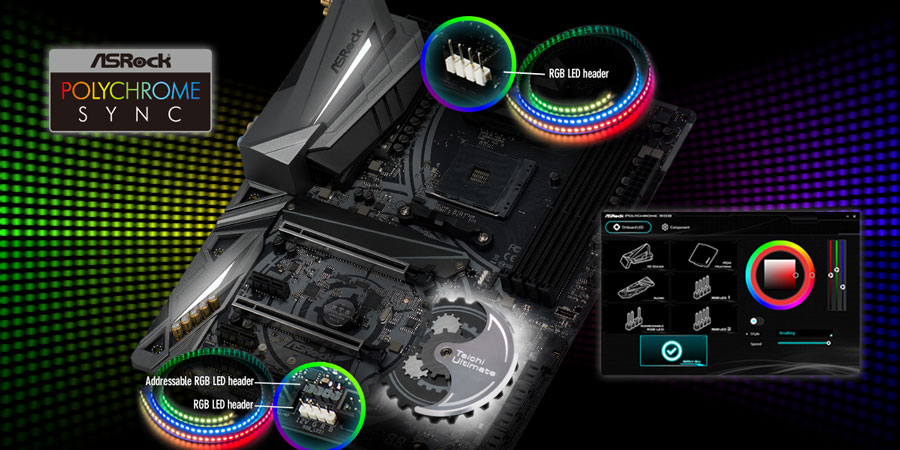 Now, by using ASRock's new RGB Sync software – which has the capability to sync illumination patterns with the performance of other computer components.
Cutting Edge Type 22110 M.2 SSD
These new motherboards also offer support for cutting-edge larger-format NVMe M.2 SSDs which can offer both high capacity and high speed. Support extends to include both the common 2280 SSD format and the longest 22110 M.2 SSD cards. In addition, these new X470 motherboards can support a M.2 heatsink. This thermal solution dissipates the heat generated by high speed M.2 storage cards, to provide long-term stable performance and a longer lifespan.
ASRock: Pushing Performance Even Further
With new AMD CPUs, ASRock's latest X470 series motherboards push performance even further. ASRock's X470 series motherboard lineup includes four ATX boards and one ITX format board. ASRock is dedicated to providing a full range of products that are perfect for customers from the mainstream all the way up to high end applications.
ASRock's new motherboards let users get the most out of AMDs powerful x470 technology, thanks to their extensive range of features, extreme performance, rock-steady stability and ultra-long lifetimes.
PRESS RELEASE