While everyone's craving about the GTX 980 Ti, the GTX Titan X, as well as the Fury X, we have been busy for the past few weeks with other PC hardwares, while we wait for our turn to experience any of said goodies. That said, we are here to check out one of them, in the form of the GTX 980 – The former flagship Nvidia GeForce card before the 980 Ti's official landing.
The ASUS GeForce GTX 980 STRIX is a factory overclocked GFX card similar to the other STRIX based cards before it. It features 1253 MHz base clock, with a 1317MHz boost clock for the extra oomp! when gaming. Bearing the STRIX's fundamentals, the card features the 0dB fan technology, along with the SuperAlloy features for enhanced reliability and overclocking headroom.
| | | | | |
| --- | --- | --- | --- | --- |
| GFX CARD | GTX 970 | GTX 980 | ASUS GTX 980 STRIX | GTX 980 Ti |
| CUDA® CORES | 1664 | 2048 | 2048 | 2816 |
| BOOST CLOCK | 1178 MHz | 1216 MHz | 1317 MHz | 1075 MHz |
| BASE CLOCK | 1050 MHz | 1126 MHz | 1253 MHz | 1000 MHz |
| MEMORY SPEED | 7.0 GBPS | 7.0 GBPS | 7.0 GBPS | 7.0 GBPS |
| TDP | 145 W | 165 W | 165 W | 250 W |
FEATURES & SPECIFICATIONS: CLICK HERE
The GTX 980, being a Maxwell based GFX card boasts Nvidia's latest notable features. That includes support for 4K resolution and above, Dynamic Super Resolution, MFAA, and G-Sync. Dual SLI is supported, and GPU Boost 2.0 as well. To learn more about the Nvidia GeForce GTX 980, visit this microsite for details.
| | |
| --- | --- |
| Memory Amount | 4096 MB |
| Memory Interface | 256-bit |
| DRAM Type | GDDR5 |
| Graphics Clock | Base Clock : 1253 MHzBoost Clock : 1317 MHz |
| Memory Clock | 7010 MHz |
| CUDA Cores | 2048 |
| Memory Bandwidth (GB/sec) | 224 |
| NVIDIA SLI-ready | 4-way |
| Bus Support | PCI-E 3.0 x 16 |
The GTX 980 is has been one of Nvidia's crowning achievement, followed shortly by the GTX Titan X, and GTX 980 Ti. Although the GTX 980 is being compared to the GTX 680 at the benchmarks below, it is still a viable comparison if you have an older system equipped with thesaid card just to see how it fairs to its current reincarnation.
Compared to the cards before it, the GTX 980 bested the GTX Titan Black and everything before it, as far as 3D Mark's benchmarks are concerned.
THE ASUS GEFORCE GTX 980 STRIX:
The ASUS GTX 980 STRIX shares the same formula with the other STRIX based cards out there, and those were the looks, cooling solution, and the 0 dB fan technology. While it's not my favorite card design (I always prefer sublime designs), the GTX 980 STRIX is handsome on its own right with its all metal shroud with gaming oriented design that should sate the appetite of gamers.
The GTX 980 STRIX is 11.36 Inches long, almost an Inch longer than the reference GTX 980, and is an Inch more when it comes to width due to the non-reference PCB and cooler. The card features dual 0 dB enabled fans that could turn themselves off via a temperature threshold which complements the DCUIII cooler.
Looking at the back showcases the rather thick and handsome backplate of the GTX 980 STRIX, along with its rigid metal side plating for added rigidity, and the SLI fingers which should enable 4-way SLI configurations at max. Power is fed via a combination of an 8+6 Pin PEG connectors which together with the PCI-E slot should theoretically output 300W of total power.
Finally we've got the display port side of the card, and to be honest, things are looking quite great here with a DVI-I port, a single HDMI 2.0 port, and 3 regular sized Display Ports that supports 4K displays such as the ASUS PB287Q.
The card is heavy, has a good feel to it, and we actually liked those facts as we are dealing with a flagship card here so it's just proper for the GTX 980 STRIX to look and feel superb. Top notch build quality material right here. As for the bundle, if you're interested to know, ASUS had the GTX 980 STRIX shipped with a quick installation guide, a driver DVD, and a power cable.
TEST SYSTEM & SPECIFICATIONS:
Graphics cards are no strangers in our labs, but providing a precise result usually needs a lot of time and effort on our end. Helping us to do those things is an updated copy of Windows 7 Ultimate x64 SP1 and wide selection of the popular games that most probably, will sate your appetite. The BIOS/UEFI, Chipset, and Video Card drivers of the test system will be updated too, as much as possible.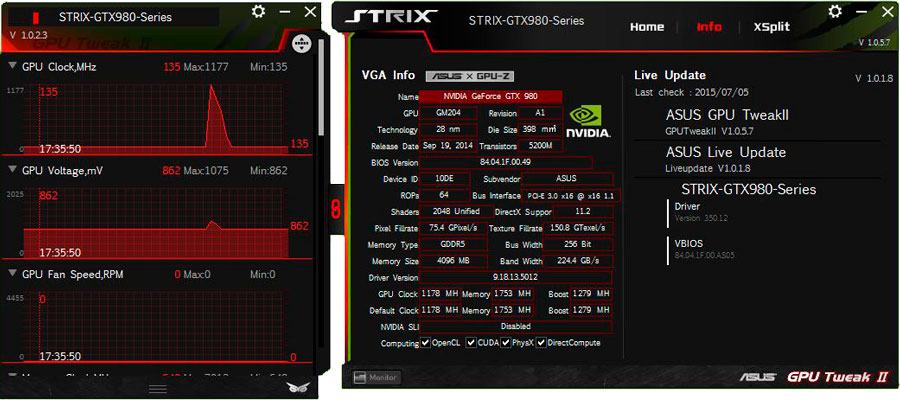 No other softwares should be running while the benchmarks are on going, unless it is needed, or stated. As for the gaming benchmarks alone, tests should include 720P (1280 x 720), 1080p (1920 x 1080), 1440p (2560 × 1440), and 4K QHD resolution results if permitted by the games, and benchmarking tools, or if necessary. Games without benchmarking tools of their own will have the results recorded with FRAPS. Below are the test system's specifications:
| | |
| --- | --- |
| CPU | Intel Core i5 4670K |
| MOTHERBOARD | ASUS Z97-PRO WiFi AC |
| CPU COOLER | Cooler Master Seidon 120XL |
| MEMORY | ADATA XPG V2 @2400MHz 16GB |
| GRAPHICS CARD | ASUS GTX 980 STRIX 4GB |
| INT. STORAGE | Kingston HyperX Fury SSD 240GB |
| PSU | Cooler Master Silent Pro Hybrid 1300W |
| DISPLAY | 23″ DELL S2340L IPS & ASUS PB287Q |
| OS | Microsoft Windows 7 Ultimate x64 SP1 (Updated) |
| SOUND CARD | Realtek ALC1150 |
| EXT. STORAGE | 2TB Western Digital My Passport |
WHAT IS FPS ANYWAY?
For refreshment purposes, let us talk for a moment about FPS or Frames Per Second. Also known as Frame Rate, FPS is the general unit of which we measure a graphics card's capabilities. Generally, the higher value, the smoother the gameplay should be, since higher FPS means higher frames are rendered each second. Higher FPS doesn't just improve your gaming experience, as it also helps you to react faster especially in First Person Shooter & Racing Games. Please do note that Resolution and in-game settings has a huge effect too in any system's frame rate.
SYNTHETIC/GPU COMPUTE PERFORMANCE:
3DMARK (2013) is a multi-platform benchmarking tool from FUTUREMARK, consisting of comprehensive tests that aims to gauge your gaming hardware; be it a smartphone, a tablet, a laptop, or a desktop PC.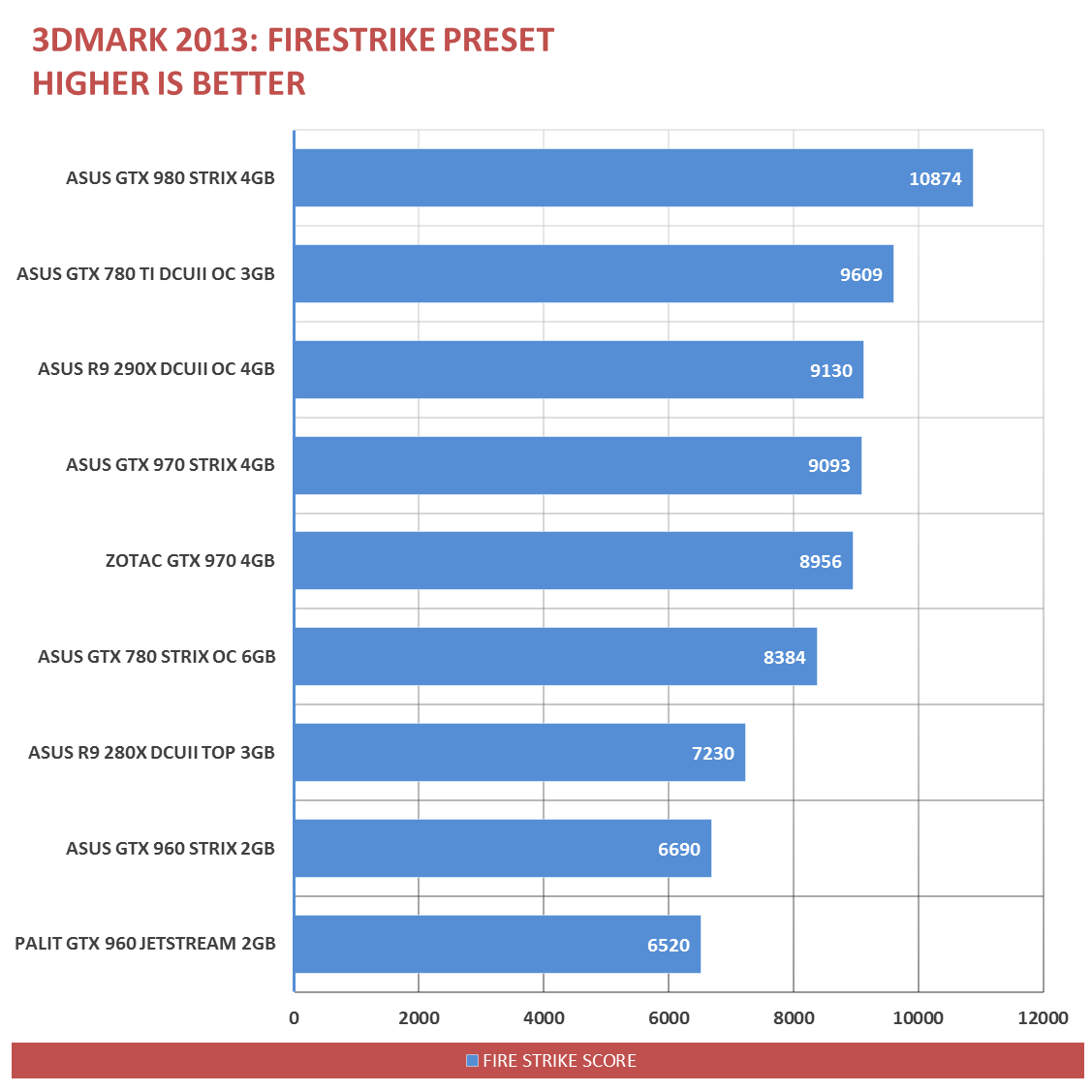 CINEBENCH R11.5 is a real-world cross-platform test suite that evaluates the computer's performance capabilities. CINEBENCH is based on MAXON's award-winning animation software CINEMA 4D, which is used extensively by studios and production houses worldwide for 3D content creation.
Kishonti's CompuBench is an easy to use, no frills high performance suite of benchmarks. It compares the strengths and weaknesses of different hardware architectures such as CPUs, GPUs and APUs using a series of tests.
GAMING PERFORMANCE:
Dragon Age: Inquisition an action role-playing video game developed by BioWare and published by Electronic Arts. It is the third major game in the Dragon Age franchise, and utilizes the Frosbite 3 Engine with the SpeedTree technology.
Battlefield 4 is one of EA and DICE's most recent first person shooters utilizing the all new Frostbite 3 game engine featuring better tessellation effects and destruction compared to its predecessor.
Dota 2 is a Multiplayer Online Battle Arena (MOBA) video game developed by Valve and is the stand-alone sequel to the Warcraft III based Defense of the Ancients (DotA) mod.
Counter-Strike: Global Offensive is a popular online tactical first-person shooter developed by Hidden Path Entertainment and Valve Corporation, utilizing the Source Engine.
Grand Theft Auto V is an open world, action-adventure video game developed by Rockstar North and published by Rockstar Games. It was released on 17 September 2013 for the PlayStation 3 and Xbox 360, on 18 November 2014 for the PlayStation 4 and Xbox One, and on 14 April 2015 for Microsoft Windows.
OVERCLOCKING PERFORMANCE:
ASUS supplied the GTX 980 STRIX with the GPU Tweak – which is an essential tool to maximize their graphics card's performance by offering profile presets for easy tweaking. MSI's afterburner is our favorite for just about almost any cards out there but the GPU Tweak is the best for ASUS cards due to the flexibility it provides and the amount of options we could play with.

This is the first time I have played with the GPU Tweak II, and it is actually a pleasant surprise to see how well it manages to keep us tinkering with the card easily. It is a no frills, feature-rich monitoring, overclocking, and profiling tool that works.  It also features a built-in XSplit streamer so it really is a good software that provides more than I asked for. Now back to overclocking, the card managed to achieve 1289 MHz for the core clock – which is a 9.5 % increase over the base clock with a boost clock at 1390 MHz amounting to 8.7 % increase respectively. Memory clock saw a huge overclock too at 1958 MHz which is an 11.7 % increase. For more information about our settings, please see screenshot above.
A maximum of 8.4 % performance increase is seen with the overall score from 3DMark 2013, while a maximum of 9.8 % increase is seen from the graphics score of the GTX 980 when overclocked. Not bad!
TEMPERATURE & POWER CONSUMPTION:
FurMark is a very intensive OpenGL benchmark that uses fur rendering algorithms to measure the performance of the graphics card. To record the GPU's maximum temperatures, I will run Furmark's Fur Rendering Burn-in Test, and let it run for 30 Minutes. As always, we try to keep the results consistent by keeping the ambient temperature checked at 27ºC.
We also check to see how the GPU impacts power consumption. The system is left to idle for 30 minutes before readings are taken, and load data is taken 30 minutes while FurMark is running. Power readings are taken for the entire system from the socket.
VALUE & CONCLUSION:
So, what can we say about the ASUS GTX 980 STRIX? Well for starters, this is one solid non-reference GTX 980 as far as performance is concerned. Delivering chart topping performance on our synthetic benchmarks, as well as providing playable 4K QHD gaming on most games at their finest settings – Although I still personally favor a GTX 980 Ti for 4K gaming. For 1440P, it's a no brainer, as this card is certainly up to the task even more-so if we speak of overclocking.
Build quality as usual with ASUS is top notch. Not a single squeak, rattle from the fans, or even a hum from its VRM could be heard. Typically ASUS quality control right there. Now as far as aesthetics is concerned I would prefer something more subtle, but since this is STRIX's signature design which is apt for gamers, then it should suffice for most.
Thermals and power consumption were definitely good. Idle temperature is within the acceptable mark even though the fans are not spinning, and the load temperature isn't bad either competing with the ZOTAC GTX 970 at full load minus the fan noise so it's pretty silent. As for power consumption, the card lies within the expected TDP of the GTX 980 showing a huge difference if compared to its predecessors, especially the GTX 780 Ti.
If I have to say anything concerning about the card, it's about the price – especially if you could grab the GTX 980 Ti right now at this card's MSRP upon launch. It's that expensive on its launch day in the Philippines. If we're going a little international, as far as price is concerned, this card can be had at just 499 USD, which is 160 USD cheaper than the reference GTX 980 Ti at the moment and that's a reassuring thing to know. But then again, it comes at 31, 200 MSRP here so it's hard to justify buying this card locally if the GTX 980 Ti is just around the block as far as pricing goes.
THE VERDICT
PROS:
GREAT FACTORY OC PERFORMANCE
OVERCLOCKS LIKE A CHARM
FANTASTIC BUILD QUALITY
3 YEAR WARRANTY
UTTERLY SILENT
CONS:
ASUS GTX 980 STRIX 4GB
PERFORMANCE -

9/10

BUILD QUALITY -

8/10

FEATURES -

8/10

AESTHETICS -

8/10

VALUE -

7/10
Summary
Build quality as usual with ASUS is top notch. Not a single squeak, rattle from the fans, or even a hum from its VRM could be heard. Typically ASUS quality control right there. Now as far as aesthetics is concerned I would prefer something more subtle, but since this is STRIX's signature design which is apt for gamers, then it should suffice for most.