In for a much needed review is the ASUS Prime AP201 MicroATX case. What we have here is the white variant, with an MSRP of ₱4,995 PHP.
The Prime AP201 highlights the Quasi-Filter Mesh Panels. This is essentially a bunch of fancy words equivalent to perforated panels. Now other highlights includes its 33-liter capacity, tool-free panel design, support for 360 mm coolers, graphics cards up to 338 mm long and support for 180 mm ATX PSUs. All of these under what seems to be a rather dinky MicroATX conforming package.
Disclosure: ASUS sent Prime AP201 for the purpose of this review. The company did not ask me to say anything particular about it.
Technical Specifications
Chassis
Motherboard support
Mini-ITX, MicroATX
Type
Mini-Tower
Material
Steel
Clearance
CPU
170 mm
GPU
338 mm
PSU
180 mm
Expansion
Drive Bays
1x 2.5″, 3x 2.5″/3.5″ combo
PCIe Slots
4x
Cooling
Front
N/A
Rear
1x 120 mm, installed
Top
3x 120 mm/2x 140 mm
Bottom
N/A
I/O Ports
USB
2x USB 3.2 Gen1, 1x USB 3.2 Gen2 Type C
Audio
1x Headphone, 1x Microphone
Dimensions
Length
460 mm
Width
205 mm
Height
350 mm
Weight
5.8 kg
Packaging and Accessories
ASUS had the Prime AP201 packed inside a double eco-friendly packaging – kinda like a Matryoshka doll.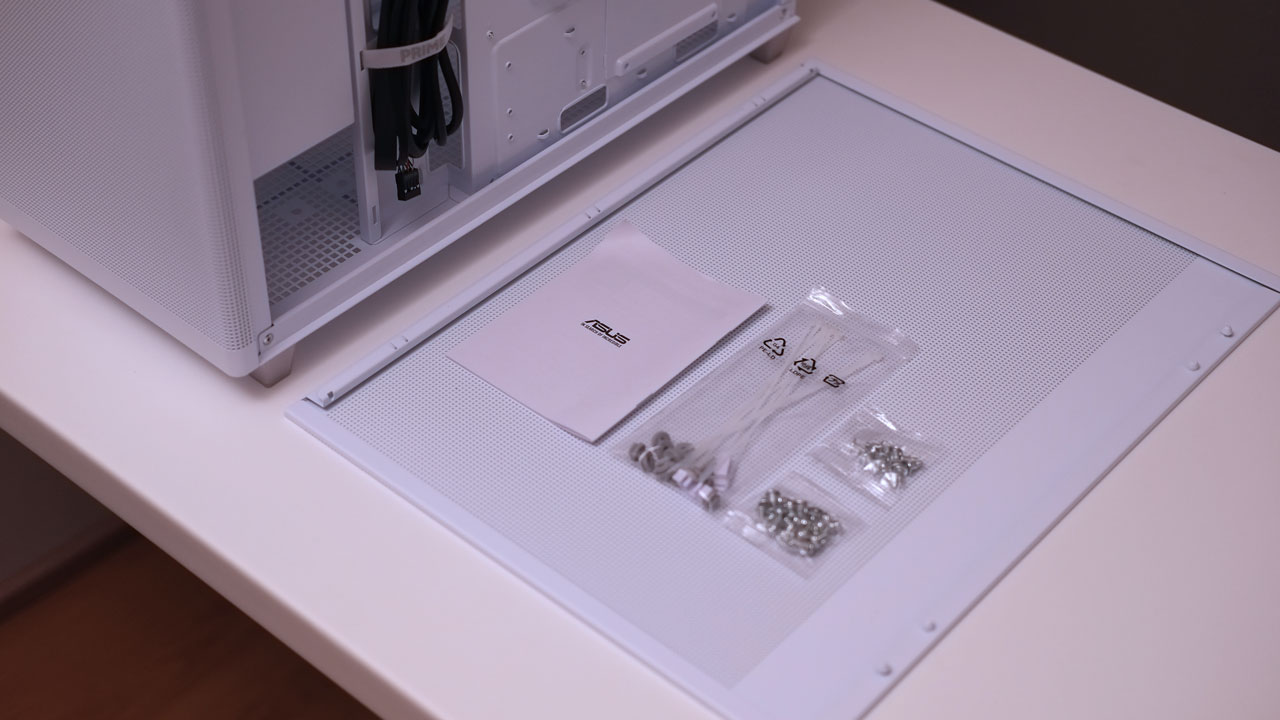 The packaging should come with the following items inside:
ASUS Prime AP201
12x Rubber grommets (HDD/SSD)
12x Screws (HDD/SSD)
Motherboard stand-off and screws
2x spare clips (Panel)
8x zip ties
Manual
Warranty Information
Good bundle of parts and accessories we got here. I like that ASUS included spare clips for the panels as well – just in case someone managed to break any.
External Design, Build and Connectivity
The Prime AP201 is minimalist by design, featuring clean lines and soft edges. It doesn't scream gaming compared to the ROG and TUF models. The perforations are the star of the show here and perhaps what adds to its nice contrast compared to the rest of the family.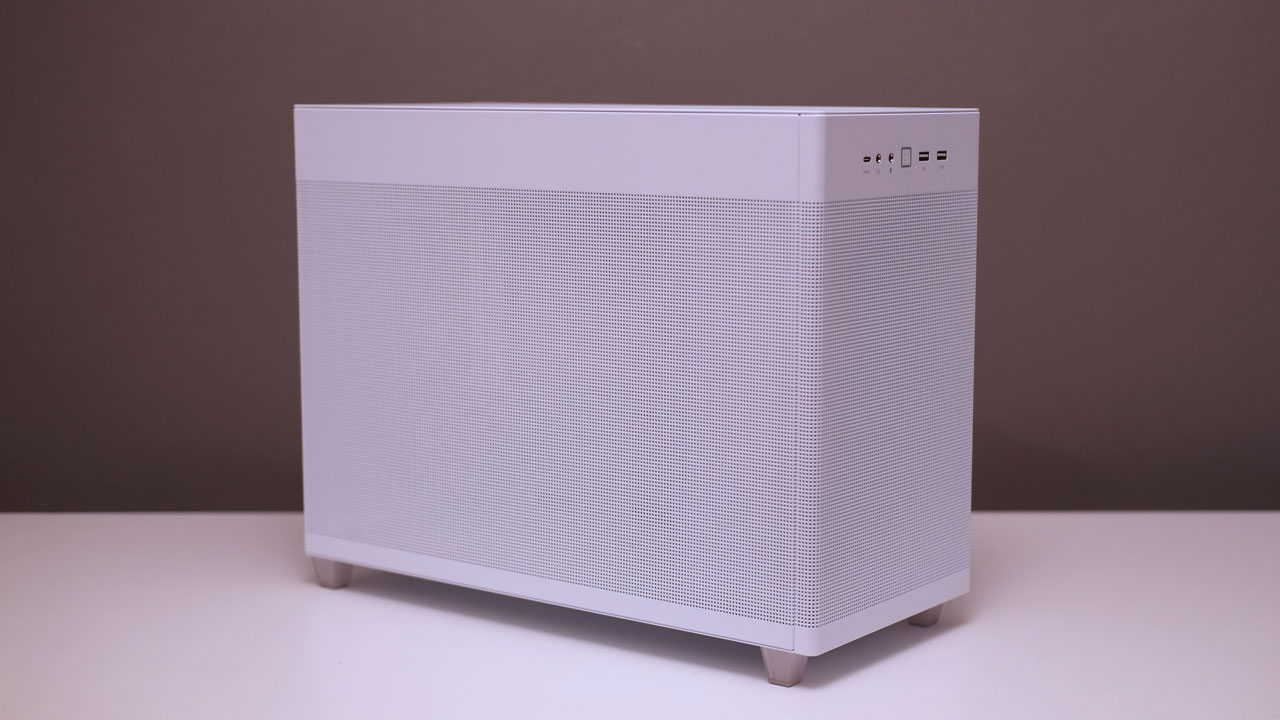 The Quasi-Mesh perforations are everywhere yet the panels do not feel flimsy at all. Its nice to see some visual breaks into the design though – that includes the subtle ASUS Prime logo.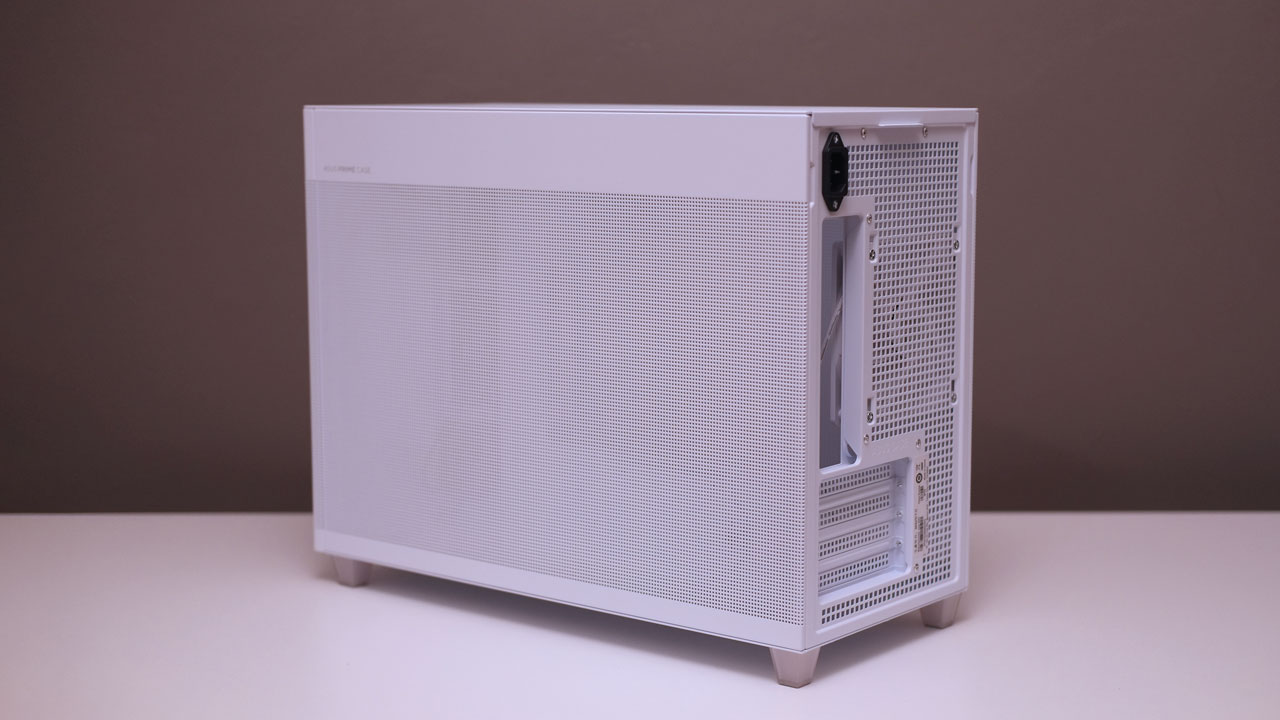 ASUS went with actual front panel I/O ports – filling the non-perforated area of the panel.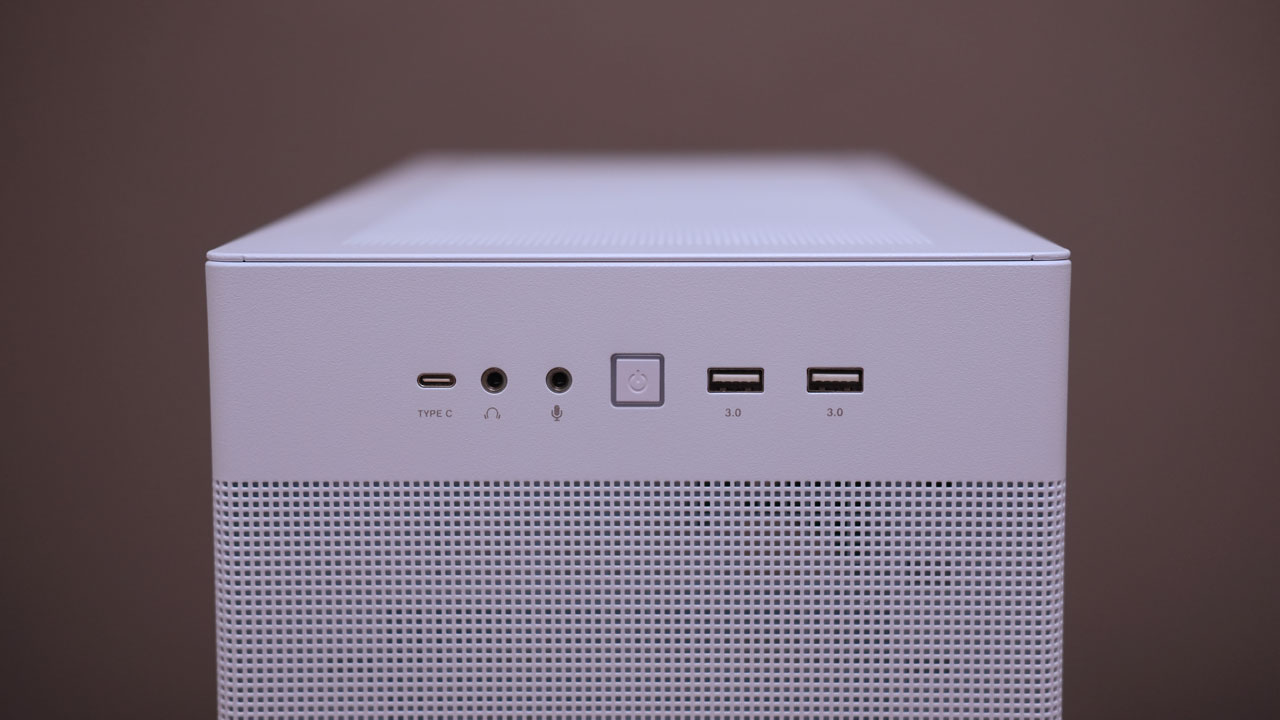 The bottom part of the AP201 features a removable dust cover. There are screw holes here for extra fans and storage devices as well.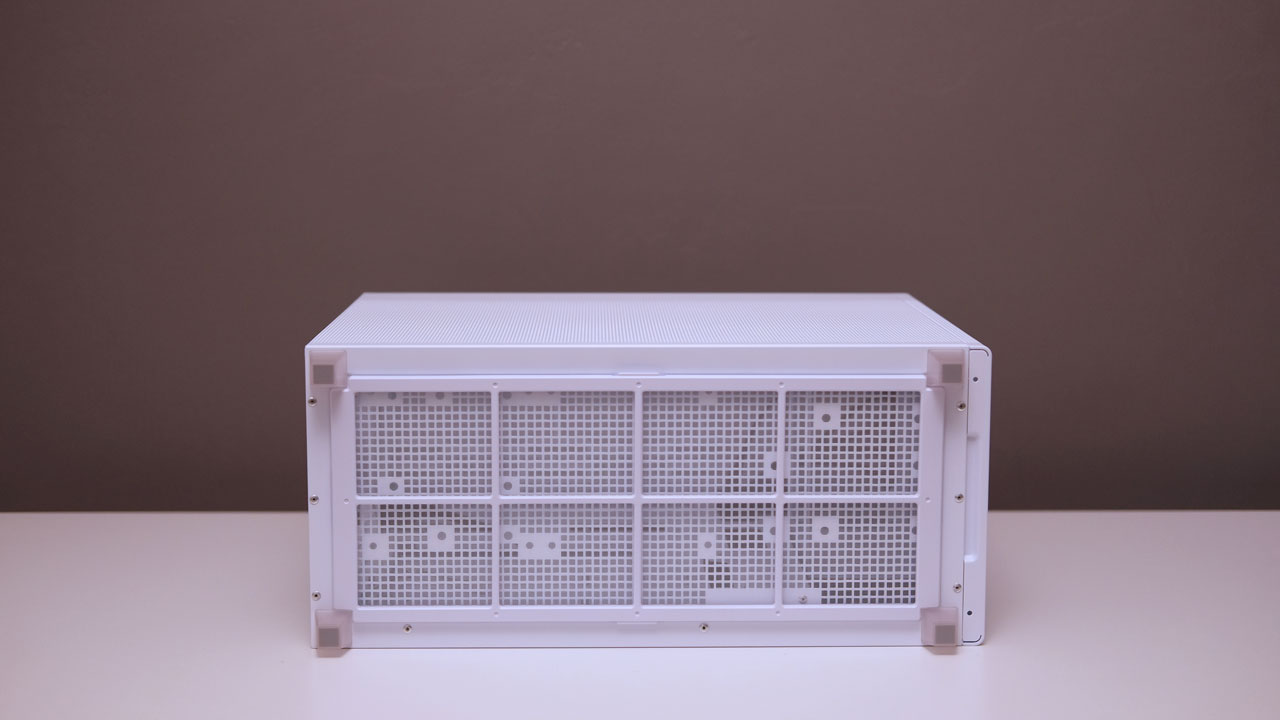 The rear panel comes with an extension for the front mounted PSU. This houses a 120 mm fan with an adjustable mounting to better aid CPU cooler ventilation.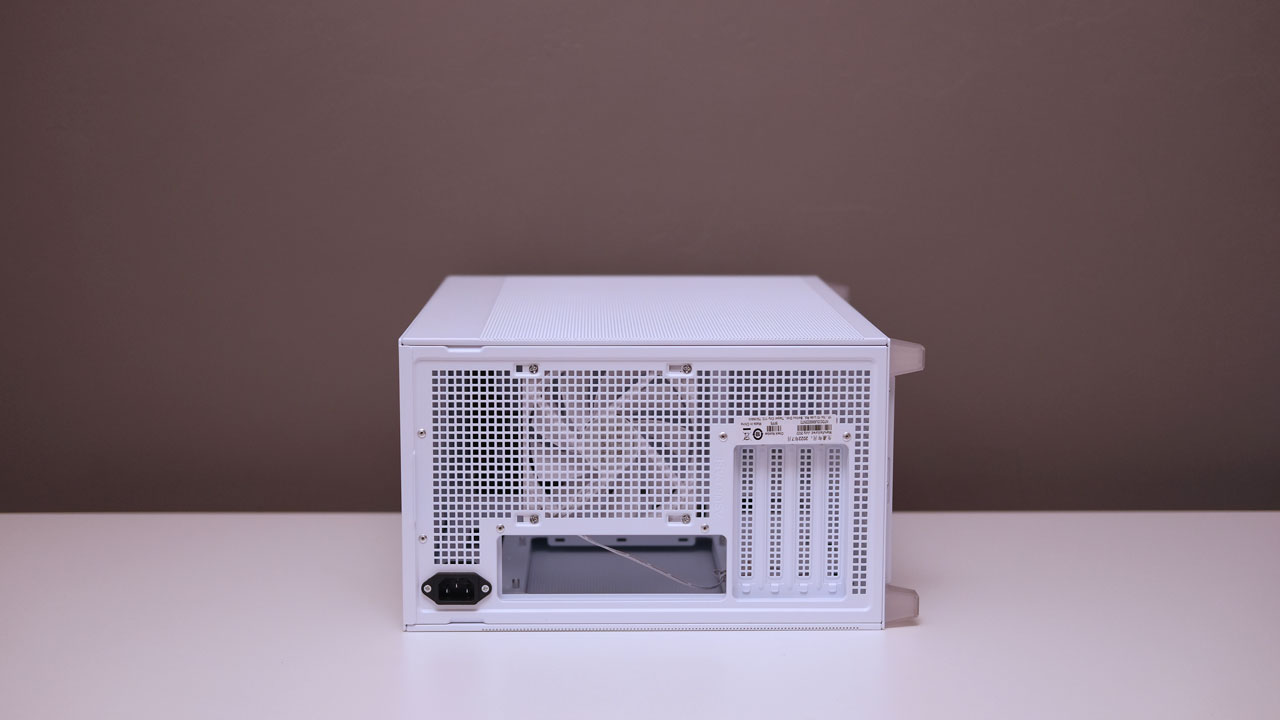 Internal Design, Build and Connectivity
ASUS designed the case with ease of use in mind and they nailed it with the snap-on, tool-free design. The case accepts both Mini-ITX and Micro-ATX motherboard so you've got plenty of options for this 33-liter enclosure.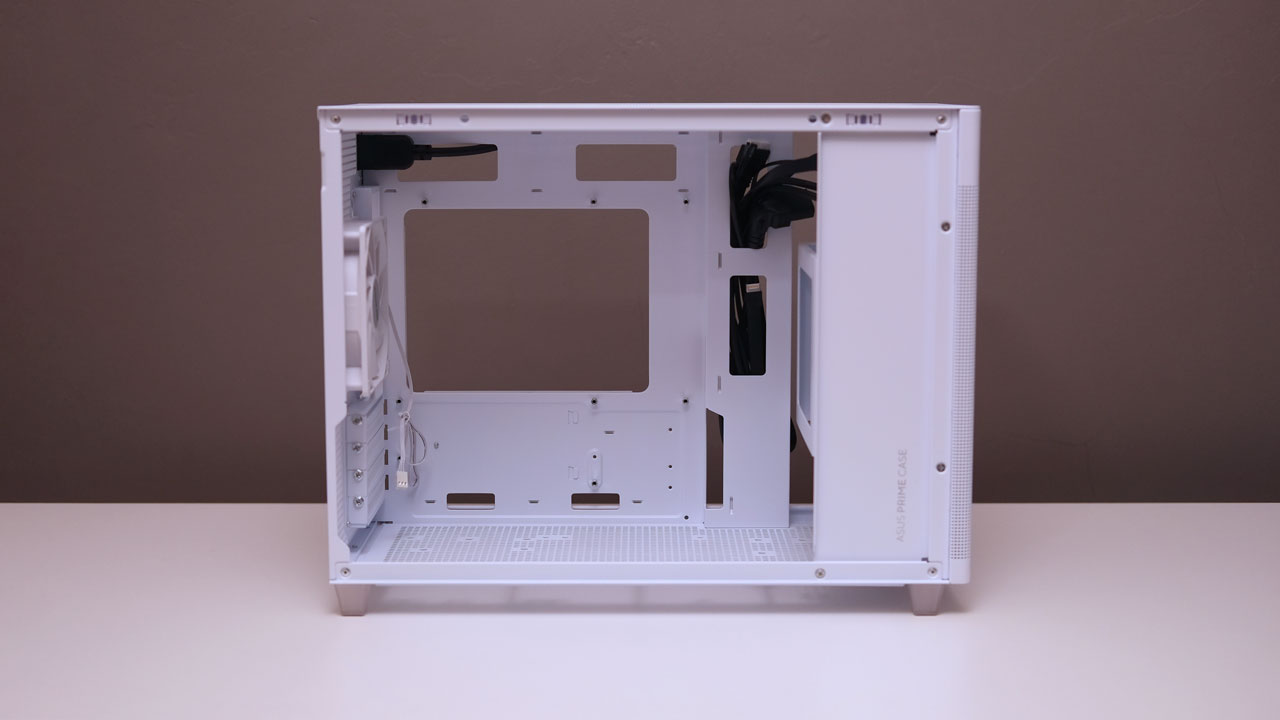 The motherboard tray area has enough space for cable management and a 2.5 inch drive. It has enlarged cut-outs for cables and an unhindered access to the motherboard's CPU backplate.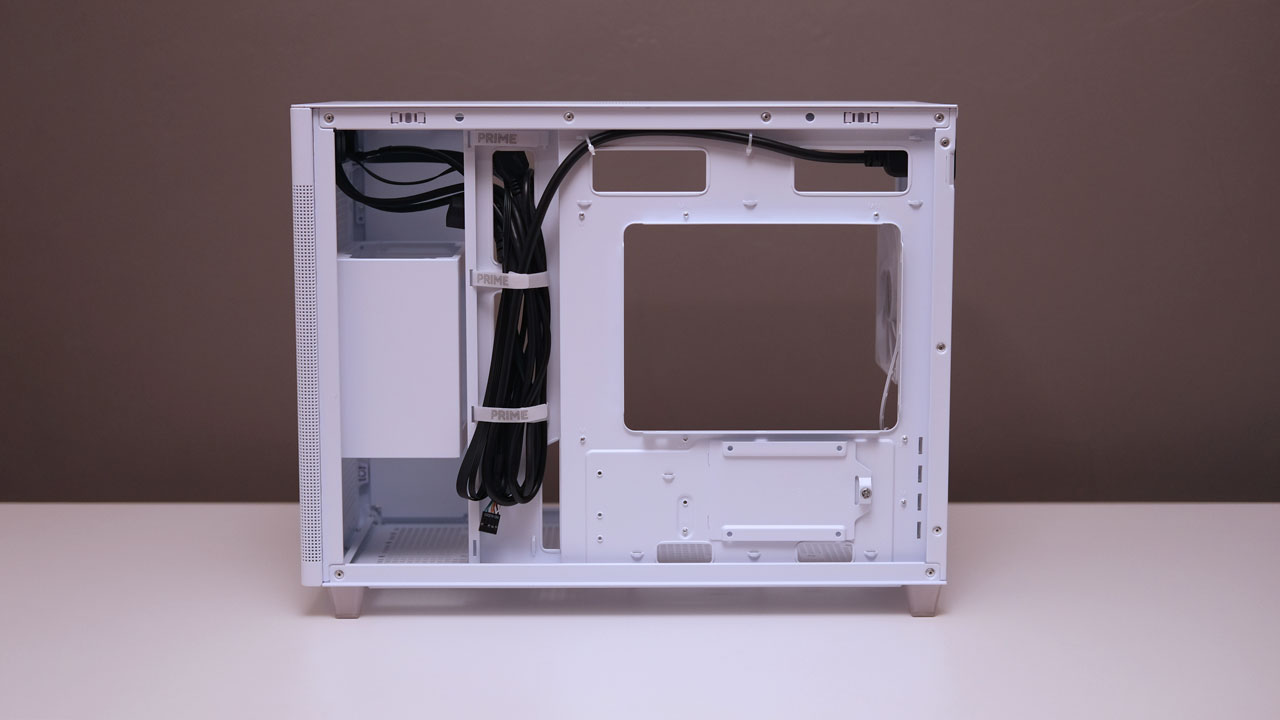 The front panel is where you could house the PSU which is by the way also adjustable to accommodate 180 mm PSUs. This makes the AP201 a versatile case since it could accept most PSU units out there. The adjustable bracket is also removable to aid installation. Top panel is the star here though, featuring enough space for a full size 360 mm radiator and fans with change to spare – when it comes to clearance.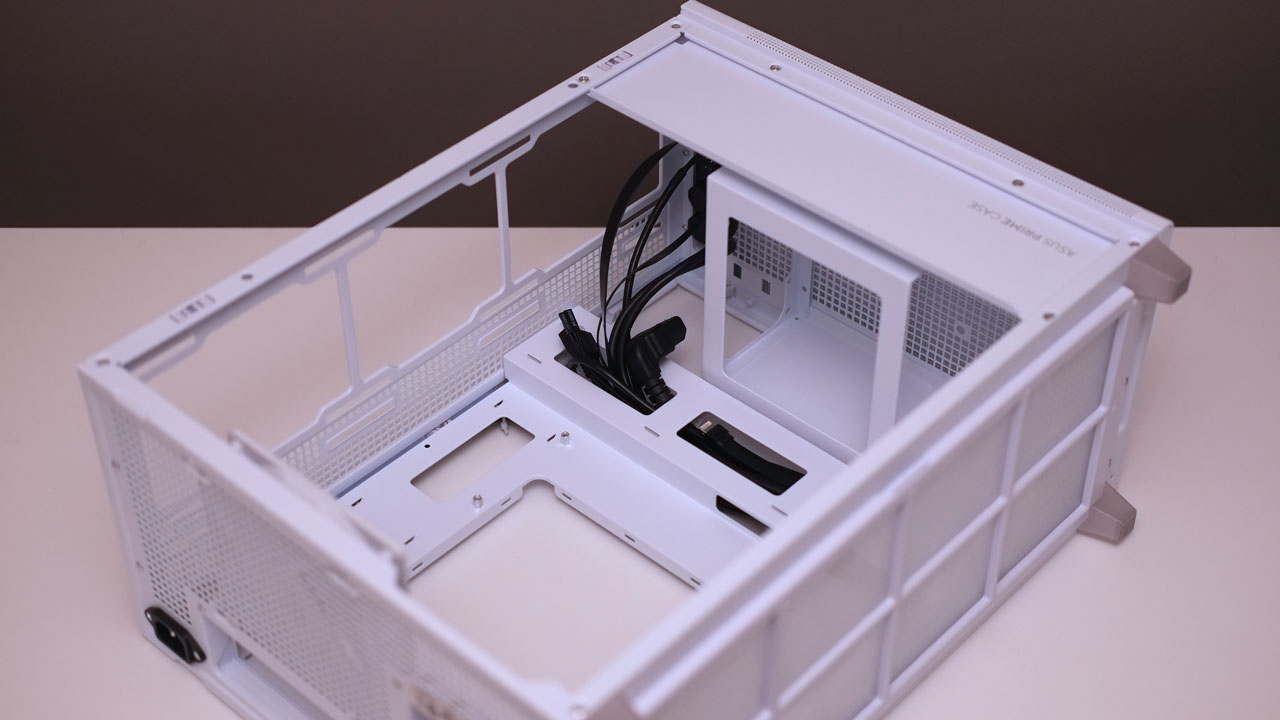 The AP201 comes with a white 120 mm exhaust fan rated at 1500 RPM max. Again, the bottom could house some storage devices (2x 3.5/2.5 inch) or fans (2x 120 mm).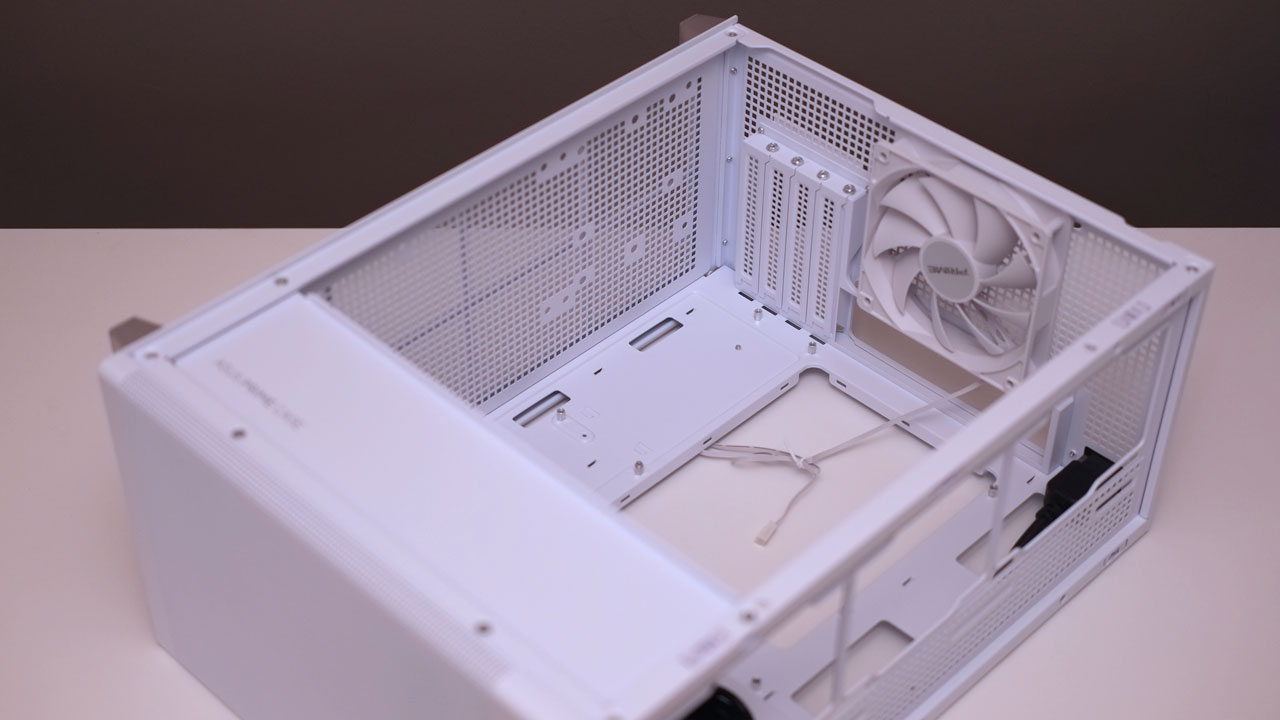 Headers are the usual suspects but with the inclusion of a USB Type-E header for the USB 3.2 Gen2 port. Nothing to complain here.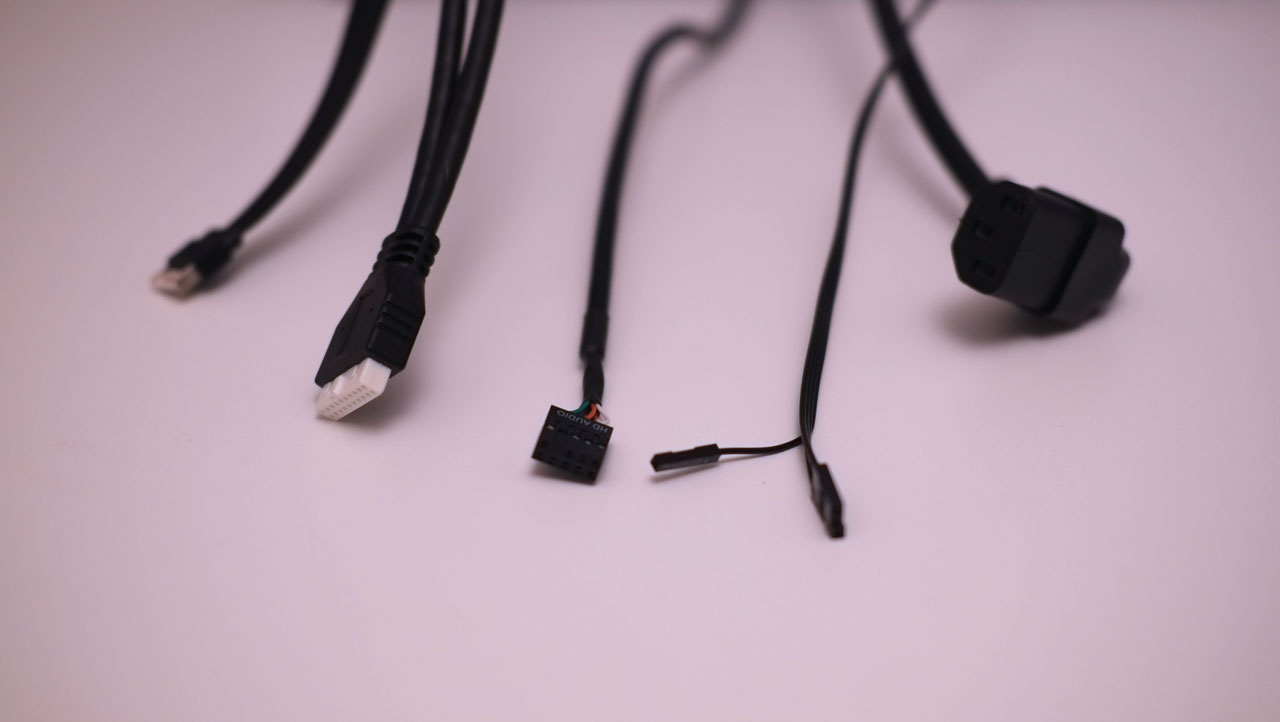 Clearance and Installation
With its size and carefully designed interior that meets form and function, the AP201 is an easy case to work with. Installation of parts are easy, especially with the tool-less approach done with the perforated panels. It took me 15 minutes at most to install everything I need to get the system running in a presentable state.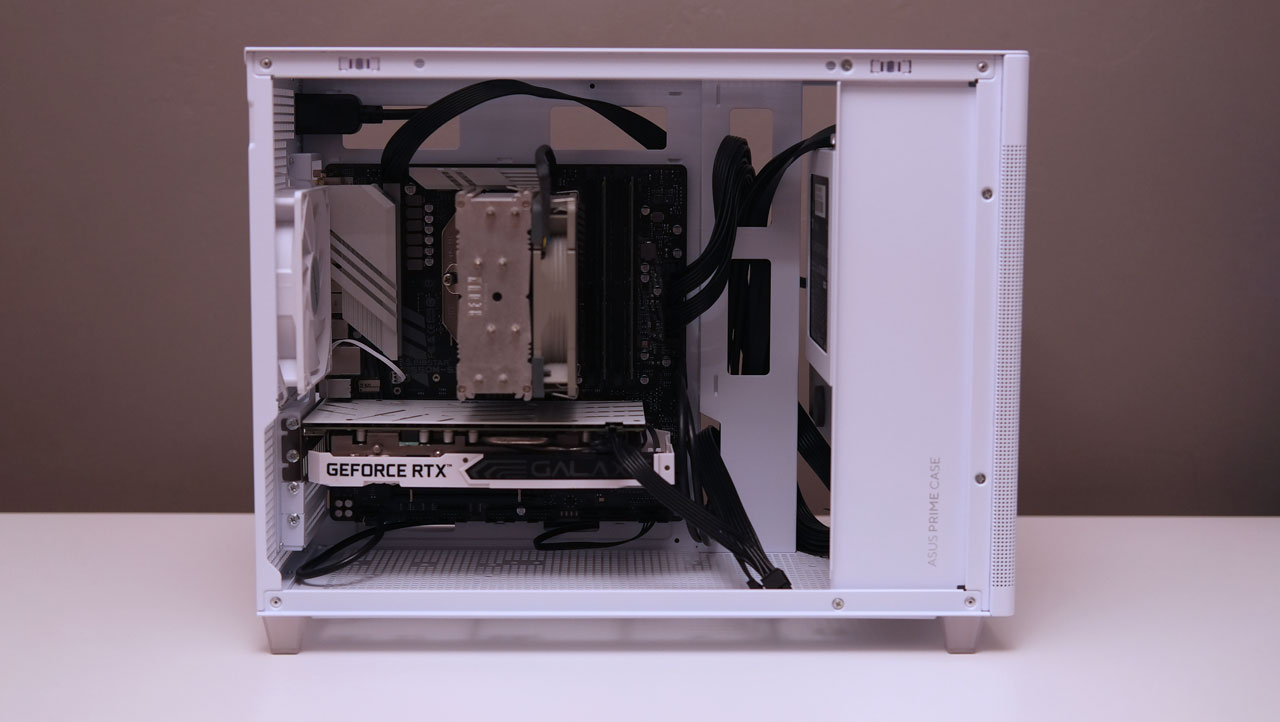 Cable management is so easy with this case especially with the predetermined routing areas that you could follow. Spacing is good too, with about 25 mm of maximum breathing room for cables. Everything checks out really neat.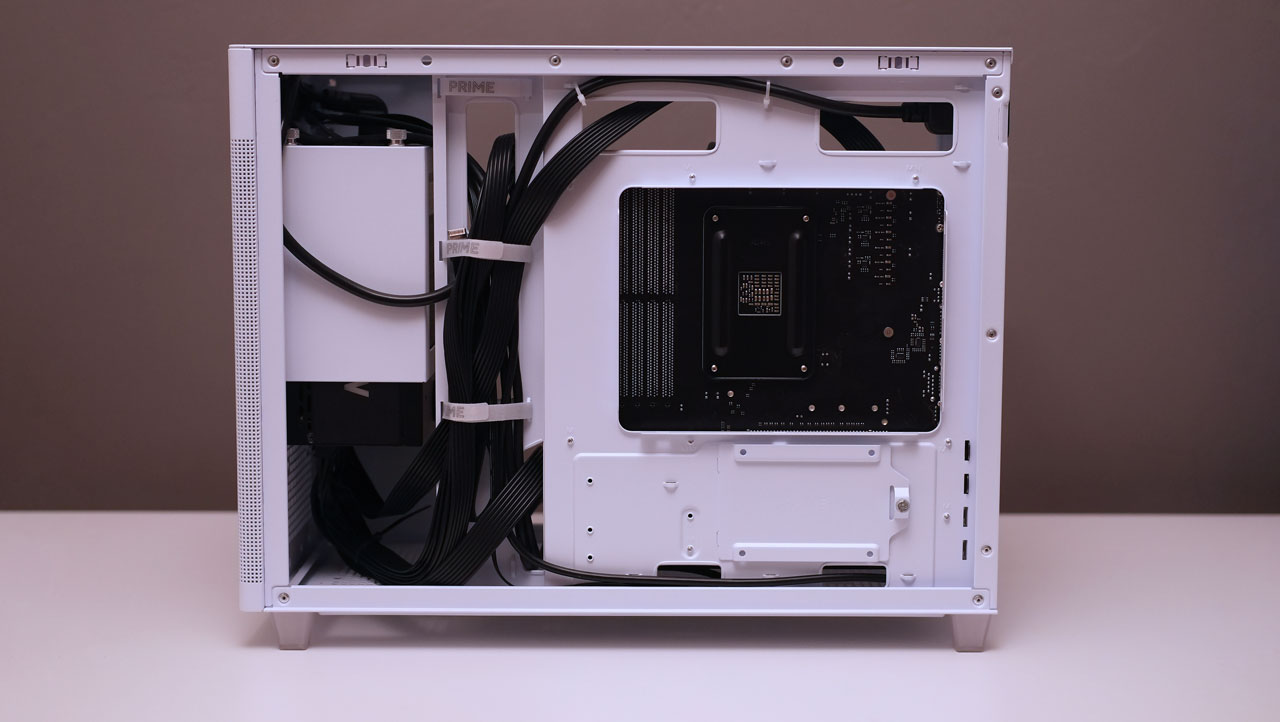 Test Setup and Methodology
Our test setup relies on the measurements taken from AIDA64 Extreme. It is important to note that we are testing the review sample after burn-in, with at least 24-hours of uptime. This is done so to negate the FOTB (fresh out the box) state of the DUT (device under test), yielding better benchmarking consistency.
Test System Specifications
CPU
AMD Ryzen 5 3600
Motherboard
BIOSTAR B550M Silver
Cooler
Noctua NH-U12S Redux
Memory
ADATA Premier 2666MHz 16GB
GPU
GALAX RTX 2060 EX White 6GB
Storage
Kingston FURY Renegade 2TB PCIe 4.0
Case
ASUS Prime AP201 White
PSU
Thermaltake Toughpower GF1 850W
Display
LG UF680T
OS
Microsoft Windows 10 Pro 64-bit
The DUT is tested with the following configuration from our test system:
UEFI configuration: Default
Windows Power Plan: Balanced
CPU Temperature
Temperature is measured in degree Celcius (ºC) at system idle and load. This is done via AIDA64 Extreme and its built-in System Stability Test. Readings are taken directly from the CPU Tdie sensor via HWiNFO.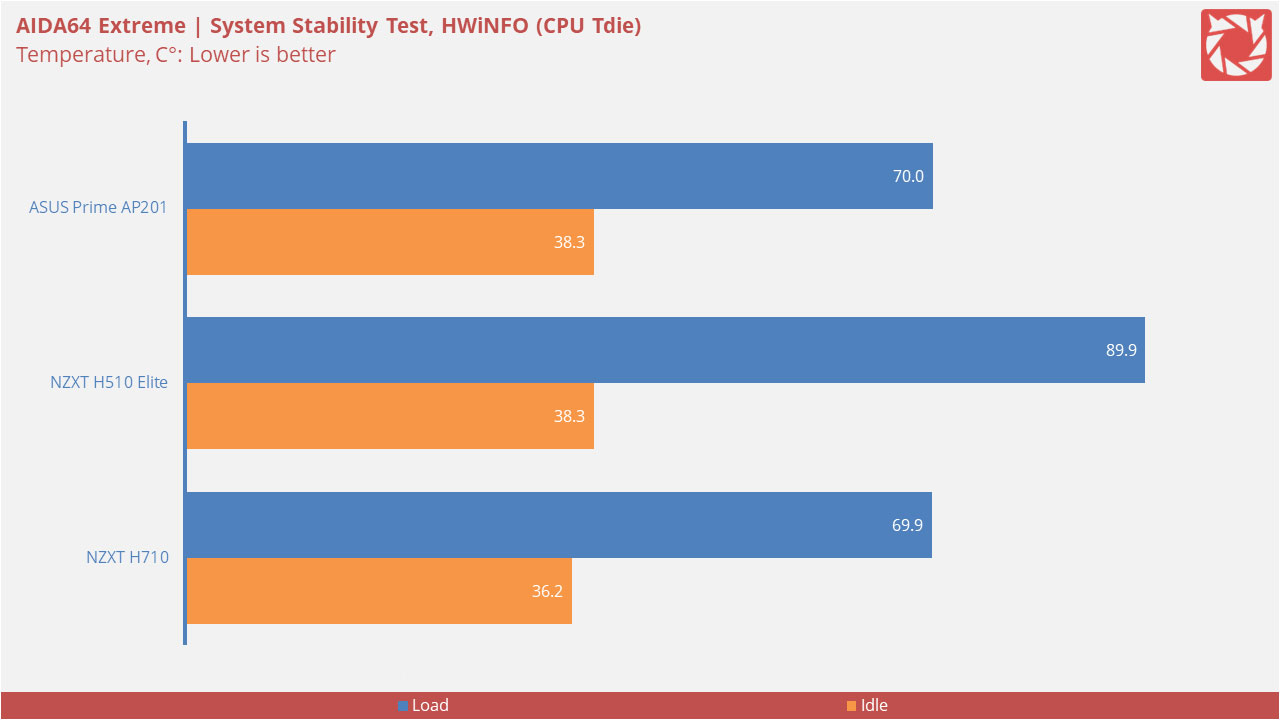 CPU temperature is excellent – more so if compared to truly enclosed ones such as NZXT's H series of tempered glass cases.
GPU Temperature
Temperature is measured in degree Celcius (ºC) at system idle and load. This is done via AIDA64 Extreme and its built-in System Stability Test. Readings are taken directly from the GPU sensor via HWiNFO.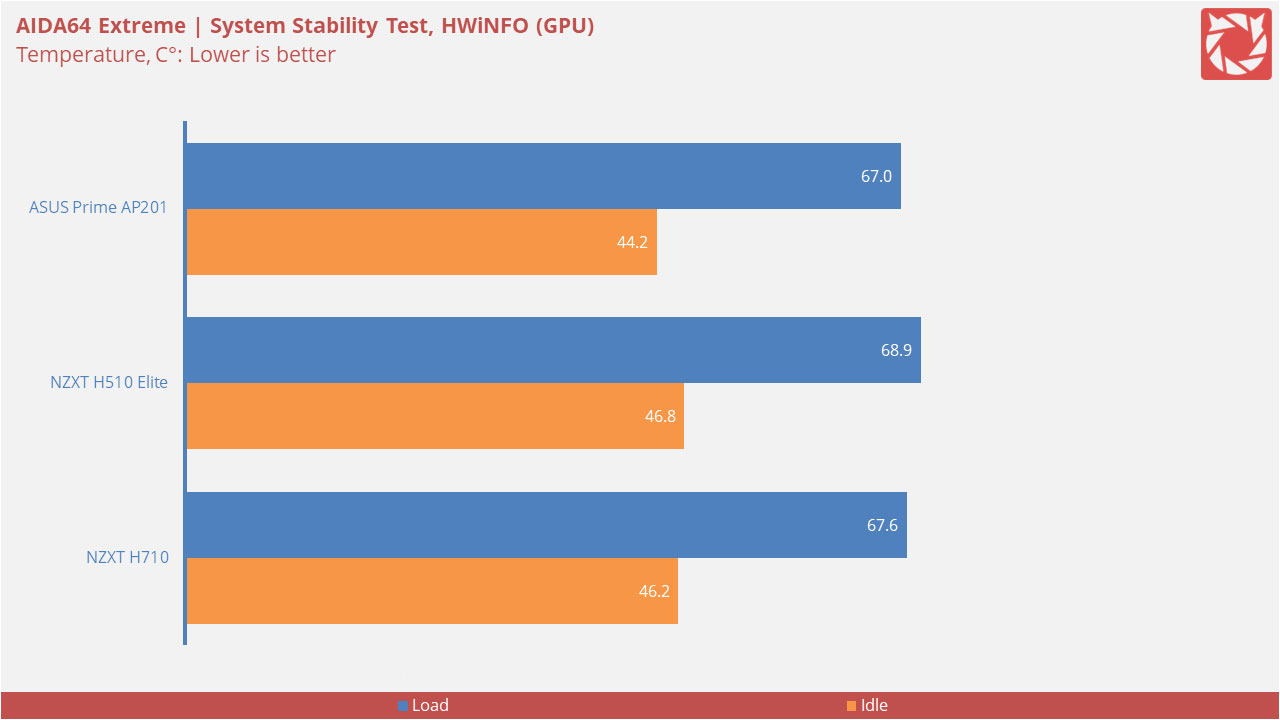 Cooling performance for the GPU also saw improvements over the other cases tested. This is technically the performance you'd get from an open air chassis.
Noise
Sound Pressure Level is measured in Decibels (dBA). This is done via AIDA64 Extreme and its built-in System Stability Test. Readings are taken directly from a sound level meter.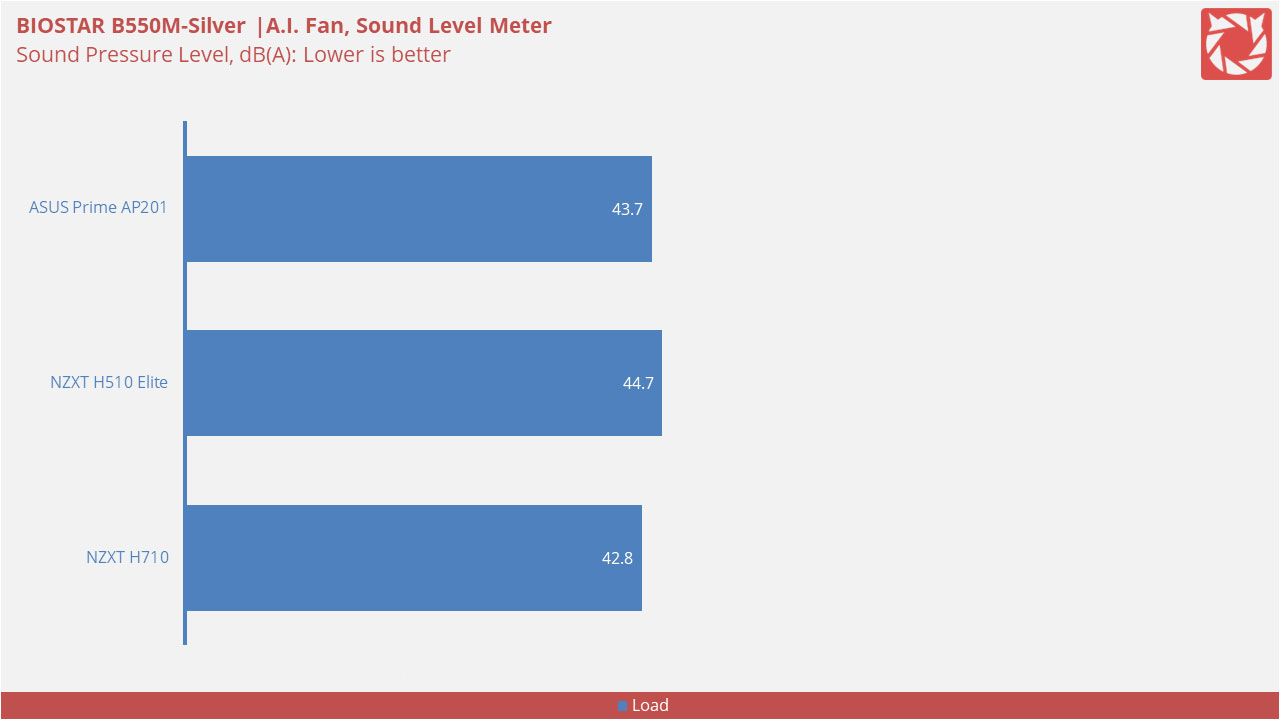 With perforations everywhere, there's nothing much the Prime AP210 could do to minimize noise levels. Not bad though for a case with a single 1500 RPM fan.
Features
Ease of use is what made me like the AP201 – along with some subtle design choices. That includes the matching white fans, white zip ties and velco straps. These are small details that made me appreciate the case even more.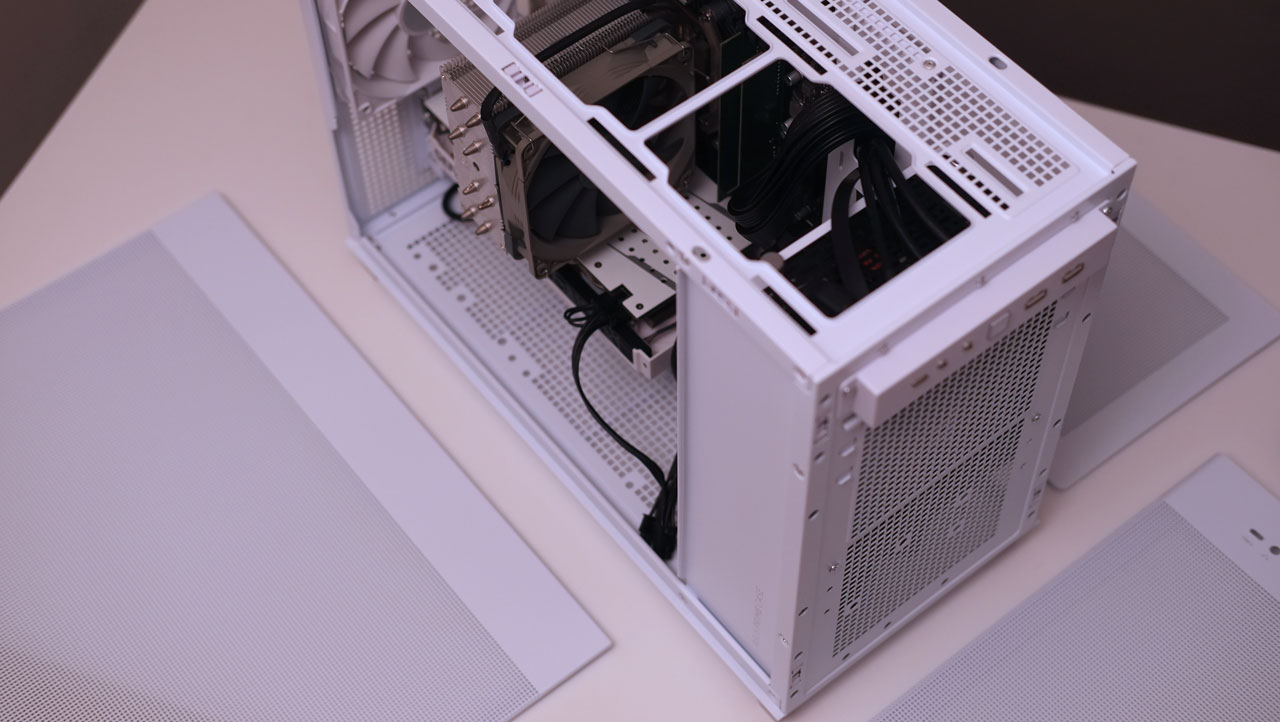 Compatibility is also one of its strong points, able to handle large graphics cards, extended PSUs and 360 mm liquid coolers – even in a sandwiched configuration.
Final Thoughts
The ASUS Prime AP201 is a case that meets form and function. It has excellent cooling capabilities and a relatively small foot print for something that could accommodate large graphics cards, power supplies and coolers. Those, together with tool free access, excellent build quality and minute attention to details makes the AP201 hard to ignore.
The case is also hard to fault. Maybe I'd like to see a mount or bracket for an SFX PSU just so I could really cram the top panel with a huge cooler without sacrificing the graphics card slot's head room compared to a standard power supply.
All things considered, the ASUS Prime AP201 is a hard Micro-ATX case to beat at around 4,798 Pesos. ASUS design and engineering at its finest.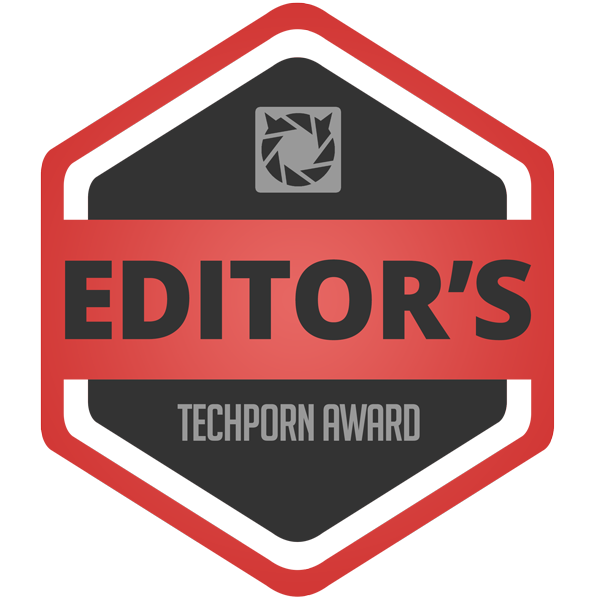 ASUS Prime AP201 (White) Micro-ATX Case
Summary
The ASUS Prime AP201 is not only immaculate in white, it is also one of the best cases out there under the $100 USD mark. A rock solid approach to enclosure design straight from the guys at ASUS.