Last month, we checked out the NZXT H510 Elite. It is a premium mid-tower case with a lot to offer but is still not quite the mid-tower I was hoping it to be. With that said, what we have here is the bigger brother, the H710.
Bigger is certainly not always better but its size should allow it to house larger motherboards (E-ATX is compatible), graphics cards and larger cooling solutions. It's a sizable step-up based on specifications alone so let us check it out.
Disclosure: NZXT sent H710 for the purpose of this review. The company did not ask me to say anything particular about it.
Technical Specifications
Chassis
Motherboard support
Mini-ITX, MicroATX, ATX, E-ATX
Enclosure type
Mid-Tower
Case material
SGCC Steel, Tempered Glass
Clearance
CPU cooler
185mm
GPU cooler
413mm
Front
60mm
Rear
—
Top
30mm
Bottom
—
Drive Bays
2.5″
5+1
3.5″
2+1
Compatibility
Front
3x 120mm/2x 140mm
Rear
3x 120mm/2x 140mm
Top
120mm/140mm
Bottom
—
I/O Ports
USB
Type-C (USB 3.2 Gen2), Type-A (USB 3.2 Gen1)
Audio
3.5mm (TRRS)
Dimensions
Length
494mm
Width
230mm
Height
516mm
Weight
12.1kg
Packaging and Accessories
NZXT had the H710 packed inside a huge packaging. Do not attempt to haul this via public transport unless you want the challenge and at the same time, to piss people off.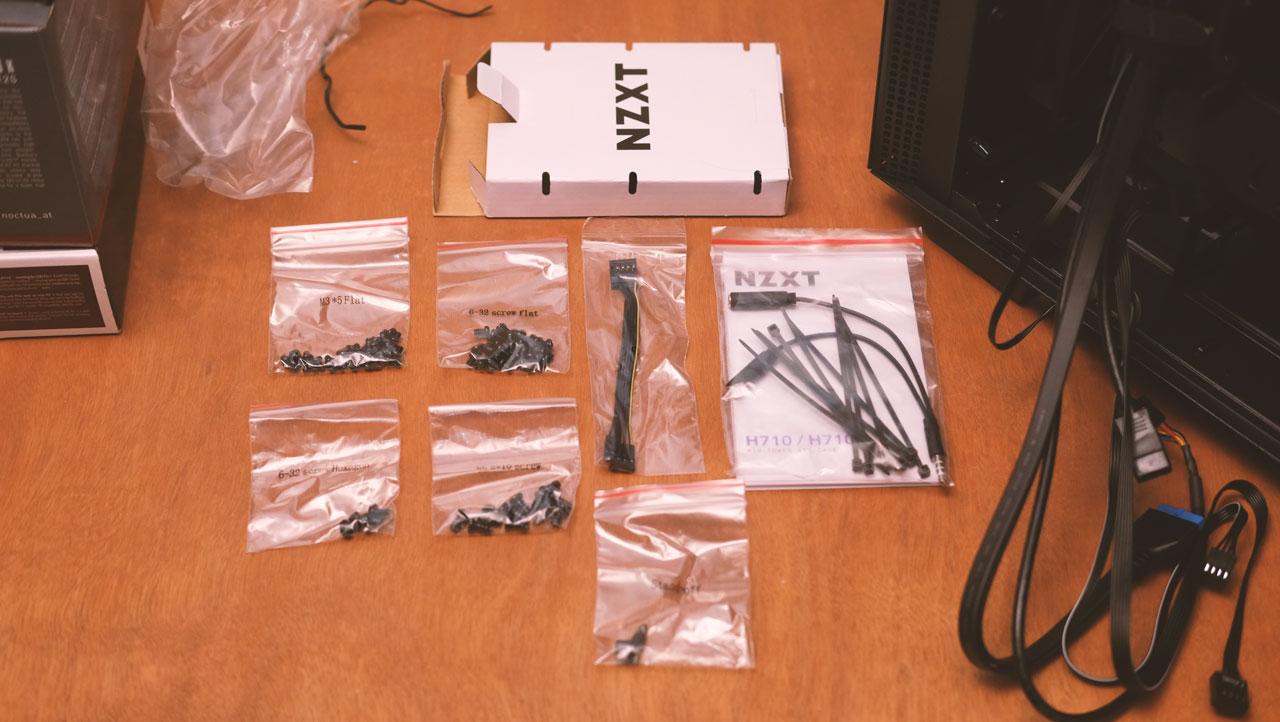 The packaging should come with the following items inside:
NZXT H710 Case
3x Aer F 120mm (Case Version)
Aer F 140mm (Case Version)
Headset Audio Jack Splitter
Breakout Cable
Installation Accessories
Manual
The bundled accessories are pretty decent. What I like about this are the inclusion of the 3.5mm combo jack and the front panel extension.
Design, Layout and Build Quality: External
Like many of NZXT's recent cases, the H710 sports the company's signature ultra-modern design. This is a heavy case with SGCC steel and tempered glass panels similar to the H510 but this is considerably built better – with panel thickness no less than a millimeter -even at its thinness.
Front panel maintained that enclosed look so cooling is still provided by intake and exhaust perforations at the bottom and sides of the case. There are removable filters in place for both intake so cleaning them up should be easy. With its size, the H710 has better clearance between the fans and the perforations so cooling should be substantially better.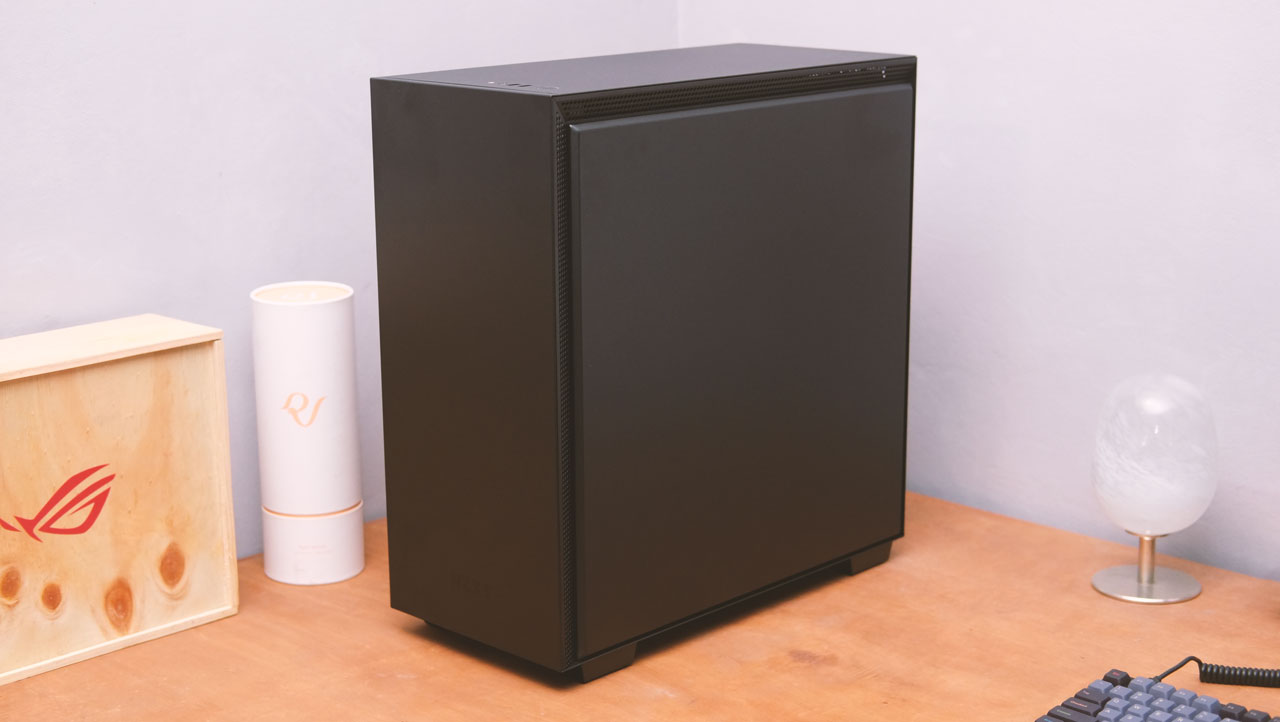 Connectivity options are just flush and minimalistic – following the overall theme of the case. We have a 3.5mm TRRS jack here for the audio-in and out, a USB Type-C plus dual Type-A ports for data transfer. Of course we also have the power button here with an integrated HDD LED ring.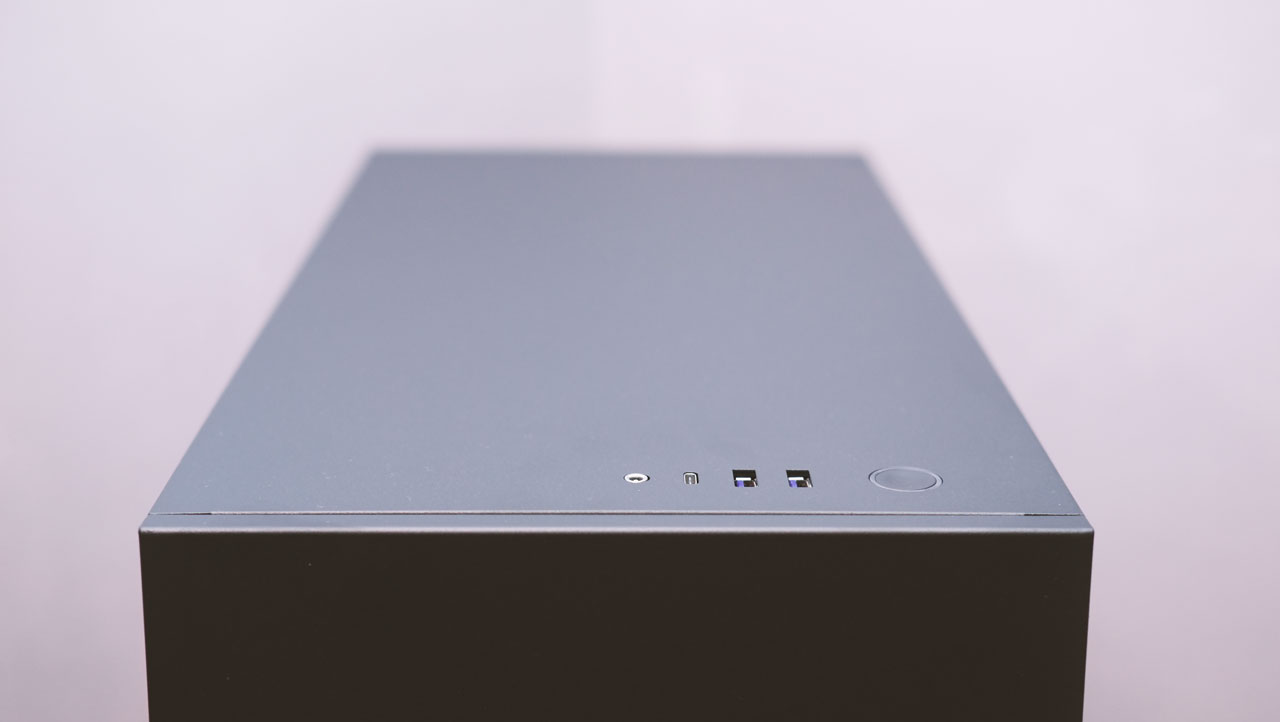 The bottom part of the H710 features a removable PSU fan intake dust cover. You could also see the adjustable and also removable drive cage here along with the aforementioned intake for the front fan setup.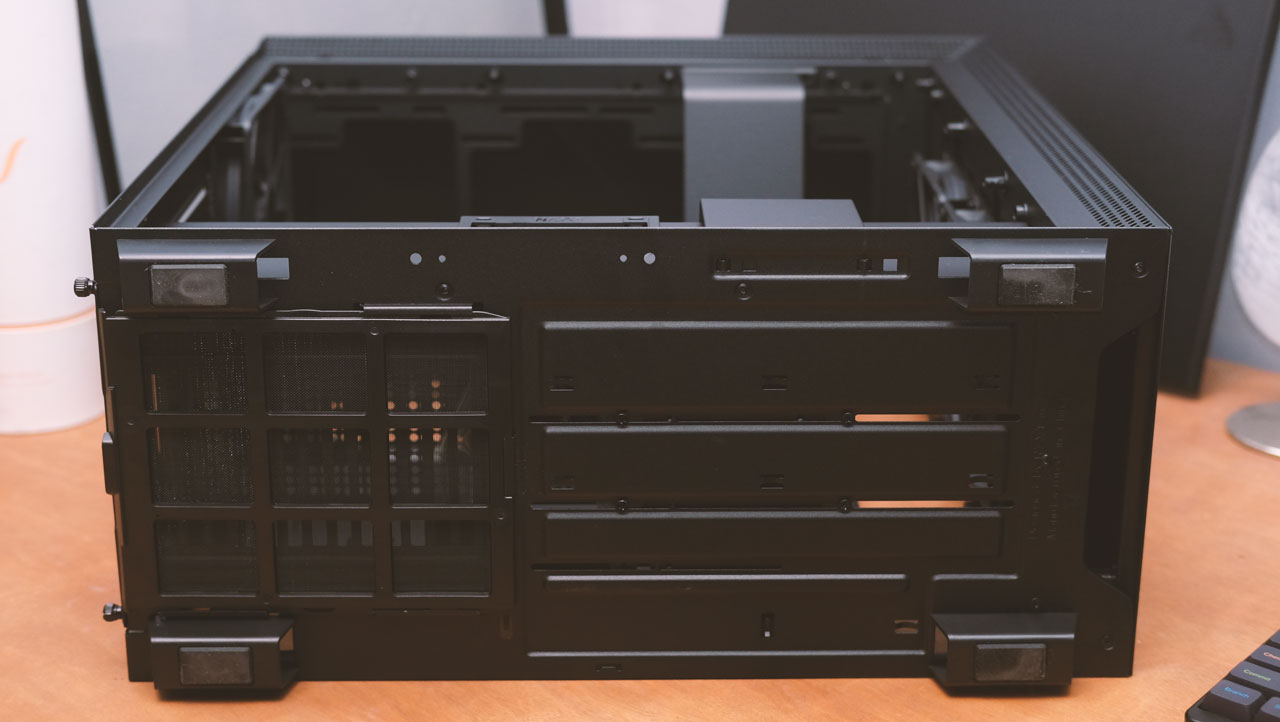 With its size, the H710 comes with a 140mm exhaust fan – and an adjustable one at that. We also get to see more perforations here along with the removable PSU cage.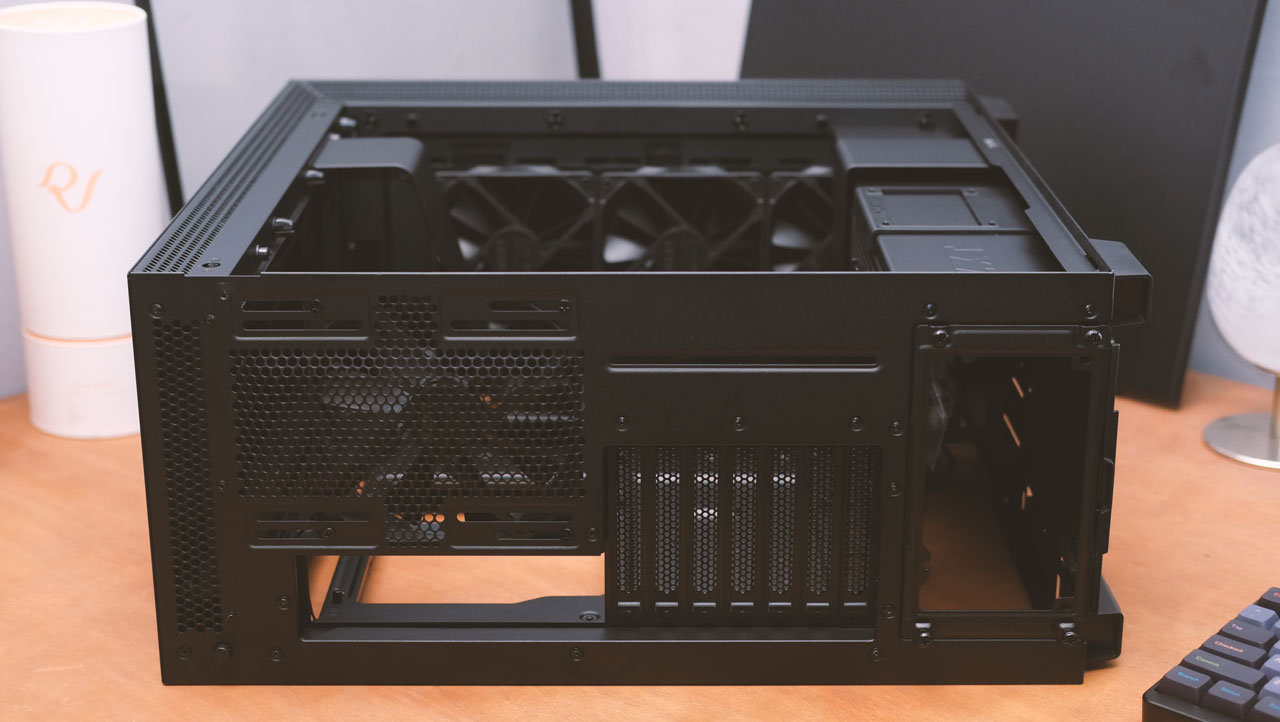 Design, Layout and Build Quality: Internal
The NZXT H710 supports E-ATX motherboards and below. Some of you may think it should be slotted into the full tower category but technically, this case is not quite there yet due to the many sizes of E-ATX motherboards. For an instance, this supports E-ATX motherboards with a maximum width of 272mm but on the length, it's not quite there yet. Granted, anything larger than ATX is called E-ATX so it's not a standard and it's a confusing mess. Still, this is a spacious and neat looking internal design complete with a large motherboard tray cutout and a cover in-place of the standard grommeted designs.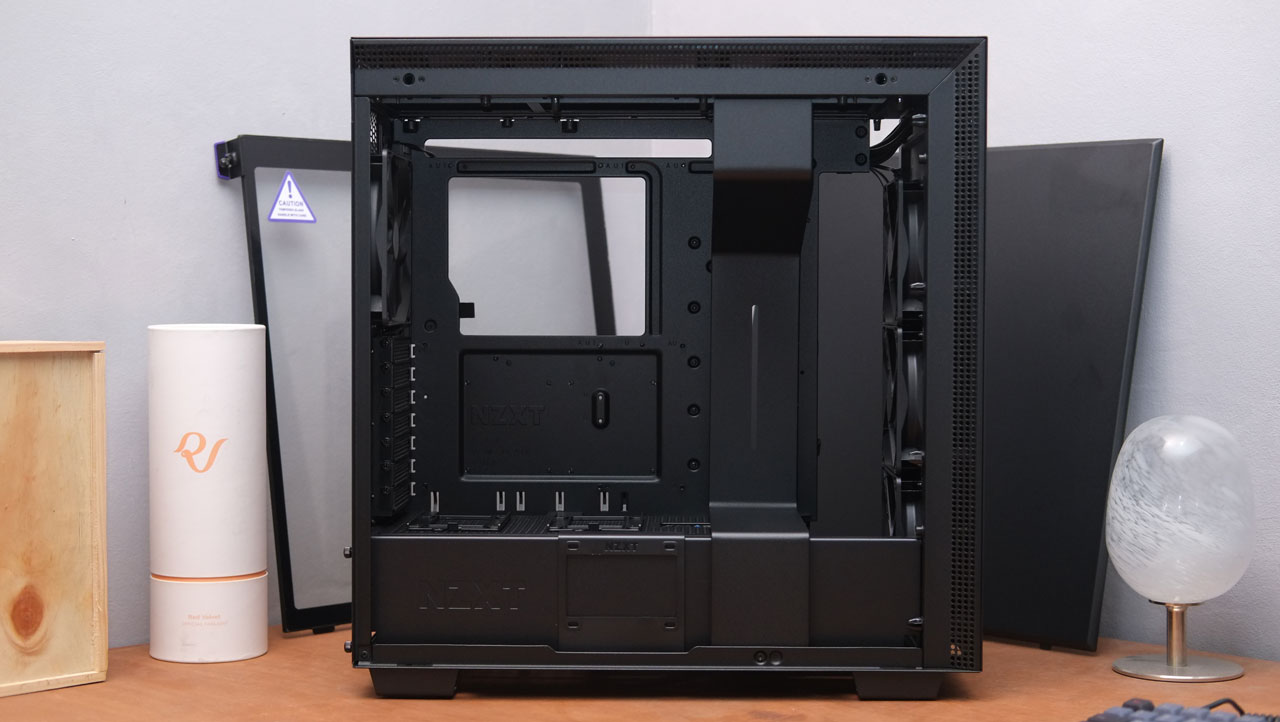 The motherboard tray area is busier with the cable routing options and storage bays. It's super neat though which is always a plus.
Front panel supports 360mm radiators at its maximum along with ample space for sandwiched radiator setups and even a reservoir. We also get to see three 2.5″ storage bays here.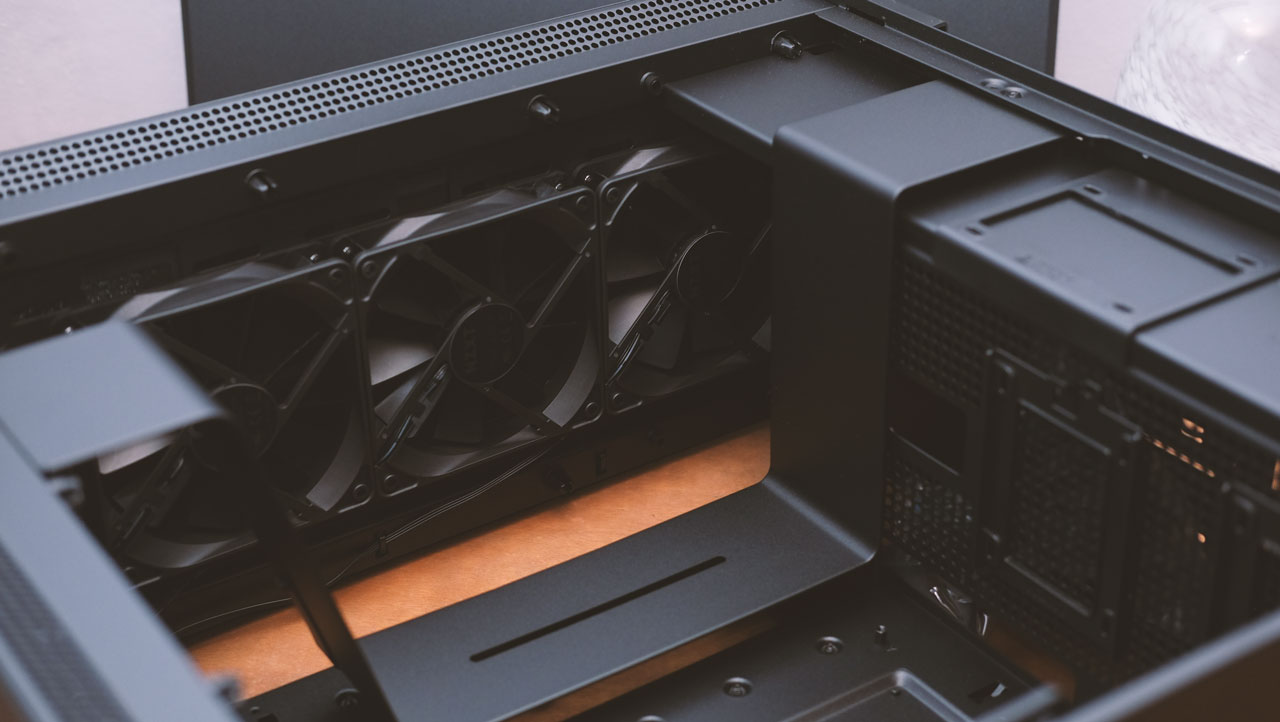 Exhaust is a courtesy of a single 140mm fan at the rear with up to three optional at the top. Radiators are possible to be installed at the rear and at the top but mind the clearances.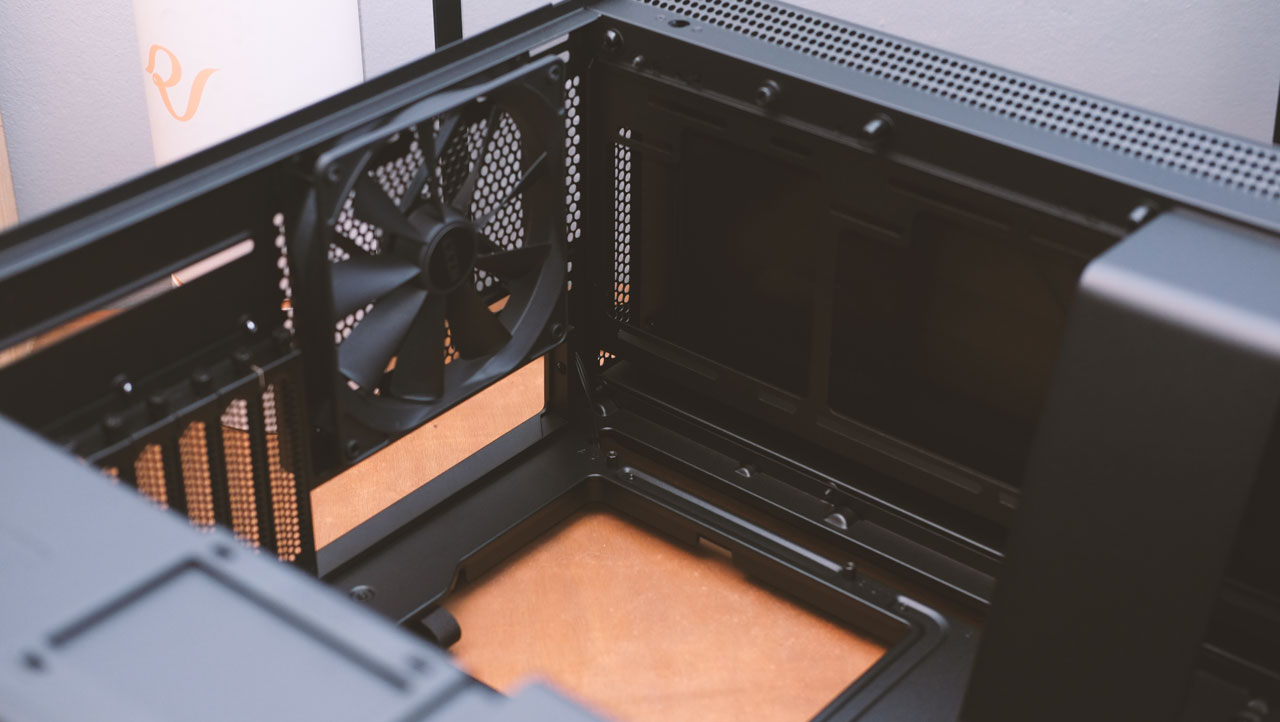 Headers are the usual suspects but with the inclusion of a Type-E header for the USB 3.2 Gen2 port. Nothing to complain here.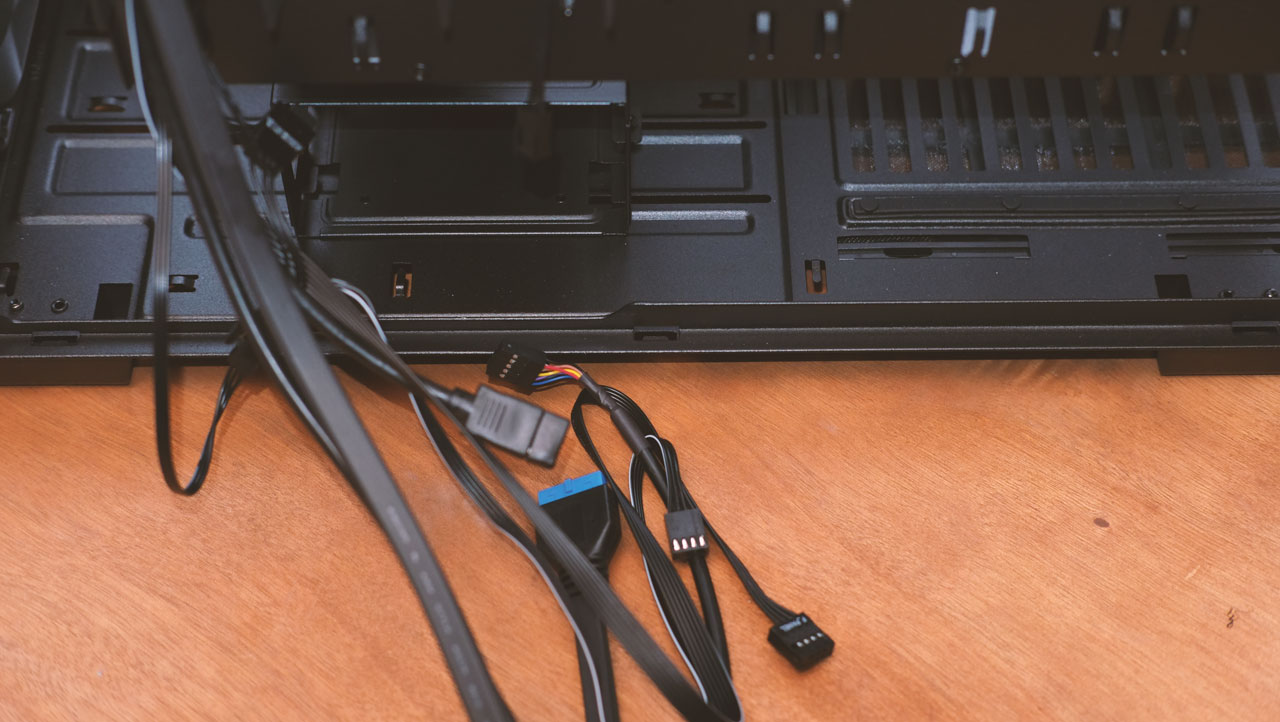 Clearance and Installation
With its size and carefully designed interior that meets form and function, the H710 is an easy case to work with. Installation of parts are easy, especially with the tool less approach done with the side panels.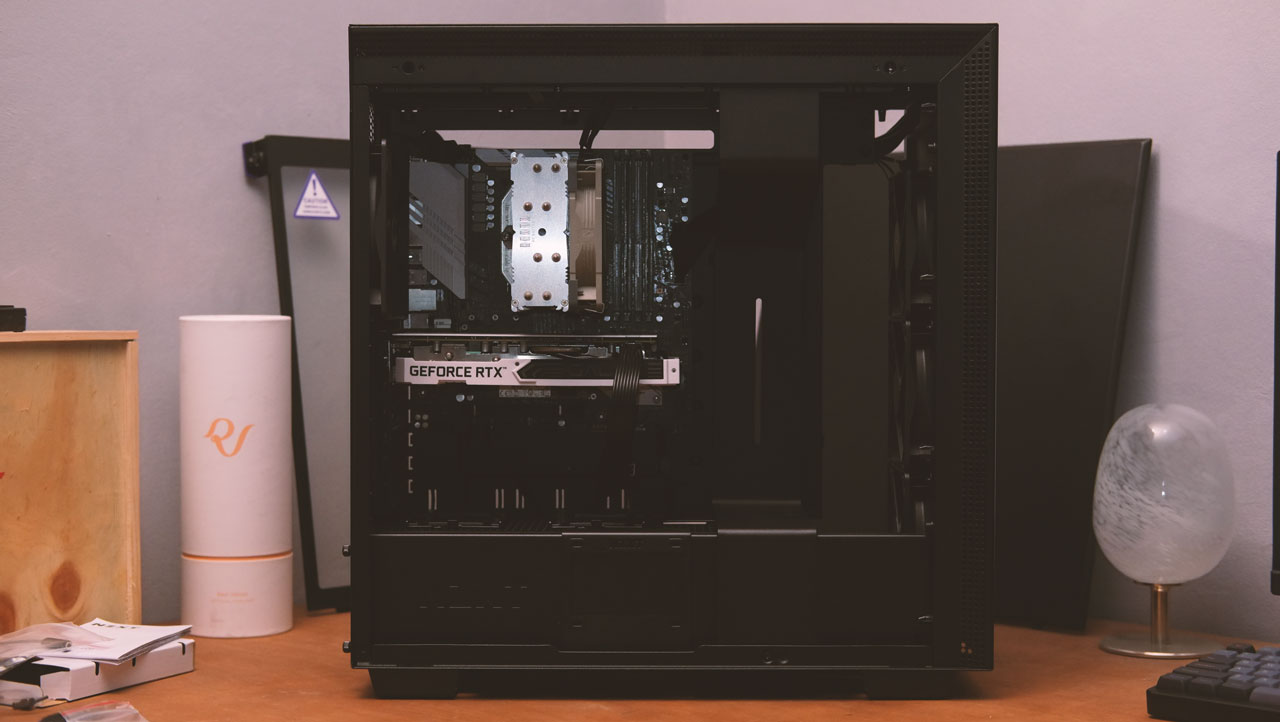 Cable management is so easy with this case especially with the predetermined routing areas that you could follow. Spacing here is good too, with about 20mm of maximum breathing room for cables. Everything checks out neat side to side.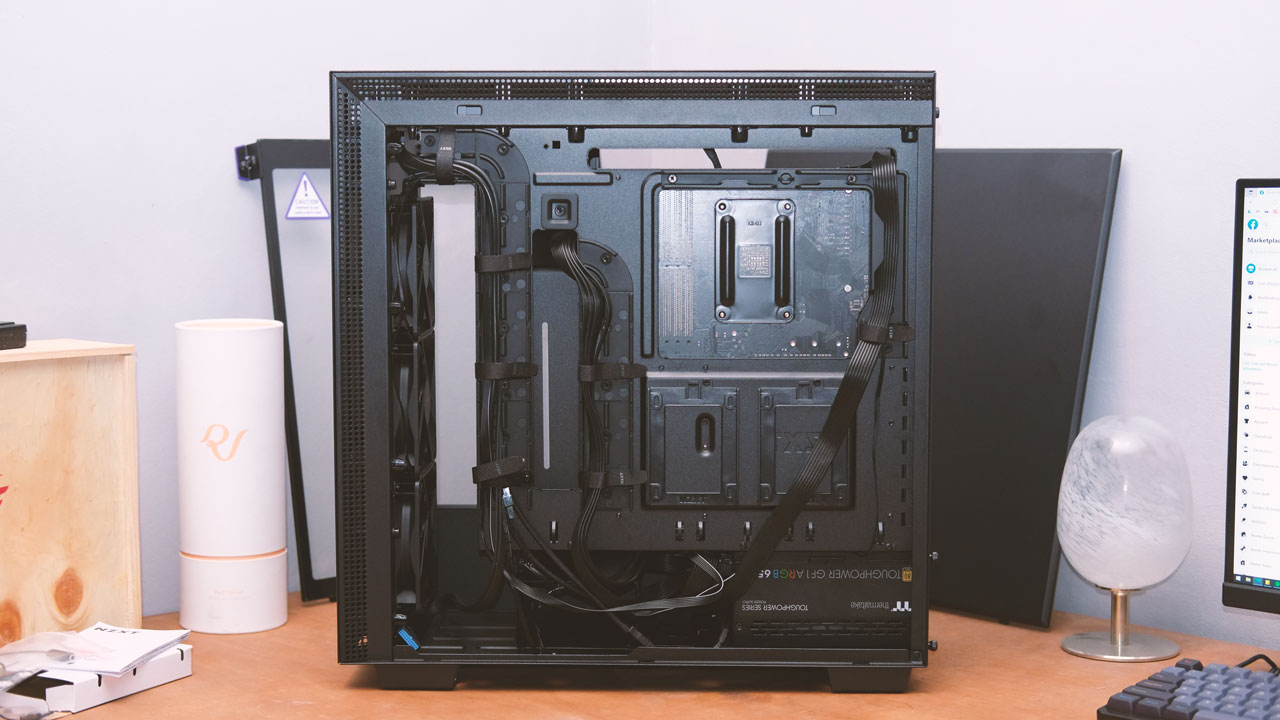 Test Setup and Methodology
Our test setup relies on the measurements taken from AIDA64 Extreme. It is important to note that we are testing the review sample after burn-in, with at least 24-hours of uptime. This is done so to negate the FOTB (fresh out the box) state of the DUT (device under test), yielding better benchmarking consistency.
Test System Specifications
CPU
AMD Ryzen 5 3600
Motherboard
BIOSTAR B550M Silver
Cooler
Noctua NH-U12S Redux
Memory
ADATA Premier 2666MHz 16GB
GPU
GALAX RTX 2060 EX White 6GB
Storage
Plextor M9PE NVME 512GB
Case
NZXT H710
PSU
Thermaltake Toughpower GF1 650W
Display
LG UF680T
OS
Microsoft Windows 10 Pro 64-bit
The DUT is tested with the following configuration from our test system:
UEFI configuration: Default
Windows Power Plan: Balanced
CPU Temperature
Temperature is measured in degree Celcius (ºC) at system idle and load. This is done via AIDA64 Extreme and its built-in System Stability Test. Readings are taken directly from the CPU Tdie sensor via HWiNFO.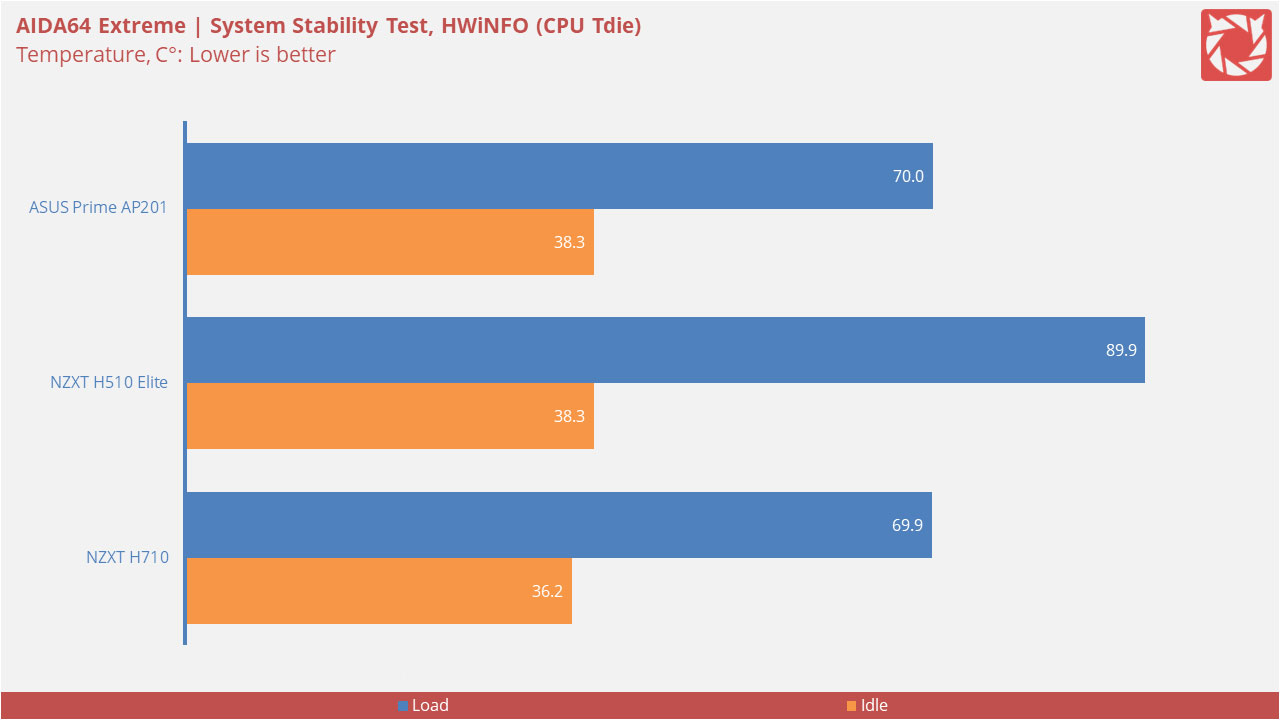 Cooling performance especially for the CPU is just miles better compared to the H510 Elite.
GPU Temperature
Temperature is measured in degree Celcius (ºC) at system idle and load. This is done via AIDA64 Extreme and its built-in System Stability Test. Readings are taken directly from the GPU sensor via HWiNFO.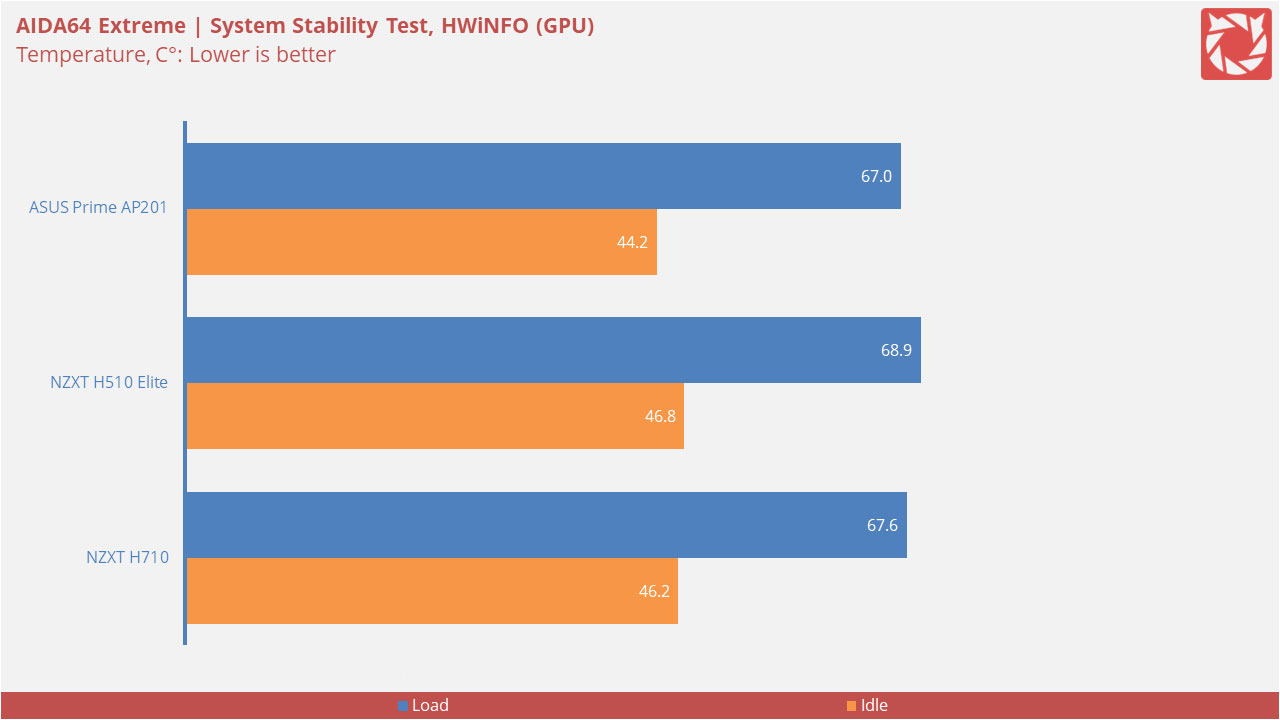 GPU temperature is also better but not by a large margin.
Noise
Sound Pressure Level is measured in Decibels (dBA). This is done via AIDA64 Extreme and its built-in System Stability Test. Readings are taken directly from a sound level meter.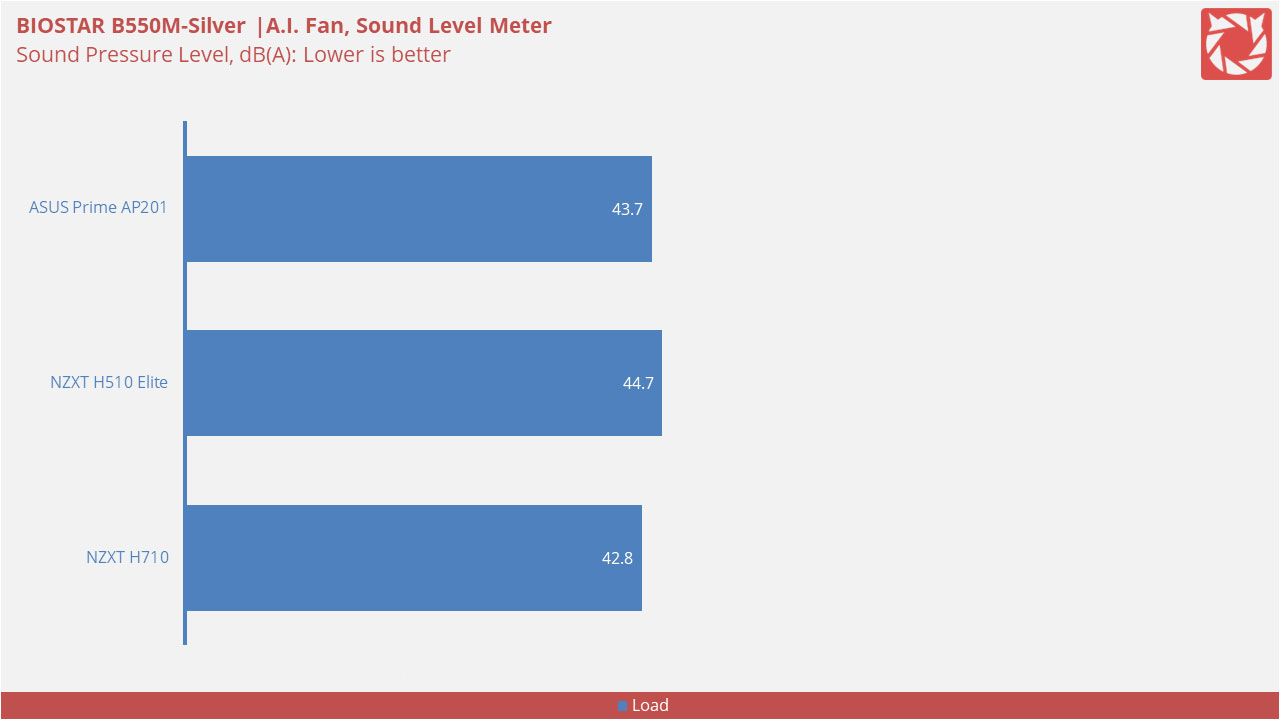 We also get better sound level output with the larger NZXT H710. Better thermals for the CPU allowed the fans to work at considerably lower levels thus improving noise.
Features
This case is a barebone version of the H710 – without the NZXT Smart Device V2 in tow. It doesn't mean it's lagging in features though since it comes with tool-free side panels, plenty of storage options, the ability to house massive custom coolers and a variety of accents to choose from. If you want a white case though, the H710i is for you.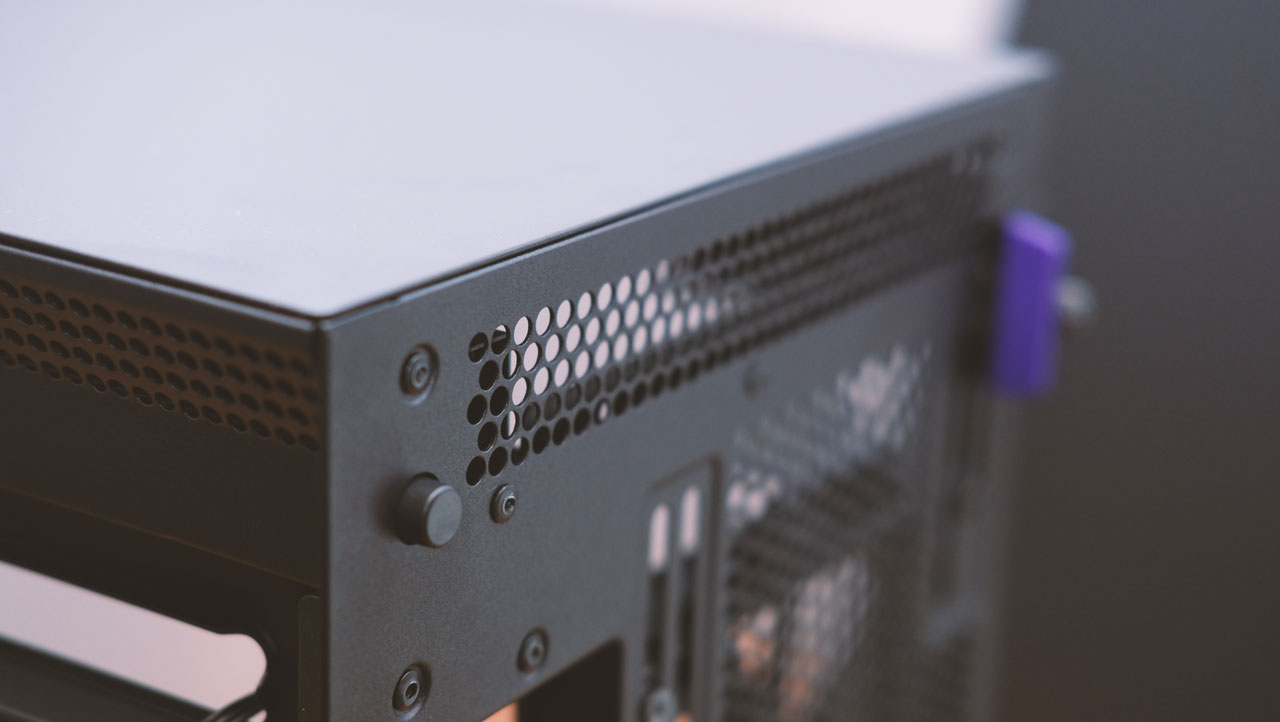 Final Thoughts
The H710, like with many NZXT cases before it is a beautifully crafted case – no doubt about that. Standing taller and wider, this mid-tower case is technically within the realm of full-tower cases only falling short with a politically correct E-ATX compatibility.
With those out of the way, the H710 is free from the shortfalls of its smaller brother, the H510. It actually comes with a decent cooling performance (CPU), while still maintaining decent noise levels. The amount of features and creature comfort this case has in store is also one of its highlights.
In closing, the NZXT H710 is an excellent addition to the growing H series cases from NZXT. A good example that there is balance between form and function when it comes to enclosures.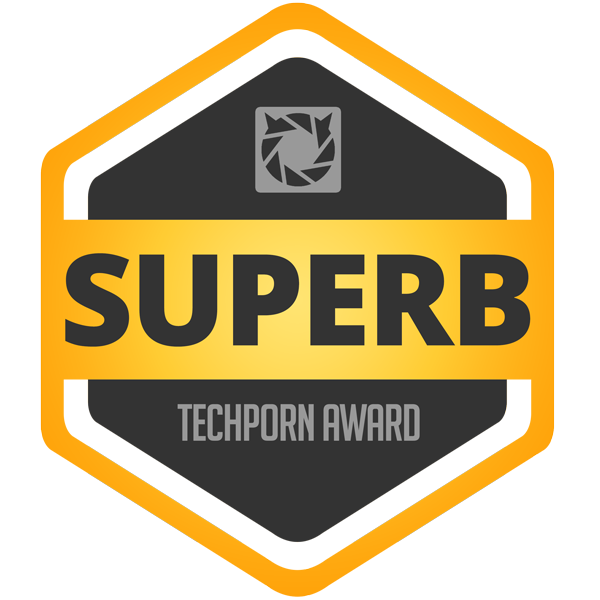 NZXT H710 Mid-Tower Case
Summary
The NZXT H710 is a large mid-tower case that is also large in features with a great build quality to boot. Prices at around $189 USD, this case is a sensible minimalist's dream.