The AMD R9 290X saw its first action last year, and it's just today that we had a chance to take a good look at them, in the form of the ASUS R9 290X DirectCU II OC. This heavy weight, cloaked in Black shroud is one of the company's fastest performing GFX cards around and its fate is sealed to go against the GTX 780 Ti.
Specification wise, we are looking at a card with a bumped up… Everything; We have a 50MHz increase in core clock, a healthy 100MHz for the memory clock, and a custom PCB together with a denser cooling unit, plus a newly designed shroud. This card is indeed beefy, but can its performance back everything up? We'll see!
FEATURES & SPECIFICATIONS:
UNBOXING & BUNDLED ACCESSORIES:
The ASUS R9 290X came in an old fashioned ASUS GFX card packaging that is a bit over-used for my liking. Not a huge problem but they should update their packaging's graphics. See what I did there?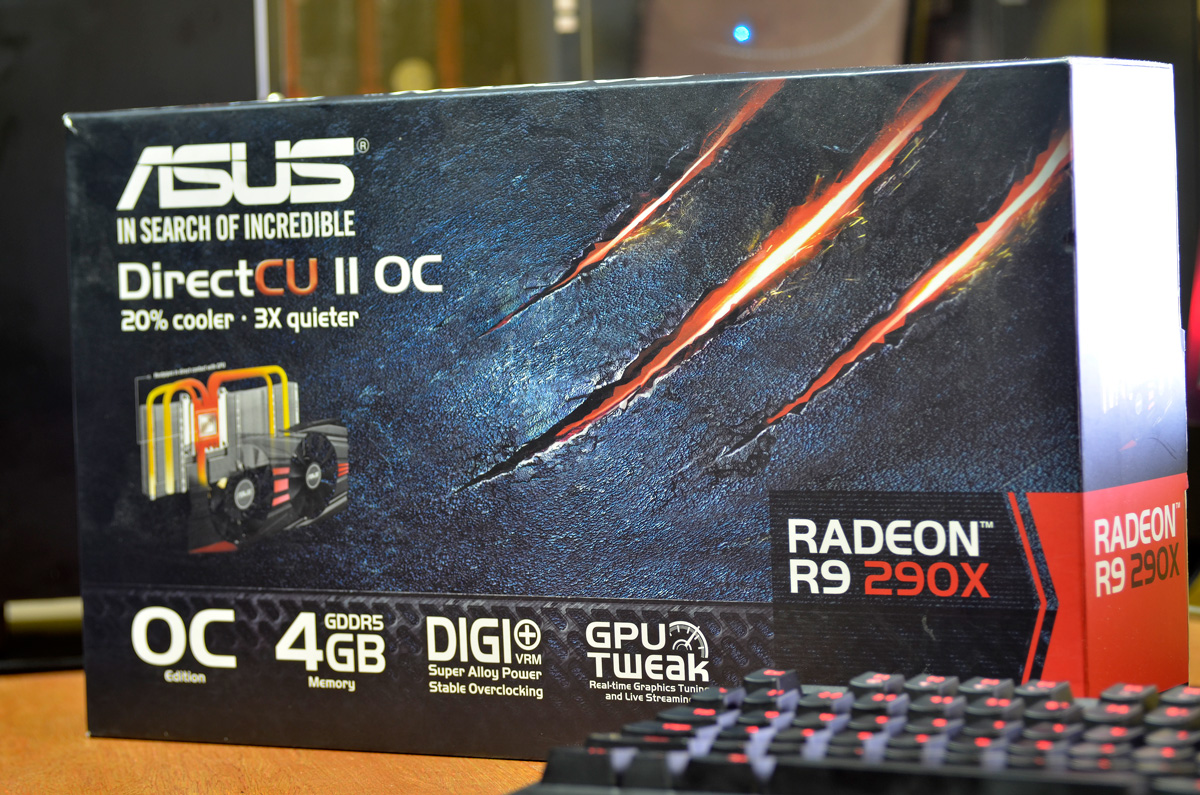 The back is full of tasty information about the card's specifications and features. You'll also get an idea about the card's display ports.
Bundled accessories are measly; we have a setup guide, a 6-pin to 6+8 pin power adapter, and stickers that you could stick to your card if you are following a certain theme. That's all to it. No HDMI cable, nor something that would make the deal a bit sweeter.
THE ASUS RADEON R9 290X DIRECTCU II OC:
If only the first look matters, I would say that this card is a complete behemoth. It's huge, it's heavy, and it's made out of chunks of metal almost entirely; Like a tank, to be precise. ASUS really did a great job with this card's build quality and awesome look & feel. Black PCB FTW!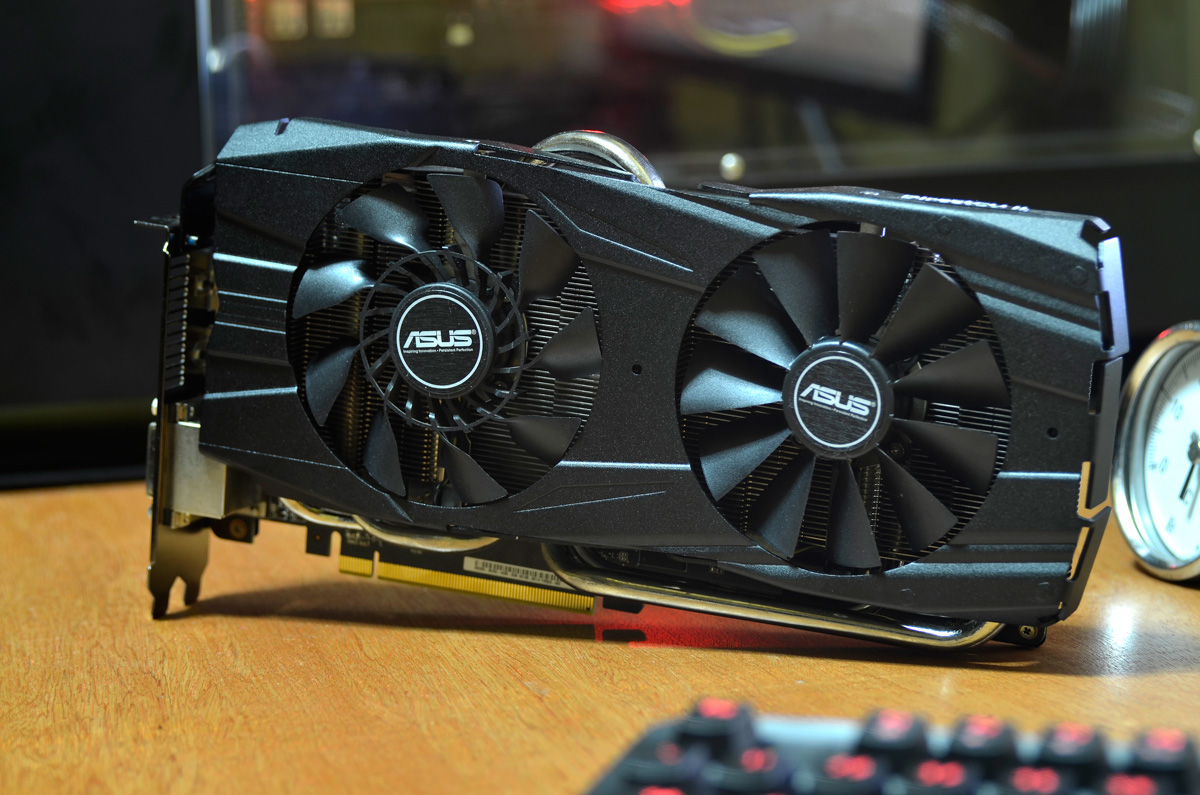 At almost 12 Inches in length, and 5.6 Inches in width,  this card will probably pose issues with case clearance. Better check out your case first if you want this card. Also, similar to the recent top of the line ASUS cards, the R9 290X features the impeller blade design that should help aid cooling significantly. It's a part of the new DirectCU II cooler feature set.
A heavy arse card needs a heavy weight support so it wont sag during its lifespan. ASUS added these so called support as a back plate and a bracket that runs along the side of the card's PCB.
Power to the card is provided by a 6 + 8-pin PEG configuration. ASUS says that the card could consume power at 300W max which is pretty normal for a card with this caliber.
Display wise, we've got Two DVI-D outputs, a single HDMI output and a full size Display Port. Let us head over to the performance tests, shall we?
TEST SYSTEM & SPECIFICATIONS:
We have been selling stuffs here, so the usual test system of ours has been updated. As usual, to provide precise test results, the test systems will run on an updated copy of Windows 7 Ultimate x64 SP1. The BIOS/UEFI, Chipset, and Video Card drivers of the test system will be updated too, as much as possible. No other silly forms of softwares should be running while the benchmarks are on going, unless it is needed, or stated. As for the gaming benchmarks alone, tests should include 720P, 1080p, and 1440p (2560×1440) resolution results if permitted by the games, and benchmarking tools, or if necessary. Games without benchmarking tools of their own will have the FPS recorded with FRAPS. Below are the test system's specifications:
PERFORMANCE (SYNTHETIC/GPU COMPUTE):
3DMARK (2013) is a multi-platform benchmarking tool from FUTUREMARK, consisting of comprehensive tests that aims to gauge your gaming hardware; be it a smartphone, a tablet, a laptop, or a desktop PC.
CINEBENCH R11.5 is a real-world cross-platform test suite that evaluates the computer's performance capabilities. CINEBENCH is based on MAXON's award-winning animation software CINEMA 4D, which is used extensively by studios and production houses worldwide for 3D content creation.
CLBenchmark is an easy to use, no frills high performance compute benchmark. It compares the strengths and weaknesses of different hardware architectures such as CPUs, GPUs and APUs.
RESULTS: As expected, the ASUS R9 290X bested most of the card we've got on out test platform with ease except for its nemesis, the GTX 780 Ti when it comes to the 3DMARK 2013 Benchmark.
PERFORMANCE (REAL WORLD):
Resident Evil 6, is a survival horror video game developed and published by CAPCOM. It's one of my favorite PC games, mainly because I'm a fan of the series. It also has a built-in benchmarking tool to measure your PC's performance. It's only DirectX 9.0 compatible at the moment, though.
Tomb Raider (2013) is the fifth game, and the reboot of the Tomb Raider series. It is developed by Crystal Dynamics, and published by Square-Enix. We disabled Tress FX for this benchmark.
GRiD 2 is a racing video game developed and published by Codemasters and is the sequel to the award winning Race Driver: GRiD. The game was released for Microsoft Windows, PlayStation 3 and Xbox 360 on May 2013.
Company of Heroes 2 is a WWII based real-time strategy video game developed by Relic Entertainment and published by Sega for the Microsoft Windows platform. It is the sequel to the critically acclaimed 2006 game Company of Heroes.
Battlefield 4 is EA and DICE's latest first person shooter utilizing the all new Frostbite 3 game engine featuring better tessellation effects and destruction compared to its predecessor.
Dota 2 is a Multiplayer Online Battle Arena (MOBA) video game developed by Valve and is the stand-alone sequel to the Warcraft III based Defense of the Ancients (DotA) mod.
RESULTS: Gaming performance wise, The ASUS R9 290X is wicked fast; but not as fast as the GTX 780 Ti. There are some instances that it goes head-to-head with the said card but it is slower overall especially when it comes to the 1080P benchmarks. Going over to the 2K resolution territory, this is where the battle between the best of the best goes fierce as it is sometimes seen a hairline faster and slower compared to the competition. Really, this is where the 512-bit bandwidth and 4GB GDDR5 capacity of the R9 290X kicks in hard.
PERFORMANCE (OVERCLOCKING):
Overclocking the ASUS R9 290X DirectCU II OC is pretty easy, but comes with its own caveat which has something to do with the temperature of the card. 1100MHz is easy with this beast, along with a 1450MHz memory clock speed. But, as soon as we drenched into the 1150MHz core clock frequency mark, things started to go sideways and that is thermal throttling. I am sure that this card could do better, but since temperature levels went past 65ºC when idling with those numbers, we decided to play it safe with the 1100MHz baseline. Check out the scores below.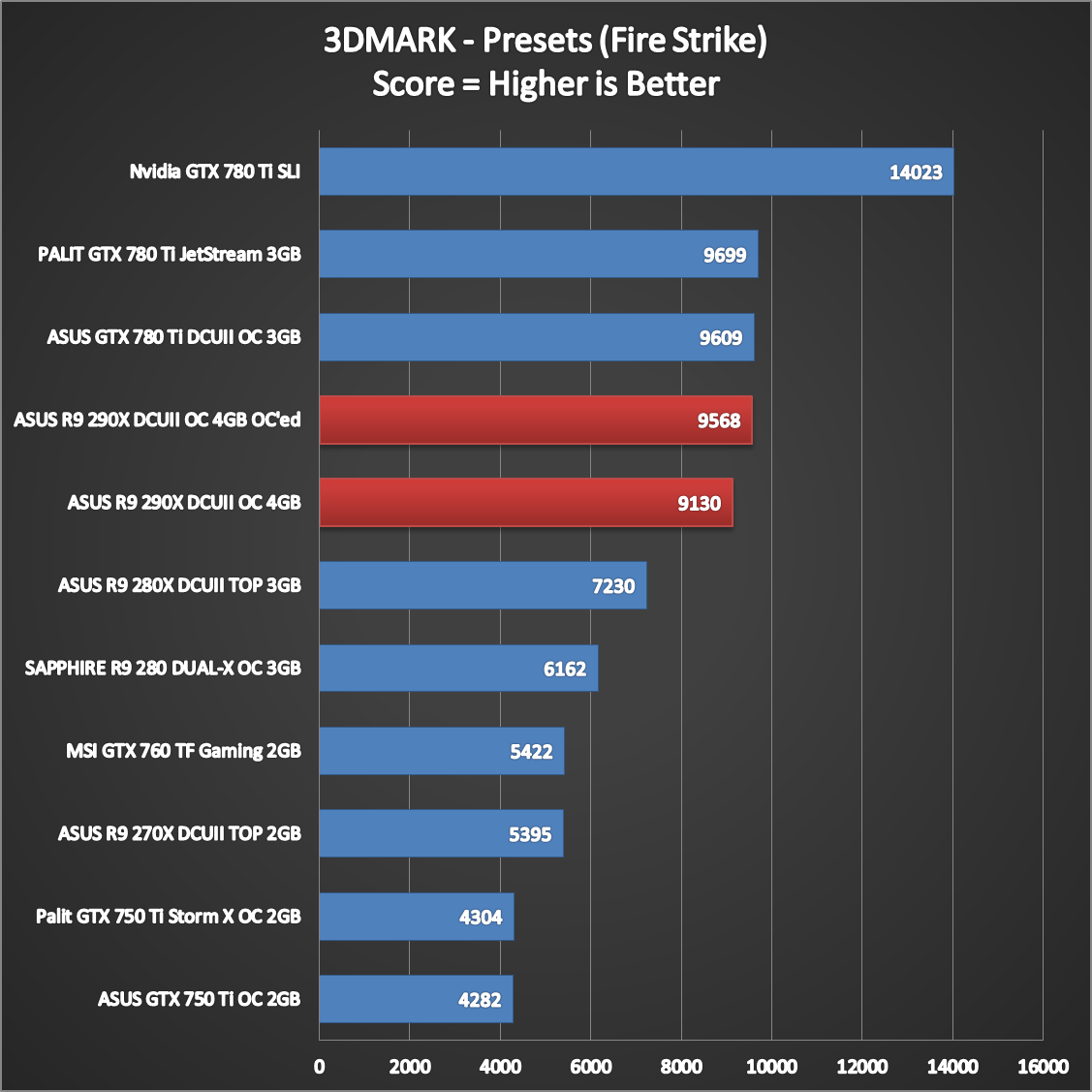 RESULTS: With a little push in the core clock and memory clock frequencies, it is evident that in order to actually go head-to-head with the GTX 780 Ti, you have to overclock the R9 290X past the 1100MHz mark, along with memory clock frequencies at 1450MHz at most. Still, could be better, but I am impressed nonetheless.
TEMPERATURE & POWER CONSUMPTION:
FurMark is a very intensive OpenGL benchmark that uses fur rendering algorithms to measure the performance of the graphics card. To record the GPU's maximum temperatures, I will run Furmark's Fur Rendering Burn-in Test, and let it run for 30 Minutes. As always, we try to keep the results consistent by keeping the ambient temperature checked at 27ºC. We also check to see how GPUs impacts power consumption. The system is left to idle for 30 minutes before readings are taken, and load data is taken 30 minutes while FurMark is running. Power readings are taken for the entire system from the socket.
RESULTS: Told yah this thing is hot. No words could explain this. Seriously, that 94ºC is not looking good, especially if we're talking about an R9 290X with a non-reference cooling solution.  Power consumption on the other hand is a mixed bag of results as it has a better idling power consumption than the GTX 780 Ti but has a tad higher power consumption when it is at full load.
VALUE & CONCLUSION:
The ASUS R9 290X DirectCU II OC remains to be one of the best performing GFX cards in the market today as it showed great GPU Compute and gaming performance across the boarder, second to that of the baseline scores from our GTX 780 Ti. While it doesn't have enough power to beat the card on most cases, it showed promising 2K resolution gaming benchmark results, and a good overclocking performance even for the rather small frequency gains we achieved with it. Together with great build quality, and silent operation, this card should last a long time of quiet gaming action.
While great,  the card had troubles cooling the AMD Hawaii based chip off. Featuring a non-reference cooler, I thought it could do better than the reported temperatures of the reference card. You could almost boil an egg with this. In addition, we love the additional theme enhancing stickers but the bundle is just about it. There's no adapter, no HDMI cable, nor any bundled games courtesy of AMD Radeon Rewards program.  For the price, I those are expected.
Currently, the ASUS R9 290X DirectCU II OC 4GB retails for around 549 USD or at around 24, 000 Pesos without the mark up price applied locally. The card comes with an outstanding 3 year manufacturer and labor warranty. SRP: 34, 430 Pesos. Warranty: 3 Years
THE VERDICT
PROS:
OUT OF THE BOX PERFORMANCE
OVERCLOCKING PERFORMANCE
SILENT OPERATION
BUILD QUALITY
CONS:
LITERALLY HOT
BUNDLE COULD BE BETTER
ASUS R9 290X DirectCU II OC 4GB
PERFORMANCE -

8/10

BUILD QUALITY -

9/10

FEATURES -

8/10

AESTHETICS -

8/10

VALUE -

7/10
Summary
Currently, the ASUS R9 290X DirectCU II OC 4GB retails for around 549 USD or at around 24, 000 Pesos without the mark up price applied locally. The card comes with an outstanding 3 year manufacturer and labor warranty. SRP: 34, 430 Pesos. Warranty: 3 Years