ASUS at Computex 2019 revealed tons of stuff – which means it's easy to miss a few if you're not keen enough. Luckily, as a SFF enthusiast myself, I noticed that ASUS actually had a working concept of an ITX case at their eventful closed door event.
The ROG ITX Concept is the case here. Tempered glass, ROG oriented looks, brushed aluminum, you name it. It appears to have everything that you could ask for in an ITX case or does it, really?
The body work
The ROG ITX Concept is a towering ITX case. Similar to that of the FT03 Mini from Silverstone and the Corsair One PC. Exact dimensions are unknown, but I wager this is taller and kinda fatter compared to the said ITX towers. More about that later.
As said earlier, this is an aluminum case with a dash of tempered glass panels at the right areas. ROG made sure that this is going to be a highlight on your desk or even on the living room. Something that they are particularly good at.
ASUS also took the opportunity to showcase their ROG Node with the case which is a feature that should be connected to a header found within compatible motherboards. The ROG node allows important system status and events to be shown on a front mounted 1.77" LiveDash color OLED.
The Internals
Perhaps one of the key features of the ROG ITX Concept is its ability to house a number of PSUs, graphics cards and coolers. For starters, the maximum PSU you could put inside this thing is about 160mm long. 10mm over the standard ATX PSU, to be precise. Graphics card could be 320mm long, which is more than enough for most. Cooler on the other hand could be either air cooled or liquid. I've seen the demo with a 2400mm radiator inside.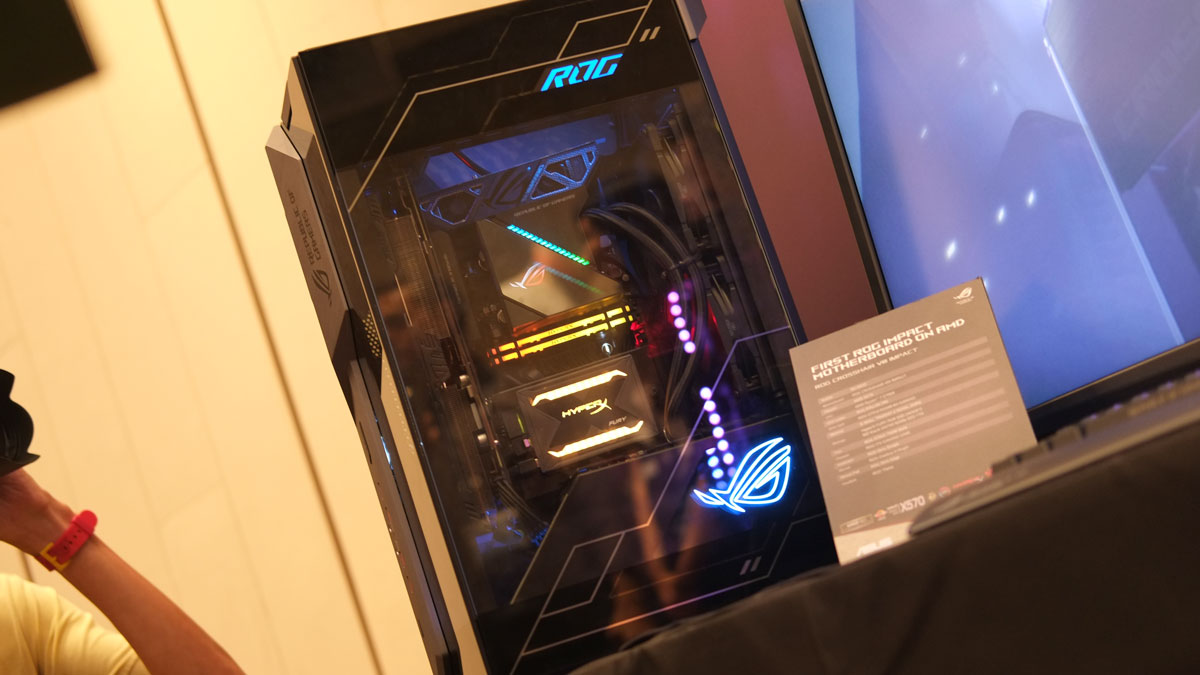 What's quirky about this case is the 11° slant design of the motherboard tray. ASUS told us that this is to ensure there's enough room at the back for ventilation and cable management. The unconventional design made it stand out against similar cases as well.
Pricing and availability
Now as a working concept, we have no information about the ROG ITX Concept's pricing nor availability. It's up to ASUS if they want to release such a product in the near future.