Hello person on the internet! Today, we are going to take a look at the ASUS ROG GeForce GTX 1080 STRIX OC Edition. A flagship graphics card with all the bells and whistles of the fattest GP104 GPU on the planet. This mightily long named card is a combination of ROG and STRIX design philosophy, with performance, aesthetics, and acoustics at heart.
Specification wise, we are looking at one of the highest clocking, and feature fat GTX 1080. For an instance, the card features RGB lighting from front to back, with even an ASUS AURA support thrown in. The GTX 1080 STRIX also comes with the next generation DirectCU III cooler and is aesthetically a blend of STRIX and ROG design. To top it off, it features extra PWM fan headers and a 8+2 power phase to boot.
QUICK SPECS COMPARISON

MAKE & MODEL
NVIDIA GTX 1080 FE
ASUS GTX 1080 STRIX OC
GPU
GP104
GP104
CORES
2560 CUDA
2560 CUDA
CORE CLOCK
1607 – 1733 MHZ
1759 – 1898 MHZ
VRAM
 8GB GDDR5X
 8GB GDDR5X
MEMORY BUS
 256-BIT
 256-BIT
MEMORY CLOCK
 10000 MHZ
 10010 MHZ
POWER OUTPUT
 180W
 UP TO 300W
POWER INPUT
 8-PIN
6-PIN + 8-PIN
SLOT TYPE
 DUAL
DUAL
DESIGN
 REFERENCE
NON-REFERENCE
PRICING
 699 USD
 720 USD
NVIDIA GEFORCE GTX 1080 RUNDOWN: MORE INFO
The Nvidia GeForce GTX 1080 is the current flagship graphics card from Nvidia featuring the 16nm Pascal Architecture. It touts 7.2 Billion transistors, 2560 CUDA cores, 160 Texture Units, and a 256-bit bus operating at 10 Gbps thanks to the GDDR5X memory standard.
The main features of the Pascal Architecture are based on the rising popularity of VR content. Hence, Nvidia requires a set of features that could help the GTX 10 series to deliver a smooth gameplay under such environment. The move to GDDR5X, 16nm FinFET node, and the inclusion of Simultaneous Multi-Projection enables the card to excel over its older Maxwell counterparts. Head to THIS LINK if you want to know more details.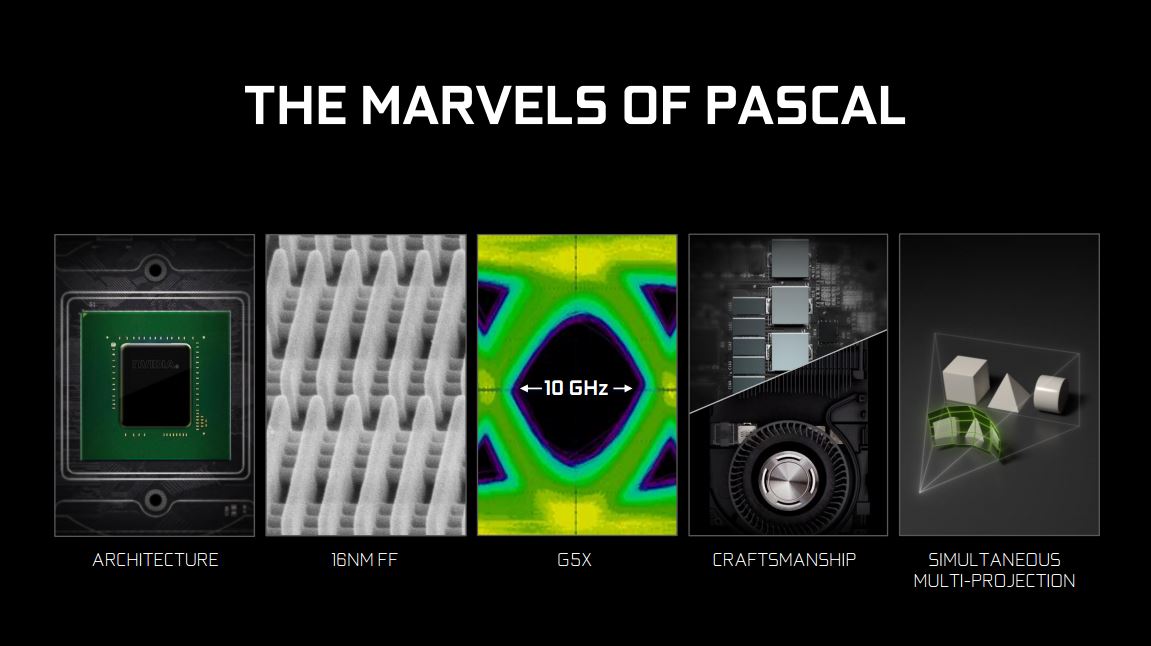 ASUS GTX 1080 STRIX OC UNBOXING AND ACCESSORIES:
The ASUS GTX 1080 STRIX is cradled by a familiar no-frills packaging which is a staple ordinance for ASUS's top end cards. The color box features a few hints of what you should expect inside. Obviously, we are not here to read boxes all day long so let us check out the accessories instead.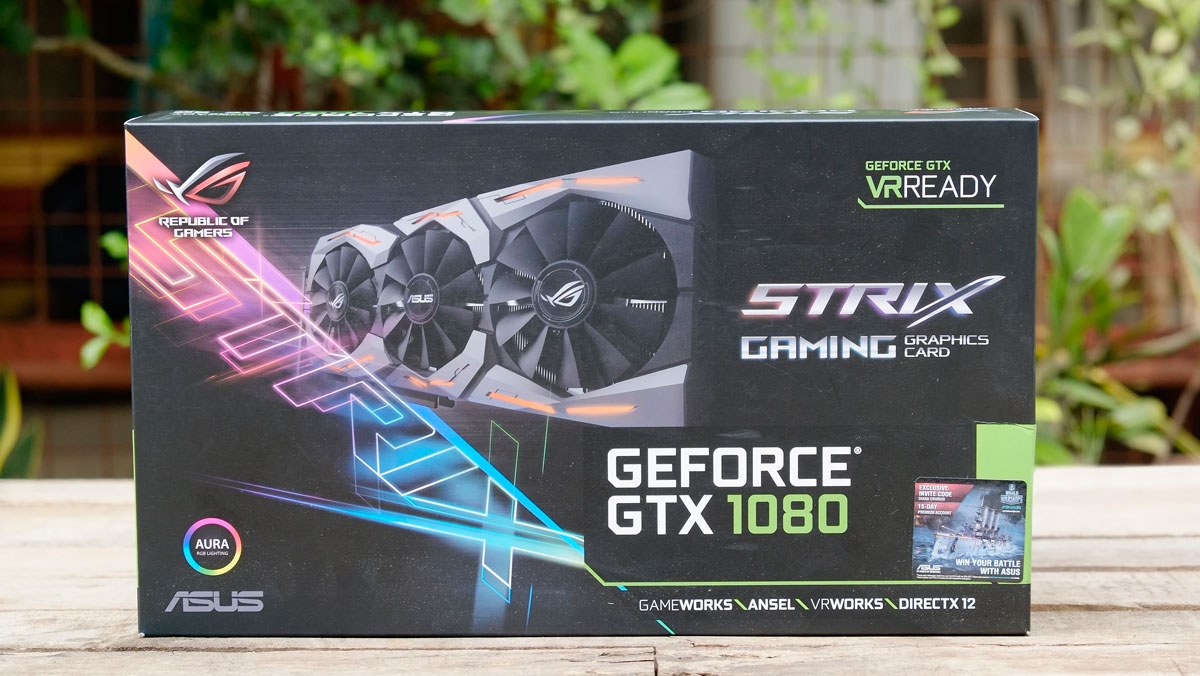 A 6+6 pin to 8 pin PEG adapter, dual velco straps, your usual combo of software DVD + manual and an invite of World of Tanks are included. Accessories isn't much to talk about these days even with a high end product such as this one.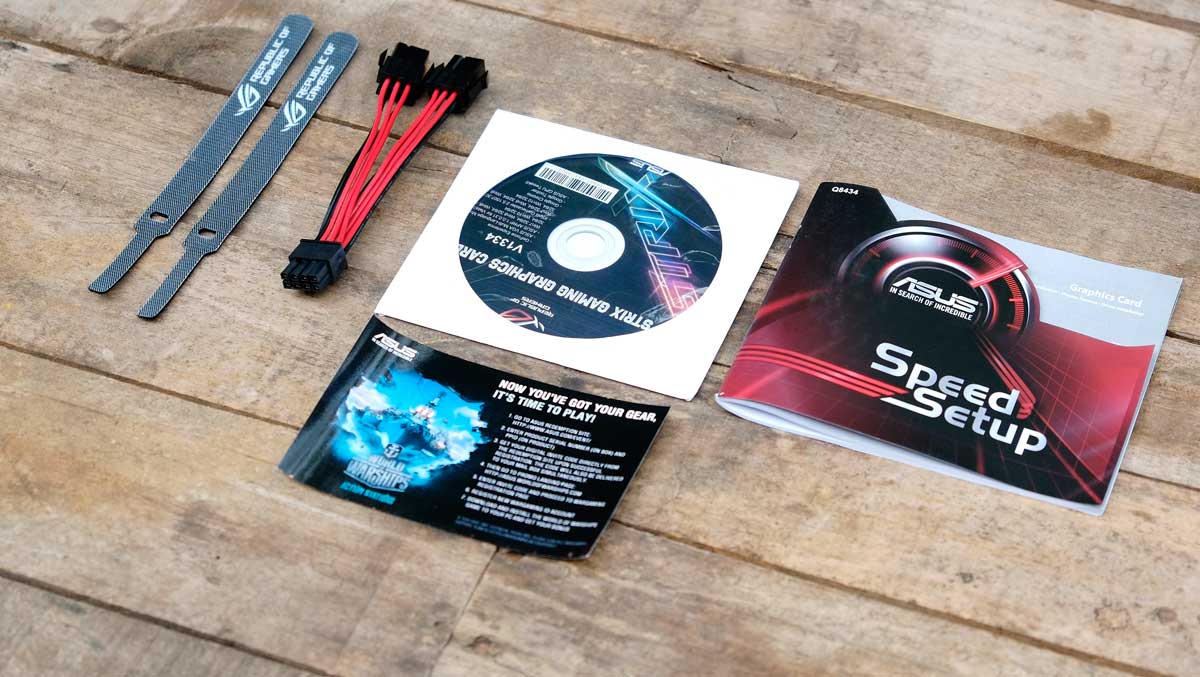 THE ASUS GTX 1080 STRIX OC:
Your money's worth is definitely not going to the accessories, as seen from the immaculate appearance of the ASUS GTX 1080 STRIX. The card definitely is not based on the Founders Edition's PCB, towering at 11.73 inches with 5.28 inches of width. Cooling is courtesy of a triple fan setup, with 0 dB functionality so expect a little higher idle temp. The triple fan when activated, blows in air to the DirectCU III cooling solution, and will permeate through – reaching the PCB area. The shroud is not made out of 100% metal, but it sure is one heck of an intricately designed facade.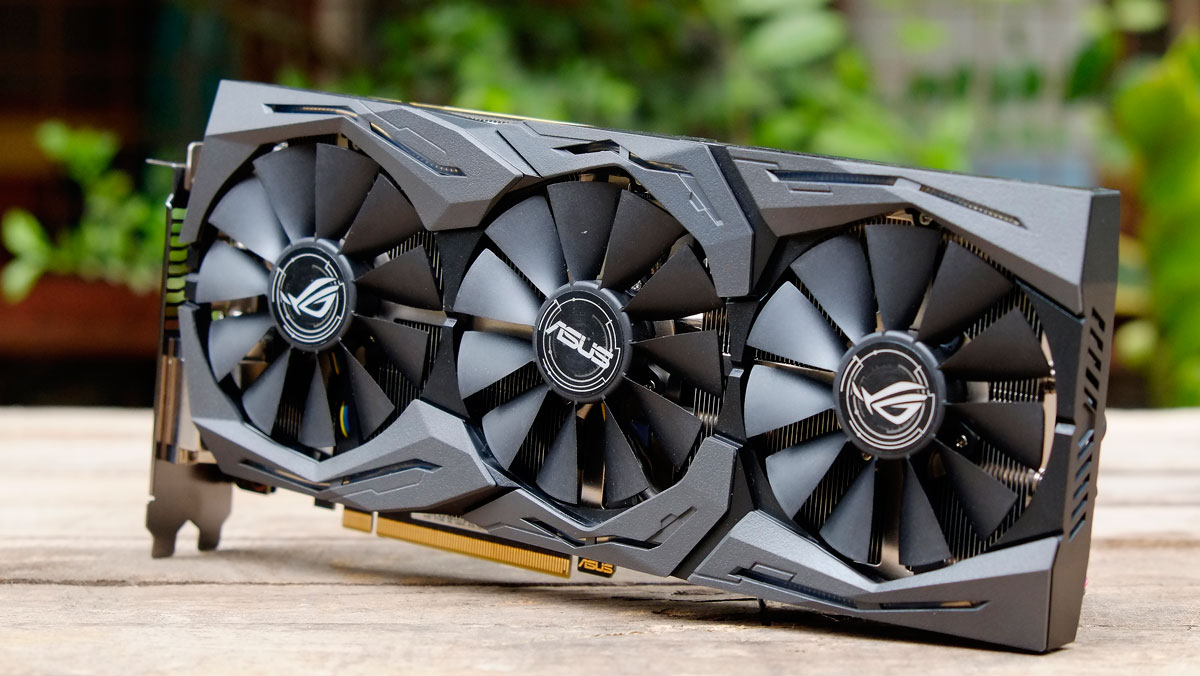 It's worth mentioning that the cooling solution features 5 copper heat pipes. Cooling the GPU, the VRAM, and the VRM in one swoop. The back features a clean metallic gray plate which doubles up as a housing for the RGB enabled ROG logo.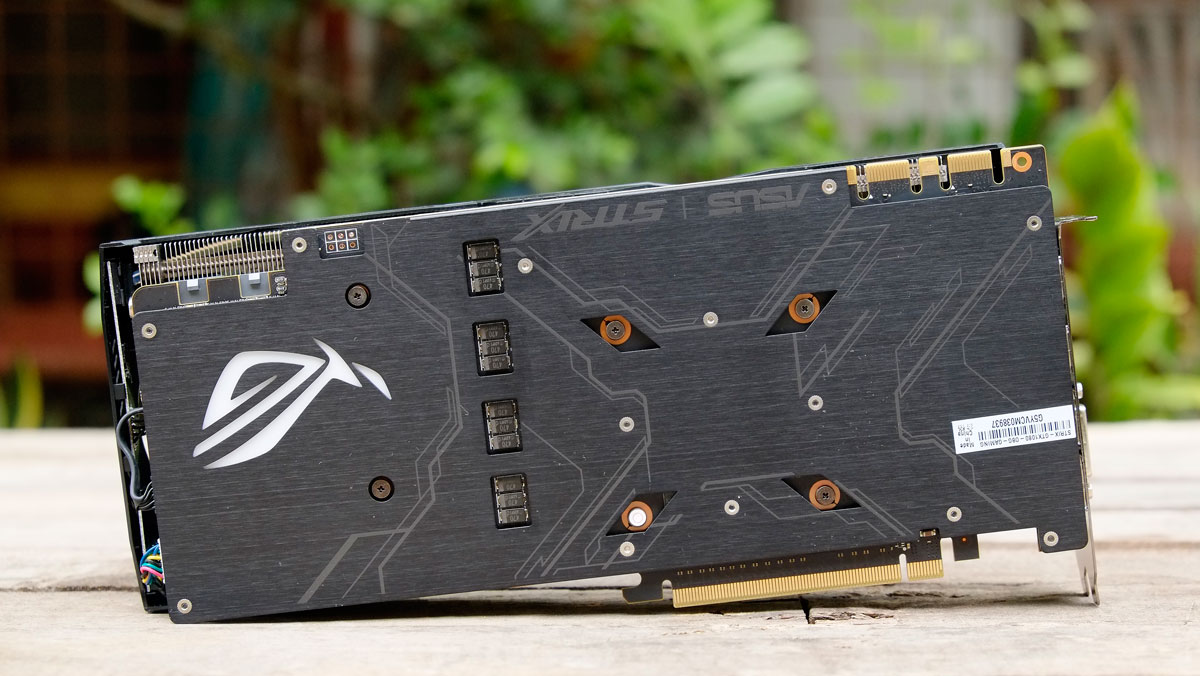 As said earlier, the card features extra fan headers. These can be used to power up and sync your case fans to the card, allowing them to run at certain RPM levels depending on the card's temperature. The headers for the RGB and the on-board fans are conveniently situated here as well.
Power is provided by a combination of 8  pin and a 6 pin PEG connector. These are rated to output 225W, and together with the PCI-E slot the card could theoretically achieve 300W. This is far from reality though since the GP104 is rated to feature 180W of TDP. So we might be looking at 200W in reality. Still, the headroom is appreciated especially for overclocking.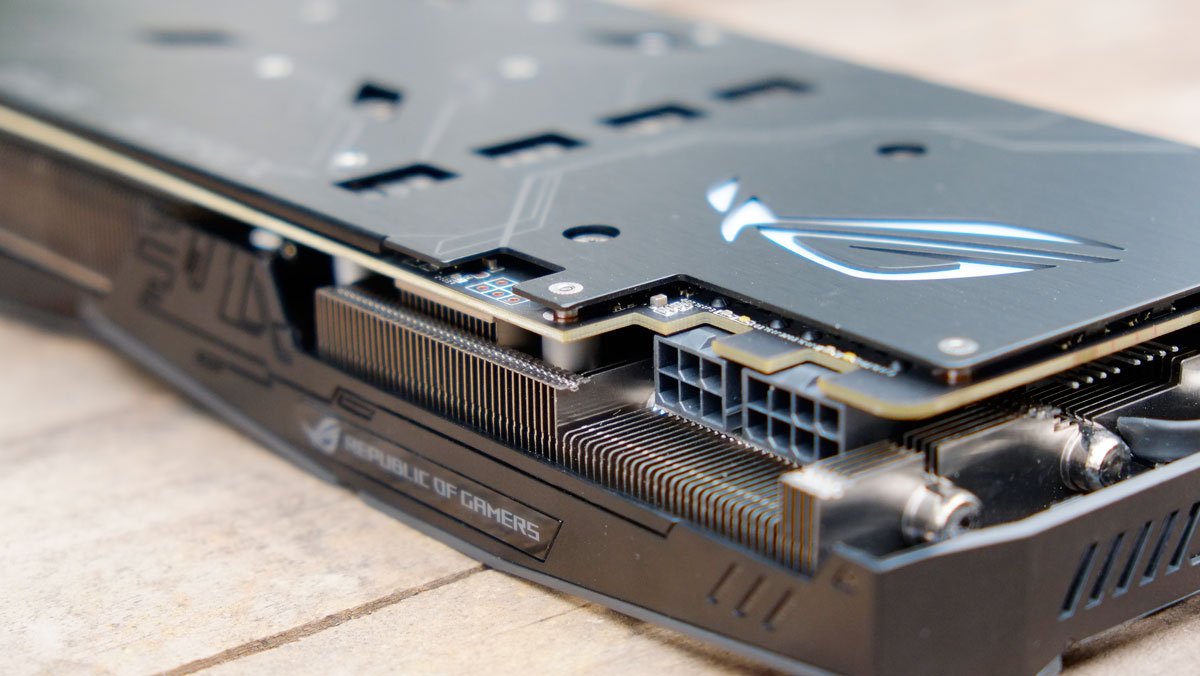 The card has a peculiar set of display configurations, with a 2x HDMI 2.0, 2x DP, and a DVI port. It makes sense for gamers who wants to play VR on HDMI with another display hooked up to the adjacent HDMI.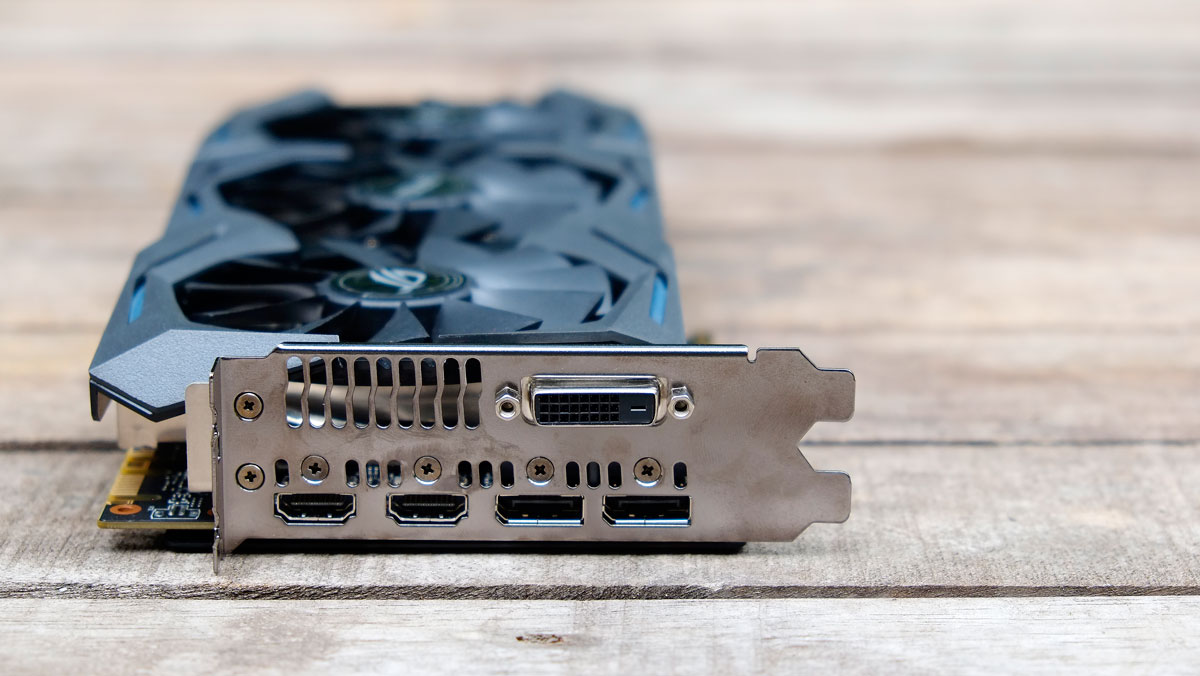 THE ASUS AURA:
The ASUS AURA is a software used to control the LEDs of the ASUS GTX 1080 STRIX OC. It can be configured the way you want with 7 lighting effects. This works with AURA capable ASUS devices so you can sync things if that's what you like.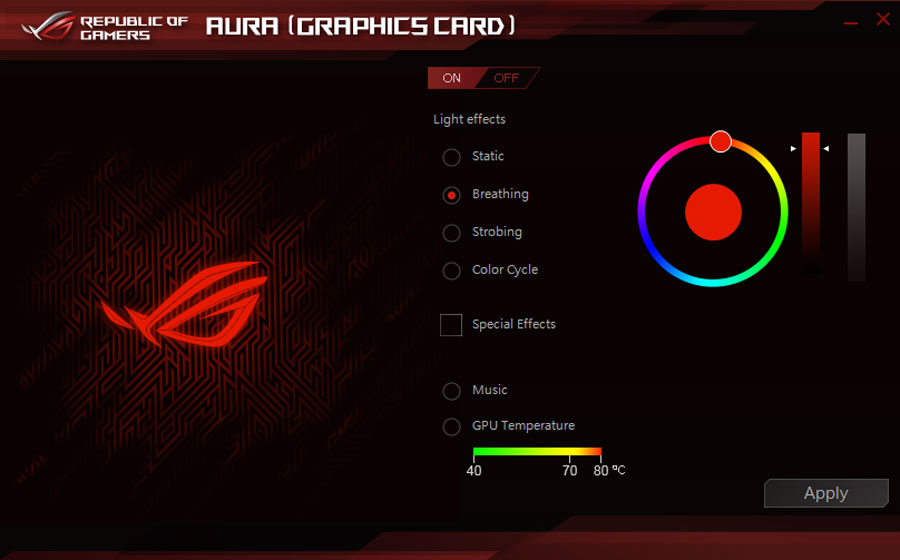 When it comes to RGB, ASUS is always on point with a smooth transition between colors. Nothing beats them except for a few competitors around this area.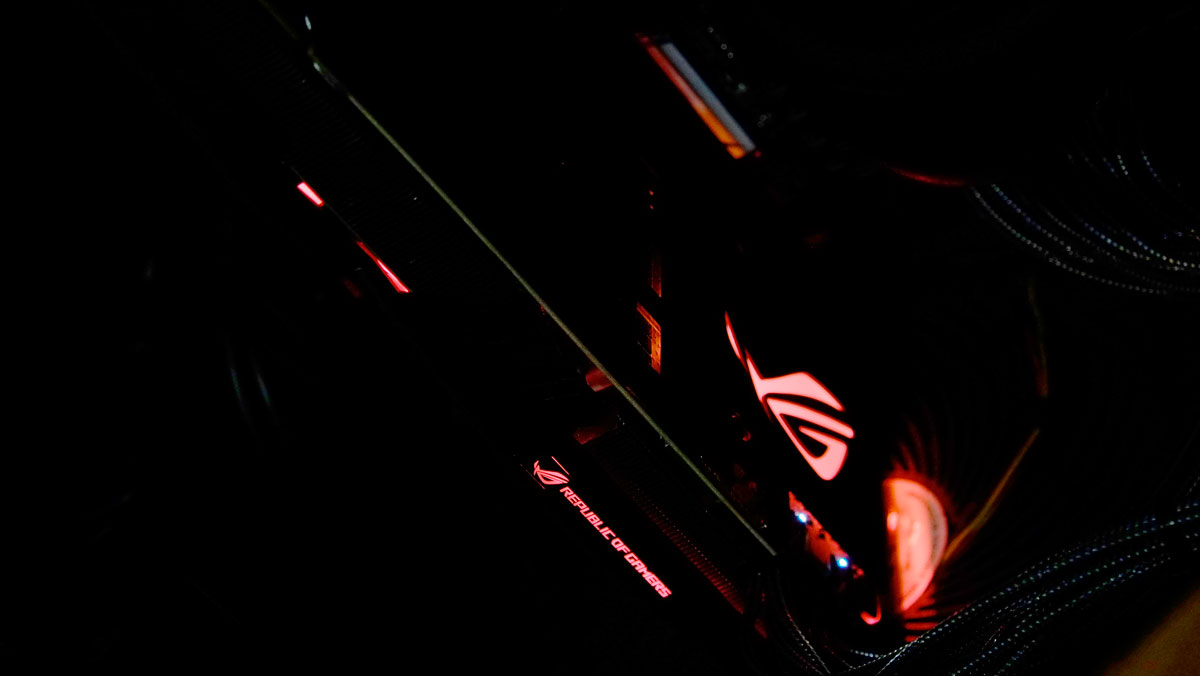 TEST SYSTEM & BENCHMARKS:
Graphics cards are not total strangers in our labs, but providing a precise result usually needs a lot of time and effort on our end. Helping us to do those things are hardware and software based measurement tools, a wide selection of popular titles, and benchmarks.
Third party background softwares are disabled while the benchmarks are running unless required. Benchmarks should include 720p, 1080p, 1440p, and 2160p if permitted or if necessary to the hardware being tested. The OS of choice is a 64-bit Windows 10 Pro with power options set to balanced.
TEST SYSTEM SPECIFICATIONS

CPU
INTEL CORE I5 6600K
MOTHERBOARD
ASUS Z170-A
CPU COOLER
SILVERSTONE TD03-LITE
MEMORY
CRUCIAL BALLISTIX TACTICAL 16GB  2666MHZ
GRAPHICS CARD
ASUS GTX 1080 STRIX OC
INT. STORAGE
KINGSTON HYPERX FURY SSD 240GB
PSU
COOLER MASTER SPH 1300W
DISPLAY
27″ DELL U2715H WQHD IPS PANEL
OS
MICROSOFT WINDOWS 10 PRO
FRAMES PER SECOND 101:
For refreshment purposes, let us talk for a moment about FPS or Frames Per Second. FPS is the general unit of which we measure a graphics card's performance and, the higher value, the smoother the gameplay should be. Higher FPS means that there are more frames rendered each second. Check out the difference of 30 and 60 FPS ON THIS LINK.
FPS values will be recorded by FRAPS in game using a linear method with each titles for consistency. Results will include the Average FPS and 1% Minimum FPS, unless the game does not support FRAPS. The 1% Minimum FPS is important because it represents the negative spikes or drops in-game sufficient enough for a gamer to notice. If the game doesn't support FRAPS, we will use the in-game benchmark or have the frame rate recorded via Mirillis Action, or EVGA's PrecisionX OC.
TEMPERATURE NOISE & POWER CONSUMPTION:
The Unigine Heaven is an intensive GPU benchmark that measures the performance of the graphics card. It doubles up as a stress testing tool with heavy usage of tessellation. Temperature values will be taken directly from GPU-Z, and will be cross referenced from other temperature logging tools. The ambient room temperature is checked at 27 Degree Celsius. Overwatch is used for the in-game temperature test.
Our power consumption test will show how the GPU impacts system power consumption using Unigine Heaven, and Overwatch. The game and benchmark will run for approximately 15 minutes. Power readings are then taken from the entire test system using a watt meter connected to the wall socket.
The sound level of the whole system with the graphics card is taken as well. The room has an ambient noise level at around 37 dBA which is good enough to test the acoustic performance of any system or a graphics card's cooling solution. The sound level meter is situated 2 feet away from the system.
THE ASUS GTX 1080 features a good balance between temperature and acoustics. The card saw a maximum load of 73c inside our case, with a respectable 40 dBA of noise output. That is good enough considering that we are taking  total system noise into account. Idle power consumption is definitely higher than the Founders Edition but at load, it pretty much shared the same power output so it's all good for a custom designed card built to perform.
ASUS GTX 1080 STRIX OC SYNTHETIC PERFORMANCE:
3DMark 2013 is a suite of benchmarks catered  for the gamers and enthusiasts. It features the FireStrike, FireStrike Extreme, and FireStirke Ultra benchmark presets which are suitable for wide range of systems. The total system scores from each presets will be used.
Unigine Heaven is a stress test and a benchmark tool built specifically for the graphics card. We will run a full test to see how the graphics card performs under such benchmark. The total system score will be used for comparison.
Unigine Valley is a stress test and a benchmark tool built specifically for graphics cards, similar to the Heaven benchmark. We will run a full test to see how the graphics card performs under such benchmark. The total system score will be used for comparison.
The ASUS GTX 1080 STIRX OC saw a 2% to 6% increase in performance compared to the GTX 1080 Founders Edition. These are the gains from the synthetic benchmarks so we might see a better or identical gains up next at the games we tested.
ASUS GTX 1080 STRIX OC GAMING PERFORMANCE:
Overwatch is Blizzard Entertainment's critically acclaimed FPS shooter, running on a custom game engine developed by Blizzard utilizing the DirectX 11 API. Benchmarks will be taken from a custom game on a map called Temple of Anubis. The graphic settings is set to ultra with a 100% render scale.

DOTA 2 is Valve's popular MOBA game, running on their own Source Engine 2. Benchmarks are taken from a match replay between Alliance and Natus Vincere. The graphic settings is set to ultra. The frame rate is uncapped, and v-sync is turned off.

Ashes of The Singularity is an RTS game developed by Stardock and one of the first games to support the DirectX 12 API. Benchmarks will be taken directly from the game's benchmarking tool, with the graphic settings is set to extreme.
Rise of the Tomb Raider is the direct sequel to 2013's Tomb Raider reboot. It is developed by Crystal Dynamics and Eidos Montreal, with support for the DirectX 12 API. Settings are set to Very High, with SMAA, HBAO+, and Pure Hair enabled. Benchmarks were taken from the Syria level.
DIRT: Rally is Codemaster's proper take on the rally racing game genre, with support for the DirectX 11 API. Settings are set to Ultra, with 8x SMAA enabled. Benchmarks were taken from the stages at Hafren, Wales.
Graphics performance on games are definitely on point averaging around 5% to 8% on most titles with definite gains as much as 24% on the minimum frame rate especially at DOTA 2. Gains are there and we are happy to report that this card is definitely faster than the Founders Edition variant of the GTX 1080.
OVERCLOCKING THE ASUS GTX 1080 STRIX OC:
Now overclocking with the new ASUS GPU Tweak proved to be counter productive so instead, we played with the card using the EVGA PrecisionX OC tool. We got a maximum of 1787 Mhz  base clock followed by a 1926 MHz boost clock and a 1264 MHz memory clock. I wouldn't say this is already good, as it is within the realms of the OC profile from the ASUS GPU Tweak. Manually, this is the highest we can achieve with the sample we got.
I doubt these gains can see beneficial use from you as a gamer but gains are there at around 2% to 3% over the factory OC defaults. Remember that this card is already one of the highest clocking GTX 1080 out there so pushing it further really requires a good sample or a higher VID – which we do not really recommend playing with.
WRAPPING IT UP:
The ASUS GTX 1080 STRIX OC soars high on our benchmarks offering good out of the box performance with features to match it all up. Performance isn't astronomically different from the Founder's Edition but in terms of cooling and acoustics, now that's a lot better. Couple it up with a nice power output, and you've got a graphics card that has basically the same wattage as the Founders Edition, but with less heat and less noise output.
There isn't much negative to talk about the GTX 1080 STRIX OC, and if we are nitpicking, I'd say its the GPU Tweak II. Now the software isn't exactly required to run the card but it is if you want to use the OC profile. The GPU Tweak II could use some tweaking not with its functionality but with its counter productive UI elements. The GPU speed using percentage values sucks, and the sliders for manual overclocking is a pain to work with. Sliding the whole software window instead of adjusting the clock values. It is irritating, and you are better off with the MSI Afterburner or the EVGA PrecisionX.
Now there are lotsa things to love about this card. One is which the generally better performance, and the other one is the set of features. RGB is smooth and comes with tons of modes to play with, plus there's a dual fan header should you wish to optimize the acoustics and cooling performance of your system based on the card's temperature. Build quality and aesthetics are also top notch but I'd be honest I expected more metal at the shroud area. You get a lighter card at 1.7 kg though with an intricately designed shroud.
The ASUS GTX 1080 STRIX OC is one fast graphics card. With tons of features and build quality expected from an ROG and STRIX mashup. At around 39, 000 Pesos this is already a good card – especially if we are going to consider the top end cards from the competition. Definitely put this one on your wishlist.
ASUS GTX 1080 STRIX OC
PERFORMANCE -

9/10

BUILD QUALITY -

9/10

AESTHETICS -

9/10

VALUE -

7/10
Summary
The ASUS GTX 1080 STRIX OC is one fast graphics card. With tons of features and build quality expected from an ROG and STRIX mashup. At around 39, 000 Pesos, this is already a good card. Definitely worth writing on your wishlist.