A couple of weeks ago, ASUS sent me their GTX 750 Ti OC edition by request to see for myself if the new Maxwell based cards from Nvidia are worth the hype. The next day, Palit send us theirs too, out of nowhere. As if they knew that ASUS sent me one, and wants to challenge the graphics giant once again. They won the review showdown last time so the confidence shown by Palit is just reasonable.
Now with that said, what we currently have here are the non reference GTX 750 Ti cards from ASUS and Palit, bearing the new Maxwell GPUs that is said to feature vast improvement over its predecessor when it comes to power efficiency. Hence, it should only need a maximum of 60W of power and does not need an extra power connector. Nvidia introduced Maxwell with 2 SKUs. Namely the GTX 750, and the 750 Ti. The cards we got here sits comfortably between the GTX 650 Ti and the GTX 660 to give you guys an idea about its performance. Now let us check these cards out. See who wins this time.
GEFORCE GTX 750 Ti FEATURES & SPECIFICATIONS:
Shader Units
Core Clock (MHz)
Memory Clock
(MHz)
Memory Amount
Memory Width
Max Power (W)
ASUS GTX 750 Ti OC
640
1072/1150+
1350
2048
128-bit GDDR5
60+
Palit GTX 750 Ti Storm X OC
640
1085/1163+
1375
2048
128-bit GDDR5
60
Nvidia GeForce GTX 750 Ti
640
1020/1085+
1350
2048
128-bit GDDR5
60
ASUS GTX 750 TI OC: I'M CONFUSED
The ASUS GTX 750 Ti OC came in a familiar gaming oriented box though it feels cheaper than the norm matte finish we used to see from ASUS. The front shows the cooler of the card along with noteworthy specifications. The back shows the card's features and the full specifications of the card.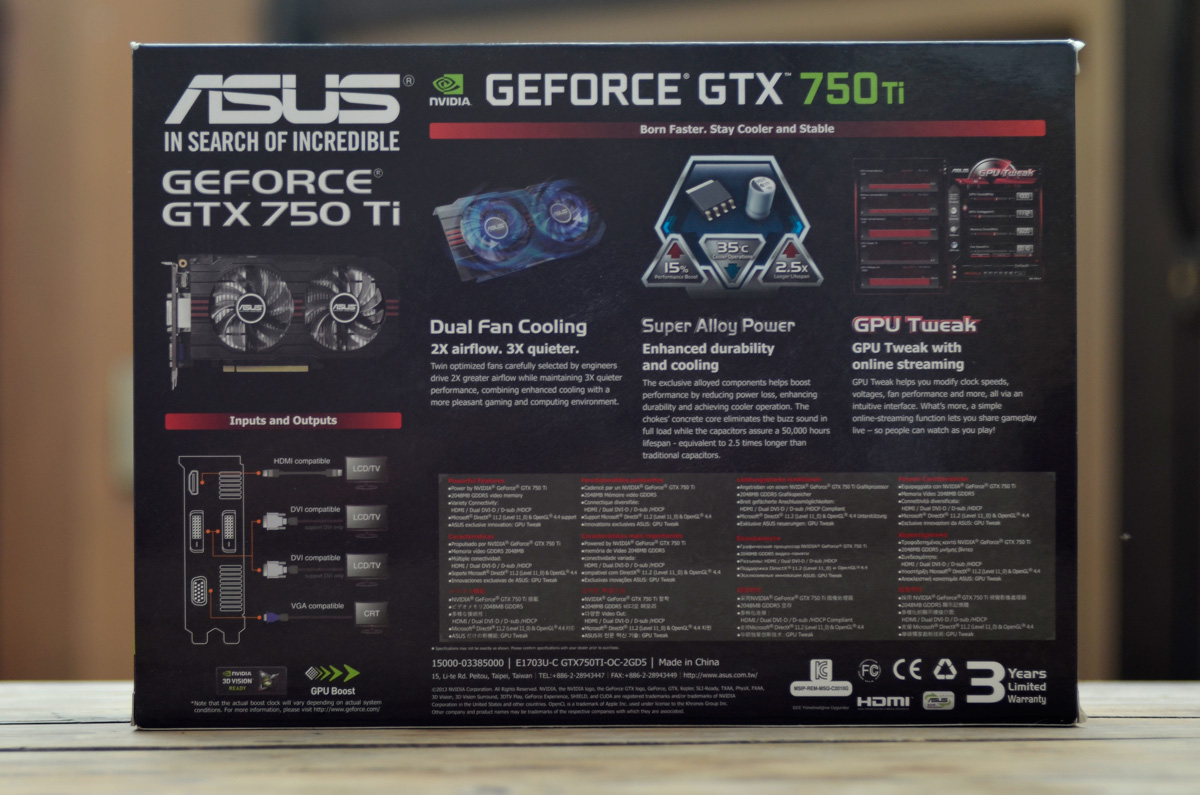 Aside from the card, you'll get these: A quick setup guide, and a driver DVD. That's it. No power connectors, no display adapters, no nothing.
The ASUS GTX 750 Ti OC is a non reference card that features ASUS' very own PCB and cooling design. It sure looks like the last generation DirectCU II, but it is completely not. It just took DirectCU II's shroud design but the cooler is just a slab of aluminum. The card is around 8 Inches long with that extra cooler bulk.
Cooling is brought to us by a dual fan and an aluminum heatsink. No heatpipes here since the Maxwell GPUs are reported to run cooler than their Kepler brethren.
The card's PCB is all Black, and adds a premium feel to the whole presentation. Nothing to dislike here… Oh wait what is that?!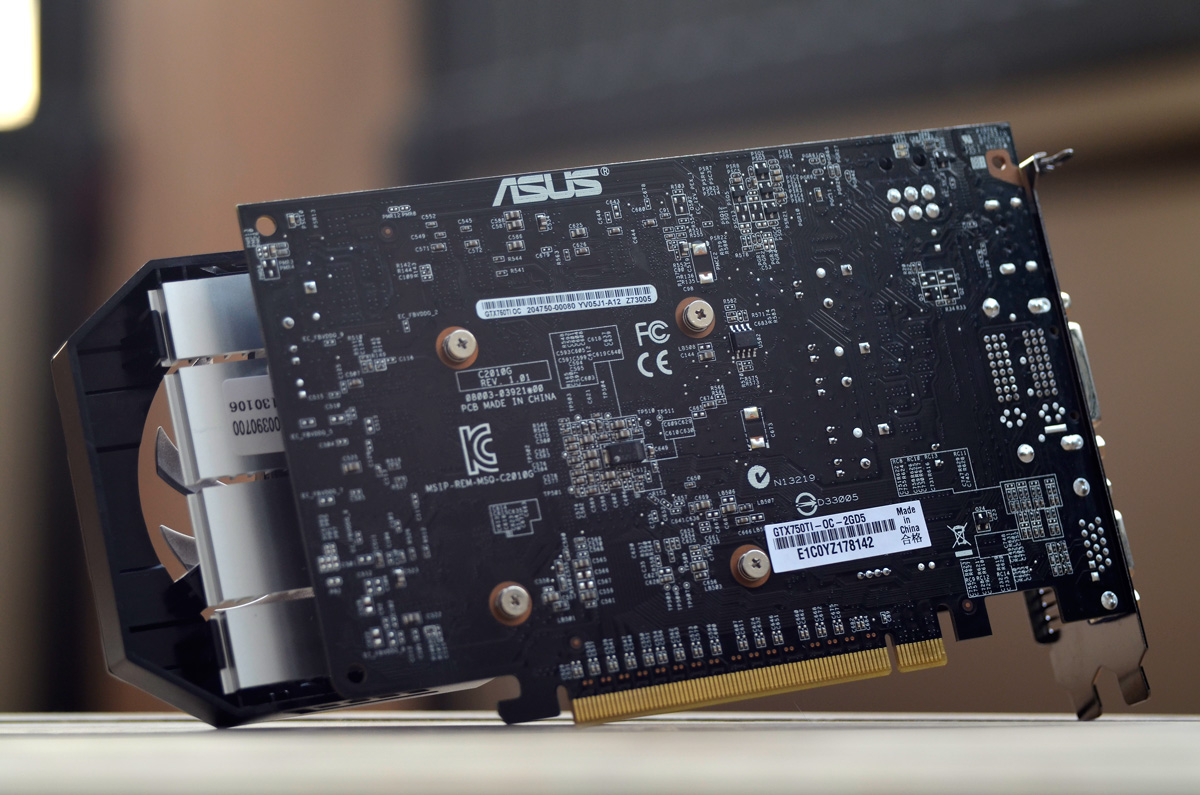 Why dafuq did ASUS included a 6-pin power connector on this card? Moreover, why is it located near the display ports? ASUS sheds light to this madness by saying that the card's VRM needs an extra power source and this placement is optimal for the power design. That might be true but it is swaying away from the card's main feature which is to enable itself to run without additional power sources. Also, the positioning just sucks. One star out for yah ASUS.
Display wise, the card has 2x DVI ports, a single VGA port, and an HDMI port. There are also exhaust vents on this side of the card.
PALIT GTX 750 TI STORM X OC:  IT'S CUTE
The Palit card's packaging, compared to ASUS, is a refreshing sight to see. It's a new one, compared to the usual JetStream branded cards and that is just expected since this is a new series from Palit.
The back features a multi-lingual specifications section, along with a small introduction about the GTX 750 Ti's gaming performance.
Just like the ASUS card, the Palit GTX 750 Ti has a bare bundle. No game codes, no adapters, no extras.
The Palit GTX 750 Ti Storm X OC is a cute card. It's nowhere near reference, but the size is almost the same at 6.5 Inches. – Just an Inch longer than the reference one.
The design of the shroud is industrial, with a single intake fan directly cooling the aluminum heat-sink. The card is considerably lighter too compared to ASUS' offering with a smaller cooling solution in place.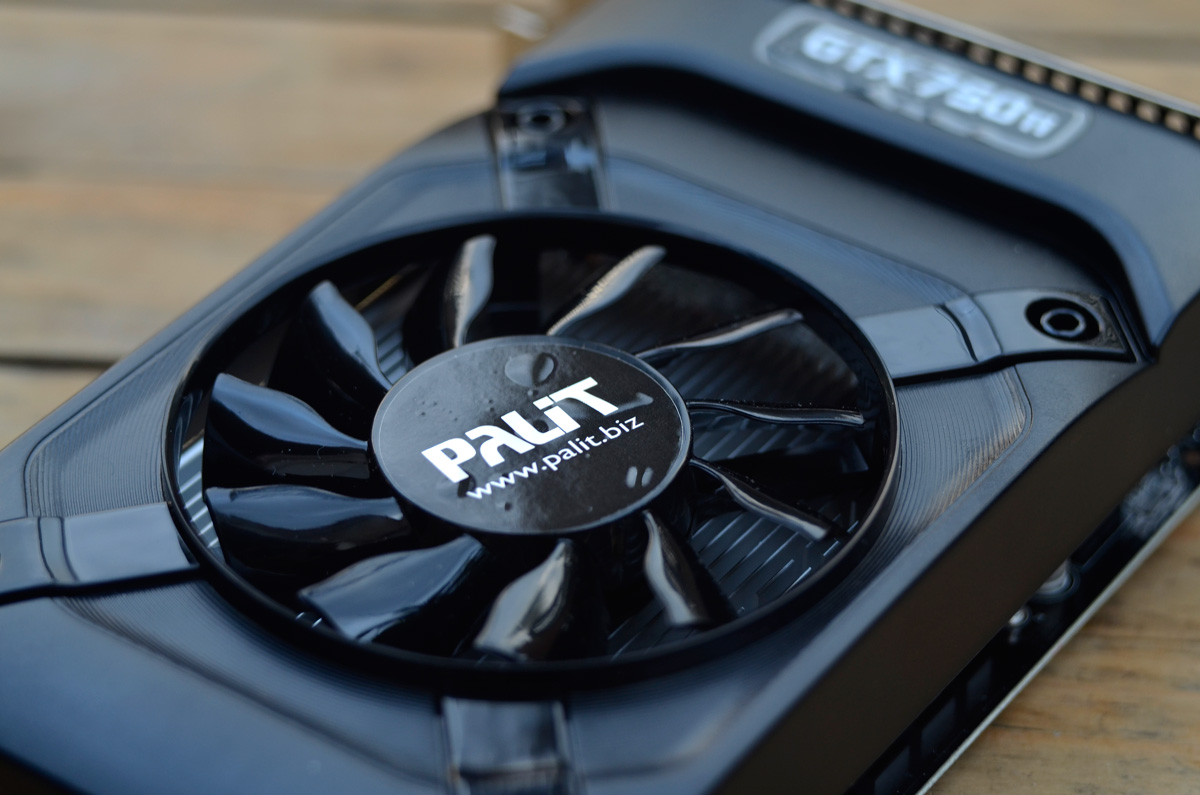 There's nothing special at the back of the card except for that glorious Black PCB.
Display outputs are comprised of HDMI, DVI, and VGA adapters. It's missing another DVI port compared to the ASUS offering but makes up for a full slot dedicated to the exhaust ports.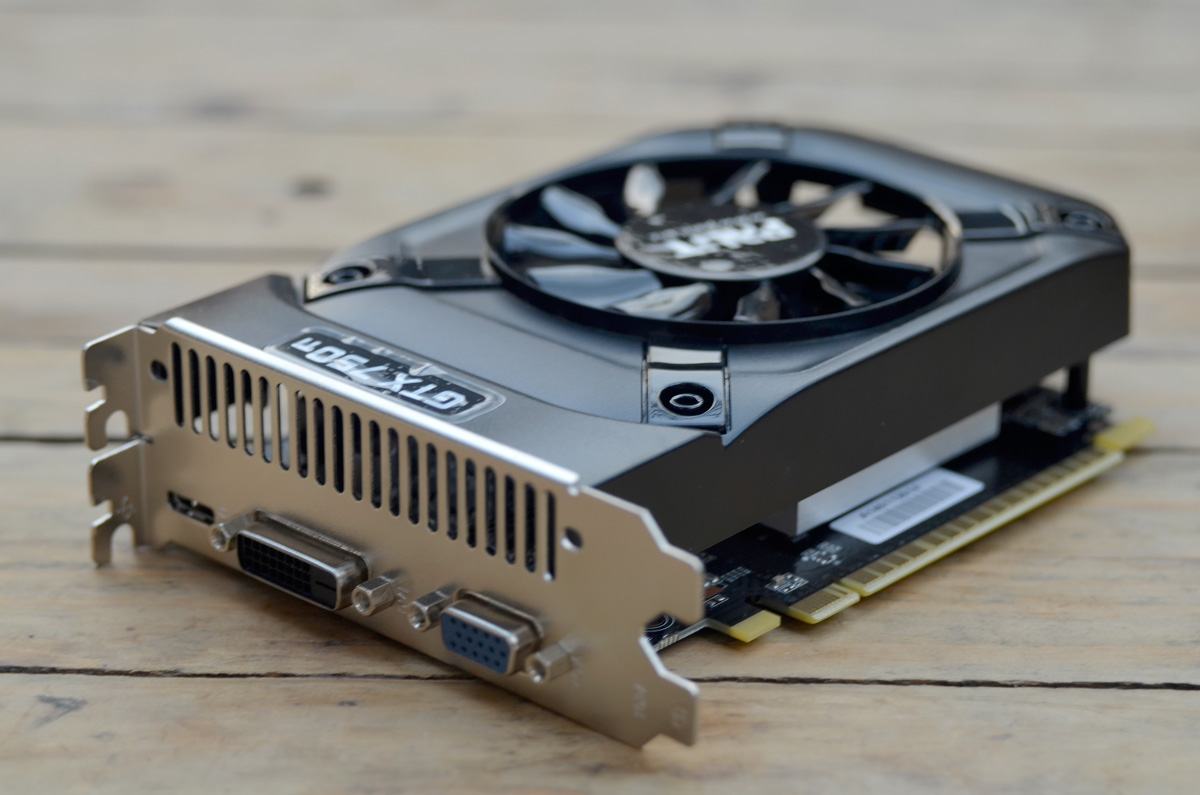 TEST SYSTEM / SPECIFICATIONS:
We have been selling stuffs here, so the usual test system of ours has been updated. As usual, to provide precise test results, the test systems will run on an updated copy of Windows 7 Ultimate x64 SP1. The BIOS/UEFI, Chipset, and Video Card drivers of the test system will be updated too, as much as possible. No other silly forms of softwares should be running while the benchmarks are on going, unless it is needed, or stated. As for the gaming benchmarks alone, tests should include 720P, 1080p, and 1440p (2560×1440) resolution results if permitted by the games, and benchmarking tools, or if necessary. Games without benchmarking tools of their own will have the FPS recorded with FRAPS. Below are the test system's specifications:
PERFORMANCE (SYNTHETIC/GPU COMPUTE):
3DMARK (2013) is a multi-platform benchmarking tool from FUTUREMARK, consisting of comprehensive tests that aims to gauge your gaming hardware; be it a smartphone, a tablet, a laptop, or a desktop PC.
Heaven Benchmark is a DirectX 11 GPU benchmark based on advanced UNIGINE™ engine. It reveals the enchanting magic of floating islands with a tiny village hidden in the cloudy skies. This benchmarking tool heavily relies on tessellation, and that's what we're after.
Valley Benchmark is a GPU stress-testing tool from the developers of the very popular and highly acclaimed Heaven Benchmark. This non-synthetic benchmark powered by the state-of-the art UNIGINE Engine showcases a comprehensive set of cutting-edge graphics technologies with a dynamic environment and fully interactive modes available to the end user.
CINEBENCH R11.5 is a real-world cross-platform test suite that evaluates the computer's performance capabilities. CINEBENCH is based on MAXON's award-winning animation software CINEMA 4D, which is used extensively by studios and production houses worldwide for 3D content creation.
RESULTS: Right out of the bat, both cards started to throw stones at each other but it is evident that the Palit GTX 750 Ti has heavier stones to throw at, thus winning the overall synthetic performance showdown. Now what concerns me the most is are the CLBenchmark scores since these cards just beat the crap out of the GTX 760, providing that the Maxwell architecture got what it takes to yield good GPU Compute performance results. OpenGL performance is good too, if not great.
PERFORMANCE (REAL WORLD):
Metro: Last Light is a first-person shooter and horror video game developed by Ukrainian studio 4A Games and published by Deep Silver for Microsoft Windows, PlayStation 3 and Xbox 360. It was released in May 2013. The game is set in a post-apocalyptic world and features a mixture of action-oriented and stealth gameplay.
Resident Evil 6, is a survival horror video game developed and published by CAPCOM. It's one of my favorite PC games, mainly because I'm a fan of the series. It also has a built-in benchmarking tool to measure your PC's performance. It's only DirectX 9.0 compatible at the moment, though.
Tomb Raider (2013) is the fifth game, and the reboot of the Tomb Raider series. It is developed by Crystal Dynamics, and published by Square-Enix. We disabled Tress FX for this benchmark.
GRiD 2 is a racing video game developed and published by Codemasters and is the sequel to the award winning Race Driver: GRiD. The game was released for Microsoft Windows, PlayStation 3 and Xbox 360 on May 2013.
Sleeping Dogs is an open world action-adventure video game developed by United Front Games in conjunction with, and published by Square Enix for Microsoft Windows, PlayStation 3, and Xbox 360. Sleeping Dogs takes place in Hong Kong and focuses on an undercover operation to infiltrate the Triads.
Company of Heroes 2 is a WWII based real-time strategy video game developed by Relic Entertainment and published by Sega for the Microsoft Windows platform. It is the sequel to the critically acclaimed 2006 game Company of Heroes.
RESULTS: Gaming performance wise, both cards showed great performance across the benchmarks with little to no gaming experience difference at all regardless of the extra clocks. Palit is faster by a bit as usual, with 13 MHz increment over the ASUS card, but real world gaming performance shows that those doesn't matter that much. But yeah, it is still faster.
PERFORMANCE (OVERCLOCKING):
First up to overclock is the ASUS GTX 750 Ti OC with a 1072MHz default core clock. Upping the ante to 1198MHz is no sweat with this card, as well as the memory clock upped at 1498MHz. Those were pretty good and stable results and we expected that from a card with a beefed up VRM and power delivery.
The Palit card, as expected, could keep up with the ASUS GTX 750 Ti but is just 9 MHz short with its core clock. Memory clocks on the other hand is superb with an extra 64 MHz compared to ASUS. Now let us see what the extra clocks brought to the table.
RESULTS: The ASUS card now showed what it really could do, and that is pushing itself a little bit higher than the competition when it comes to overclocking. Note that while it has a higher core clock frequency, the Palit card has a faster memory clock on its defense. Clearly, the Maxwell GPUs will benefit the most if you pushed its core clock higher.
TEMPERATURE/POWER CONSUMPTION:
FurMark is a very intensive OpenGL benchmark that uses fur rendering algorithms to measure the performance of the graphics card. To record the GPU's maximum temperatures, I will run Furmark's Fur Rendering Burn-in Test, and let it run for 30 Minutes. As always, we try to keep the results consistent by keeping the ambient temperature checked at 27ºC. We also check to see how GPUs impacts power consumption. The system is left to idle for 30 minutes before readings are taken, and load data is taken 30 minutes while FurMark is running. Power readings are taken for the entire system from the socket.
RESULTS: As expected, ASUS' GTX 750 Ti runs the coolest with its dual fan solution, but it has been bested by the Palit card when it comes to power efficiency by miles. Clearly, ASUS' extra 6-Pin power isn't doing itself any good.
VALUE & CONCLUSION:
The GeForce GTX 750 Ti is a good proposal from Nvidia, bearing the all new Maxwell GPU. It showed great performance to watt ratio, and is suitable for low power GPU Compute applications. Additionally, 1080P gaming is an absolute reality from the GTX 750 Ti. But what about the specifics of the cards we got here?
First off on the list is the ASUS GTX 750 Ti OC. It features a good overclocking headroom, and a performance that is almost comparable to what the Palit card has to offer considering that it is  clocked a bit lower. Cooling performance is top notch as it never went higher than 70ºC, and monitor output configuration is considerably better.  Though those aspects of the ASUS GTX 750 Ti OC are great, we cannot stop to ask ourselves the very reason of this card's existence.
For an instance, it has a 6-pin power connector that made it a tad hungrier when it comes to power consumption; Let alone thinking about the 6-pin power connector's placement. Performance though great, is still objectively slower than what the competition has to offer, considering that the competition doesn't need an extra power connector to power itself up. For a card that bears the Maxwell architecture, this is questionable. Unless you prefer brand loyalty, cooling performance, and the added warranty the most. But is it worth the price? Be the judge. SRP: 10, 390 Pesos | WARRANTY: 3 Year
ASUS GTX 750 Ti OC 2GB
PROS:
Out of the box performance
Build quality
Cooling performance
CONS:
Accessories lacking
Questionable layout
Power consumption
Now let us talk about the Palit GTX 750 Ti Storm X OC. Simply put, this is what a non reference GTX 750 Ti should be. No extra 6-pin power connector, no extra fancy form factor, no compromise. This card is a perfect example of what ASUS should've done with their own GTX 750 Ti. Performance wise, it is objectively faster, courtesy of the core clock and memory clock speed bump. Form factor is also an important part of the whole bundle, and we are happy that Palit managed to bring the numbers in a small form factor. It is perfect for a low power gaming system to be precise.
Pricing is also one of Palit's strong point, and it did beat the ASUS card on this category too, at an expense of manufacturer warranty. Overall, both cards are great as far as performance is concerned but the Palit card leaves us wanting it more than the competition. Grab a gold Palit. SRP: 8, 890 Pesos | WARRANTY: 1 Year
Palit GTX 750 Ti Storm X OC 2GB
PROS:
Out of the box performance
Power efficiency
Form factor
Value oriented
CONS:
Palit GTX 750 Ti Storm X OC
PERFORMANCE -

8/10

BUILD QUALITY -

7/10

FEATURES -

7/10

AESTHETICS -

7/10

VALUE -

9/10
Summary
Simply put, this is what a non reference GTX 750 Ti should be. No extra 6-pin power connector, no extra fancy form factor, no compromise. This card is a perfect example of what ASUS should've done with their own GTX 750 Ti.