Be Licensed is the first Unreal Authorized Training Center in the Nordic countries and a longstanding official authorized Training Partner in Media and IT for Apple, Adobe, CertNexus, AVID, BMD, CertiPort and Epic Games.
The course is crafted by Vasilis Milesis, a veteran film music composer and Berklee teacher, a game developer and a certified Unreal Authorized Instructor. With guest lecturers from across the gaming industry and with truly industry adapted training-goals, this course comes as great news for the gaming world – offering enthusiasts who are aiming to become game developers a comprehensive, hands-on training experience in one of the most advanced, yet user-friendly engines for game development.
Why is this course a chance to become a game developer?
Teacher-Led and Tailored: The course is 100% instructor-led, ensuring that participants directly tap into real-world expertise. Moreover, over the journey of the course every participant has a chance to craft their own distinct game experience to be used in their portfolio or as the base for creating their own publishable game.
Trending Modules: The course modules are selected and created carefully by the tutors, based on the latest trends and needs of the game development industry. Each of the modules gives our participants significant knowledge and practical experience.
Access to Premium Opportunities: Completing the course doesn't just earn participants a Be Licensed certificate, but also a key to Be Licensed's Recruitment Portal, linking them to potential job opportunities in top-tier gaming companies.
Intensive and Comprehensive: Spanning 20 weekdays the course takes the students on an intense tour of UE5, from the Lumen global lighting system to the innovative Nanite virtualized micro polygon geometry. Skills earned during the course will provide our participants with great career opportunities after its completion, whether they aim to join a development team or go on to publish their own creations.
Key Course Details for a Quick Snapshot:
Duration: October 16th to November 10th , Weekdays, 9 am – 5 pm (CET)
Medium and Delivery: English language, Online training – 100% live instructor led
Seats: Strictly limited to 12 participants
Register at: https://www.en.be-licensed.com
A Curated Syllabus
Dive deep into a curriculum that seamlessly marries depth with clarity. Participants will explore every facet of game creation, from crafting compelling narratives to unraveling the intricacies of world building, game mechanics, lighting and honing game optimization techniques. The course gives students everything they need to move into a career in the gaming industry: a sought-after skillset in Unreal Engine 5, a Be Licensed certification and industry connections through the Be Licensed Recruitment Portal.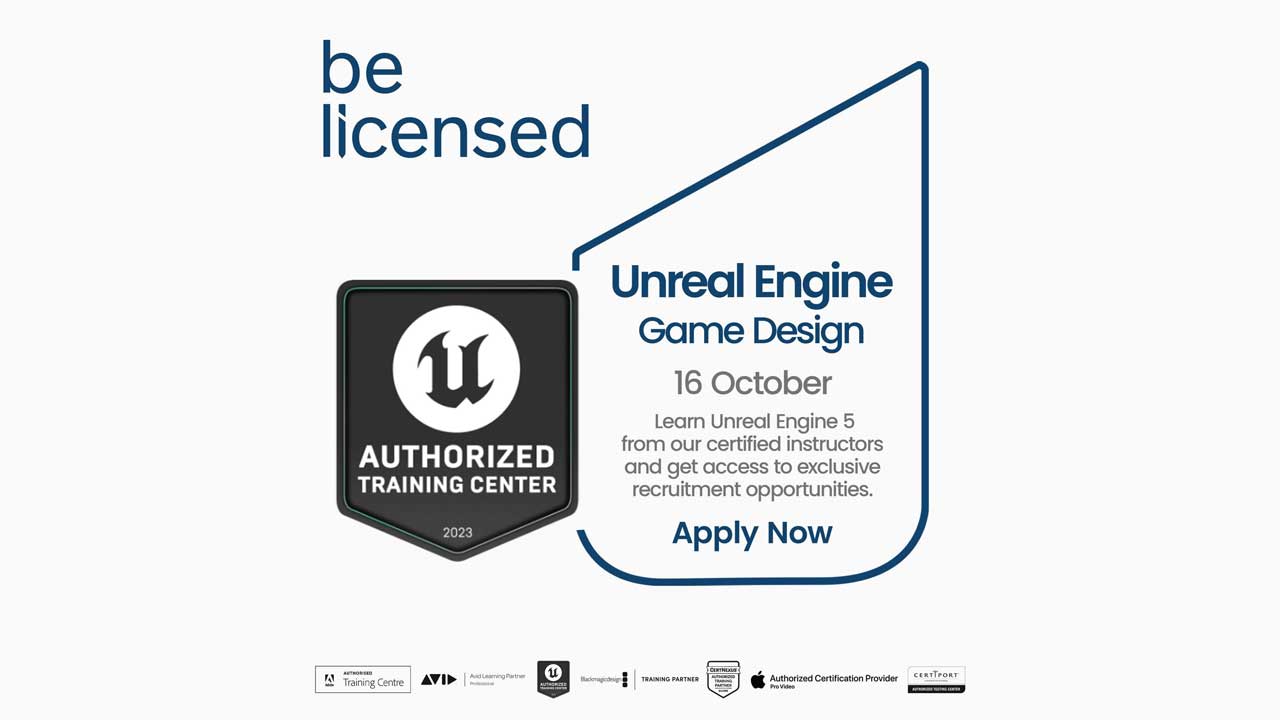 Registrations Closing Soon
Media outlets and interested participants should note that for the course-start on the 16th of October, registrations end on October 10th.
Press Release