Music is an integral part of our lives. Any music lover, even a non-professional musician, has at least once in their life processed an audio track. People all over the world need to trim tracks, remove noise, or convert to another format. If an audio track needs to be extracted from a video or a certain format is not supported by the software, it can be converted with the help of special online programs.
There are many programs for this, and they all differ in complexity and functionality. Below are the best audio editors that are suitable for professional sound editors and beginners of audio editing. Half of the audio editors below are online and a half – offline. Most of these editors are paid, but there is always a trial period to see if the program suits you or not. If the trial version suits you, you can buy a paid license.
1. Sodaphonic
Sodaphonic is suitable for anyone who needs to quickly record and clean up a voice track. It is a web audio editor with a dark interface and a minimum of features.
Sodaphonic is an online audio editor. It allows you to take a sound recording and make changes to it. Sodaphonic is the same as Word or Google Docs but for audio. You can cut, copy, and paste sections of sound.
2. Hya-Wave
Hya-Wave is suitable for people that need to quickly cut unwanted audio clips and process the result with effects. Hya-Wave is a fast and simple audio editor with no unnecessary features. Only one track is available for editing at once. That means you won't be able to mix tracks here, but you'll be able to edit the track, cut the silence, and apply effects.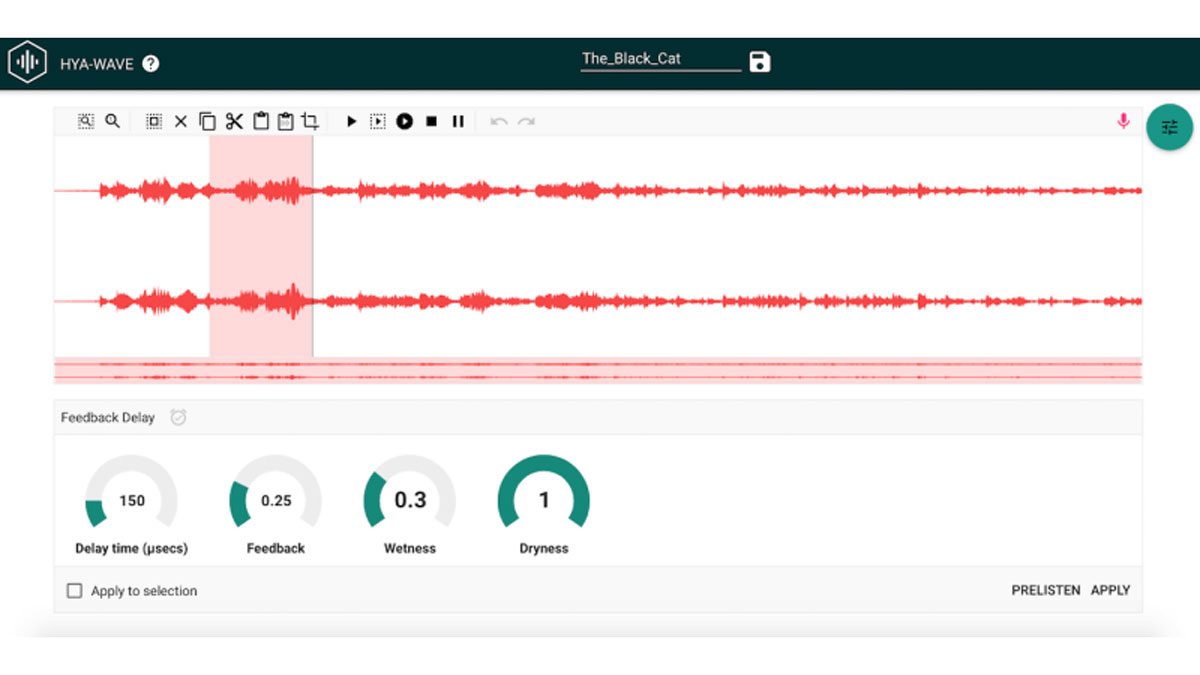 The interface is not difficult, all you need to remember are the key combinations. In such a way, you will be able to work on your tracks faster. To edit, simply drag and drop audio from your computer folder into the Hya-Wave workspace. You can also record audio from a microphone and process it.
3. Bear Audio Tool
Bear Audio Tool is suitable for those who need minimal audio processing. It works in single-track mode – you can glue together a few fragments of different audio files, but you can not mix them so that they sound at the same time. Microphone audio recording is also available.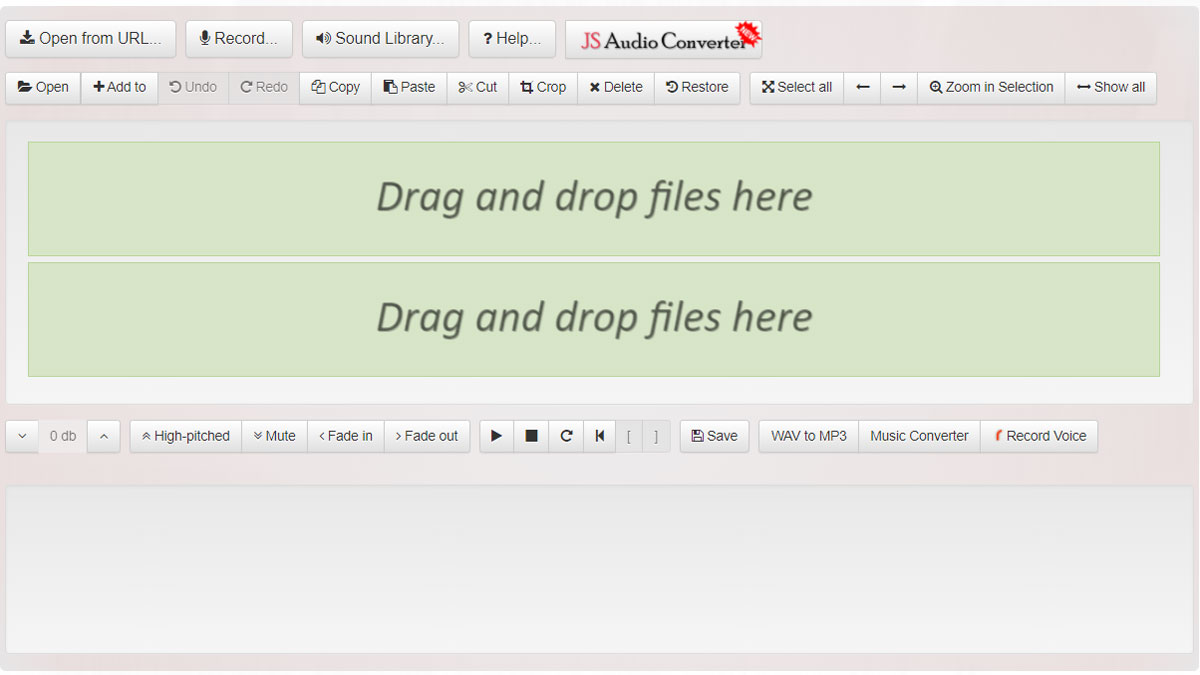 Bear Audio Tool doesn't boast a nice and logical interface, but the service has a few features not available in Hya-Wave and Sodaphonic. Among them is a built-in database of sounds and audio converter based on the service.
4. TwistedWave Online
TwistedWave Online is suitable for those who need a serious audio editor, but for some reason, cannot install the software on their computer.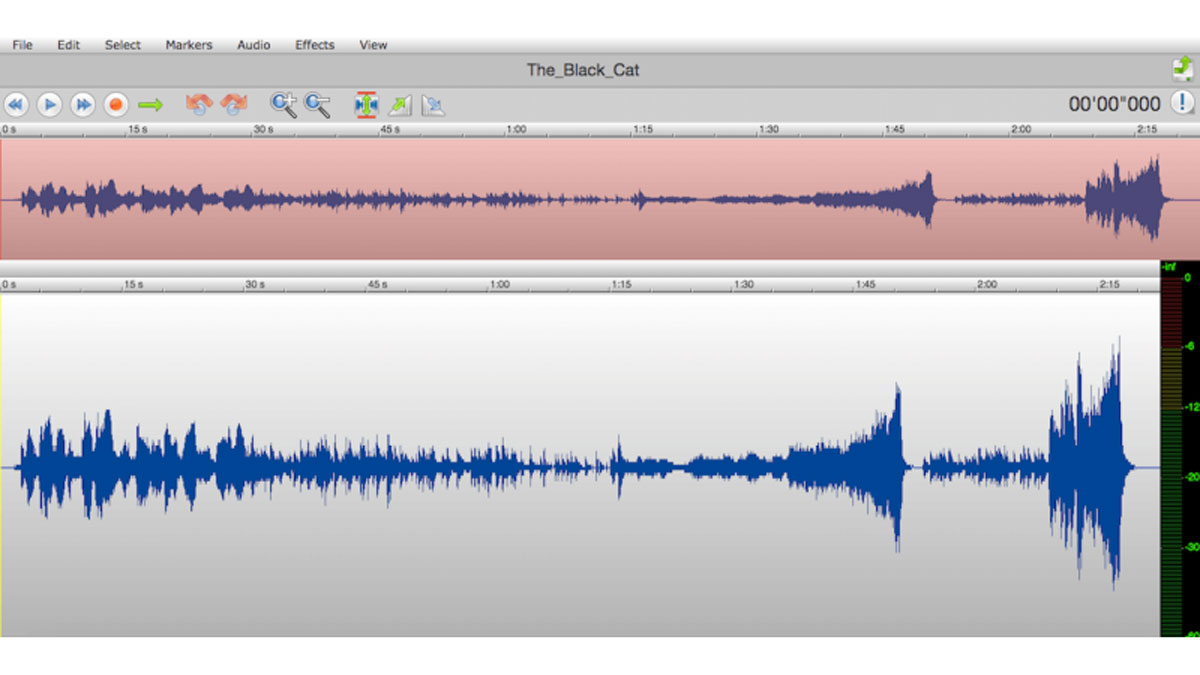 The web version of TwistedWave can do things that simple online audio editors can't. Here you can import and export files from Google Drive and SoundCloud, select a sound source and audio interface, add markers to a track, change the tone and speed of a track. There's also a VST tab in Effects, but the editor won't let you import your plugins and will offer its list of possible plugins for processing.
TwistedWave Online has only one disadvantage – it's conditionally free. To process long stereo tracks, you'll have to buy a subscription. Without it, you can work with a smartphone ringtone or process a short voice double.
5. Ocenaudio
Ocenaudio is suitable for people that are looking for a simple and light-weight program for advanced audio processing in single-track mode.
It lacks a multi-tracking mode for full-fledged turnkey processing of a podcast or audiobook. In Ocenaudio, you can put markers, perform FFT analysis, include a spectrogram view to detect amplitude-frequency problems on a track, and use external VST plugins for processing. There is a solid set of built-in effects, including noise reduction and 31-band EQ. On the downside, Ocenaudio does not support many formats, but it is possible to convert the track into the desired format using online services similar to this one. There are many similar services on the web.
6. Audacity
Audacity is suitable for those who are looking for a simple multitrack recording program and do not need complex audio post-processing.
This program is popular with podcasters because of its simplicity and the ability to record up to 16 tracks at once. It is useful when there are several speakers, and each one speaks into a different microphone.
All the features you might need for post-processing are here: warping (changing the length of a track without changing the pitch), spectrum analysis to find problem areas, in-house effects, and support for external VSTs. However, Audacity lacks a logical and pretty interface.
7. Adobe Audition
Adobe Audition is suitable for Adobe Creative Cloud subscribers who are looking for the most user-friendly and feature-rich audio processing software.
Audition includes a spectral display for creating, mixing, editing, and restoring audio content. You can create, mix, and design sound effects with the industry's best digital audio editing software.
8. Reaper
Reaper is suitable for musicians, DJs, and movie studios. This program is used even in the editorial offices of the BBC.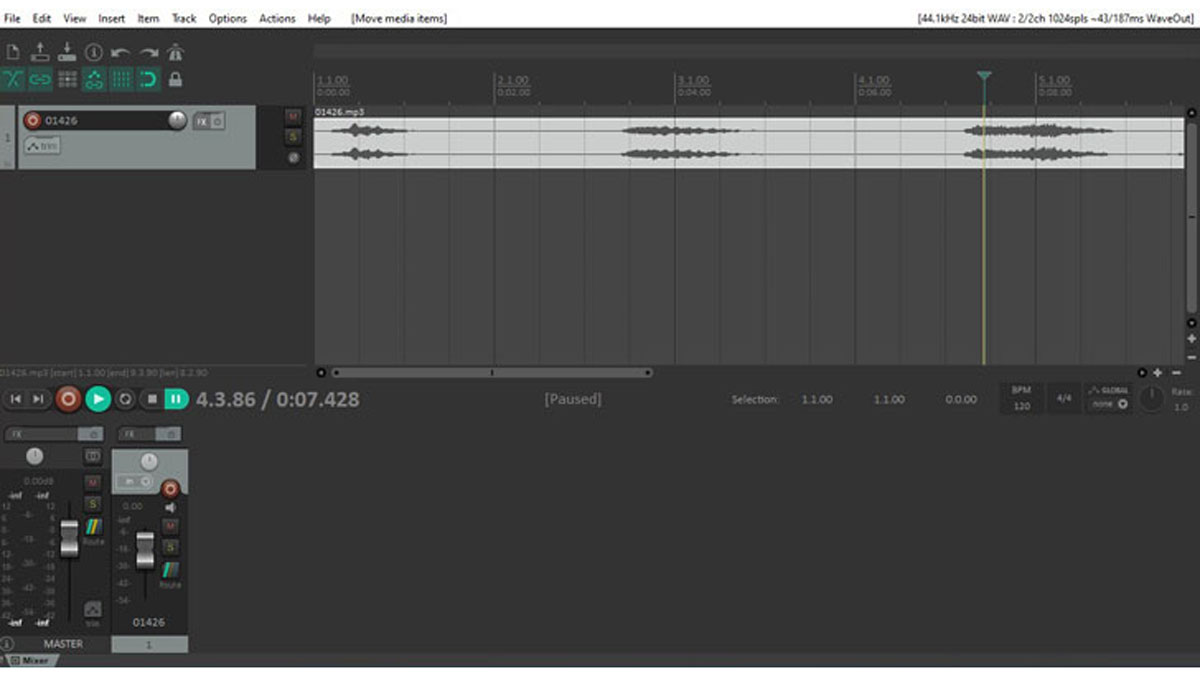 It is powerful software on which you can record and professionally process a song. Here you will find everything you need for thorough work with media files: editing multiple tracks, MIDI track support, built-in filters and effects, VST plugins.
Conclusion
We've looked at popular audio editors for all tasks and skill levels, it's time to decide which music editing software to use. The answer depends on what you expect from such software, your skills level, and the power of your computer.
For simple trimming and size control are the best free basic software, while professional podcasters need more advanced software like Adobe Audition. If you miss the simple functionality of the free applications but don't have the skills for complex software, there are many solutions on the web. You will find the right service or software.