The FM2+ platform from AMD is a viable option for those who requires an all rounder system with a fixed budget. It has been the case since then, and AMD is continuing to keep up the pace. Until AMD releases Zen, the AM3+ platform will still remain as the company's top end platform, while the FM2+ based chipsets such as the A70M, will tackle the needs of the mainstream and budget gamers.
The Biostar A70MD PRO an entry level oriented motherboard priced at around 2, 300 Philippine Peso with full support for Socket FM2+ and FM2 processors – that includes the AMD A-series and E2-series processors. The price point is somewhat closer to what we should expect for a basic FM2 and FM2+ chipset board, but Biostar added a few perks for this iteration with a souped up audio solution, RAID 10 support, compatibility with overclocked DDR3 DIMMs at 2600 MHz max, and LAN surge protection to name a few. We are going to put this board through its paces, and see if it can be a viable motherboard for your budget featuring the AMD A8-7670K processor on our test system.
TECHNICAL SPECIFICATIONS:
Chipset
AMD A70M
CPU SUPPORT
AMD A10 Processor
AMD A8 Processor
AMD A6 Processor
AMD A4 Processor
AMD E2 Processor
AMD Athlon™ II X4 Processor
Maximum CPU TDP (Thermal Design Power) : 100Watt
MEMORY
Support Dual Channel DDR3 2600(OC)/2400(OC)/2133/1866/1600/1333/1066/800 MHz
2 x DDR3 DIMM Memory Slot
Max. Supports up to 32GB Memory
EXPANSION SLOT
1 x PCI-E x16 3.0 Slot(supported by FM2+ CPU)
1 x PCI-E x1 2.0 Slot
1 x PCI Slot
STORAGE
4 x SATA3 Connector
Support SATA RAID: 0,1,10
USB
2 x USB 3.0 Port
1 x USB 3.0 Header
2 x USB 2.0 Port
2 x USB 2.0 Header
LAN
Realtek RTL8111G – 10/100/1000 Controller
Support Super LAN Surge Protection
INTEGRATED VIDEO
By CPU model
AMD Dual Graphics Technology
Supports DX12
Supports HDCP
CODEC
Realtek ALC662 6-Channel HD Audio
REAR I/O
1 x PS/2 Mouse
1 x PS/2 Keyboard
2 x USB 3.0 Port
2 x USB 2.0 Port
1 x DVI Connector
1 x VGA Port
1 x RJ-45 Port
3 x Audio Connector
INTERNAL I/O
1 x USB 3.0 Header
2 x USB 2.0 Header
4 x SATA3 6Gb/s Connector
1 x Front Audio Header
1 x Front Panel Header
1 x CPU Fan Header
1 x System Fan Header
1 x Serial Header
H/W MONITORING
CPU / System Temperature Monitoring
CPU / System Fan Monitoring
Smart / Manual CPU Fan Control
System Voltage Monitoring
DIMENSION
Micro ATX Form Factor Dimension: 22.6cm x 17.4cm ( W x L )
OS SUPPORT
Support Windows XP / 7 / 8 / 8.1 / 10
BUNDLE SOFTWARE
BullGuard
BIO-Remote2
Smart Speed LAN
ACCESSORIES
2 x SATA Cable
1 x I/O Shield
1 x DVD Driver
1 x Quick Guide
FEATURES
Supports 100% Solid capacitor
Supports BIOS-Flasher
Supports Charger Booster
Supports BIOS Online Update
FIRST LOOK AT THE BIOSTAR A70MD PRO:
The Biostar A70MD PRO motherboard features a Black PCB, with yellow accents to accommodate system builders who wants a rather contrasting slate for their builds. It's a clean looking, non-standard mATX board with dimensions around 8.9 x 6.8 respectively so case selection is abundant especially if you're looking for a compact case to go with it.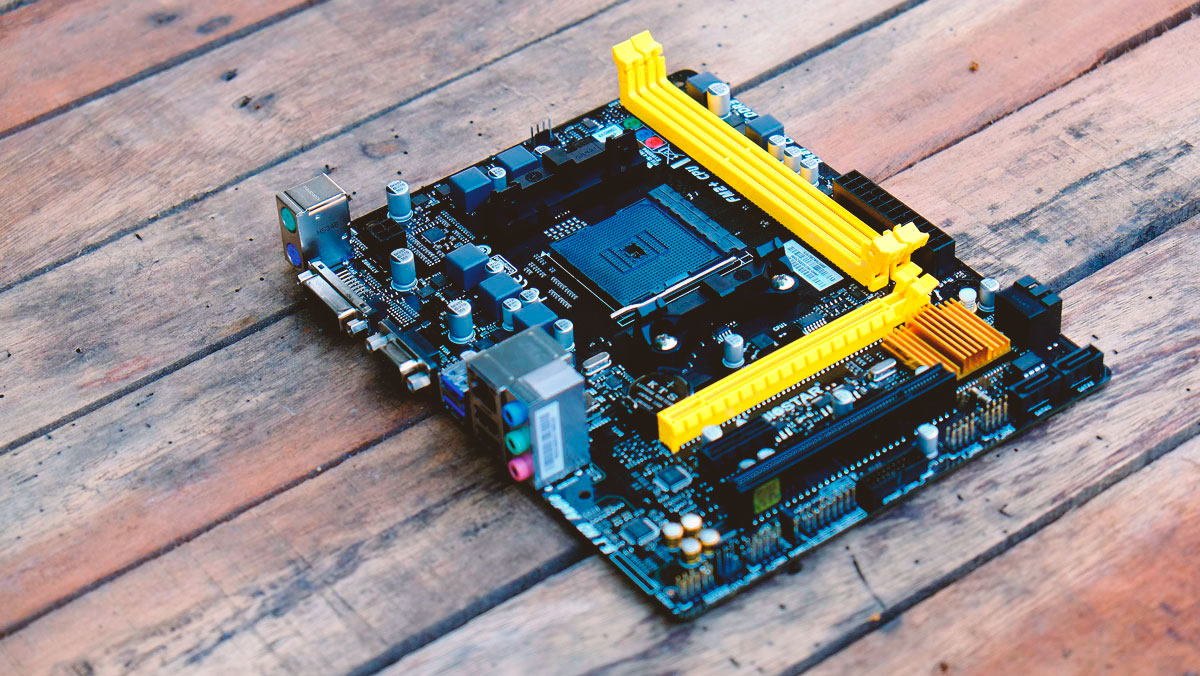 The board features a 5 phase VRM for the FM2+ socket based AMD APUs supporting any APUs with TDP below 100W. The board comes with 2x Dual Channel DDR3 DIMM slots that could support 2600+ MHz RAM when overclocked, but so far we can only assure 2133 MHz DIMM compatibility. The 4 pin CPU power connector is conveniently seated at the top left corner of the board, while the 4-pin PWM fan header is sitting nicely just next to the socket.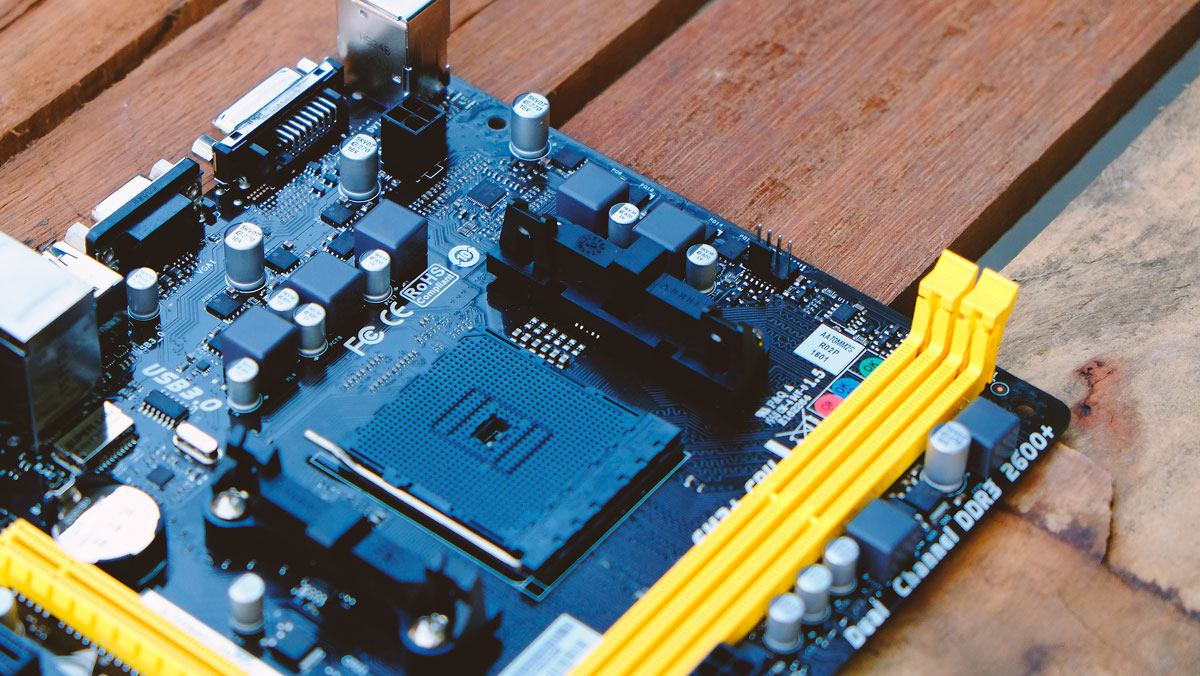 As far as internal expansion goes, the board comes with a single PCI-E 2.0 x1 port, a single PCI-E 3.0 x16 port for the graphics and high bandwidth PCI devices, and a legacy PCI slot.
At the lower right corner of the board lies the 4x SATA III ports, with 2 of those utilizing a standard mounting. The internal USB headers consists of 2x USB 2.0 ports, with a single USB 3.0 header next to it – which is basically what I expected to see.
The rest of the headers from left to right, consists of a front panel audio header, a serial port header for legacy devices, a CMOS reset header with jumper, and a front panel IO connector.
Network connectivity is provided by the Realtek RTL8111G with a main stay Super LAN Surge Protection – a feature found on most of BIOSTAR's motherboards be it a high end product or what not. Basically, it should stabilize electrical current and prevent the LAN from receiving damages during a lightning strike or an electrical surge.
The audio solution of the BIOSTAR A70MD PRO is courtesy of a Realtek ALC662 CODEC with four Nichicon capacitors for extra amplification. The audio solution is separated by a PCB grout.
External ports are somewhat average – with 4x USB ports (2x USB 3.0), VGA + DVI port, and legacy PS/2 connectors for both the mouse and keyboard – nice, if you have an old mechanical keyboard around or if initial input device compatibility is the most important thing to you especially while setting up the board for the very first time. The lack of HDMI port and extra audio ports bugs me, but I guess we can't get everything for the price point.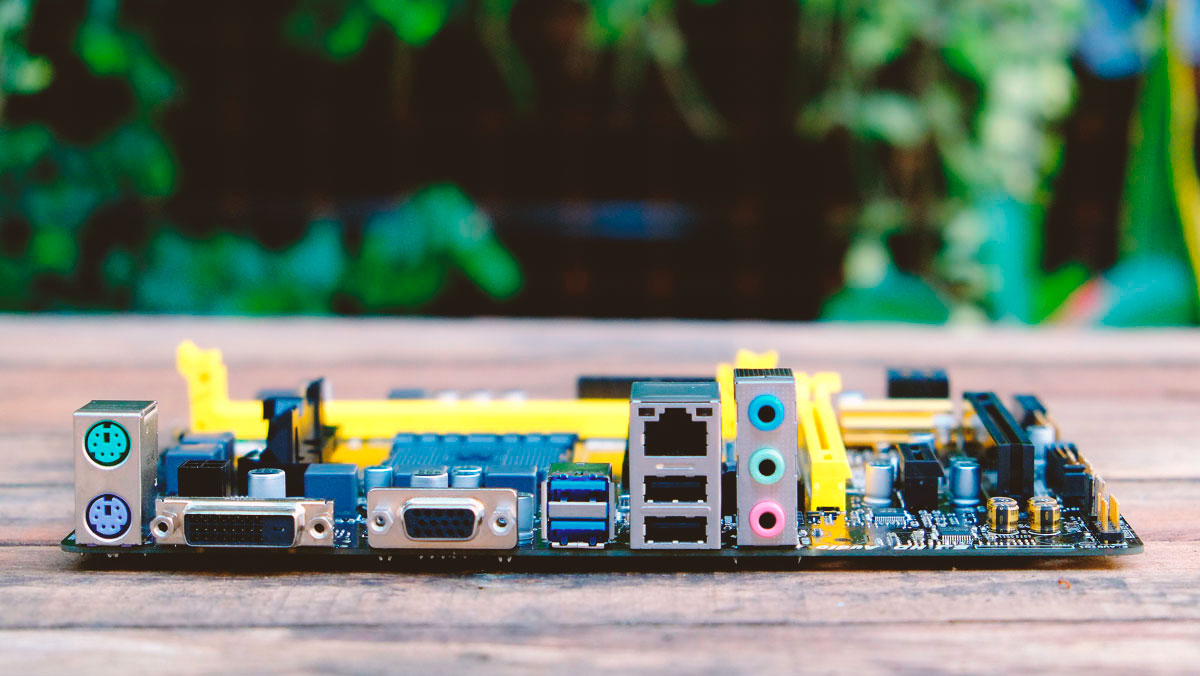 There are only Two fan headers located on the board – one is for the CPU fan, and another one is located next to the internal headers. If you're going to buy this board for your build, then I suggest that you'll get a fan header splitter, or get a 4-pin molex power based fan.
UEFI / BIOS WALK-THROUGH:
BIOSTAR's A70MD PRO features a snappy UEFI, with 7 main menus for easy access. The left hand side of the interface features a status display of the common hardwares, but it's not that all too intricate compared to other solutions. Still, this is way better than your average blue screen BIOS.
The advanced tab offers well, more advanced features, which is usually related to the functions of the board's components such as control over expansion slots, power options, peripheral settings, and network.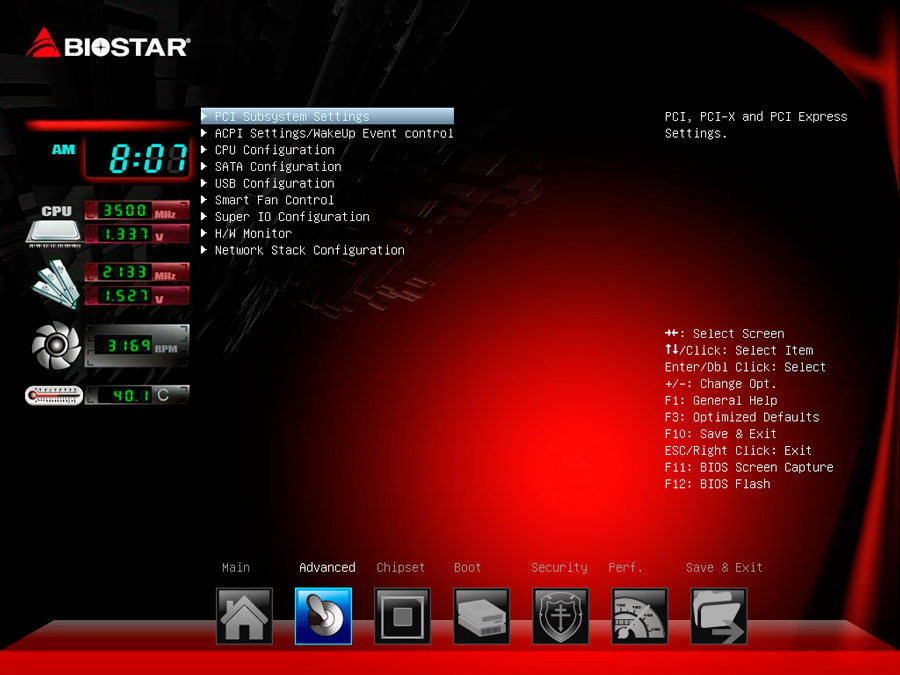 The chipset menu is where you could set some of the parameters of the internal graphics and display ports. You can also enable Azalia HD Audio from this panel.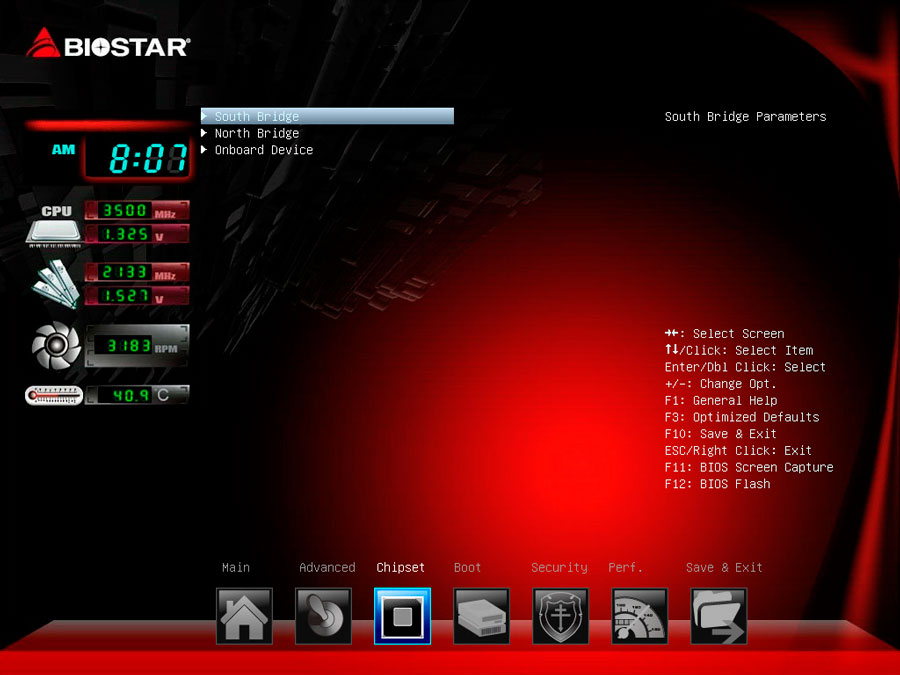 The boot menu is also self explanatory, with all the options we expected to see – except for the ability to boot right away from a storage device within the UEFI.
The security menu is again self explanatory, with an admin password setup for UEFI access, while a user password setup is used for powering or booting up the PC.
Overclocking is an option for the BIOSTAR A170MD PRO, and you can overclock both the CPU and GPU to an extent, together with the DRAM. Load Line calibration is also present here for both the core and NorthBridge.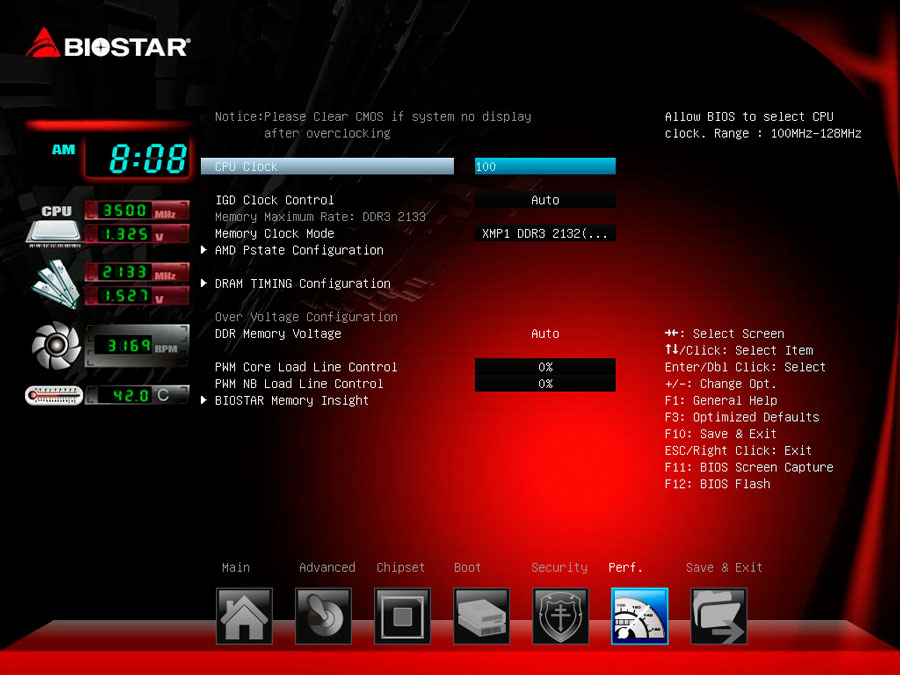 Last but not the least, we've got the save & exit menu. You could save or discard the changes you've made here, and even override boot options while inside the UEFI.
The UEFI is pretty basic, but it does the job well without any hiccups or problems. It's even better than the similarly designed Hi-Fi A70U3P board UEFI. I also find its pointing device support better than what some UEFI based motherboards I have tested so far so it's all good.
TEST SYSTEM & HOW WE TEST:
Motherboards are one of most unforgiving components to test due to their sheer complexity. To provide precise test results, it is important to install a fresh copy of the Operating System, have it updated along with the BIOS and drivers for it together with the other components. Benchmark(s) should be executed every after a 5 minute cool down from start-up upon a system cold boot. This is to ensure a uniform scoring. External devices are plugged on the same USB type too (e.g. keyboards should be plugged at USB 2.0 ports) to minimize discrepancies if there's any, and softwares used through different systems has to be exactly the same except for vendor exclusive applications.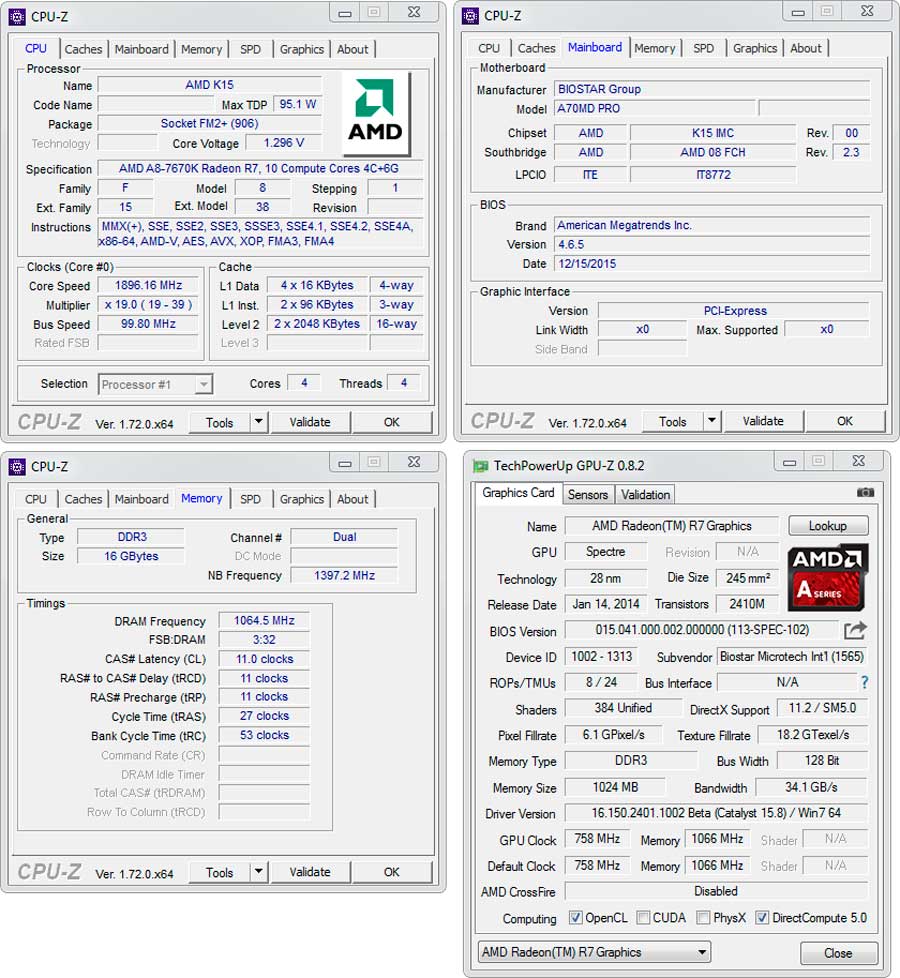 | | |
| --- | --- |
| CPU | AMD A8-7670K APU |
| MOTHERBOARD | BIOSTAR A70MD PRO |
| CPU COOLER | STOCK AMD COOLER |
| MEMORY | CORSAIR VENGEANCE PRO @2133 MHZ 16GB |
| GRAPHICS CARD | AMD RADEON R7 GRAPHICS |
| INT. STORAGE | KINGSTON HYPERX FURY 240GB |
| PSU | COOLER MASTER SILENT PRO HYBRID 1300W |
| DISPLAY | 27″ DELL U2715H WQHD IPS PANEL |
| OS | MICROSOFT WINDOWS 7 ULTIMATE X64 SP1 (UPDATED) |
| SOUND CARD | ONBOARD AUDIO |
| EXT. STORAGE | KINGSTON HYPERX FURY USB 3.0 FLASH DRIVE |
Our usual test system utilizes an Intel Core i5-4670K CPU, but since this board is an FM2+ based motherboard, we used an AMD A8-7670K APU with 4 cores and a Radeon R7 GPU, along with a 2133MHz memory kit in 2x8GB configuration.
CPU & OVERALL SYSTEM PERFORMANCE:
CINEBENCH R15 is a real-world cross-platform test suite that evaluates the computer's performance capabilities. CINEBENCH is based on MAXON's award-winning animation software CINEMA 4D, which is used extensively by studios and production houses worldwide for 3D content creation.
wPrime is a multi-threaded benchmarking application designed to measure the raw computational power of a CPU. It can be configured to run on a custom number of threads to accommodate multi-core CPUs.
MEMORY PERFORMANCE:
AIDA64 is a streamlined Windows diagnostic and benchmarking software for home users. We'll use the built-in memory benchmark tools of the AIDA64 to determine the memory's performance.
STORAGE PERFORMANCE:
Crystal Disk Mark measures the sequential reads/writes speed of storage devices. It also measures random 512KB, 4KB, 4KB (Queue Depth=32) reads/writes speed. We're going to use Crystal Disk Mark's sequential benchmark to mesaure our USB 3.0, HDD, and SSD devices.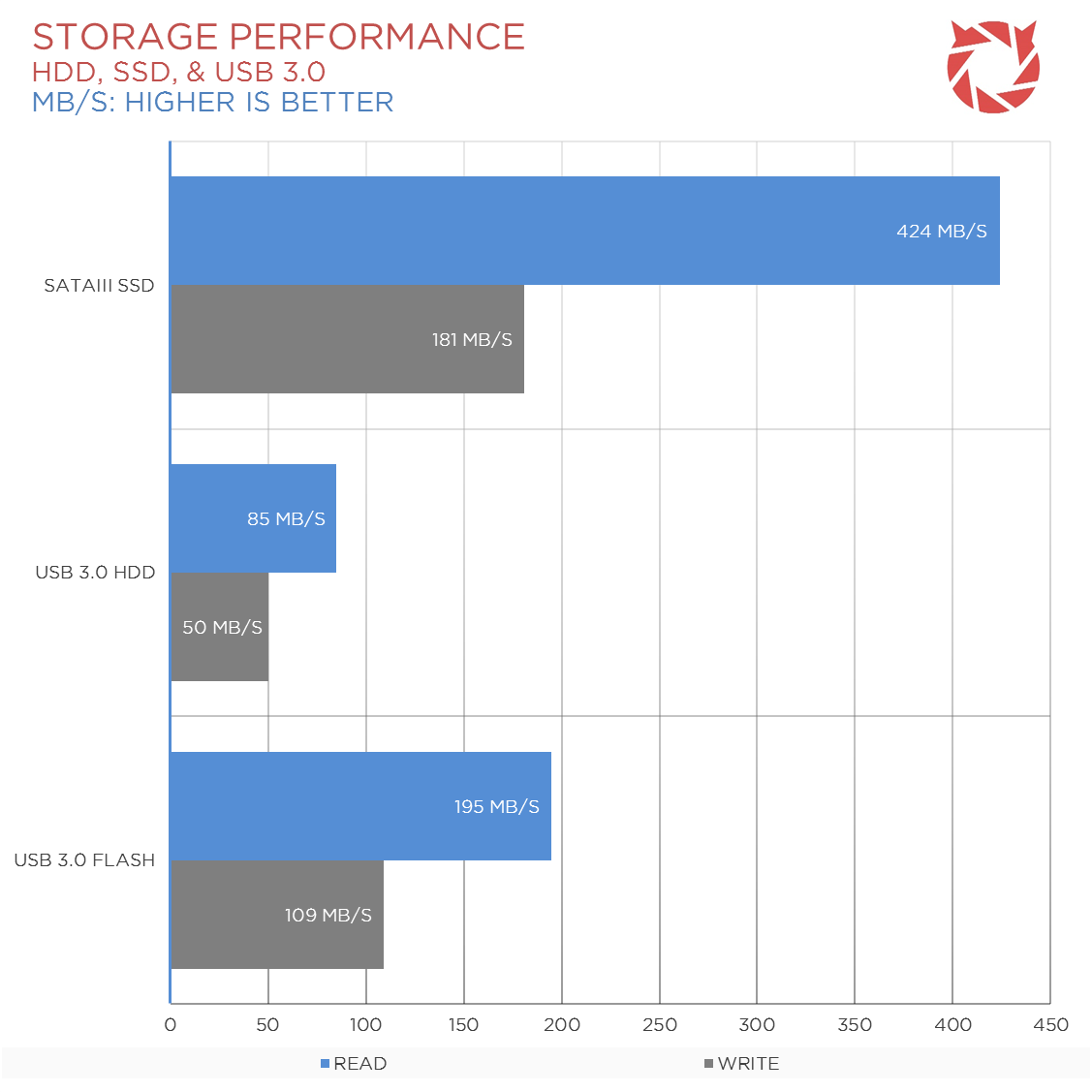 POWER CONSUMPTION:
Idle results were taken after a 15 minute break, with power options set to balanced and without enabling standby mode at the OS. As for load, the AIDA64 Stress Test is used and is left to run for an hour, taking notes of the consistent maximum load results after every 5 minutes for average load power consumption. A socket based power meter is used to achieve the results.
AUDIO PERFORMANCE:
RightMark Audio Analyzer (RMAA) is a suite designed for testing quality of analog and digital paths of any audio devices. The results are obtained by playing and recording test signals passed through the tested audio path by means of frequency analysis algorithms. A more common mark is also provided for those unfamiliar with measured technical parameters. – https://audio.rightmark.org
| | | |
| --- | --- | --- |
| Frequency response (from 40 Hz to 15 kHz), dB | -0.18, -0.75 | Good |
| Noise level, dB (A) | -86.7 | Good |
| Dynamic range, dB (A) | 86.0 | Good |
| THD, % | 0.0023 | Excellent |
| THD + Noise, dB (A) | -79.1 | Average |
| IMD + Noise, % | 0.016 | Very good |
| Stereo crosstalk, dB | -83.6 | Very good |
| IMD at 10 kHz, % | 0.015 | Very good |
| General performance | | Very good |
THE VERDICT:
The BIOSTAR A70MD PRO is a back to basics motherboard with a few extra features here and there to amp up your experience. It might not be the greatest when it comes to performance, as with any FM2+ based chipsets together with an APU – because realistically, APUs are not built to crunch numbers. But, it sure does the job required with passing colors especially with its generally good audio performance for something with a Realtek ALC662 CODEC. We have been using this board for weeks with a capable audio solution, playing movies and loss-less audio. The board is simply just great for multimedia experience. We just wished BIOSTAR ditched the VGA for an HDMI port, and included extra audio ports for convenience.
The board features BIOSTAR's Super LAN Surge Protection which is probably going to be a mainstay for the rest of the BIOSTAR's series, together with a snappy UEFI which is a really sweet deal for the price. The AMD A70M chipset is for those with budget in mind, yet BIOSTAR goes to the extra mile by including USB 3.0 support and SATAIII support. The chipset originally doesn't originally support those features natively, but since AMD and BIOSTAR partnered up for this chipset, we can say that BIOSTAR did the most work on those areas.
The BIOSTAR A70MD PRO retails for around 2, 100 Pesos in the Philippines. It's a good price for those who wants to build a well rounded APU system, especially with an A8-7670K APU. Both combined could play the most popular games smoothly, mainly DOTA2 and CS: GO – but at the expense of a lower graphics settings of course. Configuring a gaming capable PC below 10, 000 Pesos is very much possible.
BIOSTAR A70MD PRO
PERFORMANCE -

7/10

BUILD QUALITY -

7/10

FEATURES -

7/10

AESTHETICS -

7/10

VALUE -

9/10
Summary
The BIOSTAR A70MD PRO retails for around 2, 100 Pesos in the Philippines. It's a good price for those who wants to build a well rounded APU system, especially with an A8-7670K APU. Both combined could play the most popular games smoothly, mainly DOTA2 and CS: GO – but at the expense of a lower graphics settings of course. Configuring a gaming capable PC below 10, 000 Pesos is very much possible.