When the first online video chat sites Omegle and Chatroulette appeared in 2009, they were something completely new for Internet users. Millions of people around the world rated this new format of communication highly, spending hours on end in chat roulettes. This popularity did not go unnoticed.
Omegle and Chatroulette could not remain monopolies in the random chat segment for long. Numerous alternatives began to appear very quickly. Some simply copied the functionality of the first chat roulettes and even used a similar design, others tried to do something of their own and offer users a radically new experience. It was the latter that drove the industry forward and continue to do so now. One of these "engines" is a video chat with strangers app called Chatrandom. We'd like to examine it further.
What is Chatrandom and how does it work?
Functionally, Chatrandom is a classic random chat site where you can chat with strangers via video call or text message. The site was launched in 2011, when there were a lot of similar sites available. Nevertheless, it managed to gather a huge audience.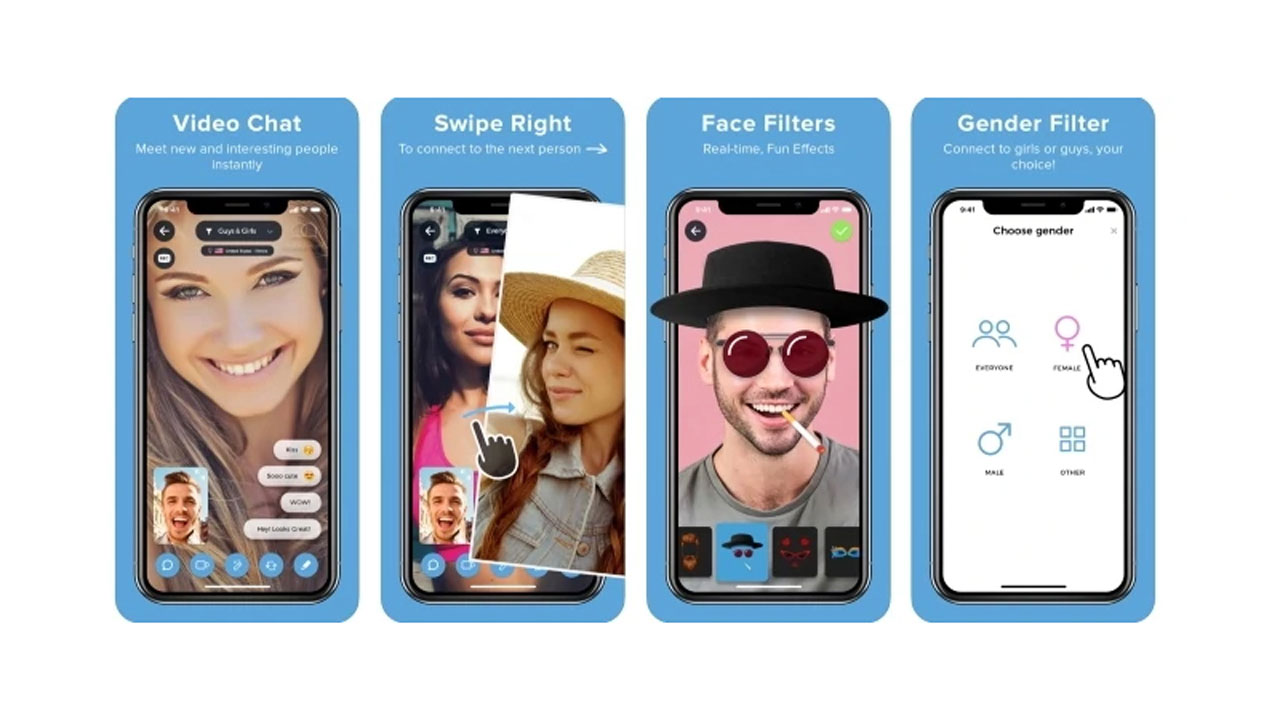 The basic principle of the site is the same as for Omegle and Chatroulette — you go to the site, give it access to your webcam and microphone, click the "Start" button and wait for the system to connect you with a random user. If you've used random video chat sites before, then the principle should be familiar to you. But users loved Chatrandom not just for this very standard feature. The site is truly unique in many ways.
Useful Chatrandom settings
First, let's focus on the basic video chat function and its additional capabilities. Chatrandom has a really extensive list of handy tools for easy communication: 
Search by interests

. You simply enter a list of your interests in a separate field, and the system tries to select the most suitable chat partners for you based on these

Gender filter

. There the usual options "Man" or "Woman", but also "Couple" and "Transgender".

Search by location

. You can search for chat partners both around the world and in individual countries — it's very convenient. 

AR masks

. If you want to be completely anonymous, you can turn on an AR mask that will hide your face from your chat partner. There are dozens of such masks for every taste.

Text and video chat

. You choose the format in which you want to communicate. You can turn off your webcam and microphone and only use text chat.

Automatic translation for text messages.

If you are communicating with a foreign speaker, just specify the language for translation, and Chatrandom will automatically translate all messages.

Safe search

. When you activate this function, the system especially carefully selects chat partners to make your communication even more comfortable and safe.
These are really useful features that many popular random video chat sites are missing. But in addition to these, Chatrandom has several other interesting advantages.
Why Chatrandom is popular
As the developers themselves say, they created Chatrandom completely from scratch and wrote brand new code, thanks to which the site works very quickly, finds chat partners with lightning speed and does not cause any hassle when communicating. Plus, Chatrandom has a mobile app that lets you chat almost anywhere, anytime.
As for additional features, we can name a few that are especially important: 
Themed chat rooms

. These are interest-based rooms in which dozens of participants can communicate at the same time. Topics are very varied: "Fun", "Affair", "New acquaintances", "Cinema", "Music" and so on. Premium account holders can enjoy a separate chat with only girls.

Gay chat

. Men of non-traditional sexual orientations can use a separate chat and communicate with each other without unnecessary hassle.

Private chat

. If you want to get maximum anonymity, you can go to a private chat with your chat partner, which is not moderated or tracked in any way. There are absolutely no restrictions here.
Even more useful features become available with a paid subscription. A premium account allows you to hide your location, use a welcome message, show a verification badge and the number of likes from other members. You can also add links to your Instagram, Snapchat and Onlyfans profile to collect followers.
There is another not immediately obvious reason for Chatrandom's popularity. The developers weren't in a hurry to launch their site as soon as possible during the wave of the popularity of web chats in 2009-2010. At that time, a lot of underdeveloped products and dubious sites appeared, which damaged the reputation of the video chat format. The Chatrandom developers during this time worked hard on development to give us a really good product. And they really succeeded. 
Who's this dating format for and is it possible to build relationships with the help of such a service? 
Video chat with strangers is a quite versatile format that suits almost everyone. If you're still shy about talking face to face with strangers, you can start with chat rooms. Here you will be in the company of like-minded people and communication will definitely go more smoothly.
In random chats, you can find new friends, expand your social circle, learn a lot of new things and even look for your future soulmate. We said above that Chatrandom has a geographic filter. Using it you can find interesting people in your country, get acquainted and then meet in real life. Who knows, perhaps this is where you'll meet your destiny.
Chatrandom now has pretty good moderation and the search algorithms work fairly well. Therefore, communication is always comfortable and safe. There are almost no problem users, Internet trolls and the like, but if you do meet such people, just immediately switch to the next person, and do not waste your time. Fortunately, in Chatrandom this can be done in just one click.
Decide for yourself
Chatrandom is far from the only random chat worthy of your attention. It has a huge number of advantages, but there are also obvious disadvantages. So our top tip is to use Chatrandom, but don't forget about alternatives.
There are dozens of random video chat sites with strangers. Some are better than Chatrandom, others are worse. And only you can decide which of them fully meets your requirements. For this you need to try at least a few.
Finally, one more little piece of advice: don't limit yourself to free features. Yes, in Chatrandom you can communicate quite easily for free. But in fact this chat roulette only reveals its true benefits with a premium account. The situation is similar with other chat random sites — free functions are great for evaluation purposes, and paid ones are for easy and fulfilling communication with far-reaching prospects. But the choice, as always, is yours.