Highlights X99 boards, GTX Graphics, and VR capable Notebooks 
The second day of COMPUTEX 2016 has drawn to a close as the world's most popular consumer electronics brands finish showcasing a wave of new products that are soon to hit the global market. At the biggest ICT event in Asia, the most revolutionary highlights take the limelight during the second day.
GIGABYTE Delivers Feature-packed Motherboards with Intel 10 Series and X99 Chipsets
GIGABYTE has unveiled its new series of motherboards that feature the Intel 10 series and X99 chipsets with a new design and a rich array of features at COMPUTEX 2016. GIGABYTE also showcased its new select motherboard models that feature Thunderbolt™ 3 connectivity, allowing users to take advantage of the higher bandwidth the technology offers. Furthermore, GIGABYTE's new X99 motherboard comes with the latest HEDT series processors from Intel, including the recently unveiled Intel® Core™ i7-6950X Extreme Edition processor.
GIGABYTE Unleashes New Gaming Graphics Cards
At the VGA division of GIGABYTE, the company displayed its latest graphics cards that sport new custom coolers for its new Xtreme Gaming and G1 Gaming lineup for the NVIDIA GTX 1080. The new Xtreme Gaming cooler comes with an overlapping fan design that maximizes the airflow, leaving no gaps between the fans for full graphics card coverage. Furthermore, the graphics cards are overclocked out of the box and will feature fully customizable RGB lighting.
GIGABYTE Displays Aorus Series Gaming Notebooks
GIGABYTE showcased its latest lineup of gaming notebooks for the GIGABYTE brand and the AORUS Gaming notebook brand at this COMPUTEX 2016. GIGABYTE displayed its new camouflage pattern skin for its new Aorus series notebooks as well as the world's first 120Hz panel on a notebook that feature its new RGB keyboard lighting.
Furthermore, GIGABYTE Notebook also unveiled its new Aero series of notebooks that feature Quad HD display, and graphics options up to NVIDIA GTX 970M graphics that are all within a thin frame. The notebook is showcased in its orange and green color schemes complete with carbon fiber texture to give it an extra appeal.
Micron Debuts Ballistix Gaming and Performance Brand
At COMPUTEX 2016, Micron Technology, Inc. officially debuts its Ballistix brand as the name of its gaming and high-performance products. Micron will now have the Ballistix brand join with Crucial for consumers as a brand for solid-state drives and RAM. Both brands will also be fully equipped with premium components from the company.
Furthermore, Micron also took the opportunity to announce three of its new products, the Ballistix Sport, Ballistix Tactical, and the Ballistix Elite. Joining the new line of products is the Ballistix TX3, the company's new high-performance M.2 SSD.
Apacer Unveils New AvataRAM Memory Lineup
Apacer Technology Inc. showcased its new product line at COMPUTEX 2016 and shows off its new AvataRAM product line that serves as a high-performance storage solution for unparalleled data access for consumer and enterprise applications. Furthermore, Apacer also showcased its wide range of products, including the latest Apacer Blade Fire and Apacer Panther memory modules as well as products for storage and industrial usage.
Colorful steps in the VR Market
Hangzhou Shunwang Network Technology Co., Ltd. (Shunwang Technology) is a leading domestic internet service provider since year 2005. In the year of 2015, Shunwng Technology becomes the exclusive agency of HTC VIVE device for Chinese icafe market.
On 1st June, Colorful's booth at Computex, Colorful announces its strategic cooperation with Shunwang Technology and officially steps into the VR market. As a strong VGA card brand in China, Colorful can fully provide the VR device with both hardware and software platform.
HWBOT World Tour 2016: Day 2 – Hazzan Beats Rule
The second day of the HWBOT World Tour 2016 at Computex got underway today, as did the part two of the World Series Asia extreme contest. Day 1 was all about exploring the nuances of Intel's new Broadwell-E platform, with most of the 25 overclockers using the platform for the first time. The first day doubtless had many overclockers scratching their heads a little, as any wholly new CPU would – would day two prove to be more fruitful for some new faces, or would yesterday's cream of the crop rise to the top again?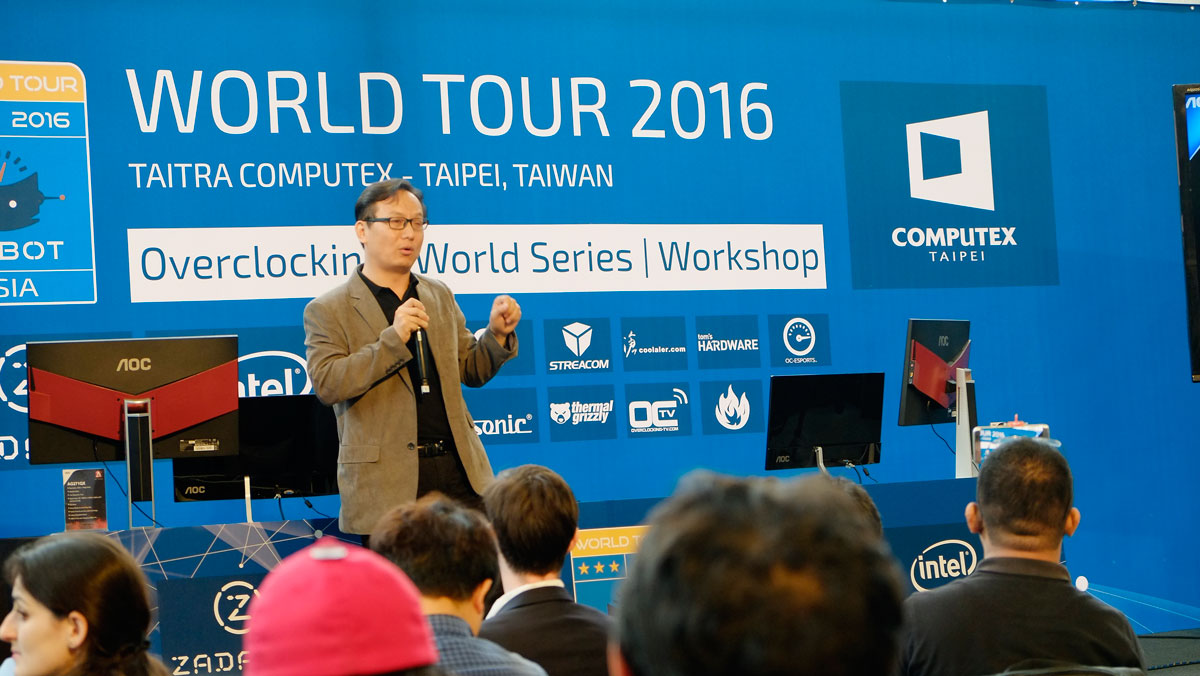 The leaderboard at the end of play in fact had a kind of familiar ring to it with two of the previous day's overclockers making it to the podium for a second consecutive time. In first place however we did in fact have a new face with Italian overclocker RULE winning the day's action with a score of 62 points thanks to wins in XTU and Cinebench. In second place we have Hazzan who won the memory clock challenge in stage 2 while in third place we find our Swedish Semi-Finalist in waiting Rauf. Here's how it breaks down in terms of prize money:
1st Place: $500: RULE (Italy)
2nd Place: $250: Hazzan (Indonesia)
3rd Place: $125: Rauf (Sweden)
Congrats to Hazzan who did really well to reach the 1v1 Face Off for the second time in as many days, joining Sweden's Rauf in the Semi-Finals this Saturday. Don't forget you can catch all the qualification scoring and results on the OC-ESPORTS site, as well as great coverage of the 1v1 face Off, plus an interview with Hazzan on OverClocking-TV's Twitch and YouTube channels.
About CyberMedia
Founded in 2005, CyberMedia is an international PR and communications firm specializing in the tech industry. With its Headquarter based in Taiwan, CyberMedia provides full PR and marketing services, producing effective and creative solutions for brands expanding into international markets. CyberMedia's primary area of focus are on consumer electronics, gaming, enterprise hardware and IT services. CyberMedia also acts as a media representative for many international tech publications and has the experience and capabilities to organize various international events. For information about our clients or services, please visit: www.cybermedia.com.tw
[button color="red"] PRESS RELEASE[/button]