Small form factor PCs are overlooked upon by many, because they usually lack the performance that most of us needs. But, there are exceptions, since muscle isn't always the deciding factor when it comes to PCs.
Nowadays, small form factor computing devices such as the SuperPi, and Intel's NUC had their fair share of approval from various end users, serving as a small media server, an office computer, and even as gaming machines. Surely, with the power of today's small form factor PCs, you can almost do anything rational with them.
Now enter ECS' LIVA Mini PC. A 4" incher that features the BAT-Mini motherboard with the latest Intel Bay Trail-M microprocessor. Initially available in 32GB storage flavour, the LIVA we got here features an upgraded eMMC storage at 64GB, so you could store more without worrying about external storage. In addition, the LIVA features an on-board 2GB of DDR3 RAM, and appears to be an energy efficient machine. Shall we find out if it lives up to its name?
NOTABLE FEATURES:
TECHNICAL SPECIFICATIONS:
Motherboard
ECS BAT-MINI
CPU / Chipset
Intel Bay Trail-M
Memory
2GB DDR3L
Storage
eMMC 64 / 32GB
LAN
Realtek RTL8111G
Audio
Realtek ALC282(2CH) Combo Jack
Wireless
By NGFF Card:WiFi 802.11a/b/g/n + Bluetooth 4.0
USB 3.0 / 2.0
1/1 Port
I / O Interface
1 HDMI1 VGA1 USB 3.0 / 1 USB 2.01 Audio Combo Jack1 Power Connector (Micro USB Port)1 LAN Port
Thermal
1 Fan-less Heat Sink
OS Support
Windows 8.1 (64-bit) / Ubuntu
UNBOXING THE ECS LIVA:
The ECS LIVA came in a rather small, white and orange themed packaging that is just so cute everywhere we look at it. There is barely anything written up front, just some sublime marketing logos and an image of the LIVA itself when disassembled.
The side of the LIVA's packaging shows the specifications of the Mini PC, along with its contents and the standards that it supports.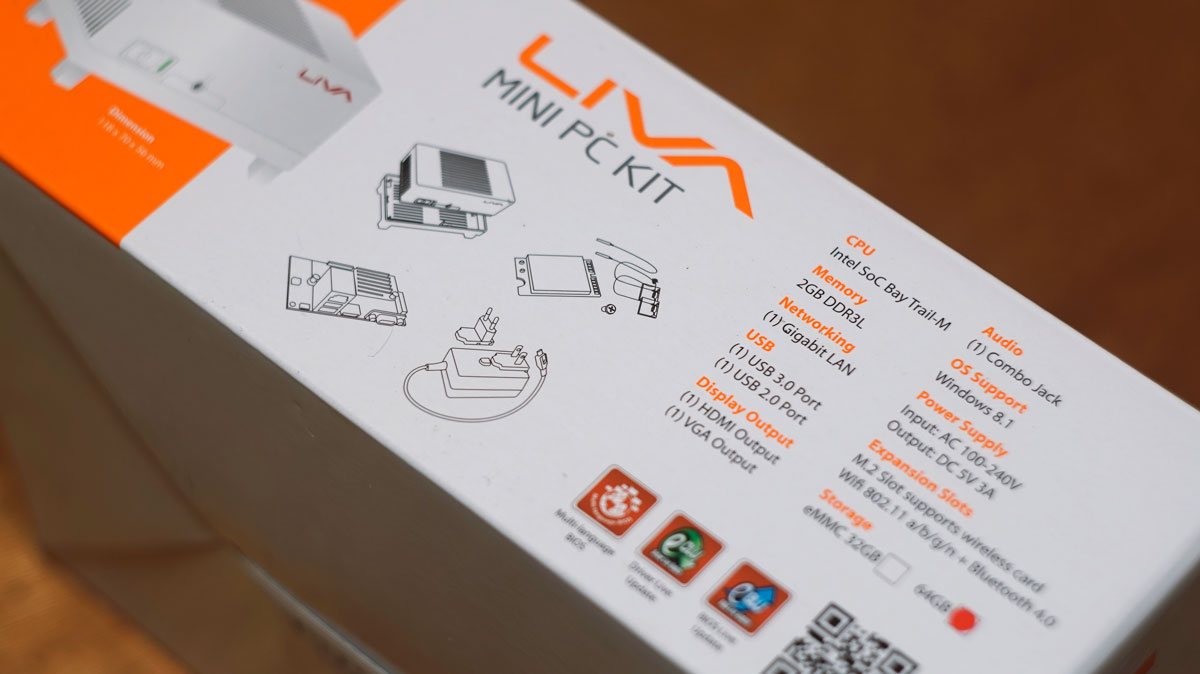 ECS even included a small letter after you opened the main packaging. It's a small touch but it's these things that usually makes someone smile.
The LIVA came with a user's guide, a well illustrated installation guide, and a setup DVD.
THE ECS LIVA COMPONENTS:
The components of the ECS LIVA are well packed, and consists of only 7 parts including the small screw for the wireless adapter. All in all we've got the ECS LIVA's mainboard here with the Intel® Bay Trail-M SoC processor, the Power Adapter, the Wireless Module, the display box in Two pieces, and 2x wireless antenna used to extend the WiFi and Bluetooth signal of the wireless module.
The ECS LIVA's BAT-Mini board is cute, and is no larger than your average 4″ smartphone. There isn't much going on around here as the top is engulfed by a passive orange heatsink used to cool the SoC Intel® Bay Trail-M processor clocked at 1.58 GHz per core with a maximum of 2.16 GHz in Turbo mode. The eMMC, which is 64GB for this version, is also located on this area and is also passively cooled by the heatsink.
The underside of the LIVA is busier, as we've got the M.2 socket here for the Wireless Adapter, the CMOS battery, and the low voltage 2GB DDR3 memory running at 1333 MHz. This 64GB White version uses Elpida's memory chips, as opposed to what we have seen from others with the SKhynix parts.
I/O Connectivity wise, we've got a VGA and HDMI port for the display (dual display capable), an RJ45 LAN Port capable of Gigabit LAN, and 3 USB ports: 1x USB 3.0, 1x USB 2.0, and 1x Micro-USB 2.0 for the power adapter. With that port, the ECS LIVA is able to run if plugged on a PC that could output 5V & 3A of USB power, or any power bank that could handle that power output. Yes, this thing could run with a power bank folks!
As said earlier, the BAT-Mini board is small, and even a bit smaller than my Lenovo A60+ which is roughly 4″ in length. At the angle below, you could see the power button, as well as the 3.5mm combo jack for the audio in and out. If you have a headset with separated audio in and out jacks, you need to buy a splitter for it to work properly. Headsets with a 3.5mm combo jack are welcome to be plugged in directly.
Wireless adapater is a courtesy of the AzuroWave AW-NB136NF M.2 combo card. It complies to the WiFi 802.11a/b/g/n + and Bluetooth 4.0 standards so it's all good!
ASSEMBLING THE ECS LIVA:
ECS prides themselves that we could assemble the LIVA in just 40 seconds, but in reality, it actually took more than that. On our side of assembly, we actually installed the LIVA's guts starting with the Wireless Adapter. It's an easy task.
Next up are the wireless adapter's extenders. I enjoyed installing these parts since it made me realize that my uncut pinky nails used for picking motherboard screws actually has another use!
There is no need to use screws to install the BAT-Mini board, as it could be snapped easily using the LIVA's case. Easy peasy.
Perhaps the hardest part of the LIVA installation are the pesky inserts of the wireless antenna. We literally have to apply force just to snap these things into place. Kinda wished we did this before installing the wireless module into the BAT-Mini board in the first place.
The ECS LIVA is still considered small even with the demo case installed, with a foot print of 5 4″ smartphones stacked to each other. Without the LAN port towering at the I/O panel, it could be slimmer!
Vents are all over the place, and it should be since the LIVA is passively cooled. There is an allowance beneath courtesy of the demo case feet so airflow shouldn't be a problem.
THE BIOS:
There isn't much to talk about the AMI BIOS, since it features standard options. We do however, saw a Tweak Menu where we could see the current frequency of the SoC processor. Initially, I though overclocking would be an option, considering that there is a Tweak Menu. Hopefully, ECS will update the BIOS or get around the Intel Bay Trail-M so we could OC this thing! Wouldn't mind going active cooling for that extra oomp!
GOIN' UBUNTU WITH THE LIVA:
The ECS LIVA officially supports Windows 8 and 8.1, but cannot really support Windows 7 due to UEFI limitations. Since Windows 8/8.1 is a resource hog when paired to this, and will actually charge you around 70-200 bucks depending on the version, it's easy to recommend going Ubuntu.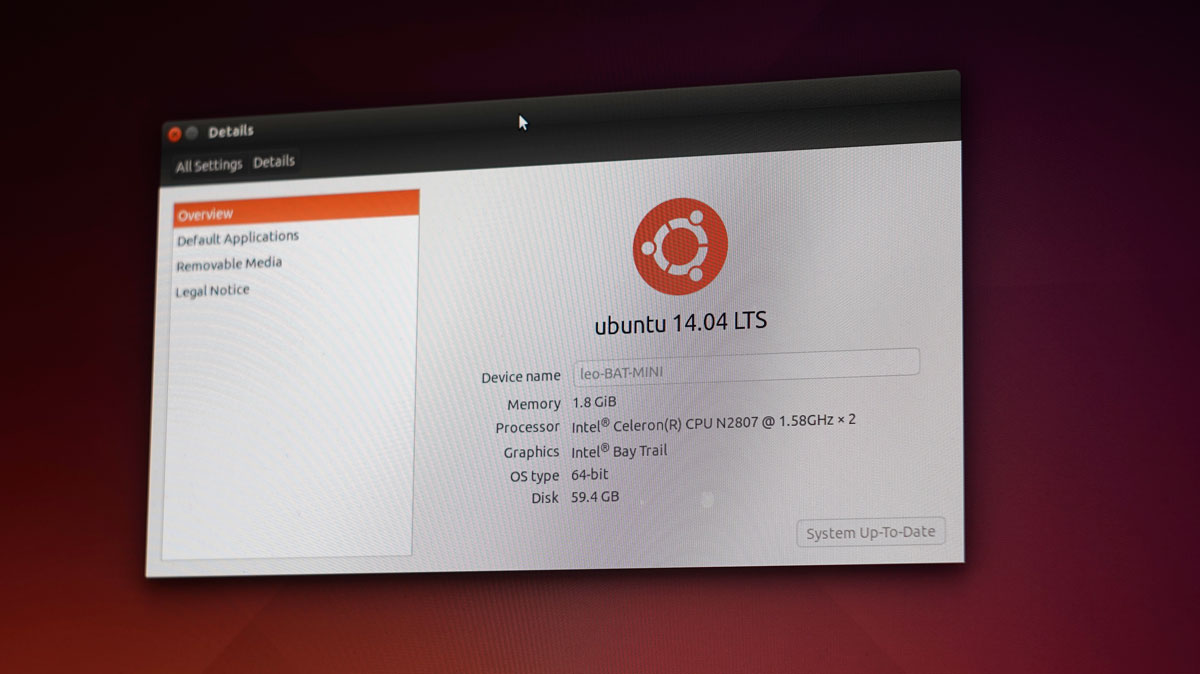 Ubuntu's latest 14.04 LTS operating system only uses 3.3GB of available space when fully installed. Compared to Windows 8.1's initial 4GB space needed for installation, I'd go with Ubuntu for the LIVA anytime, especially since it is free, and doesn't take much disk space when updated.
The Ubuntu 14.04 LTS is easy to install, and comes with capable out-of-the-box freewares including Mozilla's FIrefox web browser, and Thunderbird for mail.
LibreOffice, a very capable Microsoft Office suite replacement for free, also comes bundled with the Ubuntu 14.04 LTS. For 3.3GB of initial installation files with full software suites that you could use freely, there's no reason to hesitate with Ubuntu for the LIVA. Learn more about LibreOffice HERE.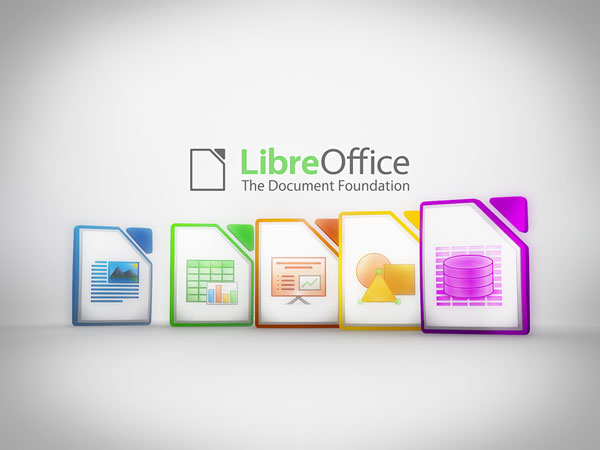 NOTE: The ECS LIVA's wireless module isn't fully compatible with Ubuntu yet, so you can't use them out of the box. However, Linux / Ubuntu user Samiux posted a guide on how to enable wireless with Ubuntu and the LIVA. Check out his guide on how to enable wireless networking with the LIVA HERE. It's a long guide, but it is worth-it. Also, to keep the Unity 3D UI smooth, please download the latest Intel HD Graphics driver for Ubuntu HERE, and / or use a 2D Desktop interface such as the Gnome Flashback Session. Google em' up boys.
GENERAL PERFORMANCE:
This is not your usual review, as we are dealing with Ubuntu and a Mini-PC. That said, we decided to focus on the usability, user experience, and see for ourselves if it could fit in on our daily lives.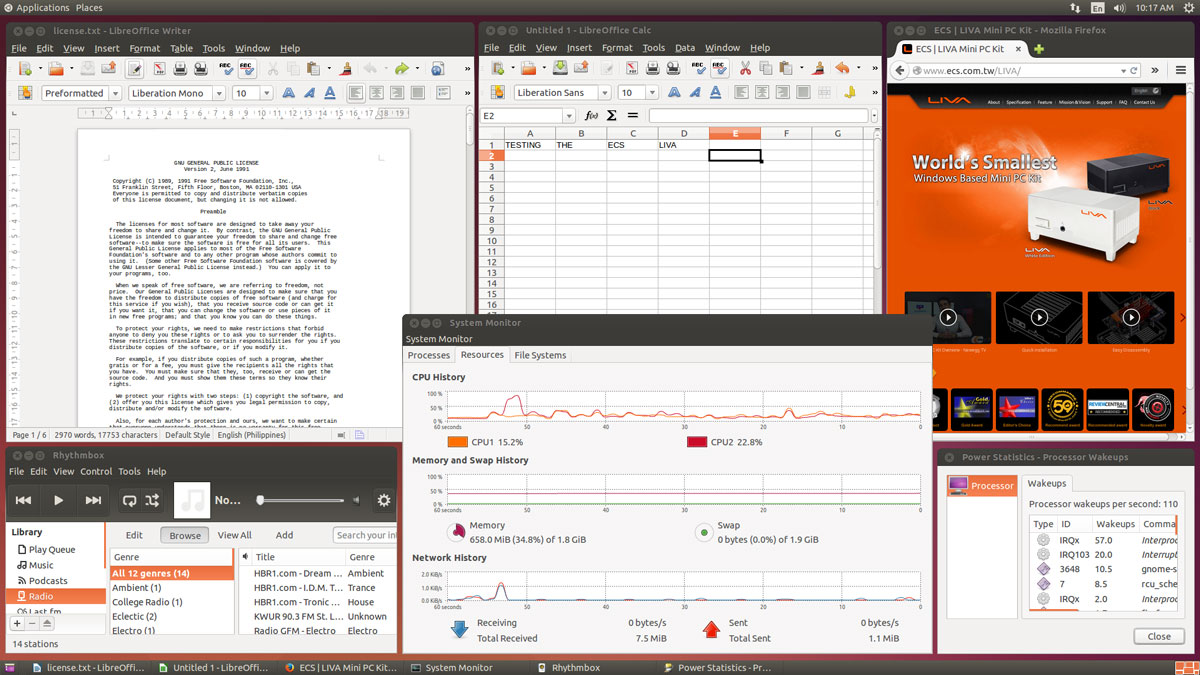 The ECS LIVA handled our apps pretty well, which is already a feat considering its size. We could browse the internet, do office work, and listen to music all at the same time; just like your average desktop – only way smaller. Clearly, the Intel Bay Trail-M SoC family, especially the one soldered on the ECS LIVA's BAT-Mini motherboard works flawlessly. To top it off,  if there's something I could literally brag about the ECS LIVA, it's the power figures. I mean with 3W idle, and 13W load with all of its ports populated and at full load, the LIVA surely impress.
Media playback, such as the 8GB .MKV copy of the X-MEN: First Class at 1080, seems to render pretty smooth, with an average of 50-60% CPU utilization. In addition, storage performance seems to be good, if not great, particularly in the boot speed department. From turning the LIVA on, we could clock it at just below 30 Seconds, 27.80 Seconds to be precise. That's the time it only need to boot to desktop. Mind you, my sister's budget gaming laptop boots up at 35 seconds full starting from the Windows animated loading screen.
VALUE & CONCLUSION: IS IT WORTH IT?
The ECS LIVA is a surprising product as I never actually expected it to perform very well considering its form factor. For a product with such dimensions, it actually performed like a well-oiled machine comparable to the ones we've got 10 years ago without the extra power consumption. Intel, together with ECS, really did a great job when it comes to performance. Multitasking  never is a question.
The ECS LIVA, together with Ubuntu, is a match made in heaven, enabling you to do daily tasks without worrying about hiccups, or paid softwares that would bloat up the cost of ownership. I can see myself, and my family using it without hesitation – Just remind yourself that it is not built for gaming, or other heavy duty tasks.
The Intel Bay Trail-M powered BAT-Mini motherboard from ECS proved to be a capable energy efficient machine, as we never even hit the rated maximum 15W of power even at full load with all the I/O ports populated. What's surprising is, we could even power it up using our power bank with its 3A port. Surely, this is one heck of an energy efficient mini PC. I wouldn't mind using it as my torrent box, and as the family's living room PC.
Although great, the ECS LIVA still is not perfect. IO ports, particularly the USB ones, could use another pair, and wireless connectivity doesn't work out of the box with Ubuntu. I'm glad that there were guides though. Bluetooth is still an issue sadly, but with that said, I'd like ECS to take Ubuntu and Free OS seriously, as they could bundle it with the next releases of the LIVA for out of the box computing. Imagine what you could do with a LIVA optimized OS.
The ECS LIVA doesn't support Windows 7, which is a real shame since you could get the said OS for a bargain today and is a better option than Windows 8/8.1, but we have heard that ECS' R&D is working with a new version that could support Windows 7 out of the box. Something that I am looking forward sometime next year.
I like the ECS LIVA, particularly this version, since for the price of 179 USD, you could enjoy computing and even build your very first PC with fun, and ease. It sure aint perfect, but the benefits of owning one weighs more than its SRP if you know what you're doing.
THE VERDICT
PROS:
Capable Intel bay Trail-M System
Works with Ubuntu out of the box*
Good passive cooling solution
Energy Efficient
Good value for money
Easy to setup
CONS:
Could use another pair of USB ports
Wireless is a pain to setup
Zero Windows 7 Support
ECS LIVA Mini PC Kit
PERFORMANCE -

7/10

BUILD QUALITY -

8/10

FEATURES -

8/10

AESTHETICS -

7/10

VALUE -

9/10
Summary
I like the ECS LIVA, particularly this version, since for the price of 179 USD, you could enjoy computing and even build your very first PC with fun, and ease. It sure aint perfect, but the benefits of owning one weighs more than its SRP if you know what you're doing.