With the release of the Intel 7th generation processors and AMD's Ryzen CPUs, it seems that they are the only viable upgrade path to choose from this side of the year. If you just need something that works with a dash of gaming and overclocking oriented requirements, then there's no reason to get the latest chipsets. Especially if the older generation warrants a better price point. With those things said, enter the realm of the ECS Z170 LIGHTSABER motherboard.
The ECS Z170 LIGHTSABER is one of ECS's latest Intel ATX platform for the upper mainstream segment, followed by the Z270H4-I ITX motherboard – the only 200 series chipset thus far from the company. The ECS Z270 LIGHTSABER's launched has been marked though, and we will see it soon according to ECS themselves.
ECS Z170 LIGHTSABER
CPU SUPPORT
6th Generation Intel Core i7 / i5 / i3 / Pentium / Celeron Processors
CHIPSET
Intel Z170 Chipset
POWER PHASE
14 Power Phase Design
MEMORY SUPPORT
4x DDR4 @ 2133 MHz non-ECC, un-buffered, Intel XMP 2.0, up to 3200+(OC), 64GB Max
EXPANSION SLOTS
3x PCI Express 3.0 x16, 4x PCI Express 3.0 x1
MULTI-GPU SUPPORT
AMD CrossFireX
DISPLAY OUTPUT
HDMI, DisplayPort
AUDIO SOLUTION
Realtek ALC1150 8-channel HD CODEC, Onboard TI NE5532AP Amplifier
LAN
Killer E2400 Gigabit Fast Ethernet Controller
WLAN
N/A
M.2 SLOTS
1x M.2 Socket
SATA PORTS
6x SATAIII, 1x SATA-Express
USB PORTS
8x USB 2.0, 6x USB 3.0, 2x USB 3.1
COOLING
Passive VRM and PCH Cooling, 5x 4-Pin Fan Headers
The ECS Z170 LIGHTSABER is an interesting motherboard based on the Z170 chipset. It has three PCI-E x16 (physically and electronically) but has no support for SLI technology. CrossFireX is fully supported though so multi-GPU config is limited for AMD Radeon devices. A Killer NIC is utilized in place of the usual Intel NIC we've seen from most vendors.
As for audio, ECS went with a tried and tested ALC1150 CODEC with an amplifier from Texas Instruments for good measure. Buttons, and diagnostic LEDs are also one of this board's main features that should allow us to do some dirty work inside and outside the UEFI. Finally, the LIGHTSABER features a LED enhanced PCB trace around the audio area. This can be customized to your liking as well. Pretty much the reason why they named it the LIGHTSABER anyway. Learn more here.
PACKAGING AND BUNDLED ACCESSORIES:
The ECS Z170 LIGHTSABER has a rather fancy packaging that kinda bears similarity to their golden motherboards of yester years. The back is full of graphical information about the board.
Inside, you'll get a few paper works, a software DVD, and a labeled back panel IO plate. SATAIII cables counts to four, and that's just about it.
Bundle is nice, but I suppose including a LEET case badge wont hurt?
DESIGN LAYOUT & CONNECTIVITY:
The ECS Z170 LIGHTSABER is a strikingly beautiful motherboard. The design is sort of a blend between industrial and gaming – completely devoid of any curves to further bolster that aggressive stance. There are 5x PWM fan headers located at the board, with the 3 situated at near the CPU cooler while the other pair is at the bottom left for your chassis fans.
The back of the board is clean, with only a few screws sticking out. unintended PCB grounding is not a concern here. The audio is completely isolated with the LEDs at the other end of the separation. Good design choice since LEDs have their own PWM Noise.
Looking at the top we could see that this board packs a huge block of serrated VRM heatsink. The main block is responsible for the 8 phases while the smaller one is for the 6 phases. VRM is 14 phases in total, but it is most likely a 7 phase design with a doubler IC. Right next to the heatpipe are 8 small diodes that lights up according to the VRM's load.
Expansion slots are pretty neat. You'd get 4x PCI-E 3.0 x1 slots, and 3 full size PCI-E 3.0 slots in a x16 configuration both physically and electrically. This board only supports AMD's CrossFireX Multi-GPU configurations.
The Z170 LIGHTSABER has 4 DDR4 DIMM slots that supports a maximum of 64GB capacity when fully populated. Maximum stock frequency is at 2133MHz, but it supports XMP 2.0 so there should be no issues with higher frequency kits. According to ECS, this board supports up to 3200MHz kits. Now this area houses the power on, and reset buttons together with a 3 digit display. You can cycle between 5 displays here via the 80P_SW switch. A novel feature that I really like. By the way, there are 5 diodes here that should help you distinguish what the board is displaying at the moment.
The headers below the board are your usual suspects. You'd get a front panel audio header here, a case header, buzzer header, 2x PWM fan headers, and 2x USB 2.0 headers along with the front panel inserts.
Back panel IO connectivity is pretty good. A combo PS/2 port and 4x USB 2.0 ports (yellow and red) should be enough for your main gears, while 4x USB 3.0 ports allows you to make room for hi-speed external drives. There are also 2x USB 3.1 ports here courtesy of the ASMedia controller. A ClearCMOS button is located here as well next to the display ports. I haven't seen such a nice amount of IO features in a while.
Going back at the bottom allows us to take a look at the extra buttons. The left one is used to automatically overclock your system, while the middle button is set to put you right back into the BIOS on your next reboot. A BIOS flash button is also included as well.
The ROM_Backup button allows you to backup the BIOS in case it gets corrupted. This button is used in conjunction with the SPIROM switch.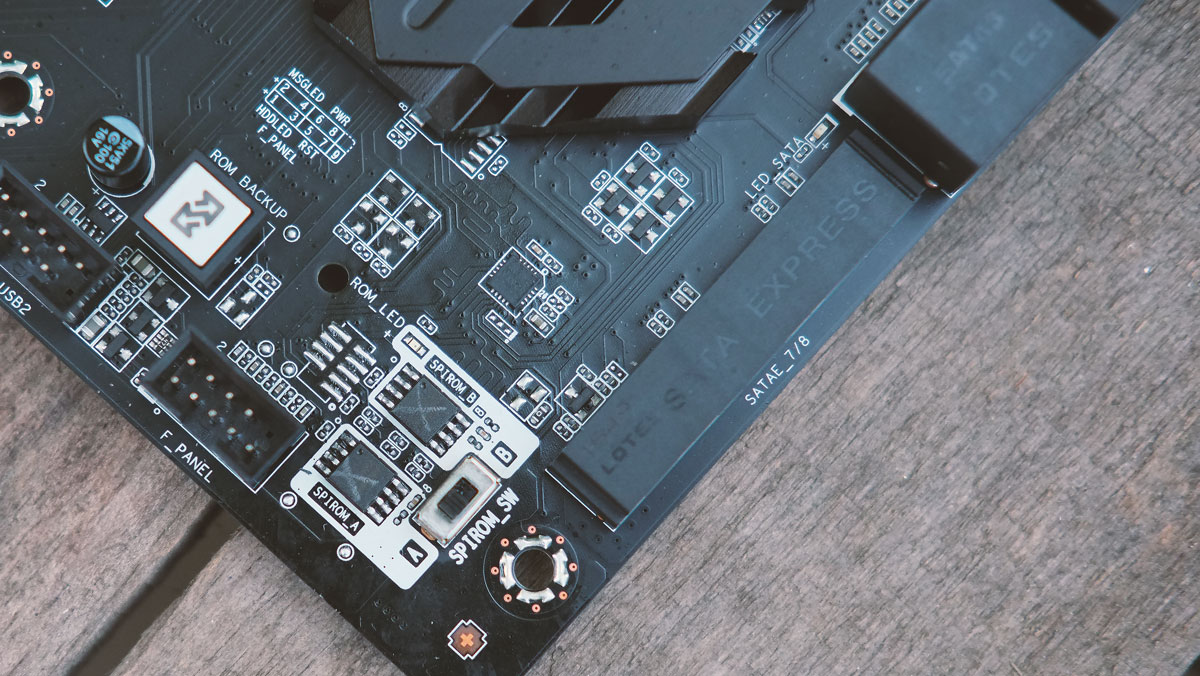 UEFI WALK-THROUGH:
The UEFI of the ECS Z170 LIGHTSABER had this neon vibe going on at least when it comes to the EZ mode. You can choose between 4 presets here but leaving everything via these automated features are just not my thing. One thing to note though – the UEFI on the manual has a different design compared to this one. Not sure what's up, but most functions are retained.
The MIB X is where the fun is at. This is where you could OC both your CPU and Memory as well as to adjust voltages according to your requirements. Load Line Calibration and other features I expected to see here are not present thought. Overclocking is basic with Skylake so there's that for consideration. The audio trace lighting option is also located here. No effects, just color change drop down menus.
DRAM frequency can be manually set and of course, you can get past 2133 MHz with this board. Use this if you're trouble shooting, or if your kit is capable of running up to 3200 MHz.
There are two temperature sensors found within the board, and you can monitor them at the PC Health Status. Fan speed and voltages are monitored on this area too.
The UEFI of the motherboard is snappy, and hiccup free although I'd love to see a more professional looking EZ menu. While you can take screenshots, the button is not indicated. I believe it is F11.
TEST SETUP & METHODOLOGY:
The motherboard's performance will be evaluated by various benchmarking tools, and applications with the CPU, memory, storage, and audio performance being the focus of the tests. We are testing this motherboard with the high performance settings enabled at the OS, with the default UEFI configuration, and XMP enabled if possible. No extra softwares or applications are installed and running during the benchmarking process. The test system specifications are laid out below:
| | |
| --- | --- |
| PROCESSOR | INTEL CORE I5 6600K |
| MOTHERBOARD | ECS Z170 LIGHTSABER |
| CPU COOLER | CRYORIG C1 TOP FLOW |
| MEMORY | CRUCIAL BALLISTIX TACTICAL 16GB KIT |
| GRAPHICS CARD | ASUS GTX 1060 STRIX OC 6GB |
| STORAGE | BIOSTAR G300 SSD 240GB |
| POWER SUPPLY | CORSAIR RM850X 850W |
| DISPLAY | 27″ DELL U2715H WQHD IPS PANEL |
| OPERATING SYSTEM | MICROSOFT WINDOWS 10 PRO |
The benchmark tools are outlined below for your reference.
Super PI – 32M Calculations
wPrime – 32M and 1024M Calculations
AIDA64 Extreme Edition – Memory Benchmark
3DMARK 2013 – Firestrike Presets
GIMP – Image Editing
HandBrake – Video Encoding
WinRAR – Benchmark Tool
Crystal Disk Mark – Sequential Read and Write
RightMark Audio Analyzer (RMAA)
POWER REGULATION:
The AIDA64 Extreme Edition's System Stability Test is used to stress the system to gauge its overall power draw. We selected all the the stability test options available with a 15 minute run time. Sleep (S3) and soft-off (S5) states are also tested.
CPU & MEMORY PERFORMANCE:
Super PI is a single-threaded benchmark that calculates pi to a specific number of digits. The 32M calculation is used to to gauge the system performance.
wPrime is a multi-threaded benchmarking application designed to measure the raw computational power of a CPU. The 32M and 1024M calculations are used to to gauge the system performance.
AIDA64 Extreme Edition is a streamlined Windows diagnostic and benchmarking software. We are going to use the built-in memory benchmark tool to gauge the system performance.
GRAPHICS PERFORMANCE:
3DMark 2013 is a suite of benchmarks catered for the gamers and enthusiasts. It features benchmark presets suitable for wide range of systems. The total system scores from the FireStrike presets is used for comparison.
APPLICATION PERFORMANCE:
GIMP is a free and open-source raster graphics editor used for image retouching, drawing, editing, and conversion. A 7 MB worth of images will be processed, and converted to gauge the system performance.
HandBrake is a free video encoding tool that supports a wide variety of media codecs. A 150MB worth MP4 video will be converted using the H.264 codec to gauge the system performance.
WinRAR is a file archive utility for Windows. It can create, view archives in RAR or ZIP file formats, and unpack numerous archive file formats. We are going to use the software's built in benchmark tool to gauge the system performance.
STORAGE PERFORMANCE:
Crystal Disk Mark is a storage benchmarking software widely used through the industry. We are going to use the software's sequential read and write benchmark to test the system I/O performance.
AUDIO PERFORMANCE:
RightMark Audio Analyzer (RMAA) is a suite designed for testing quality of analog and digital paths of any audio devices. The results are obtained by playing and recording test signals passed through the tested audio path by means of frequency analysis algorithms. A high quality 3.5mm stereo male to male audio cable is used to loop both the line-in and line-out of the system with a sample rate of 24-bit at 48 kHz. The recording level should be around -1dB if possible, with software audio enhancements disabled.
| | | |
| --- | --- | --- |
| Frequency response (from 40 Hz to 15 kHz), dB | +0.30, +0.03 | Very good |
| Noise level, dB (A) | -100.6 | Excellent |
| Dynamic range, dB (A) | 100.6 | Excellent |
| THD, % | 0.0098 | Very good |
| THD + Noise, dB (A) | -77.8 | Average |
| IMD + Noise, % | 0.013 | Very good |
| Stereo crosstalk, dB | -99.3 | Excellent |
| IMD at 10 kHz, % | 0.057 | Good |
| General performance | | Very good |
The ECS Z170 LIGHTSABER features the ALC1150 CODEC onboard from Realtek, sprinkled with a dash of Texas Instrument love along with Japanese Nichicon Capacitors. With that said, performance of the chipset is great. Although I'd prefer a smoother frequency response without perceivable roll-offs. Still, I very much prefer the performance of this board over my ASUS Z170A motherboard.
WRAPPING IT UP:
The ECS Z170 LIGHTSABER is one fine motherboard, able to tick our requirements for a Z170 motherboard. It is just well designed hardware wise, and we cannot help but applaud ECS for a job well done. If this is a taste of what's to come from ECS's future line-up then I'd be happy to add ECS to my shopping list of motherboard's to check out right out the bat.
The ECS Z170 LIGHTSABER has 6 layers of PCB under a nice matte black coating.
Performance is just right for a Z170 motherboard, although I'd love to see better power figures. This board has tons of LEDs, and SMDs, so I guess slapping in those diodes do count. Amidst the higher power figure, we're still happy that our config is faster than the Intel Core i5-7600K and the H270 chipset combined – for most part.
Build quality and layout are superb. I can't find any faults around these areas really. The UEFI appears rock solid – just snappy and usable featuring your basic overclocking settings. I like the idea of integrating the lighting effects at the UEFI too. Adding another reason to visit the interface.
The ECS Z170 LIGHTSABER might be a last generation board but it has the performance and features to keep up with the latest chipsets. It's an easy board to love, and we'd like ECS to continue moving forward with a board that just works flawlessly out of the box.
SLEEK & PROFESSIONAL DESIGN
DEDICATED DEBUGGING & OC BUTTONS
GREAT AUDIO SOLUTION + TI AMP
GREAT ATX LAYOUT
CONNECTIVITY OPTIONS
KILLER NIC ONBOARD

NO SLI SUPPORT
DOESN'T SUPPORT 7TH GEN CPUS
ECS Z170 LIGHTSABER
PERFORMANCE -

7/10

BUILD QUALITY -

8/10

FEATURES -

7/10

AESTHETICS -

8/10

VALUE -

9/10
Summary
The ECS Z170 LIGHTSABER might be a last generation board but it has the performance and features to keep up with the latest chipsets. It's an easy board to love, and we'd like ECS to continue moving forward with a board that just works flawlessly out of the box.