Accidents happen and it sucks when it does – especially when its comes to your precious files. We've been there, whether it's because of a failing drive, a formatted drive with your precious files inside or if you just deleted that one important file while you were drunk.
There are tons of data recovery software out there, yet we are focusing on one particular tool this time, the EaseUS DATA Recovery Wizard. It is available in four editions, namely the Free, Pro, Pro+Winpe and Technician. We are of course going to check out the Free version which is good enough for this guide on how to recover from a formatted hard drive and everywhere else.
Why EaseUS Data Recovery Software?
The EaseUS Data Recovery Wizard is a comprehensive data recovery software for Windows users, although it is also available for iOS, Android and Mac as well. Highlights are read-only recovery, meaning it doesn't destroy the original data when it retrieves files. You may also specify a type of file to be recovered.
Read-only: non-destructive to the original data.
Specify file type to precision search.
Pause and restart the scanning process later.
Filter or sort the search results by file name, file type, modify date.
Preview files: check the file detail and recoverability.
Finally, what made us choose EaseUS is its ability to recover files from various causes. That includes recovery from formatting, deleted files, partitions and other data loss due to system crashes or OS re-installation. There is also a 30 day money back guarantee should the paid versions happens to disappoint you.
How to use the EaseUS Data Recory
First off, make sure to install the recovery tool on a drive where you do not need to recover your data. This is a pre-requisite for any recovery attempts, since writing anything on a drive or device you want to recover files from may overwrite the files.
Next up, select the drive you wish to recover files. On my end, I am trying to recover a few deleted benchmarking files from my secondary Local Disk (D:). You may even specifically select a folder within any accessible drive.
Once the drive has been selected, press the Recover button. Depending on the drive's capacity and contents, it could be anywhere between seconds to hours. You may then select a folder where you need to recover files from or better yet, use the Filter feature.
With the Filter feature, you may even search existing files and other file types as well. Since I am looking for deleted benchmarks, I've selected the Picture as a file type. I usually save them in jpeg file format ever since.
Some files, especially larger ones are harder to retrieve especially if you paused or stopped the recovery process halfway in. Always make sure to let the EaseUS Recovery Wizard to finish the scan.
Tada, I've got a part of what I need. It's a rather simple image really, featuring a screenshot of an AS SSD benchmark dating way back last year.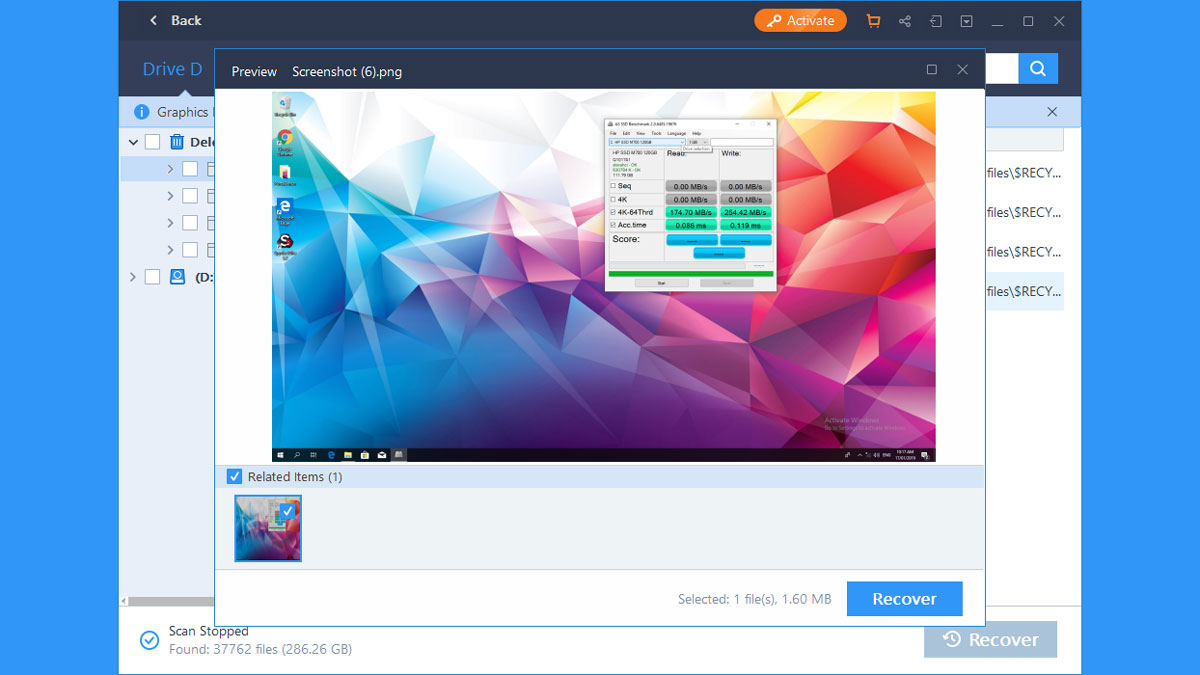 Press recover to retrieve the file(s) and that is it. If you want to maximize the chances of retrieving your files though, make sure to follow or consider these tips:
Make sure to finish the scan to minimize recovery issues.
Do not write anything on the drive you wish to recover files from.
Install EaseUS on a USB drive if you want to recover files from your OS drive.
It is easier to recover files from quick formats compared to full drive wipes.
Finally, the Pro version of the EaseUS Data Recovery Software is on sale for about $64.95 USD. Features includes recovery of unlimited files, deleted and formatted data from different data loss and situational data recovery from deleted, hidden, lost or raw partition.