Are curved displays alright for gaming? Today we check out the HKC NA32C – a 32 incher curved 1080P display retailing for around 16, 000 PHP nationwide. This one is the first curved display to land on our hands, and we're pretty excited to see what it has to offer – especially when it is from a company that has been founded almost 20 years ago.
HKC is pretty secretive when it comes to the specifications of the NA32C, with only a few mentioned. That includes the pixel pitch at 0.364, 20000:1 Dynamic Contrast Ratio, its stand-by power at less than 0.5W, its resolution, color depth, and the display ports. Nothing has been said about its panel type, its curvature, refresh rate, and response time. So, everything depends on us now to check out this display's actual specifications, as well as to check out if it's a good curved display to game on.
PACKAGING AND ACCESSORIES:
The HKC NA32C came in a huge packaging – certainly TV size and weighs like a mule. The image of the curved display is imprinted on the packaging, together with its main specifications.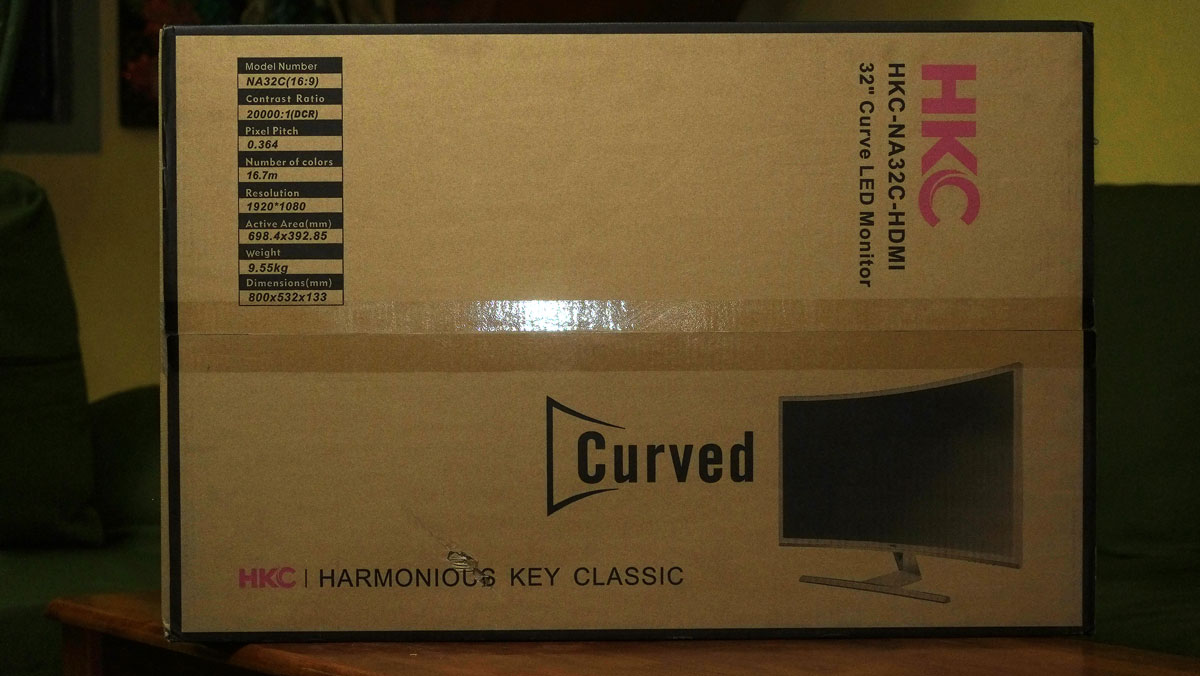 Inside, you'll find a user's manual, the warranty card, a DVI cable, a 3-prong power cable and the stand assembly. A 3.5mm audio cable is also included if you want to utilize the display's internal speaker. Pretty useful if you've got no choice but to use the DVI cable.
Overall a solid bundle inside a well padded packaging to keep everything safe.
THE HKC NA32C CURVED DISPLAY:
The HKC NA32C is one huge display out of the box, equivalent to a 32″ TV panel and has the weight to back it up. Its frame is all white, rather thick for my liking but looks immaculate enough to keep my mouth shut. The silver base which is steel reinforced, actually adds a little glamour to the whole setup. It is sturdy too, but offers little angle adjustment.  You have to move the whole display to orient it side ways or put a huge box underneath it to adjust the height.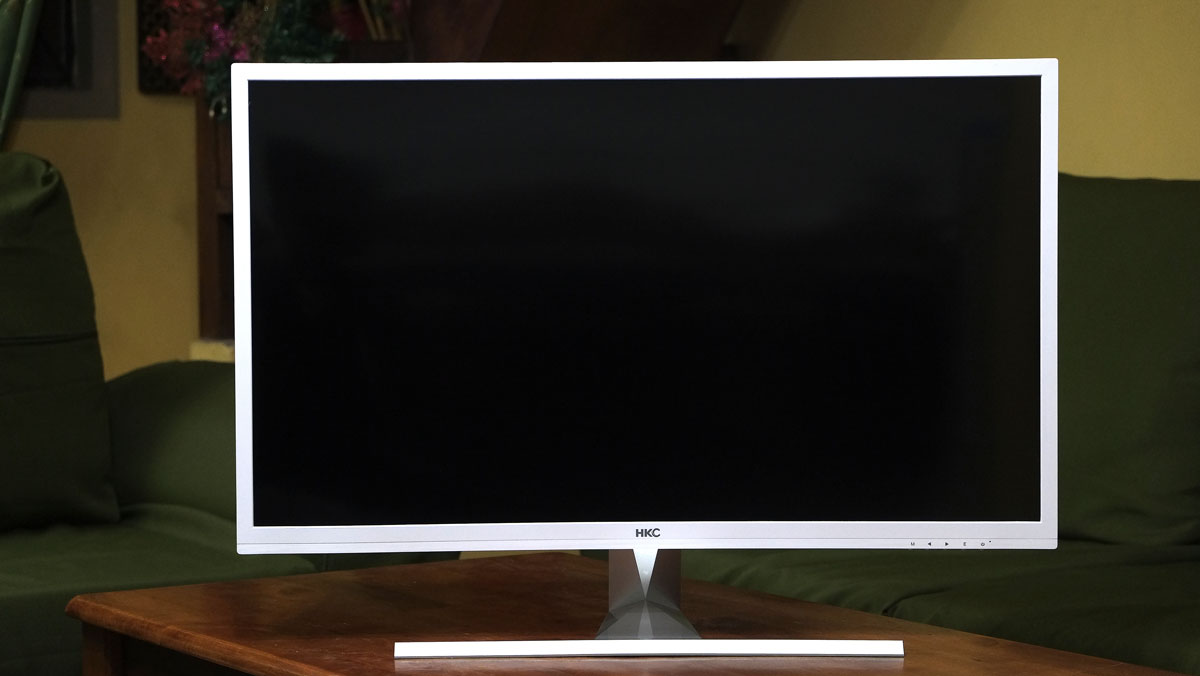 The panel uses a a mix of matte and gloss coating which is a blend of solutions to diffuse ambient lighting, and reflections but is not particularly strong against sunlight and other harsher light sources. That being said, haze values should still be minimal.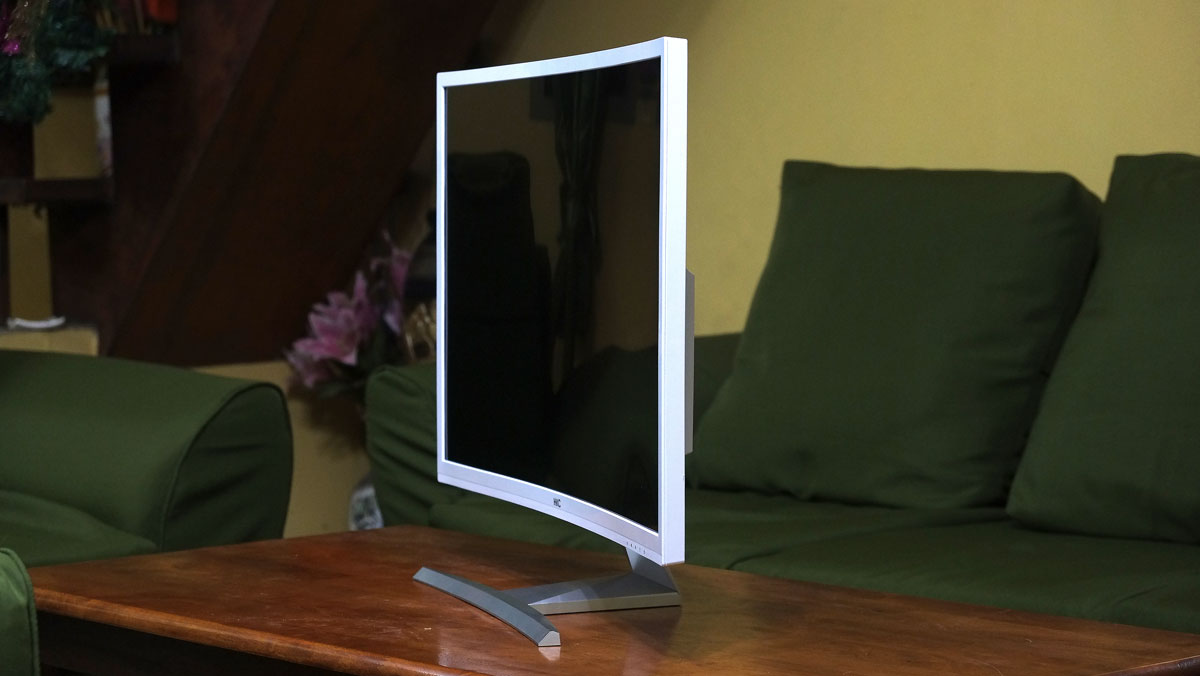 The back of the HKC NA32C follows the styling of the display with a white yet textured finish. Vent holes are present here to keep the internals cooled passively. The display supports VESA 100mm mounting brackets.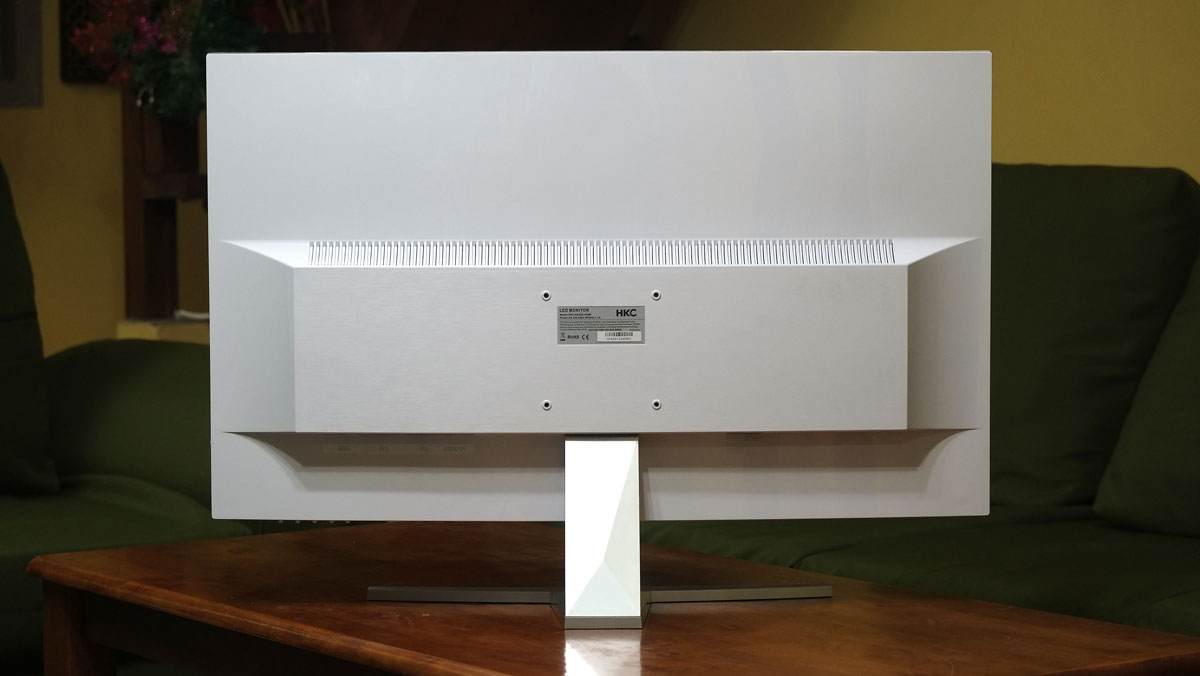 Connectivity options are limited to an HDMI, DVI and VGA ports. An audio in is also included if you're opting to use this display with a DVI and VGA port. Dunno what the specs of the HDMI port here but it doesn't matter since this is only a 1080P panel.
Power is provided by an internal adapter with vent holes right next to it to keep it cool. There are also a series of holes running along the bottom of the panel for the speakers.
Inputs for the OSD menu are provided by 5 clicky buttons. They work just fine but the menu itself is not the best. Still, it is functional.
USER EXPERIENCE & FINAL THOUGHTS:
I used this display for a whole month and it is easy to say that the experience is quite the mixed bag things. As for the good, this display is clearer than what I expected for a 32″ with a 1080P resolution. Somewhat in line with a 27″ panel so it is definitely a plus even though I consider 27″ at 1080P is a stretch. The pixel pitch played a role here, together with my preferred viewing distance at 4 feet plus. Color reproduction is also good with little to no adjustment required out of the box. Multimedia experience, or should I say movie playback is what this thing does the best – especially with a low back light bleed found on our unit. Still, it is not by any means a direct replacement for a professional grade display. It's hard to work with photos and image manipulation softwares with a 3000R curved screen I must say. Any curved screen for that matter to be honest.
Firing up a game allowed me to check how good or bad it is at gaming. I had fun trying my luck at Overwatch but I find it not the best solution for this leg work. Playing FPS games is not ideal with this 32″ 16:9 panel since the natural pincushion distortion effect is too much to handle – requiring you to adjust your aim harder. Adjusting the FOV wont work either. I find it best though with racing games, and 3rd person titles – games that do not require you much effort into lining up your shots. For work and competitive gaming, I cannot easily recommend this – especially if we're talking about shelling out 15, 000 Pesos for a curved display.
Curved displays has a long way to climb in order to reach the hearts of gamers, with only a few good options to choose from since their inception. With that said, the HKC NA32C lies at the crossroad – where you have to choose between practicality or the significance of its features to your requirements.