Back in 2016, we checked out the HyperX Cloud Revolver gaming headset. We absolutely love it, and we felt like it's almost perfect for every gamer's requirements. Fast forward this 2017, HyperX releases an update in the form of the Cloud Revolver S surround gaming headset.
The HyperX Cloud Revolver S is basically the Revolver with few design tweaks, and an included 7.1 surround capable digital sound processor. It's pretty much the same deal with the Cloud and Cloud II models – with the Cloud II receiving a DSP upgrade over the stereo only Cloud. Now as for the Revolver S, it comes with a Plug and Play Dolby Surround 7.1 DSP. It could be a better surround technology over the Cloud II's implementation or maybe it's not. With that said, we are going to find out if that is case. That, together with some design changes, are the subject of this review.
Features and Specifications:
The HyperX Cloud Revolver S features a pair of dynamic 50mm drivers with 30 Ohms of impedance. It is a closed back, over the ear design with a frequency response rated at 12 Hz to 28 KHz – which is nice on paper. Specification aren't really that different compared to the older Revolver with a lower SPL/mW that should indicate a lower sensitivity level. Learn more from the product page.
| | | |
| --- | --- | --- |
| Headphone | HyperX Cloud Revolver | HyperX Cloud Revolver S |
| Driver | 50mm Dynamic, Neodymium | 50mm Dynamic, Neodymium |
| Type | Circumaural, Closed Back | Circumaural, Closed Back |
| Frequency Response | 12Hz-28KHz | 12Hz-28KHz |
| Impedance | 30 Ω | 30 Ω |
| Sound Pressure Level | 104.5dBSPL/mW at 1kHz | 100.5dBSPL/mW at 1kHz |
| Total Harmonic Distortion | < 2% | < 2% |
| Input Power | Rated 30mW, Maximum 500mW | Rated 30mW, Maximum 500mW |
The microphone on the other hand is still the same uni-directional condenser mic. Nothing's really new here.
| | | |
| --- | --- | --- |
| Microphone | HyperX Cloud Revolver | HyperX Cloud Revolver S |
| Element | Electret condenser microphone | Electret condenser microphone |
| Polar Pattern | Uni-directional, Noise Cancelling | Uni-directional, Noise Cancelling |
| Frequency Response | 50Hz–18,000 Hz | 50Hz–18,000 Hz |
| Sensitivity | -40dBV (0dB=1V/Pa,1kHz) | -40dBV (0dB=1V/Pa,1kHz) |
There's basically nothing about the specifications of the DSP box. Even SNR values are non existent.
Packaging and Bundled Accessories:
HyperX stowed the Revolver S inside a familiar packaging, suitable for the company's top of the line gaming gears.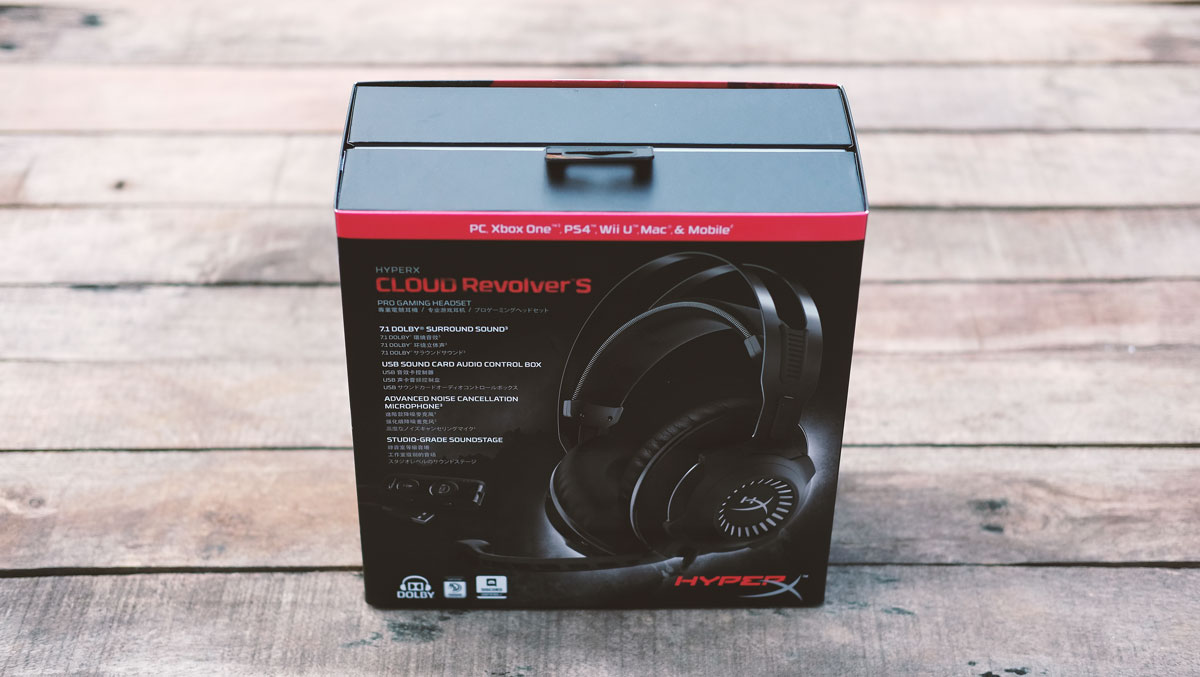 Opening the box reveals a lavish and personal presentation. Nothing beats HyperX when it comes to these kind of things.
You'll get a quick start guide, Detachable Microphone, a 2.2 meter USB Audio Control Box, and a 2 meter PC extension cable.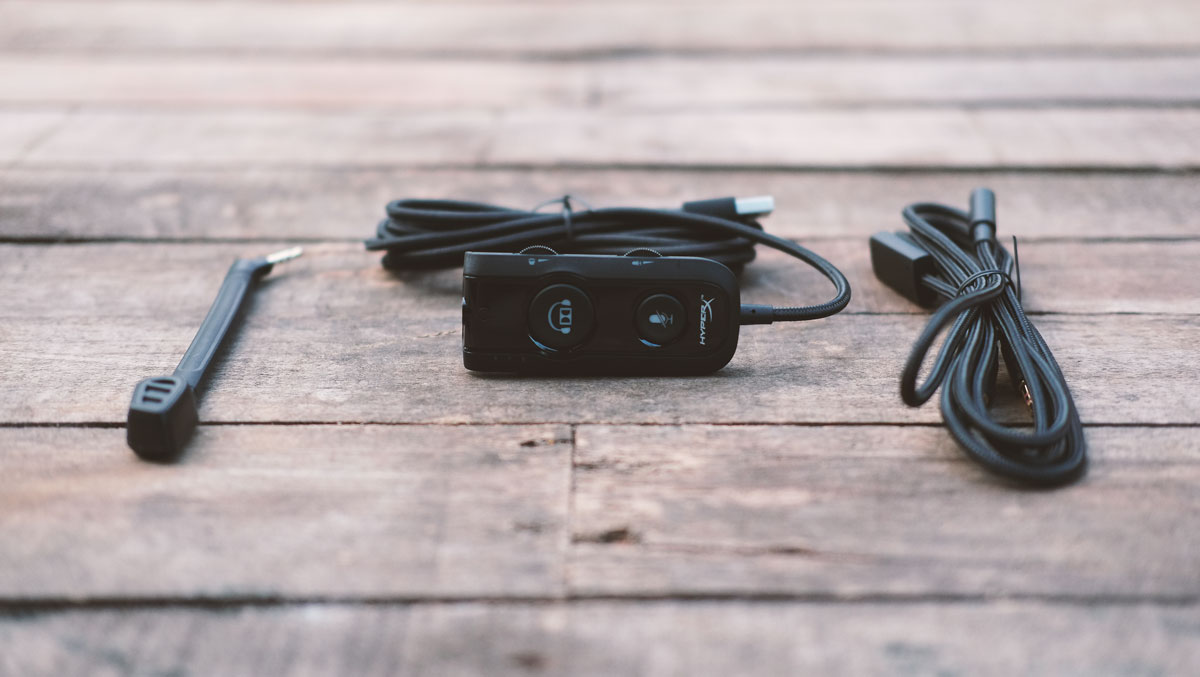 In addition to the accessories that come with the headset, you can also buy some accessories such as stickers to make your headset more unique. Custom stickers can be used as decorations for your headset to make it look cool. If you have a theme you really like and want to design it yourself, you can get custom stickers cheap from CustomSticker.com. Not only does it make your headphone more refined, but it also directly reflects your personality.
Design, Build and Comfort:
The HyperX Cloud Revolver S is definitely a Revolver under a fresh clothing. That said, it retains the suspension headband design but with a few tweaks here and there. Most notably, the color combination and the texture. Gone are the striking crimson accents – which is now replaced by an immaculate shade of white, while the texture is now a matte finish. We're glad it's not rubberized.
The head band is barely noticeable, with a slight pressure point and ample enough padding to support the cranium. It kinda felt a little larger over the original Revolver, and if memory serves me right – the clamping force on this one is a little better. The steel frame still transmits sound whenever you pluck it though.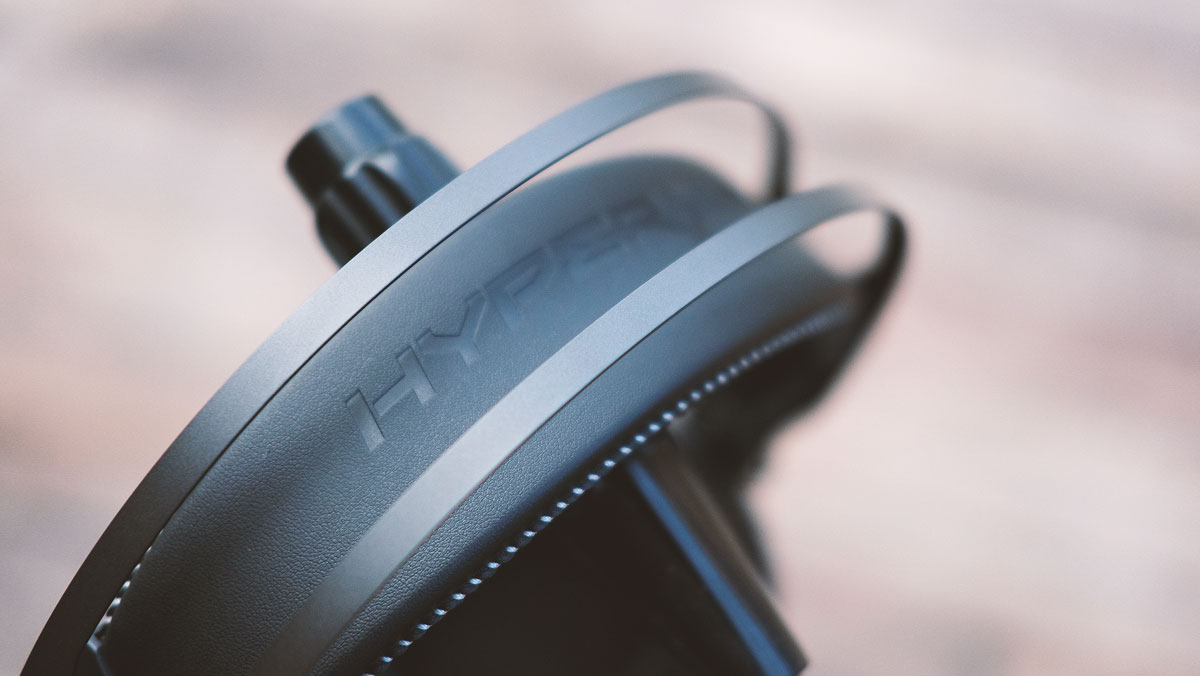 The ear cups features a removable padding, although you have to be careful since they are latched into a plastic frame. The pads themselves has a depth of 2 cm, and has dimensions of 5 x 7 cm. A soft memory foam like cushion is used for the padding material while the cover is most likely PU leather. Initial clamping force is just right for my liking, with pressure points located at the bottom of the padding. There is enough play so you can fine tune the adjustments without much effort. The 50mm drivers on each end are veiled by the way – ensuring that the higher end wont pierce your ear drums.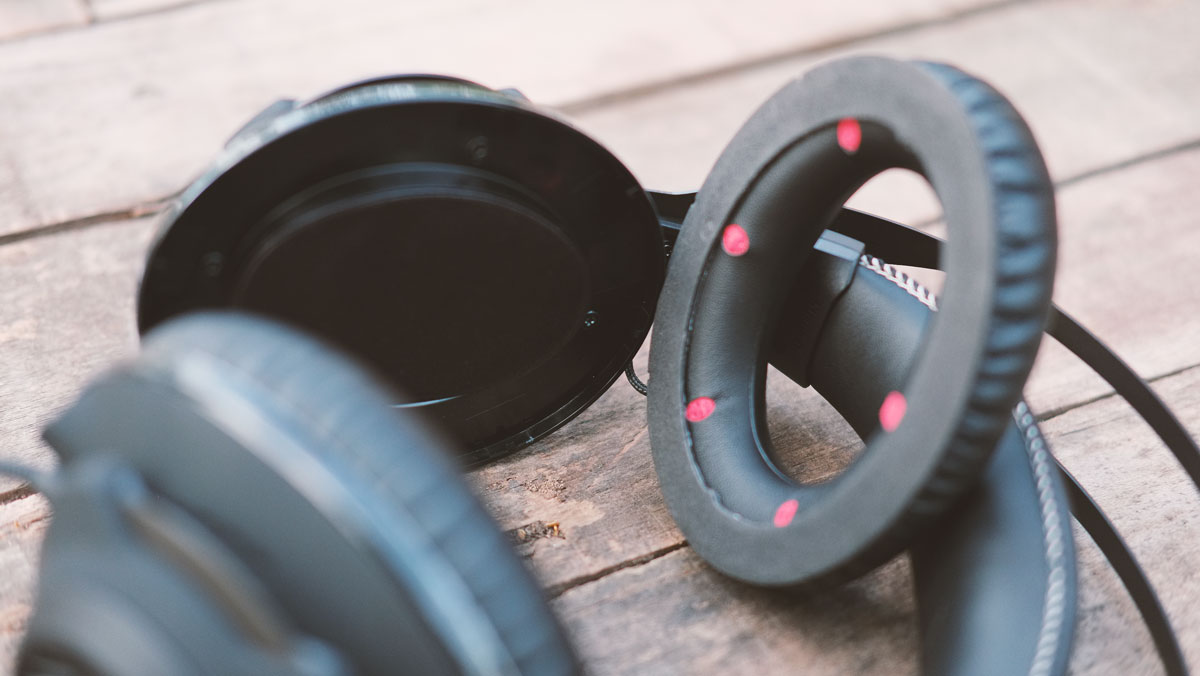 The HyperX Cloud Revolver S features a removable uni-directional microphone. The stem is rubberized so you can execute adjustments to suit your needs.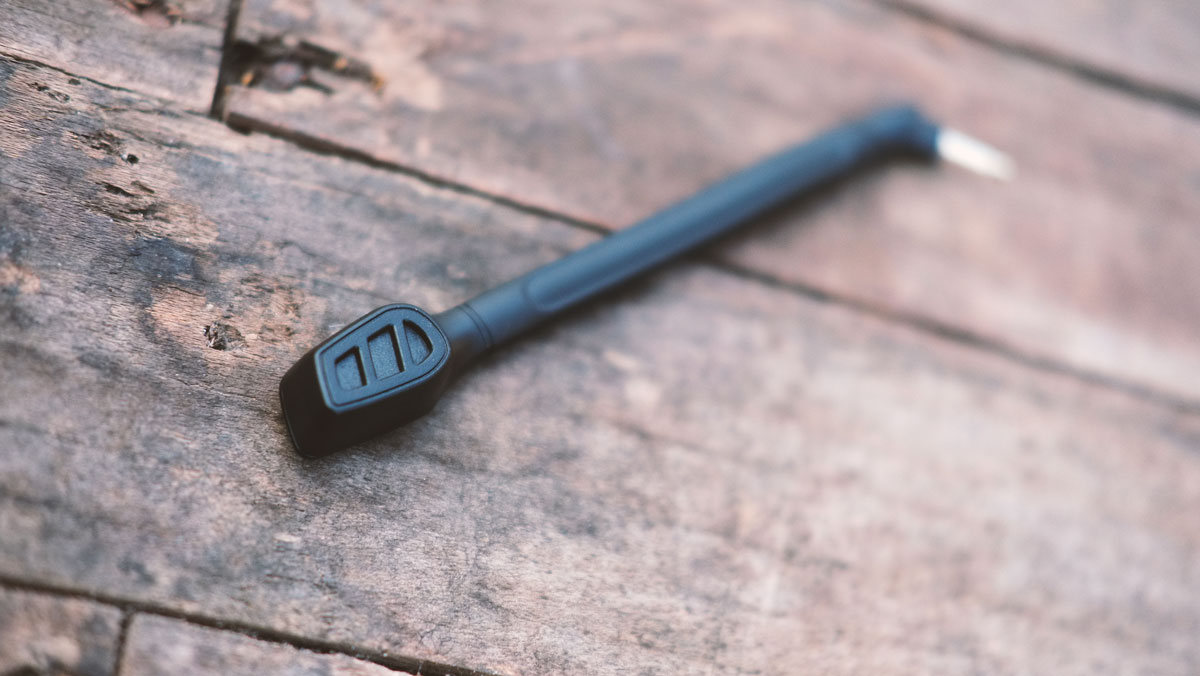 Since the headset is expected to revolve (hehe) around the DSP, Kingston decided to use a 3.5mm TRRS cabling. This makes the headset compatible with most gaming devices including mobile phones. With a relatively low impedance, phones are expected to drive this one easily.
The Dolby Surround capable DSP box is basically an external sound card. It has volume wheels for both the speakers and mic, and has 2 additional buttons at the side to change from Bass, Flat, and Vocal EQ settings – with corresponding LEDs to know what's what. Pressing the surround mode negates the EQ settings though so keep that in mind. Now the 7.1 capability is toggled via that Dolby button. Effects are immediate, and it'll light up in red if enabled. Same thing goes with the mute button. Be reminded that this thing heats up to a warm 38°C so if you clip it on your shirt, you'll definitely notice it.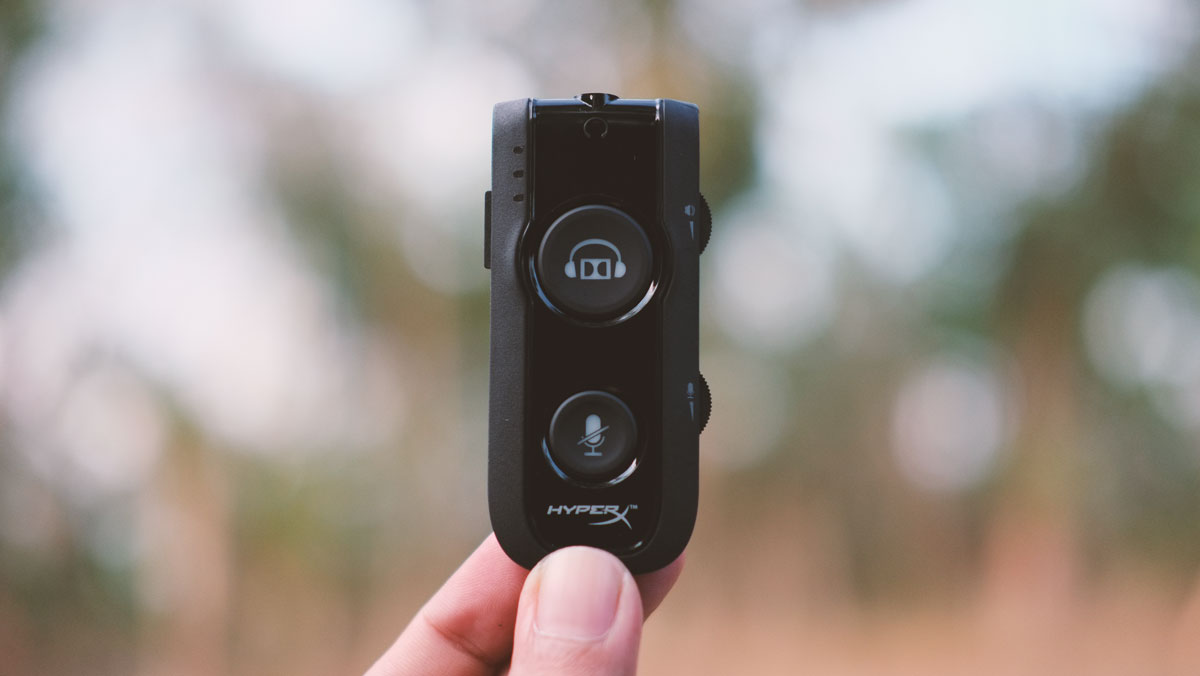 Comfort is generally good. Not that heavy, clamping force is alright and the PU leather is not that bad. Still, I prefer a velour one. For its price-point I actually expected a pair included inside or just the velour padding instead of the faux leather.
Testing the Headgear:
The vast world of head gears are subjective, and is usually a heated debacle among avid listeners. For an instance, some may favor heavy bass emphasis while others may favor less bass and prefer a richer mid-range or higher frequency range details. In short, a head gear might sound great from someone's perception while at the same time, it may sound awful to other listeners. There are also things to look out for such as the sound stage, imaging, the general sound signature of the head gear, and several others.
General Performance:
The low end performance of the Revolver S is rather explosive yet precise. Tracks such as Unfinished Sympathy from D2 showed us what this headset could do – enabling thunderous bass and believable low end output. Suffice to say I enjoyed bass heavy tracks and movies with this one.
The mid range is just right. A little recessed that compliments the low end. It blends with the non-accentuated lows really well with a clean vocal output, and accurate instrumental representation. Speaking, vocals especially with Enya's Caribbean Blue performance is still awe inspiring with the Revolver S wrapped around my head. The layering on that track is just heavenly, and the Revolver's depiction is just apt to be loved. Presence and brilliance are also well executed. Both ranges are not boosted to death, and delivered a sparkle needed to get myself nodding with approval.
Localization is rather great thanks to the good imaging, and the wider sound stage offered by the Revolver S. I prefer better imaging over an expanded soundstage but both melded together brilliantly offered a great experience. It's not an easy task to balance those out so a huge props to Kingston.
Please do note that the immediate 7.1 surround is not tested on the tracks used. I enabled them on games and movies alone. Using surround on tracks allows for excessive reverberations, and distortions – not source accurate.
Gaming Performance:
Immersive, and precise. That's how the sounstage and imaging delivered by the 7.1 Dolby Surround should be described. Games that natively supports such features are welcome to have it enabled with the Revolver S. I depended so much on stereo imaging – I forgot how awesome 7.1 is if it is well implemented.
For example, having a good imaging is enough for a competitive environment but if paired with a good sound stage, your senses will expand further – allowing you to accurately pinpoint the distance and not the general direction of the sounds alone. Overwatch, The Witcher 3, and Battlefield all benefited greatly with the feature enabled. Just make sure to enable them at the options and have them tweaked for optimal experience.
Suffice to say, the Revolver S reminded me that there are still good 7.1 implementations out there.
Microphone Performance:
The microphone of the HyperX Cloud Revolver S seems similar to the one implemented at the original Revolver, but I have to say this is way better compared to that one. It is more than decent for a proper in-game communication device and cancels out background noise too like a champ. Talk about a working-as-intended device.
Conclusion:
The Kingston HyperX Cloud Revolver S is a believable 7.1 surround capable gaming headset, able to deliver an immersive experience inside and outside the game. I particularly love this headset's capability to provide a better casual listening experience, allowing me to turn off the 7.1 mode and set my desired EQ with just a few push of buttons – if desired. Yes, the DSP / external sound card is enough to sate my appetite – although it had troubles powering up my 64 Ω head gears. It's a stretch though, since the DSP is really intended for lower impedance gears and is tailored for the Revolver S.
Design wise, the HyperX Cloud Revolver S is on point. It's not as flashy as the original, and that helps it blend well with the environment. Sure its DNA and form speaks of gaming, but I can still use it just fine outdoors without looking like a complete buffoon. Comfort is also a strong suit of this gear but I really wanted this to feature a velour padding. Sweat is just natural for faux leathers to induce. Over the course of time, this very material will wear off eventually so yeah velour is the way to go.
Pricing is set at 149 USD which translates to around 7, 500 PHP. It's a rather large sum of money for the general gaming audience, but with it comes an audio solution that pleases both sides of the coin. In closing, the Kingston HyperX Cloud Revolver S is one damn fine gaming solution that completely erased my doubts about surround sound headsets. It just works.
Kingston HyperX Cloud Revolver S
PERFORMANCE -

9/10

BUILD QUALITY -

8/10

FEATURES -

9/10

AESTHETICS -

8/10

VALUE -

7/10
Summary
The Kingston HyperX Cloud Revolver S is one damn fine gaming solution that completely erased my doubts about surround sound headsets. It just works.