When you hear the word Kingston, there are Two things that immediately comes into mind; Memory kits and Flash Drives. The company could be considered as a pioneer  in the field of volatile and non-volatile storage devices and they've got a pretty solid portfolio through the years.
Now what we have here is the Kingston HyperX Fury Flash Drive featuring USB 3.0 connectivity and of course, the HyperX branding that gamers certainly adore. Ours came in Black, with 64GB of capacity, while other options could be Red, Blue, and might feature 16GB and 32GB capacities. Read speeds are reported at 90 MB/s while Write is rated at 30 MB/s which is not shabby. Read more about it HERE.
TECHNICAL SPECIFICATIONS:
THE HYPERX FURY FLASH DRIVE IN 64GB FLAVOR:
The Kingston HyperX Fury Flash Drive came in a a simple packaging similar to those used on other Kingston flash products. You don't have to see it since there is nothing special with it as far as packaging goes.
The HyperX Fury is just a small thumb drive, and is actually no longer than an average man's thumb. It features a gaming oriented design that built with high impact plastic in Three parts including the cap.
Since this is a USB 3.0 flash drive, we are expecting a performance that could topple those of the mechanical drives. This being a simple USB drive and does not feature a sliding internal component means that it should withstand the test of wear and time.
If you're the type of guy that likes to wear things, you could actually use the Fury just as that.
TEST SYSTEM & PROCEDURES:
Storage devices, unlike motherboards, revolves around the use of various storage benchmarking tools to test their performance. We've got loads of them in the past, but we toned down the synthetic benchmarking tools to ATTO, and Crystal Disk Mark. It is important to note that we have a pre-made Test OS for the storage benchmarks and we are always aiming to fill up the drive to 50% of its capacity. This is to ensure that we are testing the drive according to its real world usage along with a very small margin of error.
The Kingston HyperX Fury USB at 64GB has a total capacity of approximately 64 Billion bytes, translated roughly at 58.6 GB of available space to play with. The test system's specifications are as follows:
| | |
| --- | --- |
| CPU | Intel Core i5 4670K |
| MOTHERBOARD | ASUS Z97-PRO WiFi AC |
| CPU COOLER | Cooler Master Seidon 120XL |
| MEMORY | ADATA XPG V2 @2400MHz 16GB |
| GRAPHICS CARD | ZOTAC GeForce GTX 970 4GB |
| INT. STORAGE | Kingston V200+ SSD 120GB |
| PSU | Cooler Master Silent Pro Hybrid 1300W |
| DISPLAY | DELL S2340L 23″ IPS |
| OS | Microsoft Windows 7 Ultimate x64 SP1 (Updated) |
| SOUND CARD | Realtek ALC1150 |
| EXT. STORAGE | 2TB Western Digital My Passport |
READ & WRITE PERFORMANCE:
First up in the benchies is ATTO Tech's Disk Benchmark. It basically measures the system's storage performance with various transfer sizes and test lengths for reads and writes. An industry standard.
Next up is the venerable Crystal Disk Mark. This storage benchmarking software aims to measure sequential, and random read/write speeds of storage devices. Check out the author's page HERE.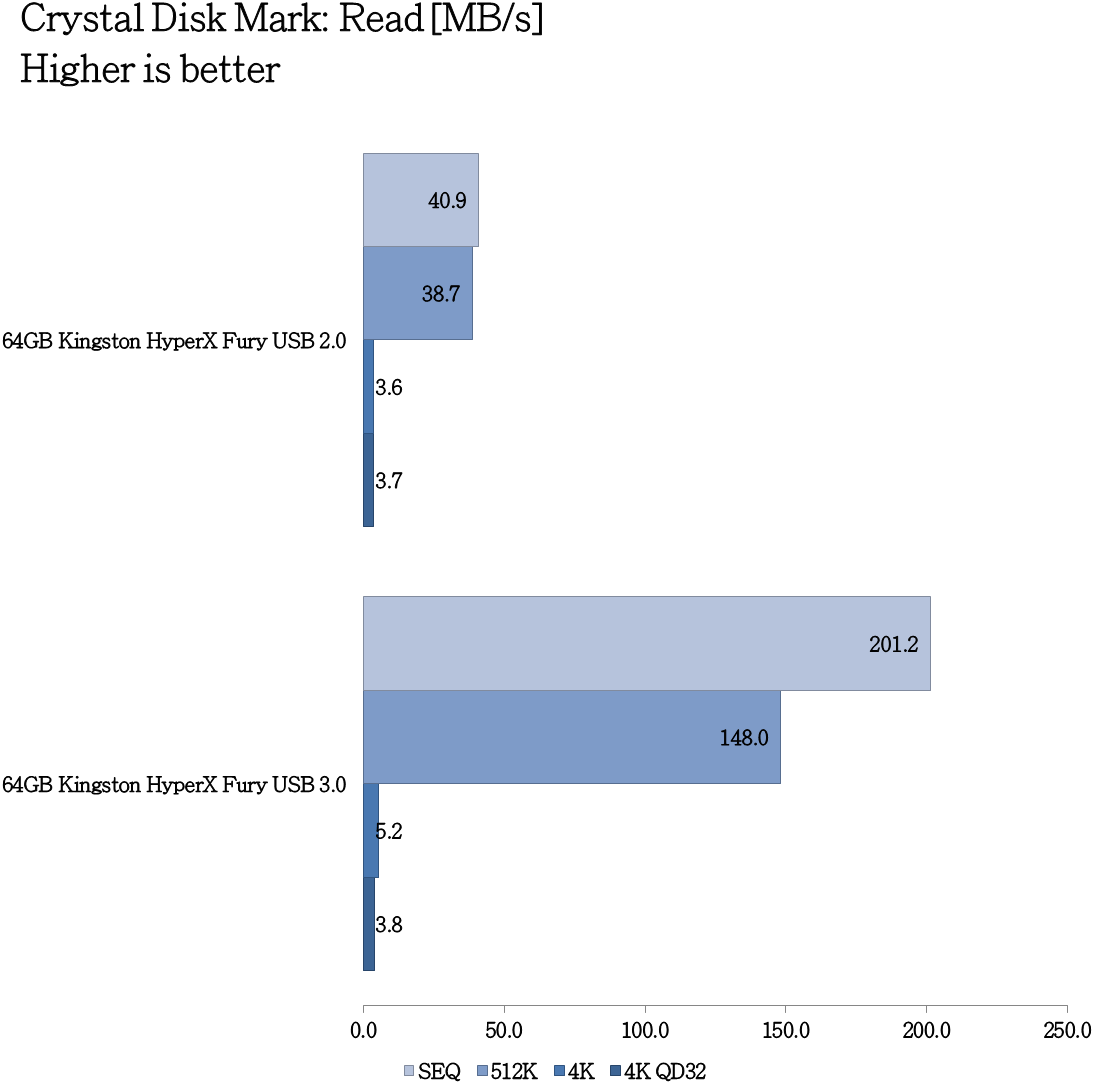 The real world performance tests is our home brewed file copy test which involves copying of Images, Videos, PSD files, DOC files, XML files, PDFs, etc. you name it, to simulate a real world file copy scenario. Do note that the files are inside a folder, and they're randomly placed.
PERFORMANCE ANALYSIS & CONCLUSION:
The Kingston HyperX Fury USB in 64GB flavor sure is fast, for both our read and write synthetic benchmarks even decimating its own specified performance by a mile. At ATTO for example, the thumb drive reached a peak of 180 MB/s read performance, while Crystal Disk Mark results goes as far as 201 MB/s. That's surely way beyond the designated 90 MB/s read performance tested by Kingston.
Read performance is great, but the write performance is actually a bag of mixed results. Sure, 40 MB/s write speed is good and well above the specified write performance of the drive, but, performance isn't that consistent. In addition, writing an average of 3GB files (multiple files) into it felt like it's a USB 2.0 drive as seen on our real world benchmark results. For movies and files with a huge size, lets say at 3GB, write performance wont be an issue, but a ton of small files with the same file size to that movie, then it will surely disappoint. That 5 year warranty sure is impressive though.
Spending a couple of time with this drive showed that it is best used as a storage for movies and other high capacity loss-less file formats. There's no reason to hate it but you should be aware of its caveat. With an SRP of 29.99 USD, the 64GB version sure is a handly drive to keep your movies with you anywhere you go.
Kingston HyperX Fury USB
PERFORMANCE -

9/10

BUILD QUALITY -

8/10

FEATURES -

8/10

AESTHETICS -

8/10

VALUE -

7/10
Summary
The Kingston HyperX Fury USB in 64GB flavor sure is fast, for both our read and write synthetic benchmarks even decimating its own specified performance by a mile.