When it comes to memory products, Kingston is the first company to come into my mind. It is fact, since Kingston dominated the APAC market even before the era of DDR2, where the company started to rank up globally on a massive scale, even ranking the "2nd 100 Best Companies to Work in the USA" by Fortune Magazine.
Fast forward today, Kingston now offers products way beyond the scope of storage. They've got their HyperX line up with the Cloud & Cloud II headsets, and the Skyn mouse surfaces to boot. Now, we're taking a lot at what made Kingston's HyperX line special since its inauguration, in the form of the latest Kingston HyperX branded Savage DDR3 memory modules in 2400 MHz flavor.
FEATURES & SPECIFICATIONS:
Dual channel available
Quad channel available
Capacities from 4GB–8GB (single), 4GB–32GB (kits)
Frequency speed 1600MHz, 1866MHz, 2133MHz and 2400MHz
CAS latency CL9-CL11
Voltage 1.5V, 1.6V, 1.65V
Asymmetric heat spreader for stylish heat dissipation
Compatible with H67, H97, P67, Z68, Z77, Z87, Z97 and H61 Intel chipsets, as well as A75, A87, A88, A89, A78 and E35 AMD chipsets
The Kingston HyperX Savage is available in kits of Two, Four, and even in Single sticks, with frequency ranging from 1600 MHz to 2400 MHz and capacities from 4 GB to 8 GB per stick.
HyperX Savage

Part Number
Description
HX316C9SRK2/16
16GB 1600 DDR3 CL9 DIMM (Kit of 2)
HX316C9SRK2/8
8GB 1600 DDR3 CL9 DIMM (Kit of 2)
HX316C9SRK4/32
32GB 1600 DDR3 CL9 DIMM (Kit of 4)
HX318C9SRK2/16
16GB 1866 DDR3 CL9 DIMM (Kit of 2)
HX318C9SRK2/8
8GB 1866 DDR3 CL9 DIMM (Kit of 2)
HX318C9SRK4/32
32GB 1866 DDR3 CL9 DIMM (Kit of 4)
HX321C11SRK2/16
16GB 2133 DDR3 CL11 DIMM (Kit of 2)
HX321C11SRK2/8
8GB 2133 DDR3 CL11 DIMM (Kit of 2)
HX321C11SRK4/32
32GB 2133 DDR3 CL11 DIMM (Kit of 4)
HX324C11SRK2/16
16GB 2400 DDR3 CL11 DIMM (Kit of 2)
HX324C11SRK2/8
8GB 2400 DDR3 CL11 DIMM (Kit of 2)
HX324C11SRK4/32
32GB 2400 DDR3 CL11 DIMM (Kit of 4)
PACKAGING & BUNDLED ACCESSORIES:
The HyperX Savage is well packed inside a see-through slim carton that speaks of gaming with its Gray and Red theme. It's nice to see the Savage's beautiful heat-spreaders right away as it is an important feature of the kit.
The back is a bit busy with the Savage's own product description, but it doesn't speak of the memory kit's full specifications. Just a sticker with general information about its latency, frequency, and capacity.
As expected, the memory kit only comes with a warranty & installation guide pamphlet, accompanied by a small HyperX case badge so your friends will know that your PC is powered by Kingston's HyperX line. – If that's your kind of thing.
THE KINGSTON HYPERX SAVAGE:
There is no mistaking that the HyperX Savage is a beautifully crafted HyperX memory kit from Kingston, featuring asymmetrically designed heat spreaders in glittery Red. Pictures wont do much justice about its luxurious appearance as you really have to look at it face to face to appreciate its sheer beauty.
The Kingston HyperX Savage we got here features a maximum of 2400 MHz XMP parameter with timings CL11-13-14 at 1.65o volts. JEDEC / Standard specifications are 1600 MHz CL11-11-11 at 1.5 volts.
The HyperX Savage is around 30mm tall, and features a die-cast heat-spreader,  which means solid build quality and feel compared to standard slapped aluminum approach. It's quite heavy and thick too for a memory module. With its solid yet standard profile approach, CPU cooler compatibility is not a problem.
Each module consists of 16 (8 per side)  8-bit FBGA chips with 512 MB of capacity – a total of 8 GB storage capacity per stick. Let us head to the testing phase.
HOW WE TEST MEMORY MODULES:
Memory modules are tricky to asses, especially when it comes to gaming – as memory frequency differences provides small differences when it comes to FPS results unless you're using an APU or any system  with an on-board graphics. The CPU's bus speed and maximum throughput will also determine a module's performance, so it's just proper to use a compatible CPU to test kits especially if they are high frequency ones.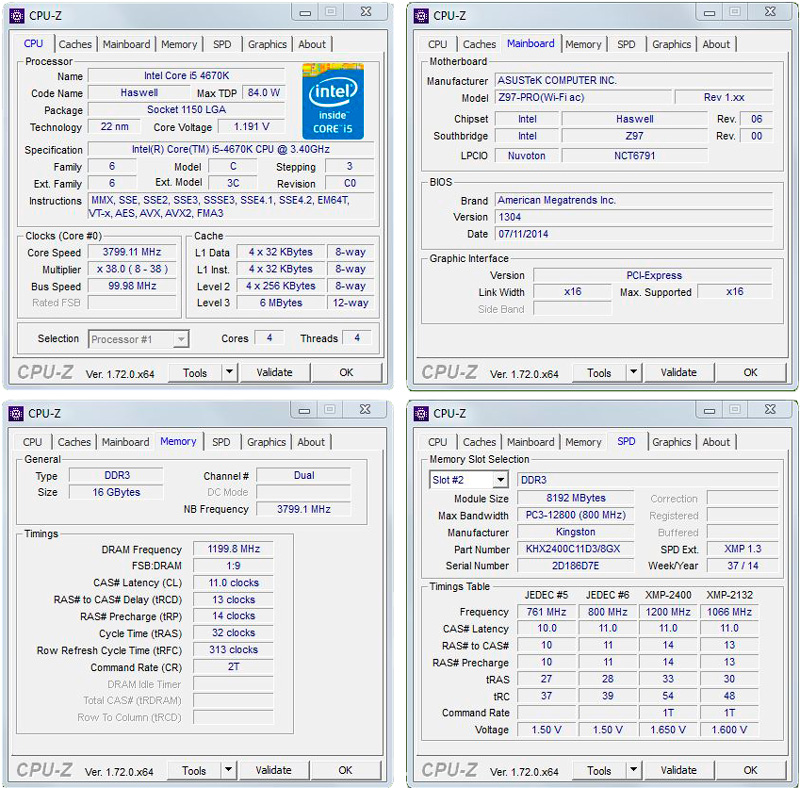 That said, our tests will be a blend of synthetic and real world benchmarks to grade a memory kit's performance. That includes the good old memory read, write, copy, and latency performance tests, as well as including some multi-threaded benchmarking tools available to everyone. For the real world tests, we will use the already available encoding tools, compression tools, and Adobe Photoshop.
To provide precise test results, it is important to install a fresh copy of the Operating System, have it updated along with the BIOS and drivers for it and the other components. Benchmark(s) should be executed every after a 5 minute cool down from start-up upon a system cold boot. This is to ensure a uniform scoring across the components.
| | |
| --- | --- |
| CPU | Intel Core i5 4670K |
| MOTHERBOARD | ASUS Z97-PRO WiFi/AC |
| CPU COOLER | Cooler Master Seidon 120XL |
| MEMORY | Kingston HyperX Savage 2400MHz |
| GRAPHICS CARD | ZOTAC GTX 970 4GB |
| INT. STORAGE | Kingston HyperX Fury SSD 240GB |
| PSU | Cooler Master Silent Pro Hybrid 1300W |
| DISPLAY | DELL S2340L 23″ IPS |
| OS | Microsoft Windows 7 Ultimate x64 SP1 (Updated) |
| SOUND CARD | Realtek ALC1150 |
| EXT. STORAGE | Kingston HyperX Fury USB 3.0 Flash Drive |
SYSTEM/SYNTHETIC PERFORMANCE:
AIDA64 is a streamlined Windows diagnostic and benchmarking software for home users. We'll use the built-in memory benchmark tools of the AIDA64 to determine the memory kit's performance.
MaxxMEM2 is a lightweight tool that allows us to estimate the performance of the computer's memory with minimum effort. We can use it to compare the performance of multiple computers or to test different configurations on our machine flawlessly.
wPrime is a multi-threaded benchmarking application designed to measure the raw computational power of a CPU. It can be configured to run on a custom number of threads to accommodate multi-core CPUs, and best of all, it is also memory intensive.
CINEBENCH R11.5 is a real-world cross-platform test suite that evaluates the computer's performance capabilities. CINEBENCH is based on MAXON's award-winning animation software CINEMA 4D, which is used extensively by studios and production houses worldwide for 3D content creation.
REAL WORLD PERFORMANCE:
HandBrake is a a free, open-source, and multi-platform tool for converting video from nearly any format to a selection of modern, widely supported codecs. We used a Full HD, 1080P MKV movie, and encoded it into a 1080P MP4 video.
x264 HD Benchmark is a tool that measures a PC's encoding performance using a 1080P video clip then converts it to an x264 video format. It is memory and CPU intensive so it's a great way to measure a PC's overall performance.
7-Zip is a solid open source Windows utility for manipulating archives or compressed files. We will use it to gauge the system's performance via compressing, and de-compressing 3 GB worth of files.
Adobe Photoshop Speed Test is a home-brewed benchmark from CluboFone.com, using Adobe Photoshop Actions to imitate a real world scenario while editing images. The test is CPU and memory intensive. Great for benchmarking machines made for such tasks.
VALUE & CONCLUSION:
It isn't everyday that we see Kingston's memory kits in the labs, and when we do, they'd better show great performance as promised on paper. In the case of the HyperX Savage 2400 MHz 2×8 GB kit, that just happened.
First off, the aesthetics. Although it is not a direct, and will never be a direct indication of a memory's performance, the Savage's looks is nothing near savage. – In a good way. Simply put, the HyperX Savage is one of the most beautiful memory kits I have gazed my eyes on with its die-cast heat-spreader enhanced by a sparkling glittery blood-red appearance. Build quality is also top notchwhich is expected to a company like Kingston.
Now the performance of the Savage is  savage at its best, decimating the competition's offerings especially when it comes to the memory's copy speed performance. It's not the fastest on your labs, but it came close second to none. Latency is the highest though, which is technically what you wouldn't want in a kit, but it wasn't as far off, and the performance showed otherwise. Clearly, Kingston's selected  CL11-13-14 timings were already perfect for the frequency.
Perhaps the only downside of the HyperX Savage is the lack of overclocking headroom, which is evident among various reviews. We tried overclocking it, but to no avail so if the Savage has an Achilles Heel, then this is it.
Kingston's HyperX Savage saw its first introduction last quarter of 2014, effectively replacing the HyperX Genesis, while its little brother, the FURY, replaces the HyperX Blu Series. The Savage is also available in 1600 MHz, 1866 MHz, 2133 MHz, and the one we got, the 2400 MHz kit. This means that Kingston pretty much covered almost all areas of upgrade options, which is specially good if you're coming from an AMD system, where most 990FX motherboards + CPU will reach a maximum of 2133 MHz.
Kingston also got you covered when it comes to reliability, as each HyperX Savage DIMMs has been tested before leaving the factory and also features a lifetime warranty. For 145 USD International, and 8, 520 Pesos SRP, the Kingston HyperX Savage with 2400 MHz frequency at 2x 8GB configuration is a solid deal.
Kingston HyperX Savage
PERFORMANCE -

8/10

BUILD QUALITY -

9/10

FEATURES -

4/10

AESTHETICS -

9/10

VALUE -

8/10
Summary
For 145 USD International, and 8, 520 Pesos SRP, the Kingston HyperX Savage with 2400 MHz frequency at 2x 8GB configuration is a solid deal.