Phone holders weren't such complicated devices to begin with – they are made to… well, snuggle your phone in a safe manner wherever you want to put them. One could simply choose their desired holders, and these suckers (pun intended), will usually do their thing regardless of their many shapes and sizes.
And then there's LUXA2, with their philosophy of simplicity & sophistication over many things. Simply put, LUXA2 wants everything to look simple yet elegant as much as possible without hurting the product's features. Today, we are going to take a look at something simple, yet functional: The LUXA2 Smart Clip Universal Car / Desk Mount Holder.
FEATURES & SPECIFICATIONS: CLICK HERE
UNBOXING THE SMART CLIP:
The Smart Clip's packaging is rather simple, and will provide a basic walk through about the product and its details. That includes the surfaces where you could mount it safely, as well as the supported smartphone dimensions.
There isn't much to talk about the packaging and its contents, except for the the Smart Clip and a small quick installation guide that should get you started.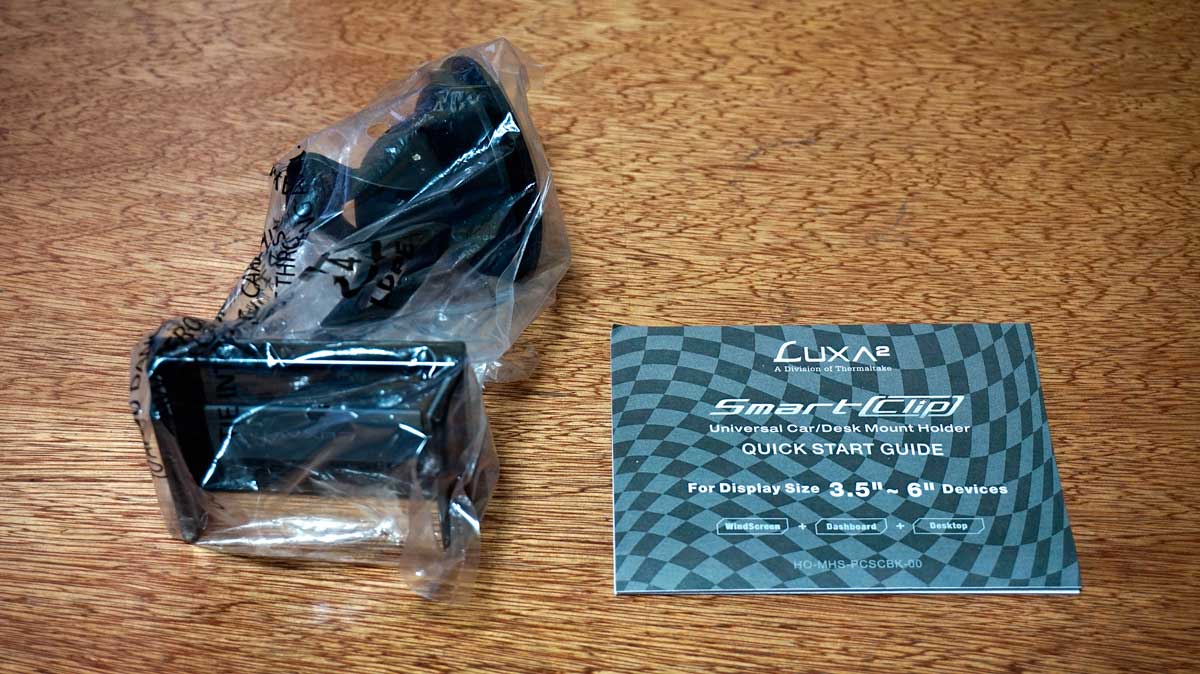 THE LUXA2 SMART CLIP:
The Smart Clip from LUXA2 is an all black, elegant looking piece of combined plastic and rubber materials. The Smart Clip is actually made in 3 parts which are the mounting system, the stem, and the suction base with a clamp.
The stem is curvy, and is around 100mm in length from top to base. The clamp which hold the spring in-place is made of plastic too, but has a shaft that is made out of metal for rigidity.
LUXA2 claims that the Smart Clip features a 360-Degree rotation which is possible via a socket mount ball located beneath  the holder. It's actually pretty sturdy, and requires force to rotate which is a plus.
Now the base is rather amusing, mainly because it's a suction cup made out of rubber material which is coated in a clear adhesive-like silicon. Even without using the clamp, this thing will stay in place. It's washable too, which is nice.
The holder is made out of a glossy plastic material to compliment most style of smartphones nowadays. It also features the LUXA2 logo, printed on a large rubberized surface accompanied by Two smaller ones at the clamp. Speaking, the clam itself is adjustable, and is able to accomodate 3.5″ – 6″ devices.
APPLICATIONS & VERDICT:
Using the LUXA2 Smart Clip is simple and straight forward, as you only need to do Three main steps: Clean the surface where you want to attach it, attach the base and securely clamp it, then stretch the mounting clamp to a desired length and then put the device on it. It's just that simple.
Since the Smart Clip's holder / mount features 360 degree of rotation, you could orient it in almost any way you like. Just make sure that its clamps weren't covering your phone / device's side buttons but I guess you already know it.
The Smart Clip is ideally, a holder made for in-car or dashboard use, and we never had problems using it that way. The ball-joint mount is sturdy, and it never bows down during the course of our testing. The same could be said to the suction cup.
Again, the 360 ball-joint assisted rotation helps to mount the err… mount to almost any position, which is practically great combined with the ever so reliable suction cup.
Our family car's instrument panel isn't the best spot to place the Smart Clip because it isn't flat, and  features textured surface similar to a synthetic leather material. That said, we were surprised that the Smart Clip managed to stick on the surface without budging which is kinda cool.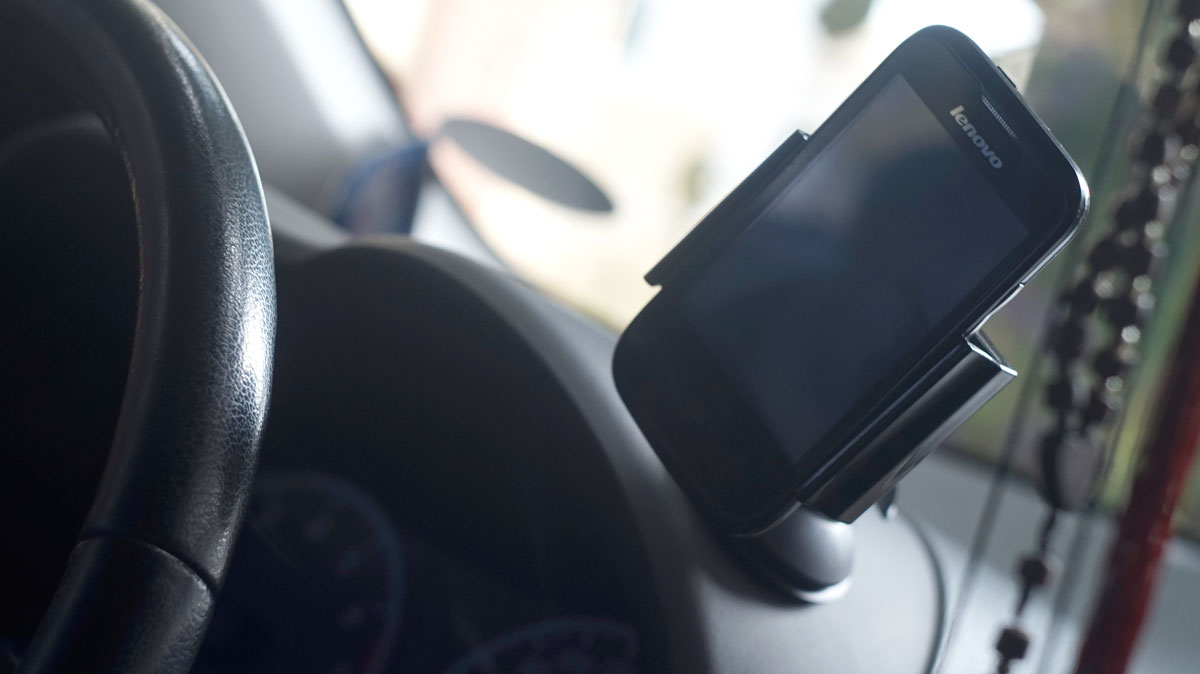 Reassuring as it is, the Smart Clip could be used in many different ways. For an instance, we had it setup on the side of our case so we could mount our phone on it and have it accompany us while working or even gaming (battlelog app).
Perhaps what I like the most about this product from LUXA2 is the ability to mount almost anything to it. I'm actually using it to display my headphone and it turns out to do its job pretty well.
The Smart Clip is one of the many mounting accessories available almost everywhere, and we're pretty sure you're wondering why you should consider it over anything else. Simply put, the Smart Clip is a solid piece of both rubber and plastic bonded together. The suction cup is particularly one of the best in its category, and the ball-joint enhanced 360 degree of rotation enables you to try different orientations without sacrificing rigidity. Perhaps the only thing worth nitpicking is the suction cup's prone to dust and fabric lint, which could be remedied via washing. At 14.99 USD, or roughly around 600 Pesos, the LUXA2 Smart Clip is an inexpensive, and multipurpose mount that could be used with many gadgets and devices.
LUXA2 Smart Clip
PERFORMANCE -

8/10

BUILD QUALITY -

8/10

FEATURES -

8/10

AESTHETICS -

8/10

VALUE -

8/10
Summary
The LUXA2 Smart Clip is an inexpensive, and multipurpose mount that could be used with many gadgets and devices.