Palit Philippines, and its distributor Ubertech Inc., is generous enough to lend us their GeForce GTX 1060 JetStream 6GB graphics card for a test drive. That said, you know what it means right? A full review of the card. Now there's no reason to put up a chatter here so let us dive directly at the card's specifications.
The Palit GeForce GTX 1060 JetStream 6GB features a 1506 MHz core clock and a 2000 MHz memory clock. This puts it effectively at the same level of the GTX 1060 Founders Edition, but with a better cooler and a non-reference PCB. This is interesting, since the Founders Edition has a 1708 MHz maximum boost clock, and we might see sustained or boost clock ratings for this card due its cooler alone. Being a non-reference card, the JetStream also boasts 0dB fan technology, RGB lighting, a BIOS switch, and a souped up 8 Phase VRM so it appears that you will get your money's worth on this one. Well, we still have to see how everything goes with this card so enjoy the ride.
QUICK SPECS COMPARISON

MAKE & MODEL
NVIDIA GTX 1060
PALIT GTX 1060 AMP
GPU
GP106
GP106
CORES
1280 CUDA
1280 CUDA
CORE CLOCK
1506 – 1708 MHZ
1506 – 1708? MHZ
VRAM
 6GB GDDR5
 6GB GDDR5
MEMORY BUS
 192-BIT
 192-BIT
MEMORY CLOCK
 8000 MHZ
 8000 MHZ
POWER OUTPUT
 120W
 120W
POWER INPUT
 6-PIN
6-PIN
SLOT TYPE
 DUAL
DUAL
DESIGN
 REFERENCE
NON-REFERENCE
PRICING
 249 – 299 USD
 306 USD / 14, 350 PHP
UNBOXING THE PALIT GTX 1060 JETSTREAM 6GB:
Palit had a change of heart with their packaging for the GTX 1060 series. We are so used to the flaps and the see-through effect of the older ones so this is a little surprising. The new one feels sturdier, and to be honest, function is always better than form when it comes to packaging.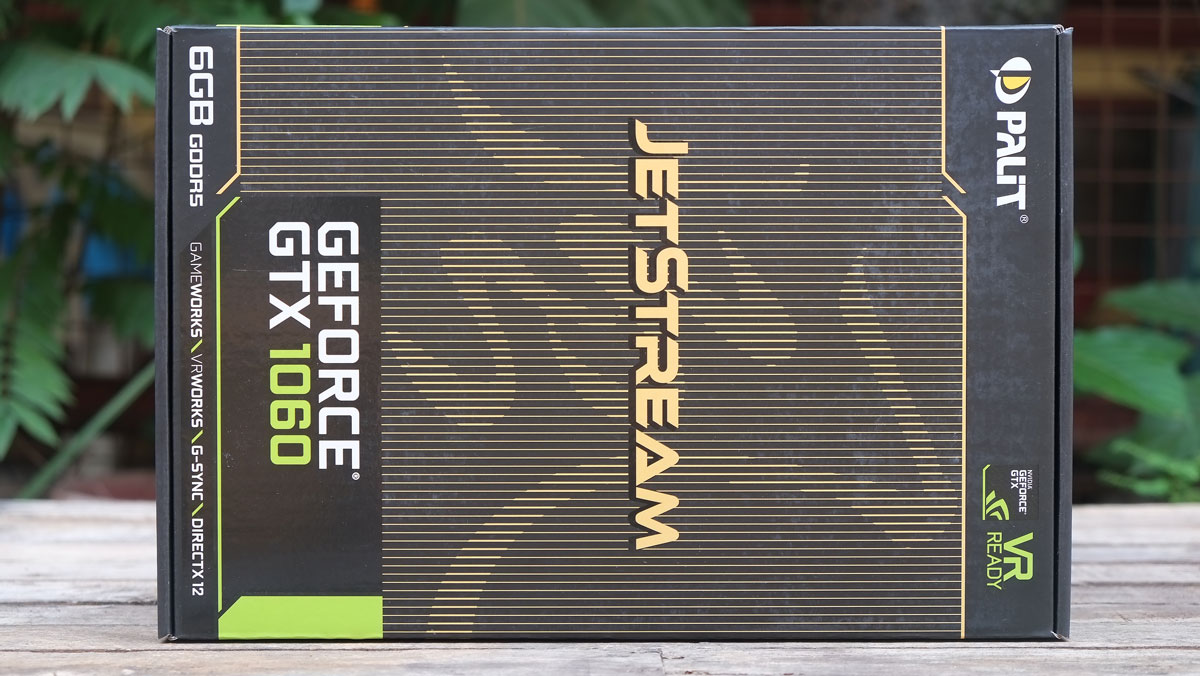 The box contains a quick installation guide, a driver DVD, and a dual molex to 6-pin power adapter. Not the best we've seen, but not the worst either.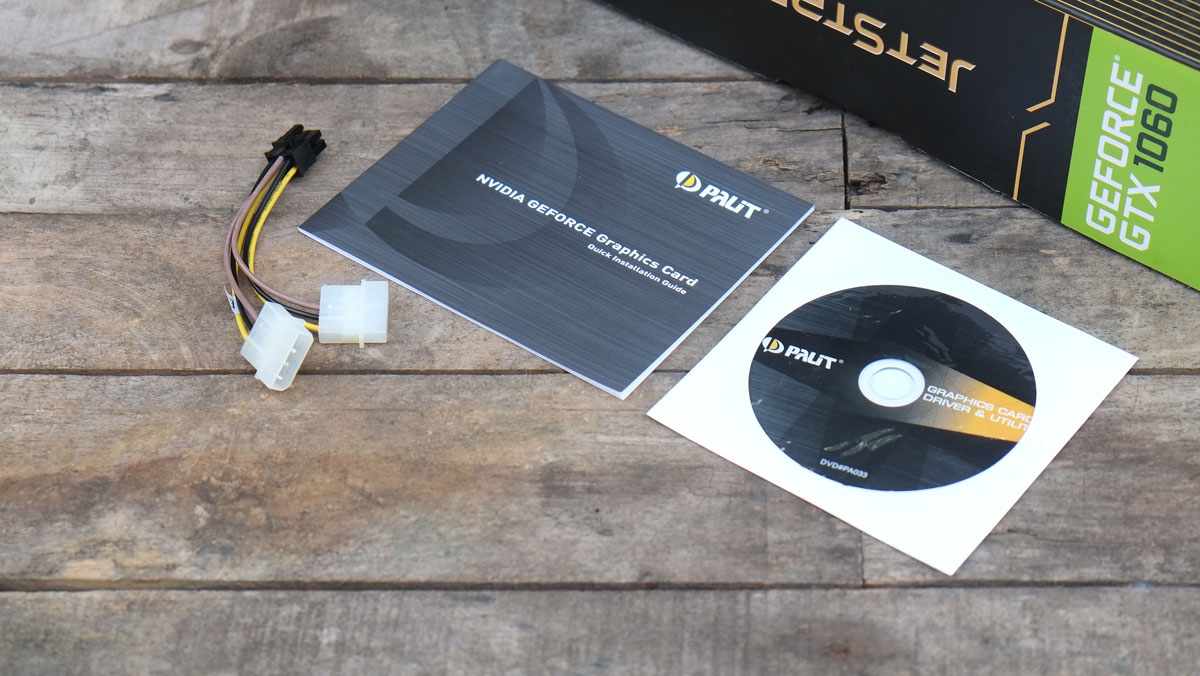 THE PALIT GTX 1060 JETSTREAM 6GB:
Standing in at 9.8 inches long, and 4.8 inches wide, the Palit GTX 1060 JetStream is one medium sized graphics card. Elegant is a word that could be used to describe this card, with a great contrast between 3 primary shadings. I really love how Palit combined the Silver, Black, and the mirror finish. This design is just way better than their GTX 900 series offerings, and gamers could easily opt for a change of theme by removing the silver face plate.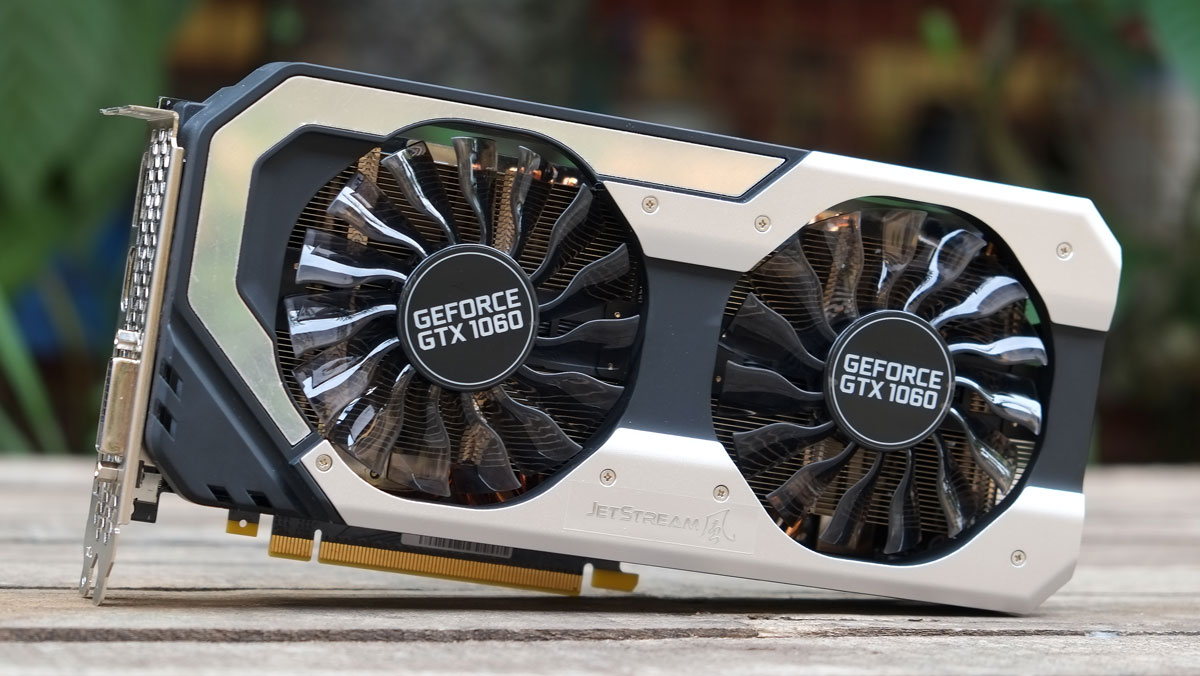 The dual 90mm fans are 0dB compliant, and will only spin up if the GPU reached 50c. Helping the fans to dissipate heat are the dense array of heat fins, and four heat pipes. The 8-Phase VRM and the VRAMs are actively cooled as well which is a plus. 8 phases is actually an overkill for the GTX 1060, but it could balance the load better than a 5 phase design and should operate cooler.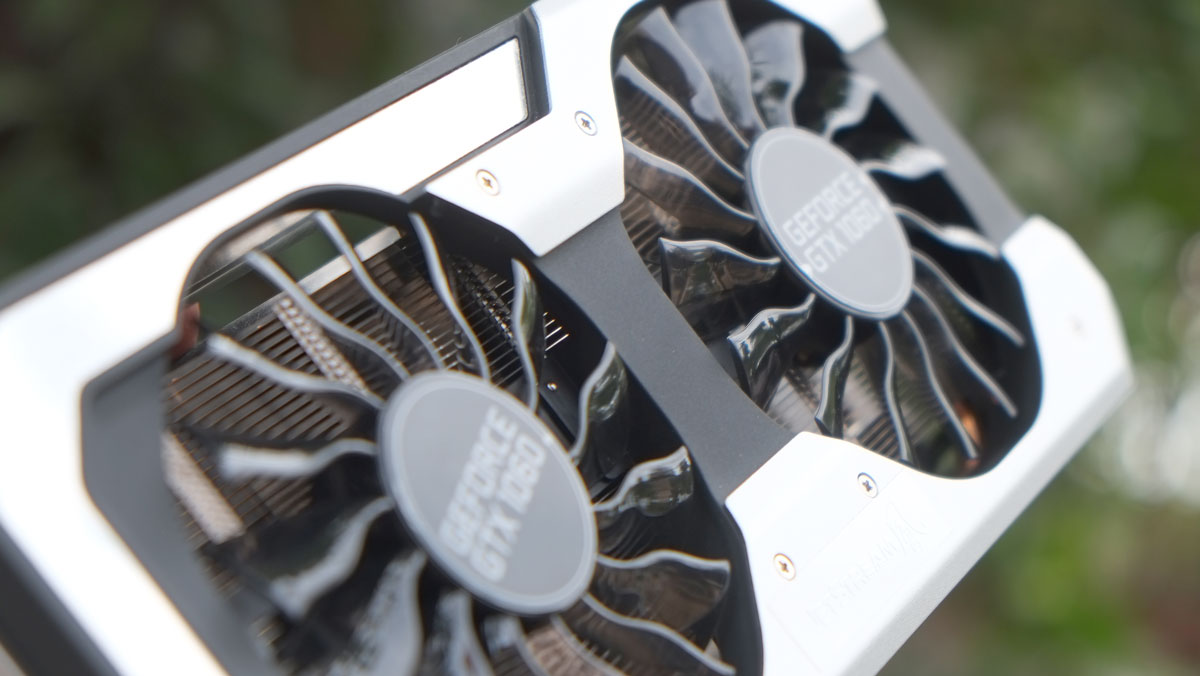 The back plate is a blank slate of brushed aluminum which is neutral in nature and could easily complement most of the builds out there. The BIOS switch is located at the top, which is a great value added feature that should help you switch or flash firmwares should one goes kaput.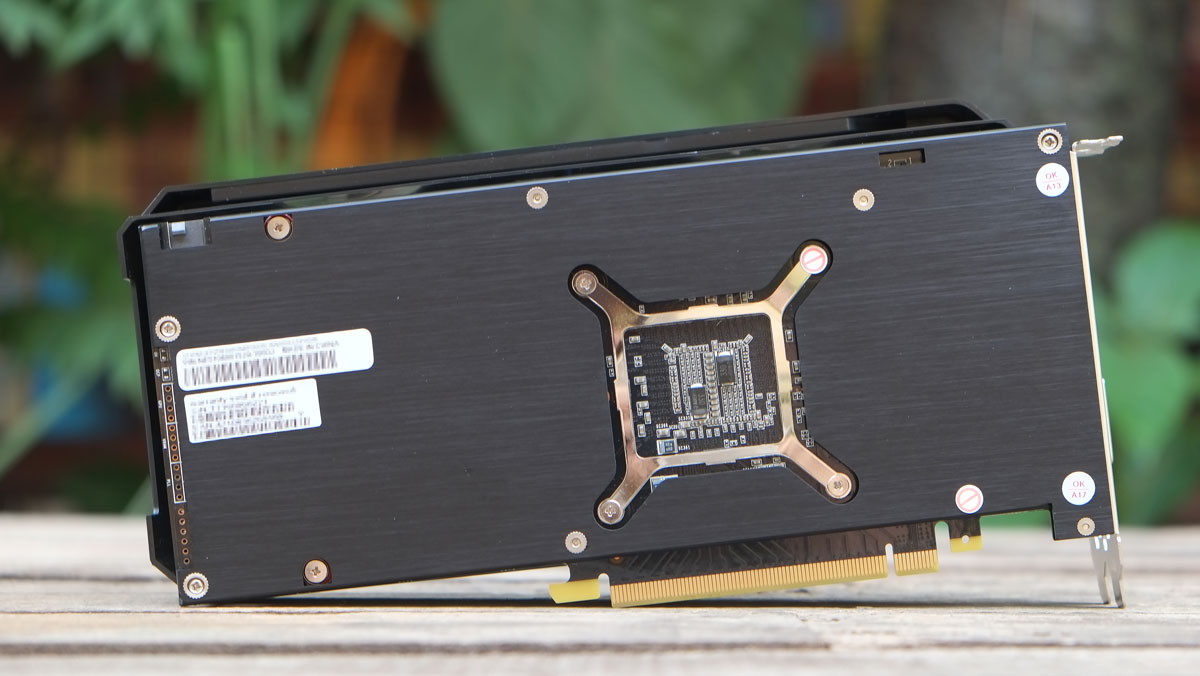 Voltage read out points are provided at the far end of the PCB, should you require it and its accuracy. We are not 100% sure though that these things actually works since they are not specified at Palit's website. They could have traces, or nothing at all.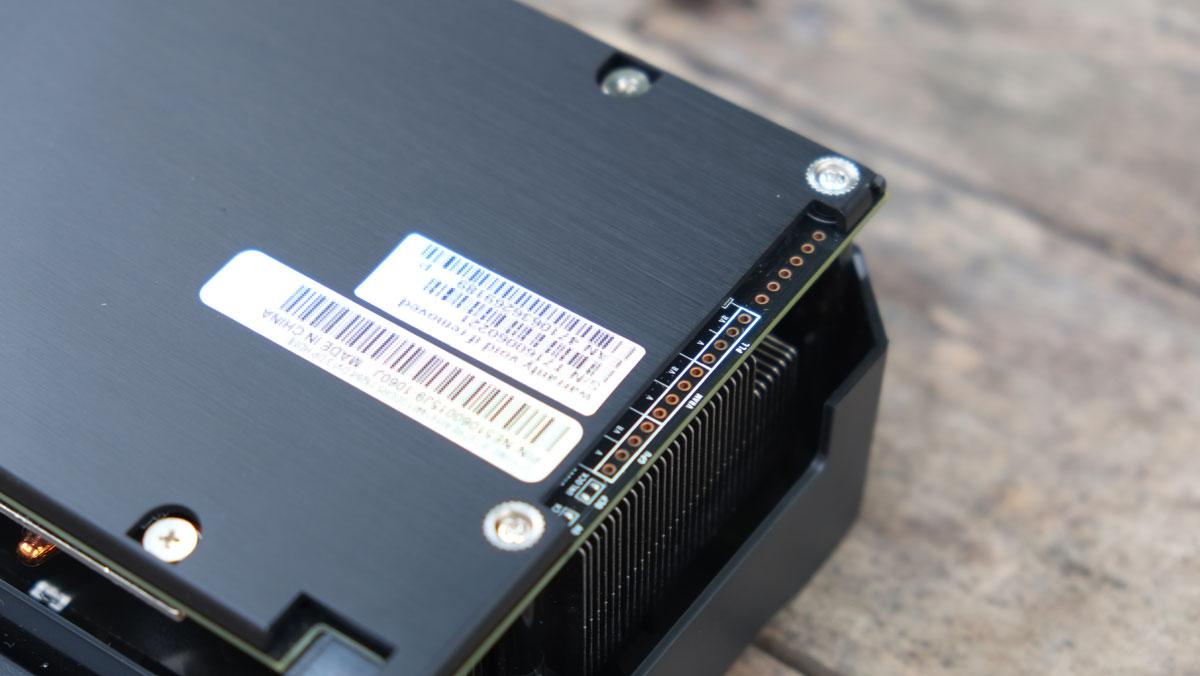 The RGB functionality resides at the card's shroud. It can be lit up using Palit's own ThunderMaster software, with a similar effect to that of what we've found out at the Palit GTX 1080 GameRock. It's smooth, but solid colors are well represented. The power delivery is based on a single 6-pin power connector.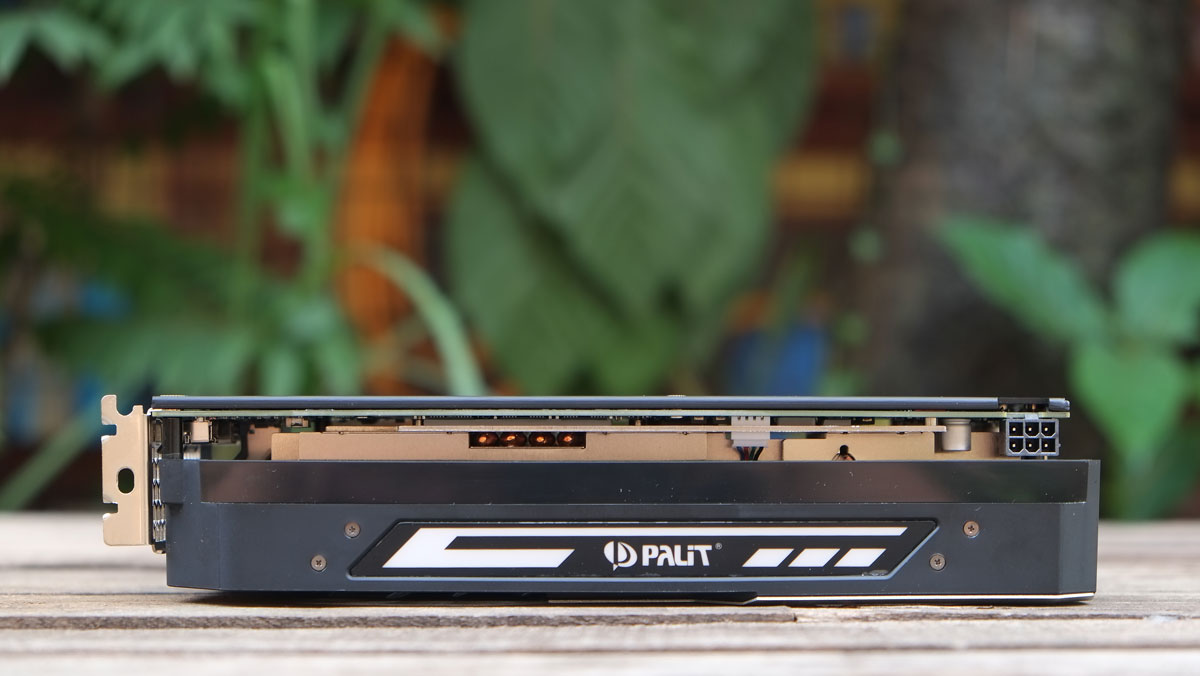 Palit chose a honey comb design with the card's ventilation area which is way better than having a logo and a huge chunk of metal blocking the air flow. Display ports on the other hand consists of 4 main outputs with 3x DisplayPort 1.4, a single HDMI 2.0b, and a DL-DVI.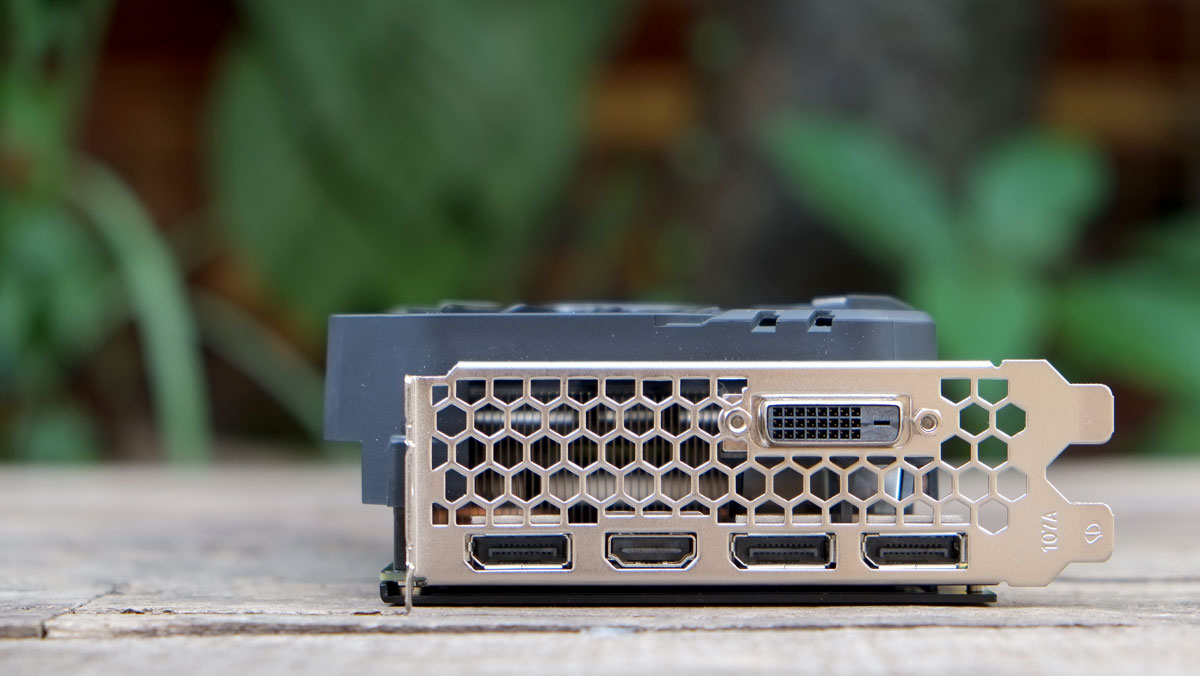 THE TEST SYSTEM & BENCHMARKS:
Our test system is based on a Intel Core i5 6600K gaming system, which should be in-line with the latest mainstream gaming components. The operating system used is a 64-bit Windows 10 Pro Edition with power options set to balanced. Third party background softwares are disabled unless they are absolutely required. Benchmarks should include 720p, 1080p, 1440p, and 2160p results if necessary to the hardware being tested.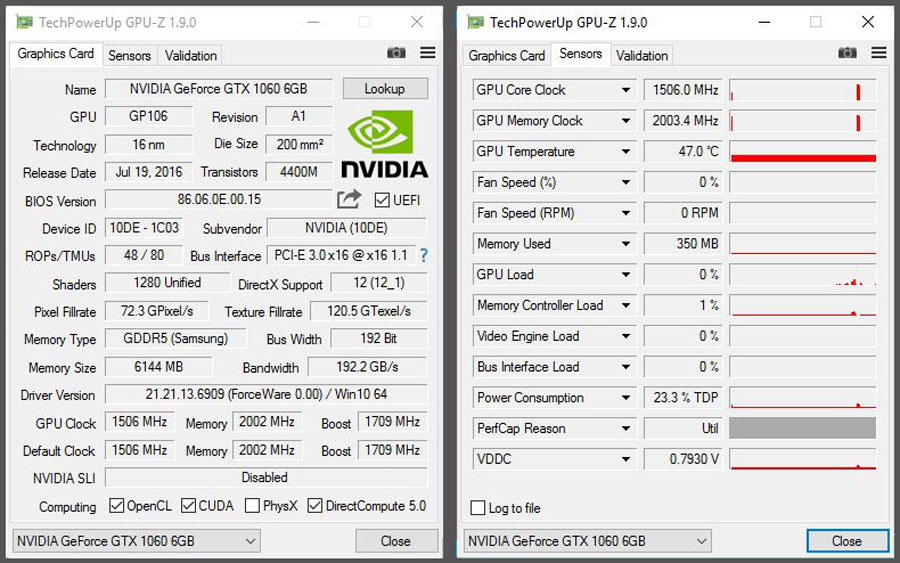 TEST SYSTEM SPECIFICATIONS

CPU
INTEL CORE I5 6600K
MOTHERBOARD
ASUS Z170-A
CPU COOLER
NOCTUA NH L12
MEMORY
CRUCIAL BALLISTIX TACTICAL 16GB
GRAPHICS CARD
PALIT GTX 1060 JETSTREAM 6GB
INT. STORAGE
PLEXTOR M6E BLACK EDITION 256GB
PSU
CORSAIR RM850X 850W
DISPLAY
27″ DELL U2715H WQHD IPS PANEL
OS
MICROSOFT WINDOWS 10 PRO
FRAMES PER SECOND 101:
FPS is the general unit of which we measure a graphics card's performance and the higher value, the smoother the gameplay should be. Higher FPS means that there are more frames rendered each second. Check out the difference of 30 and 60 FPS ON THIS LINK.
FPS values are recorded by FRAPS in-game using a linear methodology for consistency. The results includes the Average FPS and 1% Minimum FPS, unless the game does not support FRAPS. The 1% Minimum FPS represents the negative spikes or drops in-game sufficient enough for a gamer to notice. If the game doesn't support FRAPS, we will use the in-game benchmark or have the frame rate recorded via EVGA's PrecisionX OC.
TEMPERATURE NOISE & POWER CONSUMPTION:
Unigine Heaven is an intensive GPU benchmark that measures the performance of the graphics card. Temperature values are taken directly from GPU-Z, and will be cross referenced from other temperature logging tools. The ambient room temperature is checked at 27 Degree Celsius. Overwatch is used for the in-game temperature test.
Our power consumption test shows how the GPU impacts system power consumption using Unigine Heaven, and Overwatch. Both applications will run for approximately 15 minutes. Power readings are taken from the entire test system using a watt meter connected to the wall socket.
The sound level of the system with the graphics card is taken as well. The room has an ambient noise level at around 37 dBA which is good enough to test the acoustic performance of any system or a graphics card's cooling solution. The sound level meter is situated 2 feet away from the system.
The PALIT GTX 1060 JetStream is a card that features nice balance between cooling and acoustics. It beats the ZOTAC GTX 1060 AMP when it comes to thermal performance, but features an almost identical acoustics, and a slightly higher power draw. The king of the hill is still the ASUS GTX 1060 variant.
Now I'd like to point out that we've tested the ASUS GTX 1060 with a few updates on the components of our test system so power figures are definitely off so keep that in mind. We refuse to show delta results until we've checked out the exact differences between the setups.
PALIT GTX 1060 JETSTREAM SYNTHETIC PERFORMANCE:
3DMark 2013 is a suite of benchmarks catered  for the gamers and enthusiasts. It features benchmark presets suitable for wide range of systems. The total system scores from the FireStrike presets is used for comparison.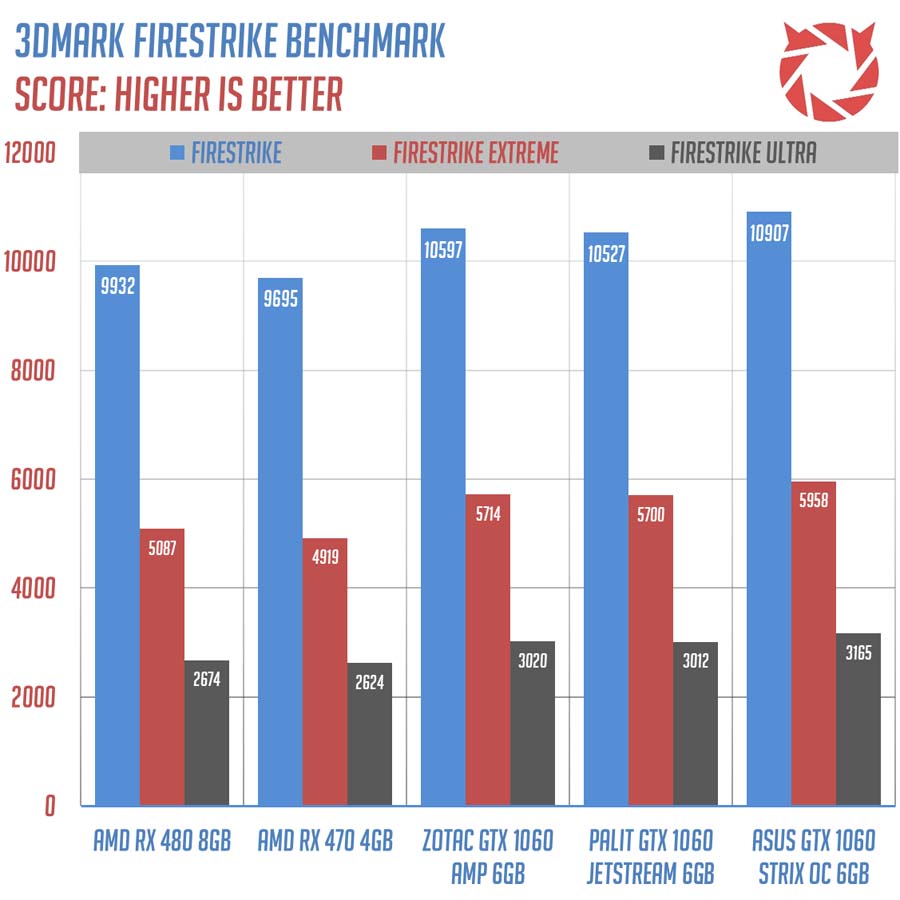 Unigine Heaven is a stress test and a benchmark tool built specifically for the graphics card. We ran a full test to see how the graphics card performs under such loads. The total system score is used for comparison.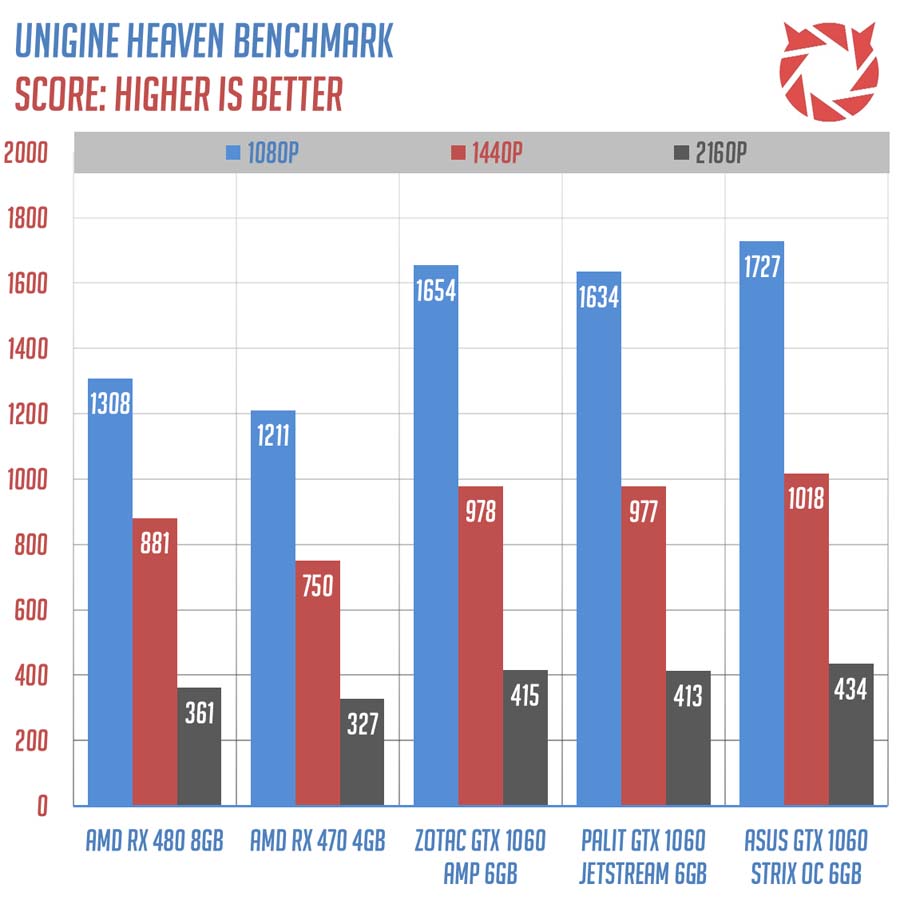 Unigine Valley is a stress test and a benchmark tool built specifically for graphics cards, similar to the Heaven benchmark. We ran a full test to see how the graphics card performs under such loads. The total system score is used for comparison.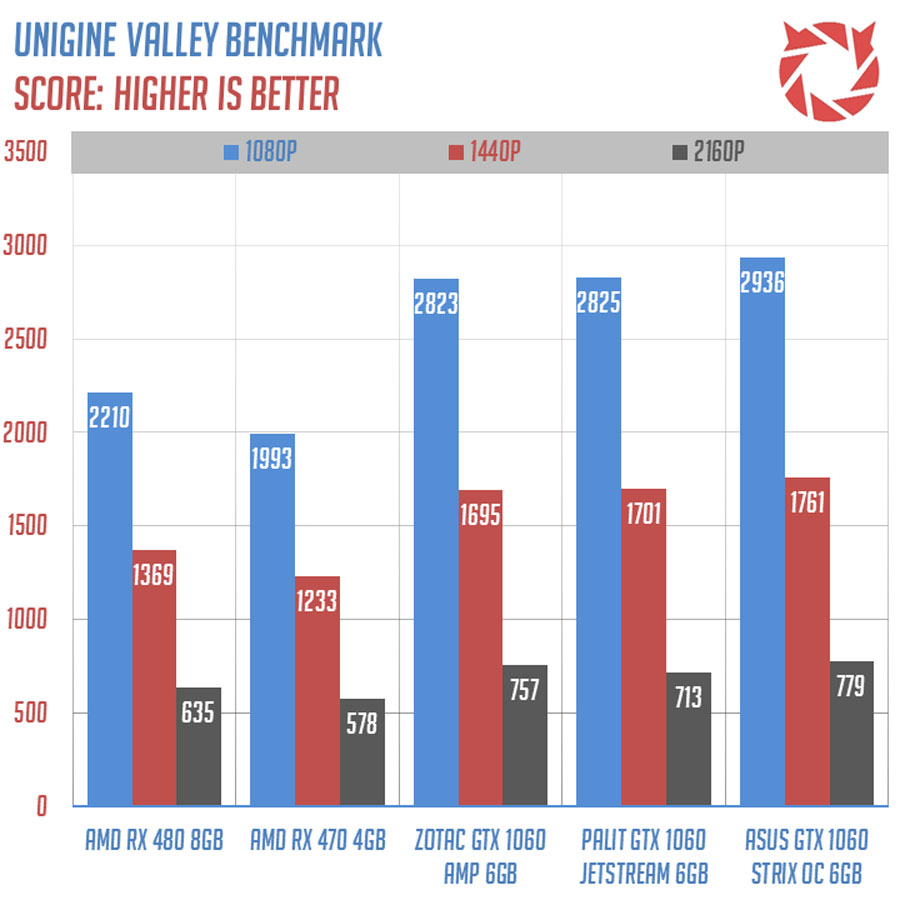 Performance is almost the same with the ZOTAC GTX 1060 AMP yet the one from the said company is faster overall due to its slightly higher clock speeds. Of course the ASUS variant of the GTX 1060 is still the king, but it commands a higher price point so keep that in mind.
PALIT GTX 1060 JETSTREAM GAMING PERFORMANCE:
Overwatch is Blizzard Entertainment's critically acclaimed FPS shooter, running on a custom game engine developed by Blizzard utilizing the DirectX 11 API. Benchmarks will be taken from a custom game on a map called Temple of Anubis. The graphic settings is set to ultra with a 100% render scale.
DOTA 2 is Valve's popular MOBA game, running on their own Source Engine 2. Benchmarks are taken from a match replay between Alliance and Natus Vincere. The graphic settings is set to the maximum. The frame rate is uncapped, and v-sync is turned off.
Ashes of The Singularity is an RTS game developed by Stardock and one of the first games to support the DirectX 12 API. Benchmarks will be taken directly from the game's benchmarking tool, with the graphic settings is set to extreme.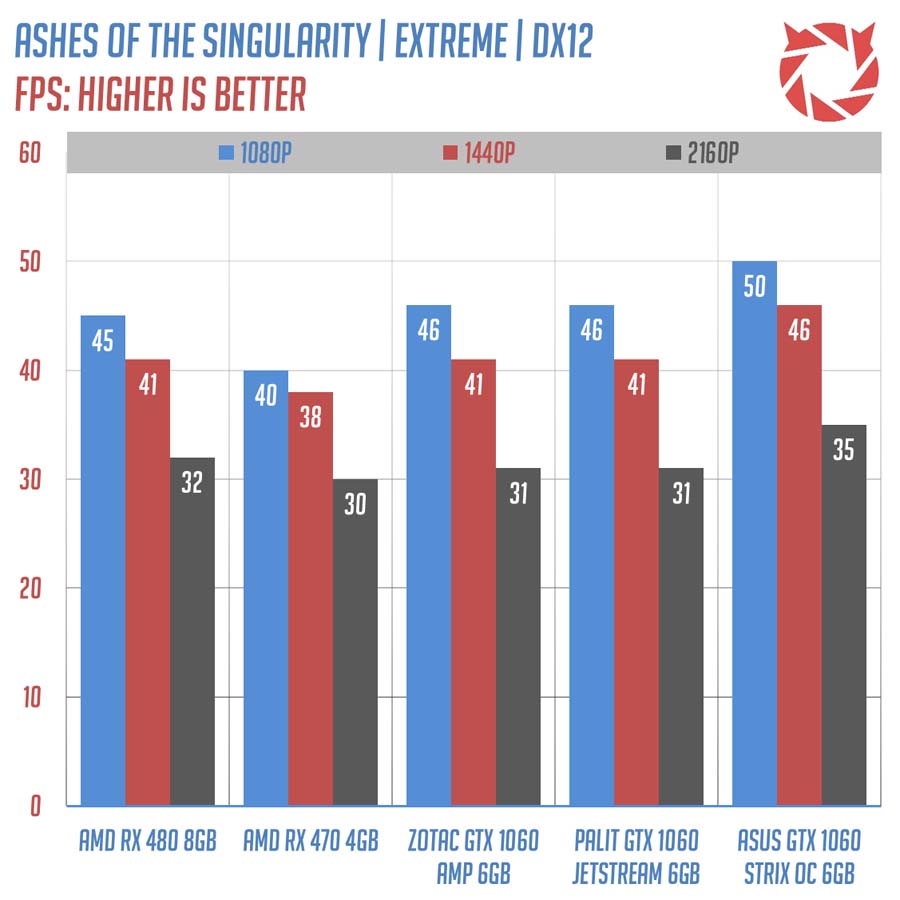 Rise of the Tomb Raider is the direct sequel to 2013's Tomb Raider reboot. It is developed by Crystal Dynamics and Eidos Montreal, with support for the DirectX 12 API. Settings are set to Very High, with SMAA, HBAO+, and Pure Hair enabled. Benchmarks were taken from the Syria level.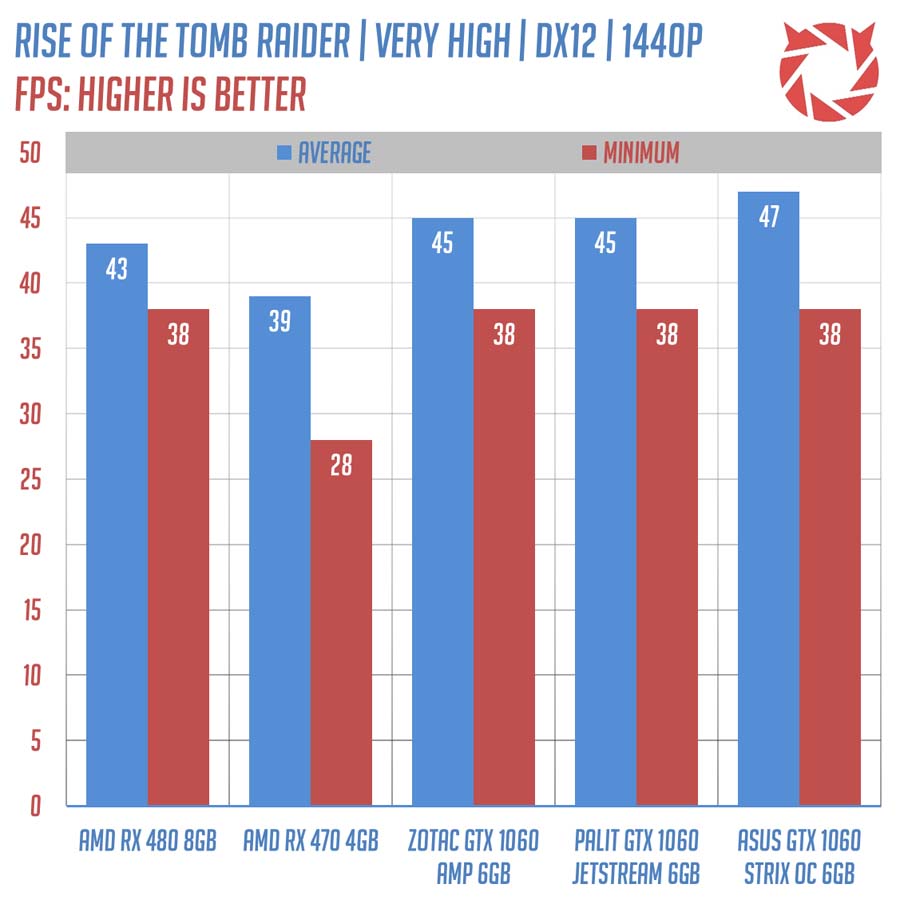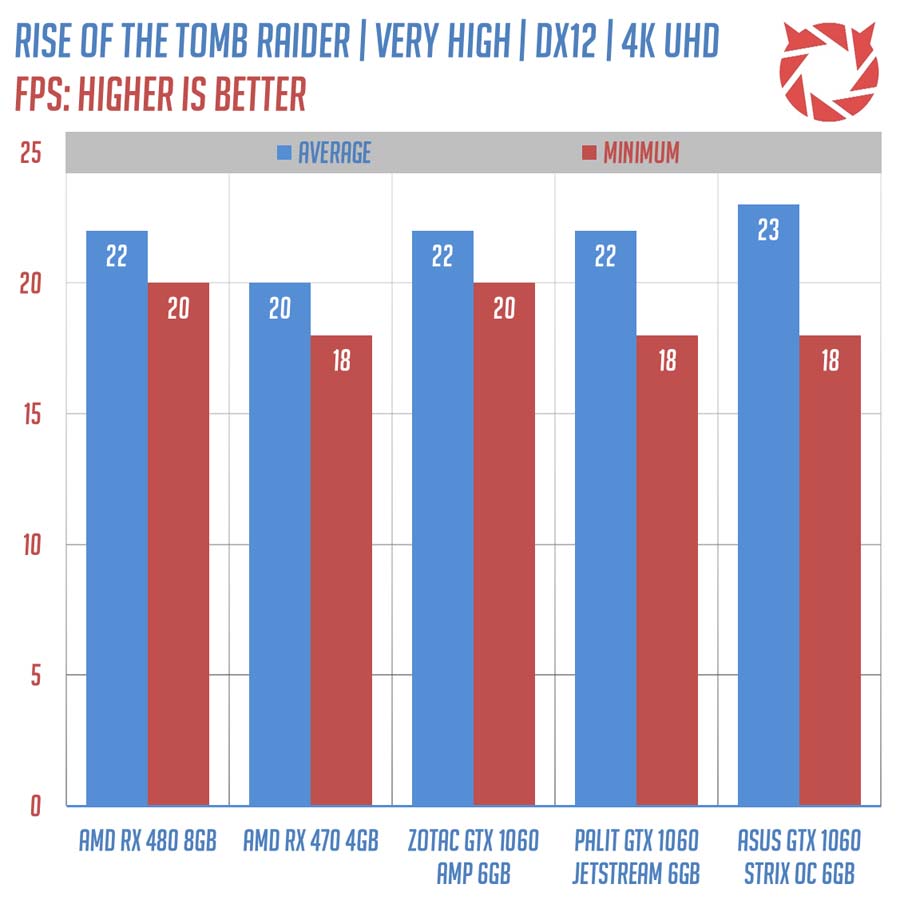 DIRT: Rally is Codemaster's proper take on the rally racing game genre, with support for the DirectX 11 API. Settings are set to Ultra, with 8x SMAA enabled. Benchmarks were taken from the stages at Hafren, Wales.
Titles benchmarked showed what the PALIT GTX 1060 JetStream could really do. Offering a good performance across 1080P, and 1440P with even an acceptable 4K UHD performance at Overwatch paired up with an exceptional DOTA 2 performance. The card managed to stay at 1911 MHz boost during our tests which is a nice indication that this card is nothing to laugh at when it comes to gaming performance. There really isn't much difference compared to the ZOTAC GTX 1060 AMP.
OVERCLOCKING THE PALIT GTX 1060 JETSTREAM:
We managed to get a stable 1589 MHz OC out of the Palit GTX 1060 which isn't really that great compared to the one we've got with the ZOTAC card. Regardless, that's still an extra 83 MHz over the stock settings. We really wish we could push this one further, but I guess we just lost the silicon lottery.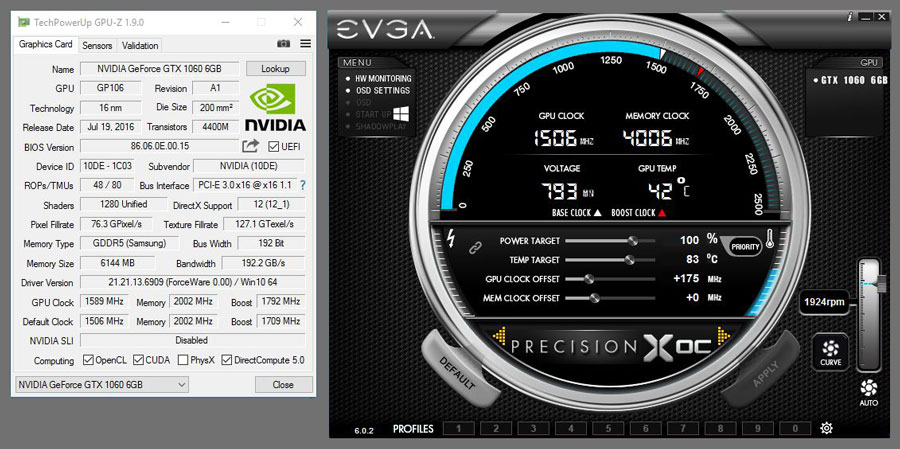 Gains we got from overclocking were acceptable at 4%, 5%, and 6% respectively across the 3DMARK FireStrike benchmarks. Nothing extraordinary here but it's nice to see that we could still squeeze more out of the card.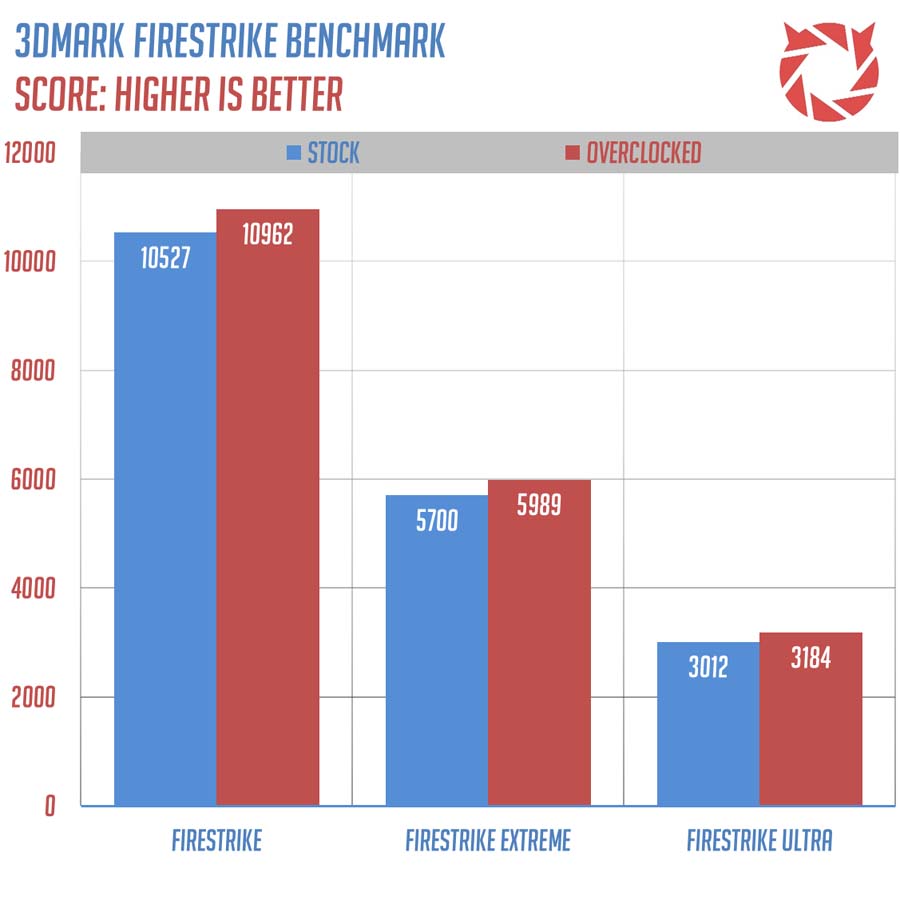 WRAPPING IT UP:
Performance is good if not great – with a higher boost clock rating achieved at 1911 MHz constant. At synthetics, the Palit GTX 1060 is a little slower than the ZOTAC card on our tests, but it goes head to head with it during gaming. This one excels at the thermal performance though with a considerably less heat generated. I'd say the 2.5″ cooler design is really paying off. Enabling Palit to create a medium sized card with a good cooler – sacrificing height over the length of the card.
Build quality is proper for a card that commands a higher price point over the ZOTAC card. It has a good aesthetic design, and comes with a brushed aluminum back plate covering the vulnerable PCB area at the back of the card. The card also features active VRM and VRAM cooling solution which is a plus. Now features included are RGB functionality, voltage read out points, and a BIOS switch should you require it. It's not everyday that we see the latter features on mid-range cards these days.
Priced at around 14, 350 PHP, we felt that the Palit GTX 1060 JetStream could use a price drop. Its factory overclocked brother, the GTX 1060 Super JetStream for example – retails for around 14, 850 PHP. That's just 500 PHP more with a better clock speed out of the box. Sure, you could overclock this card but it isn't enough to match that card's potential.
Overall, there isn't much to complain about the Palit GTX 1060 JetStream. It delivered its promises, and is still within an acceptable price bracket. We wished the pricing could go lower but if this card ticks all the boxes you require for a GTX 1060, then we have no reason to deter you.
EDIT: Palit and Nvidia partnered up with Epic Games to bring 115 USD worth of Paragon goodies with the GTX 1060. Check it out HERE.
Palit GTX 1060 JetStream
PERFORMANCE -

8/10

BUILD QUALITY -

8/10

AESTHETICS -

8/10

VALUE -

9/10
Summary
The Palit GTX 1060 JetStream is a proper main stream card with good features at an attainable price. It has the performance you'd want for a GTX 1060, but with extras expected from Palit.