The GeForce GTX 1080 propelled Nvidia's high end market segment this year with a significant feature set and performance improvements compared to its predecessors. This is basically due to a smaller and energy efficient silicon, cherry topped with an architecture to take VR and high resolution gaming on a head on collision.
Now what we have here is a non-reference version of Nvidia's GTX 1080 graphics card from Palit, dubbed as the GTX 1080 GameRock Premium Edition. This version is the fastest GTX 1080 Palit currently offers with a base clock of 1746MHz, and an effective 10500MHz GDDR5X memory clock speed coupled up with a white and blue themed shroud design and a 3 slot cooler. Our model comes with the Palit G-Panel, which is basically a 5.25″ bay that could be used inside and outside the case powered by a USB 3.0 header to display your graphics card's current clock speeds, temperature, and what not. This card is practically a monster, in terms of size and specifications.
QUICK SPECS COMPARISON
MAKE & MODEL
NVIDIA GTX 1080 FE
PALIT GTX 1080 GAMEROCK
GPU
GP104
GP104
CORES
2560 CUDA
2560 CUDA
CORE CLOCK
1607 – 1733 MHz
1746 – 1885 MHZ
VRAM
 8GB GDDR5X
 8GB GDDR5X
MEMORY BUS
 256-BIT
 256-BIT
MEMORY CLOCK
 10000 MHZ
 10500 MHZ
POWER OUTPUT
 180W
 200W
POWER INPUT
 8-PIN
6-PIN + 8-PIN
SLOT TYPE
 DUAL
TRIPLE
DESIGN
 REFERENCE
NON-REFERENCE
PRICING
 699 USD
 740 USD
NVIDIA GEFORCE GTX 1080 RUNDOWN:
The Nvidia GeForce GTX 1080 is the current flagship graphics card from Nvidia featuring the 16nm Pascal Architecture. It touts 7.2 Billion transistors, 2560 CUDA cores, 160 Texture Units, and a 256-bit bus operating at 10 Gbps thanks to the GDDR5X memory standard.
The main features of the Pascal Architecture are based on the rising popularity of VR content. Hence, Nvidia requires a set of features that could help the GTX 1000 series to deliver a smooth gameplay under such environment. The move to GDDR5X, 16nm FinFET node, and the inclusion of Simultaneous Multi-Projection enables the card to excel over its older Maxwell counterparts. Head to THIS LINK if you want to know more details.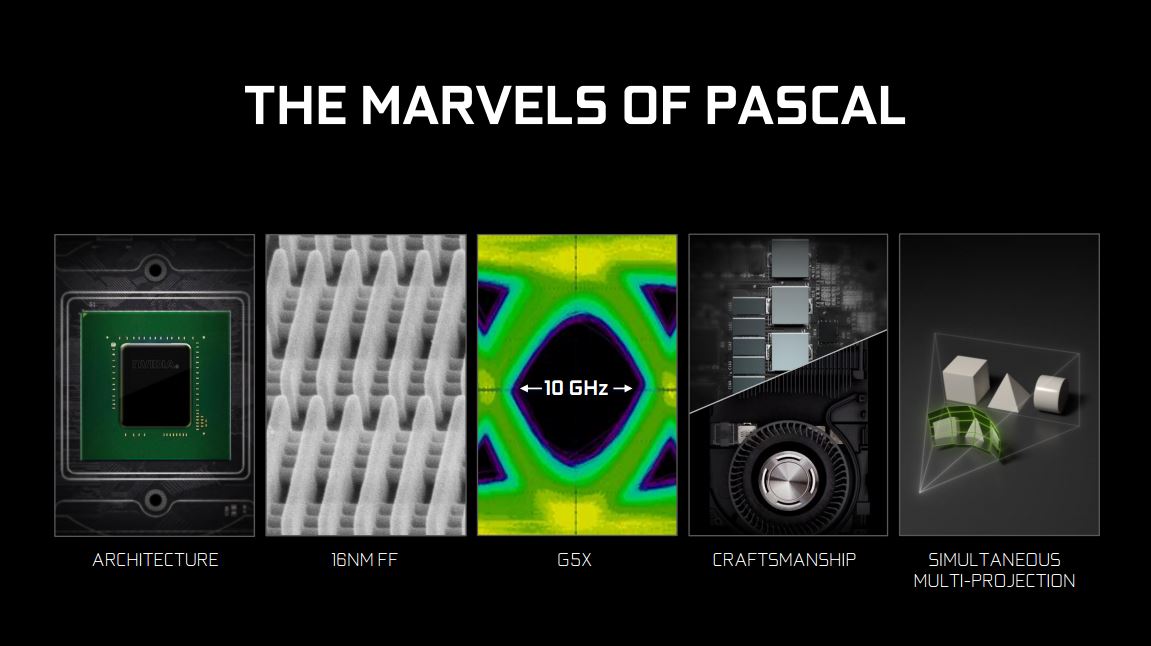 UNBOXING THE PALIT GTX 1080 GAMEROCK:
The Palit GTX 1080 GameRock came in a gaming oriented packaging, showcasing the GameRock branding highlighted in multi-color, signifying that this card supports RGB lighting. There isn't much to discuss here.
The back features a flap to show more about the card's features. That includes a rundown of the RGB lighting, the card's thermal solution, and the power delivery. There is also an image of the card on this area, which is perfect for those who wants to see how the graphics card would look on their systems. Imagination is key here, guys.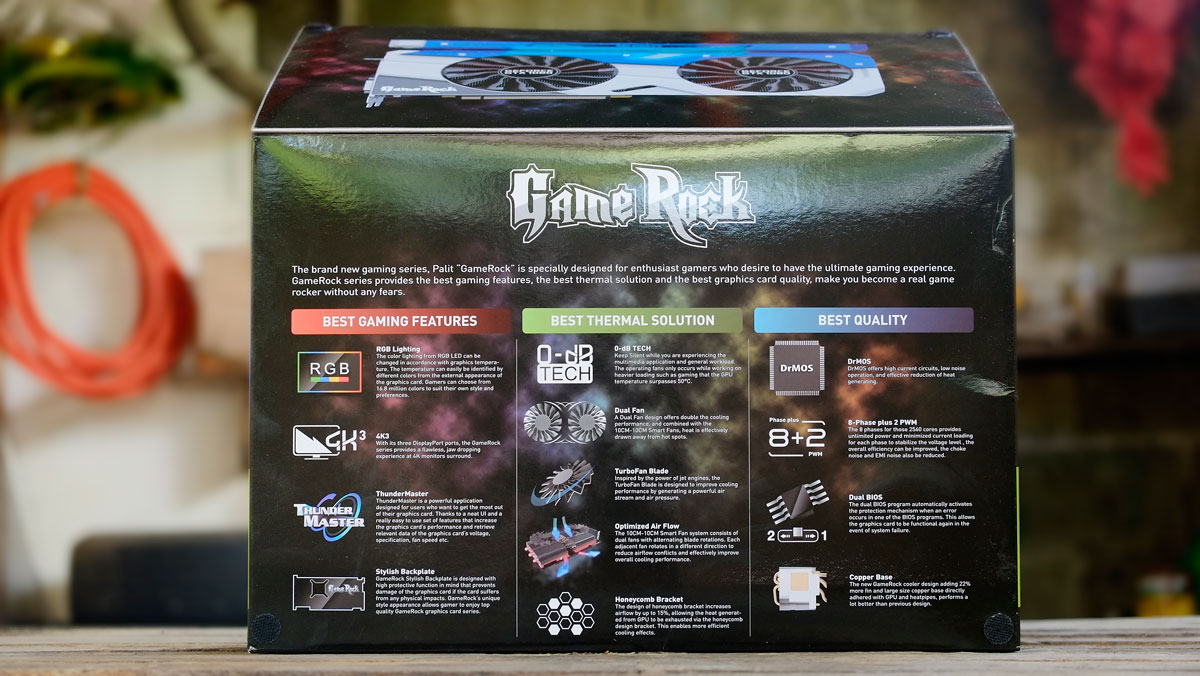 The card, despite being premium – offers little when it comes to the accessories with of course, the exception of the G-Panel. Accessories included are the G-Panel utility DVD, the graphics driver DVD, Installation Guides, a 6+6 Pin to 8 Pin power adapter, and the USB 3.0 header for the G-Panel's connectivity.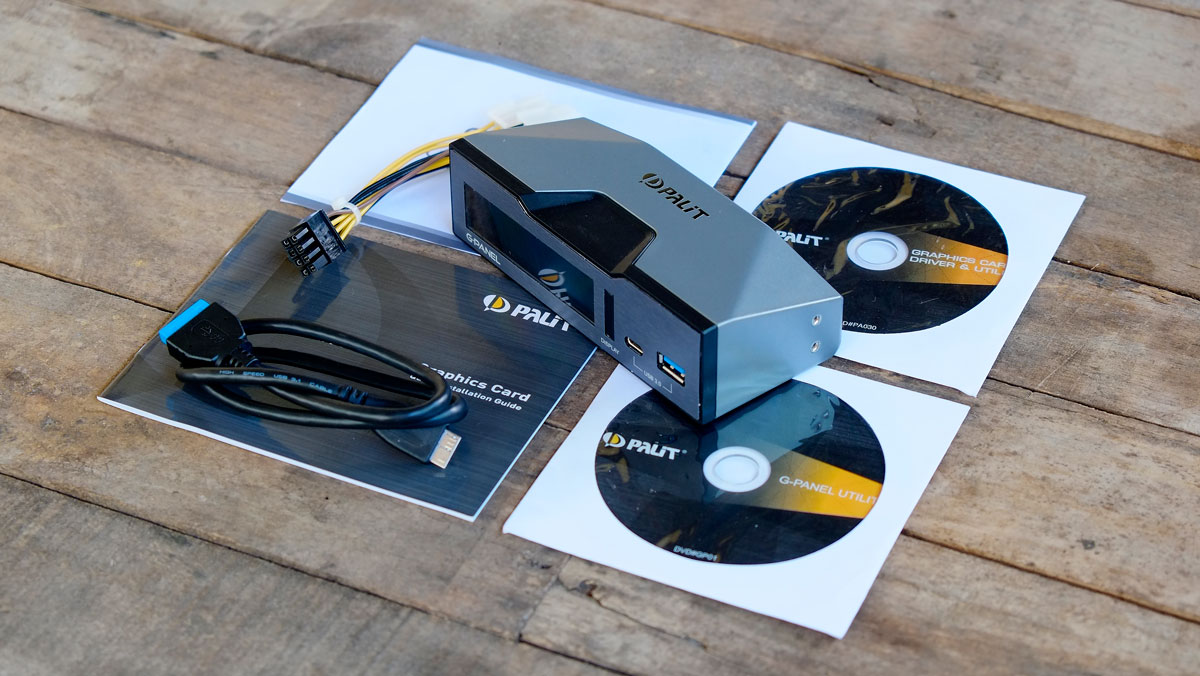 The G-Panel is a 5.25″ bay device capable of displaying the GTX 1080 GameRock's status on its 3.12″ wide display. It looks nice, and will definitely fit almost any builds out there with its neutral color scheme. Featuring USB Type C and a USB 3.0 port, the G-Panel could be used to easily attach any external devices.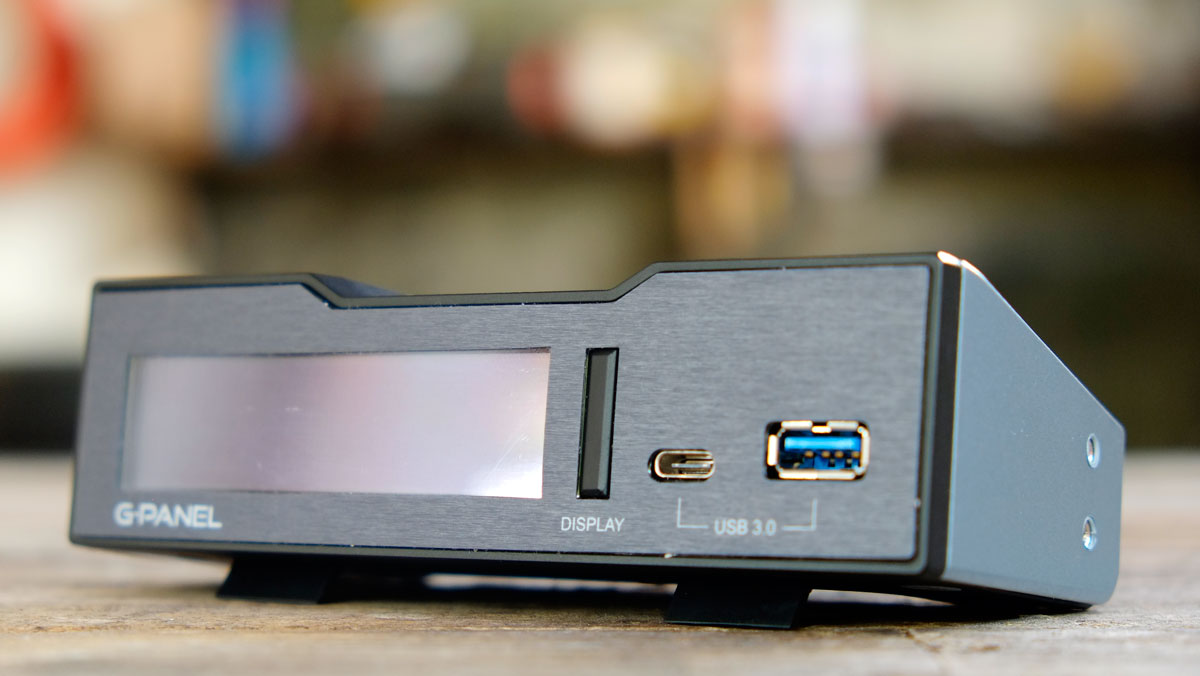 The back features loads of connectivity options as well as an extra power in the form of a SATA power connector. You wont probably need it, but it's there should the need arises. To use the G-Panel, you are required to install the ThunderMaster – which is Palit's very own overclocking tool. Once installed, you have to enable the G-Panel on the settings of the software.
While the G-Panel could prove its own usability, it cannot be installed on a 5.25″ bay due to the extended size of the device. We tried 3 different case, and it cannot actually fit, let alone insert even a quarter of its size. We even disassembled the unit just in case it could be a good workaround over the issue. But, we found out that the frame holding all the pieces of the G-Panel together is actually the cover. Hopefully, Palit will address this issue with the next batch of the GameRock cards with a bundled G-Panel.
THE PALIT GTX 1080 GAMEROCK:
The card stands at a towering 5.24 inches with a total length of 11.22 inches. With that said, this card is definitely touting a non-reference PCB design that Palit has built from the ground up. The card is styled for the younger generation of gamers with its white and blue themed shroud – yet more mature audiences can still appreciate the design especially if you have, or in the process of building a white themed PC.
The back of the card is almost plain looking, with a black brushed aluminum plate hiding the PCB and its components safe from harm's way. The Dual SLI fingers that can be used for both the standard and HB SLI configurations can also bee seen here. While some may like the GameRock logo, and some may not, it isn't going anywhere anytime soon.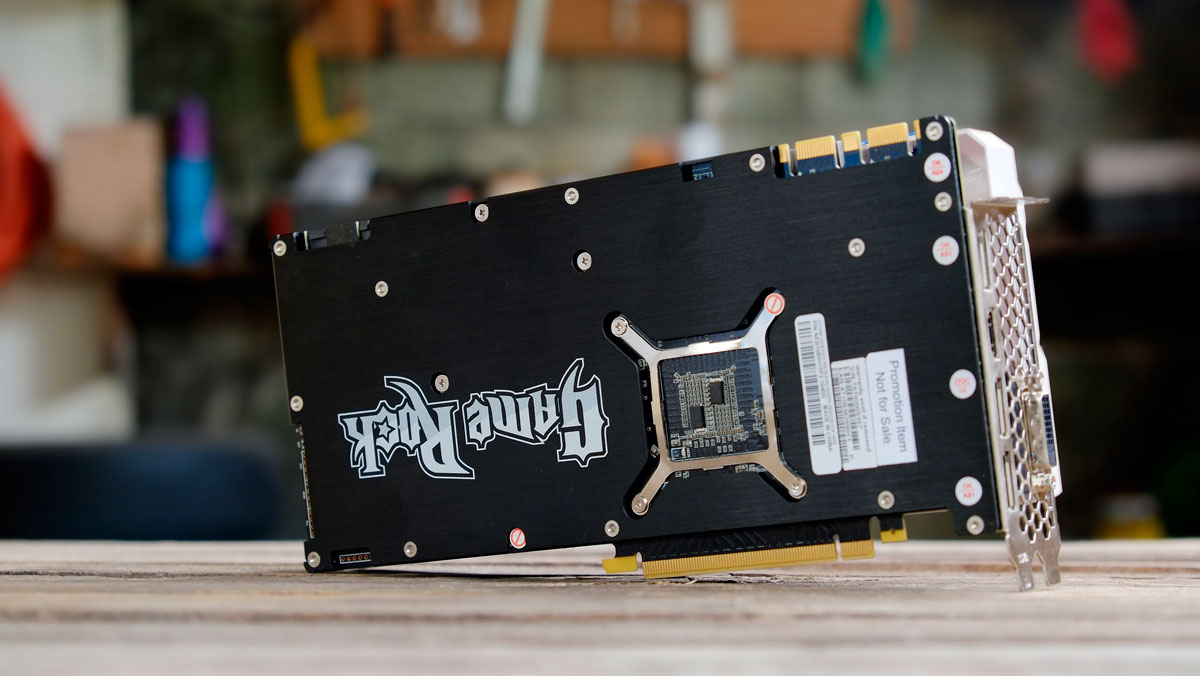 The card is basically a giant pile of PCB and metal, with a huge triple slot cooler making the most of the "metal" part. It is a direct contact cooler, with 5 copper heat pipes effectively transferring the heat from the VRM, VRAM, and the GPU to the heat sink. The card requires a 6 + 8 Pin power connector for the 8 + 2 phase power configuration. The RGB LED lighting bar is also situated here.
As for connectivity, the card houses a single HDMI 2.0b port, a single Dul Link DVI port, and 3x DisplayPort 1.4. The PCI plate features a honey comb structure which is a well implement design compared to what the competition offers. SilverStone FT02 owners, and similarly designed chassis owners will definitely like this feature.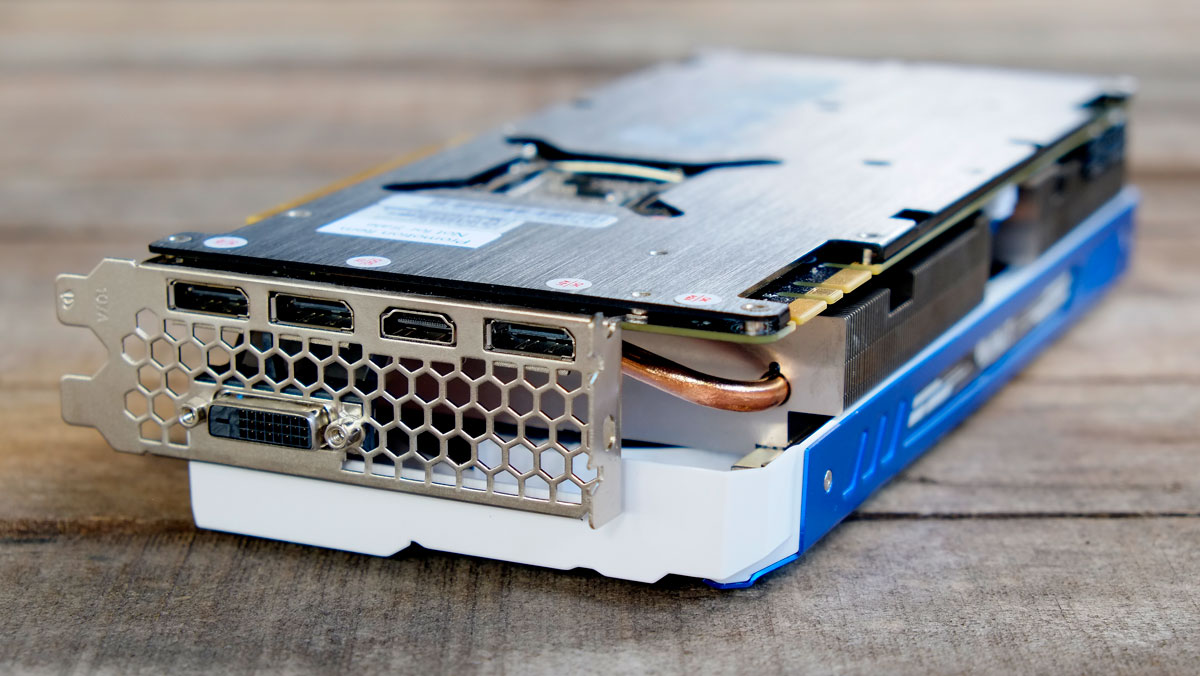 Despite the name, the GTX 1080 GameRock is one beautiful card to look at, especially if you are planning to pair it with a white or blue themed system. We never had any issues as far as installation goes so everything's good here.
TEST SYSTEM & BENCHMARKS:
Graphics cards are not total strangers in our labs, but providing a precise result usually needs a lot of time and effort on our end. Helping us to do those things are hardware and software based measurement tools, an updated copy of Windows 10 PRO, and a wide selection of popular games plus benchmarks with either DirectX 11, DirectX 12 and Vulkan API support. Power Option is set to balanced.
Third party background softwares are disabled while the benchmarks are on going unless they are required. As for the gaming benchmarks, tests should include 720P (1280 x 720), 1080p (1920 x 1080), 1440p (2560 x 1440), and 4K UHD (3840 x 2160) results if permitted or if necessary to the hardware being tested.
TEST SYSTEM SPECIFICATIONS
CPU
INTEL CORE I5 6600K
MOTHERBOARD
ASUS Z170-A
CPU COOLER
NOCTUA NH-L12
MEMORY
CRUCIAL BALLISTIX TACTICAL 16GB  2666MHz
GRAPHICS CARD
PALIT GTX 1080 GAMEROCK 8GB
INT. STORAGE
KINGSTON HYPERX FURY SSD 240GB
PSU
COOLER MASTER SPH 1300W
DISPLAY
27″ DELL U2715H WQHD IPS PANEL
OS
MICROSOFT WINDOWS 10 PRO
SOUND CARD
ONBOARD
EXT. STORAGE
2TB WESTERN DIGITAL MY PASSPORT
TEMPERATURE NOISE & POWER CONSUMPTION:
The Unigine Heaven is an intensive GPU benchmark that measures the performance of the graphics card, and it doubles up as a stress testing tool with its heavy usage of tessellation together with other DirectX 11 features. The Unigine Heaven, along with Overwatch, will run for approximately 15 minutes. Temperature values will be taken directly from the GPU-Z, and will be cross referenced from other temperature logging tools.
We also have to check how the GPU impacts power consumption using Unigine Heaven, and Overwatch. The game and benchmark will run for approximately 15 minutes. Power readings are taken from the entire test system using a watt meter during the most intensive scenes.
A sound level meter 2 feet away from the chassis is used to record the sound level (dBA) of the whole test system while gaming and running a benchmark. My room has an ambient noise level at around 37 dBA which is perfect to test the acoustic performance of any system or a graphics card's cooling solution.
GTX 1080 SYNTHETIC PERFORMANCE:
3DMark 2013 is a suite of benchmarks catered  for the gamers and enthusiasts. It features the FireStrike, FireStrike Extreme, and FireStirke Ultra benchmark presets which are suitable for wide range of systems. The total system scores from each presets will be used.
Unigine Heaven is a stress test and a benchmark tool built specifically for the graphics card. We will run a full test to see how the graphics card performs under such benchmark and the total system score will be used for comparison.
UnigineValley is a stress test and a benchmark tool built specifically for the graphics card, similar to the Heaven benchmark. We will run a full test to see how the graphics card performs under such benchmark and the total system score will be used for comparison.
GTX 1080 GAMING PERFORMANCE:
Overwatch is Blizzard Entertainment's critically acclaimed FPS shooter, running on a custom game engine developed by Blizzard utilizing the DirectX 11 API. Benchmarks will be taken from a custom game on a map called Temple of Anubis. The graphic settings is set to ultra with a 100% render scale.
DOTA 2 is Valve's popular MOBA game, running on their own Source Engine 2. Benchmarks are taken from a match replay between Alliance and Natus Vincere. The graphic settings is set to ultra. The frame rate is uncapped, and v-sync is turned off.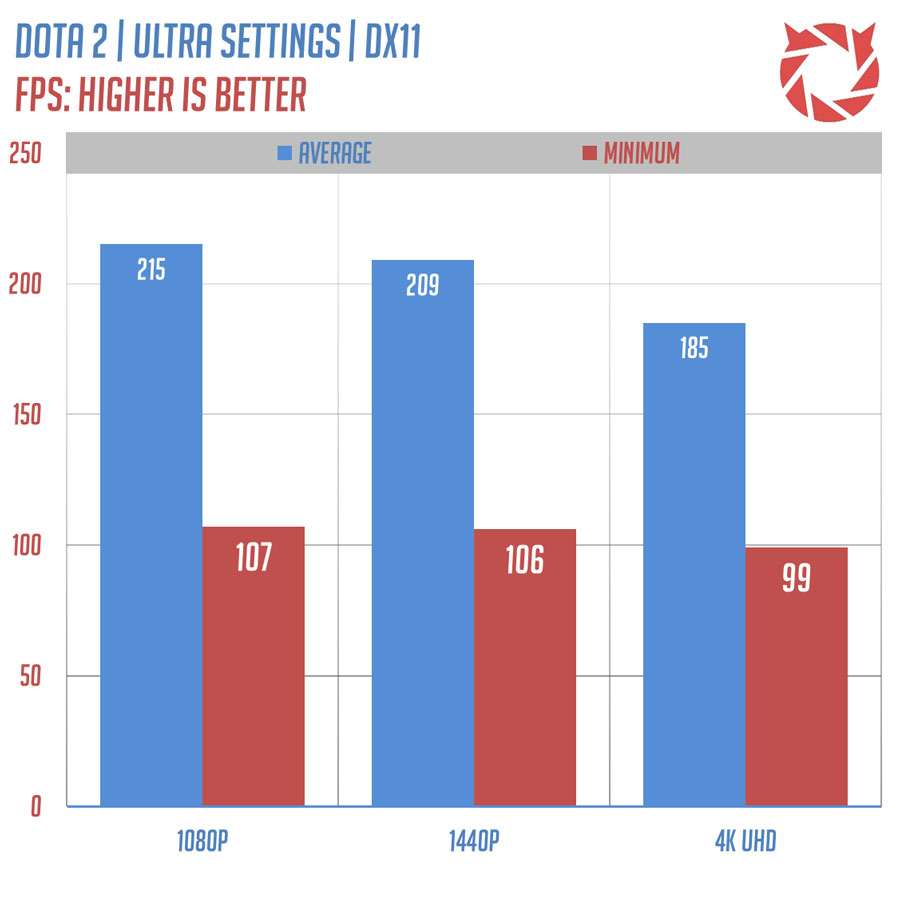 Ashes of The Singularity is an RTS game developed by Stardock and one of the first games to support the DirectX 12 API. Benchmarks will be taken directly from the game's benchmarking tool, with the graphic settings is set to extreme.
Rise of the Tomb Raider is the direct sequel to 2013's Tomb Raider reboot. It is developed by Crystal Dynamics and Eidos Montreal, with support for the DirectX 12 API. Settings are set to Very High, with SMAA, HBAO+, and Pure Hair enabled. Benchmarks were taken from the Syria level.
ONE OF THE FASTEST SO FAR:
The Palit GTX 1080 GameRock Premium Edition with G-Panel might not win any awards or notions when it comes to model names, but it literally is a rocker when it comes to sheer performance and features. Basically, this is one of the fastest non-reference GTX 1080 graphics out there, and it goes without saying that this card is also jam packed with features and a cooling solution that really does its job.
At any resolution, game engine, and APIs we threw at it – the Palit GTX 1080 GameRock shines bright. Delivering a smooth and solid gameplay experience like no other, especially at the recently released titles such as Overwatch even at 4K UHD. It maintained a cool operation during our tests, with a maximum temperature recorded at 71 Degree Celsius. Noise levels are great too, with a maximum of 42 dBA during gaming which is enough to be considered quiet for most. Granted, you could always fiddle with the fan profile, but it is just good enough to keep it the way it has been shipped.
Again, the card's performance is a stunner – especially if we are going to take the actual boost clock of the card at 2050 MHz. That's 2050 MHz constant most of the time, with the exception of certain games dipping it below at 1997 MHz to 2025 MHz. Still, that's a mighty good job from the guys at Palit. This is one of the reasons why we never tested overclocking the card on our own in the first place. Oh wait, we did – and the card hits 2100 MHz mighty fine.
The card features a gaming oriented facade in pristine white. That said, it's easy to pair with existing systems with the same color scheme. Build quality is top notch by the way, with a thick back plate and a cooling solution that cools both the GPU and the VRAM, plus the VRM. Now as for the downsides, the card features the G-Panel solution which is more pain than a solution due to its incompatibility with any 5.25″ bays. It works as an external status display and as an extra USB Hub though which is passable. The RGB lighting could use an improvement too, as the transition from color to color isn't silky smooth. You can however let the card decide whether it will change the color of the RGB lighting depending on the GPU's temperature.
The Palit GTX 1080 GameRock Premium Edition with G-Panel is an excellent high-end graphics card at approximately 37, 500 PHP locally, and 740 USD internationally. It's nowhere near affordable but it perfectly embodies what a real flagship graphics card can do with extra features and performance included in the package. Just make sure to get the marginally less expensive non G-Panel version if the card is all that you want.
Palit GTX 1080 GameRock
PERFORMANCE -

9/10

BUILD QUALITY -

9/10

AESTHETICS -

8/10

VALUE -

7/10
Summary
The Palit GTX 1080 GameRock Premium Edition with G-Panel is an impressive graphics card with full blown features and performance, with only the availability and the G-Panel to scrutinize.