The Z490 chipset is perhaps the biggest jump that Intel made so far over the Z390 chipset. For starters, the Z490 features Intel's LGA 1200 socket for the 10th generation Corner Lake-S processors.
Now the board we've got here is the ASUS ROG Strix Z490-I Gaming. This is one of the higher end Z490 chipset based ITX motherboards from ASUS, aimed directly at the SFF enthusiasts. It comes with almost everything the full Z490 chipset has to offer, with the constraints and limitations of the ITX form factor. Without further ado, let us check this board out.
TECHNICAL SPECIFICATIONS
Processor
CPU
Intel Socket 1200 for 10th Gen Intel Core, Pentium Gold and Celeron Processors
Chipset
Intel Z490 Chipset
Memory
SDRAM
DDR4
Slot
2x DIMM
Channel
Dual Channel
Frequency
4800 MHz
Capacity
64 GB
Graphics
GPU
Integrated
Display Output
DisplayPort 1.4, HDMI 2.0a
Multi-GPU
PCIe Bifurcation
Expansion
PCI Express
PCIe 3.0 x16
Storage
SATA
4x SATA
M.2
2x M.2 (PCIe 3.0 x4, SATA)
RAID
RAID 0, 1, 5, 10
Network
Wired
Intel I225-V
Wireless
Intel Wi-Fi 6 AX201, Bluetooth 5.1
Audio
Codec
ASUS ROG SupremeFX S1220A
Channel
7.1-Channel
USB
USB 2.0
2x Type-A, 2x FPC
USB 3.2 Gen1
2x Type-A, 2x FPC
USB 3.2 Gen2
3x Type-A, 1x USB Type-C, 1x FPC
Dimensions
Length
170 mm
Width
170 mm
Height
NA
Weight
NA
PACKAGING AND ACCESSORIES
The ASUS ROG Strix Z490-I Gaming comes packed inside a compact motherboard packaging. The box comes with the following items inside:
ASUS ROG Strix Z490-I Gaming
User's manual
4x SATA cables
2x M.2 Screw Package
Supporting DVD
CABLE TIE BLACK
ROG Strix stickers
Extension cable for Addressable LED
Panel cable
ROG Thank you card
Wi-Fi moving antenna
ROG key chain
DESIGN, LAYOUT AND CONNECTIVITY
The ROG Strix Z490-I Gaming follows the recent trend with ASUS' ITX products – which is the inclusion of a daughterboard together an enclosed back panel area with an integrated I/O shield. This is a really clean looking motherboard that exudes a premium aura wherever you look at it. Layout in general is well organized. Everything you need to see at the edge are located at the edges of the board. All headers and or ports that needs to be together are grouped as well.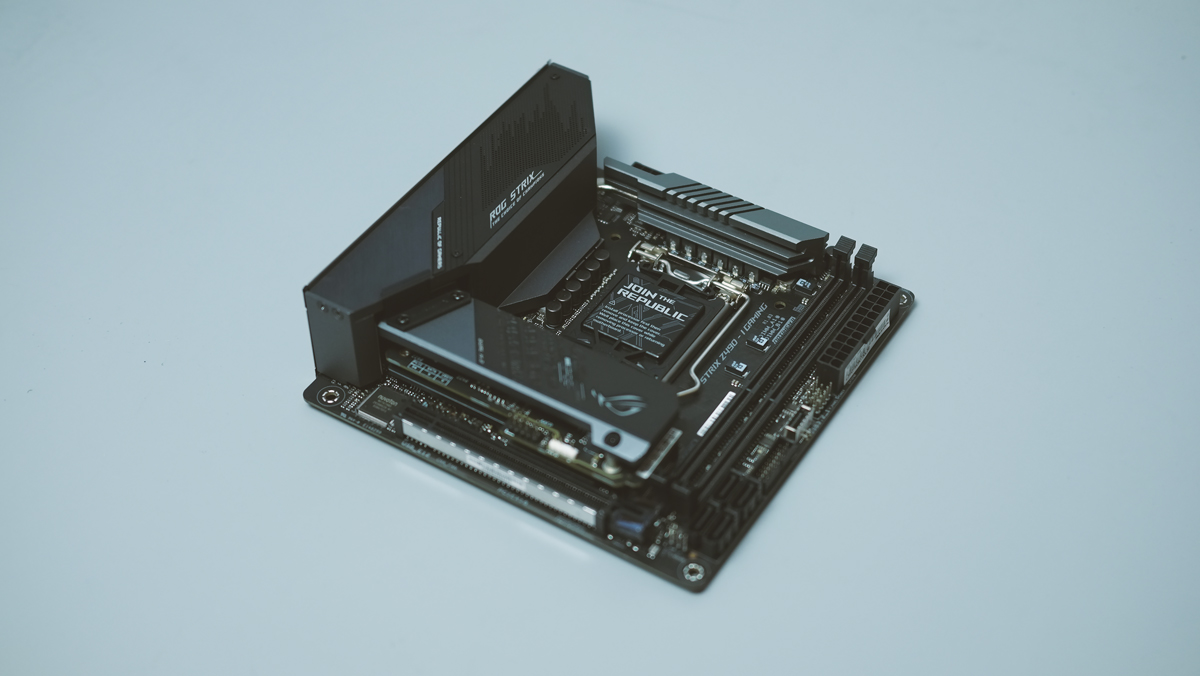 Behind the board lies an excellent solder job. We could also clearly see the VRM components here. No M.2 port here though, in contrast to the older ROG Strix models. Everything is just laid at the front.
Top most part of the board has two fan headers and the 4-pin AURA header. We also got an updated 4+4-pin power connector here that ASUS dubs as the PowerCool II socket. It's basically a reinforced CPU power header with tighter than recommend specifications.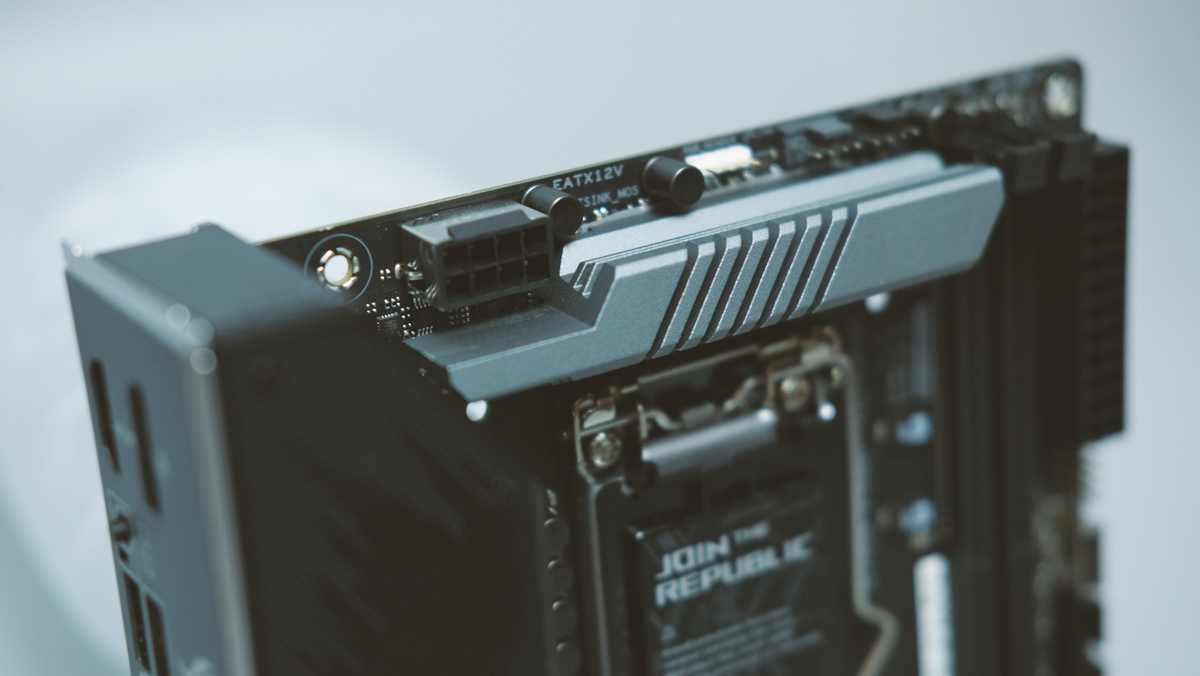 The motherboard is built for SFF systems, but ASUS still managed to pack an 8+2 power phase design for overclocking. ASUS also improved the VRM cooling with an included 40mm fan and a unified heatsink for the chipset and VRM. The heatsink itself acts as the backpanel IO cover.
The right side of the board houses the usual headers for power, storage and connectivity. From top to bottom, we have the USB 2.0, USB 3.2 Gen1, USB 3.0 Gen2 and the SATA ports. We also have the Clear CMOS and the T-Sensor header here as well. Both these headers would be a pain in the ass to use with a PCIe card in place so make sure to prepare ahead. As for the memory, ASUS specified a maximum capacity and frequency for the DRAM at 64 GB and 4800 MHz respectively. That frequency support is a courtesy of the OptiMem II technology, improving trace layout to significantly enhance memory stability and compatibility.
Now the daughterboard is one of the main highlights of the Z490-I Gaming. It is basically a 3-in-1 board with dual M.2 slots mixed to the SupremeFX S1220A audio solution. The PCH is just below this one, sharing the same cooling solution with the rest. Sadly, PCIe support is still 3.0 x4.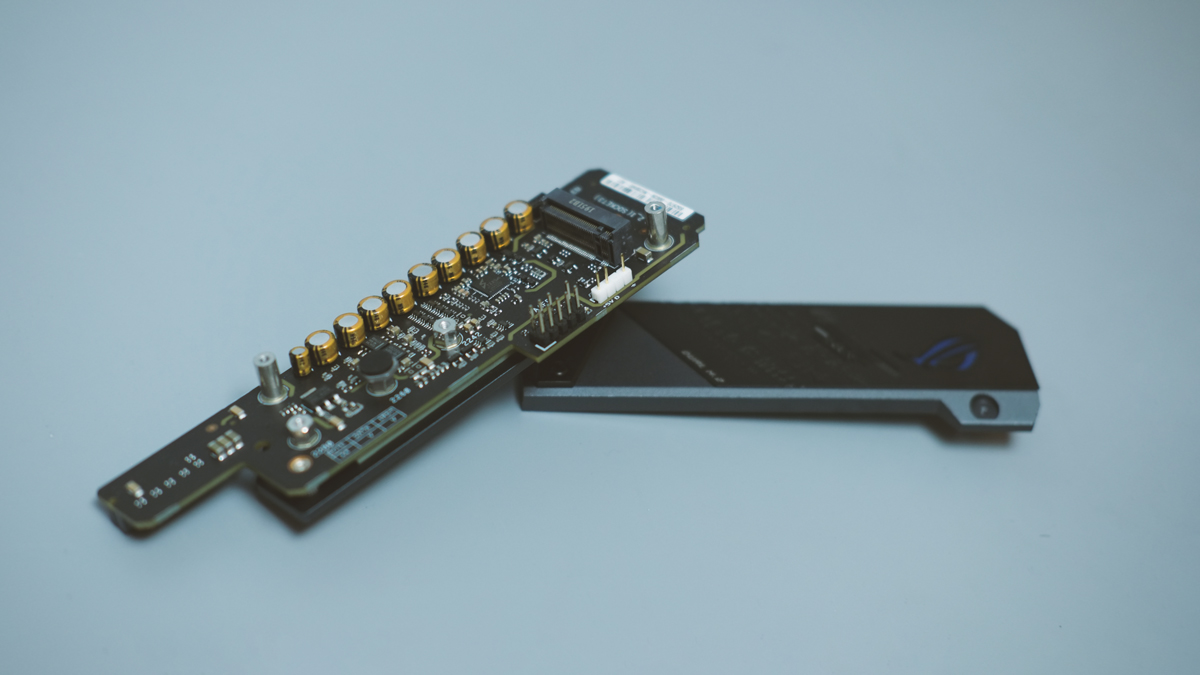 The bottom most area features the PCIe 3.0 x16 slot that's probably the only downside of the board since we're expecting full PCIe 4.0 support for future CPUs. In spite of this, PCIe bifurcation is supported so you could run expansion cards at x16, x8 + x8 and so on compatible storage expansion cards at x8 + x4 + x4 and x4 + x4 for RAID. Still, we prefer PCIe 4.0 support for maximum bandwidth allowance for this feature. The front panel and extra fan header is located on this area as well.
Back panel options are not bad. We have four USB 3.2 Gen2 here, together with the usual assortment of display ports. We also have a BIOS FlashBack button here with a matching UEFI update capable USB port. According to ASUS, there's no need for a CPU and memory for the update to work.
FINAL THOUGHTS
The ASUS ROG Strix Z490-I Gaming appears to be a well made motherboard for the SFF class.
Build quality and layout wise, ASUS is on point with this one – maximizing the use of available real estate, especially with the daughterboard's design. We also like the fact that the VRM, daughterboard and PCH shares one massive cooler that also acts as an I/O cover to top that off.
If you're coming from the likes of the Z390 chipset, chances are, you wont really benefit that much with a platform switch. That's unless you really want to experience the latest CPUs that Intel has to offer. Now if PCIe 4.0 support for the expansion card and M.2 are your main concern, then I would suggest the ASUS X570-I Gaming platform.
Considering the price premium of Z490 boards over their counterparts, it's kinda hard to justify jumping ship right now. That's unless your system, at the very least, is a few generations apart from the latest offerings.