The GE73VR 7RF Raider is the latest in MSI's gaming notebook, debuting at COMPUTEX 2017 earlier this year. It is, according to MSI, the world's first gaming notebook with per key illumination. The GE73VR also boasts two display options with a 4K UHD IPS panel and a much favorable 1080P 120Hz display – the unit we've got. This is a 17.3″ gaming notebook by the way.
The GE73VR also features the latest MSI Cooler Boost 5. It excels as a dual thermal module, adopting dual fans with 7 heat pipes and 4 airflow sections. The Raider also comes equipped with a beefed up audio solution with 5 oversize drivers compared to the norm. The GE73VR 7RF is shaping up as one of MSI's top guns for the 130K price bracket.
TECHNICAL SPECIFICATIONS:
MSI GE73VR 7RF Raider
CPU
Intel Core i7-7700HQ
CHIPSET
Intel Sunrise Point HM175
MEMORY
16GB DDR4 2400MHz SO-DIMM
GRAPHICS
NVIDIA GeForce GTX 1070 8GB, Intel HD Graphics 630
DISPLAY PANEL
17.3″ 1080P Panel @ 120Hz, 5ms (Chi Mei N173HHE-G32)
DISPLAY OUTPUT
HDMI 2.0, Mini DP, Thunderbolt (Type-C)
WEBCAM
720P @ 30FPS
INPUT DEVICE
Backlight Keyboard, Touchpad
AUDIO SOLUTION
Realtek ALC1220, 2x 2W Speaker, 2x 3W Woofer
LAN
Killer Gb LAN
WLAN
Killer AC Wi-Fi, Bluetooth v4.1
STORAGE
256 GB M.2 SATA SSD + 1TB 7200RPM SATA HDD
I/O PORTS
1x Type-C USB3.1 Gen2, 3x Type-A USB3.0, 1x RJ45, 1x SD (XC/HC), 1x Mic-in, 1x Headphone-out (HiFi / SPDIF)
COOLING
MSI Cooler Boost 5
BATTERY / POWER
51Whr, 230W Power Adapter
OPERATING SYSTEM
Microsoft Windows 10 64-bit
The MSI GE73VR 7RF Raider with the specifications above will set you at around 129995 Peso mark. This is not the Super RAID 4 variant with just a single 256GB SSD inside.
PACKAGING AND ACCESSORIES:
The MSI GE73VR 7RF Raider comes inside a nice suite case like packaging. It is rather huge for a 17.3 incher notebook with a good padding inside. Presentation is rather excellent, but is a little misleading since our unit doesn't have the Super RAID 4 feature.
You'd get a cloth cover, the 230W power adapter and a lint-free cover for the keyboard.
Paper works includes a warranty service guide and a quick start guide among others.
DESIGN, LAYOUT AND CONNECTIVITY:
The MSI GE73VR 7RF Raider sports a gaming oriented design with a 17.3″ of screen space set at a native 1080P resolution. While it is wider than the MSI GT62VR 7RE Dominator Pro, it isn't as fat as the 15.6 incher. The thing weighs in at 2.8kg which is manageable.
At 22mm to 28mm thick, the GE73VR 7RF Raider is within the middle road, so it is rather portable still. Design on the other hand is neat, with 4 large exhaust areas at the corners. It is a little sad that power isn't located at the back, together with the display options.
The right side of the notebook features two illuminated USB 3.0 ports together with an SD card reader. Power is also located on this area.
The left side on the other hand features a kensington lock, a USB 3.0 port (also illuminated) and 2 gold plated audio jacks. The display ports are also located here together with the LAN port and the USB 3.1 Gen2 Type-C port.
Underneath the notebook lies the much appreciated ventilation holes for the components, as well as for the speakers. It is made out of plastic unlike the rest of the notebook's shell but we are not complaining.
MAINTENANCE AND COMPONENTS:
Maintenance isn't actually a breeze to do with the GE73VR. First off, it requires you to remove 12 screws, testing your patience. The design of the hatch also extends to the sides of the notebook like a shallow serving tray so prying it open requires utmost care.
We never had the chance to pry open the notebook but we can actually tell the layout which is accessible for most part. The 2.5″ bay is located at the middle left, while the SO-DIMM slots and the M.2 slot are located at the middle right. The battery is at the top, with the GPUat the middle of the notebook.
DISPLAY PANEL:
MSI utilizes the Chi Mei N173HHE-G32 panel for the GE73VR 7RF Raider. It's a 17.3 inch 1080P TN panel with a refresh rate of 120Hz. Response time is rated at 5ms which is rather good for a notebook panel.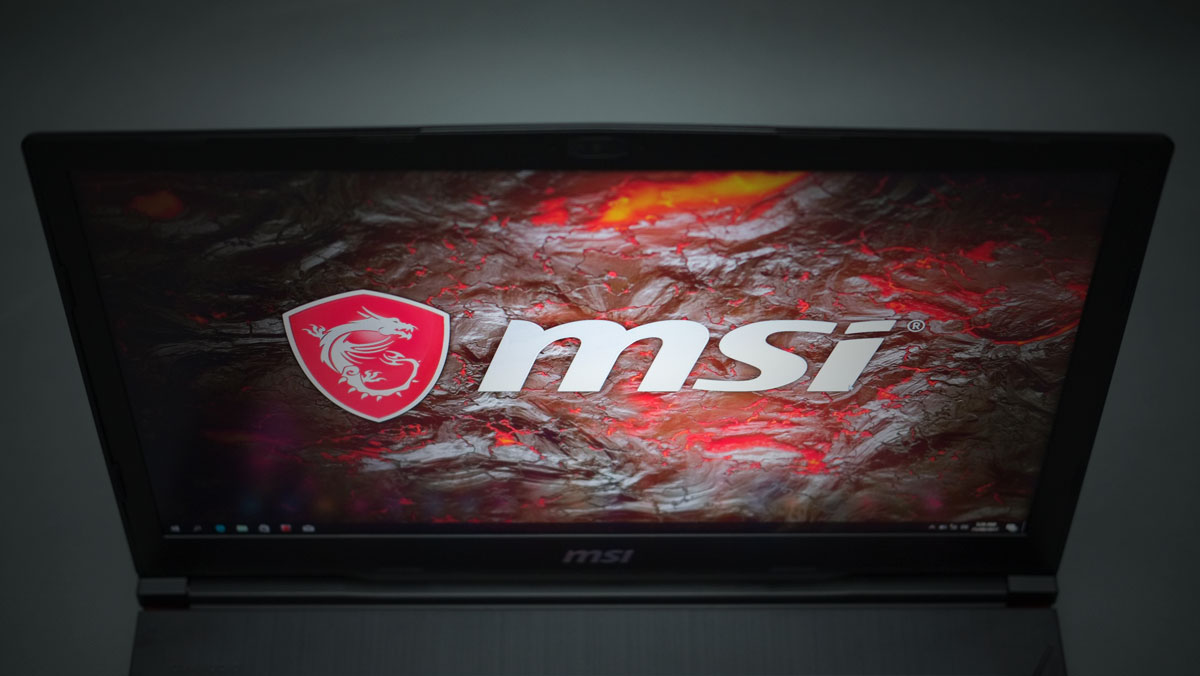 The panel is G-SYNC capable and is a good complement to the GeForce GTX 1070 GPU. As far as initial panel quality and performance goes, we liked it so far – especially on FPS games where the visual's fluidity matters the most. I'm still not sure if I have to include monitor performance tests on my notebook reviews though. It's a lot of work.
INPUT DEVICES:
The MSI GE73VR 7RF Raider sports a full layout keyboard with scissor switch keys designed by SteelSeries. Key spacings are great which is expected for a notebook of this size. Travel distance is around 2mm and lighting is per-key.
Key illumination is excellent with this lighting approach, allowing you to customize with your heart's content. Glow is also far superior compared to standard approaches; literally eye candy at its best.
BUNDLED SOFTWARE:
Like any other MSI notebooks we've tested, the GE73VR 7RF Raider comes with bloat load of applications. Feel free to remove the Norton Security, Help Desk, Burn Recovery and the Feature Navigator.
Keepers here are the Dragon Center, the Nahimic Audio Driver, SteelSeries Engine and the Killer Performance Suite.
WRAPPING IT UP:
So far, the MSI GE73VR 7RF has been a good gaming notebook – performance wise during our preliminary tests. As far as features are concerned, the Raider is on point with a high refresh rate display and support for G-SYNC. The per-key illuminated keyboard is also a value added feature.
The MSI GE73VR 7RF Raider is valued at 129995 Pesos. Its initial impression is already looking good, but we still have yet to check out its gaming, thermals and generally everything hardware related that we could test. That said stay tuned for our in-depth review.
MSI GE73VR 7RF Raider
PERFORMANCE -

7/10

BUILD QUALITY -

7/10

FEATURES -

7/10

AESTHETICS -

7/10

VALUE -

7/10
Summary
So far, the MSI GE73VR 7RF has been a good gaming notebook – performance wise during our preliminary tests. As far as features are concerned, the Raider is on point with a high refresh rate display and support for G-SYNC. The per-key illuminated keyboard is also a value added feature.