On this review, we are taking a deep look at the ADATA XPG INFAREX K20. The best RGB mechanical keyboard ADATA has to offer at the time of this review, technically. It features the Kailh Blue switches inside, an aluminum frame, plus RGB lighting on top of a 3398 Peso MSRP. Not exactly cheap, not expensive either.

The ADATA XPG INFAREX K20 takes everything good the INFAREX K10 has to offer with a spin of its own. That said, we're going balls deep to check out if the features, build quality and performance really makes up the price difference.
TECHNICAL SPECIFICATIONS:
Keyboard
Size
Full size
Layout
104 Key
Design
Frameless
Macro
NA
Profile
NA
Software
NA
Weight
1200 grams
Interface
USB
Memory
NA
Polling Rate
1000Hz
Lighting
Yes, RGB
Wrist Rest
NA
Passthrough
NA
Cable Management
Yes, 3 way
Multimedia Keys
Yes
Cable Length
1.8 meters
Switch
Type
Kailh Blue
Actuation
2.0mm
Travel
4mm
Lifespan
50 million
PACKAGING AND ACCESORIES:
The INFAREX K20 comes inside a standard colorbox. Both sides of the keyboard are padded, while a soft plastic covers up the whole. There isn't much going on here.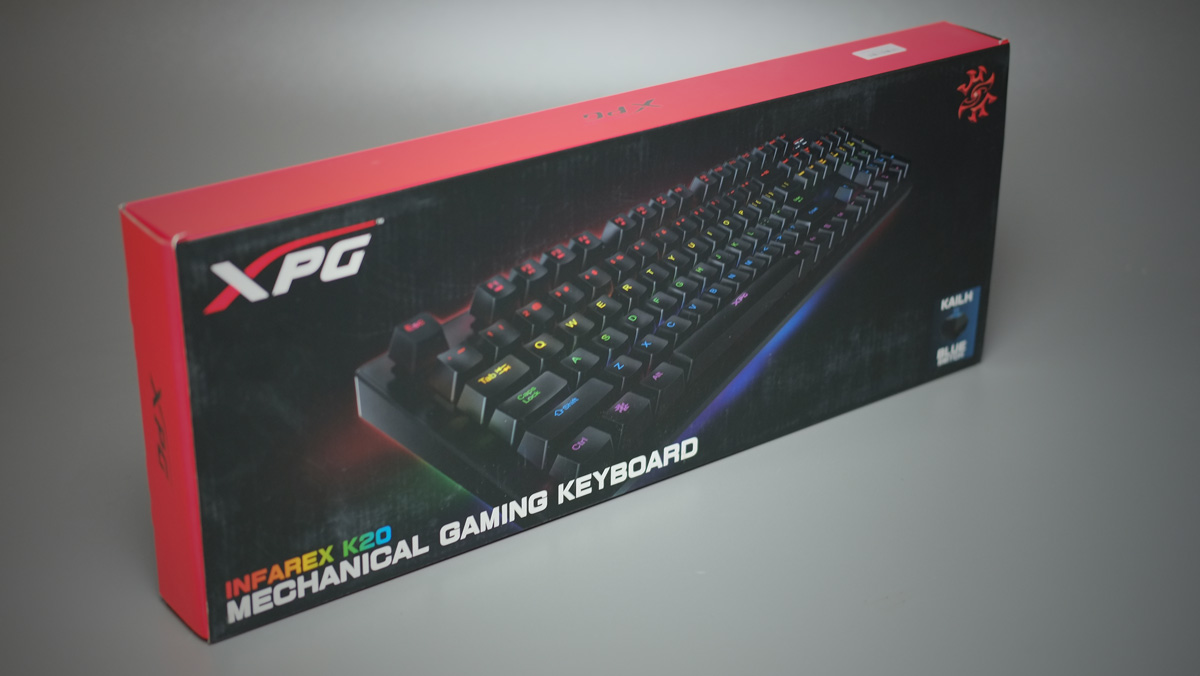 Inside, you'll find a documentation on how to use the product. No keycap puller here nor extra keys.
DESIGN, LAYOUT AND BUILD QUALITY:
The ADATA XPG INFAREX K20 is a rather simple yet elegant looking frameless keyboard. Build quality appears to be top notch, with a weight to back it up at 1200 grams. So far, this is one of the prettiest keyboards I've tested this year.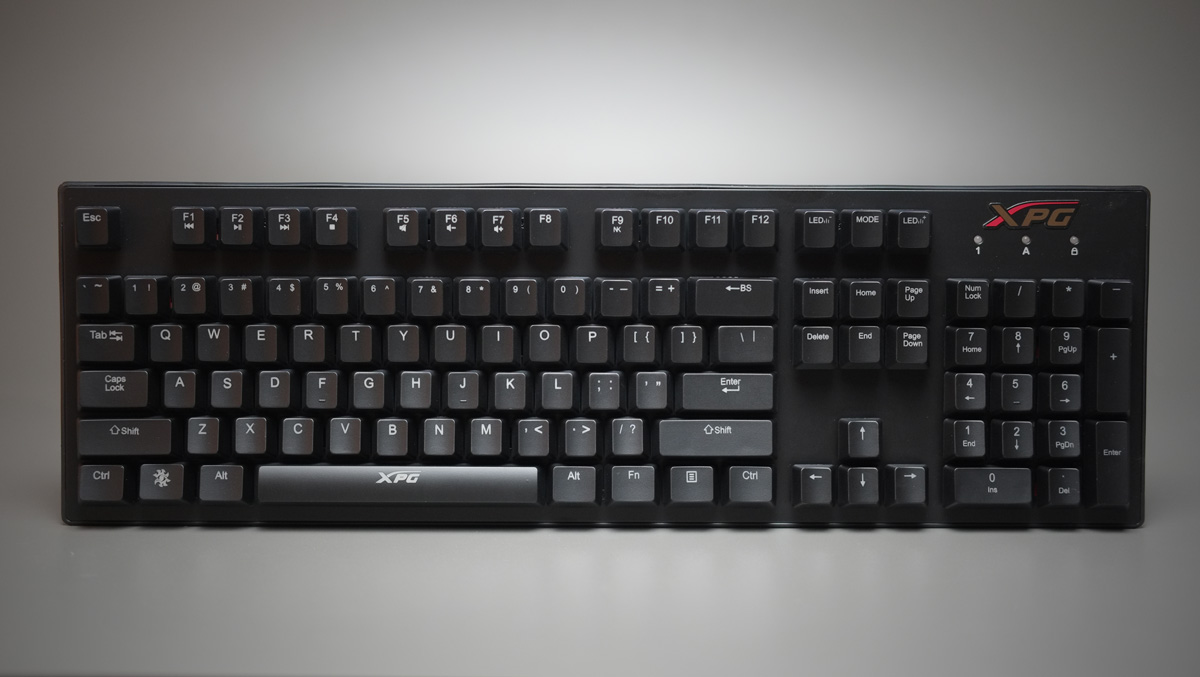 The back side on the other is not as simple as the front end looks. Here we have decent rubber footings and a three way cable routing option. Gripes? The cable is not thick enough to snugly fit on the canals and ADATA could simply went with a more subtle design in the first place.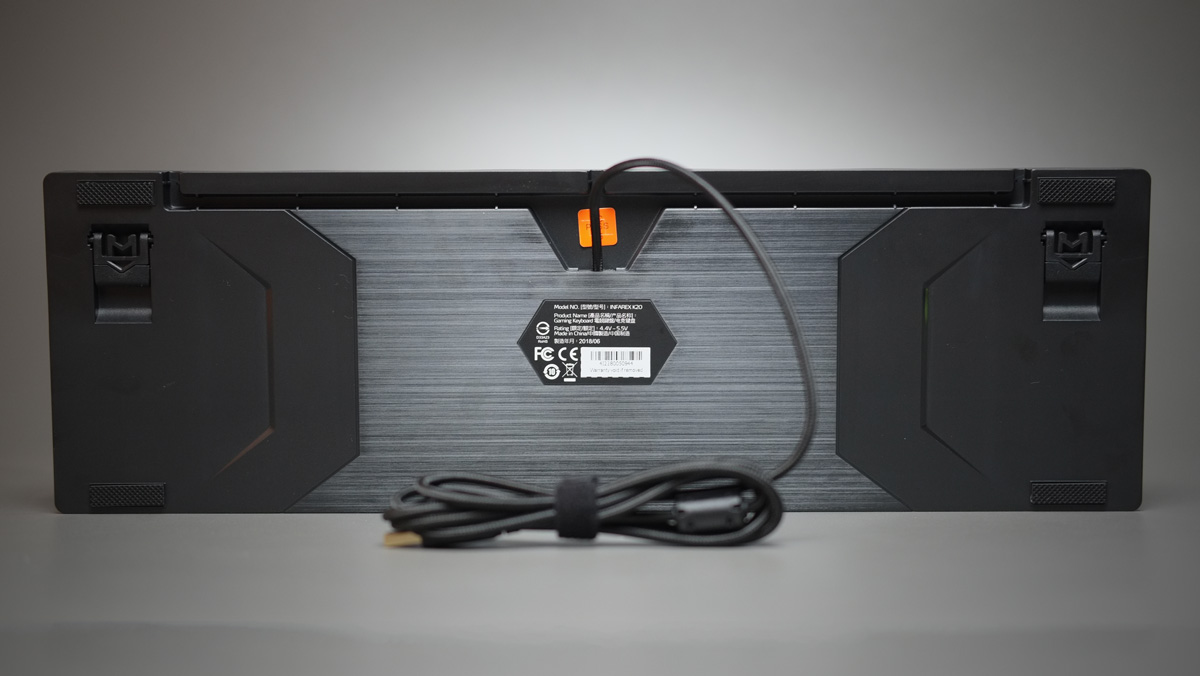 The key profile is sculpted from top to bottom which is accentuated further by the slanted frameless design of the keyboard. I really like how the plastic shell extends a bit over the aluminum frame. Really nice to see this design approach to be honest.
Connectivity is provided by a braided 1.8 meter cable although again and again, I wouldn't mind a non-braided solution.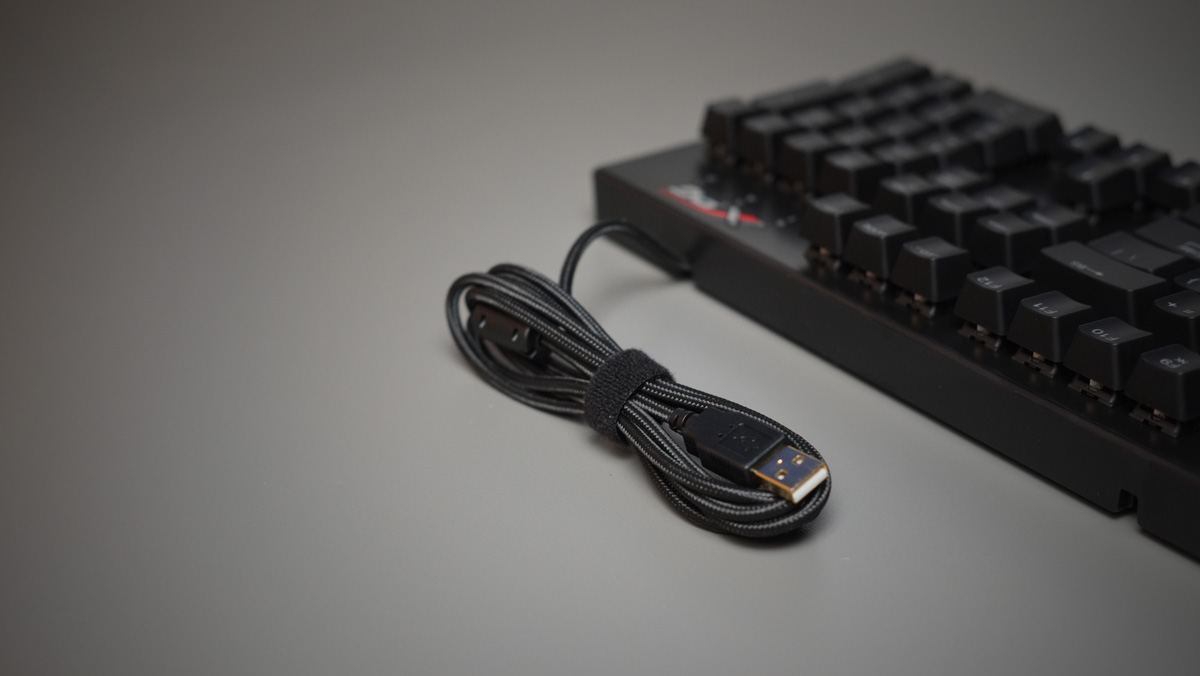 TEST SETUP AND METHODOLOGY:
Testing a keyboard is not that difficult, but it is mostly subjective; similar to testing head gears in a sense. That said, no keyboard is perfect and the verdict usually depends on personal preferences. With that in mind our methodology is overhauled to follow the key pointers that should matter the most. That includes how good the switches are, the quality of keycap and its profile plus the comfort.
Test Setup
Games
Overwatch, Battlefield 4, DOTA 2
Repeat Rate
Shortest
Repeat Delay
Fastest
Polling Rate
1000Hz, If possible
Software
EliteKeyboards Switch Hitter
PHYSICAL LAYOUT, FUNCTIONALITY AND ERGONOMICS:
Keyboards are generally categorized in 4 standard sizes or layouts: Full Size, TKL, Compact 75% and 60% layouts. These standard layouts had drastic effects on the functionality and ergonomics of the keyboard. Generally, compact layouts allows for better ergonomics; whereas full layouts offers 100% functionality.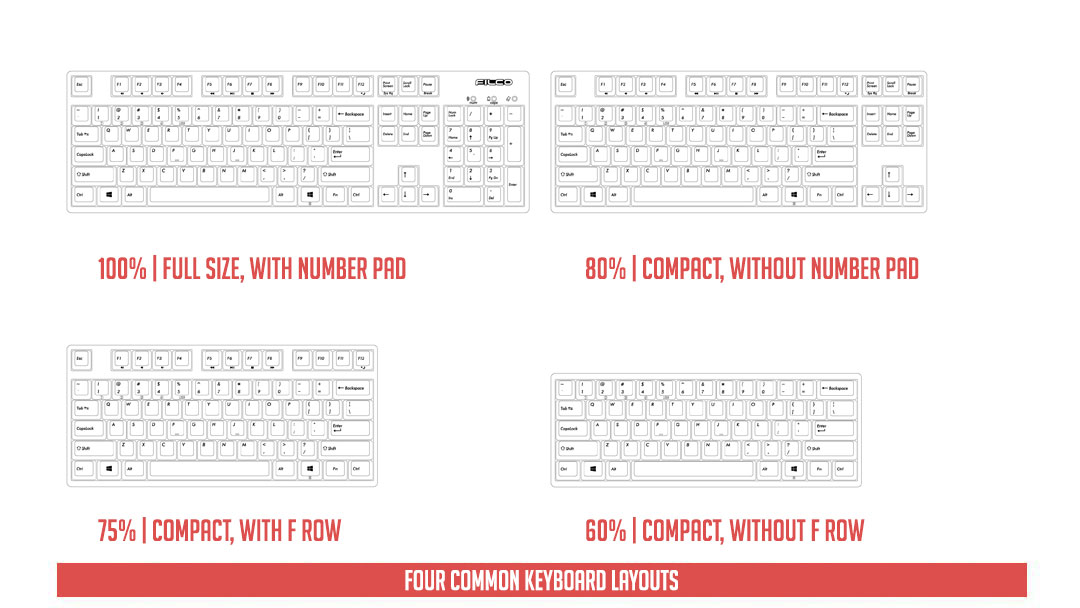 The ADATA XPG INFAREX K20 features a traditional 104 key layout. That said, it isn't the best when it comes to ergonomics. It is a bit slimmer than your normal 100% layout though due to the nature of its frameless design.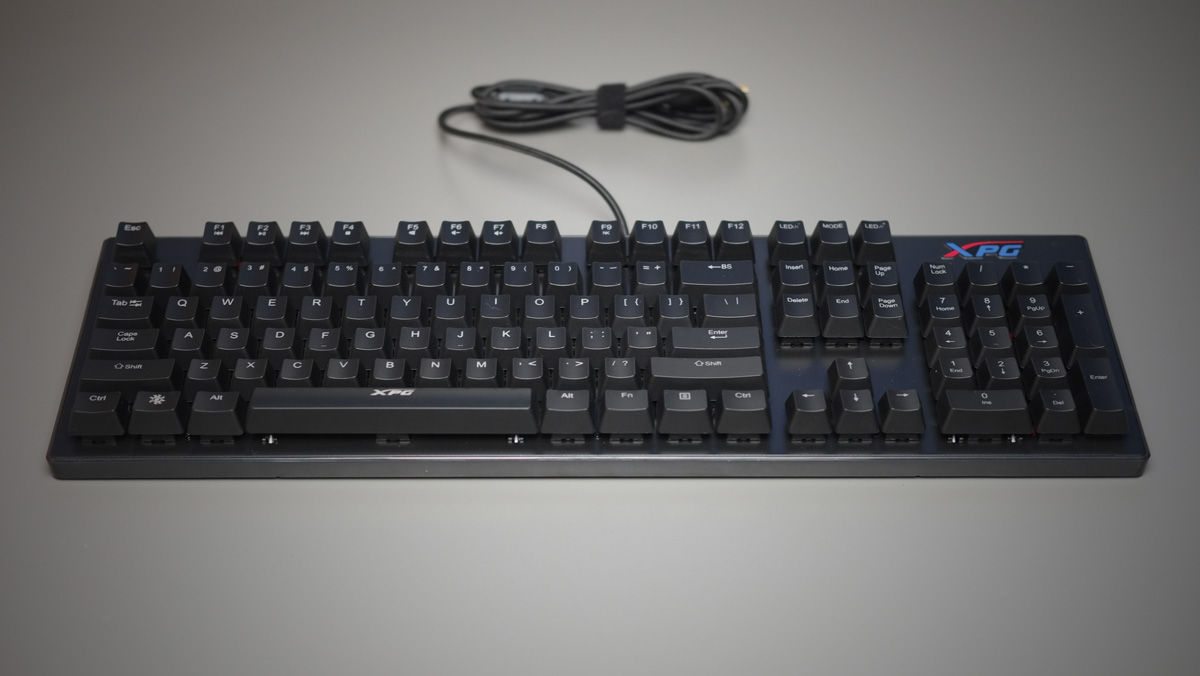 As for functionality, there are a few to talk about. We have multimedia keys at the function keys, a toggle for the N-key rollover and RGB lighting modes. That's about it, really.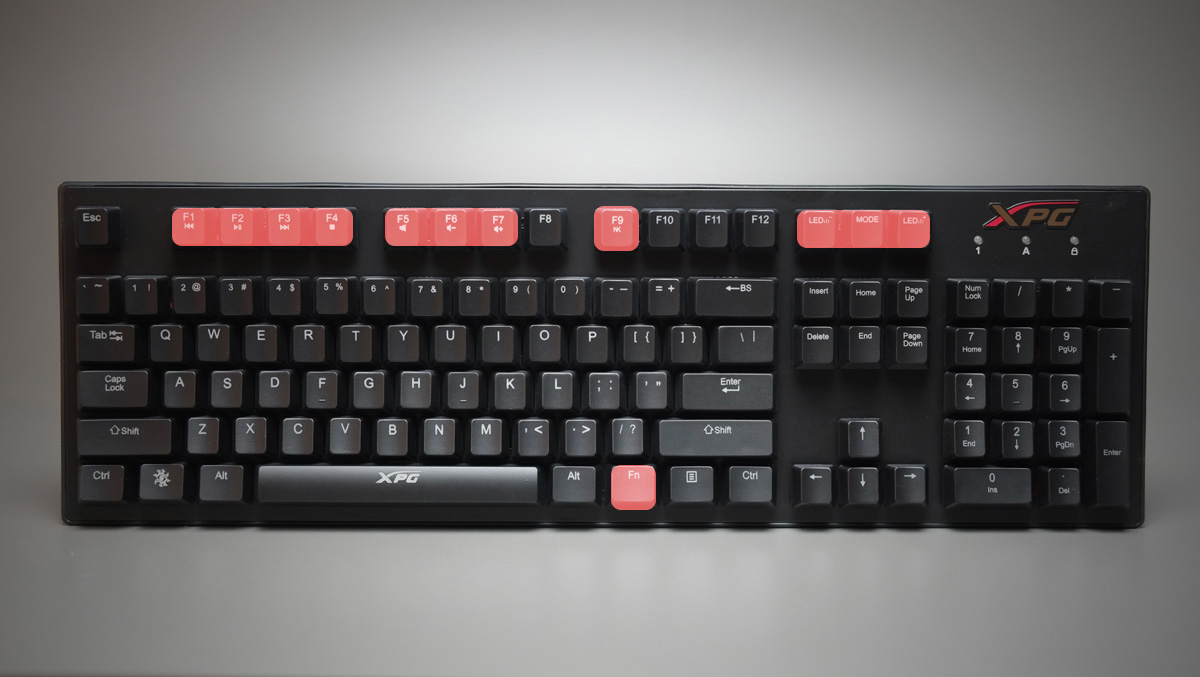 Listed below are the most common key combinations: Yes, I am that lazy.
KEYCAP PROFILE, PRINTING AND MATERIAL:
The keycap profile is often overlooked when it comes to keyboards. It shouldn't be, considering that the profile usually makes or breaks a portion of keyboard's ergonomic and feel. The DCS family is the most common one here, with Cherry and OEM profile slotted beneath it. On the other hand, profiles such as the DSA and SA profiles are mostly found on higher end mechanical keyboards.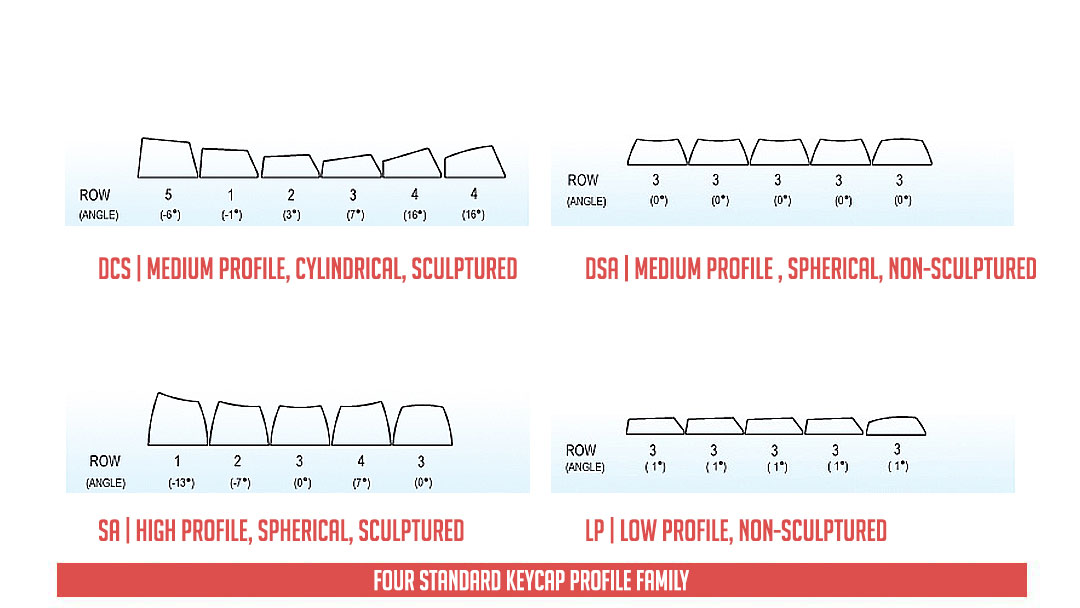 Keycap printing method is also an important aspect we should look into. Pad printing is the most common one here, while dye sublimation and double shot injection being the more premium ones due to their printing quality and durability.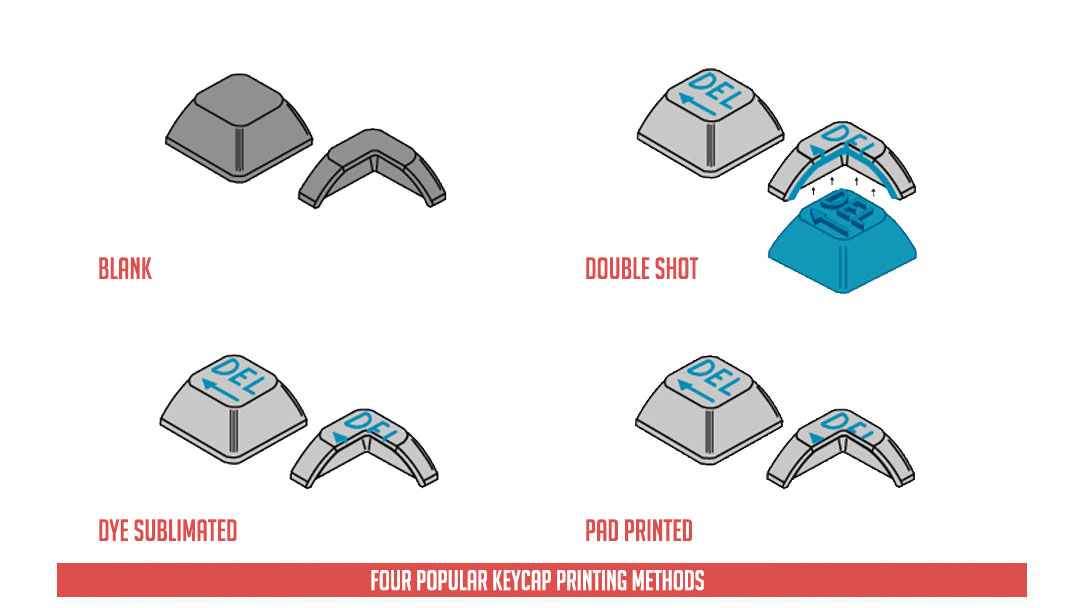 Keycap materials are important too in selecting a mechanical keyboard; though it is common to see keyboards shipped with either ABS and PVC keycaps. These materials do however shine faster than other materials and quality is generally not the best. PBT doesn't shine as fast compared to these keycaps and are highly regarded for their quality and distinct texture. POM on the other hand is also a durable material but they are rarely found as aftermarket options.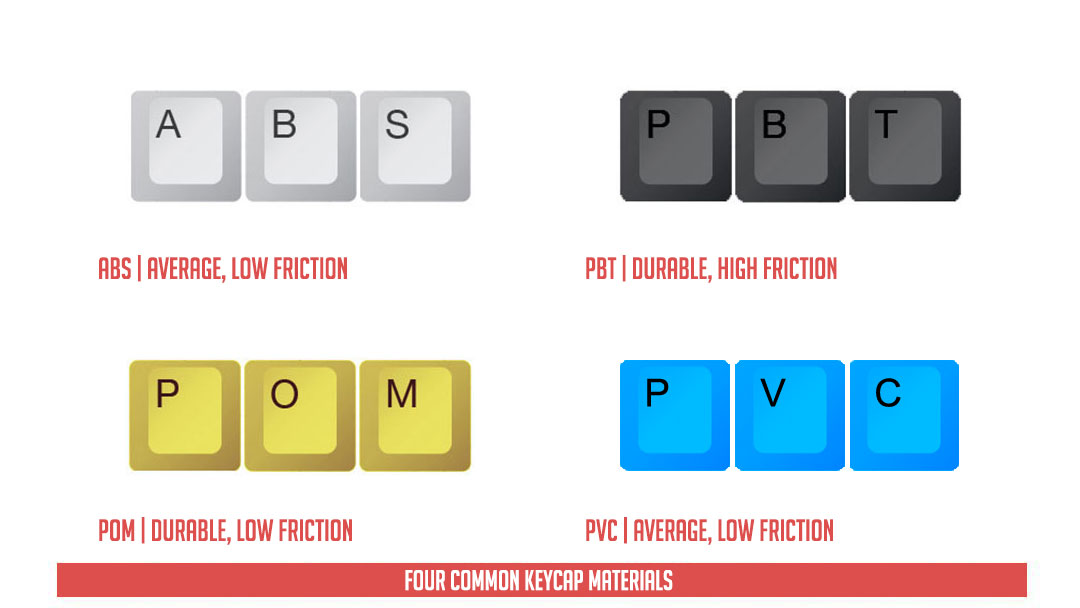 Keycap profile of the INFAREX K20 is under the DCS family, more specifically the sculpted medium OEM profile.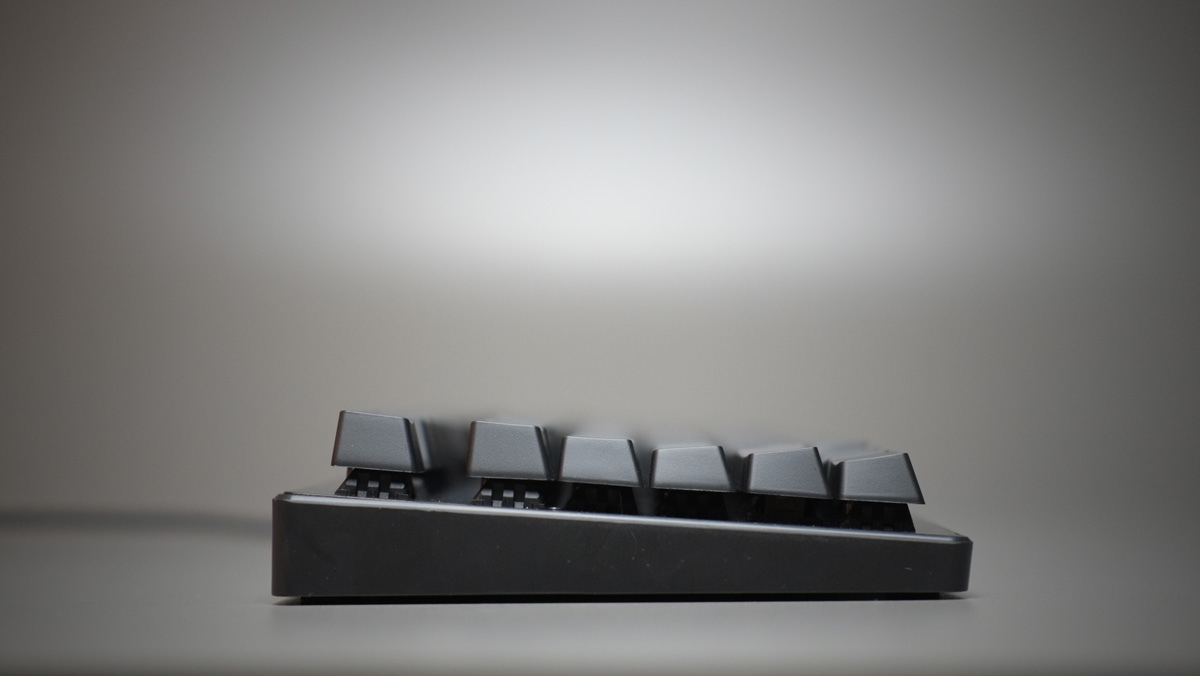 Prints on the ABS keycap set are excellent, just like what we've seen with the mem-chanical K10. Fonts are simple yet crisp and nothing is out of place.
Material used for the keycap set is ABS plastic. Thickness is more than decent with no obvious nub marks nor fragile stem supports. Noice.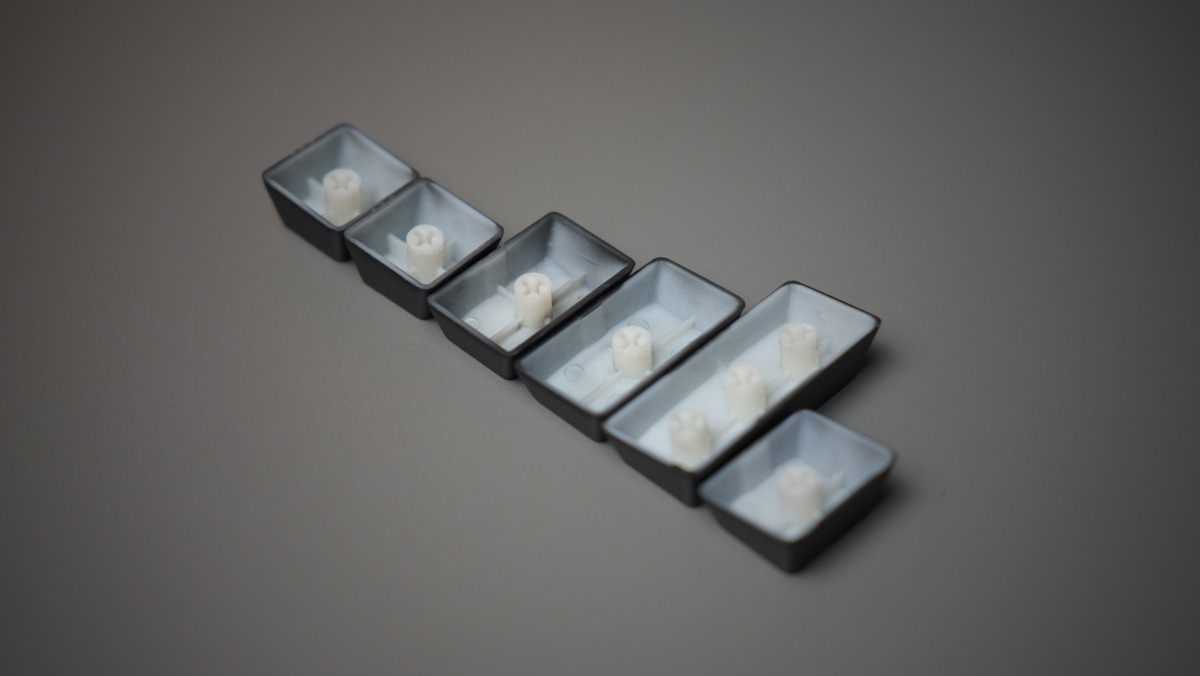 MECHANICAL SWITCHES AND STABILIZERS:
The mechanical switches makes up the reason why mechanical keyboards are called "mechanical keyboards" in the first place. There are tons of switches out there but Cherry MX switches are the most popular of them all; setting a standard for the rest. They have clicky, linear and bumpy switches; all with their own mixture of actuation forces and actuation points.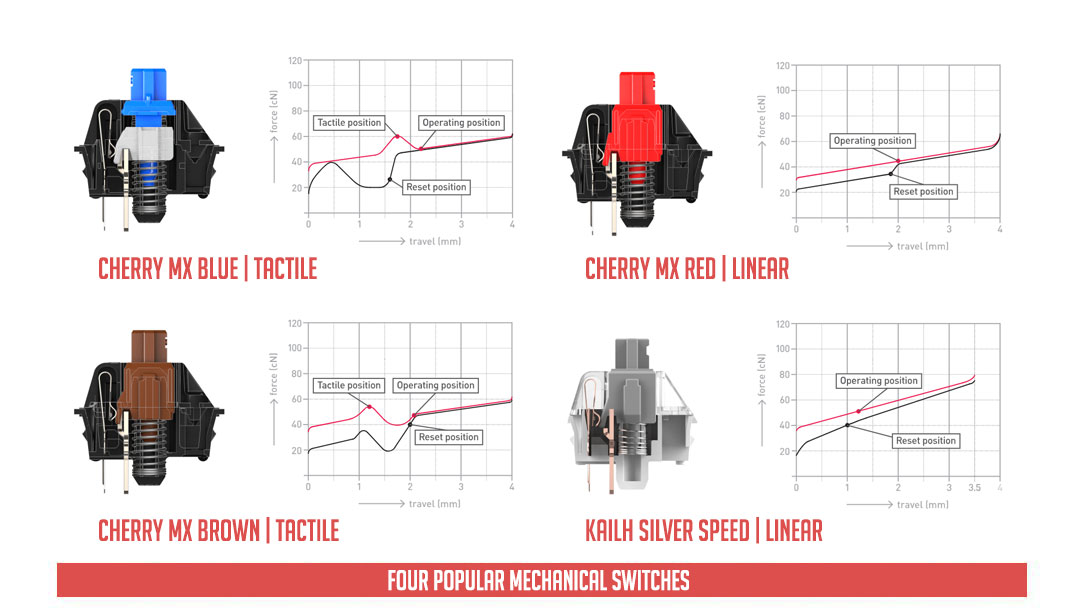 The ADATA XPG INFAREX K20 model we got features the Kailh Blue switches inside. This is based on the Cherry MX Blue switches, has a faster pre-travel and is much more similar to the TTC Blues when it comes to its sound profile. It is also note worthy that this one features the default Kailh switch housing instead of the more unique Kailh Speed and Box models.
Stabilizers are present on all switches and or keys that requires them. These are good stabilizers. Way better than the wonky stabilizers found on my daily driver, the Filco Majestouch Convertible 2 TKL.
KEY ROLLOVER, CHATTER AND GHOSTING:
EliteKeyboard's Switch Hitter is an excellent freeware to test key rollover, chatter and ghosting. Key rollover is basically the number of keys the keyboard could register, while chatter is multiple registered inputs with a single press of a key. Ghosting on the other hand is the unwanted input registration when several keys are pressed together.

The ADATA XPG INFAREX K20 passed with flying colors on our rollover, chatter and ghosting tests. Nothing to worry about here guys.
SOFTWARE, LIGHTING AND SPECIAL FEATURES:
Just like their previous XPG releases, the ADATA had no intention to bundle the K20 with a software.
Lighting on the other hand is excellent. Soft and candy like to be precise – just the way I like it. The 11 lighting modes also made sure that there's plenty of legroom to play with.
FINAL THOUGHTS:
The XPG INFAREX K20 is a compelling mechanical keyboard option from ADATA. Sure it is may not be the best, but it's hard to over look the K20's rock solid build quality, elegant looks and the eye-candy RGB lighting. It is that good, physically speaking.
Again, the ADATA XPG INFAREX K20 is not perfect. The single switch option, if an option at all, may not be for everyone. The lack of software and extra customization options also left us wanting more despite of the product's main appeal.
As for its market value, competition is something ADATA should look at with the K20's current price point. I'm not saying it's bad, it's just decent per se so we'll let the consumers decide for that one.
Overall, the XPG INFAREX K20 is a rock solid mechanical keyboard offering from ADATA. A rather basic product but with build quality and a pretty facade to match.
ASTOUNDING BUILD QUALITY
SEAMLESS ALUMINUM DESIGN
MESMERIZING RGB LIGHTING
DECENT PRICE POINT

COULD REALLY USE A SOFTWARE
ONLY AVAILABLE IN KAILH BLUE SWITCHES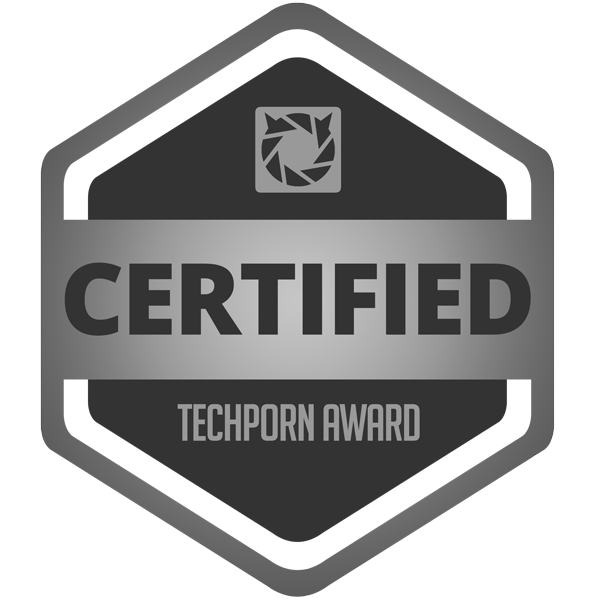 ADATA XPG INFAREX K20
PERFORMANCE -

8/10

BUILD QUALITY -

8/10

FEATURES -

7/10

AESTHETICS -

9/10

VALUE -

7/10
Summary
The ADATA XPG INFAREX K20 RGB mechanical gaming keyboard is not perfect but it hits the right spot to get a proper seal of approval.