On this in-depth review, we are taking a good look at the K65M RGB Gaming Mechanical Keyboard from i-Rocks. A stylized MKB with a blue plating and a floating key design.

The i-Rocks K65M mechanical keyboard comes with Kaihl switches inside. Ours had the Kailh Blue switches, which is the MX Blue equivalent from the company. The K65M also comes with RGB lighting and doubleshot keycaps. Learn more from the official product page and get it at Amazon.
ABOUT I-ROCKS:
i-Rocks Technology is founded in Taiwan started from manufacturing OEM products for various technology companies. From then onwards, i-Rocks has established its own brand name, designing and producing IT-related peripherals and accessories for the everyday IT user.
Since then, i-Rocks has come a long way since the start of its branding. As the new generation of users are demanding products of higher quality at better value, we needed to push ourselves in the R&D department to exceed expectations of the modern day users. Currently, i-Rocks is focused on manufacturing and providing heavy IT users e.g. professional and casual gamers, IT workers, and gadget fans their required equipment.
TECHNICAL SPECIFICATIONS:
The i-Rocks K65M is a full sized keyboard with a 104-key layout. Design is frameless, with a weight of around 1 kilogram. The specifications doesn't indicate the macro functionality but it is there.
| | |
| --- | --- |
| Size | Full size |
| Layout | 104-ANSI |
| Design | Frameless |
| Macro | Yes |
| Profile | N/A |
| Software | N/A |
| Weight | 1000 grams |
| Interface | USB 2.0 |
| Memory | Yes |
| Polling Rate | 1000Hz |
| Lighting | RGB LED |
| Wrist Rest | N/A |
| Passthrough | N/A |
| Cable Management | Yes |
| Multimedia Keys | 10 |
| Cable Length | 1.8m |
Switches are again, Kailh Blues. Ours had the clear housing design which is suitable for the RGB LED effects.
| | |
| --- | --- |
| Switch | Kailh Blue |
| Actuation Point | 2.0mm |
| Travel Distance | 4mm |
| Actuation Force | 50g |
| Lifespan | 20 Million Clicks |
PACKAGING AND ACCESSORIES:
The K65M comes in a typical cardboard packaging we used to see from other manufacturers. The back has descriptions about its main features, while the front got an angled display of the keyboard.
The keyboard comes with a quick user guide and a warranty guide. No keycap puller here nor extra keys to watch out. Do note that the manual isn't the best reading material in the world so I hope i-Rocks could improve this one for their next products.
DESIGN, LAYOUT AND BUILD QUALITY:
The K65M is quite a looker – if at the least, viewed from the top. Design is simple, clean and should suit a Blue themed gaming PC well. This is keyboard with plate mounted switches.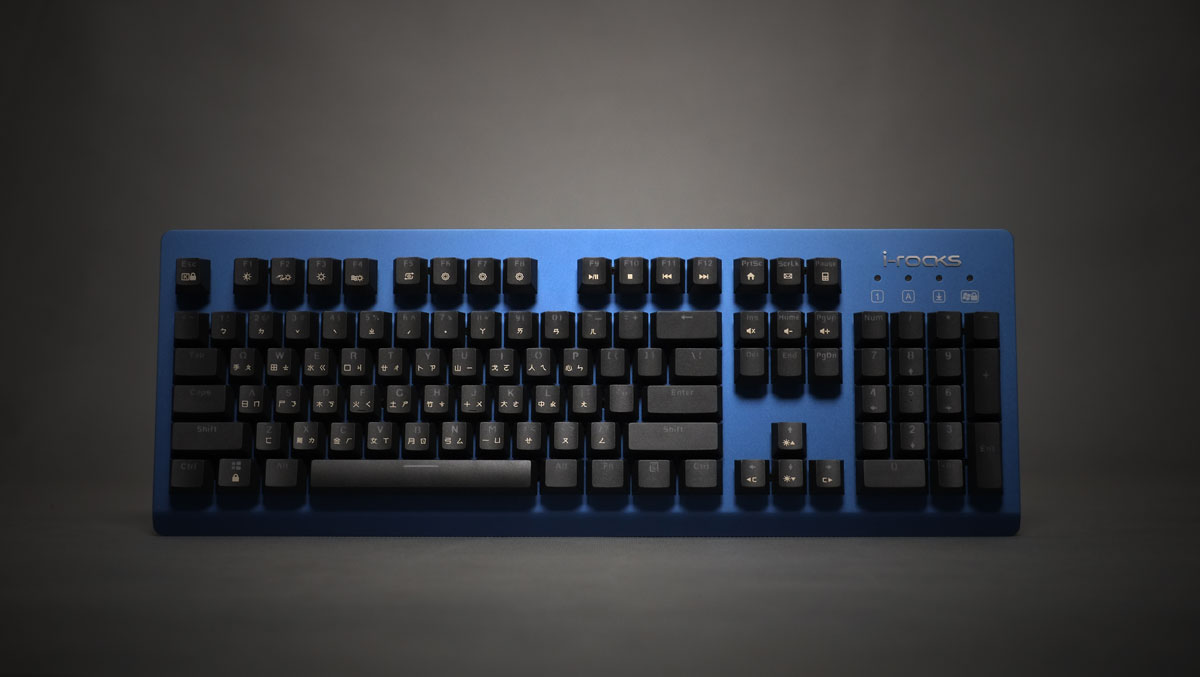 The back of the keyboard is made out of plastic and has cable grooves for better management. It also has an extended footing which is a much appreciated feature for better ergonomics. Personally, I don't dig the bland plastic cover. It just doesn't suit the aluminum plating very well.
The key profile is contoured from top to bottom. At its lowest, the keyboard features a height of around ~3.3cm. The maximum height at the far end on the other hand is at around ~3.7cm. That's 2-3mm higher than the norm.
Connectivity is provided by a 6 foot long cable terminating on a USB 2.0 connector. The cable has its own Ferrite bead to minimize noise.
TEST SETUP AND METHODOLOGY:
Testing a keyboard is not that difficult, but it is mostly subjective; similar to testing head gears in a sense. That said, no keyboard is perfect and the verdict usually depends on personal preferences. With that in mind we are overhauling our testing methodology by following key pointers that should matter the most; that includes the switch performance, the keycap materials and comfort. To keep our test methodology simple and free of extra variables, please note the following softwares and configurations used below.
| | |
| --- | --- |
| GAMES | Overwatch, Battlefield 4, DOTA 2 |
| POLLING RATE | 1000 Hz (If possible) |
| SOFTWARES | EK Switch Hitter |
MECHANICAL SWITCHES:
The mechanical switches makes up the reason why mechanical keyboards are called "mechanical keyboards" in the first place. There are tons of switches out there but Cherry MX switches are the most popular of them all; setting a standard for the rest. They have clicky, linear and bumpy switches; all with their own mixture of actuation forces and actuation points.
The K65M features Kailh's Blue switches. It has an actuation force of around 50cN, with a tactile feel and a minimum travel distance to actuation of 2.0 mm. This particular rendition features an RGB LED diode at the top and a clear housing. Never been a fan of Kailhs but I do not denounce them either. They're excellent for typing and generally everything – just like your usual Cherry MX counterpart.
Key stabilizers for the larger keys are proper Cherry MX style stabilizers. This is my preferred choice for a more consistent feedback from top to bottom. Excellent design choice here by i-Rocks.
KEYCAP PRINTING AND MATERIAL:
Keycap materials are important too in selecting a mechanical keyboard. The most common ones are ABS and PVC, since they are cheaper and are compatible with most printing methods. They do however shine faster than others and quality is generally not the best. PBT doesn't shine as fast compared to these keycaps and are highly regarded for their quality and sand-like texture. POM on the other hand is also a good replacement over ABS but they are rarely found on most keyboards.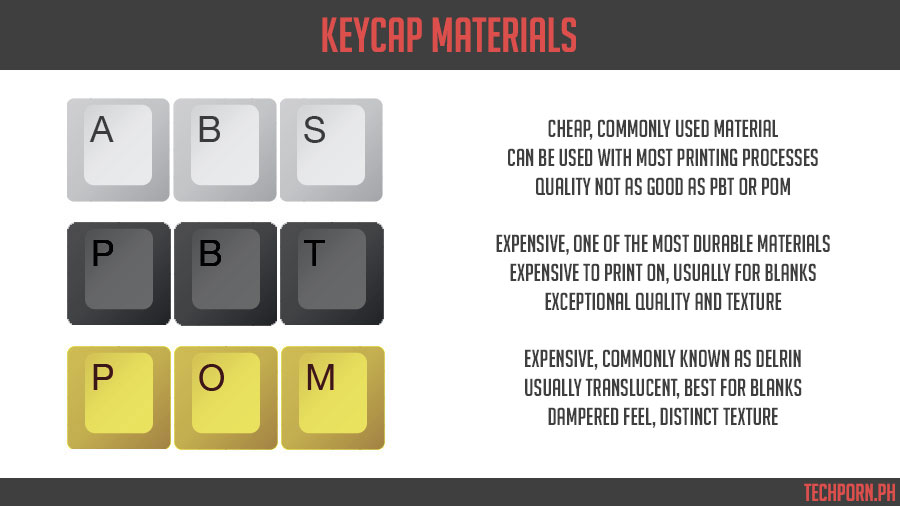 The i-Rocks K65M features dark gray (almost black) keycaps. It has uppercase and lower case fonts, paired with a center-top alignment. The keycap shape is cylindrical and printing method used are double-shot injection and pad printing. Durable and reliable printing methods we got here.
The double-shot injection quality is decent, while the pad printing on the keycaps are excellent. Nothing to complain here except for the overall quality of the cap itself. They are quite thin and kinda felt brittle.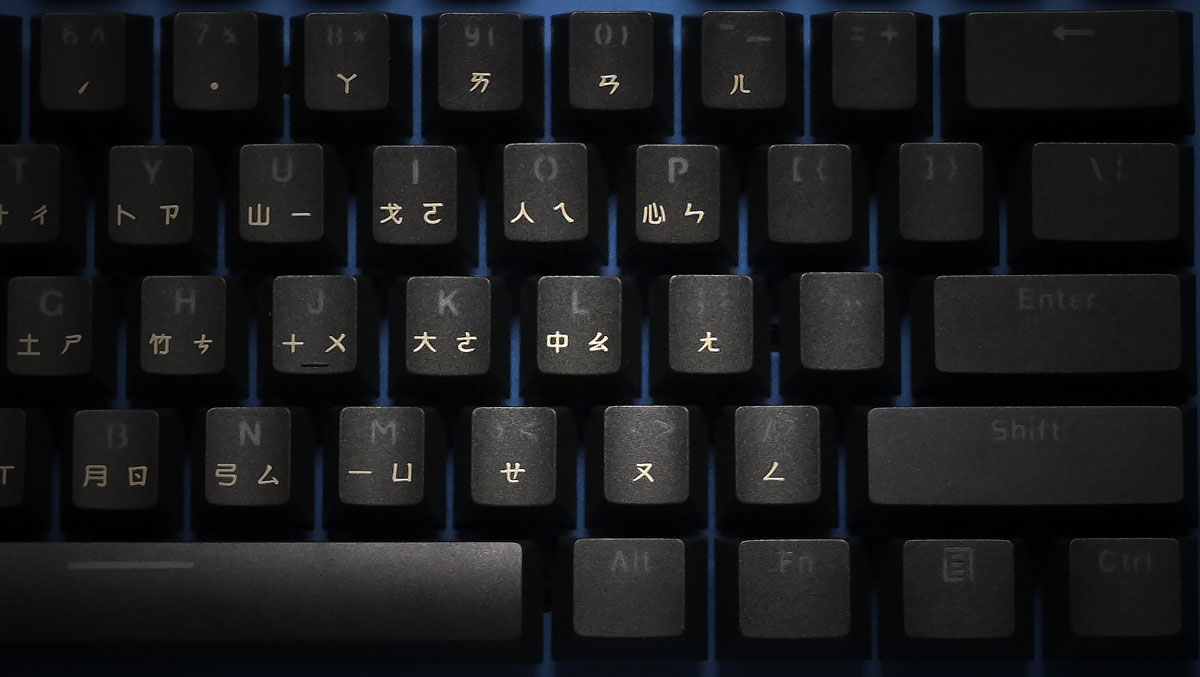 SOUND PROFILE:
No two or three keyboard sounds the same, even if they feature the same keys. This is due to factors including the switch housing itself, the key-cap materials, and the overall construct of the keyboard. Listen to the profile below to get an idea of the keyboard's sound signature.
NKRO AND GHOSTING:
EliteKeyboard's Switch Hitter is an excellent freeware that anyone could utilize to test any keyboard's key registration, key rollover and ghosting. It supports a wide variety of layouts, and could log your usage for extra statistics; such as the actuation time it took for your keys to register and depress.  You can download the Switch Hitter here to check it out yourself.
No worries here ladies and gents. The i-Rocks K65M is a functioning mechanical keyboard with anti-ghosting feature and a full N-key rollover.
SIZE AND COMFORT:
Keyboards are generally categorized in 3 standard sizes and or layouts: Full size, TenKeyLess and Compact.  They are also called the 100%, 80% and 60% layouts respectively. These standard layouts have drastic effect on the ergonomics of the keyboard especially while gaming. Generally, the 60% layout allows for better stress free arm movements; while full layouts requires you to spread your arms wider.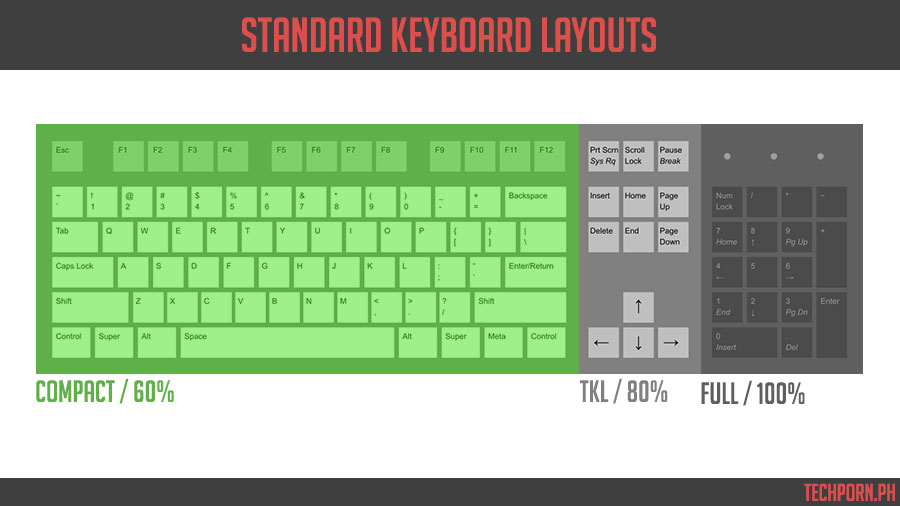 Being a full sized keyboard with a higher profile, the K65M is comfortable to an extent. But, not on the level of the slimmer and smaller keyboards we've tested. Comfort level is still more than enough for general use.
MISCELLANEOUS:
While the keyboard doesn't have any softwares to work with, you're greeted instead by lighting options built within the keyboard. The clear housing also enhances the LED effects but since the plating is Blue, tones near that coler blends with the shade. This keyboard also support macro recording but they don't openly advertise it.
Lighting modes are excellent which is just expected since the keyboard had 12 buttons dedicated to it in the first place. You can change each key's lighting options and save your own up to 3.
FN + Up/Down = 5 level brightness adjustment
FN + Left/Right = 8 color selection
FN + (-)/(=) = Lighting speed adjustment
FN + F1 = Backlight on/off
FN + F2 = Fade-out/tracing effect
FN + F3 = Full region mono backlight effects

Constant (Adjustable)
Breathing (Adjustable)
RGB breathing (Adjustable)

FN + F4 = Mono backlight effects (4 available)
FN + F5 = RGB backlight effects (4 available)
FN + F6/F7/F8 = Custom backlight effect
There are tons of effects on the keyboard and reading the manual is a requirement to maximize this keyboard's potential. There are also nifty features such as the keyboard lock, application shortcuts and swap-able key strings (also the macro).
WRAPPING IT UP:
At first glance, you'd think that the i-Rocks is just your typical elegant but simple mechanical gaming keyboard. It is and it also goes beyond by offering excellent lighting options on top of the elegant design.
If there are things that could be improved, that would be the switch options. Kailh has a number of Cherry equivalents and Blues wont cut it alone – especially if the frame's color is niche enough. The bland plastic under shell is also not my type since it doesn't blend well with the elegant facade. Still, this is a good looking keyboard that should fit most builds well – especially blue themed ones.
While the manual is kinda hard to comprehend at some parts, you'd get excellent lighting controls and options detailed on it. We have a total of 14 lighting effects found within the keyboard itself and it's a good indication that i-Rocks did every bit they can to improve the user experience.
Pricing will set you back at 79 USD which is kinda steep for a keyboard with Kailh switches. But then again, the keyboard features excellent lighting options, aluminum plating and double-shot keycaps. There's definitely more to like with the K65M.
GOOD BUILD QUALITY
DECENT ERGONOMICS
CABLE MANAGEMENT
CUSTOMIZATION OPTIONS
DOUBLE-SHOT KEYCAPS

UNDER SHELL DESIGN
LACKS EXTRA SWITCH OPTIONS
I-ROCKS K65M RGB Mechanical Gaming Keyboard
PERFORMANCE -

8/10

BUILD QUALITY -

7/10

FEATURES -

8/10

AESTHETICS -

8/10

VALUE -

7/10
Summary
Pricing will set you back at 79 USD which is kinda steep for a keyboard with Kailh switches. But then again, the keyboard features excellent lighting options, aluminum plating and double-shot keycaps. There's definitely more to like with the K65M.