SuperMicro is a well known leader in server technology world wide, putting quality and reliability at the top of their list. This philosophy enabled SuperMicro to gain the respect of its customers, business partners and everyone inside the ICT industry. Now Supermicro entered the gaming motherboard territory a while back with the introduction of their Z87 motherboard. After generations of chipset technology, the company decided to brand their consumer products under SuperO – and thus the C7270-CG was born.
The Supermicro C7270-CG is an ATX gaming oriented motherboard that offers all the best of the Z270 chipset, backed with SuperMicro's quality, and reliability. Noteworthy features included are the dual U.2 ports, the 15µ gold plated CPU socket, Intel LAN, the Texas Instruments powered audio solution, and the server-grade VRM power design. This thing also got dual M.2 ports for your consideration.
This green Z270 motherboard is loaded with features and connectivity out of the box, and if you wish to learn more check out its official product page HERE.
THE INTEL 200 SERIES PLATFORM:
The Intel 200 Series Platform, specifically the Intel Z270 chipset is all about connectivity. While it isn't much different compared to the Z170, it features an upgraded Intel Rapid Storage Technology (IRST) version 15, native support for the Intel Optane Technology, and Four additional downstream PCI-E 3.0 lanes compared to the last generation. Those down stream lanes could be configured by the board partner to either support additional storage, audio, or even networking options.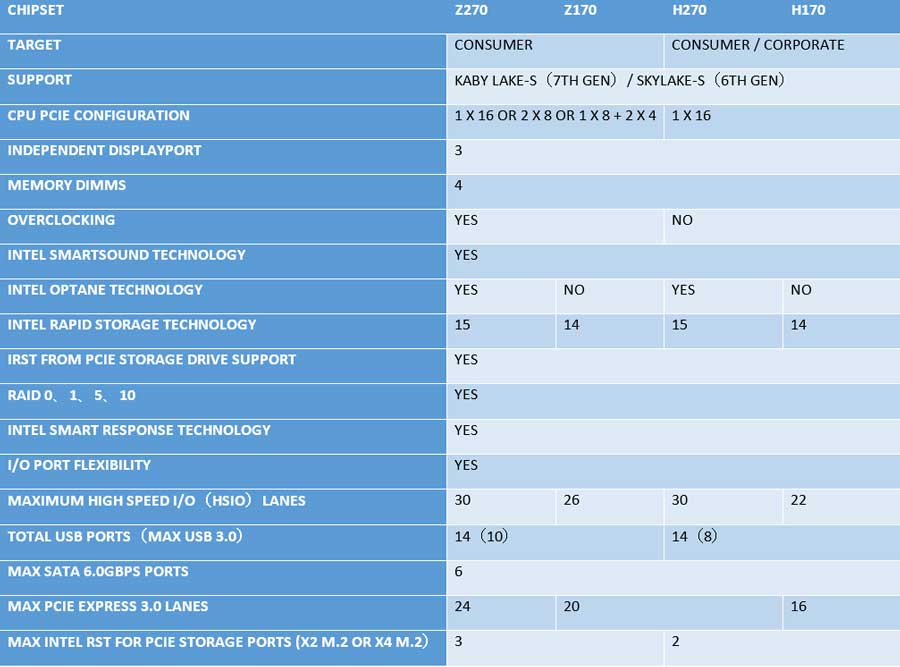 The platform is the official chipset for the Kaby Lake CPUs, but it will still support the Sky Lake CPUs. That said, system builders who are still using Windows 7 and the 6th Generation Intel CPUs wanting to go with the latest platform are not required to upgrade to the latest OS Microsoft has to offer. That's right, Kaby Lake will officially end Intel's support for Microsoft's Windows 7 OS.
THE INTEL KABY LAKE PROCESSORS:
The Intel Kaby Lake Family of processors is the 9th generation of Intel's Core Series CPUs. The Kaby Lake Family is practically identical to the Sky Lake architecture wise with small underlying differences. It is still based on the 14nm node, has the same Instructions Per Clock, and is just basically a repacked Sky Lake.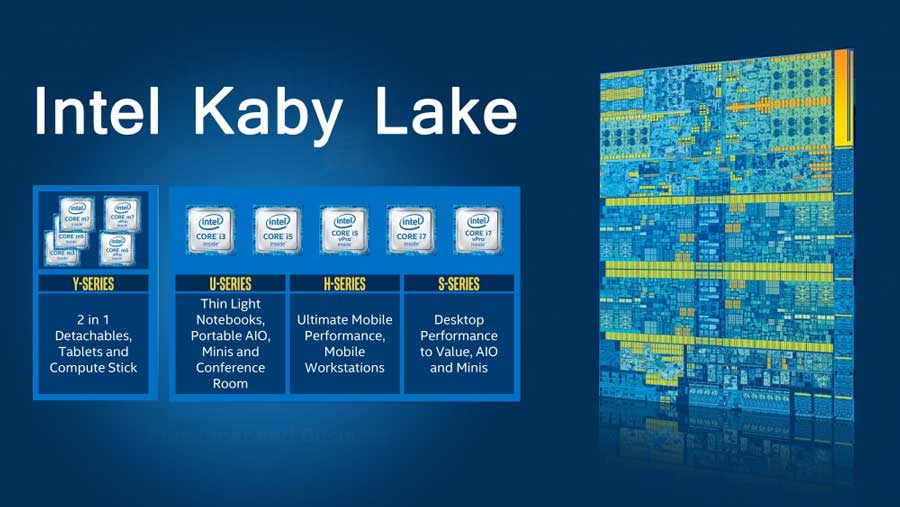 Now the differences, while not astounding are just proper for Intel to refresh their annual product line-up. Intel is able to put a 12% maximum performance gain via an improved design process, which basically means that they are able to push higher frequency envelope without touching the TDP. The Intel Core i5 7600K for example, features a 91W TDP with a 3.8GHz Base Clock and a 4.2GHz Turbo Clock. That is 300 MHz higher over the Core i5 6600K's base and turbo.
Another thing worth noting is the updated Intel Speed Shift technology. It allows the Kaby lake CPUs to jump at Turbo Clocks faster than older generations. That, together with a new video decode unit, the Intel HD 630 IGP, is why Intel is marketing the Kaby Lake as a 14nm+ micro-architecture. The "+" is just too important for them to state that this is indeed a flushed 14nm package.
PACKAGING AND BUNDLED ACCESSORIES:
The SuperMicro C7Z270-CG comes in a rather unique packaging with a sliding color box, and a hard matte-black packaging. This is a premium looking presentation that I haven't seen so far utilized on motherboards. Features and specifications are well laid out at the back.
Inside, you'll find a manual, a software DVD, the back panel I/O shield, and a few accessories sealed inside an air tight plastic. These accessories are 4x SATA III cables, and a flex SLI bridge that is able to reach even the 4th PCI-E slot. There's also a medium sized pack of silica gel to keep the moisture checked.
DESIGN LAYOUT & CONNECTIVITY:
The SuperMicro C7270-CG is a full ATX motherboard that bleeds with green themed design. It certainly is a nice contrast over the other Z270 motherboards released so far. As for cooling, the board features L-shaped heat-spreaders for the VRM, and a huge PCH heatsink that lights up – providing accent to the huge SuperO logo. There are 5 PWM fan headers located at the board and they are more than enough for most gamer's needs. Although I may like how it looks, SuperMicro will have a tough time penetrating the rest of the market with this board's aesthetics. Gamers do love green, but an edgier design similar to their Z170 boards would fit better.
The back of the board is a clean slate of matte-black PCB. Solder joints are on-point – with no visible cold joints, or insufficient wetting. The 10 audio area LEDs are located on this area, with the visible electrical connections of the expansion slots just above them.
The board features a marketed 10+1 phase digital power design. It features VITEC's PR72-151 which is a high frequency power inductor. These chokes are rated with operating temperature ranges of -40°C – 125°C which is rather pleasing indeed. The CPU socket features 15µ gold plated pin-outs by the way. This means that it wont rust under normal conditions. Virtually no oxidation should occur with this feature.
The C7Z270-CG supports up to 64GB of DDR4 Non-ECC Un-Buffered memory kits. It also supports Intel XMP, and or overclocking profiles at a maximum of 3733 MHz. This board features onboard reset, power, and Clear CMOS buttons for your convenience.
Going down and below allows us to check out the PCI-E area of the board. We've got Three full sized PCI-E slots here configured at x16, x16, and x16 electrically as long as you'll use just one at a time. There are Three more PCI-E slots in a x1 package. The full size PCI-E slots are configured in 16+0+0, 8+8+0, and 8+8+4 respectively. You can see one of the M.2 slots here that also supports NVMe devices and RAID 1/0 configs.
Bottom end headers from left to right are as follows: HD Audio, 3x USB 2.0 headers, 1x USB 3.0 header, TPM, the front panel header, and another USB 2.0 header. There are lots and lots of extra jumpers we skipped here that you shouldn't be concerned with – just yet. Most of them are for BIOS recovery, clear CMOS, and to electrically disable stuffs such as the audio. Pretty neat actually.
The right most side of the board houses the dual NVME U.2 ports that supports RAID 1/0, the 6 SATA III ports powered by the PCH, and a fan header. The Debug LED is also located on this side as well – just next to the U.2 ports.
Now the back panel features 2x USB 3.0 ports, a DVI+HDMI+DP combo, and a USB 3.1 Type C & A port. Network connectivity is provided by a single Gigabit LAN port featuring the Intel I219V. Audio is provided by a Realtek ALC1150. A combo PS/2 port is also situated here as well.
Overall, the SuperMicro C7Z270-CG is a nice board full to the brim with connectivity options out of the box. We love the addition of U.2 ports, the 5 PWM fan headers, and the inclusion of Debug LED + onboard buttons.
UEFI WALK-THROUGH:
SuperMicro goes with an allegedly simple looking UEFI but it is not as simple as it looks. To be honest, this is far from the best interface that I have used so far. It feels cramped, and I think I could design better. Mouse and keyboard navigation are too rough for my liking – adding insult to the injury. That said, it is still usable. Rather deep too, but it's not just friendly by any means.
There are 6 main menus to navigate, but you're most likely going to dive into the CPU, and memory menus. The CPU menu features more sub menus and one of them pertains to overclocking. Here you can adjust your CPU's ratio, voltages, and even load SuperMicro's OC presets. Boot frequency can be adjusted too so you can enter the BIOS with a stable clock setting.
The memory menu is where you could overclock your memory kits, as well as to disable the banks that you do not require – or perhaps, disable for single channel config. A feature that is particulalry useful for overclockers. You can set your customs timings here too. Lots of options to be honest.
The advanced mode is where you could tinker with your chipset and connectivity options. The onboard GPU can be configured here as well – with overclocking options too.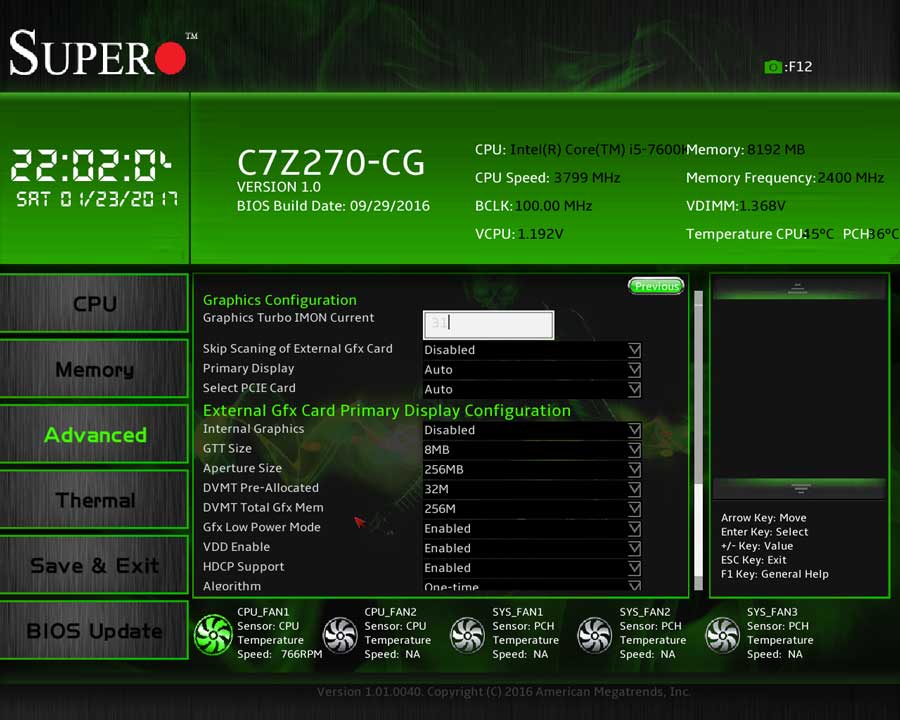 Overall, the C7Z270-CG's UEFI is full of options and settings to play with but is hampered by the cramped design and a not so user friendly navigation. We hope that SuperMicro could fine tune this UEFI in the near future to better suit most user's appetite.
BUNDLED SOFTWARES:
As if the UEFI isn't enough, SuperMicro's softwares are not best represented either – featuring a somewhat old school interface. These are functional, but the installer's interface isn't the best. There are minimal SuperMicro exclusive features thrown in too such as the Super Doctor 5.
For a gaming oriented motherboard, I expected even a single gaming software included.
TEST SETUP & METHODOLOGY:
The motherboard's performance will be evaluated by various benchmarking tools, and applications with the CPU, memory, storage, and audio performance being the focus of the tests. We are testing this motherboard with the high performance settings enabled at the OS, with the default UEFI configuration, and XMP enabled if possible. No extra softwares or applications are installed and running during the benchmarking process. The test system specifications are laid out below:
| | |
| --- | --- |
| PROCESSOR | INTEL CORE I5 7600K |
| MOTHERBOARD | SUPERMICRO C7Z270-CG |
| CPU COOLER | CRYORIG C1 TOP FLOW |
| MEMORY | G.SKILL TRIDENT Z 3200 16GB KIT |
| GRAPHICS CARD | ASUS GTX 1060 STRIX OC 6GB |
| STORAGE | BIOSTAR G300 SSD 240GB |
| POWER SUPPLY | CORSAIR RM850X 850W |
| DISPLAY | 27″ DELL U2715H WQHD IPS PANEL |
| OPERATING SYSTEM | MICROSOFT WINDOWS 10 PRO |
Unfortunately, our Crucial Ballistix Tactical 2666 MHz is not fully compatible with this board yet. We can run it at JEDEC specifications of 2400 MHz, but it cannot boot with its XMP profile enabled nor have it set manually. Thus, we decided to go with the G.SKILL TRIDENT Z 3200 MHz kit. That said, this board could feature a better overall performance compared to the other boards tested.
Please do note that we are in the process of rebuilding our motherboard benchmark database. The charts that you will see here will be updated from time to time.
POWER REGULATION & THERMALS:
The AIDA64 Extreme Edition's System Stability Test is used to stress the system to gauge its overall power draw. We selected all the the stability test options available with a 15 minute run time. Sleep (S3) and soft-off (S5) states are also tested.
Thermal results of the VRM and the PCH are also monitored during those tests. Do note that this represents the VRM and PCH's heat-sink temperature during idle and at load.
OVERCLOCKING:
The Intel Core i5 7600K follows a familiar overclocking procedure with the Sky Lake CPUs. With that said, a little nudge over the core voltage at 1.150v and the CPU's multiplier at x44 are enough to bring this CPU at 4.4 GHz. This board featured better voltage control over the Extreme4 we tested a while ago. That one required us 1.248v to get a stable 4.4GHz.
We did go as far as 4.8 GHz with a vCore at 1.328v. This is a little higher than the one we got from the ASRock board so I guess our chip isn't that good after all at higher frequencies.
CPU & MEMORY PERFORMANCE:
Super PI is a single-threaded benchmark that calculates pi to a specific number of digits. The 32M calculation is used to to gauge the system performance.
wPrime is a multi-threaded benchmarking application designed to measure the raw computational power of a CPU. The 32M and 1024M calculations are used to to gauge the system performance.
AIDA64 Extreme Edition is a streamlined Windows diagnostic and benchmarking software. We are going to use the built-in memory benchmark tool to gauge the system performance.
GRAPHICS PERFORMANCE:
3DMark 2013 is a suite of benchmarks catered for the gamers and enthusiasts. It features benchmark presets suitable for wide range of systems. The total system scores from the FireStrike presets is used for comparison.
CINEBENCH R15 is used to test the system's performance under OpenGL load. The graphics card has to display a huge amount of geometry and textures, as well as a variety of effects.
The Witcher 3: Wild Hunt is an action RPG set in an open world environment, developed by CD Projekt RED. It runs on the REDengine 3 utilizing the 64-bit precision of modern personal computing, and DirectX 11, allowing for better quality computer graphics via high dynamic range rendering.
APPLICATION PERFORMANCE:
GIMP is a free and open-source raster graphics editor used for image retouching, drawing, editing, and conversion. A 7 MB worth of images will be processed, and converted to gauge the system performance.
HandBrake is a free video encoding tool that supports a wide variety of media codecs. A 150MB worth MP4 video will be converted using the H.264 codec to gauge the system performance.
WinRAR is a file archive utility for Windows. It can create, view archives in RAR or ZIP file formats, and unpack numerous archive file formats. We are going to use the software's built in benchmark tool to gauge the system performance.
STORAGE PERFORMANCE:
Crystal Disk Mark is a storage benchmarking software widely used through the industry. We are going to use the software's sequential read and write benchmark to test the system I/O performance.
AUDIO PERFORMANCE:
RightMark Audio Analyzer (RMAA) is a suite designed for testing quality of analog and digital paths of any audio devices. The results are obtained by playing and recording test signals passed through the tested audio path by means of frequency analysis algorithms. A high quality 3.5mm stereo male to male audio cable is used to loop both the line-in and line-out of the system with a sample rate of 24-bit at 48 kHz. The recording level should be around -1dB if possible, with software audio enhancements disabled.
| | | |
| --- | --- | --- |
| Frequency response (from 40 Hz to 15 kHz), dB | +0.03, -0.7 | Excellent |
| Noise level, dB (A) | -98.2 | Excellent |
| Dynamic range, dB (A) | 98.5 | Excellent |
| THD, % | 0.0050 | Excellent |
| THD + Noise, dB (A) | -80.9 | Good |
| IMD + Noise, % | 0.0084 | Good |
| Stereo crosstalk, dB | -100.8 | Excellent |
| IMD at 10 kHz, % | 0.0095 | Very Good |
| General performance | | Very Good |
The C7Z270-CG might be using an older audio solution from Realtek but it is no slouch when it comes to audio performance. Using high quality Japanese audio capacitors, and well isolated audio paths did payed off well for SuperMicro.
WRAPPING IT UP:
The C7Z270-CG is rock solid board from SuperMicro. Made to clad the latest Intel Kaby Lake Processors, this iteration of the Z270 platform is full on with features that you would expect from Intel's top consumer chipset of the generation, with extra connectivity options to boot. That includes the RAID 1/0 compatible U.2 slots for blazing fast storage, and the dual M.2 solutions onboard.
Performance is good but even with a 3200 MHz kit onboard, our ASRock Extreme4 still manages to win on some benchmarks. That being said, it could be just the memory kits having little to no effect on some of the benchmark suites we tested or perhaps it is the board itself. Anyway, you're still getting a proper performance margin with this board out of the box. Just don't expect miracles.
Build quality is top notch, with a server grade VRM and a thick PCB to start with. SuperMicro markets this motherboard with server quality control so there's that for your convenience. Overclocking is no slouch either, able to hit 4.8 GHz with ease.
As for hardware specific features, you'll get a great audio solution, solid connectivity options, 5 PWM fan headers and a whole lot more. Software on the other hand is lacking – with basically nothing included that the gamers could utilize. The UEFI's not so friendly interface is also something to consider. We do hope the SuperMicro could address these issues in the near future.
Pricing for the SuperMicro C7Z270-CG has yet to surface locally, but you can have this for 240 USD which should be equivalent to around 11, 000 Pesos. That's a stiff competition for SuperMicro, where established brands have already flooded the market. Without a good bundle of software to back it up, it's not easy to recommend this board. But, if all you need is a robust, and a functional board built with server quality in mind, then look no further. The SuperMicro C7Z270-CG is one rock solid motherboard that you should consider.
UPDATE: Local pricing is set to 15, 290 PHP***
SOLID OVERALL PERFORMANCE
SUPERB AUDIO QUALITY
GOOD LAYOUT & CONNECTIVITY
DUAL U.2 PORT IS A PLUS
QUALITY SERVER GRADE COMPONENTS
OVERCLOCKING POTENTIAL
TONS OF UEFI OPTIONS TO PLAY WITH

UEFI REQUIRES A LOT OF IMPROVEMENTS
DEVOID OF GAMING SOFTWARES
STIFF COMPETITION AT CURRENT MARKET PRICE***
SUPERMICRO C7Z270-CG Motherboard
PERFORMANCE -

7/10

BUILD QUALITY -

9/10

FEATURES -

8/10

VALUE -

7/10

AESTHETICS -

7/10
Summary
If all you need is a robust, and a functional board built with server quality in mind, then look no further. The SuperMicro C7Z270-CG is one rock solid motherboard that you should consider.