The ASUS ROG Falchion joins the rank of the many first that ASUS accomplished this year. It is the first ASUS mechanical keyboard to feature a wireless connectivity, the first with a 65% layout and another first… A touch sensitive side panel.

Retailing with an MSRP of 8,250 Pesos, the ROG Falchion is by no means a cheap introduction to 65% layouts. Bearing the ROG insignia, this shouldn't come as a surprise though. Regardless, we're going check out on this review if it is a worthy contender at the designated price point.
Technical Specifications
Keyboard
Size
Compact, 65%
Layout
ANSI
Design
Frameless, Hybrid
Macro
Yes
Profile
Yes
Software
Armoury Crate
Interface
2.4GHz, USB Type-C
Polling Rate
1000Hz
Lighting
RGB
Wrist Rest
—
Pass-through
—
Cable Management
—
Multimedia Keys
Non-dedicated
Cable Length
1.8m
Switch
Type
Cherry MX RGB Red
Actuation
2.0mm
Travel
4.0mm
Lifespan
50 Million
Dimensions
Length
305mm
Width
101mm
Height
38.5mm
Weight
520 grams
Packaging and Accessories
ASUS had the ROG Falchion packed inside small color box. The packaging comes with the following items inside:
1x ROG Falchion Keyboard
1x Warranty card
1x Quick Start Guide
1x 1.8m USB cable
1x RF 2.4GHz dongle
1x Dongle extender
1x Polycarbonate Cover
Pretty standard bundle – not even a hint of a key puller. Nothing much to inspect here.
Design, Layout and Build Quality
The ASUS ROG Falchion is a sleek looking compact wireless keyboard – cute even, with its 65% layout. You have the option to use its cover as a frame too which is nice.
The rear end comes with of course that signature ROG styling. There's enough padding here to keep the relatively light keyboard in place but ASUS chose to use a shorter riser compared to standard ones.
Keyset for the Falchion are pretty unique even though it follows most of the ANSI layout's sizes. For starters, the Spacebar is 5.5u, the right Shift key is 1.5u and the Enter key is about 2u. Want these keys replaced? Better ask ASUS for a custom set.
Now connectivity is courtesy of a thick 1.8 meter long USB cable terminating from a Type-C to a Type-A port. The cable is braided so yeah, a dirt magnet. As for wireless, the keyboard supports RF 2.4GHz via its magnetic dongle. A switch is also located at the top end but I really prefer a button here for ease of use.
Test Setup and Methodology
Testing a keyboard is not that difficult, but it is mostly subjective; similar to testing head gears in a sense. That said, no keyboard is perfect and the verdict usually depends on personal preferences. With that in mind our methodology is overhauled to follow the key pointers that should matter the most. That includes how good the switches are, the quality of keycap and its profile plus the comfort.
Test Setup
Repeat Rate
Shortest
Repeat Delay
Fastest
Polling Rate
1000Hz, If possible
Software
EliteKeyboards Switch Hitter
Physical Layout, Functionality and Ergonomics
Keyboards are generally categorized in 4 standard sizes or layouts: Full Size, TKL, Compact 75% and 60% layouts. These standard layouts has drastic effects on the functionality and ergonomics of the keyboard. Generally, compact layouts allows for better ergonomics; whereas full layouts offers 100% functionality.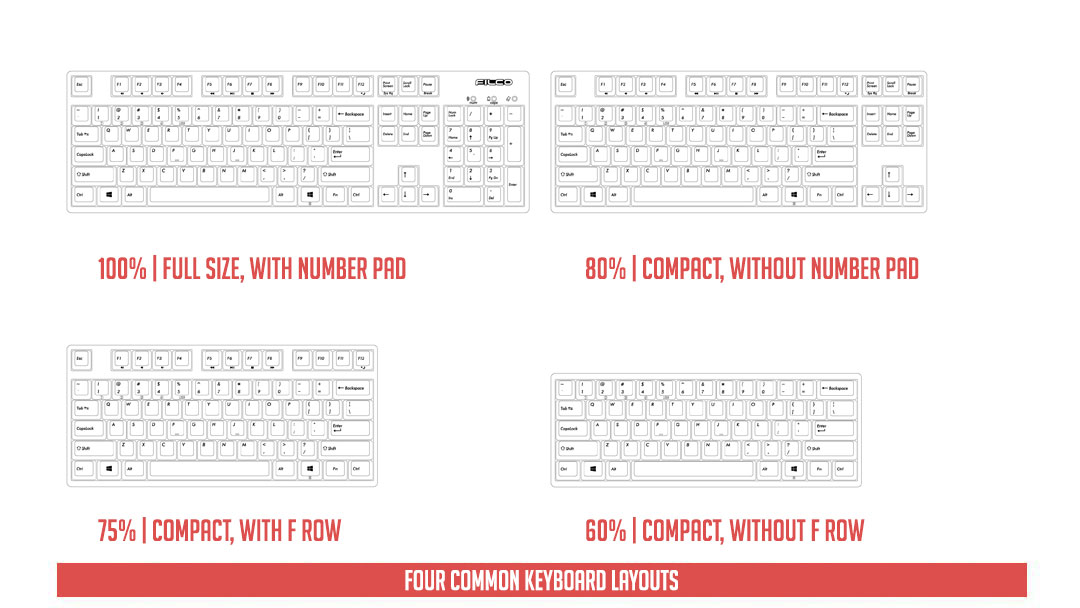 The ASUS ROG Falchion is a 65% layout mechanical keyboard. That means function and number keys are combined plus with a condensed single-row navigation keys. If this is too much for you then a TKL is the way to go.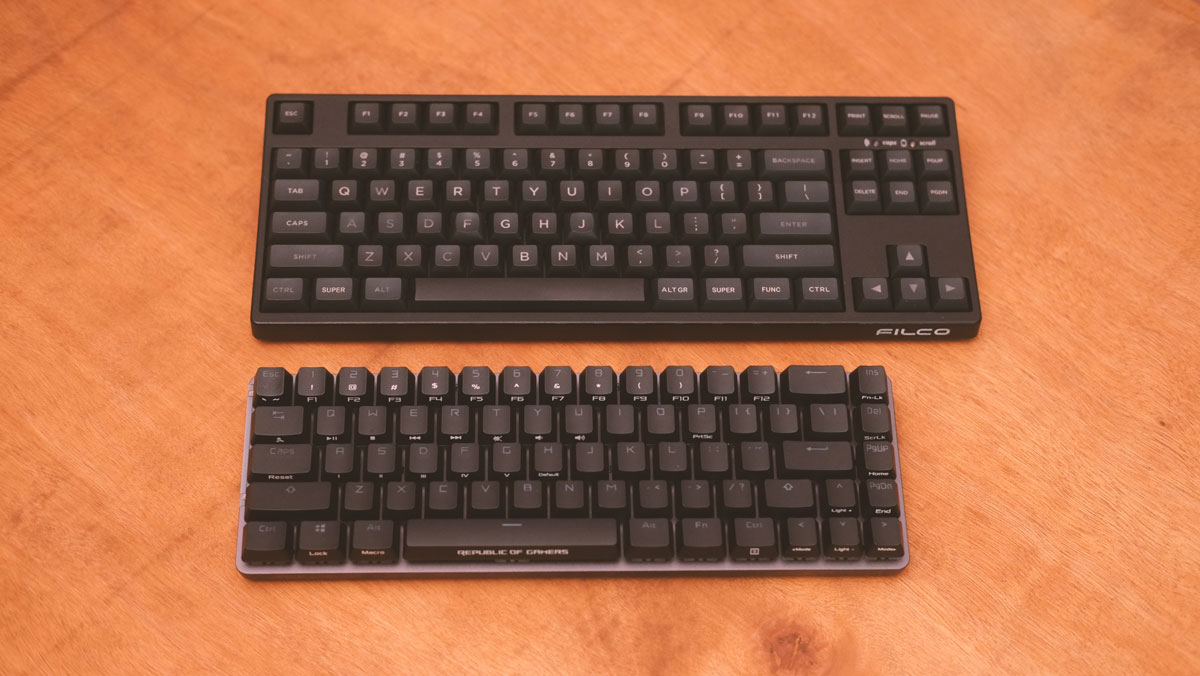 As for comfort, this one is pretty much spot on with its frameless and compact design. Riser is single stage though and comes with under an inch of extra height. I wager ASUS decided to do this just so you could still rise the keyboard with the frame and or cover attached.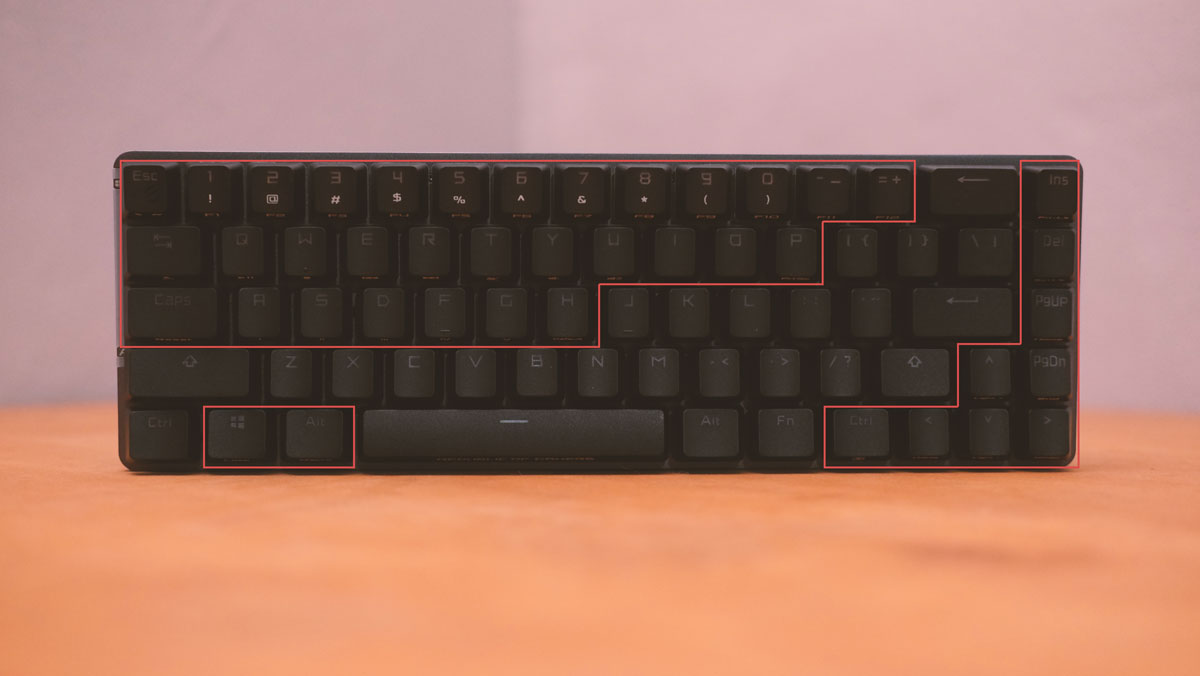 Listed below are the most common key combinations for the ROG Strix Scope RX:
Fn + Ins = Toggle between standard and secondary keys.
Fn + Q / W / E / R / T / Y / U = Media keys.
Fn + Left-ALT = To start macro recording.
Fn + Left-ALT = To end recording then assign macro key.
Fn + A / S / D / F / G / H = Profile switch (H is default).
Fn + Right / Fn + Left = Lighting effect switch.
Fn + Up = Brightness up.
Fn + Down = Brightness down.
Fn + Tab = Disables touch panel.
Fn + Windows key = Locks Windows key.
Keycap Profile, Printing and Material
The keycap profile is often overlooked when it comes to keyboards. It shouldn't be, considering that the profile usually makes or breaks a portion of keyboard's ergonomic and feel. The DCS family is the most common one here, with Cherry and OEM profile slotted beneath it. On the other hand, profiles such as the DSA and SA profiles are mostly found on higher end mechanical keyboards.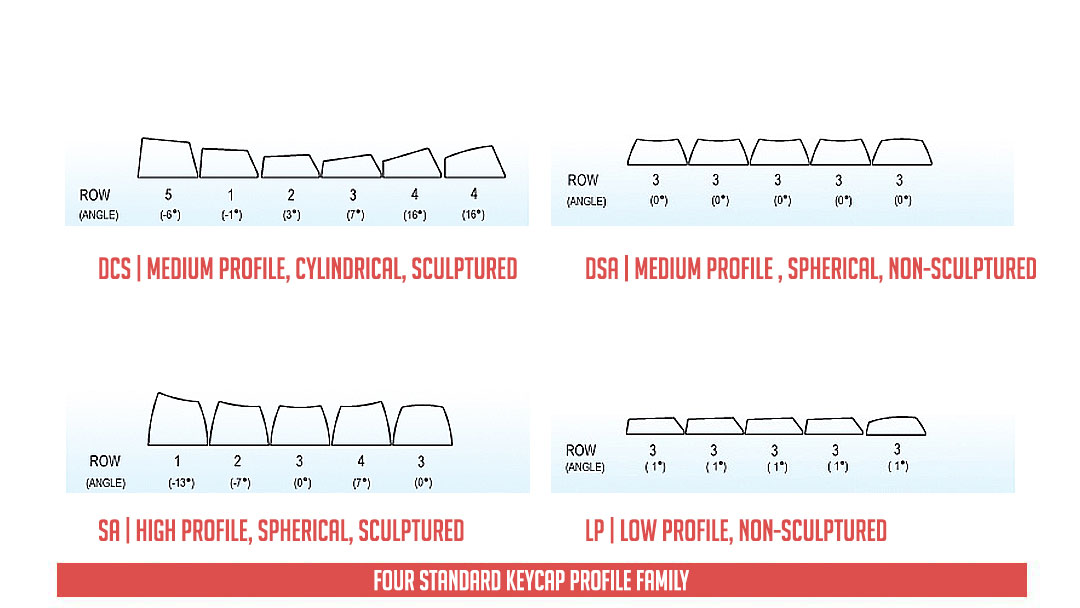 Keycap printing method is also an important aspect we should look into. Pad printing is the most common one here, while dye sublimation and double shot injection being the more premium ones due to their printing process, quality and durability.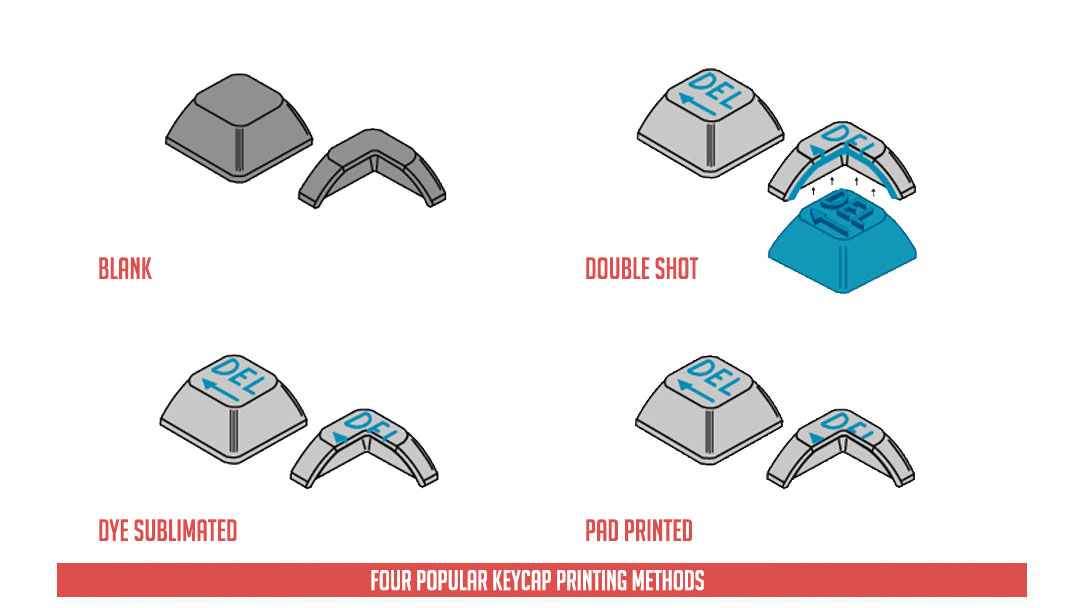 Keycap materials are important too in selecting a mechanical keyboard; though it is common to see keyboards shipped with either ABS and PVC keycaps. These materials do however shine faster than other materials and quality is generally not the best. PBT doesn't shine as fast compared to these keycaps and are highly regarded for their quality and distinct texture. POM on the other hand is also a durable material but they are rarely found as aftermarket options.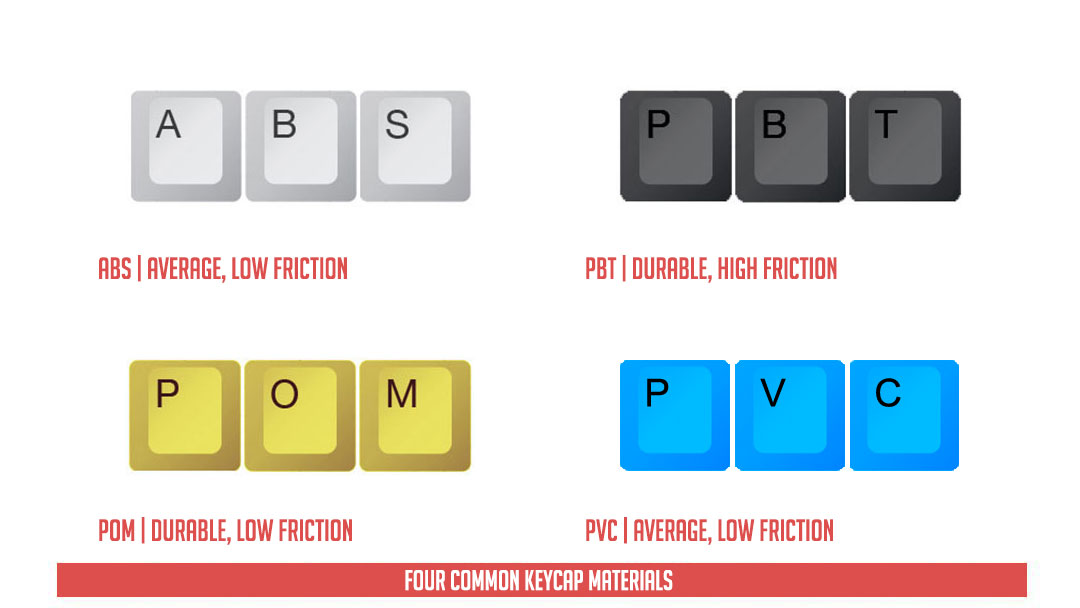 OEM is the profile of the Scope RX from the top to the bottom row. Top follows the OEM's number row like most 65% keyboards do.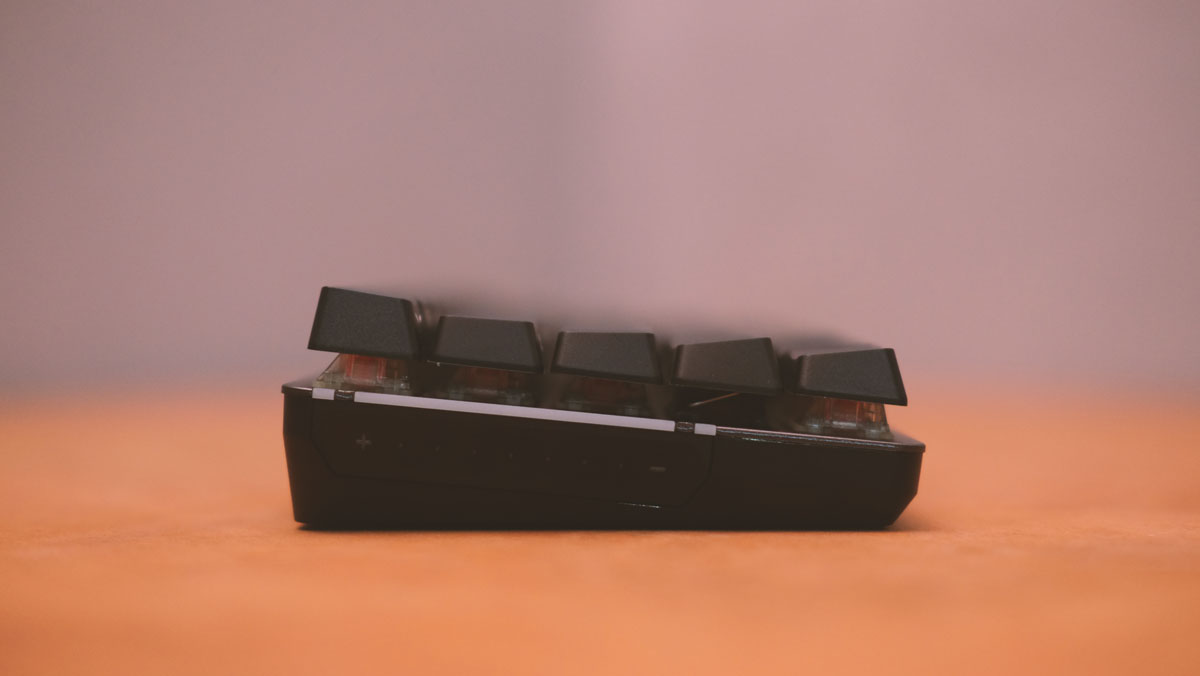 Keycap material used for the ROG Falchion is PBT. Yup, the first ASUS keyboard to feature such material out of the box. Prints are excellent too for those who doesn't hate the ROG font's edgy characteristics.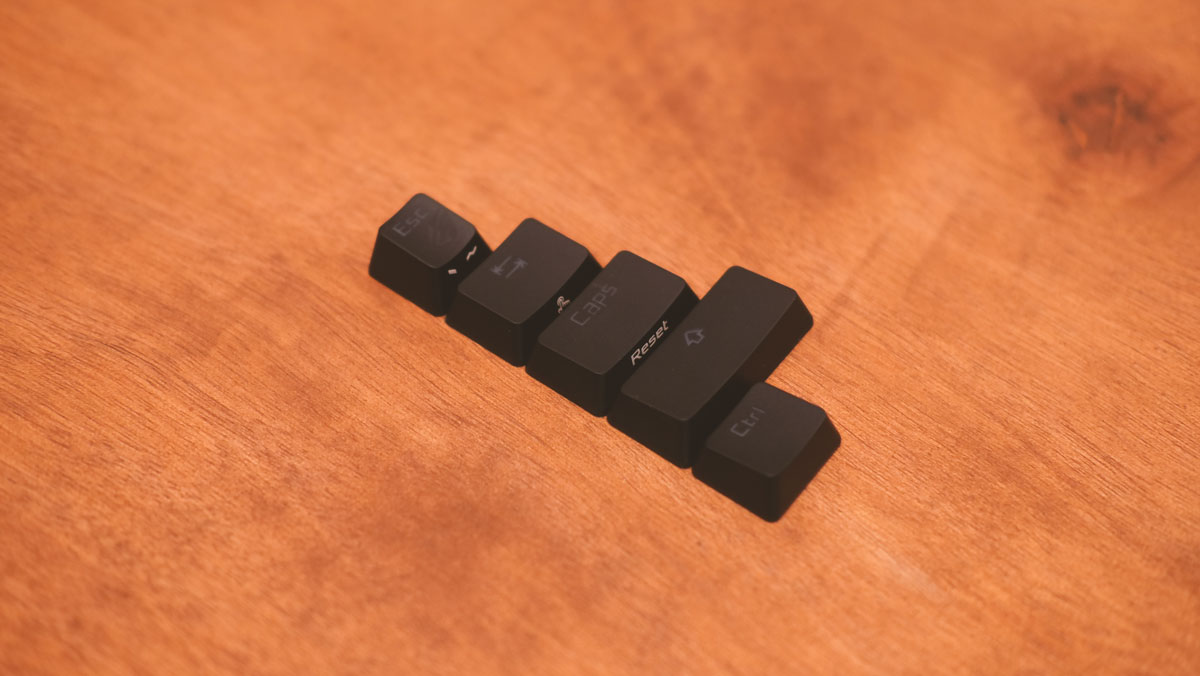 Thickness is consistent across all the keycaps inspected. Being a double shot keycap set, this default PBT offering from ASUS is a nice value added touch.
Mechanical Switches and Stabilizers
The mechanical switches makes up the reason why mechanical keyboards are called "mechanical keyboards" in the first place. There are tons of switches out there but Cherry MX switches are the most popular of them all; setting a standard for the rest. They have clicky, linear and bumpy switches; all with their own mixture of actuation forces and actuation points.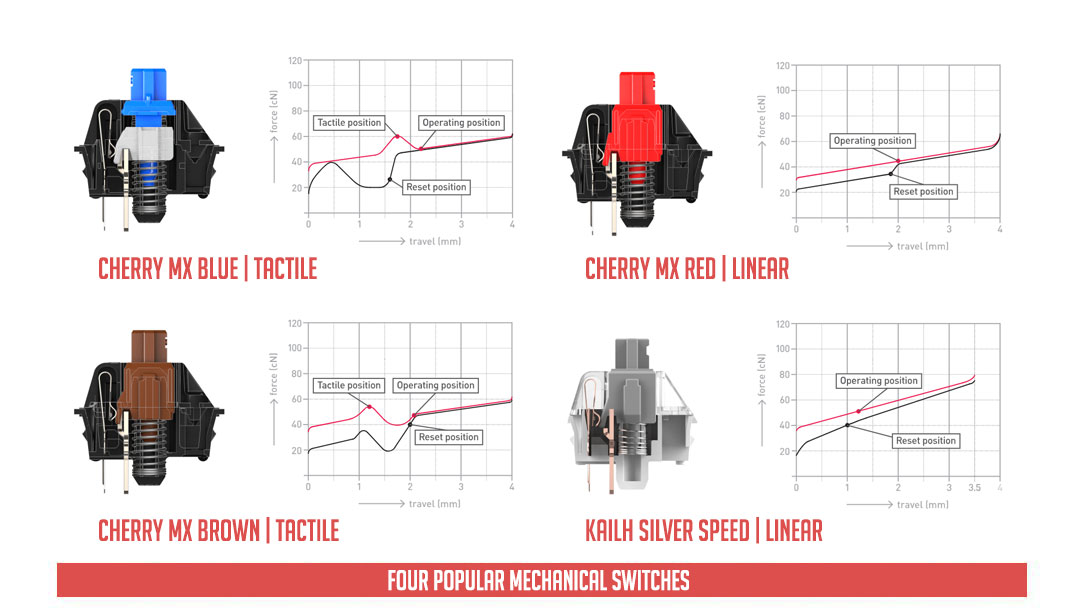 ASUS opted to go with the Cherry MX RGB switches with the Falchion compared to lets say, the also recently released Scope RX. The keyboard of course comes with four MX switches to choose from – ours being the MX Red with 45g of force required to actuate and with a linear feel.
Now perhaps what I hate about this keyboard are the stabilizers. They are flimsy and easy enough to bend. The stems are hideous too. Kinda wish ASUS went with proper MX ones instead of this massive disappointment.
Key Rollover, Chatter and Ghosting
EliteKeyboard's Switch Hitter is an excellent freeware to test key rollover, chatter and ghosting. Key rollover is basically the number of keys the keyboard could register, while chatter is multiple registered inputs with a single press of a key. Ghosting on the other hand is the unwanted input registration when several keys are pressed together.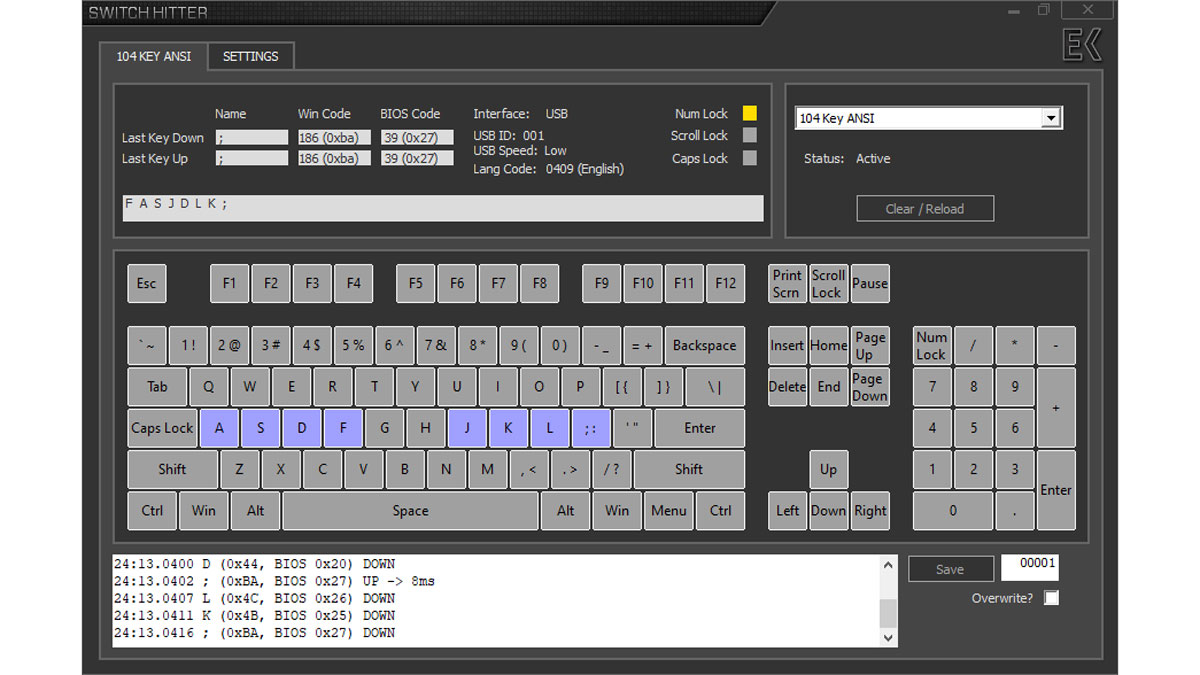 The ASUS ROG Falchion passed with flying colors on our rollover, chatter and ghosting tests like most of the mechanical keyboards tested. Screenshot above is the RX's result.
Software, Lighting and Special Features
The Falchion requires the Armoury Crate software to work at its 100%. You could use the keyboard on its own but I highly recommend downloading the software – in spite of its mixed reception.
One of the most important features of the keyboard is indeed its touch panel which is programmable to use your desired buttons. I initially configured this to use the Page Up and Page Down keys but I find using the Arrow keys Up and Down nets the most benefit – just because not all websites supports scrolling through the Page keys.
Lighting is adjustable on the fly but you may also do so with the Armoury Crate – even more. You may fine tune the speed and brightness of each effects to your liking within the app or have it synced via the AURA Creator to match your system's lighting.
Finally, we have the Power menu. You may use this to check out the power level of the Fachion's battery and to adjust the idle settings. Sadly we do not have a dedicated power setup at any given battery level. A polling rate and idle/sleep adjustment per power level is much appreciated if will be implemented in the near future.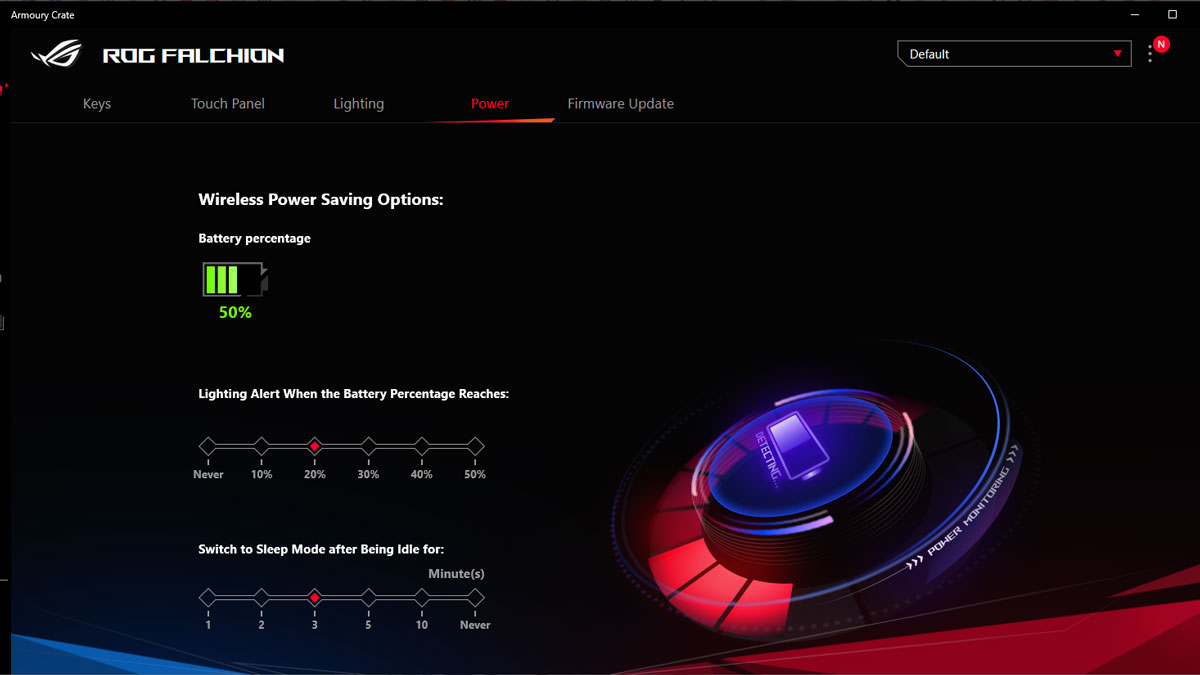 Lighting is excellent – a literal eye candy for its size. The Cherry MX RGB combined with the quality keycaps is just on point.
Now the touch panel also serves as a battery indicator – on top of its multi-functional touch features. What that mean is, the touch panel could house up to 5 functions. That's 3x tap (top, middle and bottom) plus a swipe (top to bottom, vice versa). All of these are configurable via the software and if you wish, you may use a macro as well.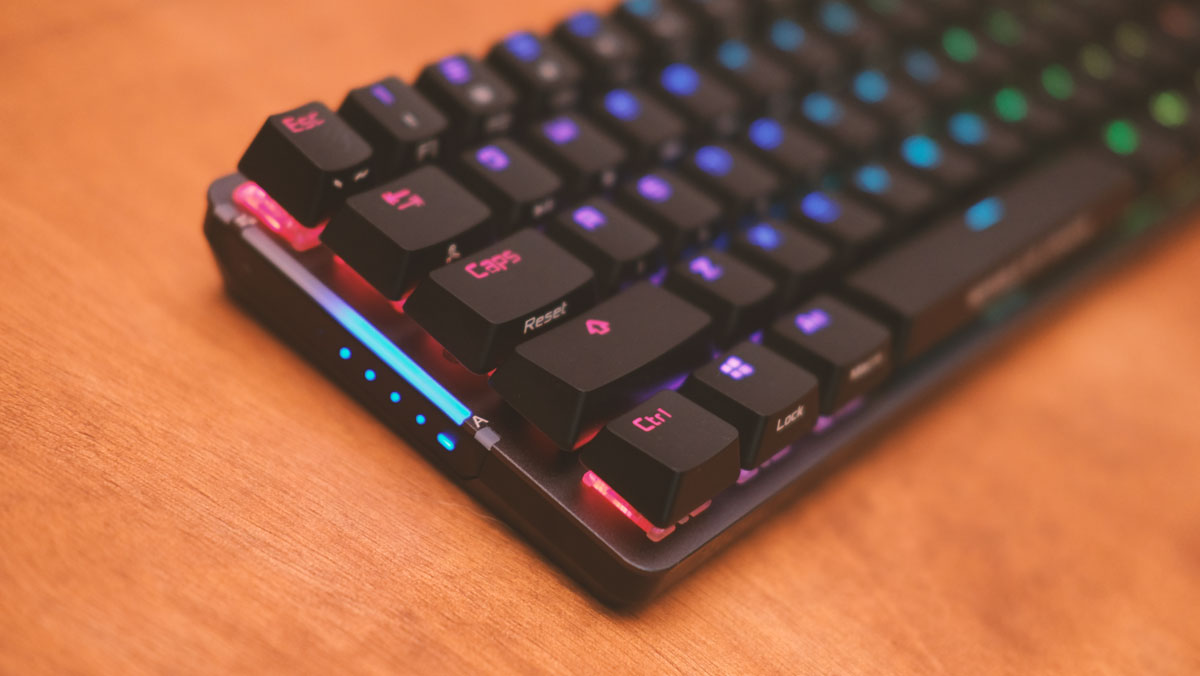 As for battery life, I have yet to deplete every juice left on this keyboard even after a week. Granted, I don't use the RGB lighting but from where it stands, it appears it could get over the 300 hour mark just fine.
The cover is made out of polycarbonate shell infused with a thin brushed aluminum and paddings in and out. This is a nice addition to the Falchion's already astounding features.
Final Thoughts
The ASUS ROG Falchion is one excellent 65% layout wireless mechanical keyboard. This is an exciting product, featuring many first from the company – that actually works.
First off, the touch panel is awesome. Inputs are easy to register and using it seems natural. It serves as my secondary navigation keys, print screen and copy-paste so I'm really getting the most out of it. If ASUS could use the Fn or FnLock to add a secondary function to it then color me impressed.
Now price is about 8,250 Pesos which translates to about 170 USD. Price wise you'll get a 65% keyboard with wired and wireless function, a really useful touch panel, a cover and PBT keycaps – on top of its already good looking facade.
Certainly bearing many firsts, the ROG Falchion is a testament to ASUS' commitment to the growing needs of the gaming market.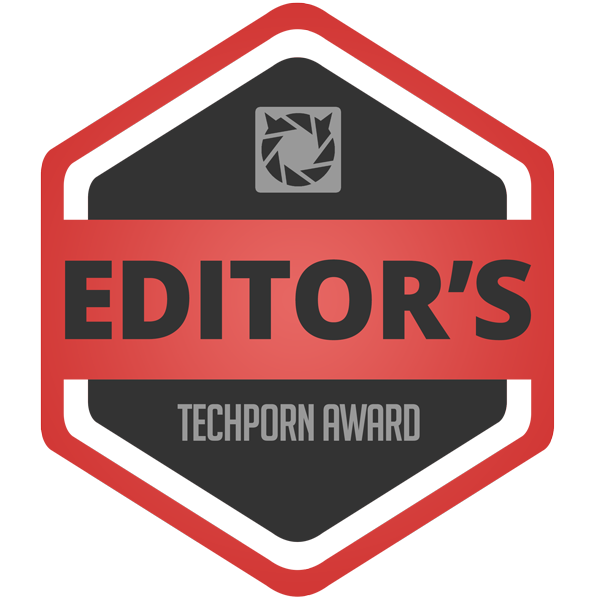 ASUS ROG Falchion Wireless
Performance -

9/10

Build Quality -

8/10

Features -

9/10

Design -

9/10

Value -

9/10
Summary
Certainly bearing many firsts, the ROG Falchion is a testament to ASUS' commitment to the growing needs of the gaming market.
Pros
Excellent build quality, generally
Design and ergonomics
Battery life, so far
Intuitive touch panel
Comes with a cover-frame hybrid
Double-shot PBT keycaps
Really compact 65% form factor
Excellent RGB visuals
Cons
Stabilizers could be better
65% layout is not for everyone
Custom keycap sizes for Space, Shift and Enter keys