The ROG Gladius returns for a review in its third iteration, still featuring an ergonomic non-ambidextrous design but with model defining updates apt for its name.
This wireless model for an instance now comes with a new sensor with up to 19K DPI and a weight of about 89 grams according to the specifications. Other specs that could be shared with the wired version are the light-weight shell design, the new ROG Push-Fit Switch Socket II, a paracord cable and a smoother overall design compared to the outgoing model.
Disclosure: ASUS sent this unit as a return sample for the sole purpose of this review. The company did not ask me to say anything particular about it but they did asked me to do a run down on its most important features.
Technical Specifications
Mouse
Size
Medium-Large
Design
Non-ambidextrous
Macro
Yes
Profile
Yes
Software
Yes
Interface
RF 2.4GHz, Bluetooth 5.1 LE, USB 2.0
Polling Rate
125-1000Hz
Lighting
RGB
Switch
ROG Micro, Omron Optical Micro
Buttons
8, 6 programmable
Cable Length
2m, Paracord
Feet
PTFE, Teflon
Sensor
Model
ROG in-house
DPI
100-19000 DPI, 26000 DPI capable
Speed
400IPS/50G
Dimensions
Length
123mm
Width
68mm
Height
44mm
Weight
89g
Packaging and Accessories
ASUS packed the wireless mouse inside a more premium packaging compared to their other optical devices.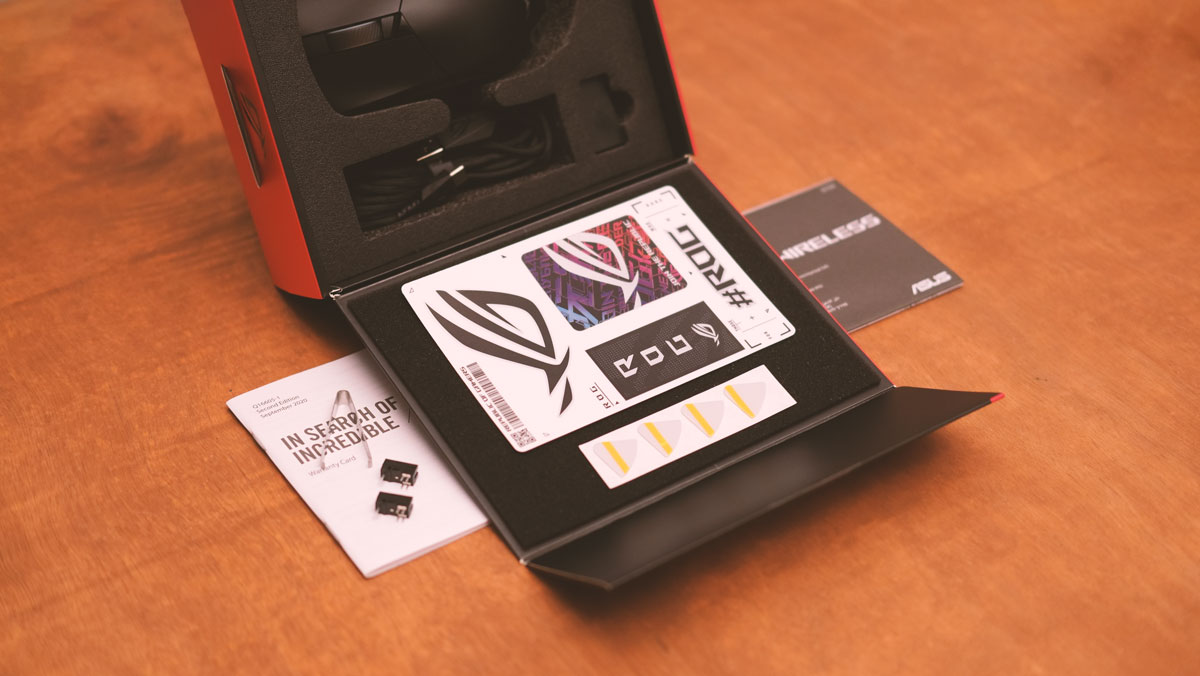 The following items should be located inside:
ROG Gladius III Wireless
Wireless dongle
USB Type-A to Type-C adapter
2m USB Type-C to Type-A cable
2x micro switches
ROG switch tweezer
ROG sticker
4x mouse feet
Quick start guide
Warranty booklet
Most of the listed items are necessities but we appreciated the additional skates, switches and the adapter.
Design, Build and Connectivity
The Gladius III is a more subtle looking mouse compared to the out going model – bearing the same finish, overall shape and feel but with a lighter body. This is a medium to large sized non-ambidextrous mouse, so if you're a right-hander then this should be up your alley.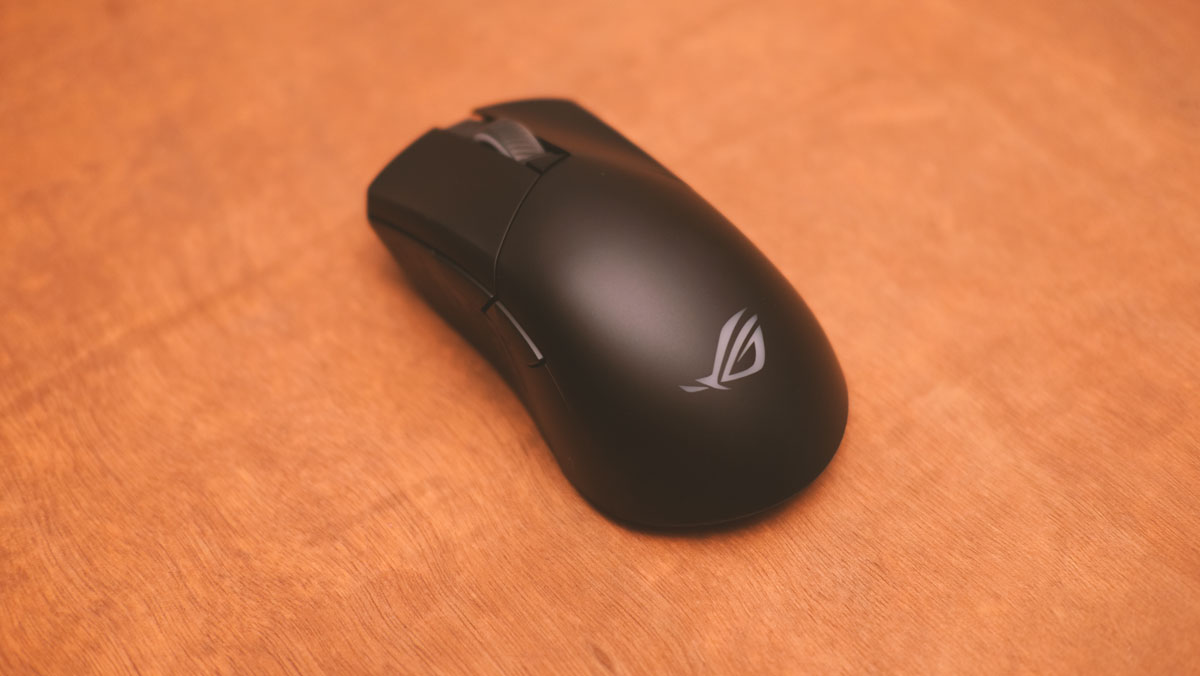 There are 8 buttons found within the mouse. 6 of them are programmable and that includes the side buttons. All of them provides a tactile feedback – even the side buttons which is not a surprise since both houses Kaihl's switches.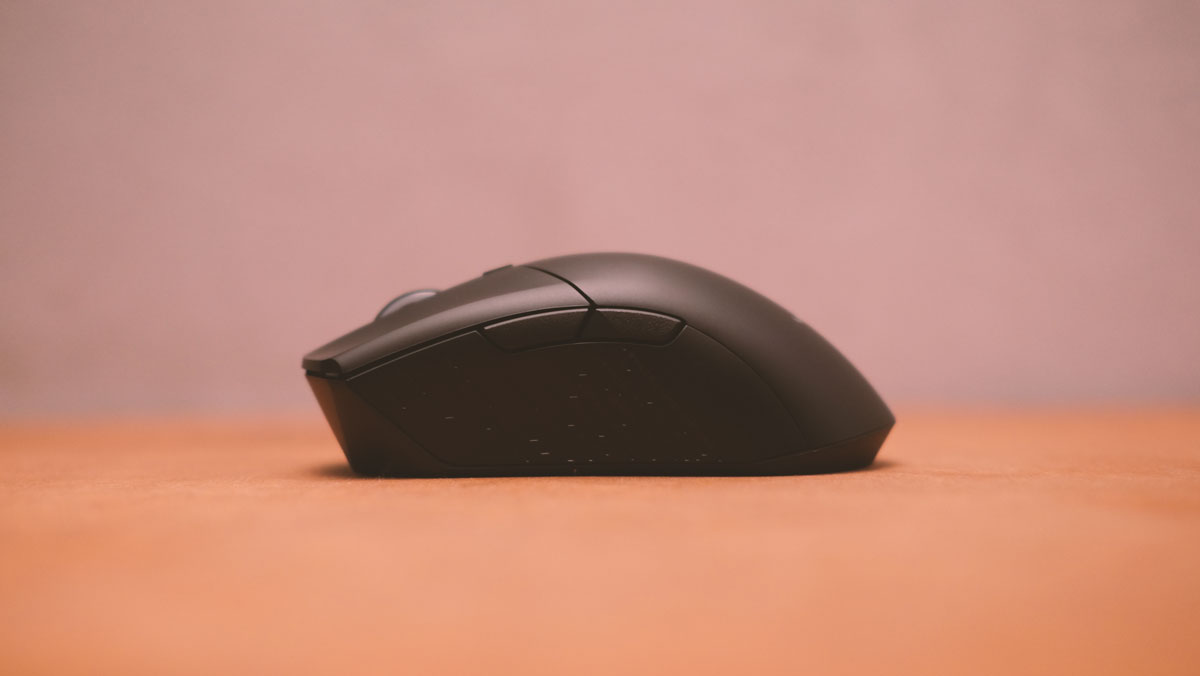 Grip area for both asides are aesthetically pleasing yet still conforms to their intended purpose. Left side is laser engraved for a more sublime RGB lighting while the right most side grip features a serrated design – that actually works just so you guys know. It's nice that ASUS is taking notes.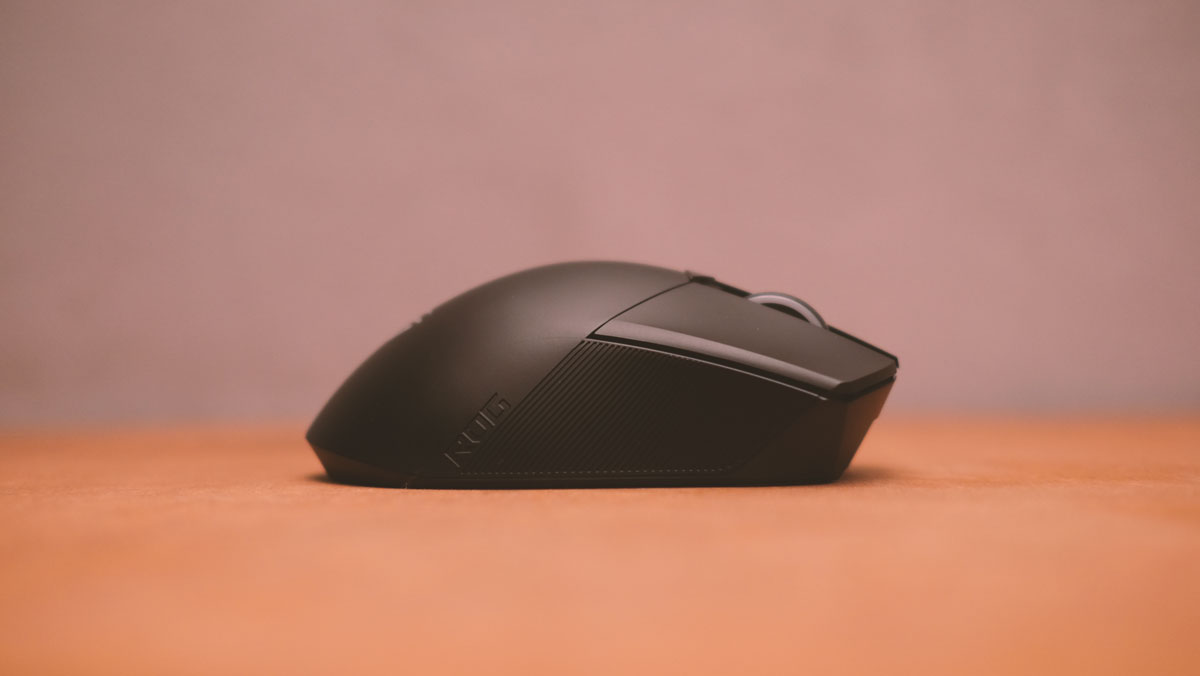 Now as for the scroll wheel, it is a detent based one like many gaming options out there. This is rubberized with a nice dampened tactile feedback as opposed to the rest of the switches. No major complaints on the main buttons too aside from the personally excessive horizontal action.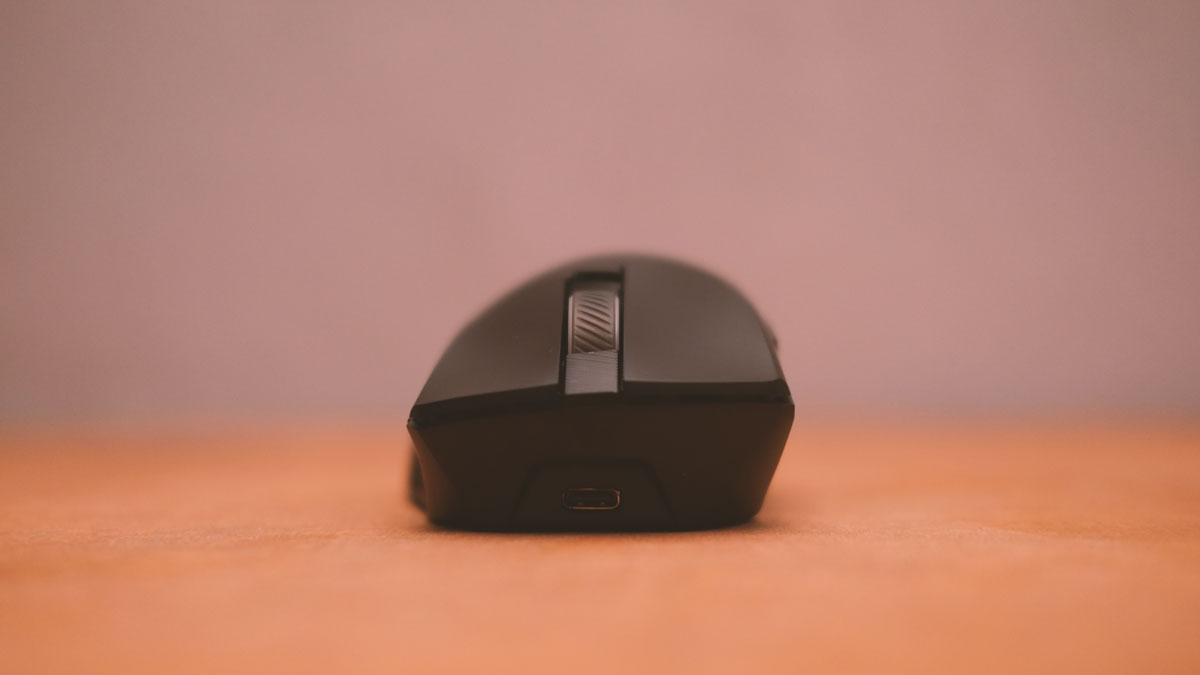 Skates are four piece PTFE dubbed as the ROG Omni – cuz they are specifically designed this way to feature the best gliding performance omnidirectionally. They are replaceable and are easy to replicate. Located at this area are the switch for the connectivity mode and the pair button for Bluetooth. Profile button is here as well.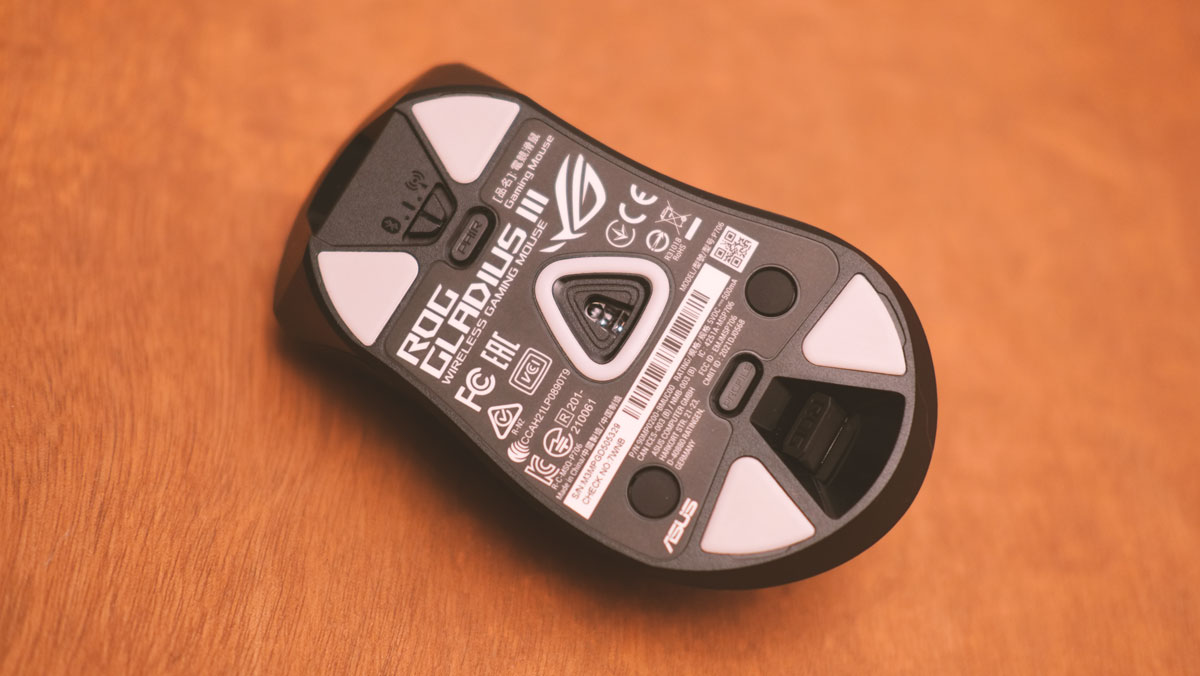 The ROG Gladius III comes with a 2 meter long paracord cable. A nice upgrade to their stiff braided cables. It also comes with a Type-A to  Type-C adapter so you could use the cable as an extender for the included RF 2.4Ghz dongle.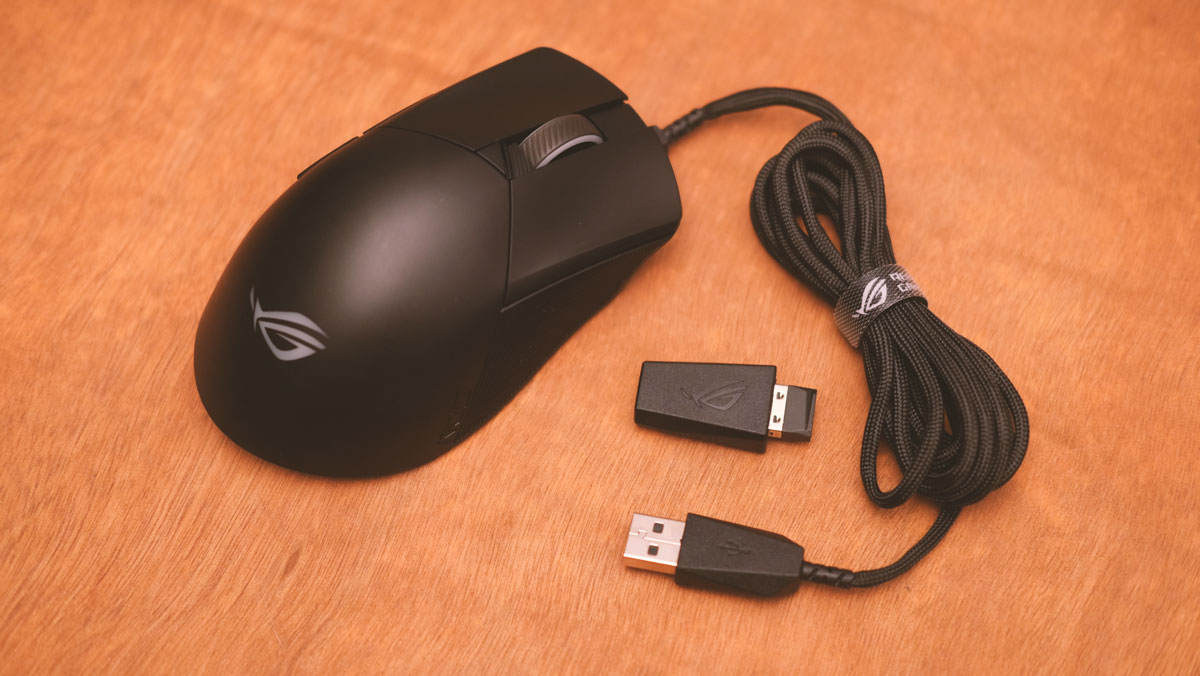 Overall, build for the most part is excellent. If ASUS could manage to minimize the horizontal wobbling action of the main buttons then it should be perfect.
Physical Layout, Functionality and Ergonomics
Now the ASUS ROG Gladuis III features a length of roughly 123mm and a grip area of 68mm at its widest. The highest point of the shell is at 44mm. This is a high back gaming mouse with an almost dead-center summit featuring a gradual rear-end curve.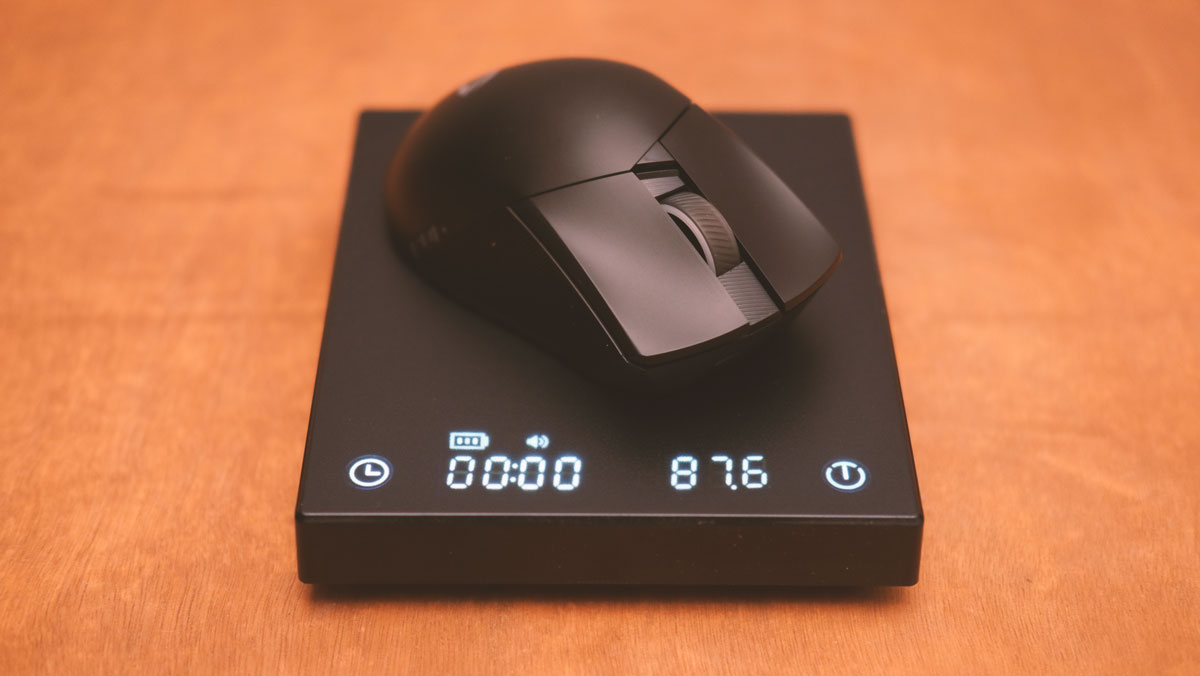 Weight is about 87.6 grams which is leaning towards the lighter side of optical gaming devices. The mouse is perfectly suitable for the three basic grip styles if you have medium to larger hands.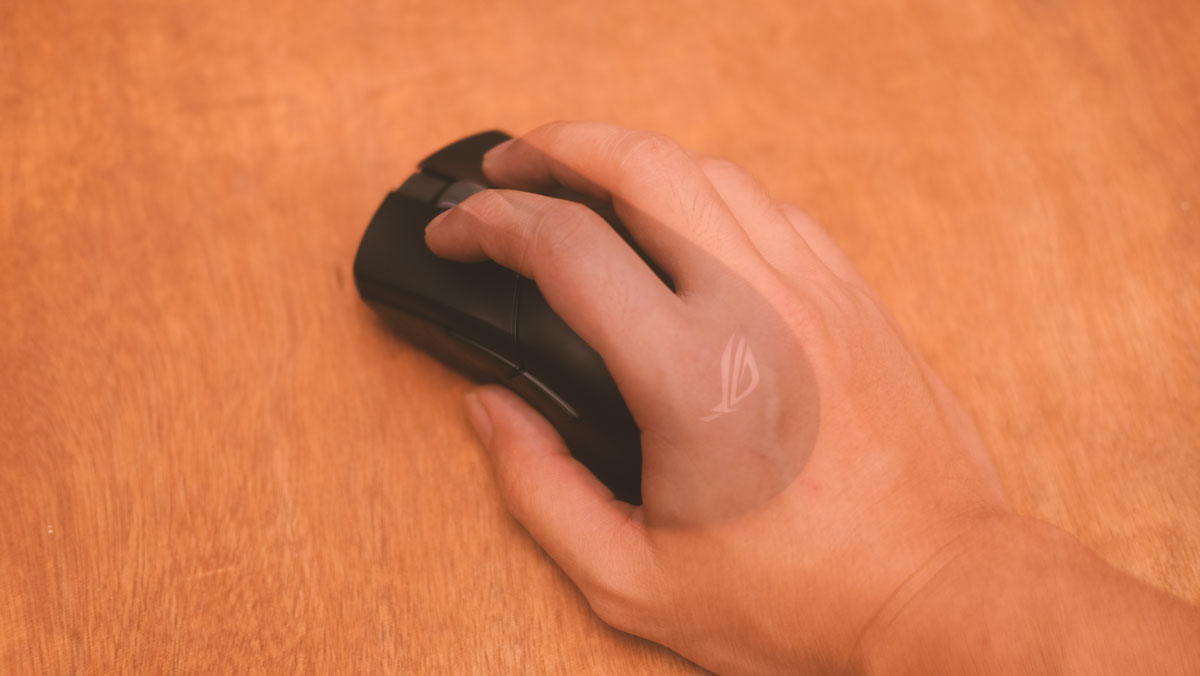 The mouse is also great for arm aiming and is planted enough for extended arm swipes. The weight is biased around the middle with a low center of gravity in-spite of the battery's higher placement within the lower shell.
Test Setup and Methodology
Testing a gaming mouse is not that difficult, but it is mostly subjective; similar to testing head gears in a sense. That said, no mouse is perfect and the verdict usually depends on personal preferences. With that in mind, to keep our testing methodology simple, replicable and free of extra variables, please note the following software and configurations used for the review.
Test Setup
Pointer Speed
6/11, EPP Disabled
Sensitivity
800 DPI
Polling Rate
1000Hz
Software
MouseTester V1.5.3
Surface
SteelSeries QcK, QcK XXL
Polling Rate
Polling Rate of the device is evaluated with the MouseTester V1.5.3. This is to check the average update rate performance of the mouse at 1000Hz if permitted.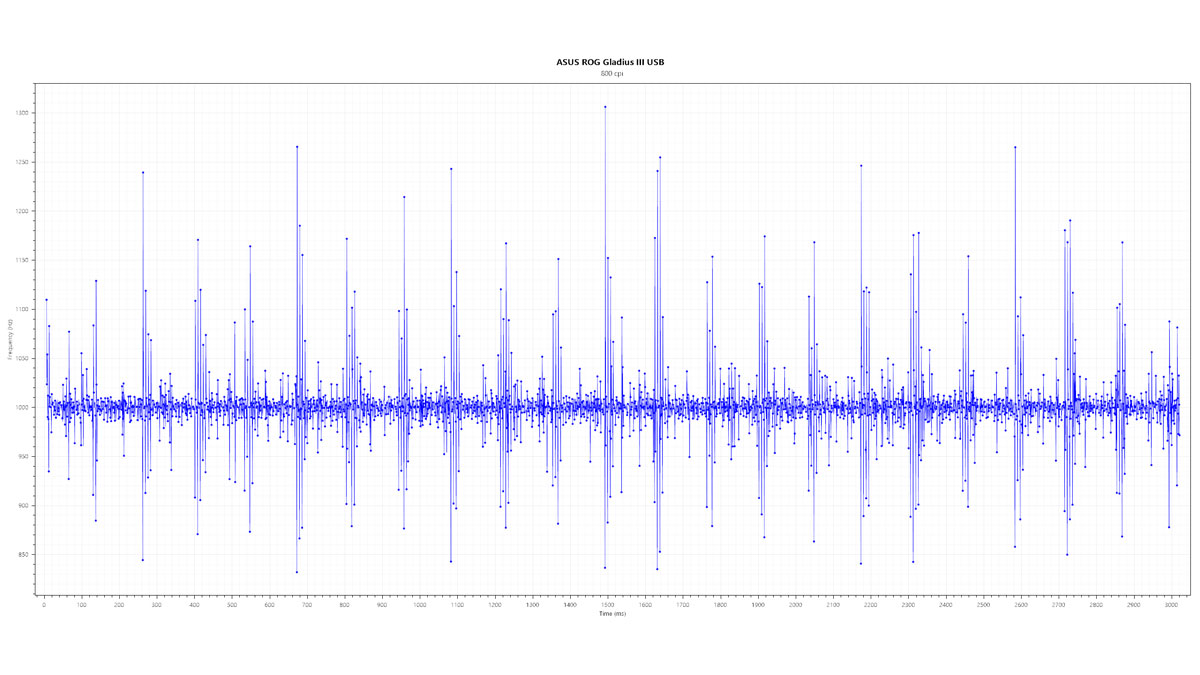 Polling performance is just average for both the wired and wireless modes. There's less jitter with wired but it doesn't matter that much anyway.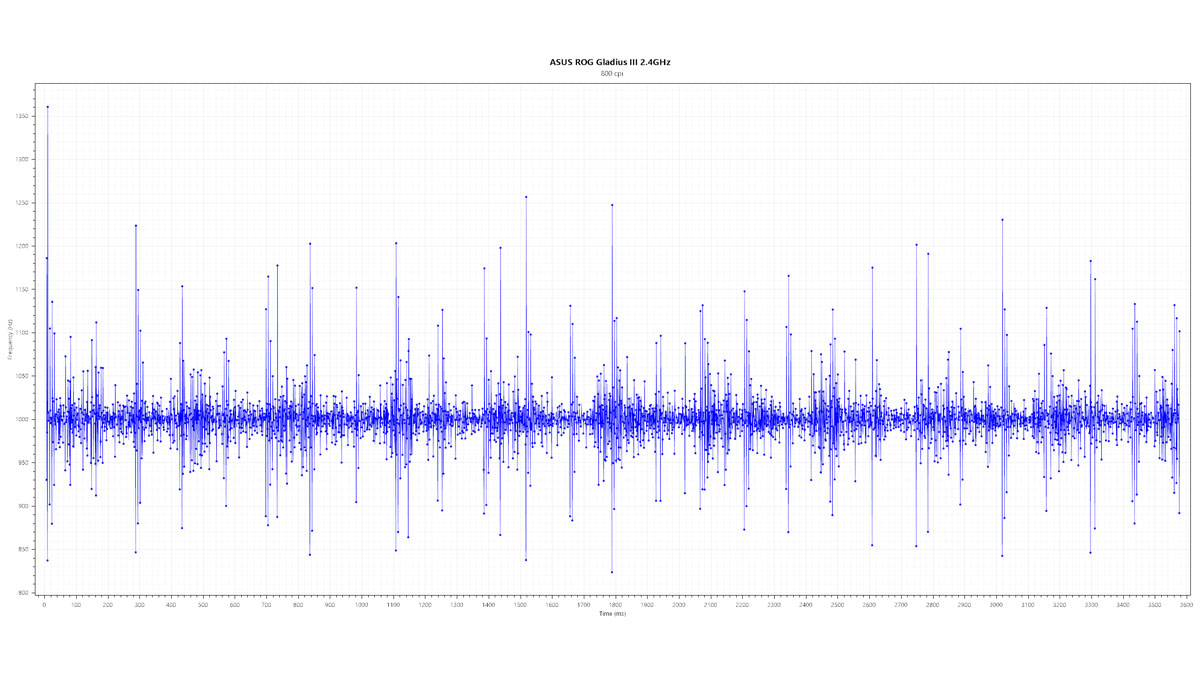 Tracking Speed
Tracking speed is also tested with the MouseTester software. Surface used here is the SteelSeries QcK XXL – a larger version of our favorite cloth pad.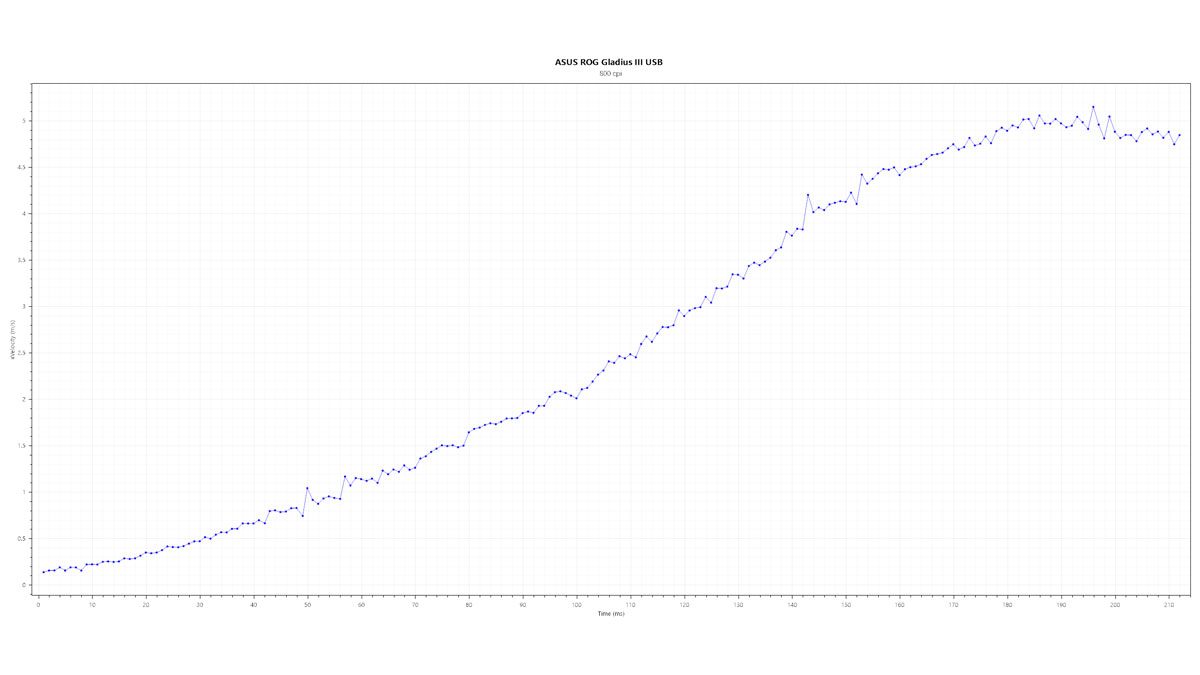 On average, I could get the Gladius III go way past 5m/s on both modes. Tracking doesn't appear to be majorly affected though with an almost linear curve towards the peak. I am limited by my capabilities so the mouse should suffice to provide consistent tracking at these speeds.
Tracking Performance
The sensor is also checked with the MouseTester. Our aim is to check out the sensor's X and Y axis performance.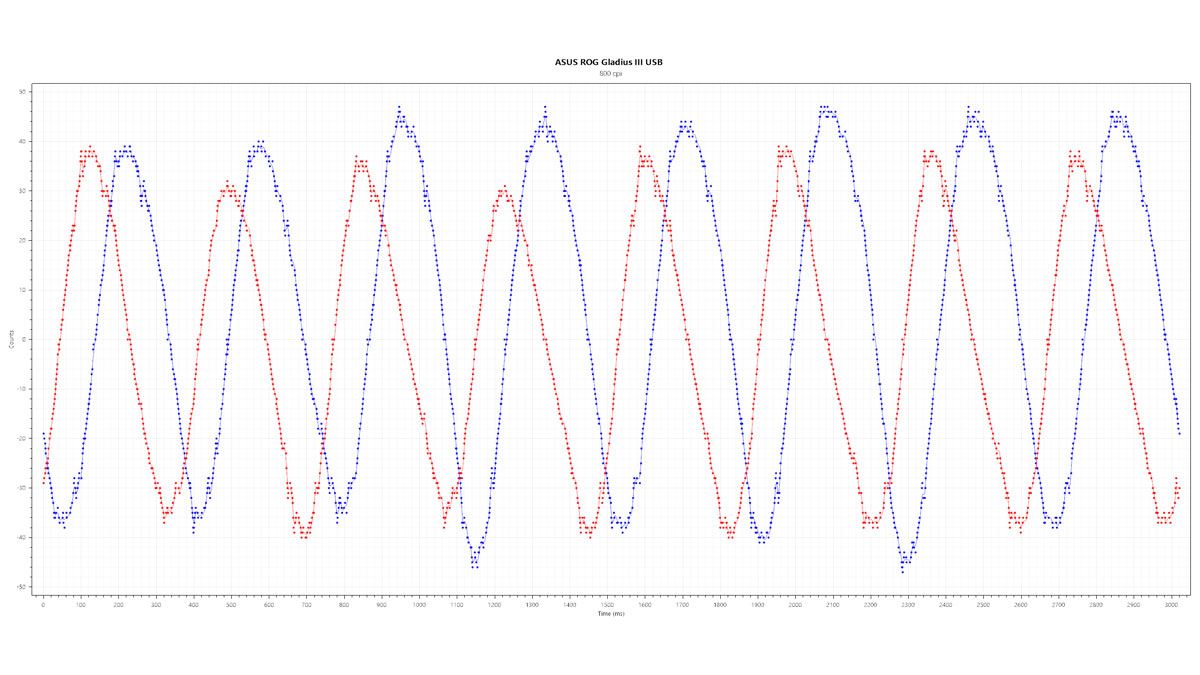 Now tracking performance at repetitive flicks shows jitters at the peak of the flick. This is about 2m/s – fastest I could repetitively. This is not bad but could be better for both modes.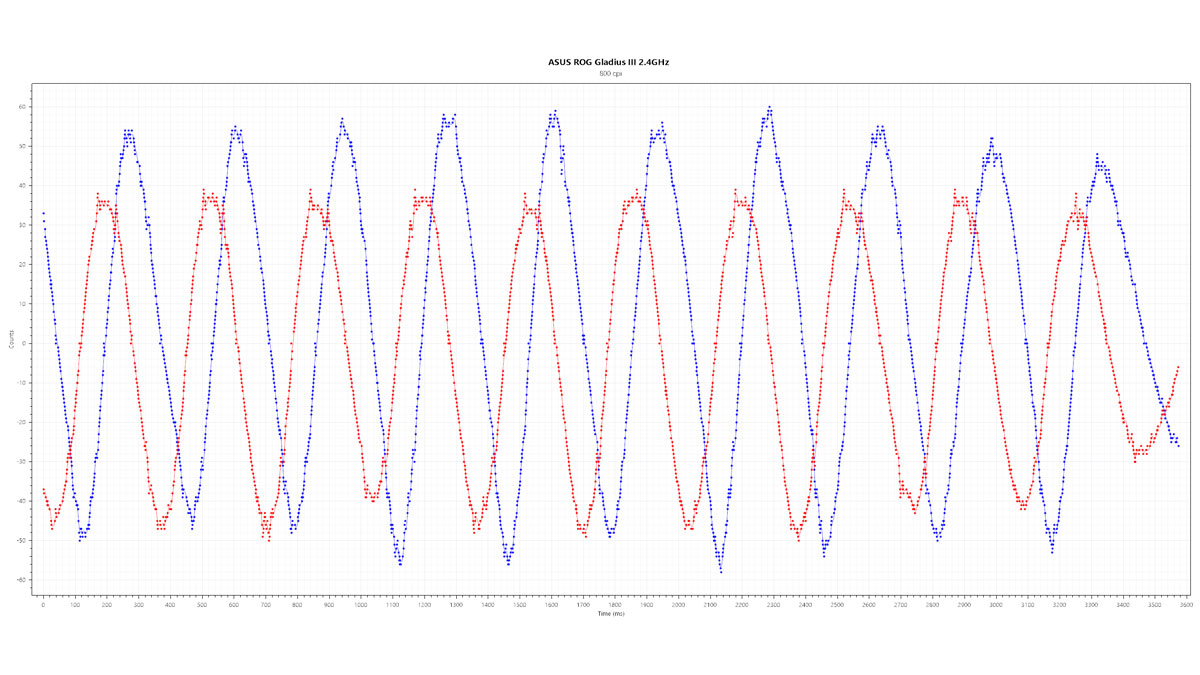 Software, Lighting and Special Features
ASUS offers the Armoury Crate for the Gladius III. This is a unifying software for their gears and components and comes with firmware update capabilities. I wouldn't go over this software as a whole since I've already beaten it up to date. Important features here includes macro recording, programable button capabilities, lighting effects and surface calibration.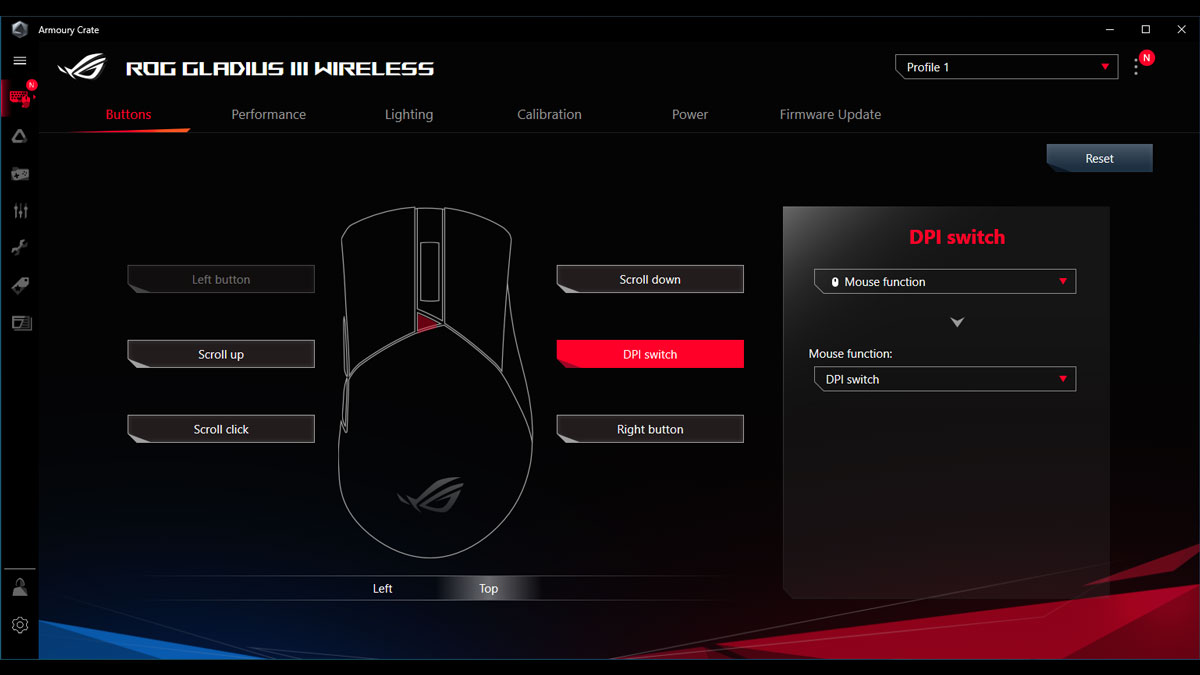 Lighting is still subtle just like the last generation Gladius but with an added glow to the laser engraved letterings found at the left side of the mouse.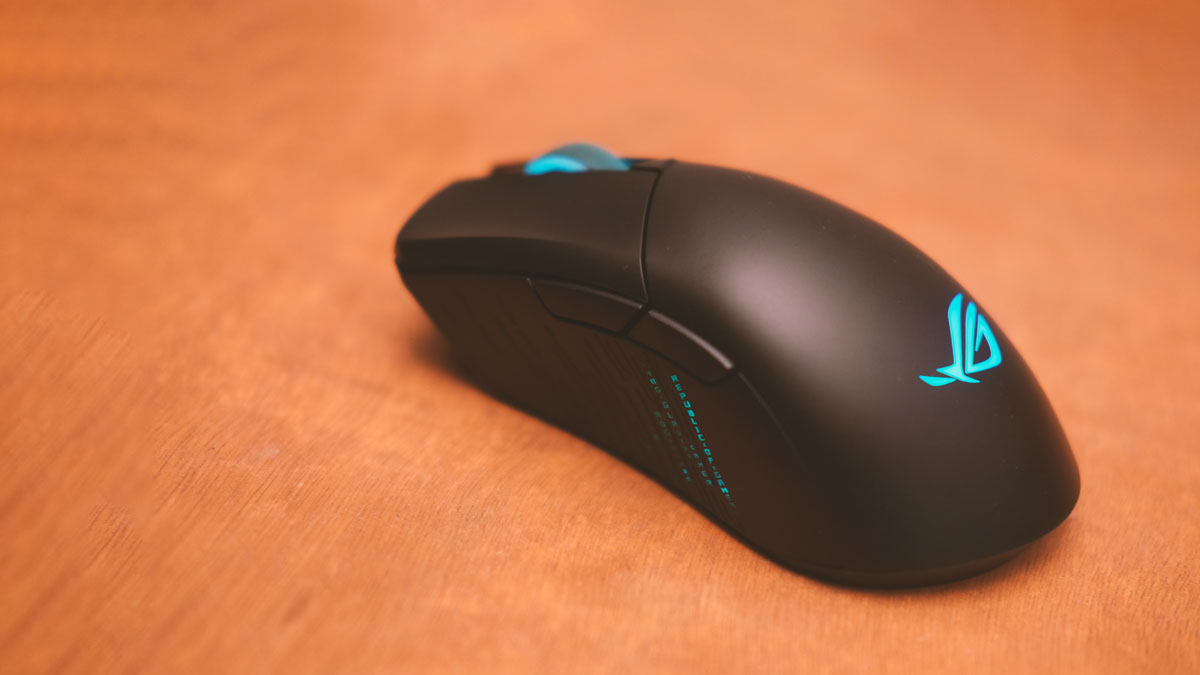 As a part of its feature, ASUS also updated the push fit socket design to accommodate their 3-prong in-house ROG switches. The new socket design could still use the 5-prong switches made by Omron so you are free to mix and match here. Serviceability has been improved too as there is another section housing the battery, the side Kaihl buttons and the scroll wheel. If ASUS managed to make the side buttons and scroll wheel hot-swappable too, I would be really happy.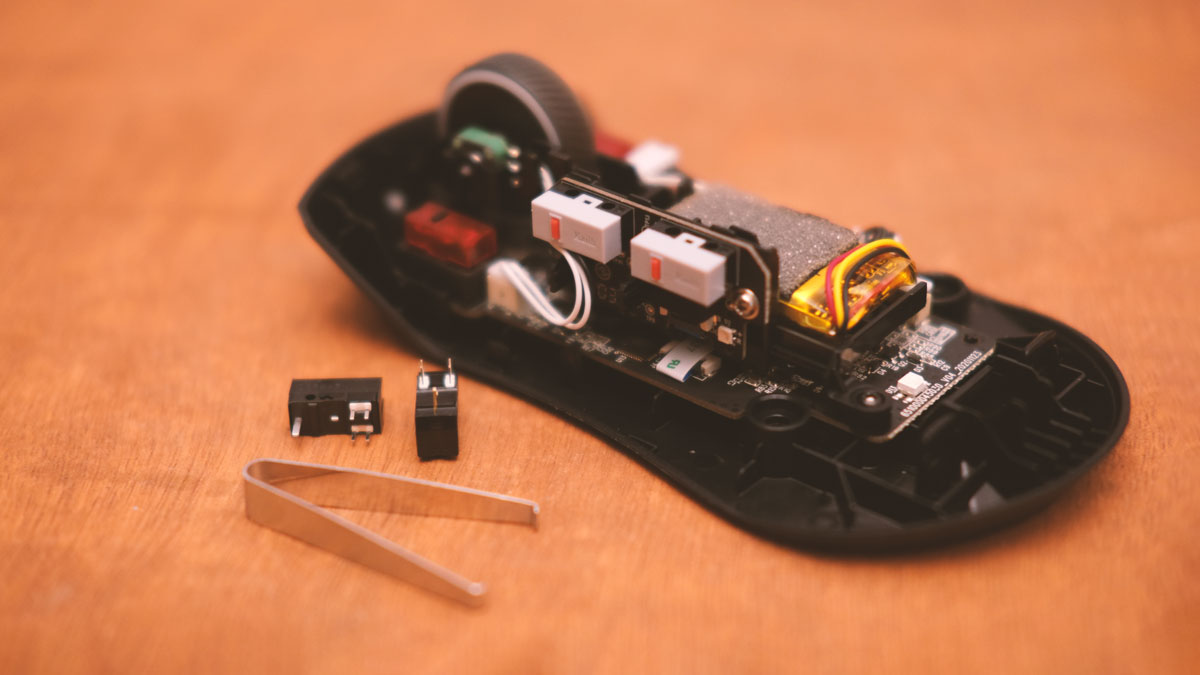 Battery life has been tested too. This thing could last for a week without charge. Granted, I always test wireless without RGB lighting.
Final Thoughts
Now on its third iteration, the ROG Gladius has been improved further, featuring a lighter shell design with an updated sensor and push fit socket design. That translates to an even more ergonomic mouse with the same yet loved overall shape of the outgoing model. Performance however is a step back compared to the Gladius II – least based on our tests even with the 2nd gen's peculiar polling rate performance.
Everything else is a step up though – including the aforementioned weight and shell re-design. ASUS even went to extra lengths of reducing the de-bounce delay foe better latency. A shame we couldn't test that yet without proper tools at hand.
Now it all boils down to this: If you want a better performing sensor over the minute upgrades, go with the Gladius II. But if everything else will suit you best, then I am happy to recommend the Gladius III all the way.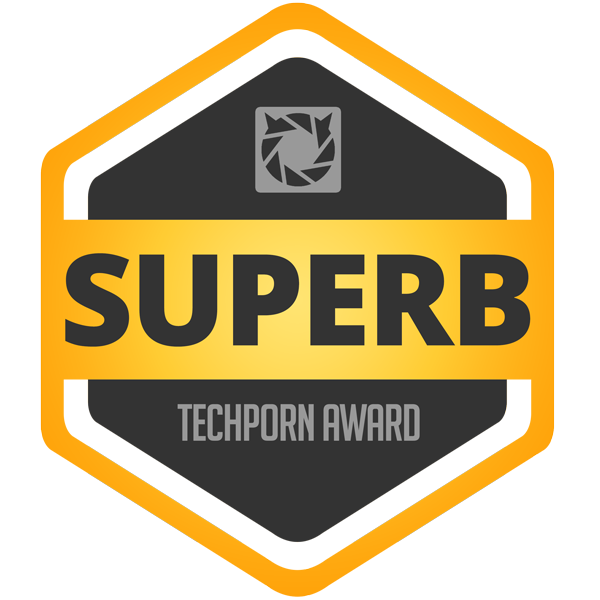 ASUS ROG Gladius III Wireless
Performance -

8/10

Build Quality -

9/10

Connectivity -

9/10

Ergonomics -

9/10

Features -

9/10
Summary
The ASUS ROG Gladius III Wireless is an upgrade to the Gladius II – with the exception of a lesser performing sensor. With that in mind, if a lighter non-ambidextrous wireless mouse is your priority, then this is the optical device to go with.
Pros
Excellent build quality
Ergonomics – for the medium and large handed gamers
Push-fit socket design allows for tinkering
Excellent bundle of accessories
Triple interface mode – up to 3 pair-up with BT
Excellent battery life – without RGB
Decent sensor – but could be better
Cons
Main button horizontal/side-to-side play