On this review, we are taking a look at the ASUS ROG Strix Evolve. A gaming mouse with versatility in mind; featuring hot swap-able top covers for a more natural fit.

The Strix Evolve also features 8 programmable buttons, supports macro and even profiling via the ROG Armoury software. RGB is also onboard with full support for ASUS' AURA featurette. Learn more from the official product page, or buy it at Amazon.
TECHNICAL SPECIFICATIONS:
| | |
| --- | --- |
| Size | Medium |
| Shape | Ambidextrous, hybrid |
| Buttons | 8, programmable |
| Scroll | Non-tilt, 24-step |
| Macro | Yes |
| Profile | Yes |
| Cable length | 1.8m |
| Switches | Omron |
| Weight | 105g, non-adjustable |
| Software | ROG Armoury |
| Interface | USB 2.0 |
| Lighting | RGB |
| Footing | Teflon |
The optical sensor is courtesy of Pixart. It's no 3360 but it should be still good nonetheless. This mouse has an onboard memory.
| | |
| --- | --- |
| Sensor | Pixart PMW-3330 |
| Sensor Type | Optical |
| Resolution | 7200 DPI |
| Speed | 150 IPS |
| Acceleration | 30G |
| Polling Rate | 1000Hz |
PACKAGING AND ACCESSORIES:
The ASUS ROG Strix Evolve comes in a usual premium packaging apt for ASUS' higher end devices. I appreciated the cutout, but ASUS could've done a better job by adding a mold for the wrist so that gamers could kinda' cop a feel the mouse a little easier.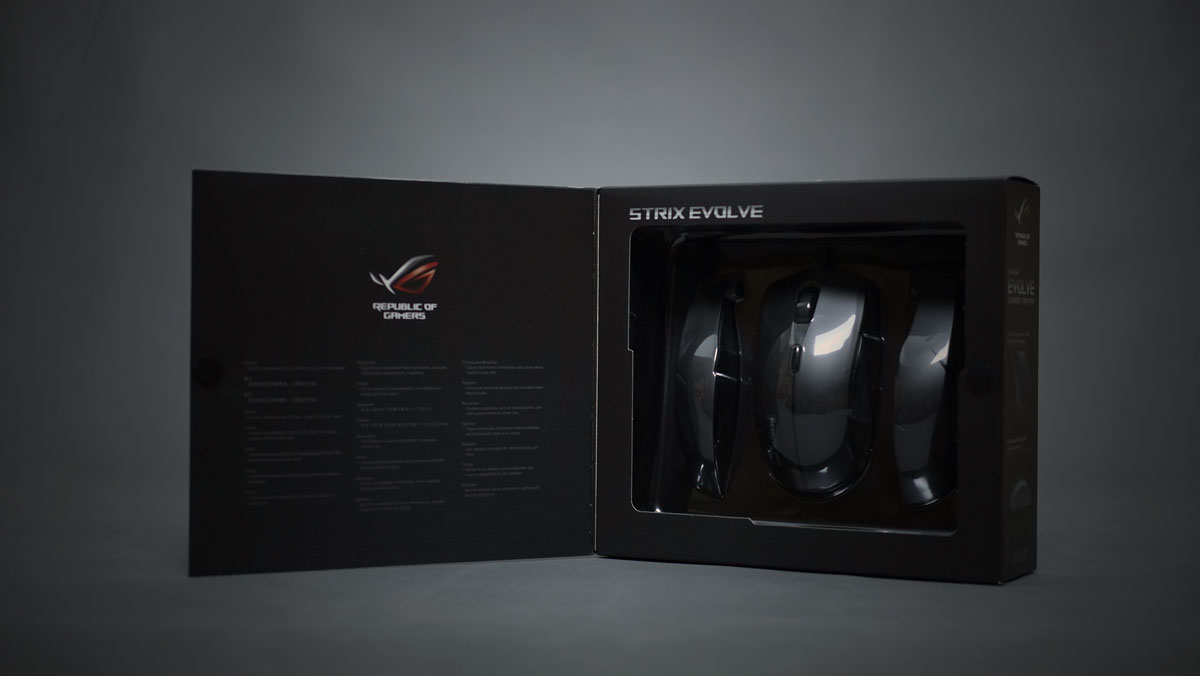 The mouse comes with two ROG decals, a user's guide and a pair of extra top covers which is the signature of the mouse. No extra mouse feet here though.
DESIGN, LAYOUT AND BUILD QUALITY:
The ASUS ROG Srtrix Evolve is a medium sized mouse featuring an ambidextrous design. Material wise, this is a well made device with a gun metal housing that screams with build quality – as expected from ASUS. Weight is at 105 grams which is a little far from my comfort zone. As for the lighting areas, they are actually located at the butt and the slit between the top covers.
The mouse has a total of 8 buttons with navigation keys at both sides. The DPI button is situated quite high, but it never posed any problem during fast paced situations. We also appreciated the rubberized scroll wheel but it rattles whenever you shake the mouse to oblivion so be warned.
With the default top covers, the ASUS ROG Strix Evolve features a lower profile, streamlined for finger and claw grip. This is my preferred setup out of the possible 4 combinations. This mouse has rubber grips for both sides.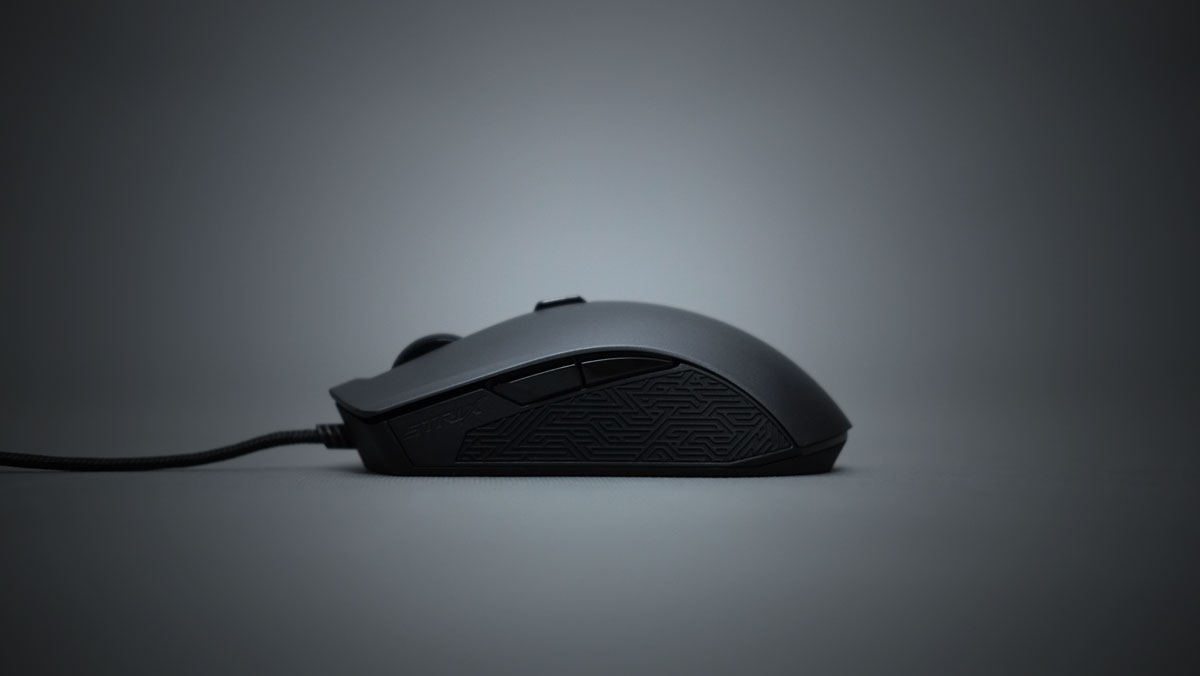 If claw and palm grip are more in-line with your play style, then the higher profile top covers should be your preference.
The 6 foot long cable is braided, has no ferrite bead but features a velcro strap to keep things tidy. It terminates at what appears to be a gold plated USB 2.0 plug.
The mouse feet are 4-part proprietary teflon skids. Notice that the Pixart PMW-3330 has a large sensor area. This should make it easier for gamers to clean the sensor should any debris fall into it. It's also deeper compared to others so the native LOD should be shallower.
Overall, the ROG Strix Evolve is a well built gaming mouse with clicky buttons and excellent design choices. First impressions seems to be great so far.
SOFTWARE:
To utilize the Strix Evolve to its fullest, you are required to download the ROG Armoury. It is a simple software with a clean UI so you'll never get drowsy with it. You can set 3 profiles here with accompanying button configurations, macros, DPI and other settings that could be saved via the onboard memory. There are only two DPI presets though which is I admit, a preset lower than my expectations.
The ROG Armoury allows you to set surface calibrations, adjust the polling rate and the lift off distance. I understand the addition of angle snapping, but button response and acceleration / deceleration are kinda over doing it.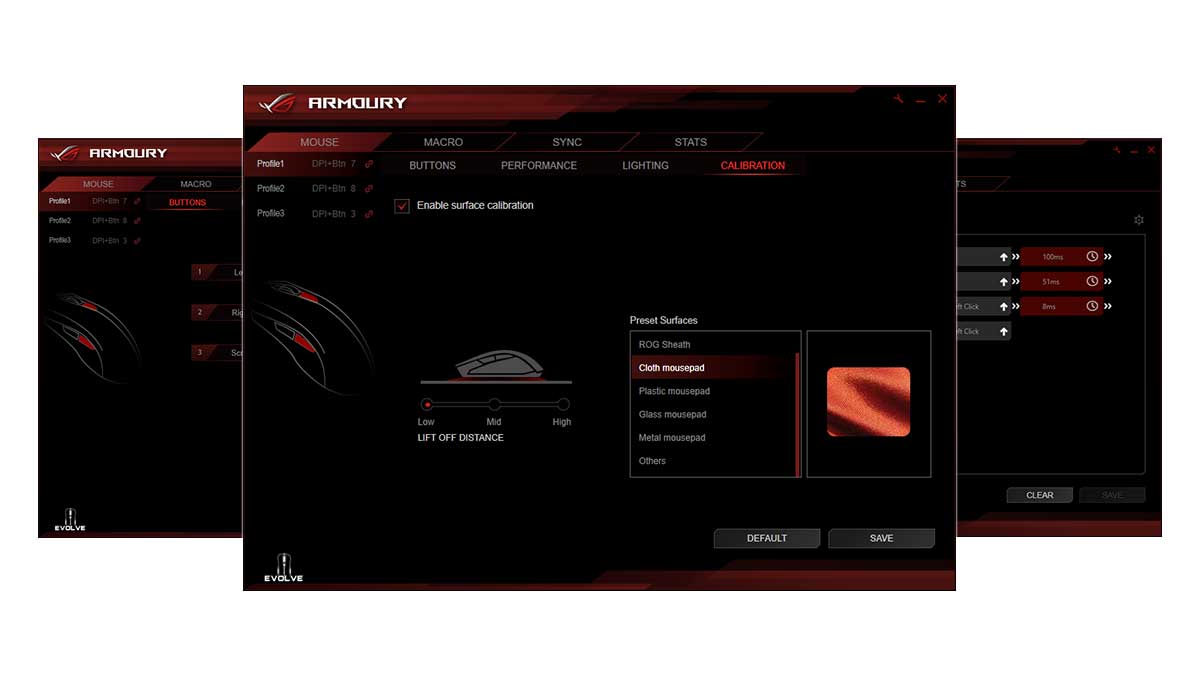 Macro recording is just easy with the ROG Armoury, enabling you to input your own macros and have them assigned to the buttons via the button's sub menu.
TEST SETUP AND METHODOLOGY:
Testing a gaming mouse is not that difficult, but it is mostly subjective; similar to testing head gears in a sense. That said, no mouse is perfect and the verdict usually depends on personal preferences. With that in mind, we are overhauling our testing methodology by following key pointers that should matter the most; that includes the sensor performance, the size, grip and comfort. To keep our test methodology simple and free of extra variables, please note the following softwares and configurations used below.
| | |
| --- | --- |
| GAMES | Overwatch, Battlefield 4, DOTA 2 |
| MOUSE POINTER SPEED | 6/11 (EPP turned off) |
| REGISTRY HOTFIX | MarkC Windows Mouse Acceleration Fix (If required) |
| DPI/CPI LEVELS | 800/1600/3200  (If possible) |
| POLLING RATE | 1000 Hz (If possible) |
| SURFACE | SteelSeries QcK Mini |
| SOFTWARES | MouseTester V1.5 (dobragab) + Key Response Time |
DPI ACCURACY:
The accuracy of DPI levels are tested with the CPI measurement tool built within the MouseTester V1.5. We rigged the mouse on a camera slider to check the sensor's accuracy at 800, 1600 and 3200 DPI.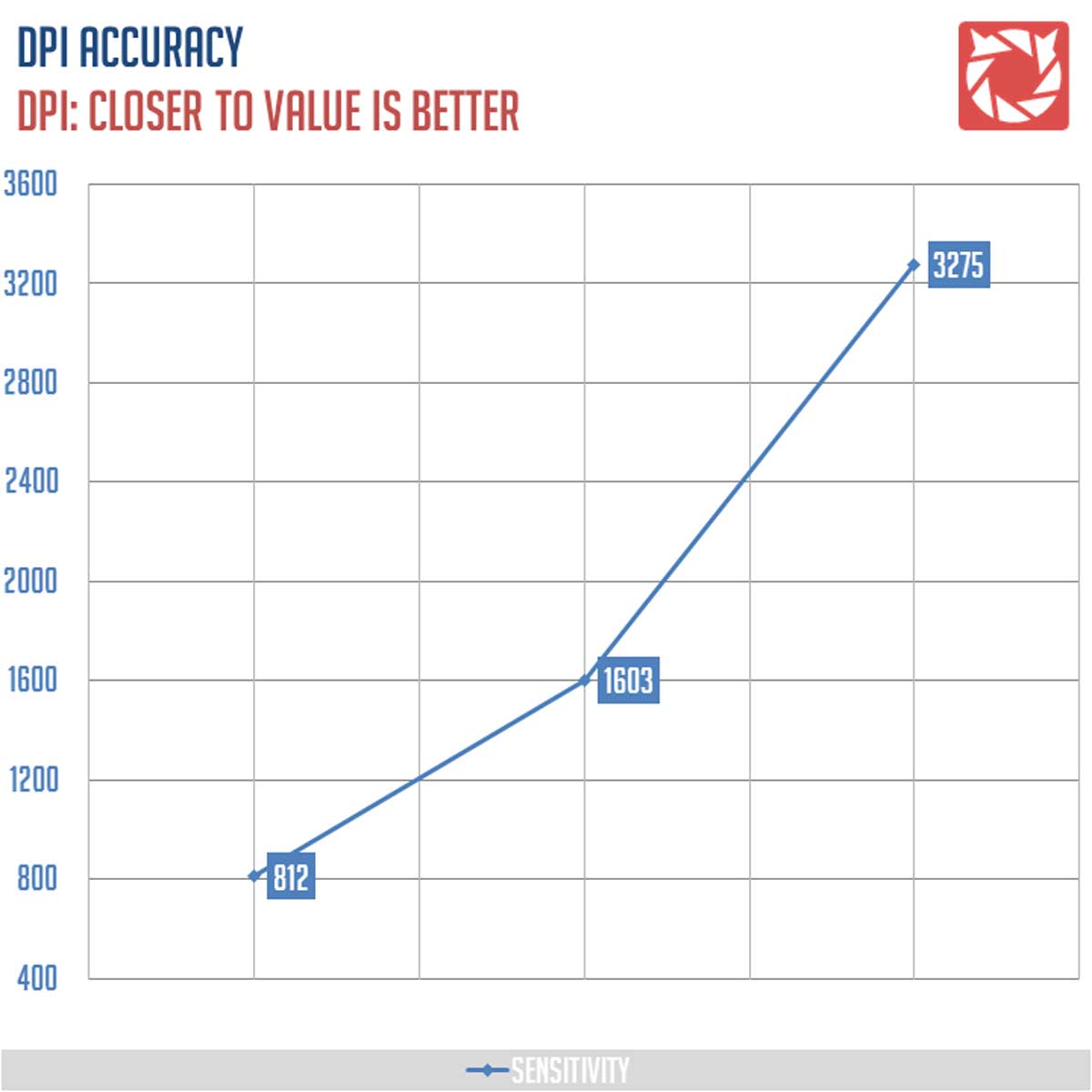 The DPI results from the 3 selected levels are off by 1.5%, 0.1% and 2.3% respectively. Nothing deadly here as they are within my expected error margins. Still at 3200, the Evolve could be more accurate.
TRACKING PERFORMANCE:
Mouse tracking performance is evaluated with the MouseTester V1.5 with a DPI level of 800 DPI. Our aim is to check out the sensor's performance; and to look for reporting inconsistencies. That includes inconsistencies from sensor ripple or jitter.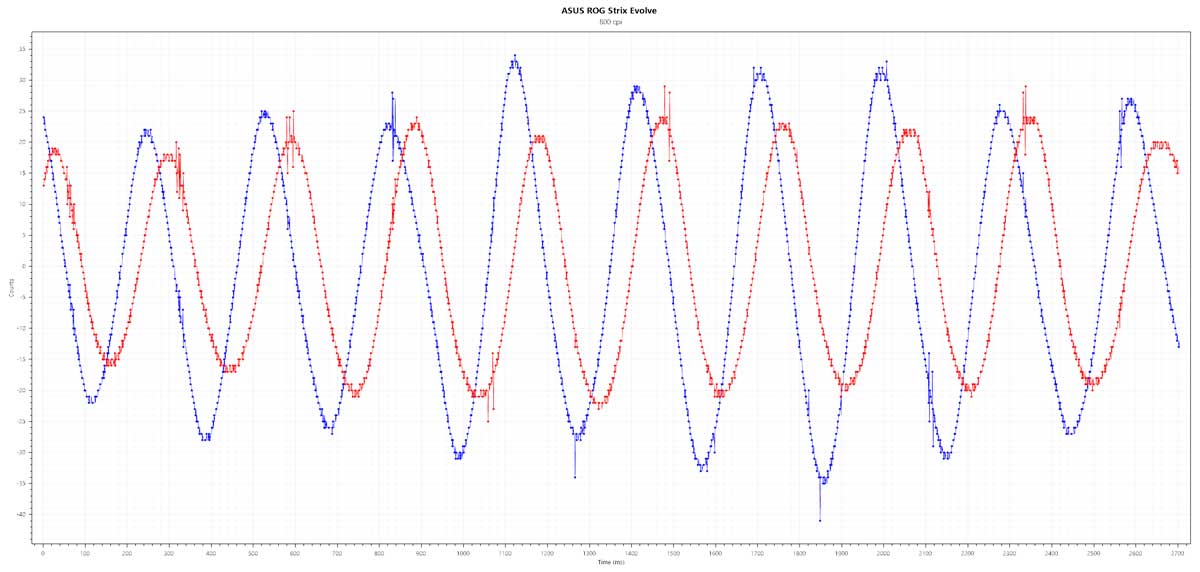 Tracking performance is generally good at the tested DPI level, but I must say I wasn't expecting these kinds of inconsistencies when it comes to the report counts. Sometimes, we'd get jumps to the counts, while at almost the same time we'd also get some dips during maneuvers. Sways like these in report count doesn't necessary mean that the sensor is flawed.
POLLING RATE CONSISTENCY:
The Polling Rate of the device is evaluated with the MouseTester V1.5 at the 800 DPI level. This is to check the consistency of the device's update rate at 1000Hz.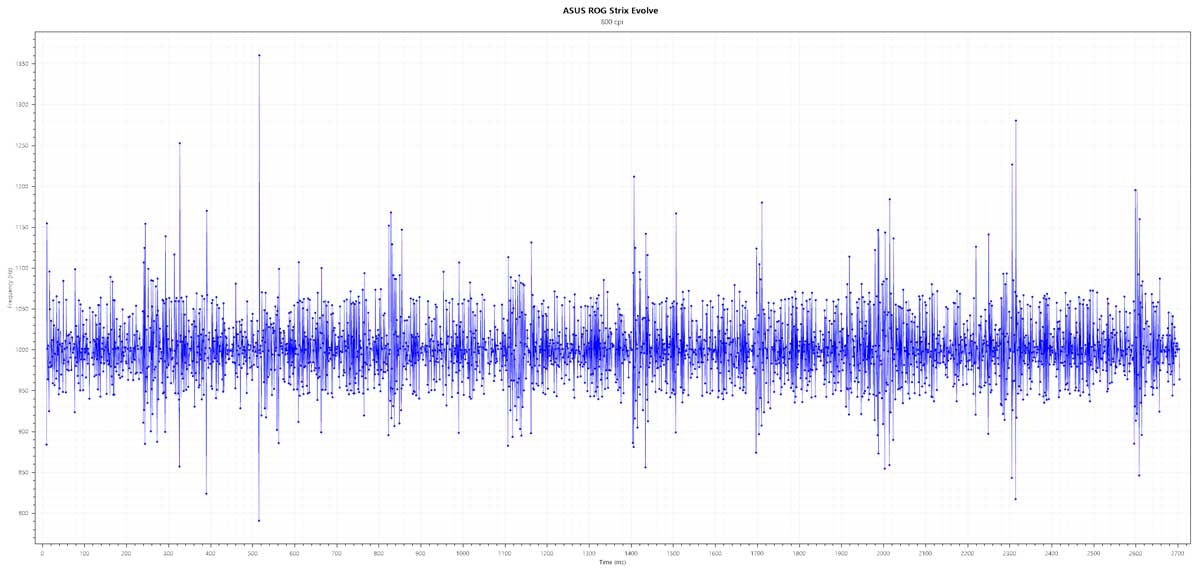 Polling rate is kinda erratic, comparable to a game with miserable frame pacing. The RAKK Yano had better output so I'm quite unsatisfied with the results. This is actually affecting the report count on our tracking benchmark. Please fix it, ASUS.
PREDICTION, LOD, RATTLE AND ACCELERATION:
Angle snapping, lift off distance, sensor rattle and acceleration are also evaluated. The angle snapping is checked with MS Paint, while lift off distance levels are checked with ~1.2mm optical discs. Acceleration on the other hand is tested with Overwatch at 800 DPI. Sensor rattle is then checked with an electrical tape.
| | |
| --- | --- |
| ANGLE SNAPPING | None if disabled |
| LIFT OFF DISTANCE | Minimum of >1mm |
| SENSOR RATTLE | None |
| ACCELERATION | None if disabled |
Lift off distance at minimum is less than a 1mm, which is excellent. There are no angle snapping, sensor rattle and acceleration so the mouse is good to go as far as these tests goes.
SOUND PROFILE:
No two or three mice sounds the same, even if they feature the same switches. This is due to factors including the switch itself, the housing and the overall construct of the mouse. Listen to the profile below to get an idea of the mouse's sound signature.
SIZE, GRIP AND COMFORT:
Your grip style and hand size will heavily influence what mouse you should buy. So it's better to know both first hand. For an instance, my hands measures at 7 inches x 3.5 inches (length x width). This puts my hands on the small to medium size category. My style is finger-tip grip, so I would generally look for a mouse with a small to medium foot print.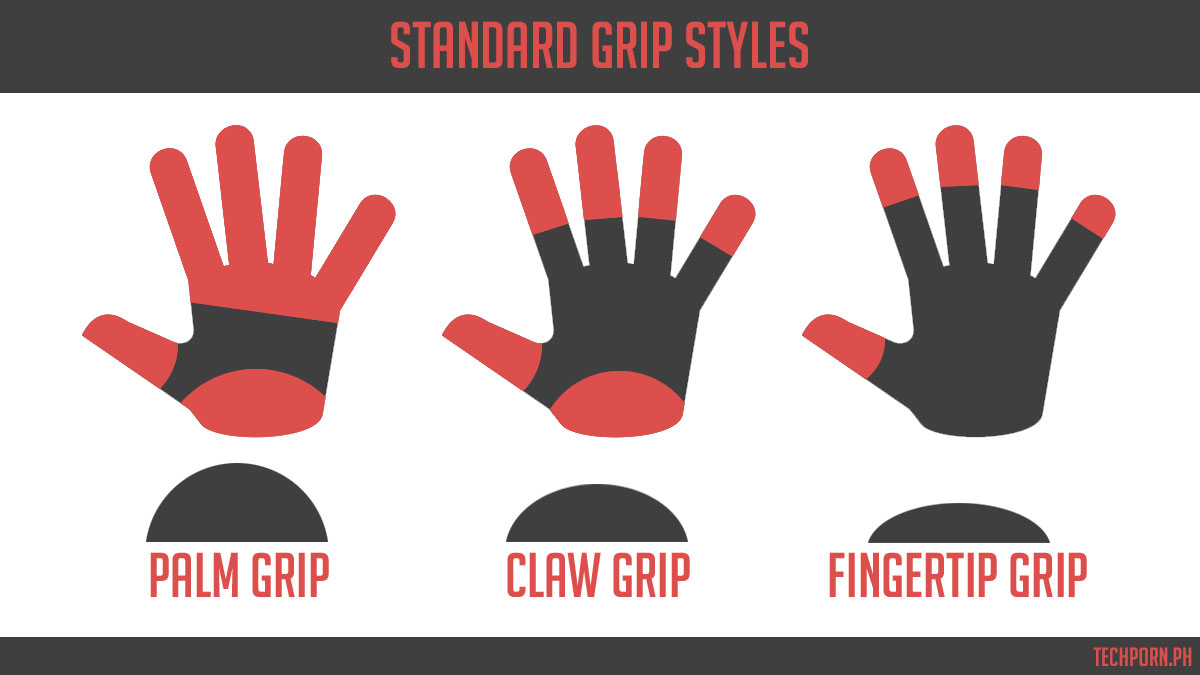 2:1 is considered the best length:width ratio you need to look out for when buying a mouse. Basically, if you want a generally comfortable mouse with a good grip, you'd want something near those measurements.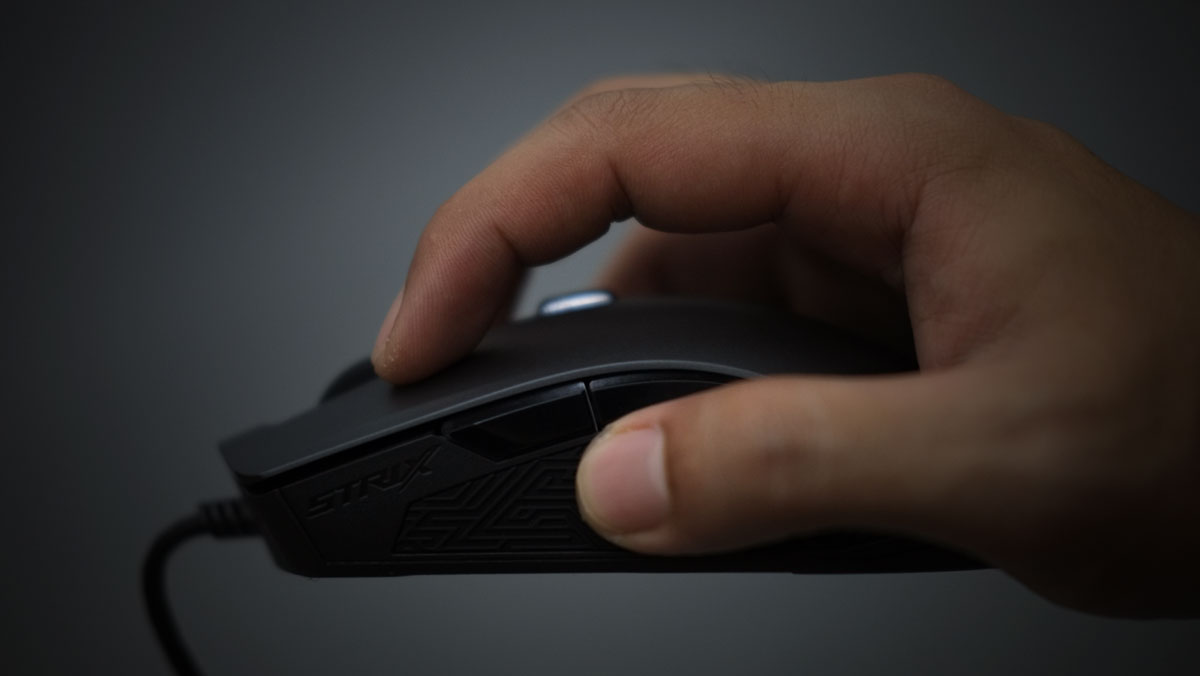 The ASUS ROG Strix Evolve features a 2.25 : 1.1 ratio, with a length at roughly 4.5 inches and a grip area at around 2.2 inches base-to-base. Shape is almost perfect for my hand size but I prefer a lighter frame. This is still a versatile mouse that could be used for finger-tip, claw and palm grip.
Gliding performance is excellent with our cloth pad, while grip is great. Nothing to worry here, so let us carry on with the verdict.
WRAPPING IT UP:
The ASUS ROG Strix Evolve is one versatile mouse, with features revolving around its ability to have its form adjusted according to the user's demands. It is a simple feature, but a powerful one at that – enabling you to mix and match styles to better suite your needs.
Sensor performance is typically around the Pixart PMW-3330's status; which is basically saying that the mouse is a mid-range contender when its comes to performance. What irks me is the polling performance so it has to be improved on the next firmware update.
The RGB lighting of this mouse is sublime. Not really an in your face design so it's all good to me. While it doesn't really bother me, the rattling mouse wheel could be a deciding factor to some. I'm not sure if this is due to the design of the ALPS encoder built within the wheel but oh well – nothing's perfect.
Over all, the ASUS ROG Strix Evolve is one versatile gaming mouse. Valued at $69.99, this mouse isn't exactly the patron saint of the value oriented stuffs but I assure you it is a versatile mouse that is fit for about almost everyone. It doesn't discriminate.
GOOD TRACKING PERFORMANCE
EXCELLENT BUILD QUALITY
EXCELLENT HYBRID DESIGN
GREAT GRIP AND COMFORT
AMBIENT RGB LIGHTING 

REPORT RATE PERFORMANCE
RATTLING WHEEL (IRKSOME)
ASUS ROG Strix Evolve Gaming Mouse
PERFORMANCE -

7/10

BUILD QUALITY -

9/10

FEATURES -

8/10

AESTHETICS -

9/10

VALUE -

7/10
Summary
Over all, the ASUS ROG Strix Evolve is one versatile gaming mouse. Valued at $69.99, this mouse isn't exactly the patron saint of the value oriented stuffs but I assure you it is a versatile mouse that is fit for almost everyone.