Fantech sent us the Sonata MH90 for a much needed review. This is a ₱2,000 PHP wired gaming headset, featuring a pair of 53mm dynamic driver in a closed circumaural design.
This is the first Fantech audio solution that we actually received from the company for measurements so I am excited to check it out – especially with its price point considered.
Disclosure: Fantech, in coordination with Gosu Gaming Gears sent this unit as a seeding sample for the purpose of this review. The company did not ask me to say anything particular about it. All thoughts and opinion are of course my own.
Technical Specifications
Headphone
Design
Circumaural, Closed
Transducer
Dynamic, 55 mm
Frequency Response
20-20000 Hz
Impedance
32 Ω
Sensitivity
110 dB
Connectivity
3.5 mm TRRS
Microphone
Transducer
Dynamic
Polar Pattern
Omni-directional
Frequency Response
100-10000 Hz
Sensitivity
-42 dB
Dimensions
Length
—
Width
—
Height
—
Weight
266 g, without cables
Packaging and Accessories
I expected something really barebones with the Sonata MH90. What we got instead is a rather nice packaging for its designated price point.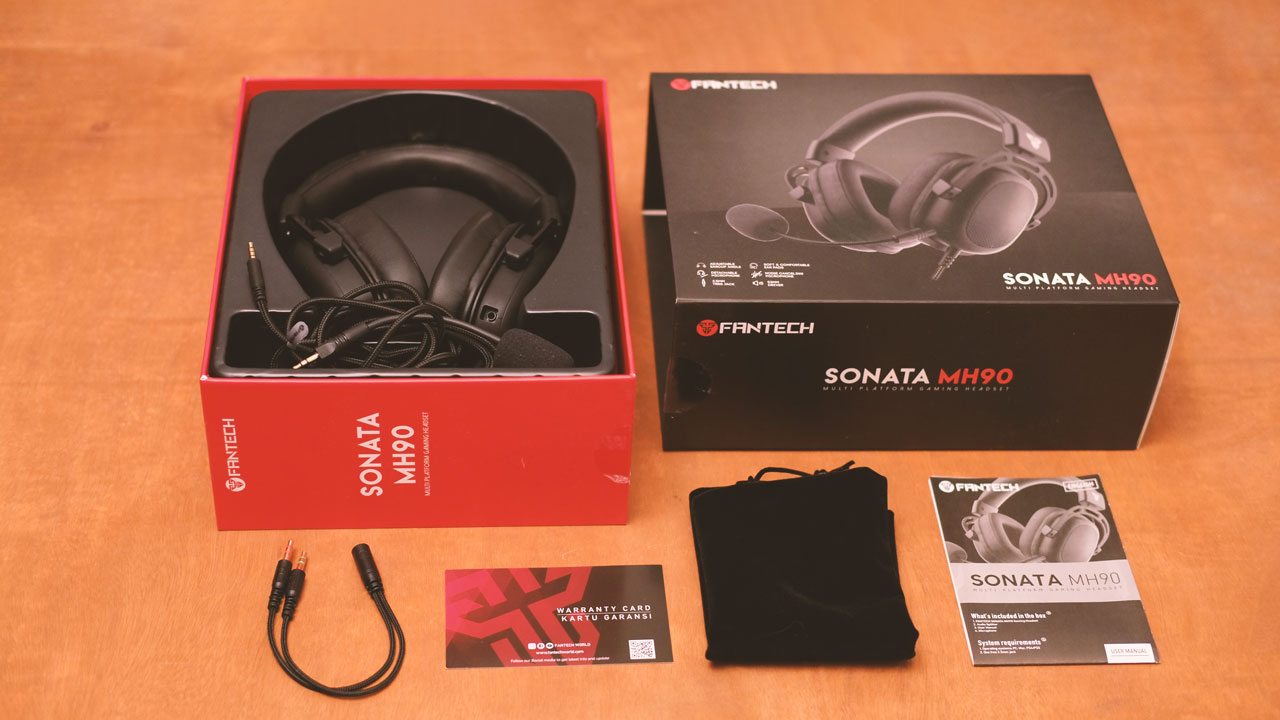 The product should come with the following items inside:
Fantech Sonata MH90
PC Audio Splitter Cable
User Manual
Detachable Microphone
Carrying Bag
Warranty card
Design, Build and Connectivity
The Fantech Sonata MH90 is a familiar looking gaming headset, showing similarities with competing products based on proven design elements. Imitation is the sincerest form of flattery they say and it really shows even with the build quality – relative to its price. The headset could really take a beating with those aluminum yolks considered. And no, this is not an open-back headset. The mesh is just there for decoration.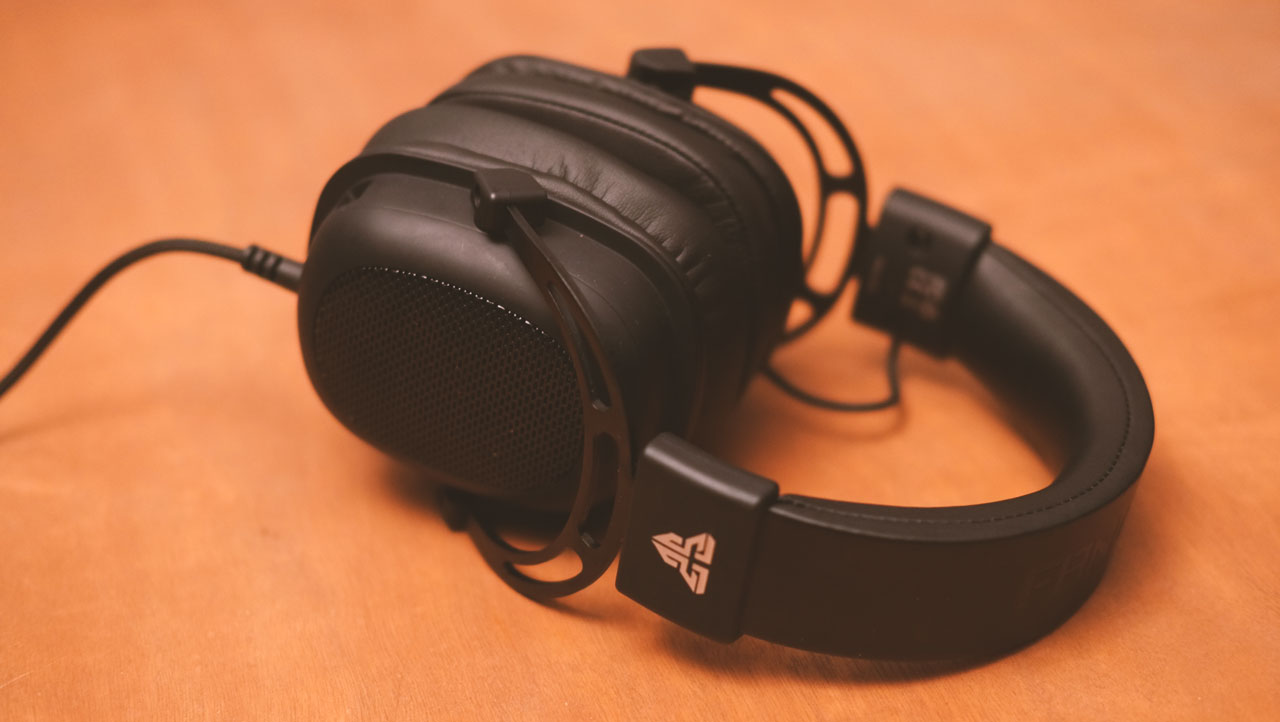 The Sonata MH90 comes with a soft headband and pleather pads. Contrary to the specifications, the pads do not come with memory foam inside due to the viscoelasticity or lack thereof. The pads are of course swappable and replacements are always available via Fantech and their partner retailers.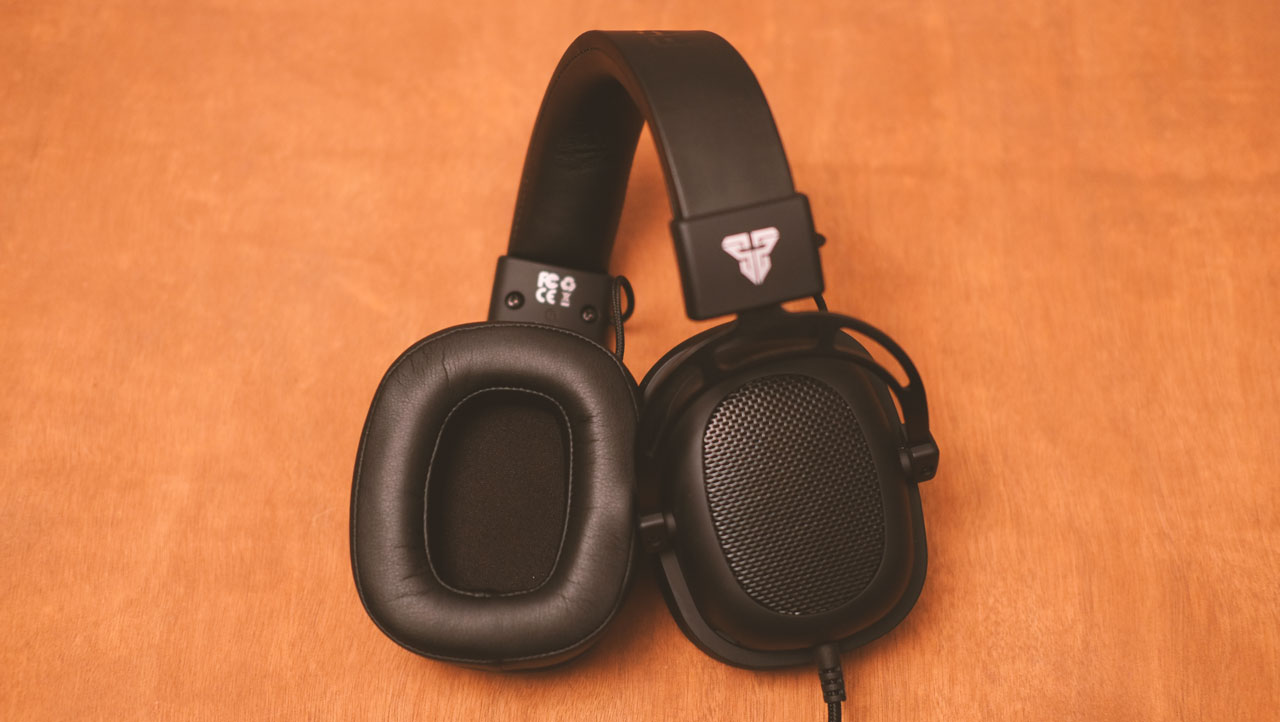 Connectivity wise, the Fantech Sonata MH90 comes with a braided cable complete with an integrated potentiometer and a toggle switch for the mic. This cable terminates in a 3.5 mm TRRS jack with an included adapter for separate 3.5mm mic in and stereo out. That means it is compatible with phones and consoles that supports such termination. Like with many budget oriented braided devices, this one kinks so bad therefor it kinda sucks on a personal level.
Overall build quality is good. Could be better, yes, but I'm not going to complain much. This is a budget oriented gaming headset after all. No squeaks and creaks here neither which is a nice contrast over the last gaming headset I've tested.
Ergonomics
The Fantech Sonata MH90 is a light headset, weighing in at around 265 grams with the microphone attached. This, together with a relatively light and well distributed ~420 gram clamp force, makes it a comfortable headset to be worn. For your reference, my head's circumference measures at around 56 cm so your comfort may vary.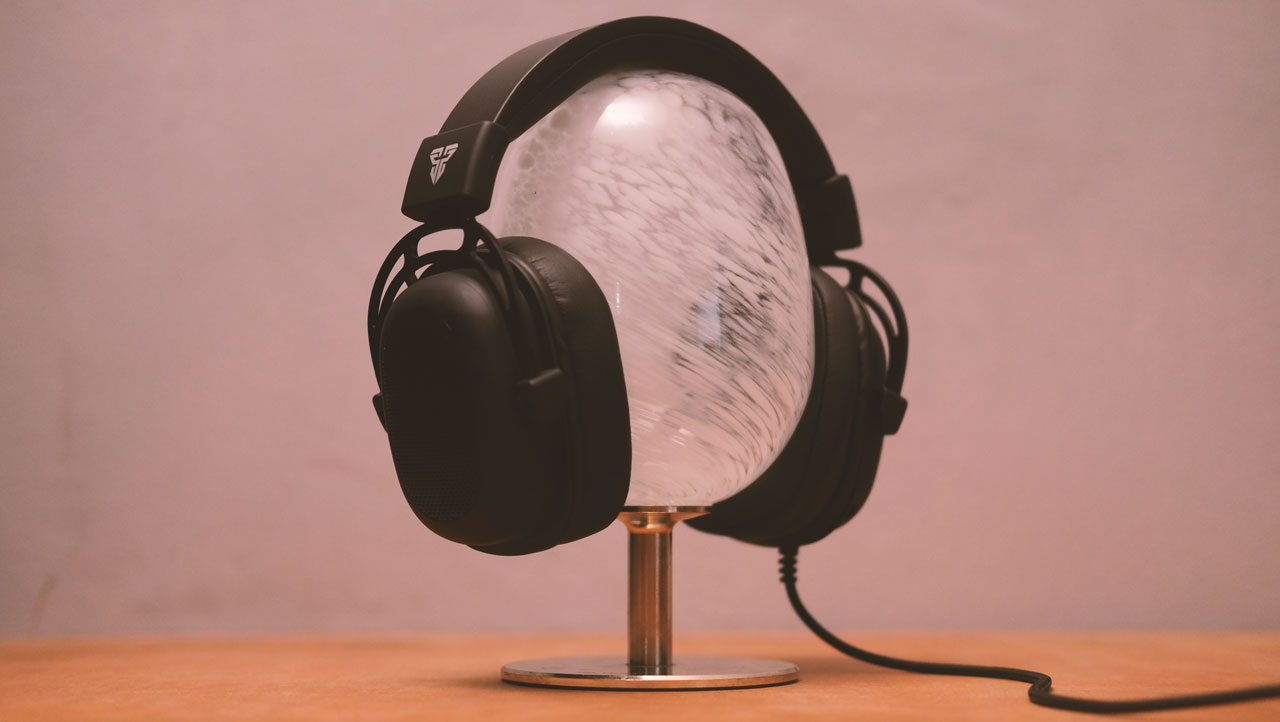 Considering that it comes with pleather pads and is not an open-back headset, the Sonata MH90 comes with decent ventilation. Actually nice for longer, sweat inducing gaming sessions.
Test Setup and Methodology
Our test setup relies on the measurements taken from Room EQ Wizard paired with MiniDSP EARS headphone test fixture. Audio chain has been made simple with the Topping DX7 Pro and Topping A90 for balanced and single-ended devices. It is important to note that we are testing the review sample after burn-in, with at least 24-hours of uptime. This is done so to negate the FOTB (fresh out the box) state of the DUT (device under test), yielding better benchmarking consistency.
Test Setup
Audio Chain
Topping DX7 Pro -> Topping A90 -> DUT
Test Fixture
MiniDSP EARS
Sampling Rate
24-bit, 48KHz (PCM)
Software
Room EQ Wizard
Due to a number of factors – including the test fixture and its limitations, the measurements obtained here are not meant to be compared from various results you may find online.
Frequency Response vs Target
Sound Pressure Level is measured in Decibels (dB SPL). The test aims to check the frequency response and its adherence to the Harman inspired target curve from MiniDSP.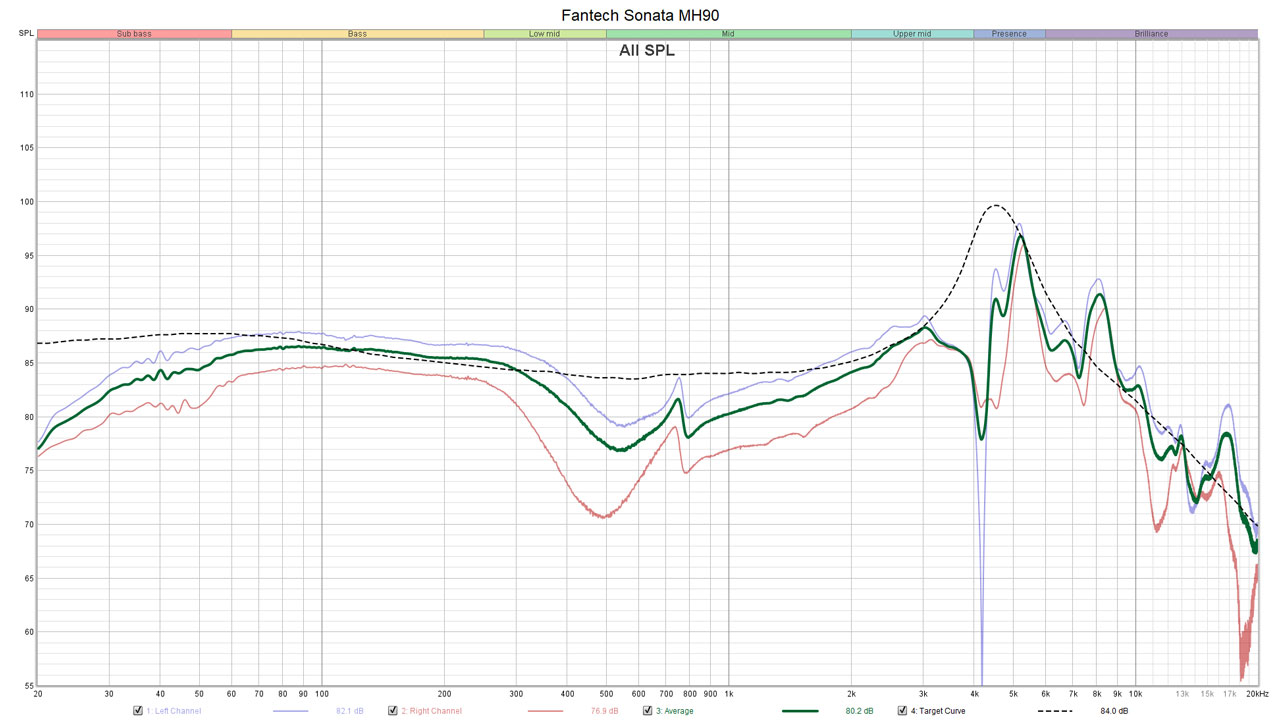 The Fantech Sonata MH90 comes with a far from neutral frequency response; featuring prominent shelves, dips, trenches (phase cancellation?) and peaks across the audible range. This to me strikes as a somewhat intense kind of a balanced sound signature due to its boosted bass, shouty upper mids and accentuated top-end if normalized to 84 dB @ 1 kHz. It's not strikingly good tonality speaking, but relative to its designated price point, it is an engaging and still forgiving set of cans – sans the peaks and the abysmal channel matching.
Bass: Extends into the sub-bass region with a gentle slope and with a decent sense of punch – a courtesy of the bass shelf that extends into the lower mids. I find this whole region really engaging which is undoubtedly the Sonata's strongest frequency range.
Mids: I thought this would be muddy since the bass extends into the lower mids. The dip here possibly helped to mitigate the issue but at the expense of a lesser vocal weight and definition. Upper mids on the other hand is a bit too bright for my taste while also dipping towards the presence area. Another issue here is the audible ringing around 700 to 800 Hz. Could be the reason why the frequency response around that area looks weird – or vice versa.
Treble: Starts with a -13 dB trench in the presence area that made percussion instruments sound like they lack the necessary finesse. This is most likely due to phase cancellation. The sudden rise between 5 and 6 kHz also made it a sibilant headset while the peak between 8 and 9 kHz gave it a piercing presentation. This is the worst range for me personally.
Channel matching is not this gaming headset's strong point. At this price, I expected such but not this much of a difference. Fantech could really use a better quality assurance.
Total Harmonic Distortion
Distortion is measured in Percentage (%). The test aims to check the difference between the fundamental signal and the harmonic distortion.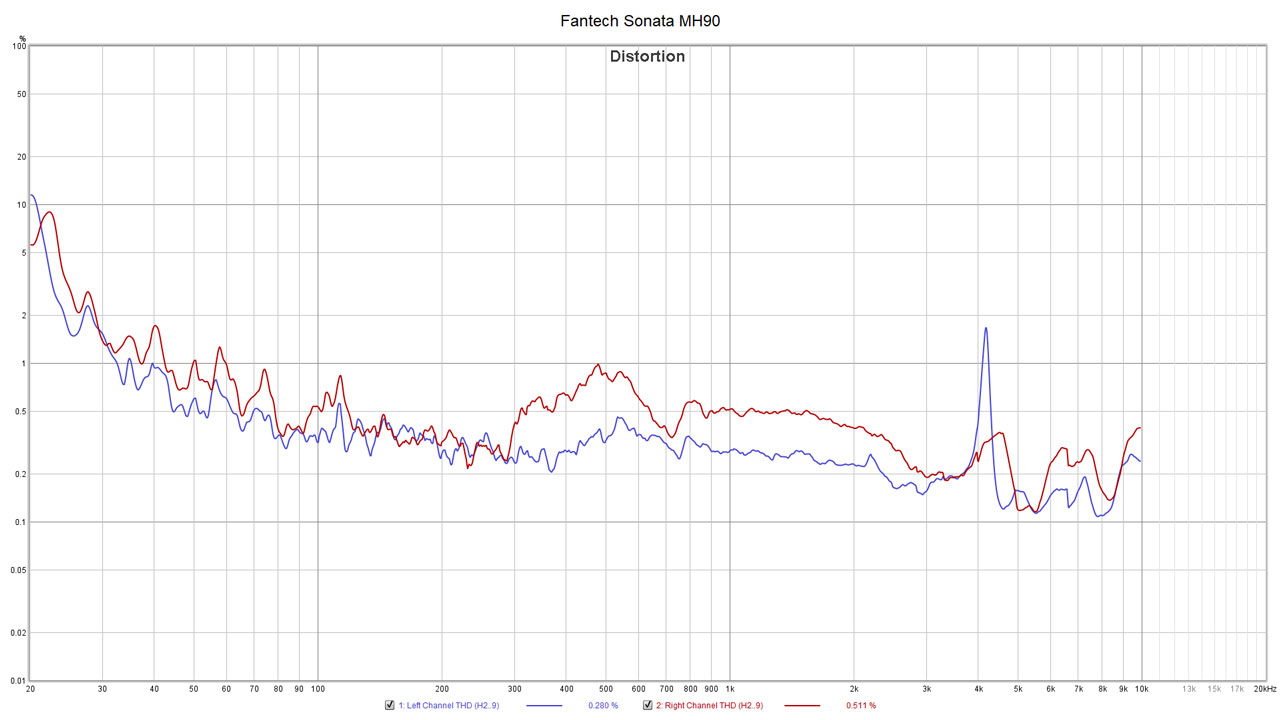 THD at 1 kHz is below my headroom for distortion. What is not though is the sudden rise between 4KHz and 5KHz. This is a known problem area on my test fixture but this could also mean there's an issue with the headset.
Group Delay
Delay is measured in Milliseconds (ms). The test aims to check the amplitude over time across the frequency range.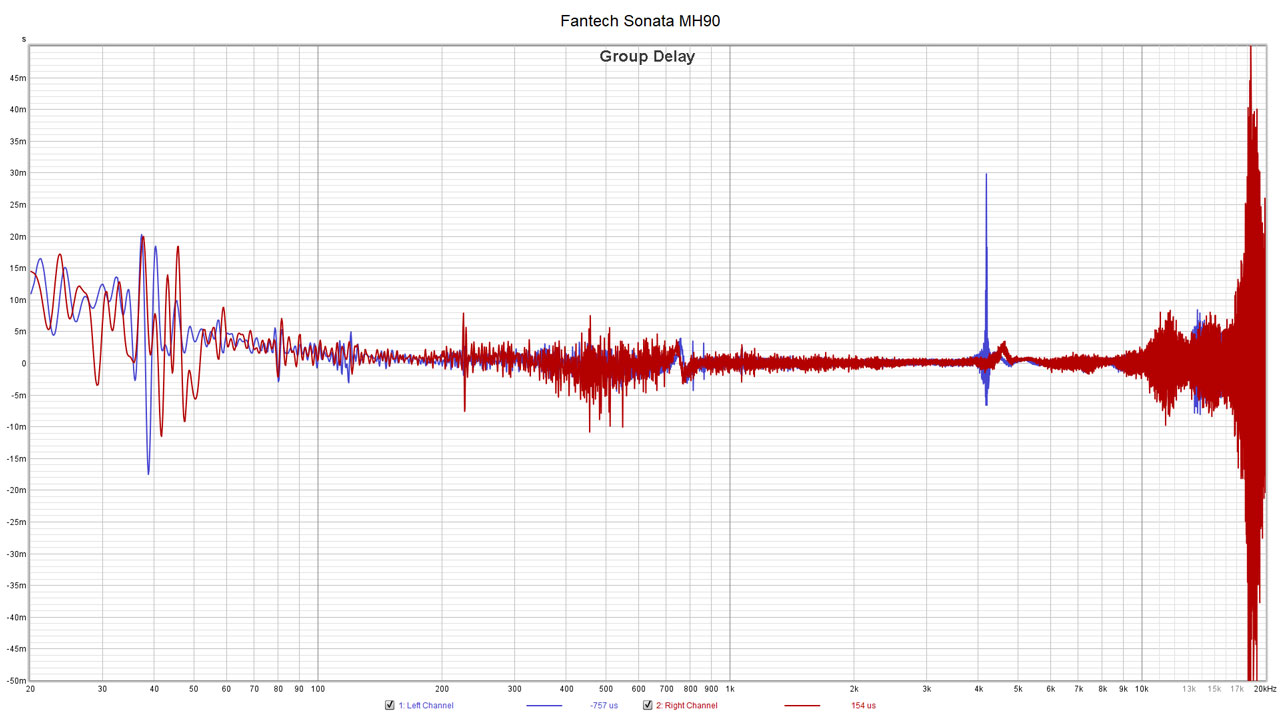 Group Delay looks suspicious around the bass region. We also got a weird result between 700 Hz and 800 Hz which is where the audible ringing could be found. The left driver also took considerable amount of time to reach it maximum amplitude at the treble region, particularly between 4 kHz and 5 kHz – confirming it's not just a measurement artifact.
Cumulative Spectral Decay
Decay is measured in Milliseconds (ms). The test aims to check the energy content over time across the frequency range.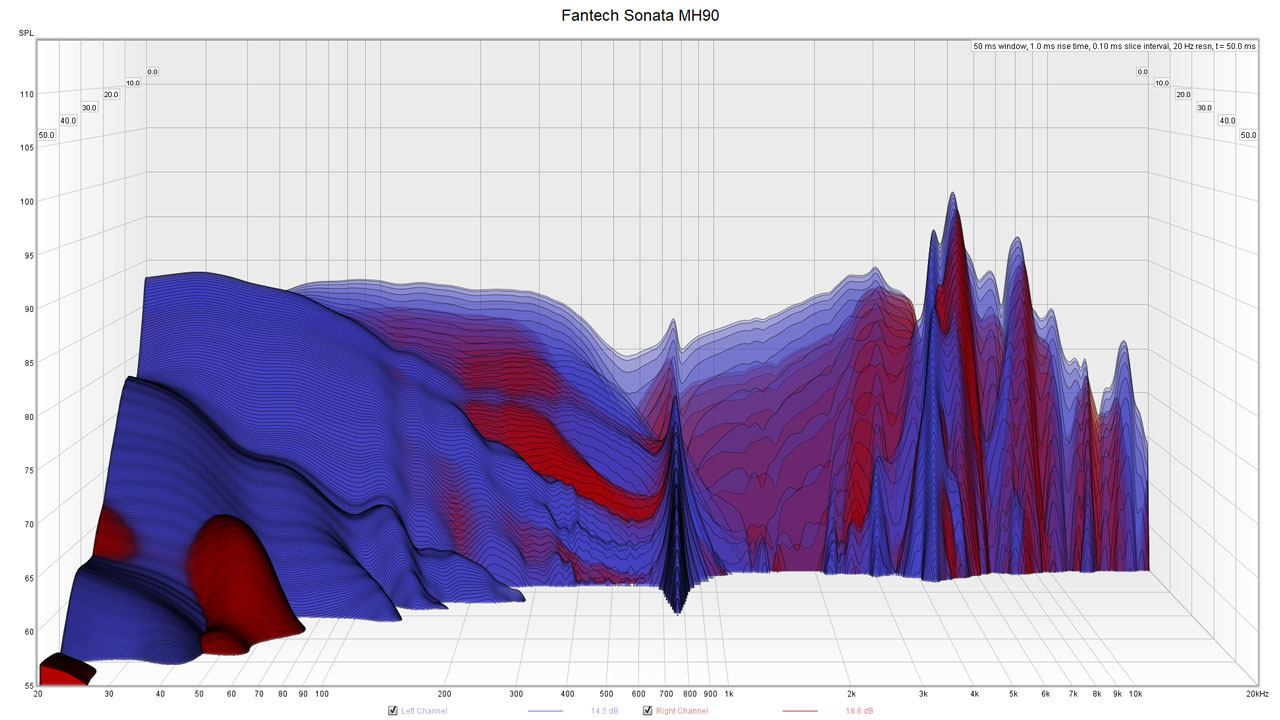 Now as for the waterfall plot, we could actually see the troublesome resonance between 700 Hz and 800 Hz.
Noise
Sound Pressure Level is measured in Decibels (dBA). The test aims to check the noise isolation and leakage of the headphone.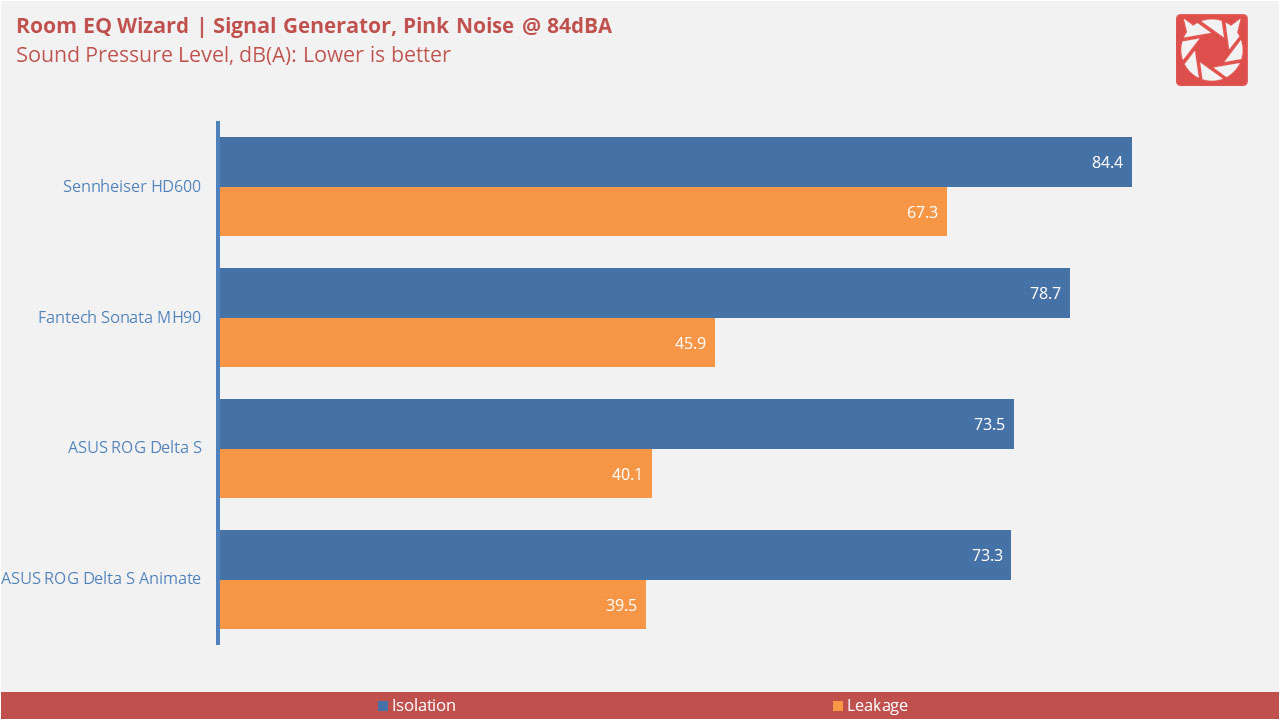 Actually not bad but could be better for a closed back headset.
Features
Yay! No bloatware here so it is perfectly fine to use your preferred software for sound effects and equalization without worrying about software conflicts. No brainer here since it comes with analog jacks. Now as far as microphone performance goes, this is one of the best I've heard in its price bracket. Zero noise cancellation here as opposed to what's pitched by the marketing but man, you have to hear it to believe it.
A part of its feature set is its innate compatibility with devices that supports 3.5mm TRRS jacks. Tried this on my phone and it works just fine. It's an analog interface so no surprises there.
Final Thoughts
The Fantech Sonata MH90 is a fine gaming headset at its price bracket of 2,000 Pesos. It is definitely not a top performer, but it presents a rather acceptable sound signature (relative to its price) combined with excellent ergonomics and a capable microphone truly ideal for the budding gamer.
Many things could be improved though so if Fantech is reading this review, I hope they could fix the weird midrange resonance, phase cancellation and possibly flatten out the peaks and dips for the next revision's tuning. Getting rid of the kink-prone braided cable is also something they have to consider. I kept on experiencing this issue with higher end wired devices so if they could step up here, it will be definitely a huge plus – personally.
Overall, I'll give the Sonata MH90 a proper passing grade. Its decent build quality, acceptable acoustic performance, ergonomics and good microphone just strikes as good opportunity for value oriented gamers to check out.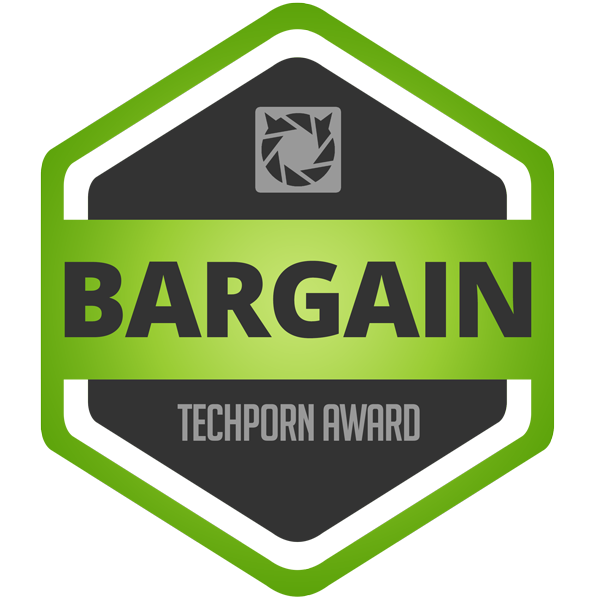 Fantech Sonata MH90 Gaming Headset
Summary
The Fantech Sonata MH90 is no way near perfect but it is a totally fine gaming headset especially with its microphone performance considered. Combine that with its build quality, comfort and acceptable sound signature, it is truly hard to pass.