F&D / Fenda Audio is a relatively new challenger in the audio space. They have been around since 2006 and have built their way into the hearts of entertainment system consumers. That's with a growing portfolio of speakers.
The F&D device for this review is the F210X Bluetooth + FM 2.1 Speakers. This is a 1500 Peso value speaker, with a lot of features on board at that designated price point. Bluetooth is one of its main features, while an FM tuner and a USB device playback are added for those who are looking for a more versatile solution. Learn more from the official product page.
TECHNICAL SPECIFICATIONS:
The F&D F210X features a pair of dynamic stereo satellites with 3W of power each. Sub woofer has 9W of maximum power, with a frequency response rated at 30Hz-130KHz. The satellites features a frequency response of 135Hz-20Hz. No overlapping FR range here nor there is a marginal gap in between.
F&D F210X 2.1 Bluetooth + FM Speakers
Driver
Dual 3W 2.5″ (Satellite) + Single 9W 4″ (Woofer)
Type
2.1 Stereo Speakers
Frequency Response
135Hz-20KHz (Satellite) + 30Hz-130KHz (Woofer)
Impedance
N/A
Signal To Noise Ratio
≥ 60 dB
Separation
≥ 40 dB
Input Power
N/A
15W RMS is the rated total power output of the whole system which should be enough for a small studio type home setting.
PACKAGING AND ACCESSORIES:
The F&D F210X comes jammed inside a standard carton packaging, featuring the product itself and a few marketing information.
You'd get a warranty card, a users manual and a 3.5mm to dual RCA cable for the satellites. You'll also get a AAA battery and a remote control. Nice bundle I must say.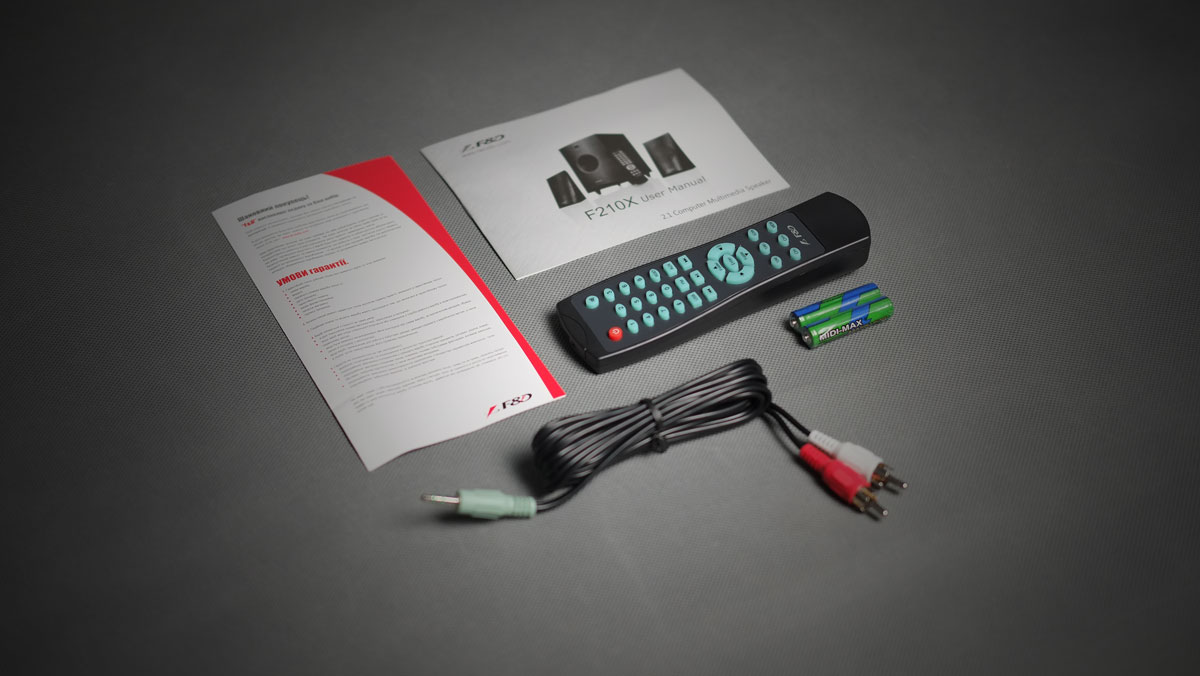 DESIGN, BUILD AND LAYOUT:
The F&D F210X is a classy one. It may not be a lavish set, but it is well made in spite of the plastic facade. This is a 2.1 speaker system with dual 3W RMS satellites and a 9W RMS sub woofer.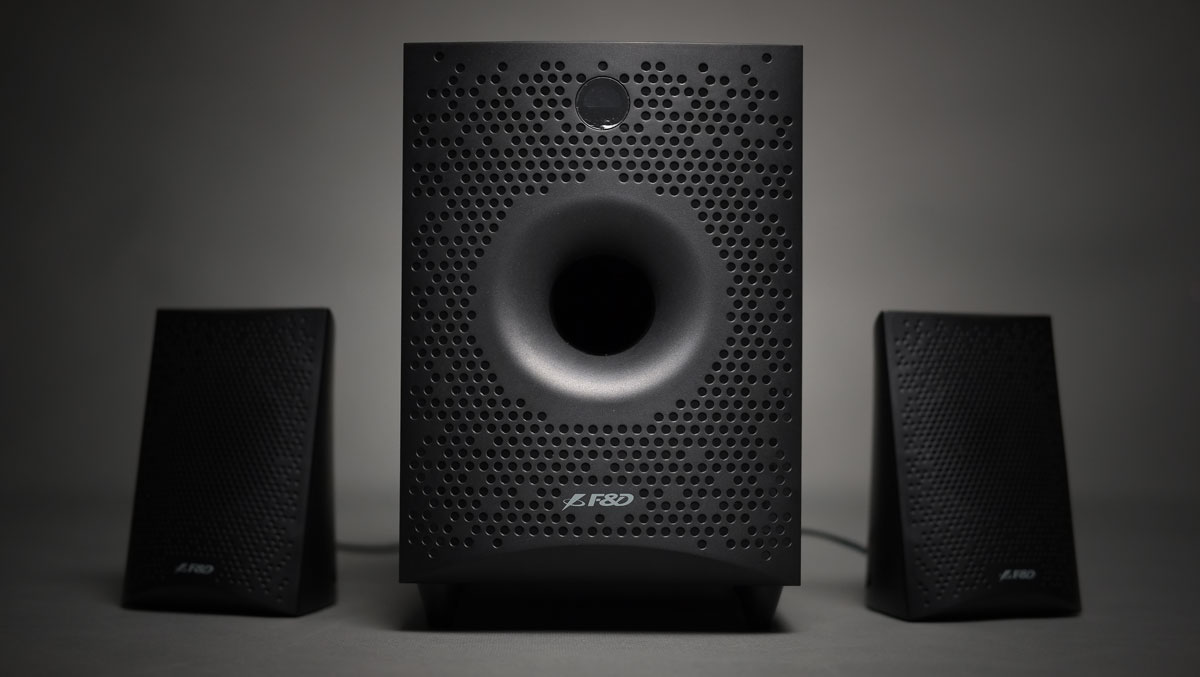 The sub woofer's housing is made out of 100% wooden material which is according to Fenda, good for low distortion. The 4″ driver itself is located at the bottom, with the venting port at the front.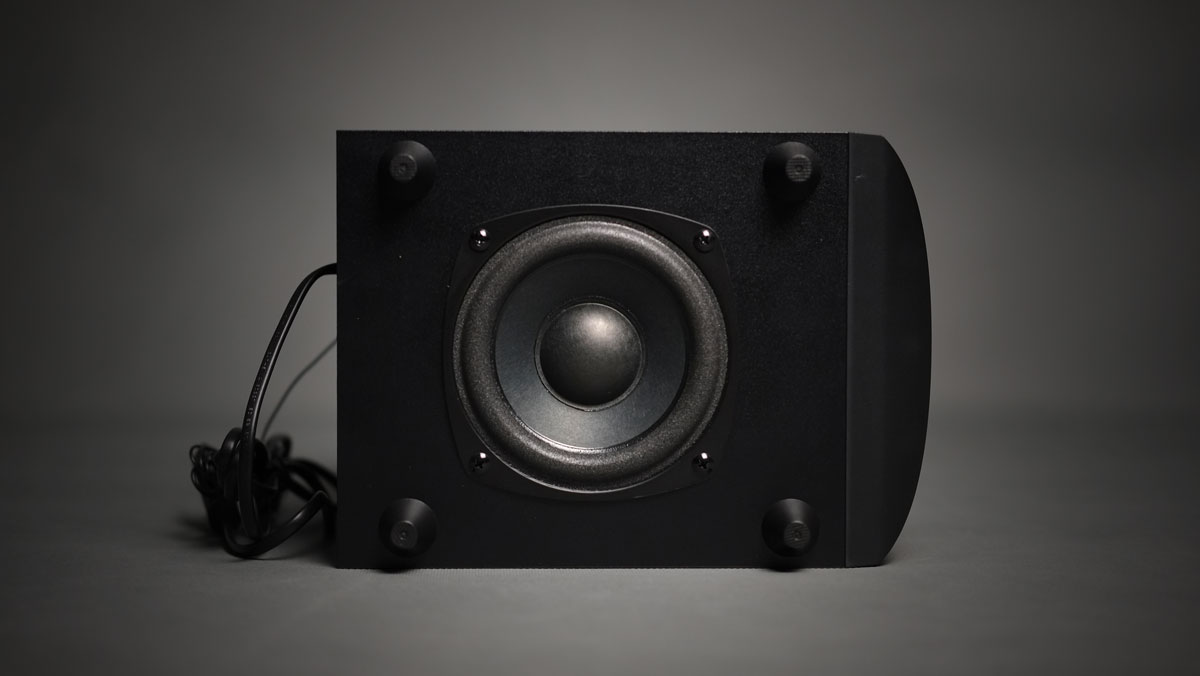 The woofer also houses the interface with a LED lit status indicator at the front. A USB port is also located here for seamless integration. The interface could play MP3 and WMA files via USB, while the source could be toggled with a push of a button.
Each of the satellites has 2.5″ drivers with the vent port at the back. They have color coded RCA cables – expected for such speakers.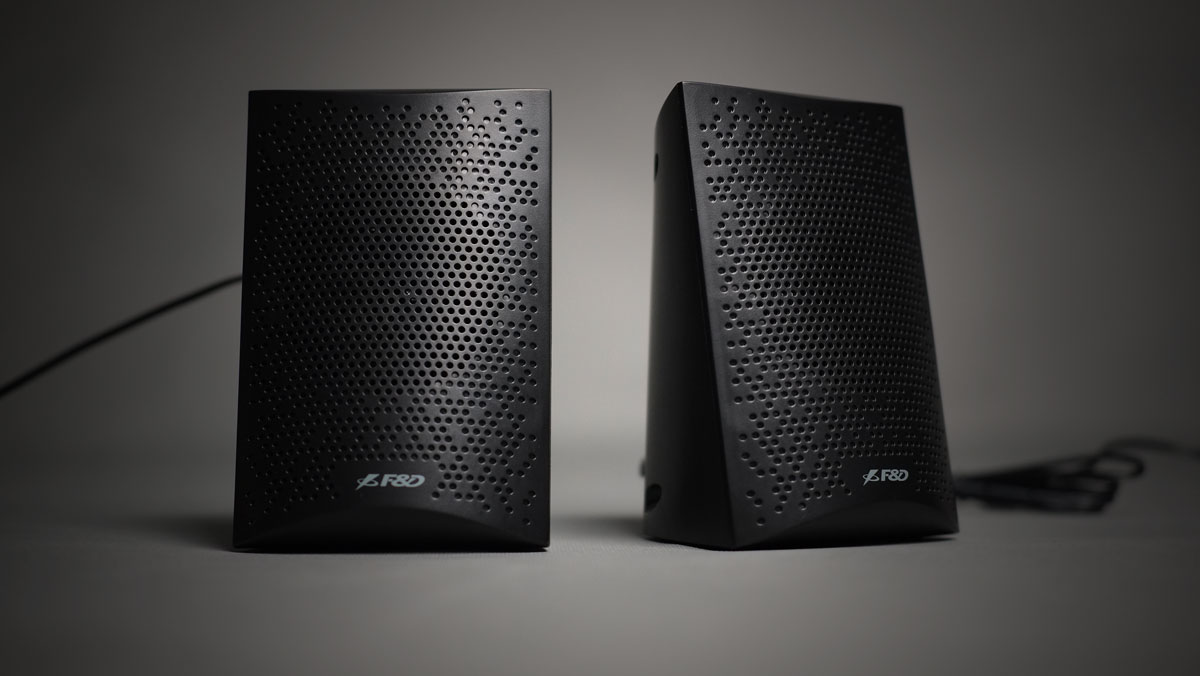 The bass adjustment knob is located at the back, together with the power cut-off switch. The FM antennae is also located here.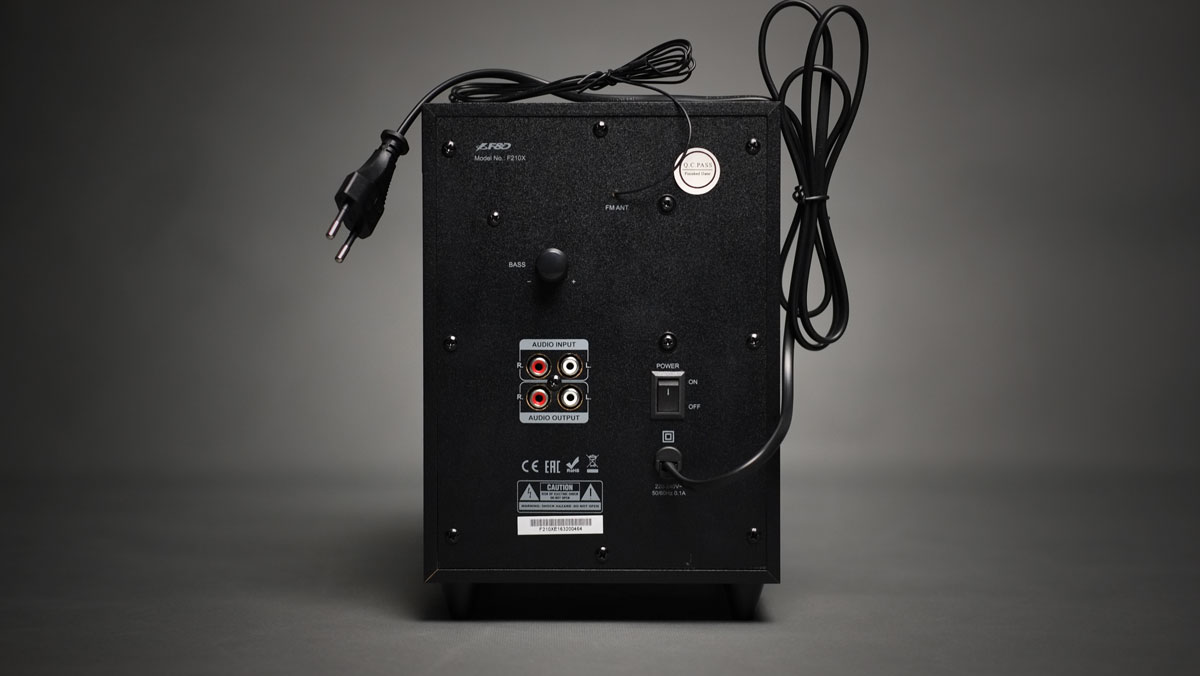 TEST SETUP AND METHODOLOGY:
The vast world of head gears are subjective, and is usually a heated debacle among avid listeners. For an instance, some may favor heavy bass emphasis while others may favor less bass and prefer a richer mid-range or higher frequency range details. In short, a head gear might sound great from someone's perception while at the same time, it may sound awful to other listeners. There are also things to look out for such as the sound stage, imaging, the general sound signature of the head gear and several others.
Gears used to take cross reference sampling is my SONY MDR-7506 studio headphone. Performance is evaluated with our motherboard's audio solution, unless it requires other forms of input. SPL should be around 85dBA during the tests. Tracks, movies and games used are outlined below:
Tracks:
Caribbean Blue – Enya
Hey Nineteen – Steely Dan
Unfinished Sympathy – D2
Axel F – Harold Faltermeyer
Hotel California – Eagles
Games:
Overwatch
Battlefield 4
The Witcher 3
Movies:
Pacific Rim
Mad Max: Furry Road
As for microphones, performance is evaluated with our motherboard's audio solution. That's unless, the microphone requires other forms of input. Sampling is taken with the Windows 10 Voice Recorder on a 34dB environment.
OBJECTIVE AUDIO PERFORMANCE:
Head gears although mostly subjective, can still be tested for basic objective measurements with the help of AudioCheck.net's Headphones and Earphones Benchmarking Test Files.
HEAD GEAR TEST RESULTS
FREQUENCY RESPONSE: BASS 10 Hz – 200 Hz
Passed with 40 Hz minimum frequency range
FREQUENCY RESPONSE: TREBLE 8 kHz – 20 kHz
Passed with 17 KHz maximum frequency range
SPECTRAL FLATNESS
Passed
DYNAMIC RANGE
N/A
DRIVER QUALITY
Passed
DRIVER MATCHING
N/A
WIRING
N/A
BINAURAL TEST
N/A
Based on the test files from AudioCheck.net, the F210X passes across all available test suites. The frequency range from Bass to Treble are more than decent; able to go as low as 40 Hz and up high at 17 KHz. Range is actually a little lower compared to what's written on its specifications but it's a pass for such value.
GENERAL AUDIO PERFORMANCE:
The low end performance of the F210X is pretty good. It isn't seismic, kinda thick but it isn't that bad considering the price. That said, bass oriented tracks are still joyful to listen at with this speaker set.
The mid range is a little recessed, but it kinda blends well with the low end. 3W per satellite will only get you that far I must say. I'm just glad that the powerful low end didn't really extend into the lower mid ranges so everything's fine here. Treble on the other hand is just alright, decent is the word and it is just enough for my requirements. Stereo imaging on the other hand will depend on how you position each satellites.
GAMING PERFORMANCE:
Immersive is the keyword here with decent enough bass output to feel every explosions on our selected games. You wont get the same localization and imaging with headsets but this one is enough for the job.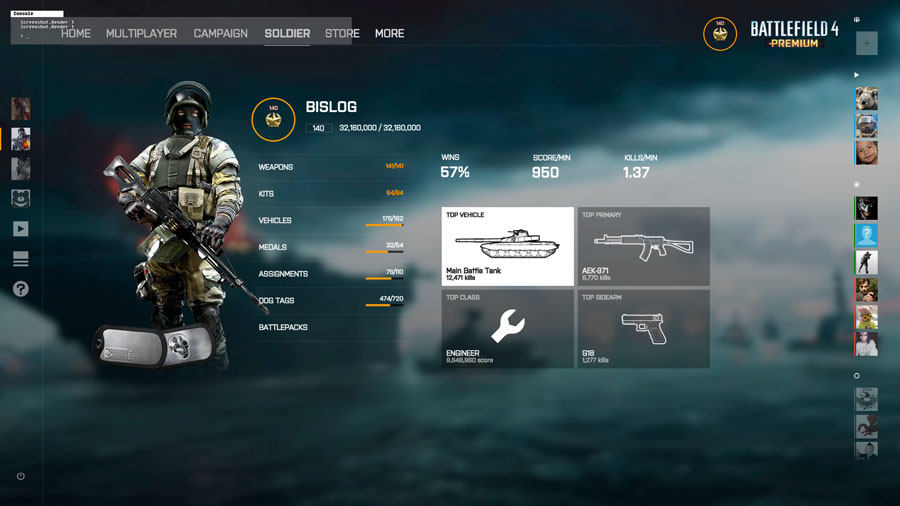 WRAPPING IT UP:
The F210X is a good value proposal from the guys at F&D, with features built around its 9W bass unit and the dual 3W satellites. While its power output wont win any awards, its 2.1 stereo performance is nothing to laugh at. Couple that up with a feature rich interface and you'd get yourself a versatile set of speakers for every occasion.
Design wise, the F&D F210X is definitely a value meal compared to lets say, higher end 2.1 devices with plastic satellites. Its main unit though is another story, with a real wooden housing so there's that to balance things out as far as build quality goes.
Online pricing is set at 1500 Pesos which is its major strong point. I've had quite a lot of 2.1 speakers around this price point in the past and there's no mistaking that the F201X is more than proper for the price. A true value oriented 2.1 speaker based on its versatility, features and performance.
STEREO PERFORMANCE
DECENT BASS OUTPUT
GOOD BUILD QUALITY
BUNDLED ACCESSORIES
BLUETOOTH + FM CAPABLE
EXCELLENT VALUE

3W SATELLITE POWER OUTPUT
SHORT 3.5MM CABLE
F&D / Fenda Audio F210X Wireless 2.1 Speakers
PERFORMANCE -

7/10

BUILD QUALITY -

7/10

FEATURES -

8/10

AESTHETICS -

7/10

VALUE -

8/10
Summary
There's no mistaking that the Fenda F201X is more than proper for the price. A true value oriented 2.1 speaker based on its versatility, features and performance.