We are taking a good look at the GEIL EVO X RGB memory kit. Another AMD Ryzen DDR4 memory kit but this time, with a 3000MHz power plant under the hood. The EVO X also features HILM which stands for Hybrid-Independent-Light-Module technology. Think of it as an independent lighting unit built on a separate PCB – As opposed to the Super Luce RGB Lite's set and forget nature. GEIL is proud of this feature, stating that it will allow the EVO X to perform at its full potential.

The GEIL EVO X RGB we got has the part number GAEXY416GB3000C16ADC. It is basically the 3000MHZ 8GBx2 kit from the EVO X Series. Learn more from the official product page and get it at Amazon.
TECHNICAL SPECIFICATIONS:
The memory kit we got is a part of the EVO X family of high performance DIMMs from GEIL. The EVO X family has frequencies ranging from 2133MHz up to 3200MHz; with 15 to 18 CAS Latency. It is also available in color White, single and quad channel kits.
| | |
| --- | --- |
| SERIES | EVO X RGB (AMD) |
| MEMORY TYPE | DDR4 |
| CAPACITY | 16GB (8GBX2) |
| CHANNEL | Dual Channel Kit |
| TESTED SPEED | 3000MHZ |
| TESTED LATENCY | 16-18-18-36 |
| TESTED VOLTAGE | 1.35V |
| REGISTERED/UNBUFFERED | Unbuffered |
| ERROR CHECKING | NON-ECC |
| SPD SPEED | 2133MHZ |
| SPD VOLTAGE | 1.20V |
| Cooling | Passive (Heatsink) |
| HEIGHT | 60mm |
| WARRANTY | Limited Lifetime |
| FEATURES | Intel XMP 2.0 Ready |
Our kit is at the top end of the pack with 3000MHz of tested frequency and 16-18-18-36 timings. It is Intel XMP 2.0 certified but is intended to fully support AMD's latest AM4 chipsets.
PACKAGING AND ACCESSORIES:
The GEIL EVO X RGB comes in a rather slim packing with a two piece plastic shell holding the memory kit together. The back features a cut out to checkout the kit's specifications, while there is a sticker that provides the most basic of information about the kit's frequency and timings.
Bundled accessories are actually pretty meaty for a memory kit. We got a 2+2-pin to 3-pin power, an RGB cable and its extension. GEIL had reasons to include these into the bundle so there's that. Oh, there's also a quick installation guide.
DESIGN AND BUILD QUALITY:
The GEIL EVO X RGB is built like a brick. A high quality brick that resembles a NES cartridge. It aint a joke and as a matter of fact, I quite like it – build quality and design wise. We also got a LED slider at the top of the DIMM. This is used to control the lighting effects using the 9/12v fan power source. Learn more about this feature at the EVO X's official product page.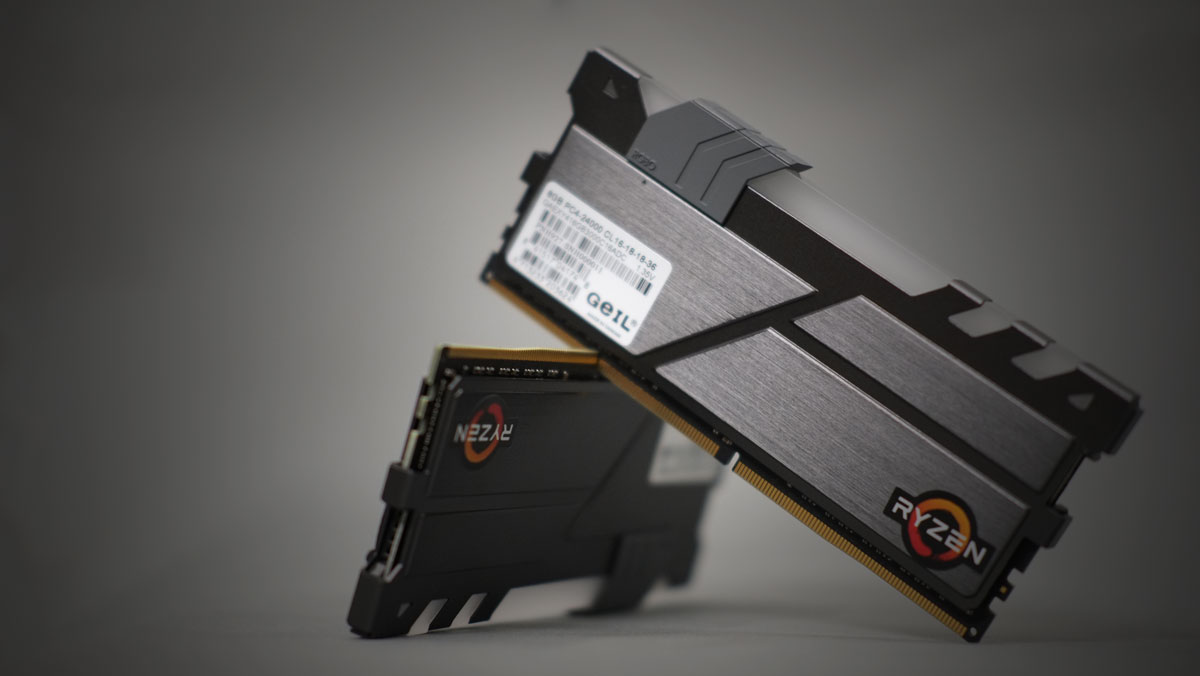 With a height of around 60mm, the EVO X is technically a skyscraper. It is expected due to the dual PCB nature of the EVO X, plus the fact that there's a huge light bar at the top. Good luck fitting huge air coolers with this bad boy slotted in place.
The GEIL EVO X is a single rank module. The ranked side had 8 memory chips, with 1GB of capacity each. A total of 8GB for each stick on our EVO X model.
If you have a motherboard with built-in RGB lighting support such as the ASUS ROG Strix Z370-E Gaming, then using the 12v RGB header is a must. With this approach, GEIL made sure that the kit is fully compatible with any RGB lighting technology from major motherboard brands.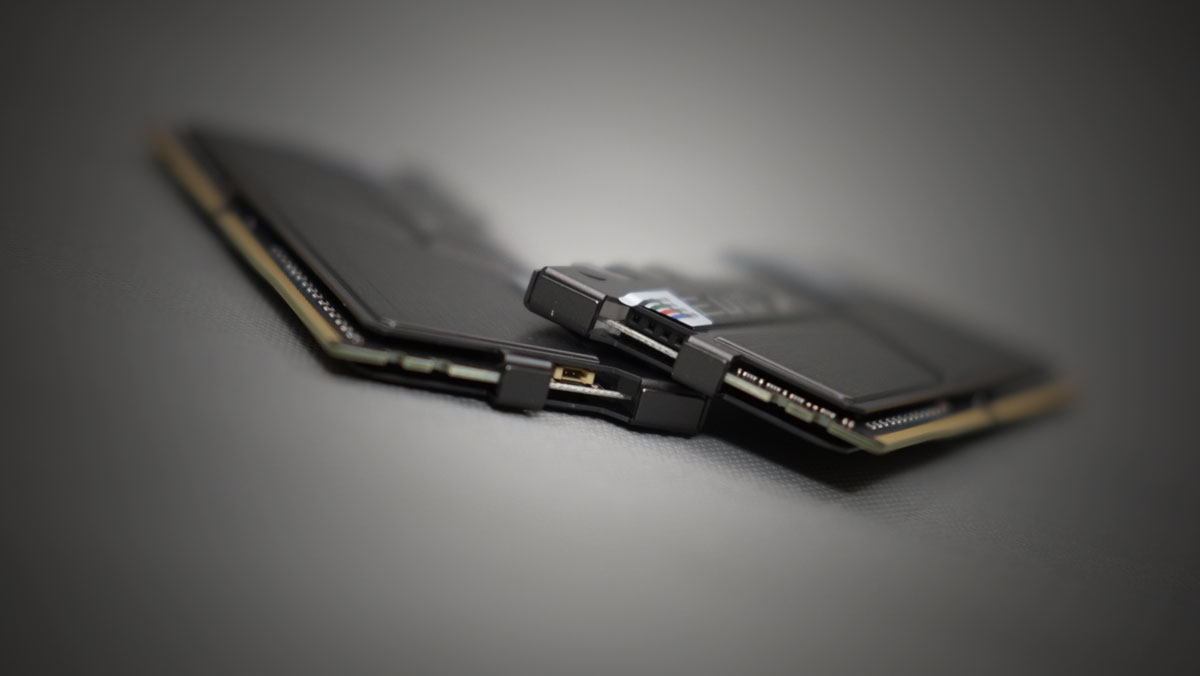 TEST SETUP AND METHODOLOGY:
The performance of the system shall be evaluated by various benchmarking tools and applications. We are testing this system with the high-performance settings enabled at the OS, with the default UEFI configuration. Background processes such as anti-virus and third-party applications are disabled as well. Outlined below are the applications and benchmark tools for reference:
TEST SYSTEM SPECIFICATIONS
PROCESSOR
AMD Ryzen 5 1600X
MOTHERBOARD
MSI B350 Gaming Pro Carbon
CPU COOLER
Cryorig C1 Top Flow
MEMORY KIT
G.SKILL Flare X 3200MHz 8x2GB Kit
GRAPHICS CARD
ASUS GTX 1060 STRIX OC 6GB
INTERNAL STORAGE 
Crucial BX200 480GB
POWER SUPPLY
CORSAIR RM850X 850W
DISPLAY
27″ DELL U2715H
OPERATING SYSTEM
Microsoft Windows 10 Pro
CPU AND MEMORY PERFORMANCE:
Super PI – 32M Calculations
wPrime – 32M and 1024M Calculations
AIDA64 Extreme Edition – Memory Benchmark
PRODUCTIVITY PERFORMANCE:
GIMP – 7 MB worth of image processing
HandBrake – 150 MB MP4 to H.264 video encoding
WinRAR – Internal benchmark tool
GAMING PERFORMANCE:
Battlefield 4 – Ultra Settings | V-SYNC off
DIRT: Rally – Ultra Settings | V-SYNC off
The Witcher 3: Wild Hunt – Ultra Settings | HairWorks off | V-SYNC off
The GEIL EVO X RGB memory kit we got has a JEDEC standard of 2133MHz with default timings at 16-15-15-36 under 1.20v. At its XMP settings, the EVO X features a 3000MHz frequency, together with a 16-18-18-36 timings under 1.35v.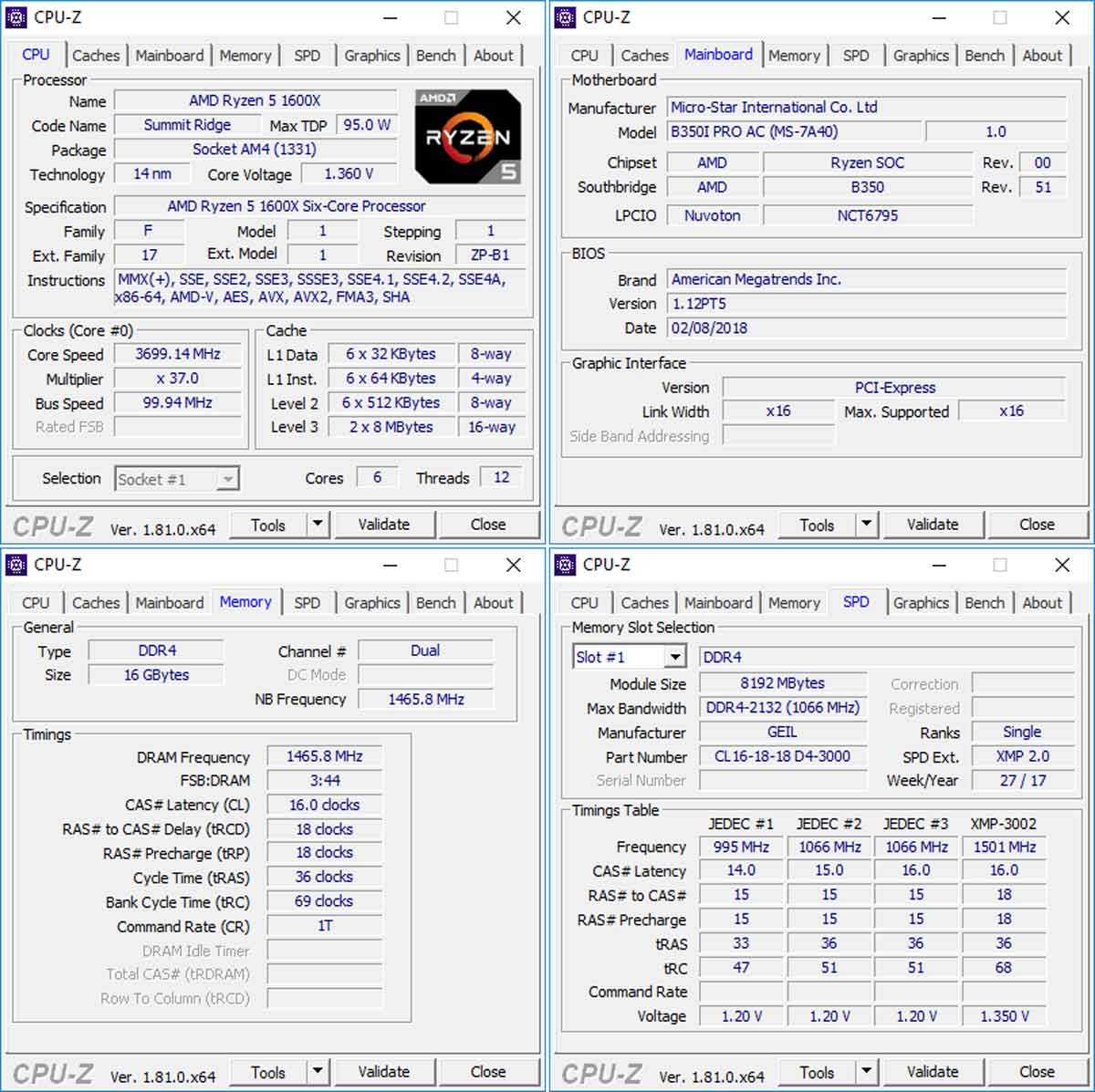 We never had any compatibility issues with the EVO X on our motherboards. Requiring us just to enable the XMP and reboot the system.
CPU AND MEMORY PERFORMANCE:
Super PI is a single-threaded program that calculates pi to a specified number of digits after the decimal point. It is a widely used benchmark within the industry.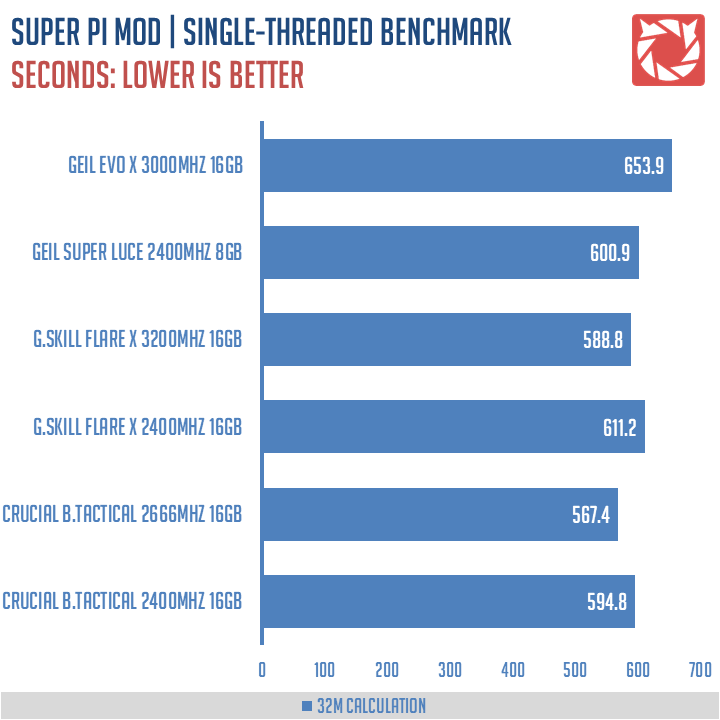 WPrime is a multi-threaded program that calculates a set number of square roots. It verifies the results by squaring them, then compares it with the original numbers.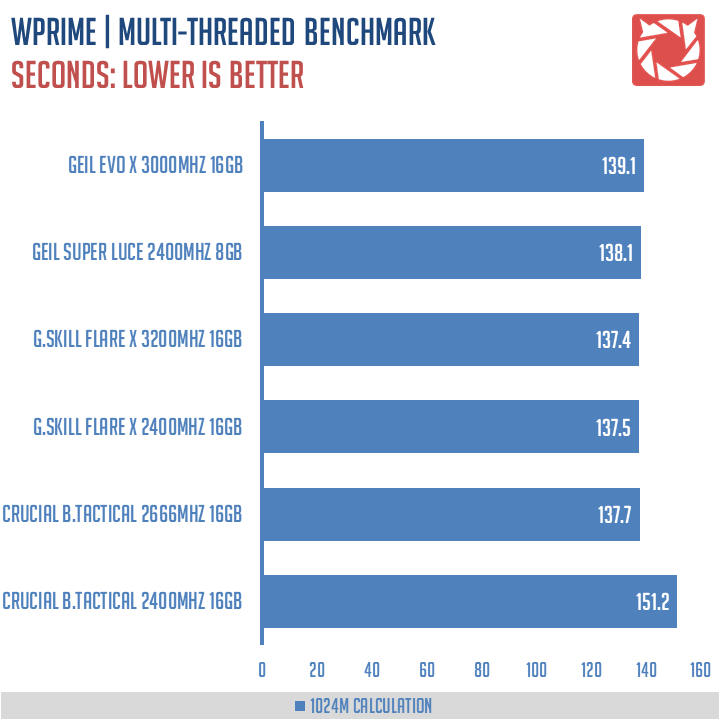 The AIDA64 Memory Benchmark measure the data transfer bandwidth and latency of the system memory.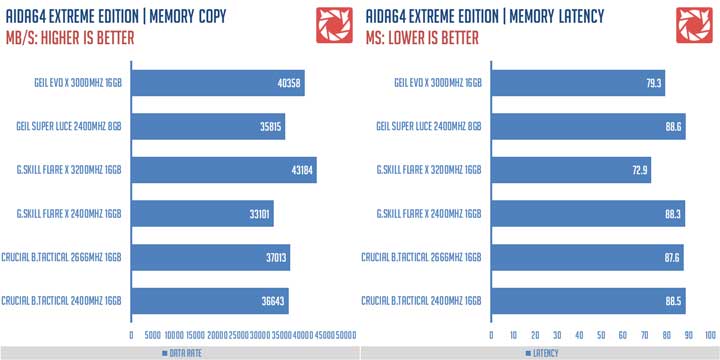 The GEIL EVO X RGB showed us interesting results. It is by far the slowest on our wPrime and SuperPI benchmarks while it is trailing behind G.Skill's 3200MHz kit on other synthetics. Let us check out if things will change on our real world benches.
PRODUCTIVITY PERFORMANCE:
GIMP or GNU Image Manipulation Program, is a free and open-source image editing tool. A 7 MB worth of images is be processed and converted to gauge the system performance.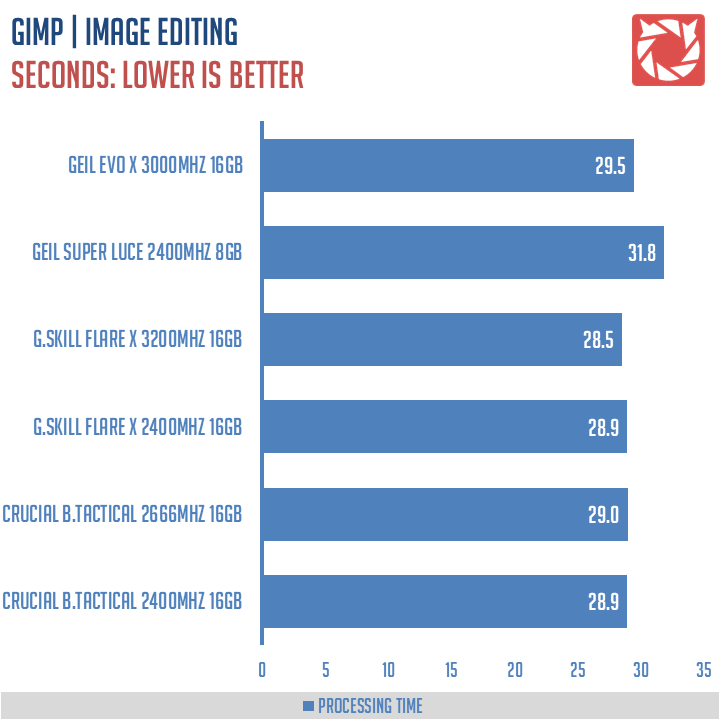 HandBrake is a free video encoding tool that supports a wide variety of media codecs. A 150MB worth MP4 video is converted using the H.264 codec to gauge the system performance.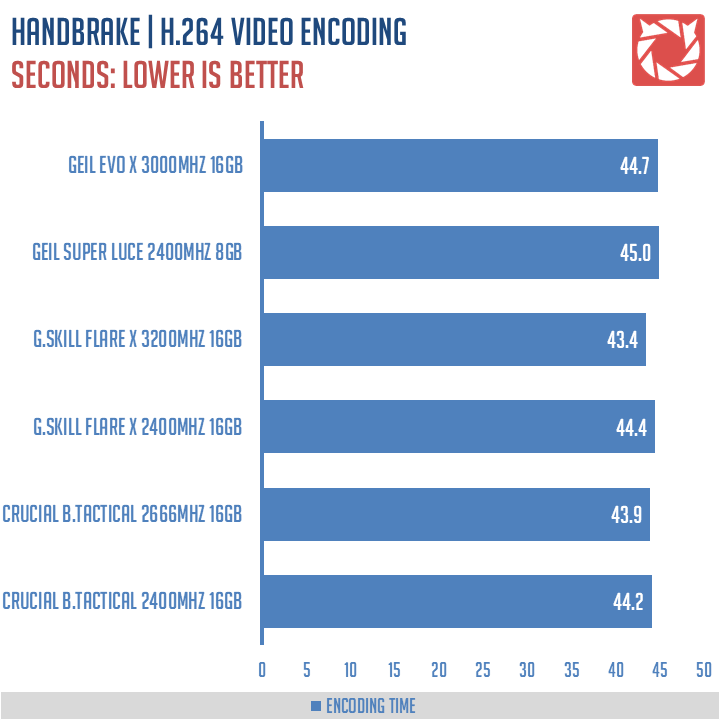 WinRAR is a file archive utility that can create, view and unpack numerous archive file formats. The software's built in benchmark tool is utilized to gauge the system performance.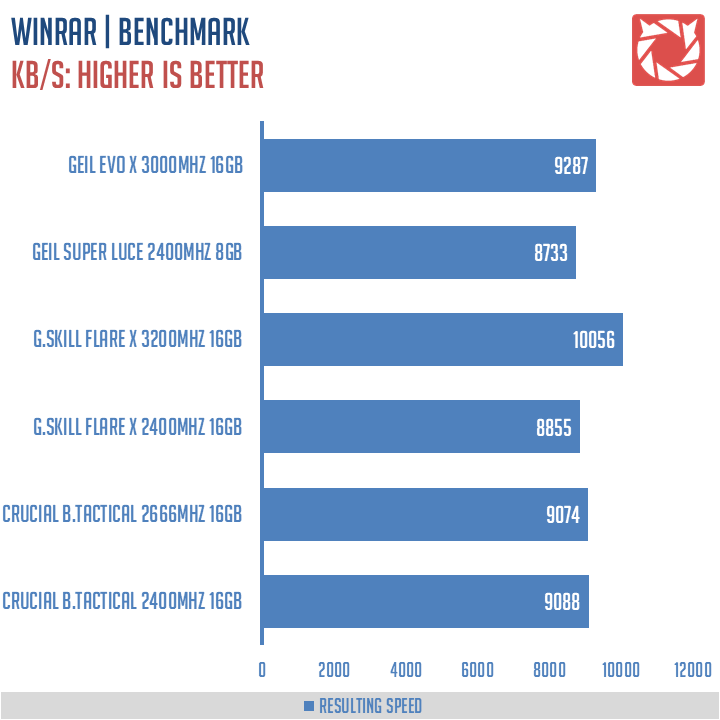 On our real world benchmarks, the EVO X at 3000MHz is still not one of the best in class. It redeemed itself on the WinRAR benchmark which is not enough for my requirements.
GAMING PERFORMANCE:
Battlefield 4 is Electronic Art's popular First Person Shooter, running on the Frostbite 3 game engine developed by DICE. It utilizes the DirectX 11 and the Mantle API.
DIRT: Rally is CODEMASTER's take on the rally racing game genre. It utilizes the EGO game engine with support for the DirectX 11 API.
The Witcher 3: Wild Hunt is CDProjekt RED's award-winning Action Adventure RPG. The Witcher 3 utilizes the REDengine 3 with DirectX 11 support.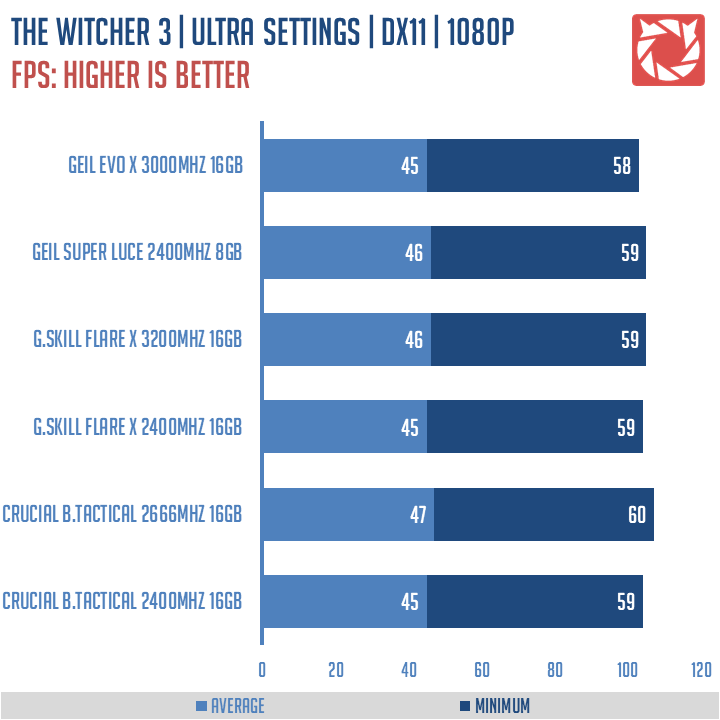 Nothing exciting to see here folks. Just a decent gaming performance.
WRAPPING IT UP:
The GEIL EVO X RGB is like a beacon of hope. It doesn't shine on its own and requires a human touch to enable its features. This is true with its HILM technology, requiring you to use cables to utilize it. Frankly, I think it is a novel approach, allowing you to use different lighting options with corresponding effects for both power sources. Execution could be better though: The cables are short even with an extender included for the RGB header. Slot orientation is also important to tidy things up. Personally, I think it is much better to daisy chain the RGB headers if possible for a neater look.
Aesthetically, the memory kit looks excellent. That's with a matching build quality to boot. You'll never thought of it as a dual PCB kit – just rock solid. As for the lighting, this is certified to run with motherboards featuring an RGB header. Fluid is also a word that we could use to describe the effects.
Performance is where the HILM enabled EVO X goes down the drain – at least on our benchmarks. It just doesn't warrant the separation of the PCB. Maybe we just expected much from this 3000MHz kit? Bandwidth is acceptable but timings are way too loose for our benchmarks.
In closing, the GEIL EVO X RGB 300MHz is one decent RGB memory kit. It is not exactly a high performance one but it is definitely a nice looking kit with a build quality to match.
DECENT PERFORMANCE
DESIGN AND BUILD QUALITY
RGB LIGHTING OPTIONS
AMD RYZEN QVL IS A PLUS

TIMINGS COULD BE BETTER
CABLE CLUTTER IS AN ISSUE
60MM VERTICAL CLEARANCE
GEIL EVO X RGB 3000MHZ 16GB DDR4 Memory Kit
PERFORMANCE -

7/10

BUILD QUALITY -

8/10

FEATURES -

8/10

AESTHETICS -

8/10

VALUE -

7/10
Summary
In closing, the GEIL EVO X RGB 300MHz is one decent RGB memory kit. It is not exactly a high performance one but it is definitely a nice looking kit with a build quality to match.