It is not everyday that we get to test an IEM, more so from a well known brand that introduced it to the masses – KZ Acoustics. Basically, the company's formula is… Let's make great sounding IEMs at an affordable price, skip marketing and let the consumers spread the word. It works for the most part, with the KZ Ate and ZST backing that up below $10 USD. 
Now with that said, KZ pushed their boundaries a little bit further with the AS10 5BA HiFi Stereo IEM at $60 USD. 5BA stands for 5 Balanced Armature. Those are essentially made up of 1 low, 1 mid, 2 high+mid and 1 high drivers. Basically, we are looking at an IEM with 5 drivers on each earpieces. That's 10 non-dynamic drivers pounding at a powerful 105dB package with a mic to boot.
The KZ AS10 5BA is provided by GearBest. One of the most trusted online shopping stores in Asia. They basically asked me to pick anything below $60 USD and the rest is history. If you are looking for exclusive deals, items that you couldn't find elsewhere, they are the guys to check out. Shipping's fast too, for the most part.
TECHNICAL SPECIFICATIONS:
Headphone
Driver
Balanced Armature
Type
 Closed-back, In Ear, Hook, 5.5mm Nozzle
Frequency Response
20Hz-40KHz
Impedance
14Ω
Sensitivity
105dB
Connectivity
Wired, 3.5mm TRRS
Weight
25 grams
Microphone
Type
NA
Polar Pattern
NA
Frequency Response
NA
Sensitivity
NA
PACKAGING AND ACCESSORIES:
Since the AS10 5BA features a $60 USD price point, KZ Acoustics took the opportunity to provide a much better packaging and presentation for the unit. Gone are the pesky molded plastics and the thin box from the ZST. Instead, we've got a thick cardboard box and an internal foam pad for each earpiece.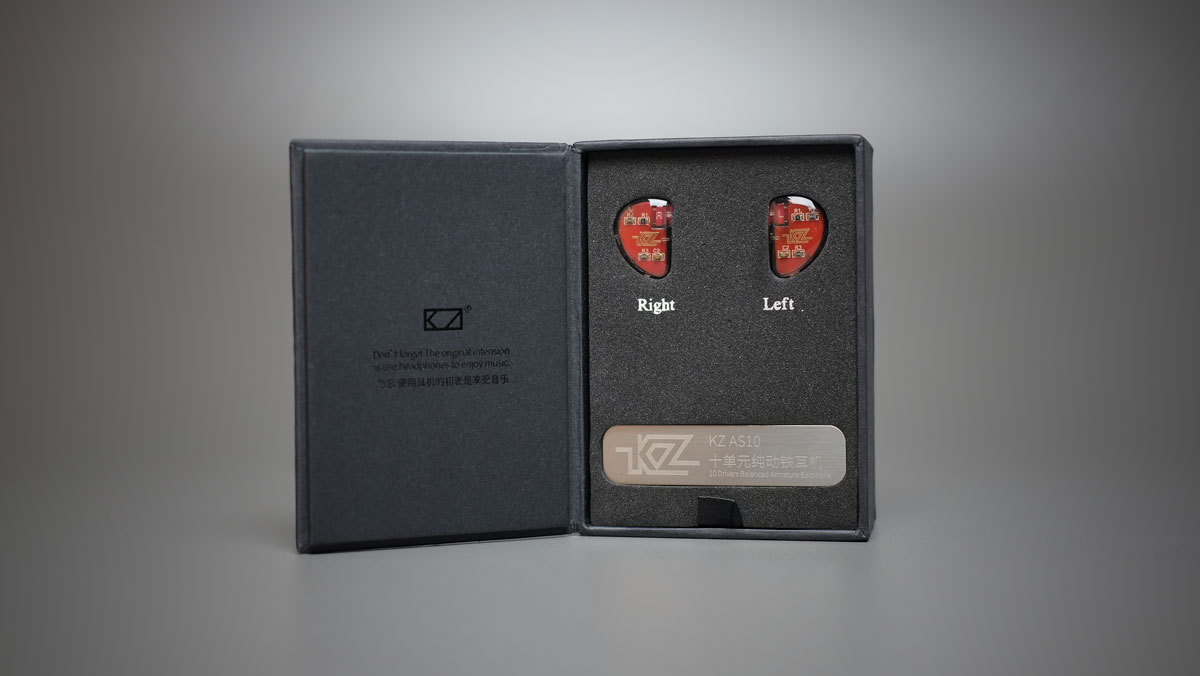 Accessories are not lavish. Though to be fair, the presentation really got me. We have 3 pairs of tips for various ear canal sizes, a few paper works to get you started, the cable and a commemorative badge. That's just about it. A carrying pouch or a splitter would be a nice add-on to be honest.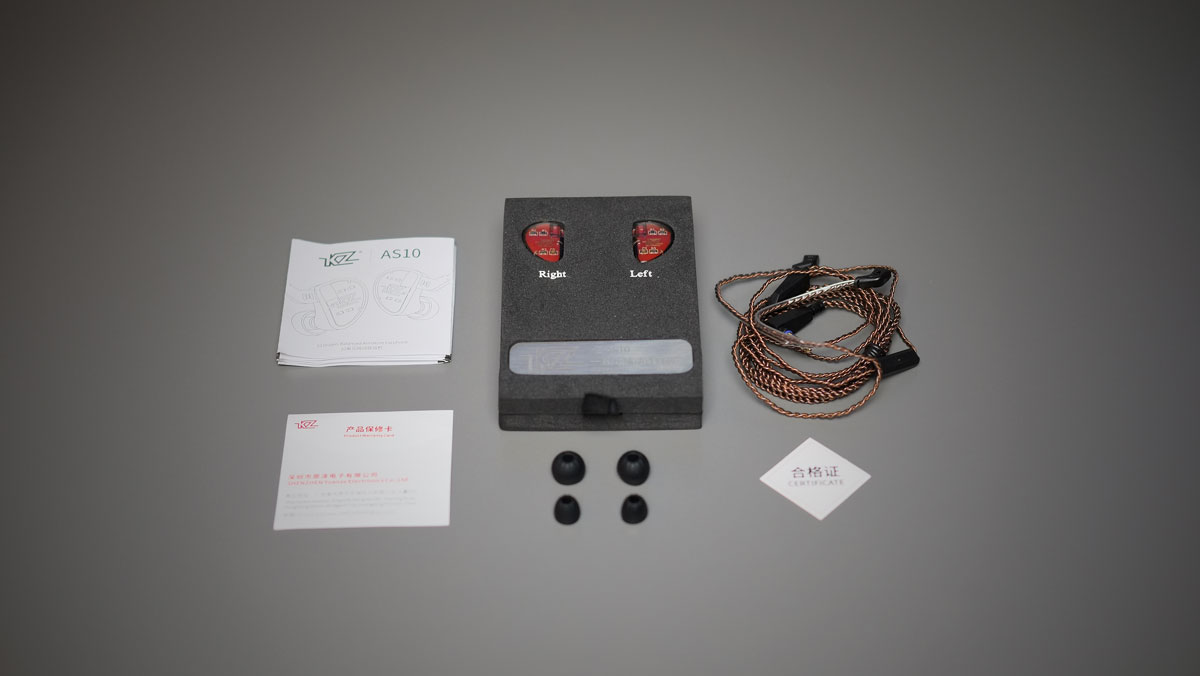 DESIGN, LAYOUT AND BUILD QUALITY:
The design elements of the KZ AS10 is kinda similar to that of the ZS10 but without the 100% transparent shell. The AS10 is also more heart shaped, as opposed to the ZS10's half moon design. Of course, we still get to see that transparent PCB – which is also available in cyan. By IEM standards, this thing is huge. No need to imagine fitting 5 balanced armatures inside one earpiece.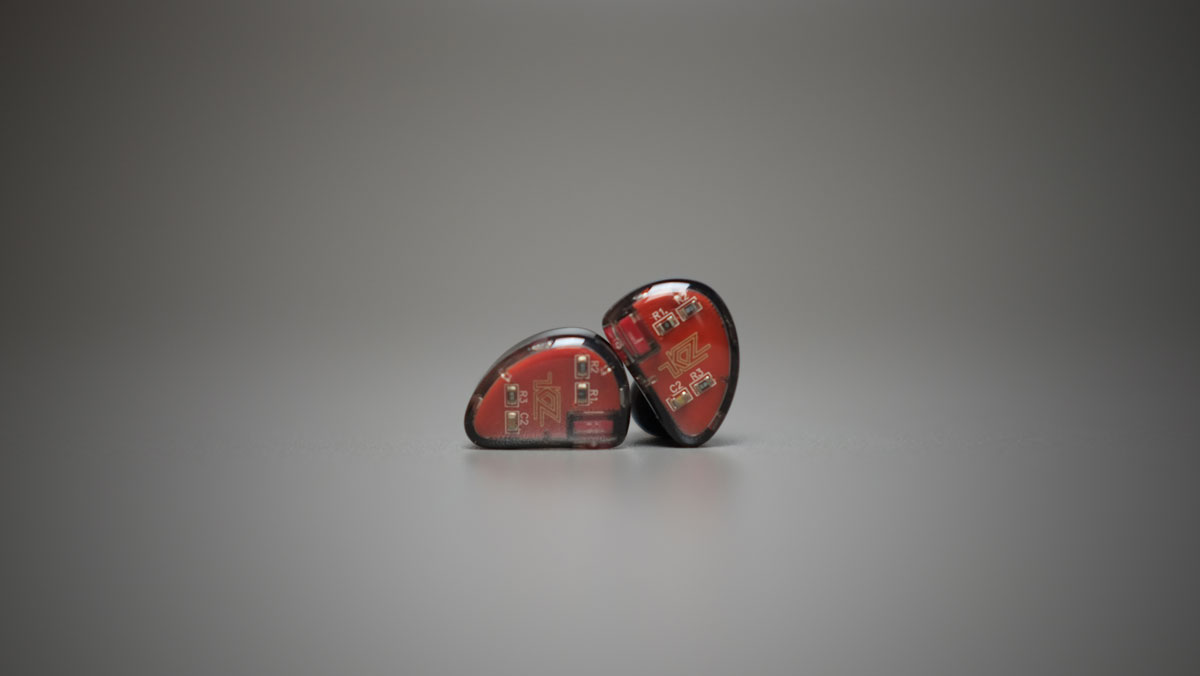 KZ Acoustics opted to go with their signature dual prong detachable cable with a 3.5mm TRRS end. Compared to the old KZ ZST's tangle free cable, this one kinda isn't but quality sure is better. It is not an advisable cable for runners or active listeners though, since it induces microphonics. We don't even have a slider here and the hook is just… transparent. Whatever, the missing features I'd like to see are not really deal breakers.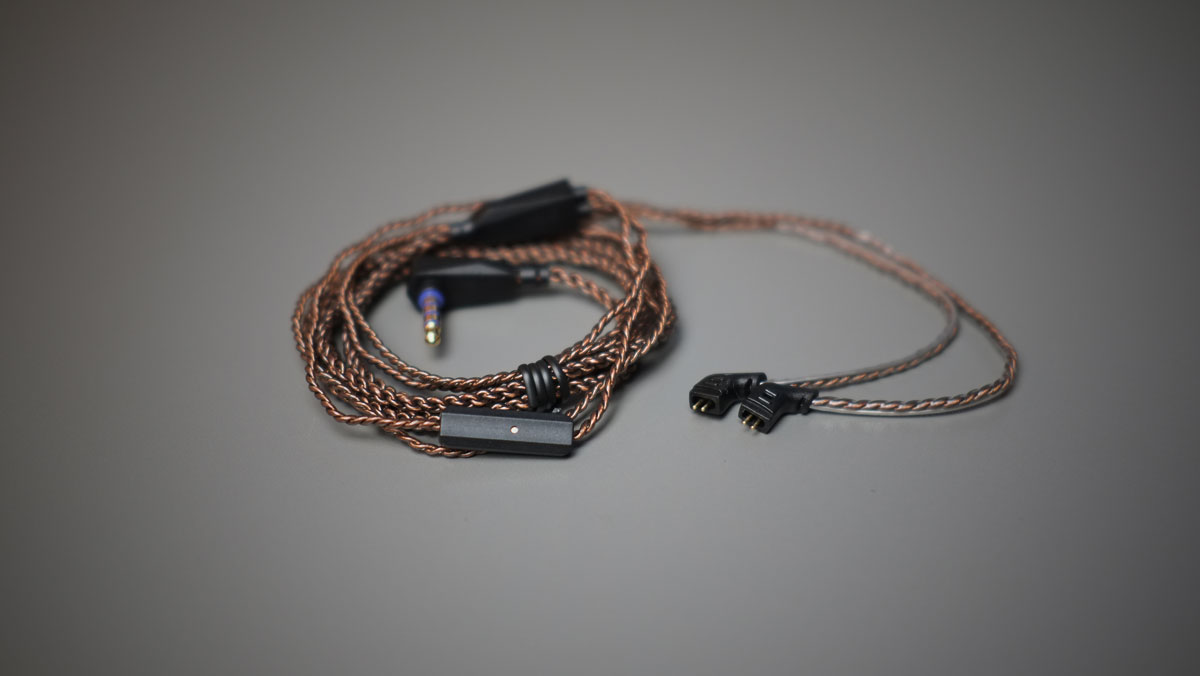 The default tips of the AS10 doesn't really inspire confidence – at least on my end. My ear canal could barely fit even the smallest stock tip to be honest. Sure they work, but I'd stick with the smallest memory foam tip I could find any time of the day. This doesn't mean that the AS10 sucks when it comes to comfort though. The shell is just huge and the nozzle had to accommodate it.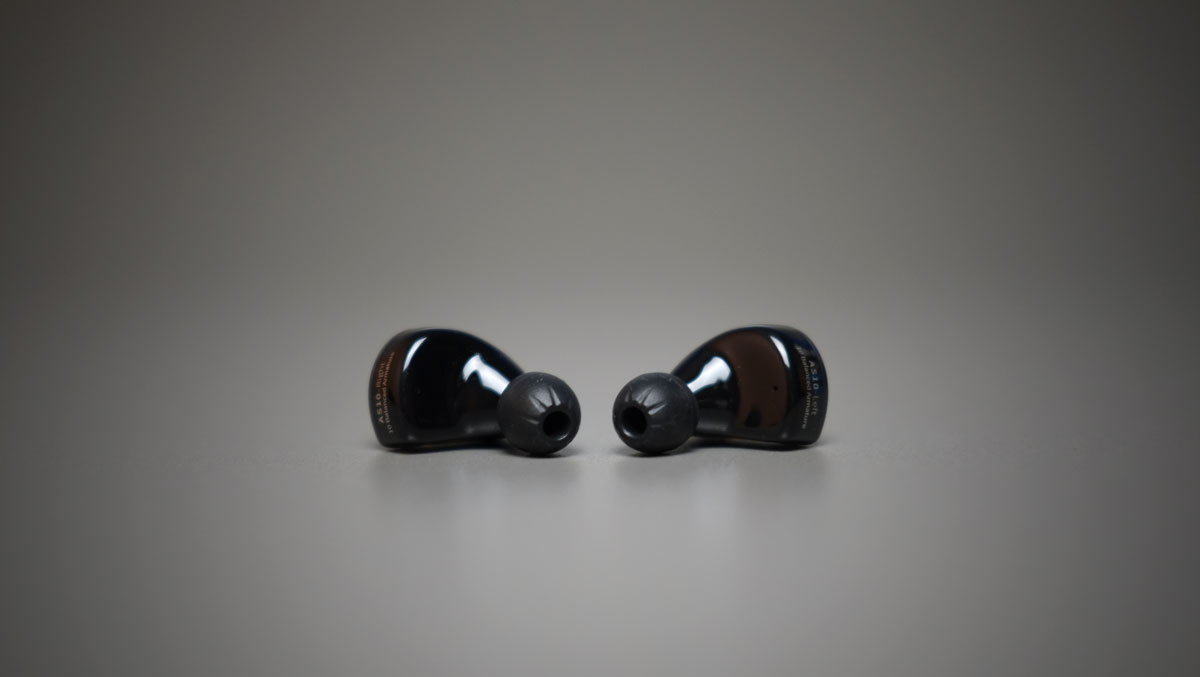 See, I don't have any problem fitting the shell on my ear. My problem lies with the default tips and the ~5.5mm nozzle size. It is not a design flaw, since this size is optimal for the AS10's drivers. The grills are also noticeably closer to the driver housing, instead of the nozzle's end so it really is advisable to get a foam tip with its own filter.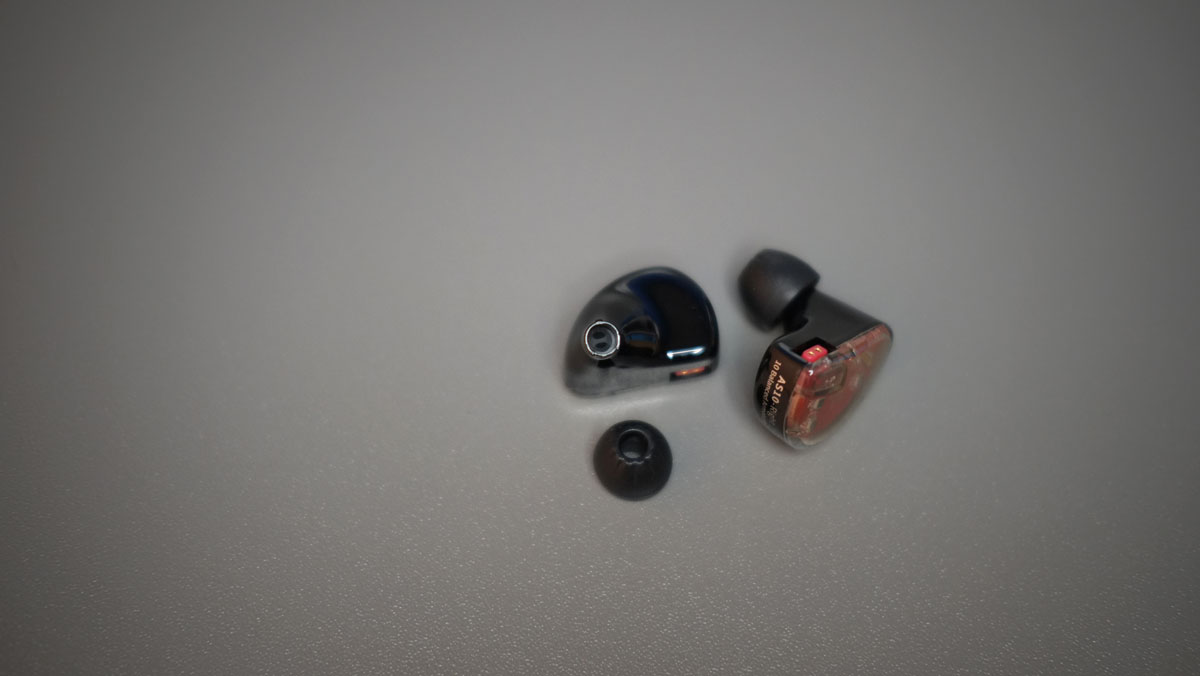 The microphone is the only thing we thought dynamic here, yet we are not sure if it is since it resembles a balanced armature. What we are sure though is that it houses a single button that could be used for calls and music playback functions.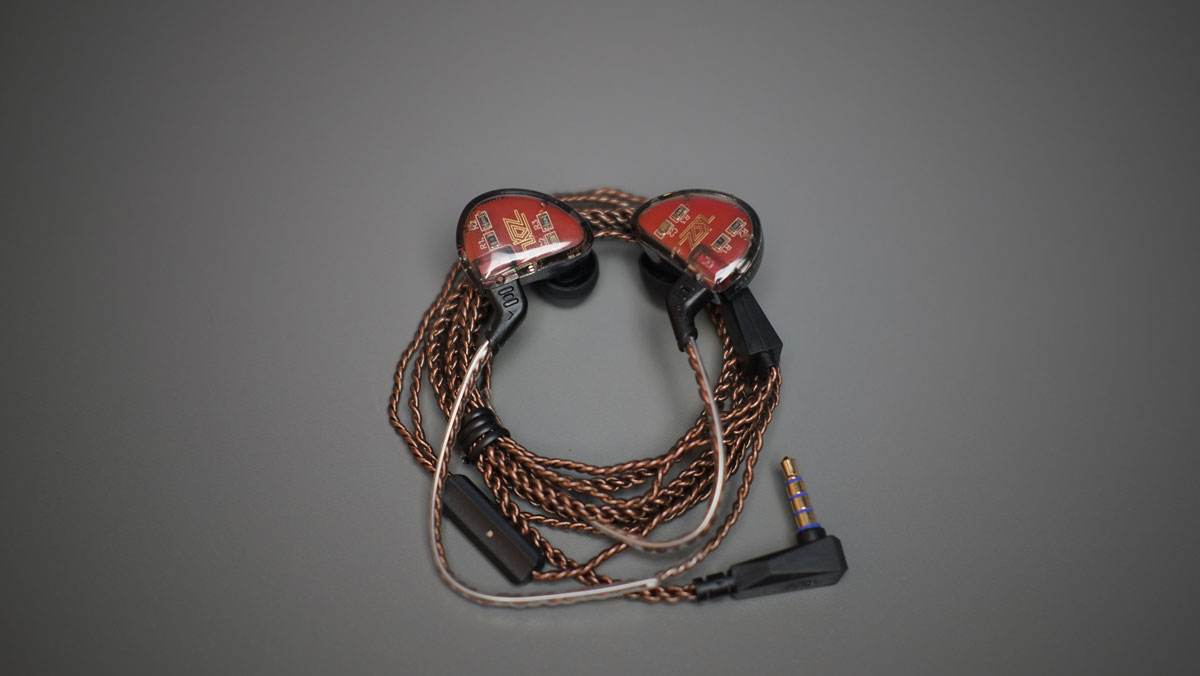 Comfort is generally great for a large IEM. The 25g weight of the whole set, plus the memory hook sure helped a lot on this matter while the stock tips are just so-so. If you have small ears, it is highly recommended to replace the stock tips with a memory foam tip. A tip with 4.5mm internal diameter is the smallest tip size that I could recommend.
TEST SETUP AND METHODOLOGY:
Our test setup relies on a system with a Realtek ALC892 Codec, tuned to output a flat sound signature. Microphone performance on the other hand is also evaluated by the same audio solution sampled on a 34dB environment. The headgear used to take cross reference sampling is a SONY MDR-7506 studio headphone – an ideal studio monitor for A/B testing. Note that we maintain the Sound Pressure Level at around 85dBA for the duration of the tests. Our main objectives are to put into detail the gaming and general performance of the headgear. The tracks, movies and games used for the subjective tests are outlined below:
Tracks:
Caribbean Blue – Enya
Hey Nineteen – Steely Dan
Unfinished Sympathy – D2
Axel F – Harold Faltermeyer
Hotel California – Eagles
Games:
Overwatch
Battlefield 4
The Witcher 3
Movies:
Pacific Rim
Mad Max: Fury Road
The vast world of headgears are subjective and is usually a heated debacle among avid listeners. Some may favor heavy bass emphasis while others may favor less bass and prefer a richer mid-range or higher frequency ranges. In short, a head gear might sound great from someone else's perception while at the same time, it may sound awful to other listeners.
DRIVER QUALITY AND ISOLATION:
Headgears although mostly tested subjectively, could still be tested for basic objective measurements. Helping us to do just that is AudioCheck.net's Headphones and Earphones Benchmarking Test Files.
HEAD GEAR TEST RESULTS
Frequency, Minimum
10Hz minimum frequency range
Frequency, Maximum
20KHz maximum frequency range
Spectral Flatness
Passed
Dynamic Range
-60dB
Driver Quality
Passed
Driver Matching
Passed
Wiring Quality
Passed
Binaural Test
Passed
Based on the test files from AudioCheck.net, the KZ AS10 5BA HiFi Stereo IEM passed with flying colors across most test suites. Most notably, the Dynamic Range at 60 dB below full scale. That's pretty good on my scale, though IEMs are generally better than most cans on that area to be honest.
SOUND SIGNATURE:
The KZ AS10 5BA is surprisingly, after days and days of testing, tilts to a more balanced v-shape sound signature. This makes it an all-rounder IEM. It isn't perfectly shaped though with the exception of the middle-ranges in my opinion. Everything else is in fact accentuated, with the mid-bass, higher-mids and detailed top-end taking our attention.
The lower frequency ranges of the KZ AS10 features a decent sub-bass and accentuated mid-bass presentation. Bass is definitely punchy, powerful even, but it rolls faster than some IEMs I've tried before. I am not sure if it is the nature of balanced armature drivers to fade faster than dynamic drivers, but I'll guess that it is for now.
The middle ranges are enjoyable and detailed enough to truly enjoy vocal heavy tracks. While male vocals does sound better due to the warmer mid-bass (almost bleeding out), female vocals are still well presented. I really enjoyed listening with this one. Truly fine tuned for a more balanced performance.
The upper-mids plus the treble area are not as bright as I expected – which is a good thing for a balanced IEM. It is clear, detailed, precise yet somewhat a little tamed towards the end.
IMAGING AND SOUNDSTAGE:
Imaging is where we examine the spatial location of the audio sources, while soundstage is more about the depth and or range the audio solution could provide. Both are important to generally just about anything and are equally important on games too, where positional audio is king.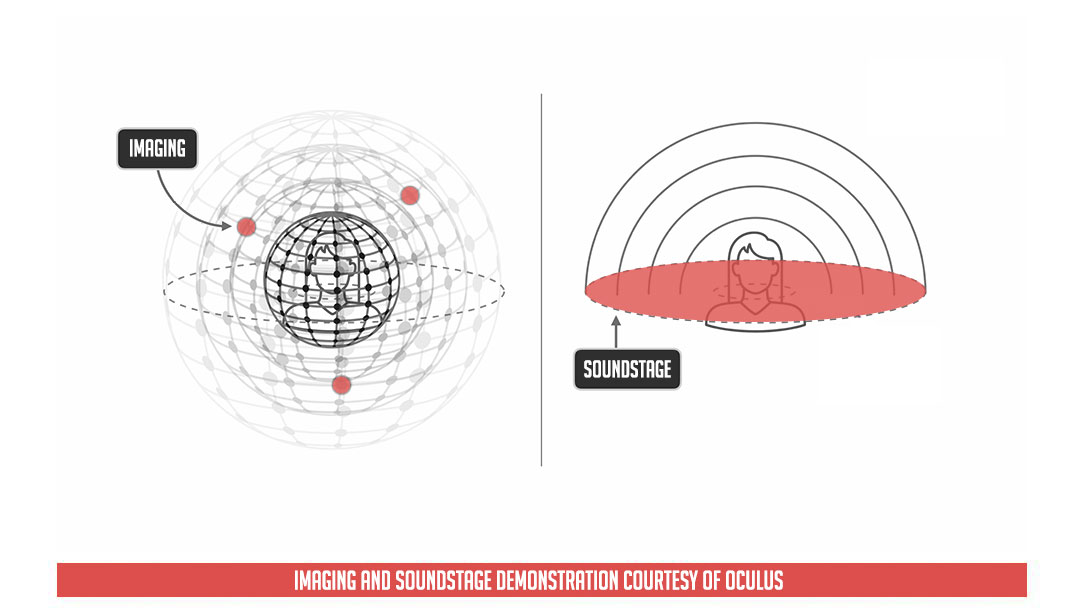 Laterally and in depth, imaging is excellent with the KZ AS10 5BA. I already expected this much , but I felt that soundstage could be a little larger – even though it is large enough. I don't find this a particular deal breaker though since imaging is not in any way, compromised. That said, it is very much still enjoyable especially at competitive games. Even way better than most headsets that I have tested. Top notch imaging performance.
MICROPHONE PERFORMANCE:
Microphone performance is not really the strong suit of the AS 10. It has to be expected, since KZ Acoustics barely provided any details about its specifications. It is still useful for in-game and phone comms, though I must say that I've heard better.
Since noise pickup is the microphone's number one enemy, it's better to get a phone or a PC with a noise cancelling feature. That should reduce the noise pickup.
SOFTWARE, LIGHTING AND SPECIAL FEATURES:
No softwares here nor a hint of lighting. Though I must say, the KZ AS10's features revolves around its balanced armature drivers.
FINAL THOUGHTS:
The KZ AS10 5BA is the first balanced armature IEM that I have tested and my perception of its performance is rather distinct if not excellent. It has a distinct v-shaped sound signature, offering punchy bass, good middle range performance and a detailed yet somewhat a little tamed high-end. Imaging is also excellent which is a life saver for gaming. At 14 Ohms, the KZ AS10 is also easy enough to drive so I might even try this in on a neighbor's DualShock 4 controller.
Design and build quality wise, the KZ AS10 is astounding. Five balanced armatures for each earpieces while still maintaining a foot print within an IEM's standard is already a feat. Of course, there are still some design elements that I would love to be address. That includes the transparent hook design and the not so exciting "HD" microphone.
Pricing based on GearBest is set to $60 USD and it could go as low as $45 USD depending on seasonal deals. With promo or not, I believe that the KZ AS10 5BA is worthy enough be it for general audio experience or gaming. It will not disappoint.
EXCELLENT V-SHAPED SOUND SIGNATURE
PUNCHY LOWS, GOOD MIDS, DETAILED HIGHS
EXCELLENT IMAGING, GOOD SOUNDSTAGE
LARGE YET COMFORTABLE DESIGN
INCREDIBLE VALUE FOR THE MONEY

MICROPHONE PERFORMANCE
STOCK TIPS FOR SMALLER EARS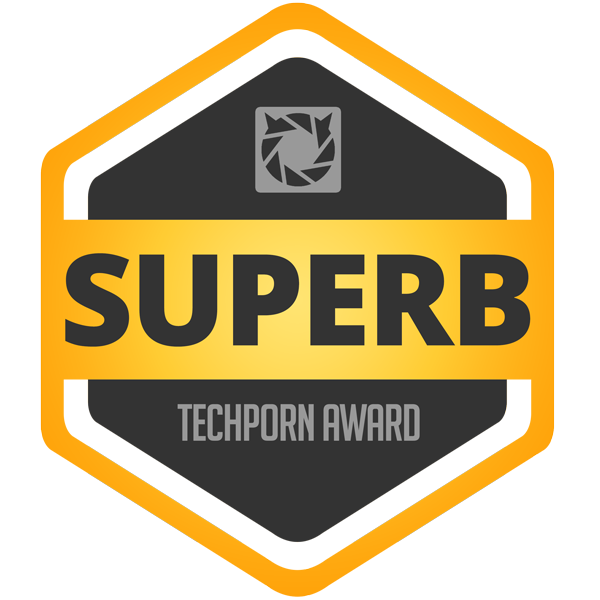 KZ AS10 5BA HiFi Stereo IEM with Mic Review
PERFORMANCE -

9/10

BUILD QUALITY -

8/10

FEATURES -

7/10

AESTHETICS -

8/10

VALUE -

9/10
Summary
The KZ AS10 5BA is the first balanced armature IEM that I have tested and my perception of its performance is rather distinct if not excellent. It has a distinct v-shaped sound signature, offering punchy bass, good middle range performance and a detailed yet somewhat a little tamed high-end.