We are at it again with a Noctua review. This time, we're checking out the NH-L9i. A low profile CPU cooler featuring a square 95x95mm footprint and a height of 37mm.

The NH-L9i is designed for small form factor systems and HTPCs with CPUs featuring a TDP of 65W. It also comes with the NF-A9x14 PWM premium fan and my favorite, the 6 year warranty. You may learn more about it on this Noctua compatibility page.
Technical Specifications
Cooler
Socket Compatibility
Intel LGA 2066, 2011-0, 2011-3, 1156, 1155, 1151, 1150 / AMD AM2, AM3, FM1, AM4
Heatsink Material
Copper, Nickel, Aluminum
TDP
65W
Fan Compatibility
92mm mount
Fan
Model
Noctua NF-A9x14 PWM
Speed
600-2500RPM
Noise
14.8-23.6 dBA
Airflow
57.5CFM
Dimensions
Length
95mm
Width
95mm
Height
23mm
Weight
345g
Packaging and Accessories
Noctua packed the NH-L9i inside a small packaging. The product should come with the following items inside:
NF-A9x14 PWM premium fan
Low-Noise Adaptor (L.N.A.)
NT-H1 high-grade thermal compound
SecuFirm2 Mounting Kit
Screws for 92x92x25mm fans
Noctua Metal Case-Badge
Design, Layout and Build Quality
The NH-L9i is a slim 92mm cooler with the legendary Noctua colors we all love and hate. It's a simple product really, yet with the insane craftsmanship from the guys at Noctua.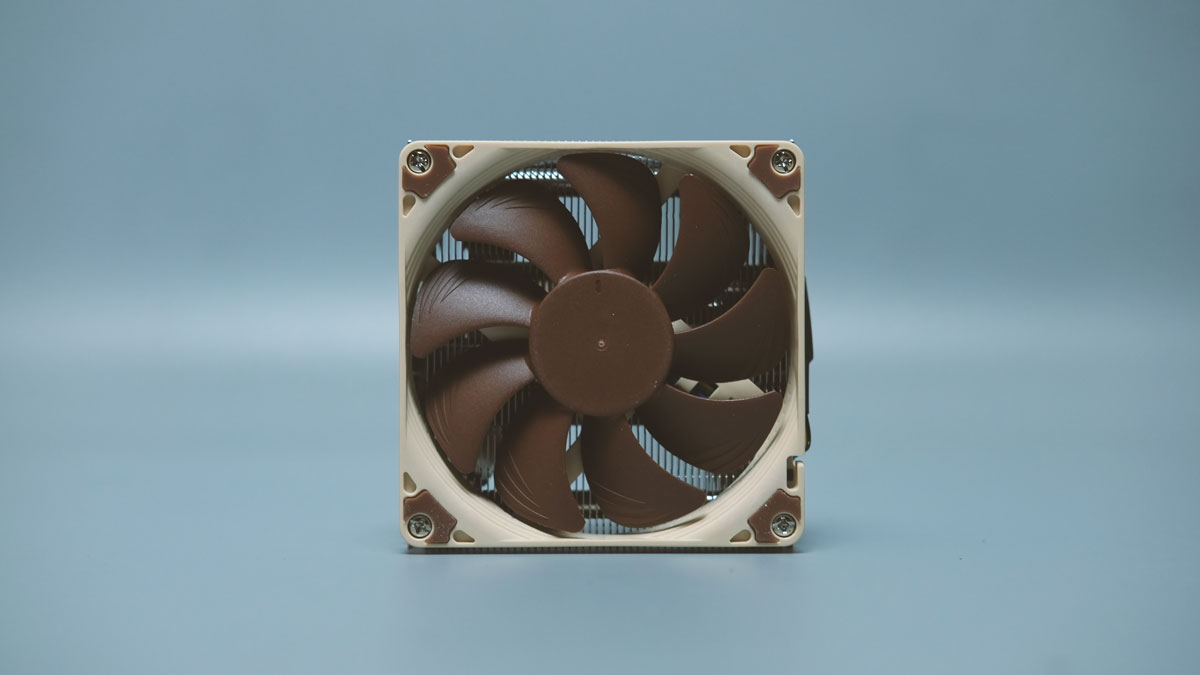 Dimensions are exactly 96 x 96 x 23mm which is the cooler's major strong point. Even with the fan, this low profile cooler should fit even on the smallest of builds. This cooler is an ITX magnet.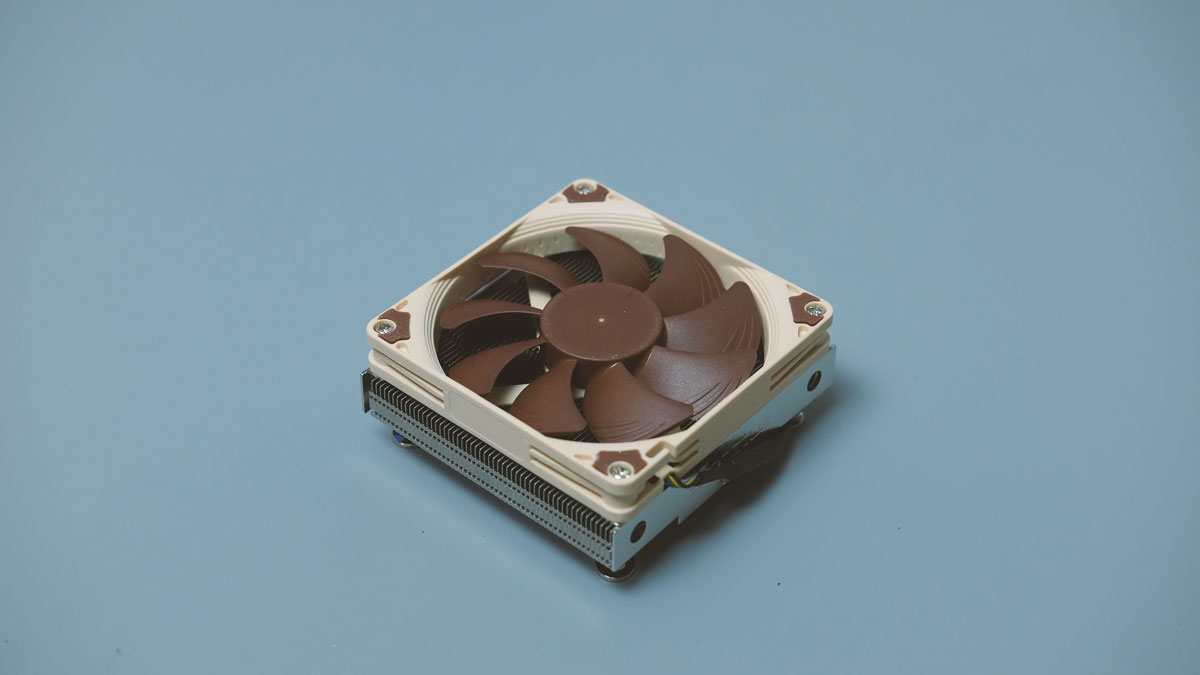 Like many Noctua coolers, the NH-L9i features a nickel plated copper base. Noctua doesn't believe it is worth it to invest time towards mirror-finished plates and so do we.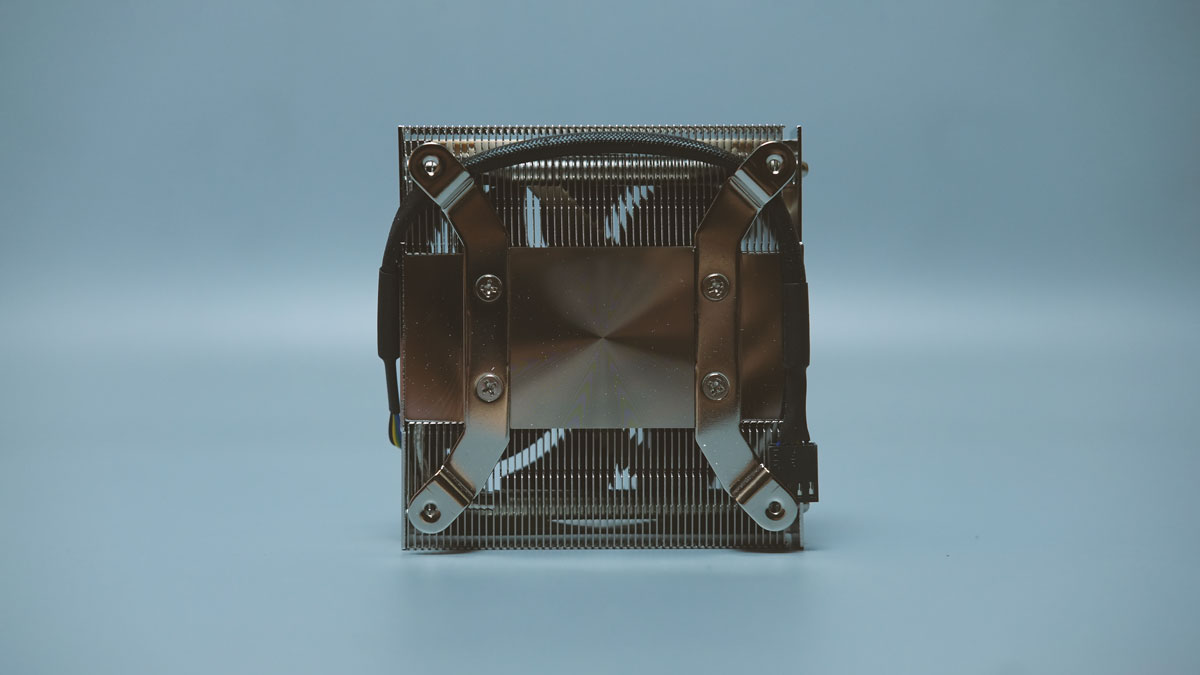 There are two soldered heat-pipes on the NH-L9i. Fan on the other hand is a modified Noctua NF-A9x14 PWM with an RPM range of 600-2500.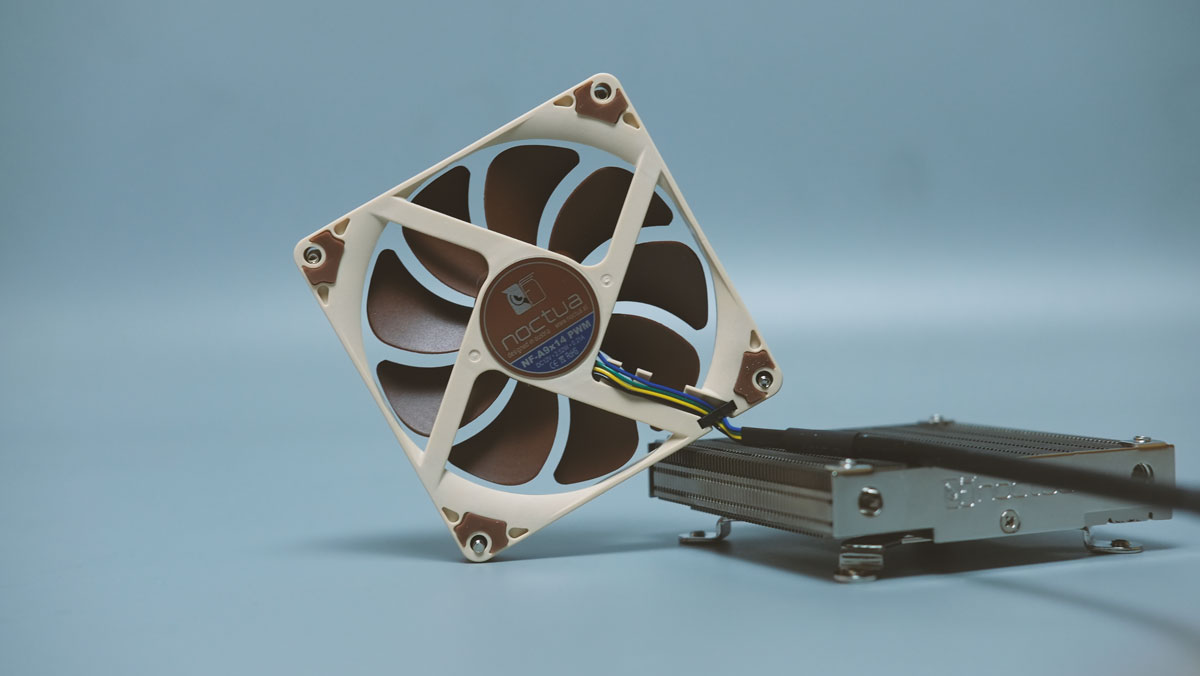 Clearance and Installation
The Noctua NH-L9i comes with a pre-installed SecuFirm2 mounting kit. This is a tried and tested mounting solution built from the ground up by Noctua for both Intel and AMD.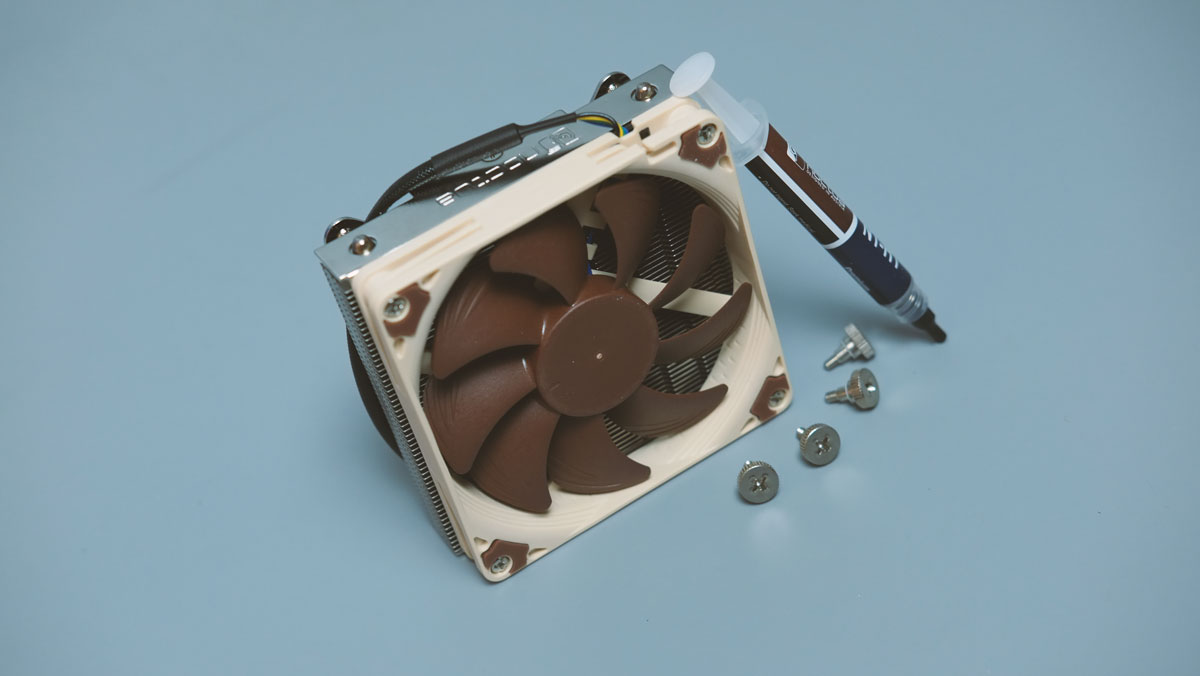 The NH-L9i is simply a slap-on device. Really easy installation here, no extra brain cells required. Compatibility with the most recent platforms should also be 100%.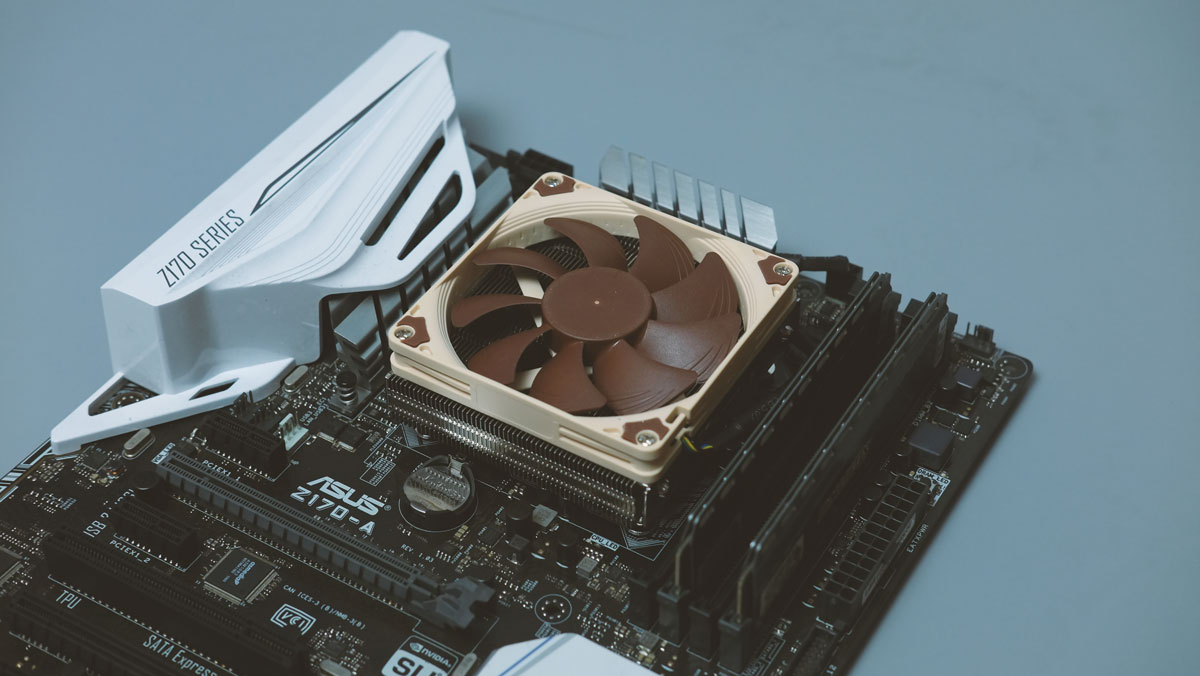 Test Setup and Methodology
Coolers are far from the hardest components to test, but it doesn't mean they are easy enough to deal with since there are multiple factors to take into account while benchmarking. Factors includes the ambient noise, ambient temperature, the enclosure, and the test system's overall configuration.
Test System Specifications
CPU
Intel Core-i5 6600K
Motherboard
ASUS Z170-A
Cooler
Noctua NH-L9i
Memory
ADATA Premier DDR4
GPU
ASUS ROG Strix GTX 1060 OC
Storage
Crucial BX200 480GB
Case
Thermaltake Core P3
PSU
CORSAIR RM850X
Display
DELL U2715H
OS
Microsoft Windows 10 Pro
The AIDA64 Extreme Edition System Stability Test is used to stress our Intel Core i5 6600K. The CPU, FPU, Cache and Memory are selected at the options. AIDA64 has been chosen due to its inclusion of AVX, AVX2 and FMA – 3 important instructions that will help us push our CPU to its limits.
Ambient Temperature – 27°C (±1°C)
Ambient Sound Level – 34dBA (±1dBA)
Stock Profile – 3.9GHz (1.088v)
Overclocked Profile – 4.4GHz (1.248v)
Temperature
Temperatures are tested with attainable CPU clock speed configurations that should resemble common systems. To measure the cooler's capabilities, the CPU temperature is logged with HWiNFO64 and is cross referenced with AIDA64.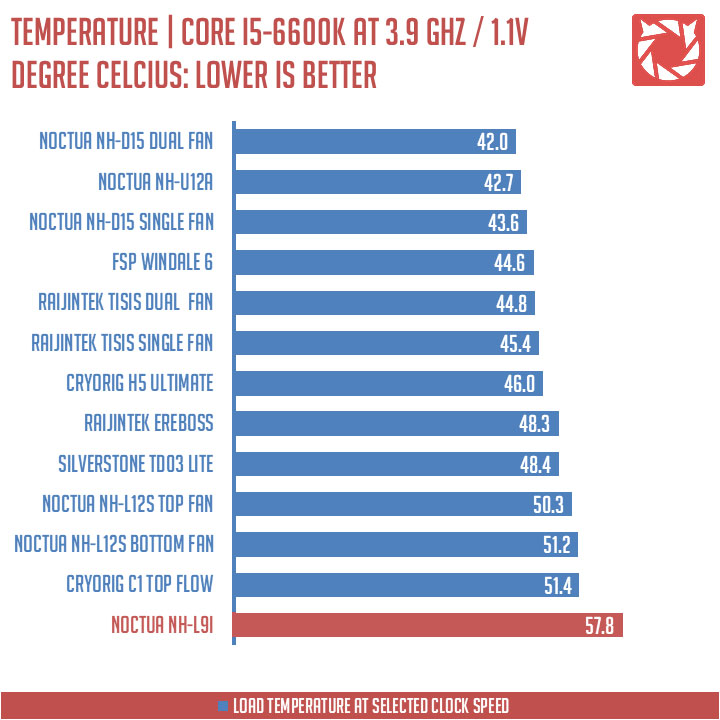 57.8ºC is the maximum temperature we attained at load with the NH-L9i. It is, as expected, lagging behind the rest of the coolers. What we got is a comfortable result though – as far as stock performance is concerned.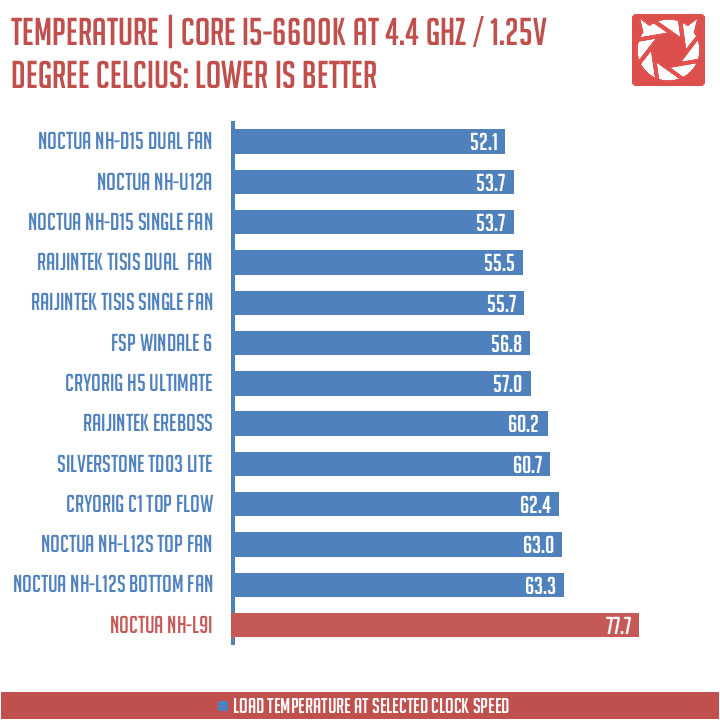 The NH-L9i is surprisingly capable for a low profile cooler even at 4.4GHz (1.25v). Pretty good result here but make sure to double check your CPU's TDP. This one is officially rated at 65W but what really matter here is how you setup your CPU's voltage and clock speed.
Noise Level
Noise levels are tested on a variety of fan duty cycle settings available thru our motherboard. To measure the levels, a sound level meter is secured on a tripod with a foot of distance away from the cooler.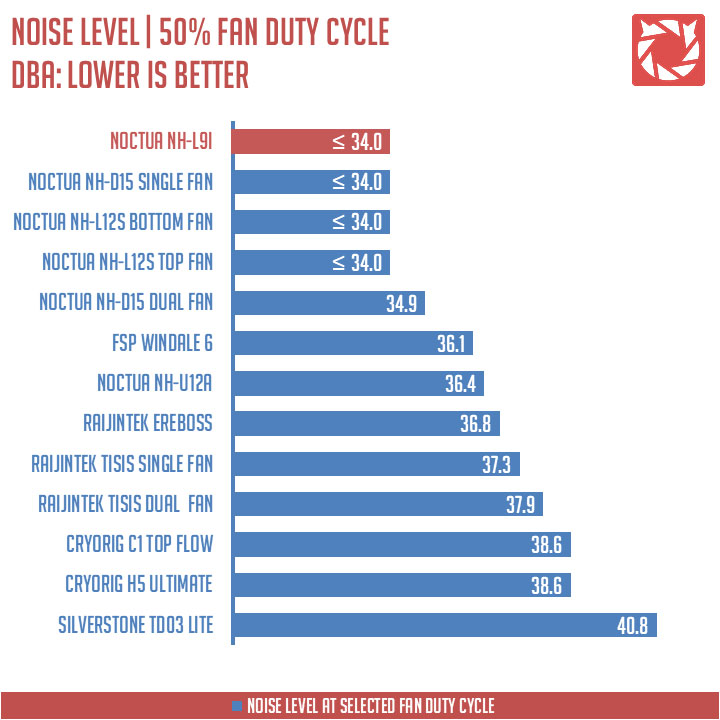 The NH-L9i or rather, the NF-A9x14, outputs about 34dBA or less at its 50% fan duty cycle.
At full speed which is 2500RPM, the NF-A9x14 is just awesome for its stature. Usually, small fans are the worst in acoustics but it is not the case with this one.
Software, Lighting and Special Features
Like most Noctua products, the NH-L9i doesn't feature any software nor lighting effects. What it excels though is the abundant amount of bundled accessories and its 6 year warranty.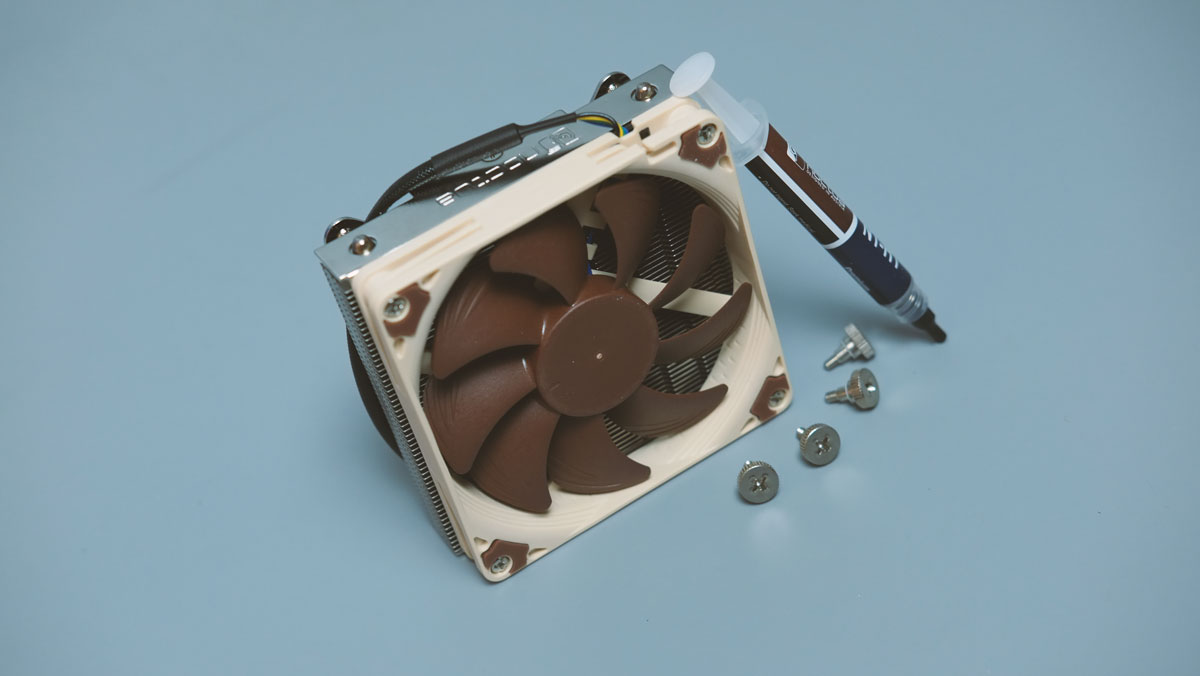 Apart from those, the NH-L9i is also available in chromax.black version if you fancy going monotone with your setup. Both models are available for Intel and AMD platforms.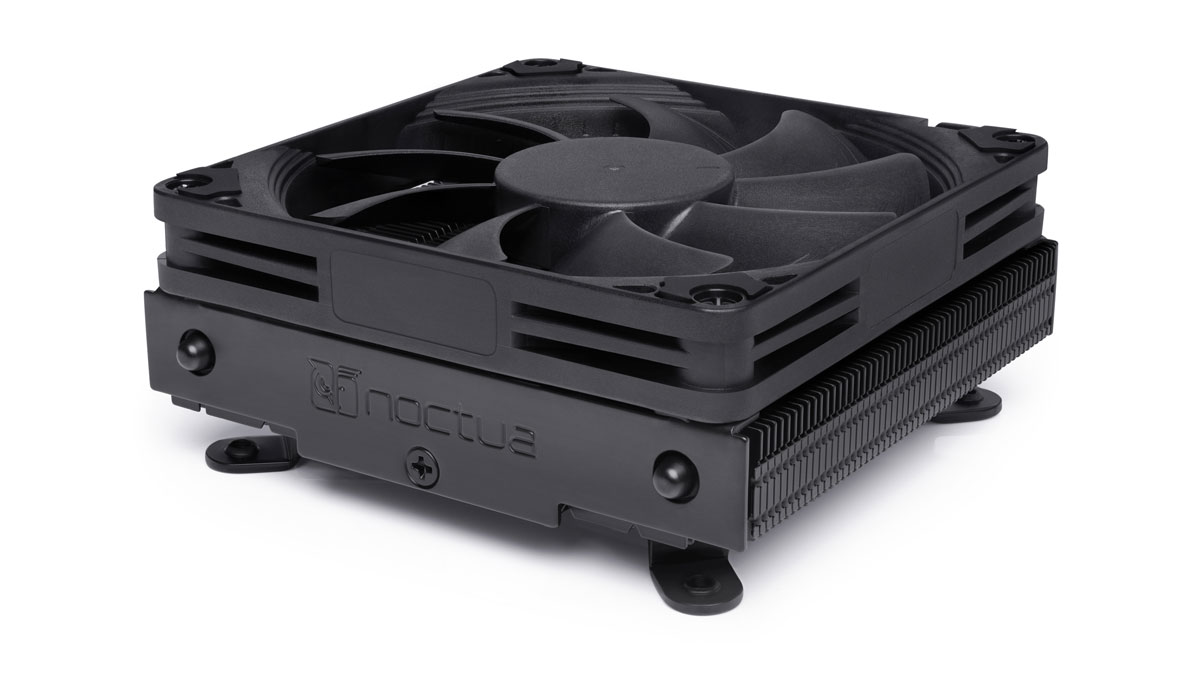 Final Thoughts
The NH-L9i is no ordinary low profile cooler from the guys at Noctua. It is definitely 91W TDP capable, even able to dissipate the heat of an overclocked Core i5-6600K at 4.4GHz.
What's also praise worthy is the bundled NF-A9x14 fan. It is modified to run at a higher RPM out of the box yet the acoustics are still within the acceptable threshold at its maximum.
Build quality wise, it is definitely a Noctua product. Nothing surprising here – even the warranty of 6 years. Bullet proof, yet still comes with a lengthy support period.
The Noctua NH-L9i currently retails at about $35 USD. For that price, you could get your average tower cooler but without the sheer compatibility of what the NH-L9i could offer. If maximum clearance without sacrificing performance is your main concern, then it is hard to fault this one.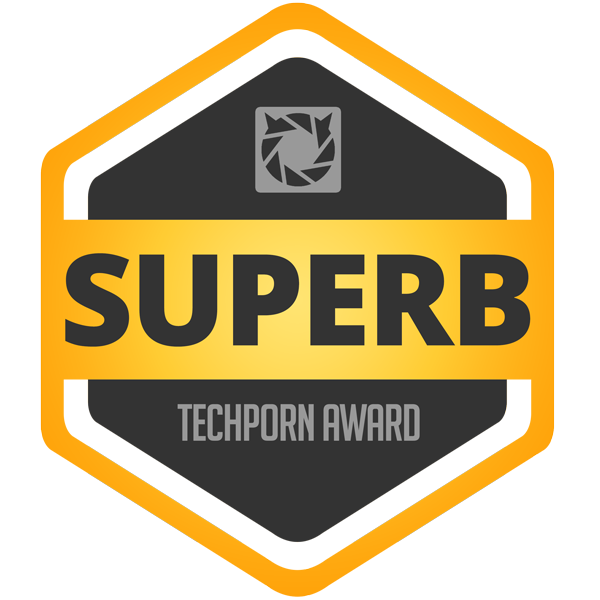 Noctua NH-L9i Low Profile CPU Cooler
Performance -

8/10

Build Quality -

9/10

Features -

8/10

Design -

8/10

Value -

7/10
Summary
The Noctua NH-L9i currently retails at about $35 USD. For that price, you could get your average tower cooler but without the sheer compatibility of what the NH-L9i offers. If maximum clearance and a bit of performance are your main concern, then it is hard to fault this one.
Pros
Cooling performance for its size
Acoustic performance
Super compact form factor
Excellent build quality
Bundle and presentation
6 year warranty
Cons
Price point of a tower cooler